Updated on August 25, 2023
After testing 6 popular models, we've concluded that the
Le Creuset omelette pan
really is the best frying pan currently available in terms of cooking and heating speed. And if you're looking for a more affordable model that's almost as efficient, it's the
Tefal Dailycook
that we recommend.
Our choice, Best top of the range
This frying pan offers the best compromise between heating speed and efficiency in our opinion. Its small 20 cm diameter is ideal for cooking omelettes.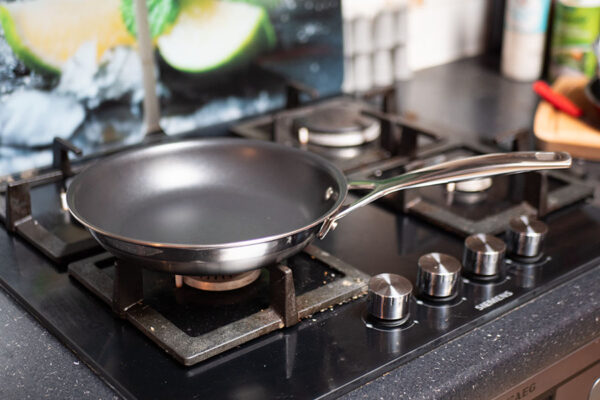 Consisting of 3 layers (stainless steel, aluminum, magnetic stainless steel) with non-stick coating, this frying pan didn't make food stick at all during our tests (even our fried egg). It is compatible with all burners and can even be placed in the oven up to 260°C. Fairly light (711 g), it includes a metal handle that stayed cool towards the end, but it's best to avoid taking it too close to the edge of the frying pan to avoid burning yourself.
Here, we opted for the omelette frying pan with an internal diameter of 20 cm, but the range extends up to 30 cm.
After 30 seconds of heating at maximum power (gas hob), this was the frying pan that heated the best of all those tested, reaching 101°C. It also had a very good heating homogeneity (about 6°C difference at equal distance from the center).
Finally, while the brand indicates that it can be placed in the dishwasher, we'd rather recommend cleaning it by hand to keep it in good condition for longer. All the more so as this step is very simple to carry out with just a soft sponge and a little washing-up liquid.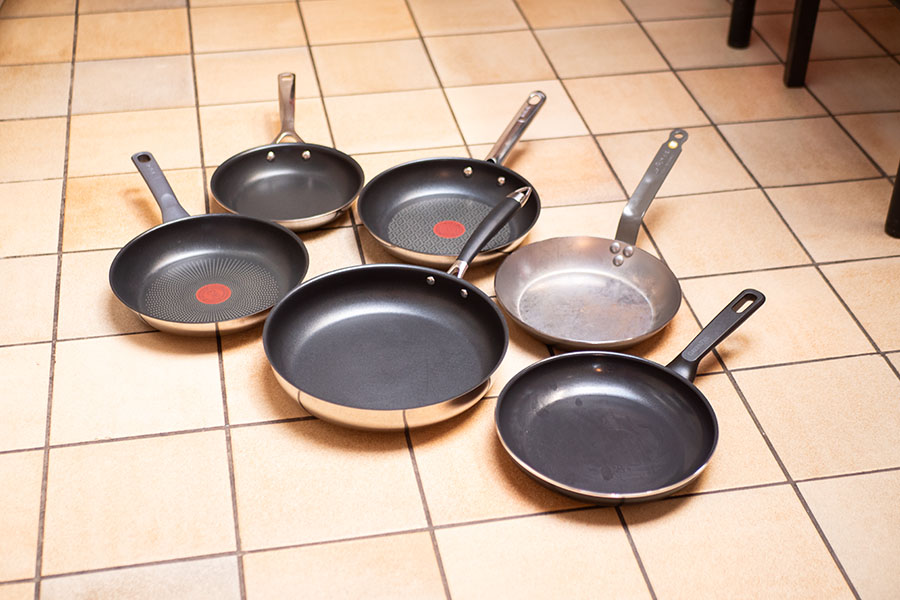 The frying pans we tested.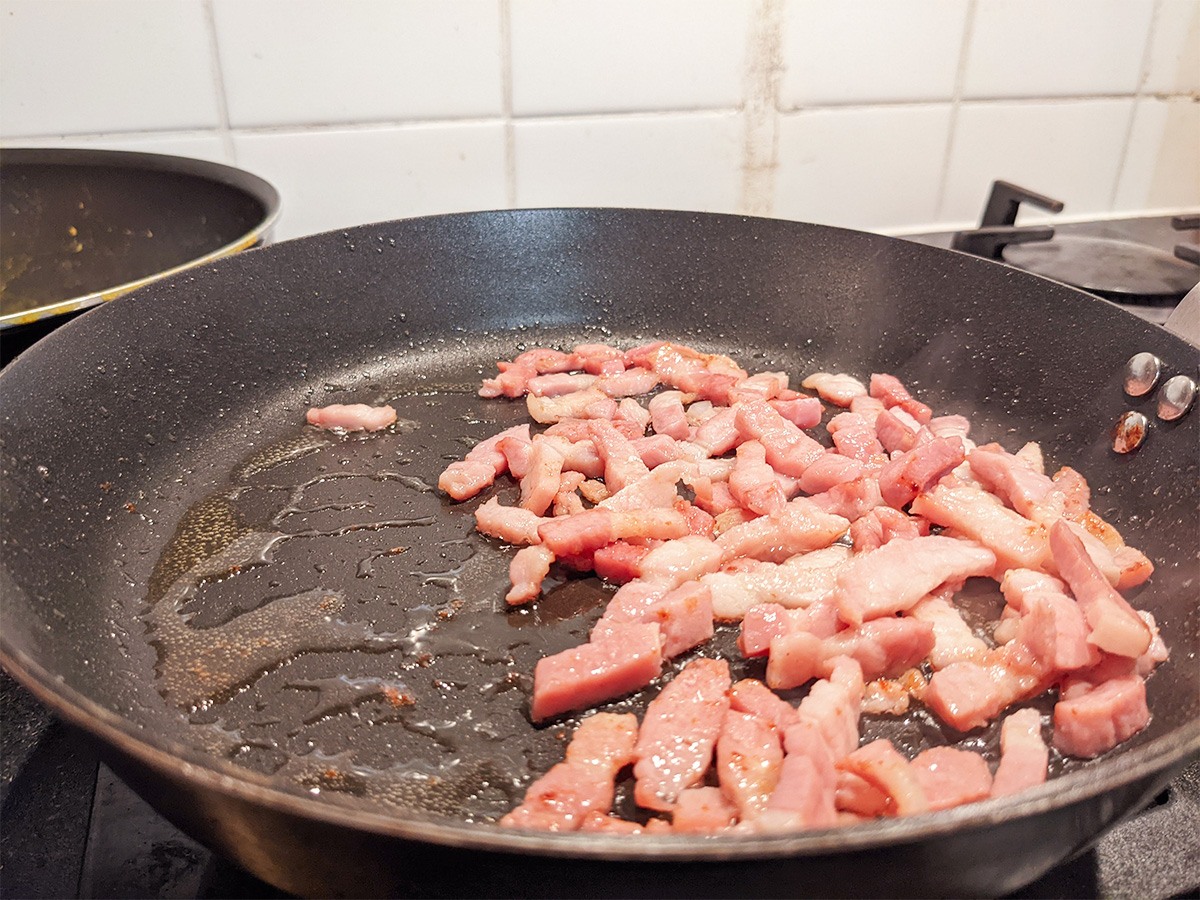 Frying pans can be made of a variety of materials: aluminum, stainless steel, cast iron, copper, iron, sheet steel, etc.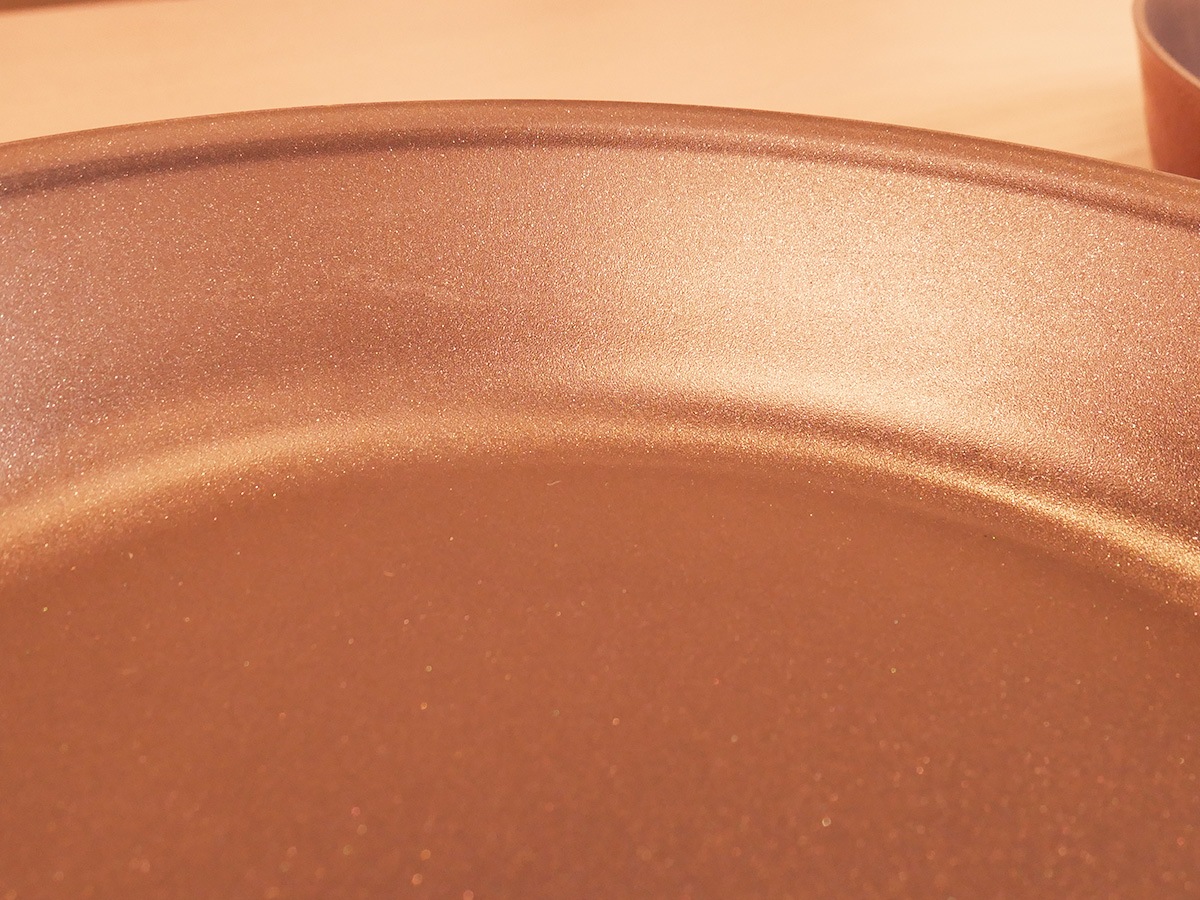 Teflon was the only non-stick material used for a long time, but today ceramic is becoming increasingly popular.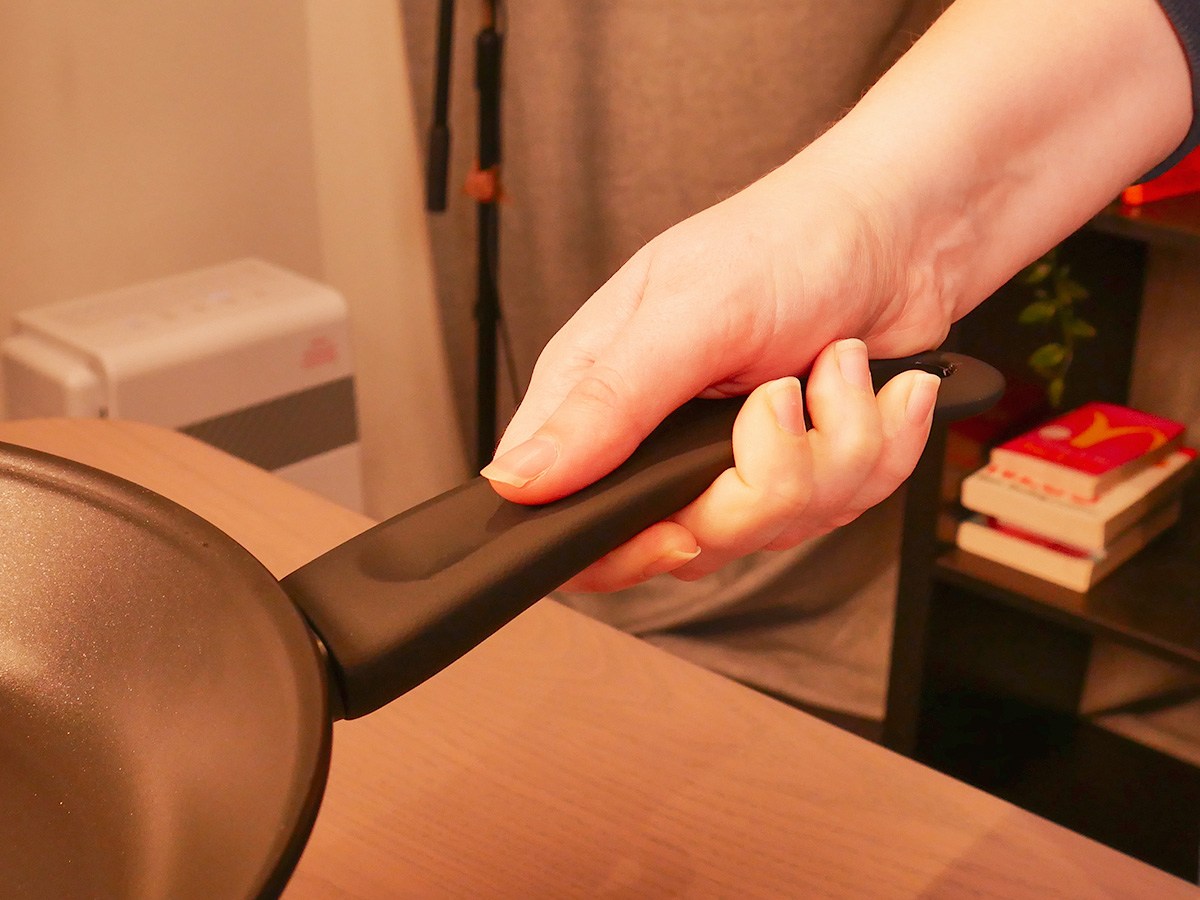 The handle must be stable, solid and insulating to avoid burns.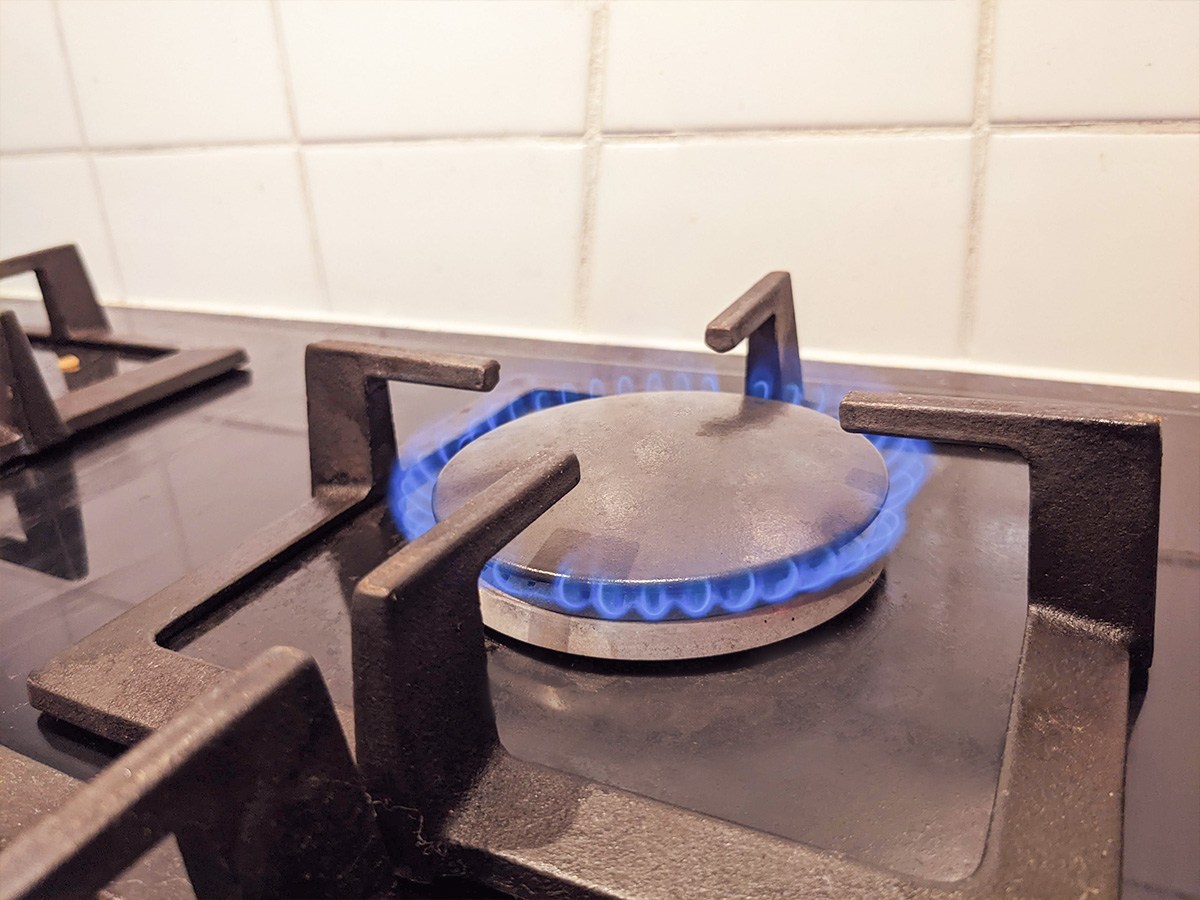 Check that the frying pan you're looking for is compatible with your heat source.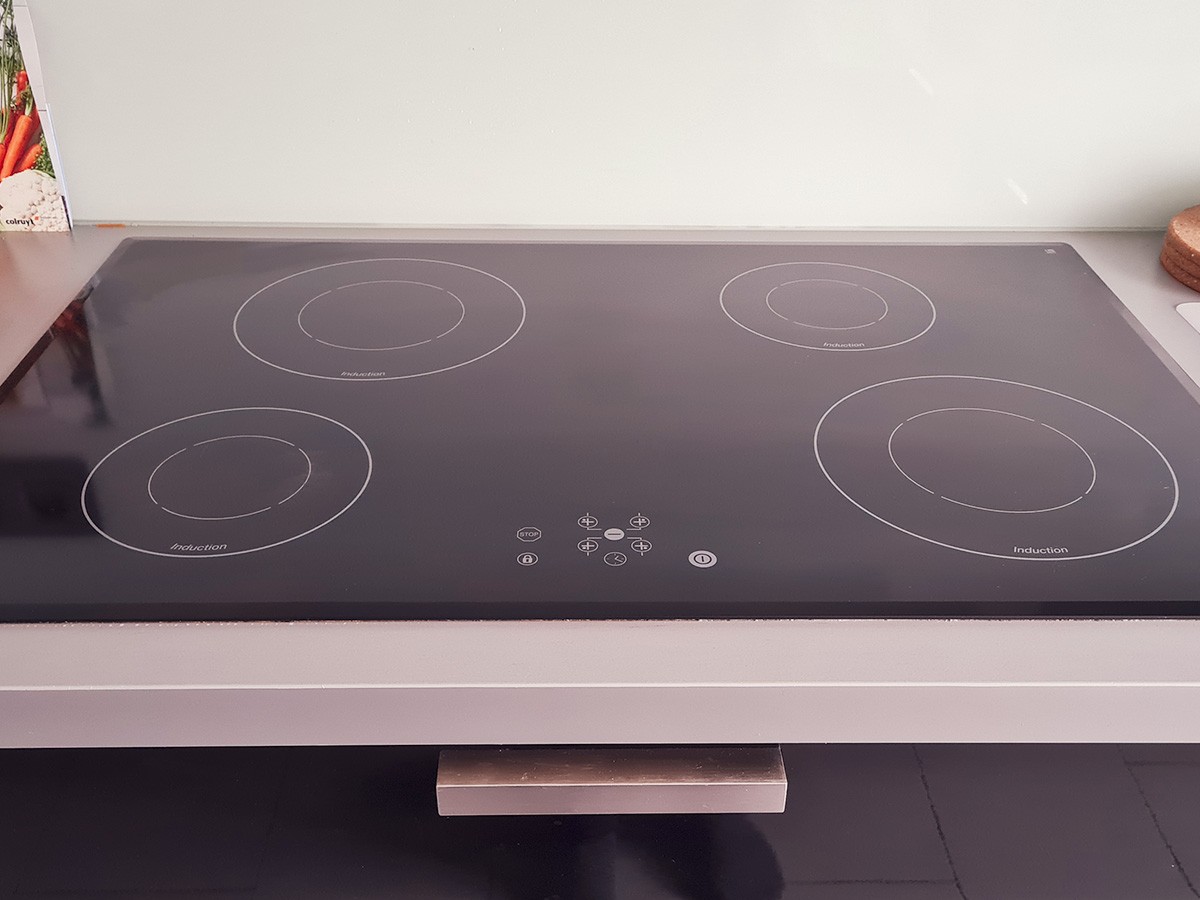 Note that induction requires a steel bottom to concentrate the magnetic fields.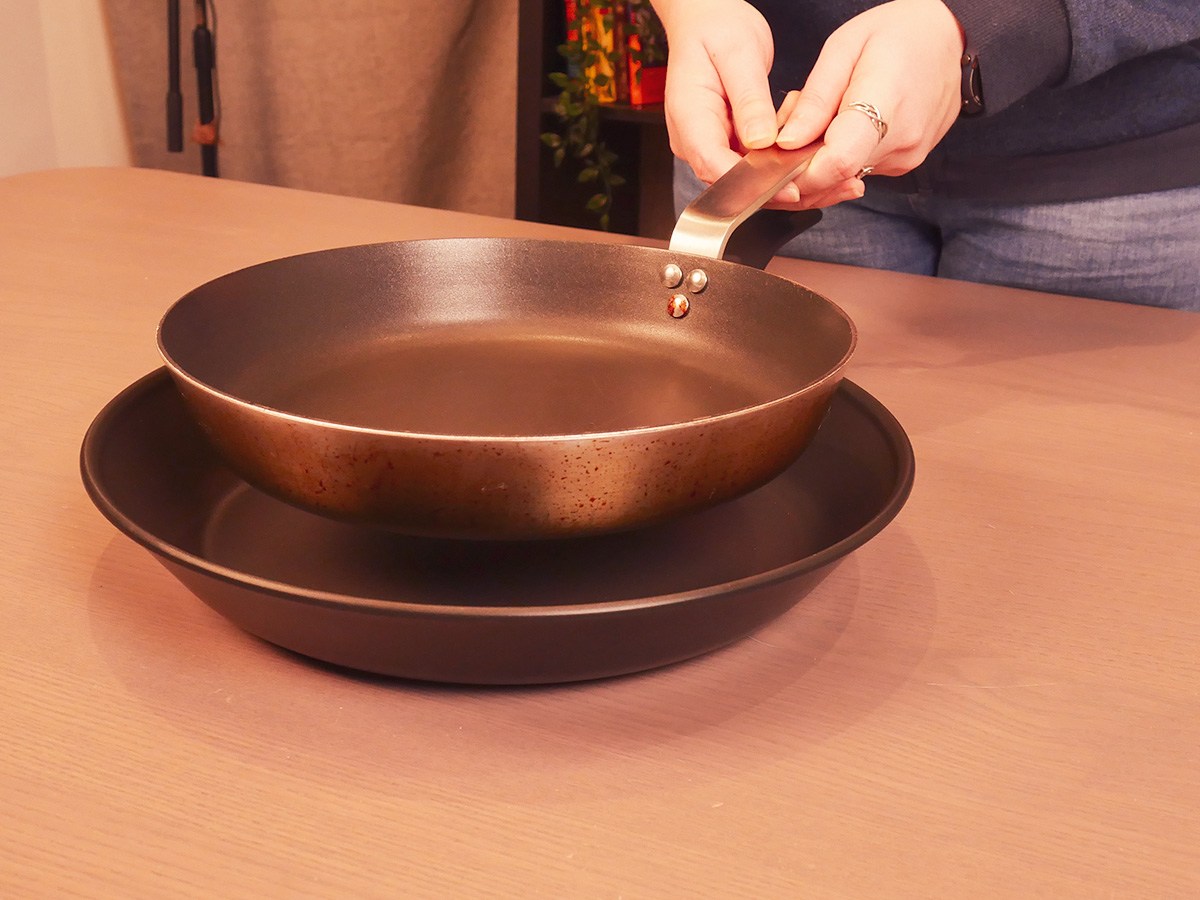 The standard diameter of a frying pan is 24 cm. This format allows for virtually any use.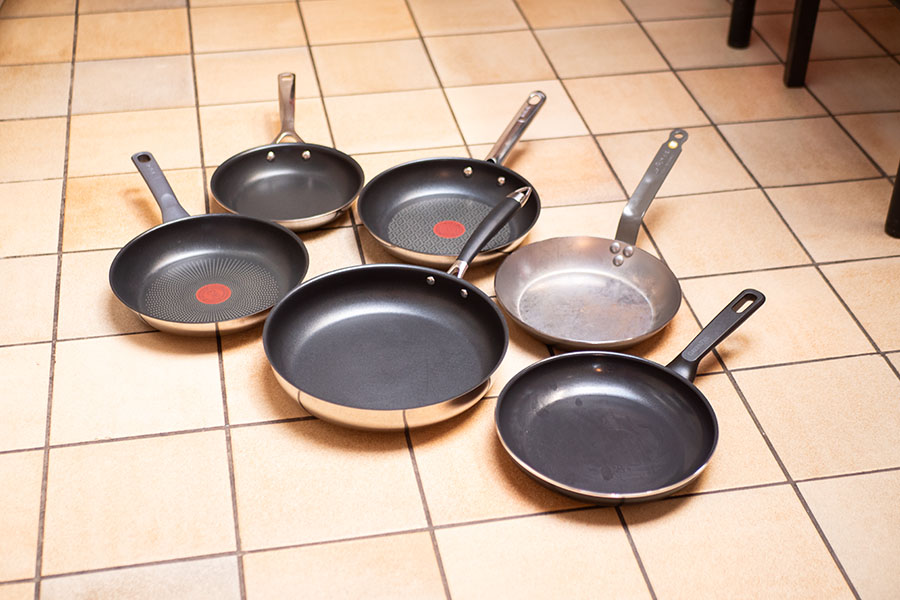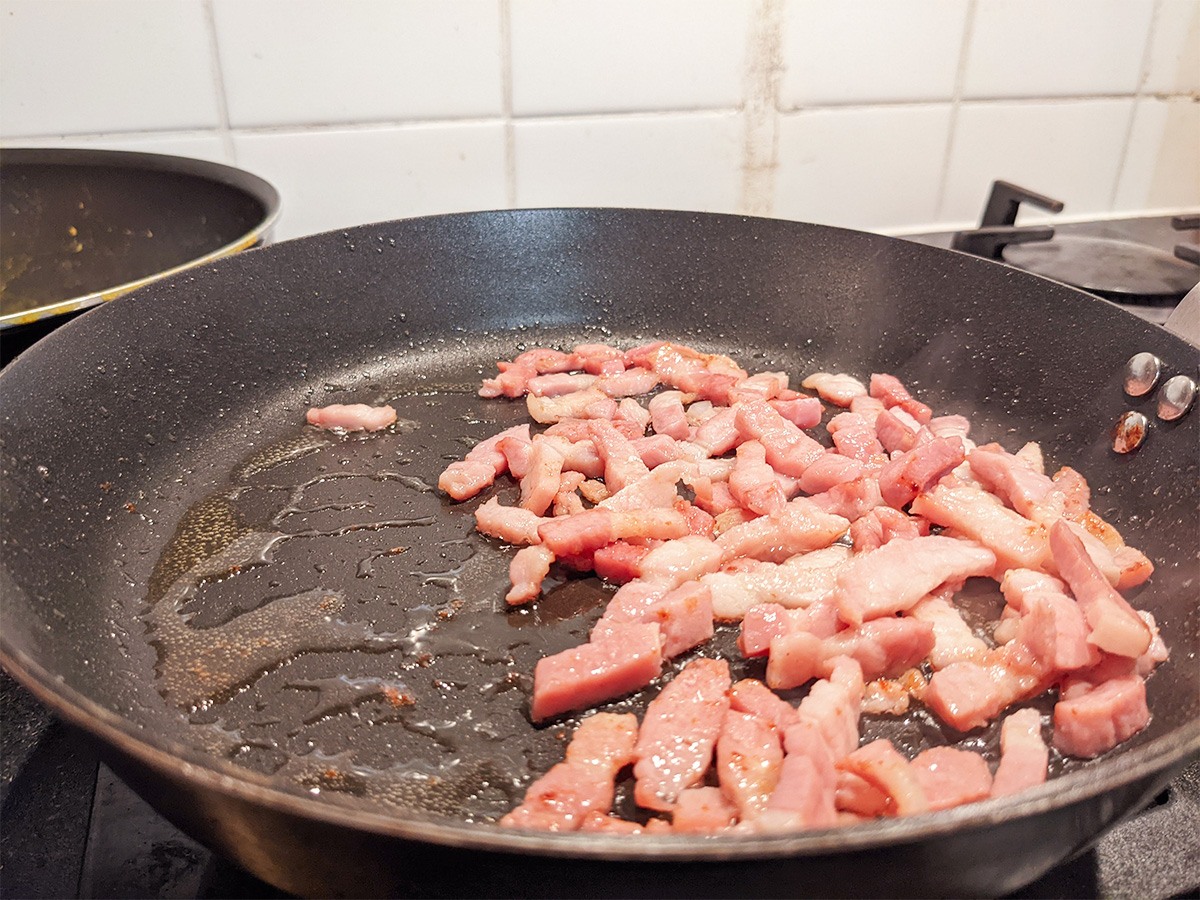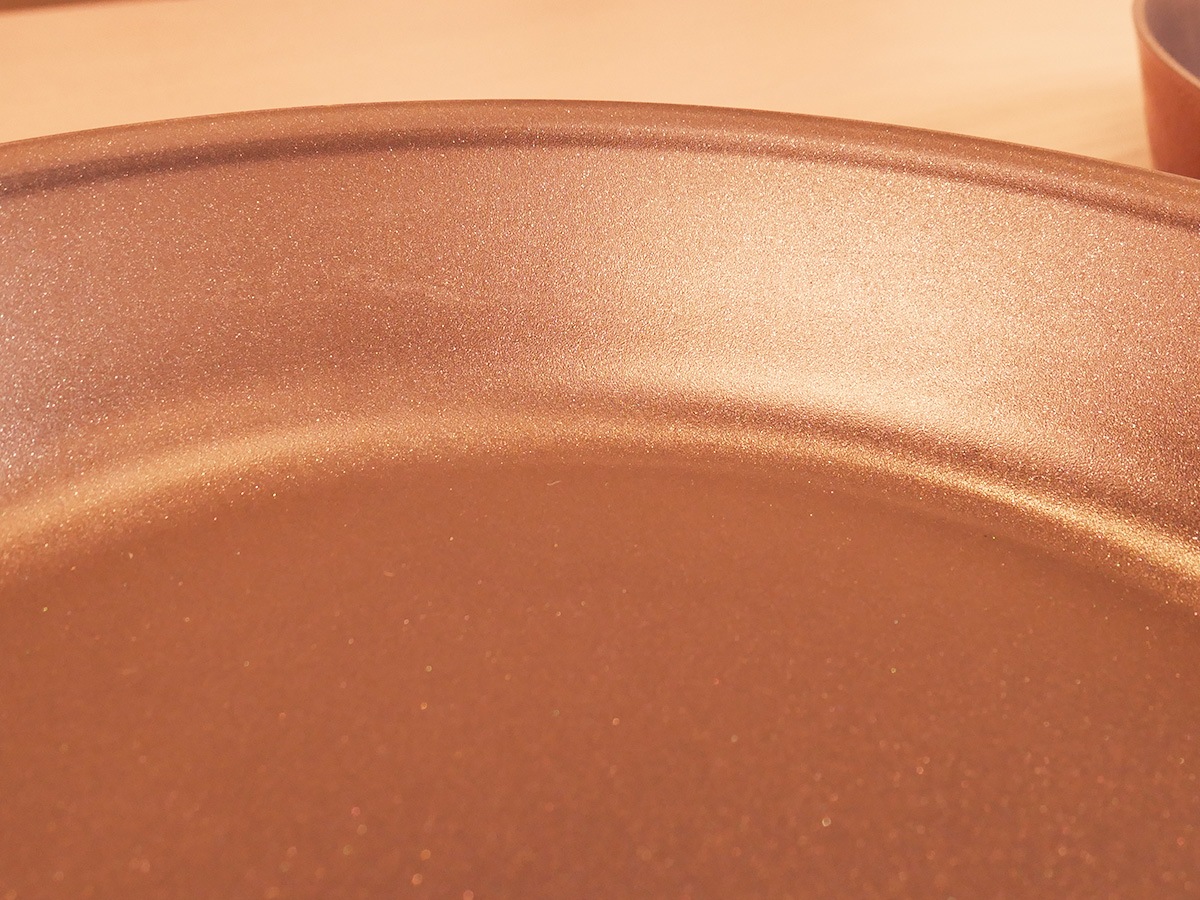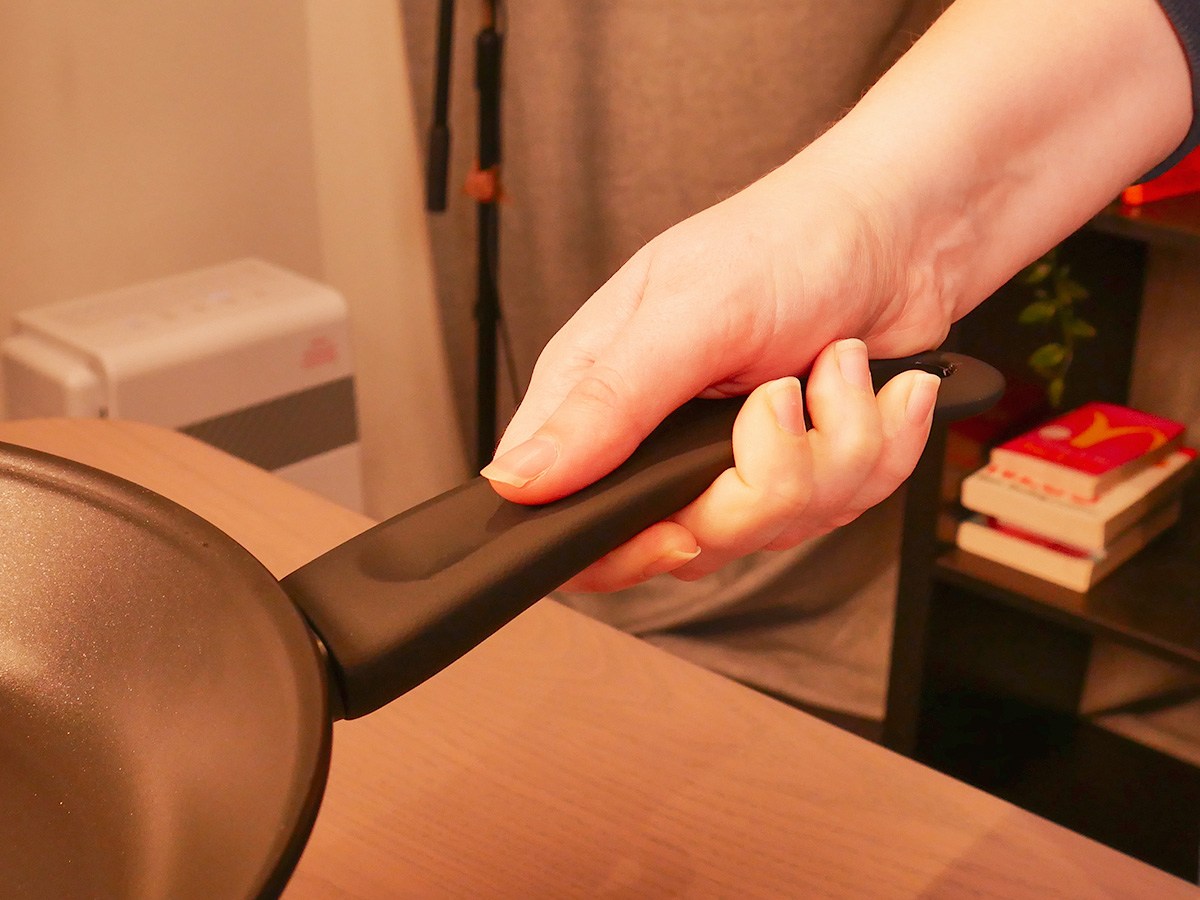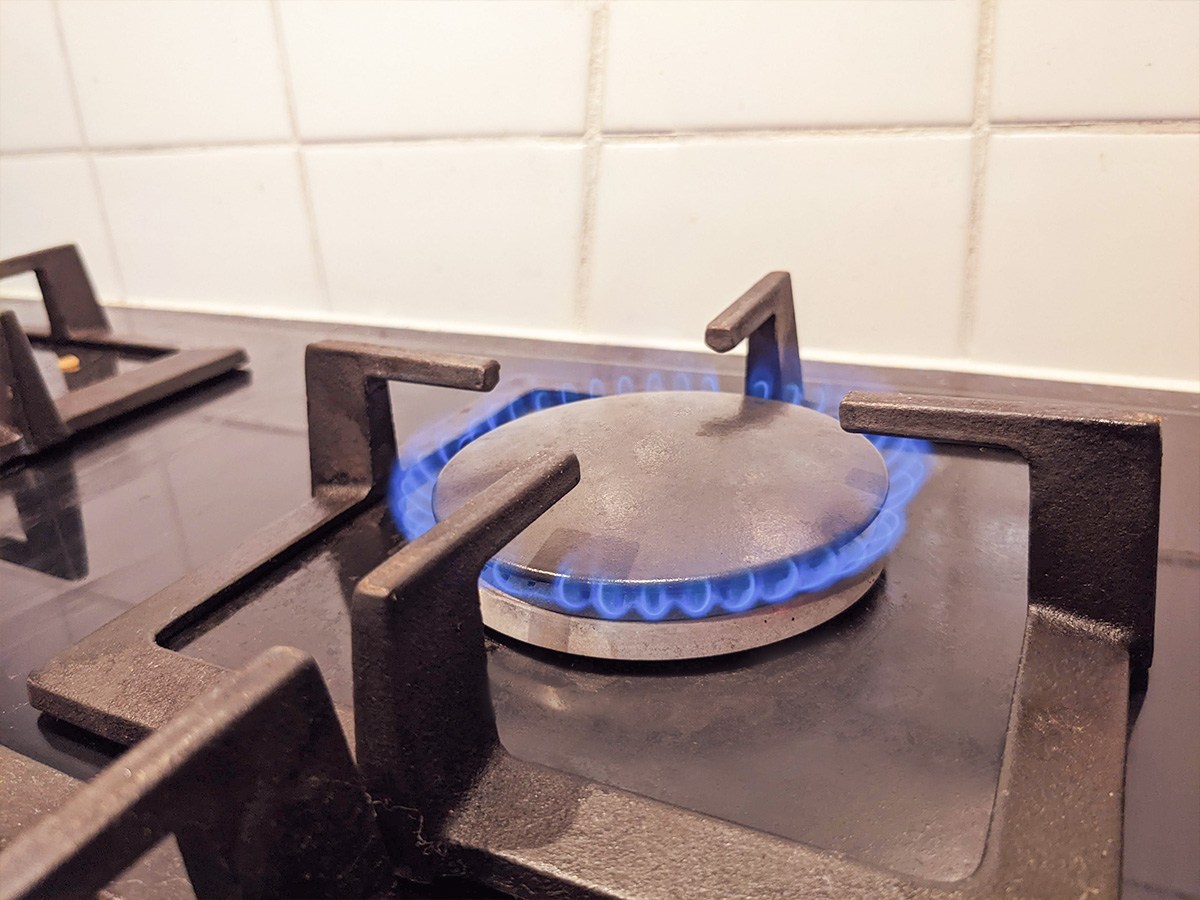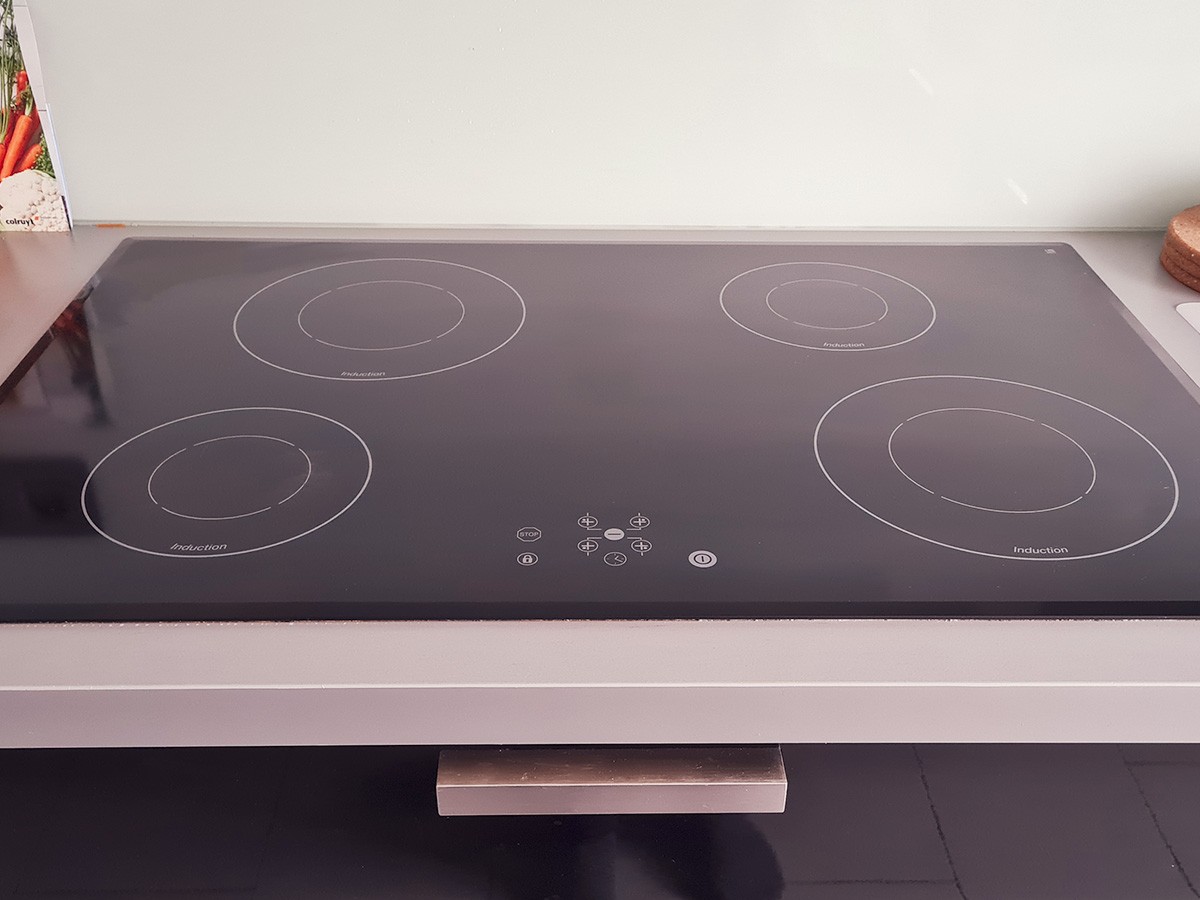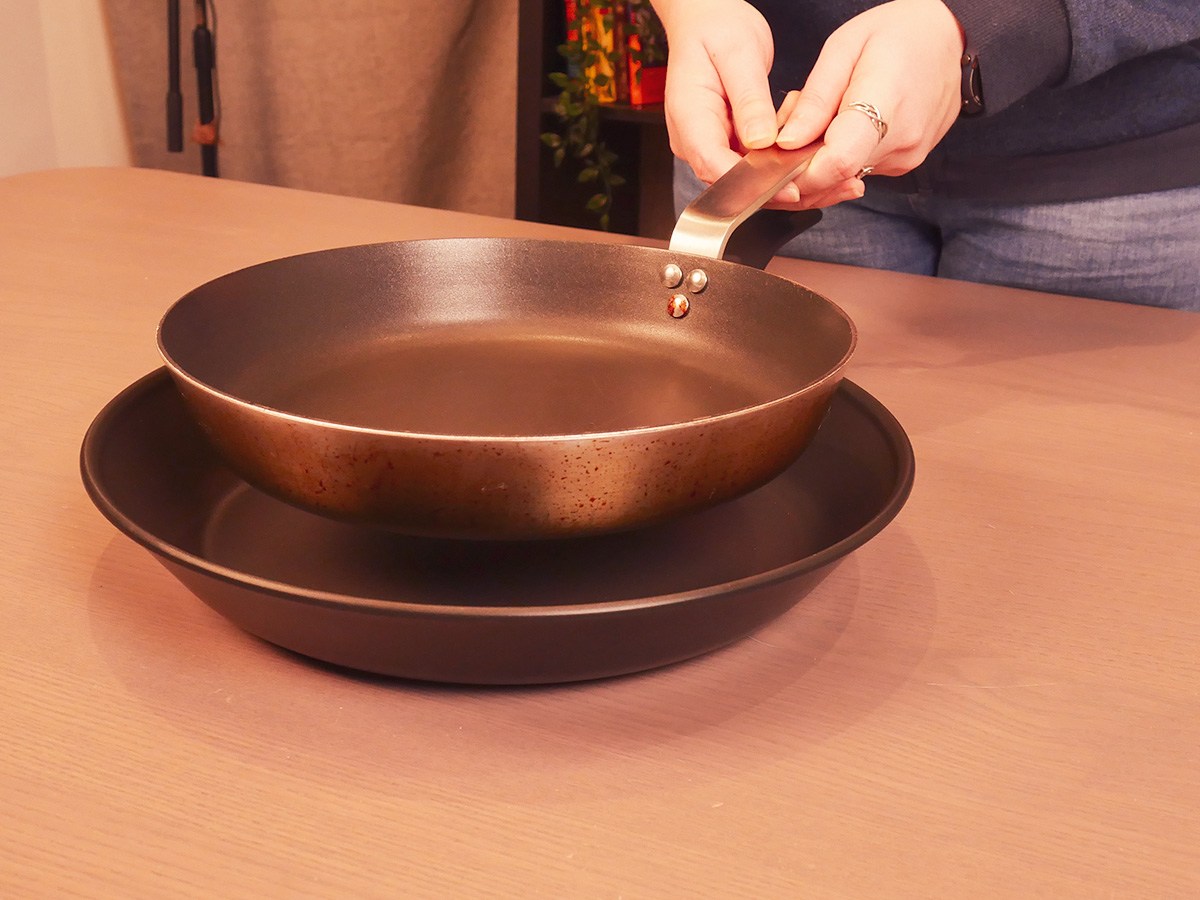 Best mid-range
Offering the best heating homogeneity of this comparison, this frying pan is particularly interesting for cooking food quickly at lower cost.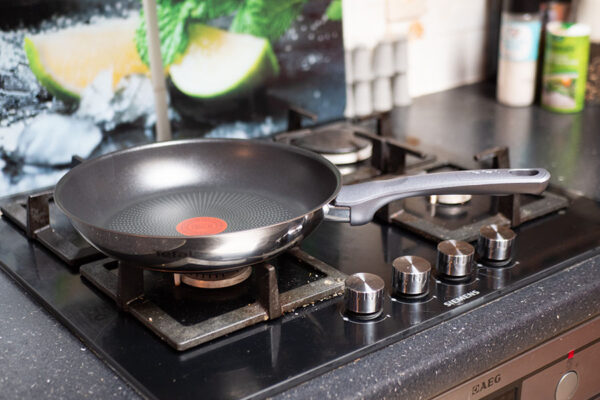 Compatible with all burners, this 24 cm (inside diameter) frying pan can also be placed in the oven up to 175°C. Like most Tefal frying pans, this one also features the Thermo-Spot (red circle). It changes color when it reaches 180°C to let you know when you can put food in.
During our tests, we noticed that it wasn't the fastest to heat up (74°C after 30 seconds at maximum power), but it offered excellent even heating. It cooked our fried egg in just a few seconds, and the lardons were also quickly ready. Note that its plastic handle remained cool during use, avoiding the risk of burns.
The brand indicates that it can be placed in the dishwasher. However, with its titanium interior coating, we prefer to advise you to clean it by hand to keep it longer, especially given the simplicity of the task.
Finally, you should know that the range extends from 20to 30 cmdiameter to suit everyone's needs.
Mid-range alternative
This is the model to go for if you're looking for a frying pan that doesn't stick at all without breaking your piggy bank. It also heats up very quickly.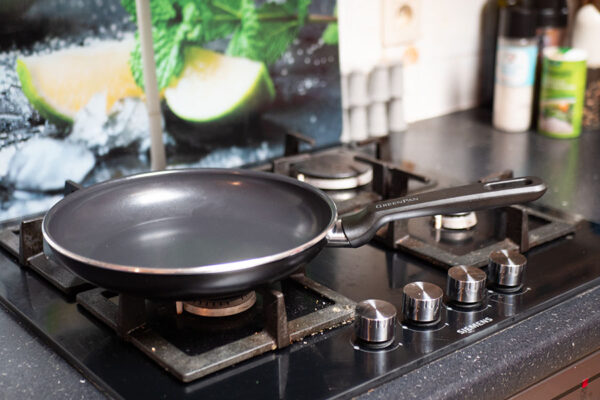 Equipped with a non-stick Thermolon ceramic coating, this frying pan stands out from the competition for its rapid heating (80°C after 30 seconds of heating at maximum power during our tests). We also noted that this particular coating didn't cause food to stick at all, which wasn't quite the case with the Tefal we presented above. On the other hand, we did notice that it cooked less quickly than the other 2 models recommended in our selection. In addition, heating was a little less even over the frying pan's surface.
Compatible with all burners (including induction), it is also ovenproof up to 160°C. For added safety and ease of use, it features a bakelite handle that remains cool during cooking, and is fairly light (746 g). In this range, it is also available in 20, 28 and 30 cm diameter.
Finally, this frying pan, too, can be placed in the dishwasher, although cleaning proved very simple to achieve.
Our selection
200+ Comparisons

2000+ Products Tested

100% Impartial
Why trust us ?
Selectos compares and tests hundreds of products to help you buy better. We sometimes receive a commission when you buy through our links, which helps fund our work. Learn more
How did we test?
In order to test the pans, we first judged their design. This meant not only taking note of their materials (especially their interior lining), but also measuring and weighing them.
Next, we tested each of the pans for efficiency. We started by taking their temperature after 30 seconds of heating at full power (gas cooking). Thanks to this, we were able to note which frying pan heated faster (temperature in the center of the pan) and whether the heat distribution was good for all of them.
Following this, we cooked a fried egg and lardons to check adherence and speed of cooking. Particular attention was also paid to the handle: did it stay cool along its entire length?
Finally, we noted the drudgery of cleaning for each of the models.
How to choose your frying pan
A frying pan is a utensil that finds its use in every kitchen. Nevertheless, faced with the diversity of the offer, it is important to focus on a few criteria to make the right choice.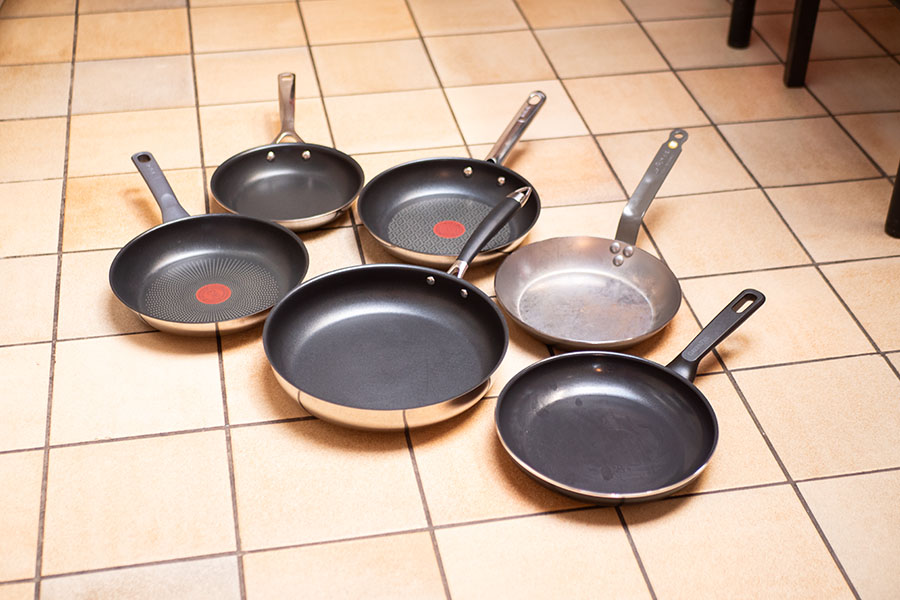 As with the best pots, we've put together some important features to consider when buying a frying pan:
The materials

: frying pans can be made of aluminum or anodized aluminum (an affordable, lightweight material that conducts heat well), stainless steel (sturdy and rust-resistant), cast iron or enameled cast iron (very durable, it is also more expensive, heavy and tricky to maintain), copper (responds quickly to temperature changes, but is also expensive and requires careful maintenance), iron (these frying pans are easy to use, as long as they are well sealed) or steel or sheet steel (a durable, versatile material). Whatever the material, the bottom must be resistant (it must not warp with use) while ensuring even heat distribution.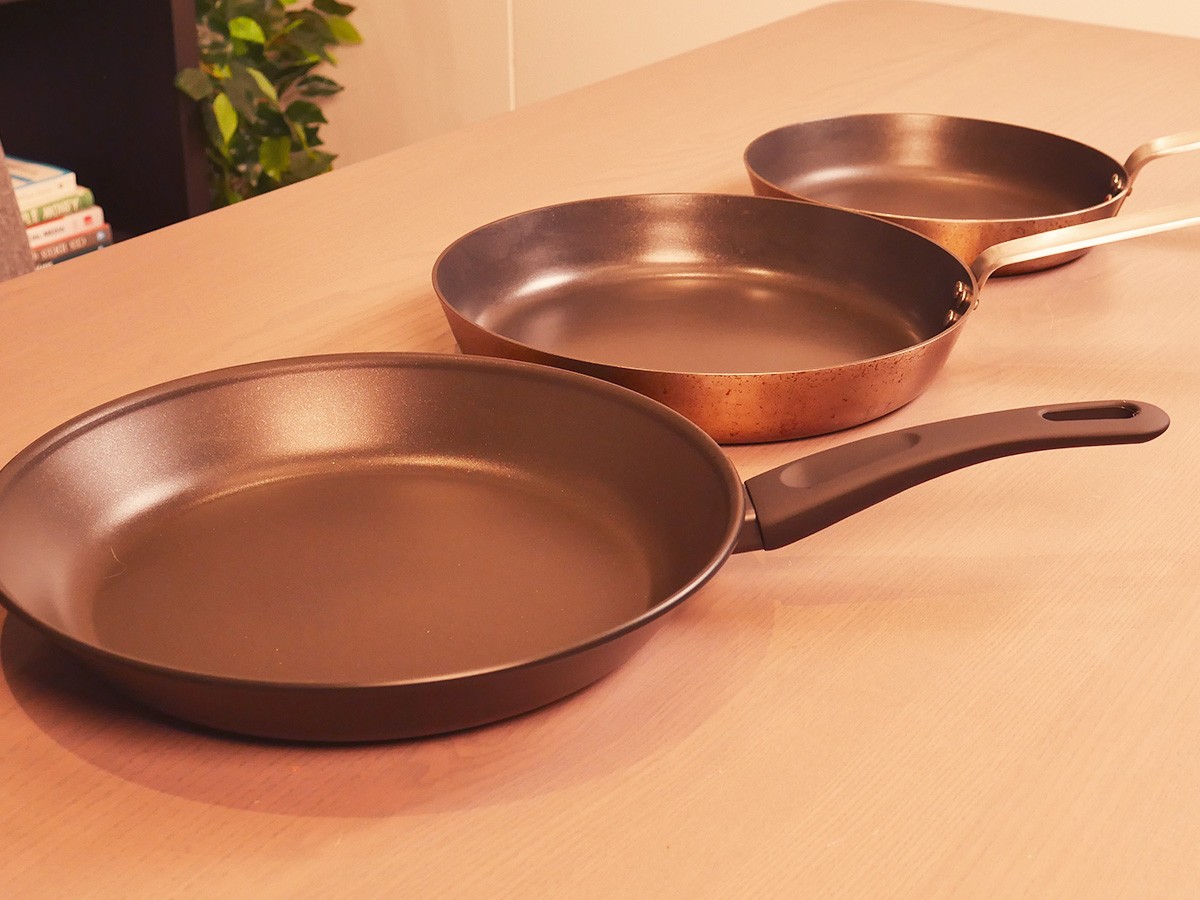 Non-stick coating

: distributes heat evenly over the cooking surface to prevent your food from burning. For a long time, Teflon was the only non-stick material used, but today ceramic (mainly composed of silica and alcoholic binders) is appearing more and more. Although effective, Teflon has been controversial for several years because it contains PFOA (perfluorooctanoic acid), a substance suspected of being harmful to health and the environment. With this type of coating, it's important to avoid overheating and to replace your frying pan as soon as it becomes damaged or worn.

The handle

: it must be stable, solid and, preferably, insulating to avoid burns. Unlike metal handles, a bakelite or other plastic handle is ideal for heat resistance. The handle may also be removable, for more convenient storage, and more or less curved in shape (to be chosen according to your comfort).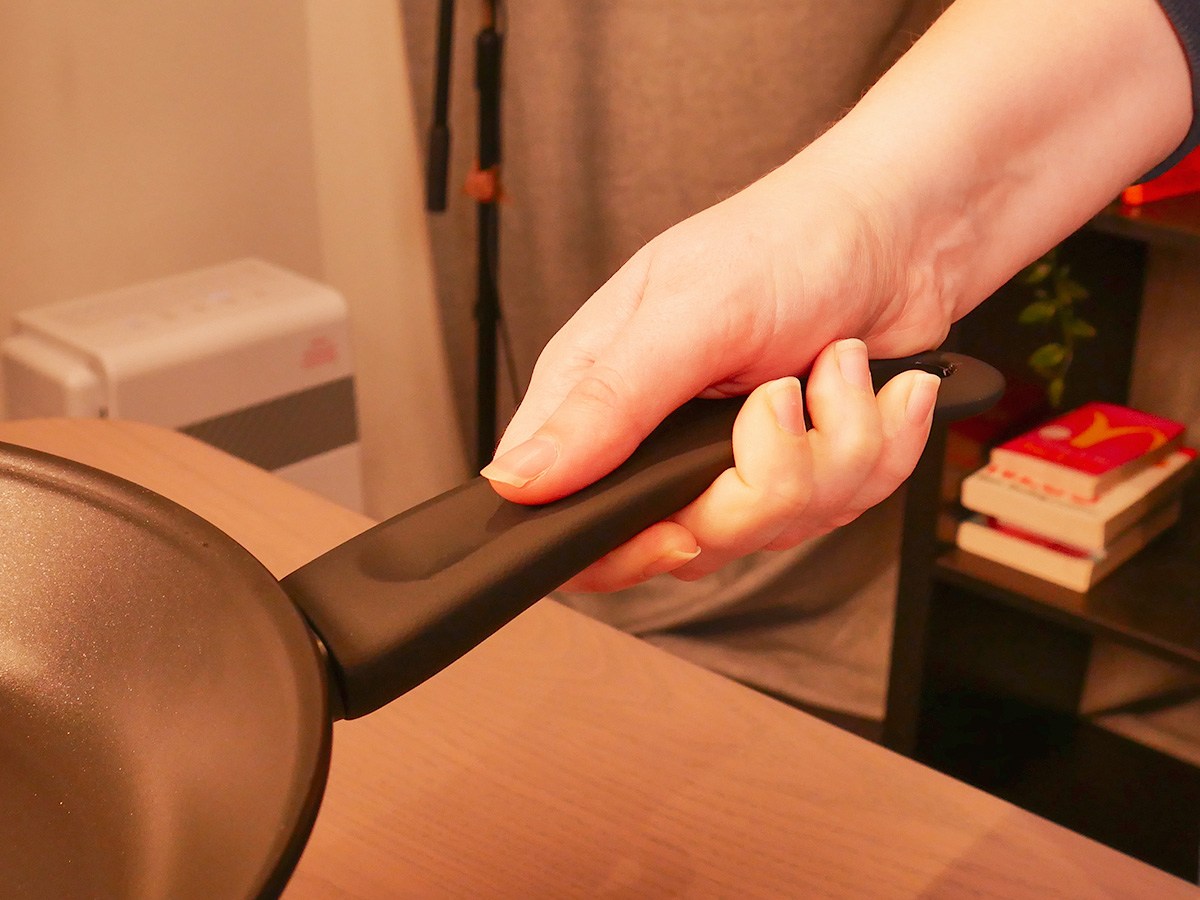 Compatibility

: don't forget to check whether the frying pan you're after is compatible with your heat source, especially for induction. The logos aren't always clear, but they can help you find out more about compatibility. Unlike stovetop types (gas, electric, glass-ceramic),

induction

requires adapted pots and frying pans with a metal steel bottom to concentrate magnetic fields.

The dimensions

: the standard diameter of a frying pan is 24 cm (this format allows virtually all uses). But there are also larger frying pans, practical for cooking fish, and smaller ones, ideal for cooking a fried egg, for example. Weight should also be taken into account, depending on use, ease of storage and desired maneuverability. It's also important to check that the base is stable on a flat surface.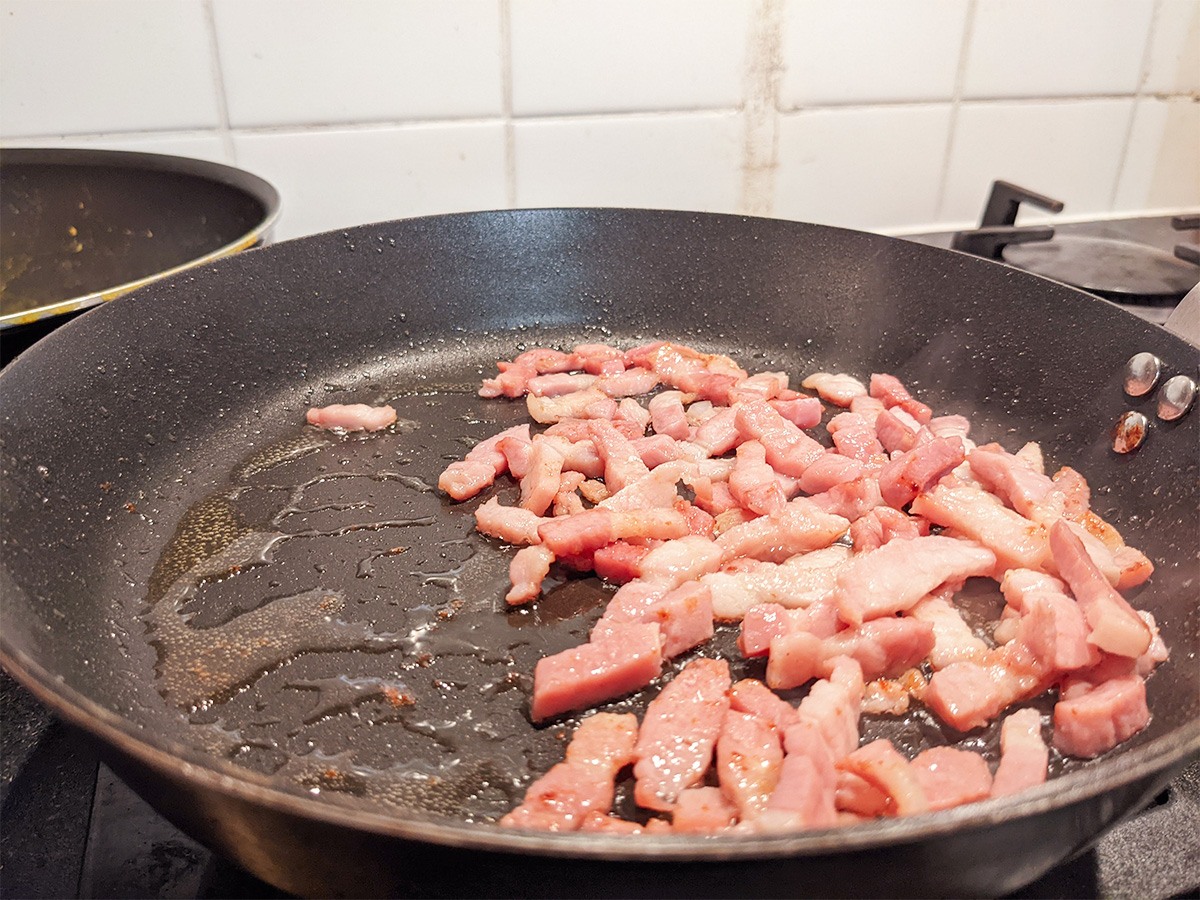 In our comparison, we have chosen only models compatible with all heat sources, to meet the needs of the greatest number.
Other frying pans we recommend
At present, no product available on the European market seems to us to have the necessary qualities to feature alongside our main selection. We'll be sure to suggest some interesting alternatives as soon as we become aware of them.
Other frying pans tested
Amazon Basics KA14005 (€30.59 at time of publication): During our tests, this frying pan cooked the lardons well, but we were a little disappointed when cooking the fried egg, as it really stuck to the bottom. In addition, it had the least even heating of all.
Tefal Duetto A7040463 (€34.91 at time of publication): While this 24cm-diameter frying pan wasn't really bad, we still preferred to leave it out of our main selection because of its handle, which quickly became very hot (except at the very end). We also felt that the egg stuck to the frying pan more.
De Buyer 5610.24 Mineral B (€43.38 at time of publication):This frying pan is too heavy (1.375 kg) than to be enjoyable to use. Its iron design without non-stick coating makes it more complex to clean and causes food to stick. Finally, it's the only frying pan that indicates the outer diameter of the pan rather than the inner.