Published on August 9, 2023
Our choice, Best mid-range
These pointed tweezers are the most effective when it comes to removing a splinter or getting an ingrown hair out from under the skin. What's more, it arrives in a small plastic zipped pouch.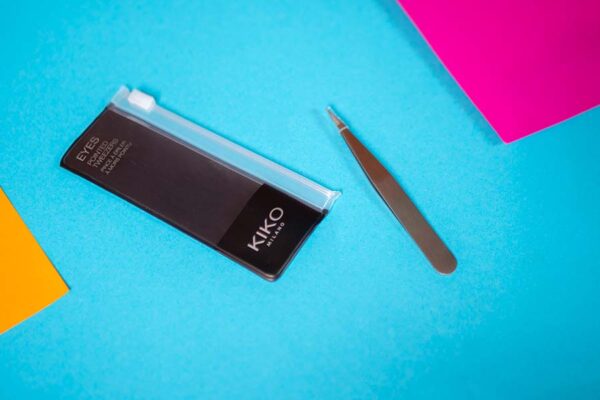 In our tests, this pointed tweezer, signed by the famous cosmetics brand KIKO Milano, proved to be the most effective for removing the many ingrown hairs from a beard. It was also effective in removing hairs without cutting them. However, as its tip is the sharpest of all, it's not the most practical for waxing. Care must also be taken when using it to avoid injury.
Its length of around 9.5 cm offers a good grip. It didn't slip during use, despite the absence of ridges on its sides. We liked the fact that it came in a plastic zip pocket (11 x 5 cm), so you can put it in a bag without fear of injuring yourself looking for it later. Note also that there's a little plastic ring to keep it pinched.
Finally, like all the other pliers tested, it's made of stainless steel, so you can leave it in your bathroom without worrying about it rusting.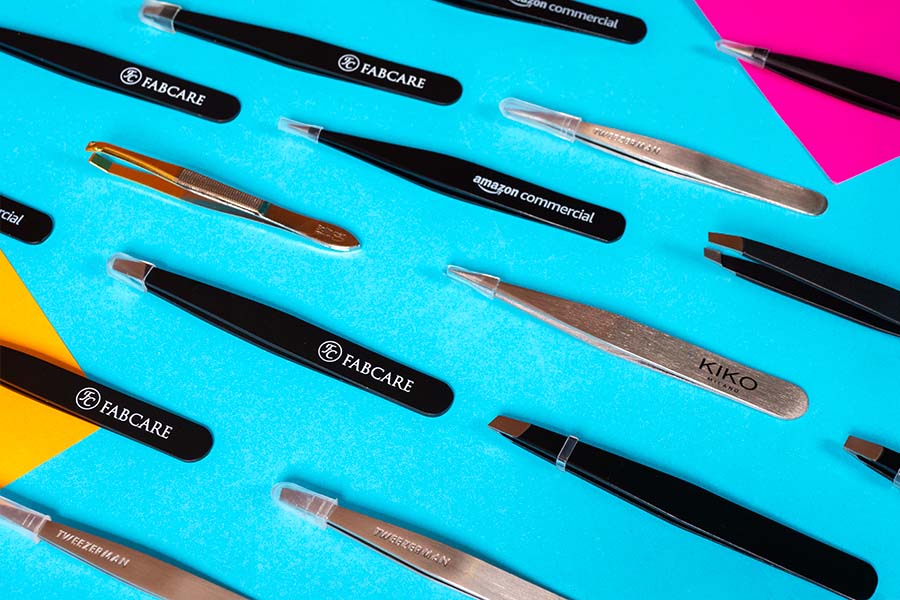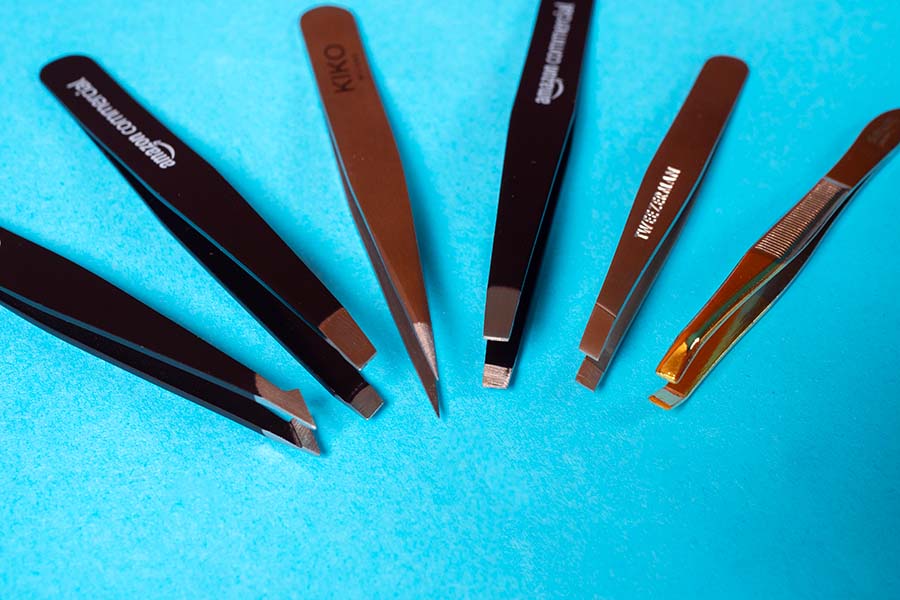 We looked at the different types of tweezers.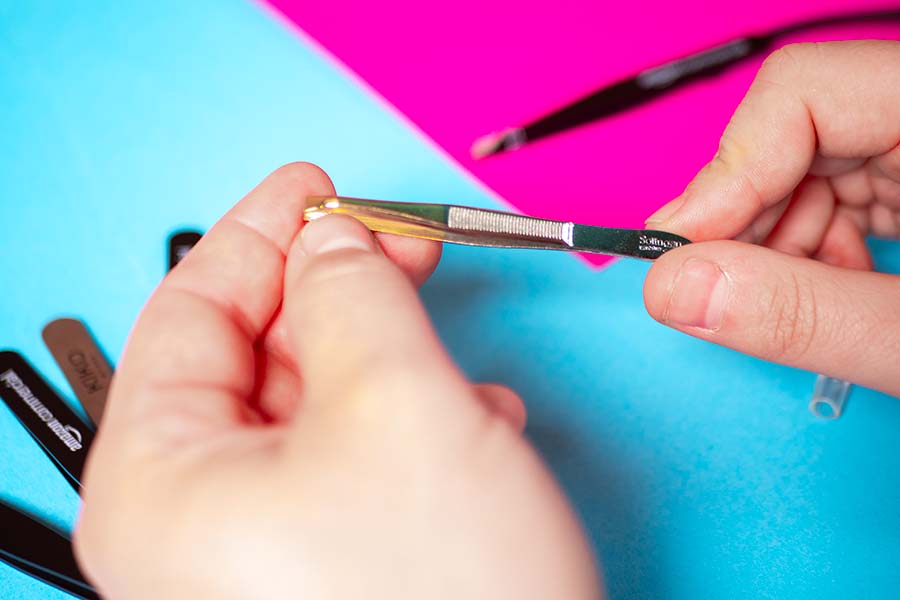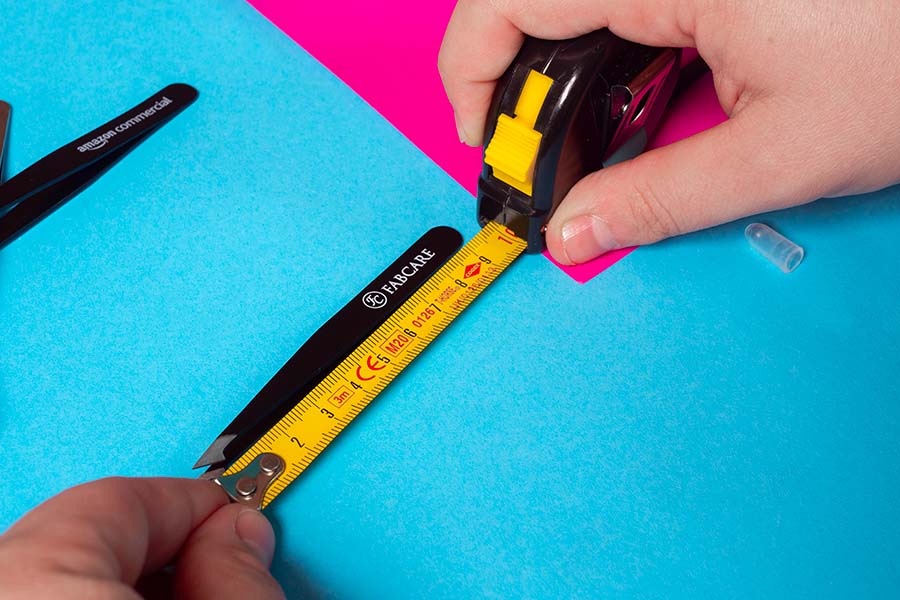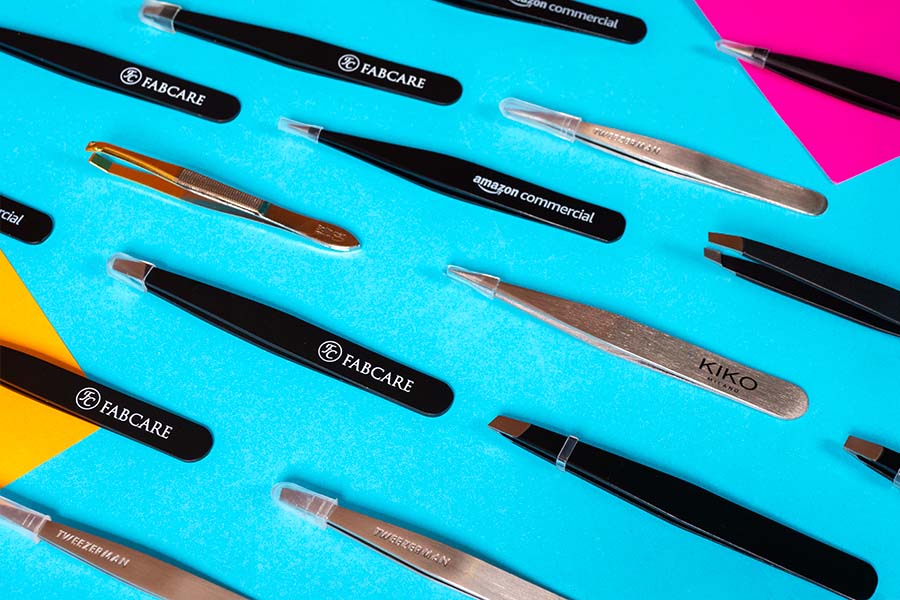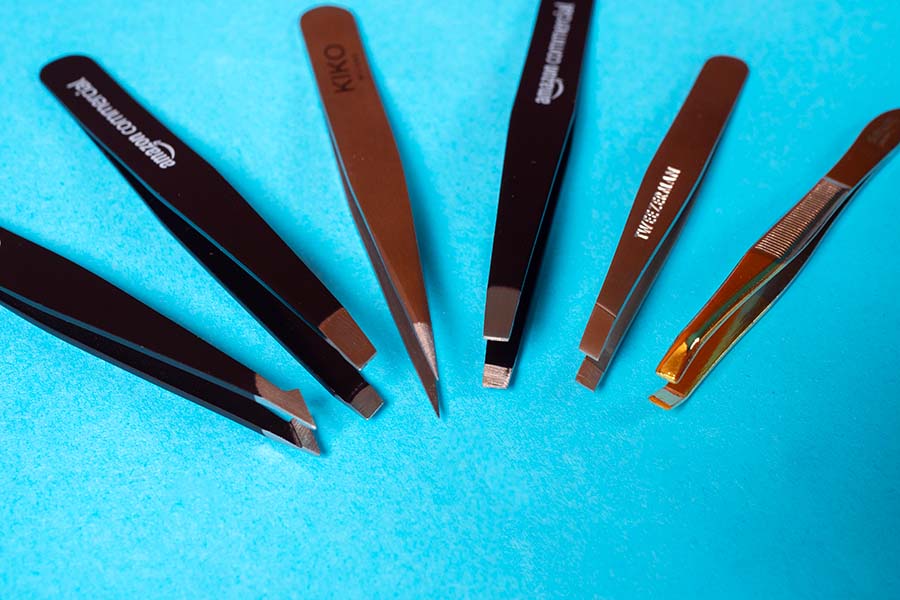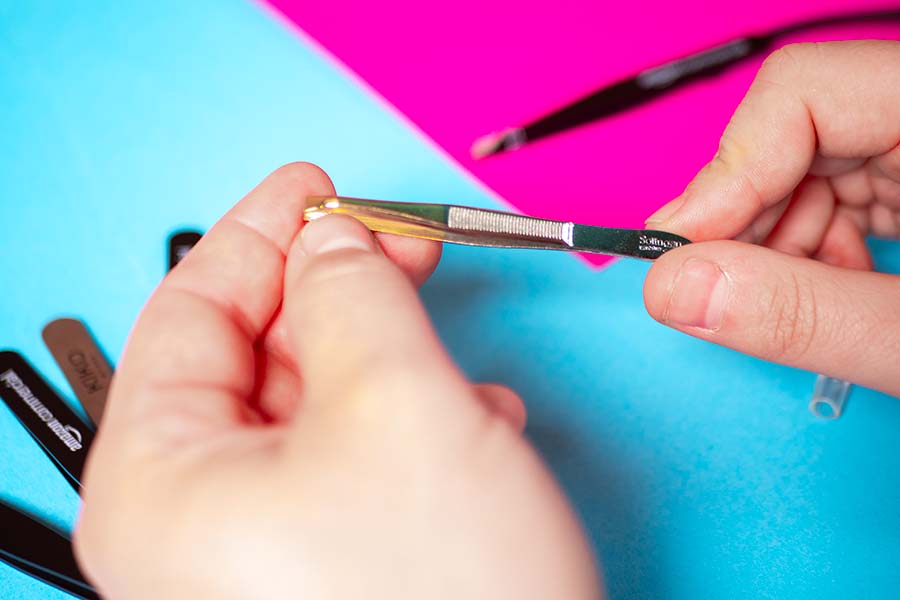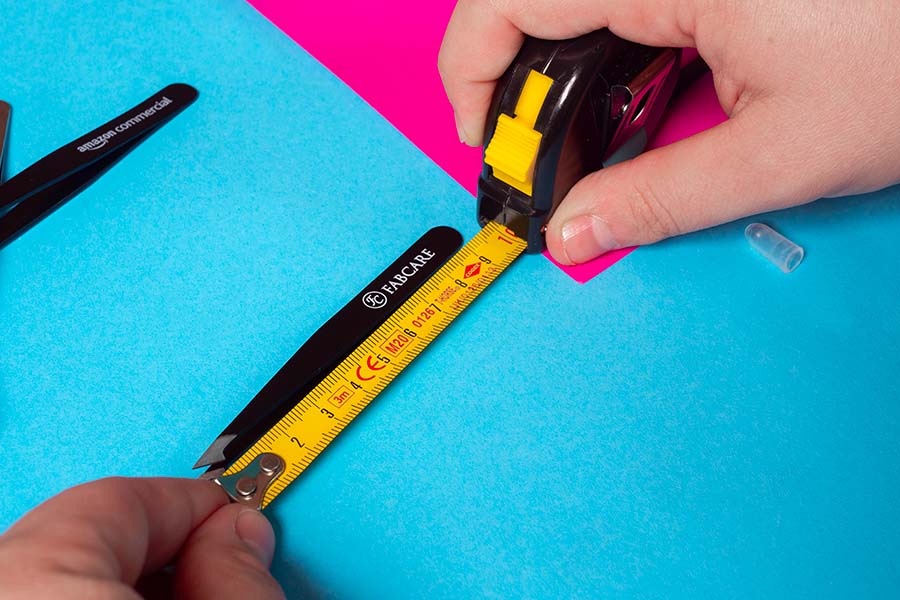 Best Budget
This set of 4 tweezers is great to have at home to deal with all eventualities: tweezing, removing a splinter or ingrown hair, carrying out meticulous work…
In this set of 4 tweezers, we find one with a pointed tip, one square and 2 with beveled tips. They all measure around 9.5 cm, which offered us a good grip during our tests, even in the absence of horizontal ridges that normally prevent fingers from slipping.
All 4 are made of stainless steel, so they can be left in the bathroom. But their storage pouch also gives you the option of taking them everywhere with you easily.
Concretely, the square pliers were able to remove hairs without cutting them. On the other hand, the others sometimes broke the hairs instead of pulling them out. The pointed tweezers managed to remove ingrown hairs in a beard, but it wasn't the most effective (we got them more slowly, as it's less pointed than others).
Best high-end
This set of 2 tweezers includes one pointed and one beveled in a storage pouch. The 2 tweezers are effective in their respective fields.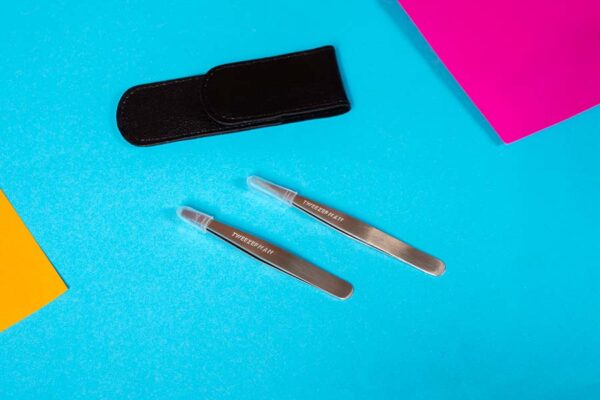 In a leather pouch with magnetic closure, this time we're treated to 2 tweezers. In our tests, the pointed one proved almost as effective as KIKO's for removing ingrown beard hairs. As its tip is slightly less pointed, we were able to remove them a little more slowly. As for the beveled one, it was effective for tweezing without breaking the hairs.
While both offered a good grip, we would have preferred the beveled one to be a little longer (8 cm, versus 9 cm for the pointed one). Again, neither of the 2 had a notch or horizontal ridges, but our fingers didn't slip. Finally, like the others, they're made of stainless steel, so they're safe to keep in the bathroom.
Alternative pas chère
Comprising 4 tweezers, this kit also has the distinction of offering an eyebrow brush and a brush on a fifth element to make up your eyebrows.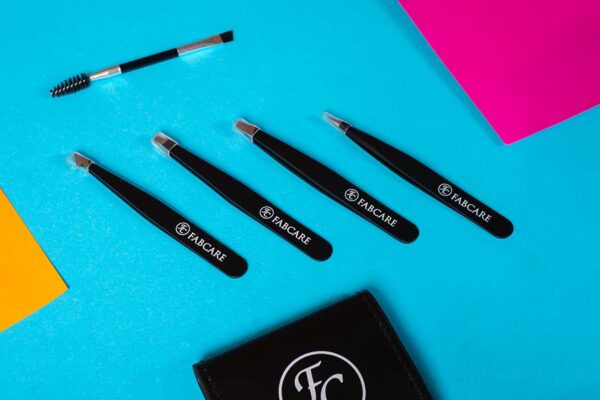 The main difference between this kit of 4 tweezers and the Amazon kit recommended above is the additional presence of a 2-in-1 eyebrow brush. Thanks to it, you can sculpt your eyebrows, then apply make-up using the small brush.
In the 4 tweezers, we have one pointed, one square and 2 beveled. The reason we preferred the Amazon ones is that we found them to be a tiny bit better at plucking hairs without breaking them during our tests. And, again, the pointed tweezers managed to remove ingrown hairs in a beard, but a little less quickly than with KIKO's due to its slightly less pointed tip.
They, too, are made of stainless steel and can be stored in a pouch so you can take them anywhere. However, there's no place for the double brush, which we think is a shame. There are also small plastic rings to keep them clamped for added security, as on those from Amazon and KIKO. Finally, at around 9.5 cm long, they all offered a good grip.
Our selection
200+ Comparisons

2000+ Products Tested

100% Impartial
Why trust us ?
Selectos compares and tests hundreds of products to help you buy better. We sometimes receive a commission when you buy through our links, which helps fund our work. Learn more
How did we test?
In order to test the tweezers, we started by measuring them to check their length. We realized that this had a direct impact on ergonomics, as models that were too small didn't offer as good a gripas larger models.
Next, we noted whether their design offered a good grip thanks to the presence of small horizontal ridges or notches in which to place your fingers to prevent them from slipping. Of course, we also looked at what type it was (straight, square, beveled or pointed).
Finally, we tested the effectiveness of each by plucking our hair to see if they were able to remove hair without breaking/cutting it, or remove ingrown hairs in the case of the pointed tweezers.
How to choose your tweezers
Before choosing your tweezers, you should know that there are various types: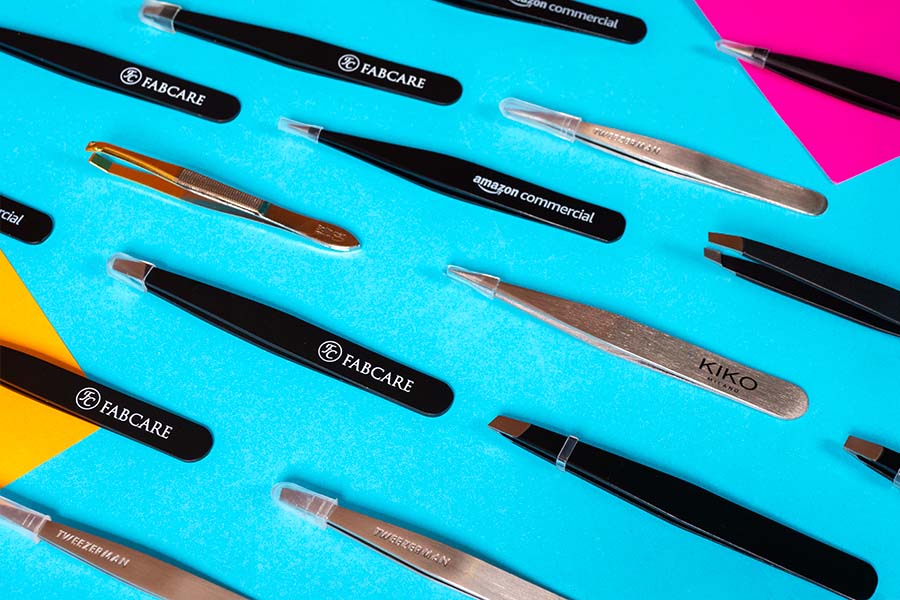 Crab tweezers:

the jaws of these tweezers are curved, making them handy for finishing off hair removal that isn't quite perfect after using an epilator or wax. It is also ideal for eyebrows.

Square or straight tweezers:

end in a thin, square tip. It's best used on thick hairs, which are easier to grip this way. In principle, it should remove the root. It's the most widely sold.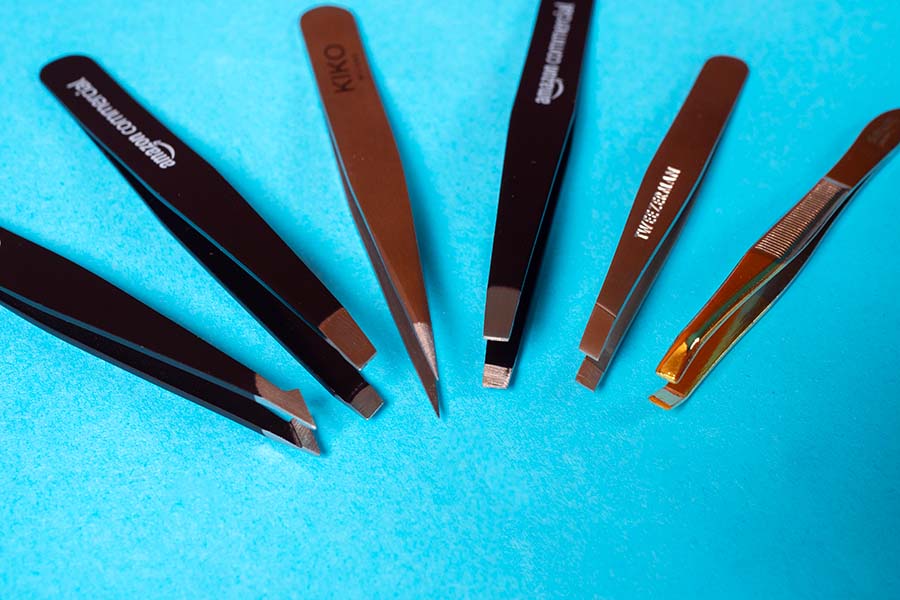 The beveled tweezer:

very popular, it resembles the previous one, but with an angled profile. In practical terms, this enables it to adapt to the profile of the face and sensitive areas. On the other hand, hairs that are too fine are sometimes broken or cut rather than plucked with this one.

The pointed tweezer:

ideal for removing splinters and ingrown hairs, it's a little less common than other types of tweezers.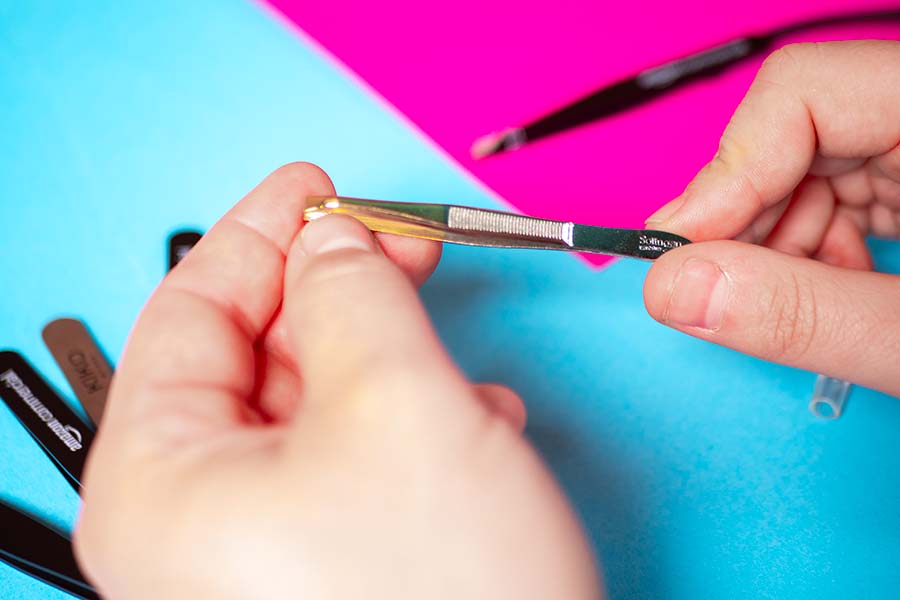 Once you know what you need, you can turn your attention to a range of other features that will either help you keep it longer or make it easier to use:
The material:

stainless steel is a safe bet, as it doesn't rust. It's best if you leave your pliers in the bathroom. Plastic is really to be avoided because it doesn't perform as well.

Sizes:

avoid models that are too small, which are difficult to hold and make them more complex to use. In our experience, we recommend tweezers measuring around 9.5 cm.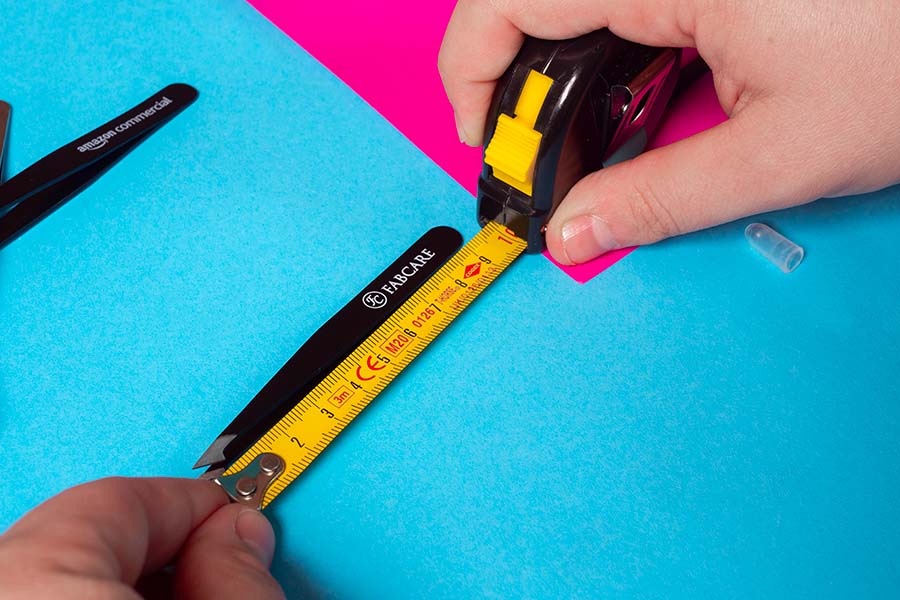 The design:

some models have an ergonomic profile that offers a better grip. Others even have small horizontal lines on the sides to prevent fingers from slipping.
Other tweezers we recommend
Remos 7310 Stainless Steel Tweezers (€17.66 at time of publication): A model offering a good grip, but limited effectiveness. During our tests, we found that these beveled pliers offered a good grip. Its length of around 9.5 cm is just the right size for easy use. We also appreciated its mini storage pouch (10.8 x 2.2 x 0.6 cm), which means it can be kept in a bag without the risk of getting pricked by its sharp point when looking for it later. On the other hand, we found its ability to remove hairs without breaking or cutting them to be rather limited. Indeed, as soon as we tried to remove a hair by not following exactly the direction of growth, the hair was cut instead of plucked.
Other tweezers tested
Remos Tweezers VA-UK-AZ-A89736 (€7.56 at time of publication): While this tweezer offered a very good grip, it proved far less effective than the others tested, even cutting hairs instead of removing them.