Published on August 22, 2023
After testing 6 popular glosses online, we concluded that
Lavera Glossy Lips
was the best gloss by combining pronounced pigmentation with a very good composition. And if you're looking for a gloss that lasts a little longer than the others while capturing more light, it's the
Maybelline New York Lifter Gloss
that we recommend.
Our pick, Best mid-range
This gloss has the best composition of this selection. It also offered the best pigmentation in this test while being easy to apply.
Available in various shades (6 on the official website, but more in e-commerce), we chose the 'Soft Mauve 04' for this test. And we quickly agreed that this was the most pigmented gloss of all. That's probably thanks to its slightly darker shade than the others, but we were pretty impressed nonetheless.
Like most glosses, the applicator is soft, thin and fluffy, which made it easy to apply. Once it was applied, we didn't notice any volumizing effect. However, it wasn't sold as such by the brand, so it's not really a negative point in our opinion.
The downside is ultimately its staying power, since it disappears after a meal. But that's often the case with lip glosses. So you need to take it with you so you can reapply some during the day.
Note that the composition is not given on the tube, but is easily found on Lavera's official website. It is also vegan and gluten-free. However, titanium dioxide is still listed as a potential ingredient.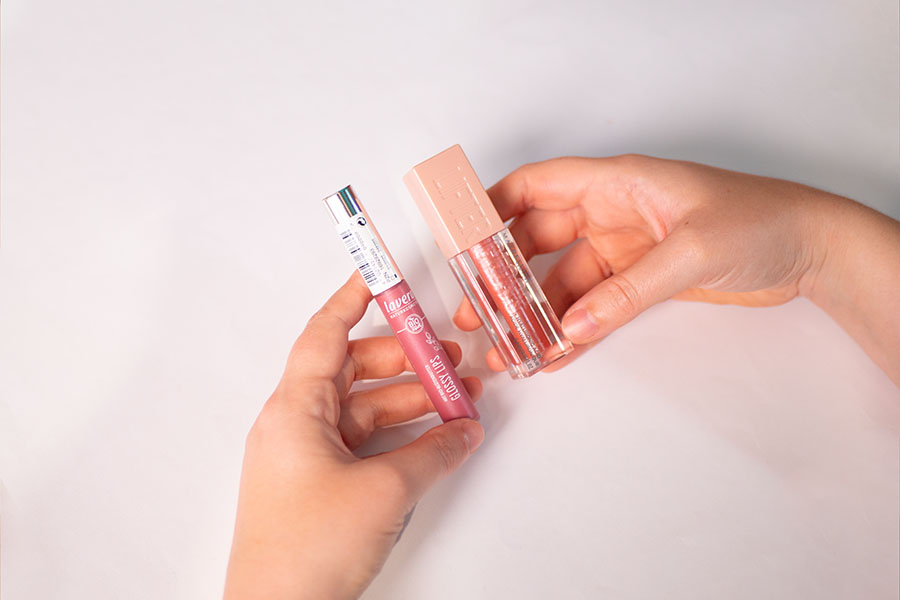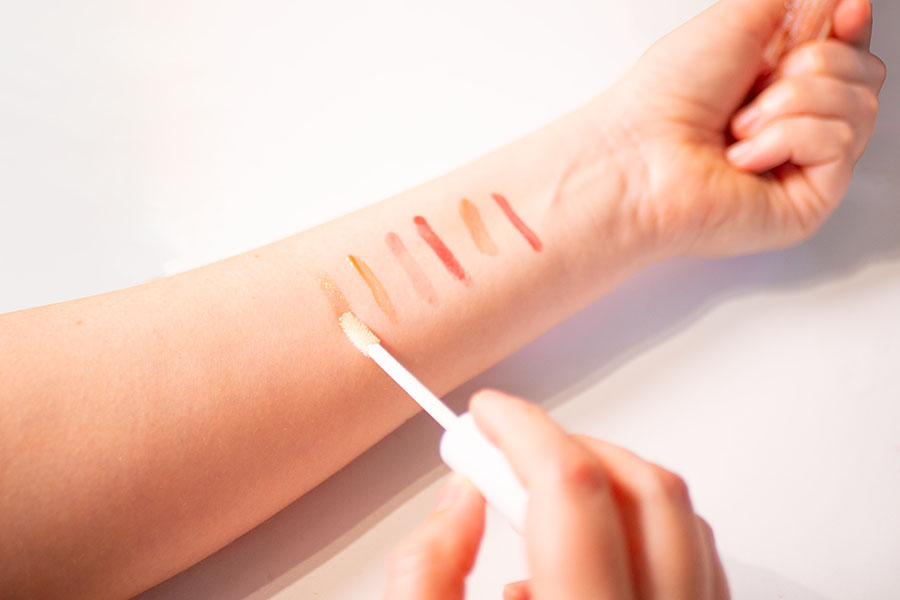 We then analyzed the different pigmentations.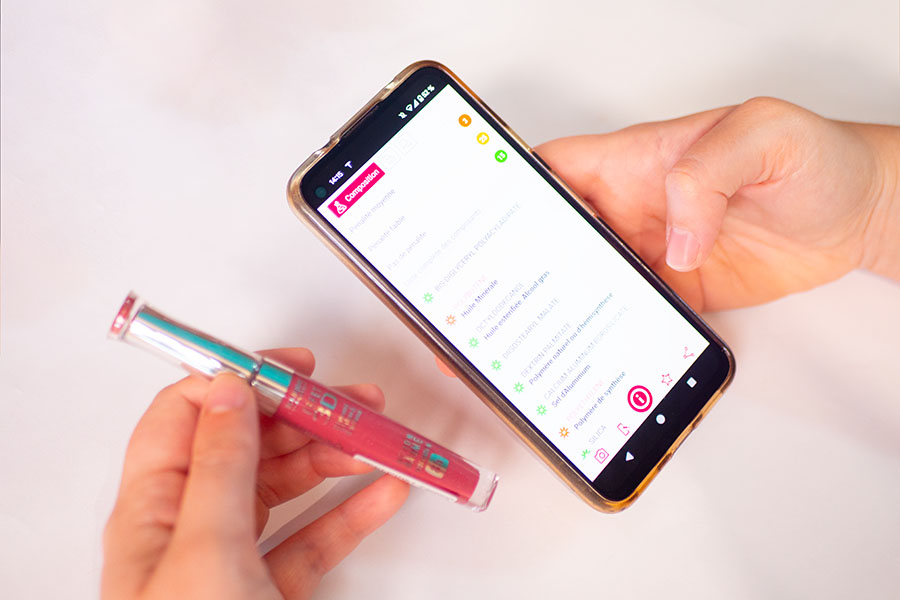 We checked their composition using the INCI Beauty app.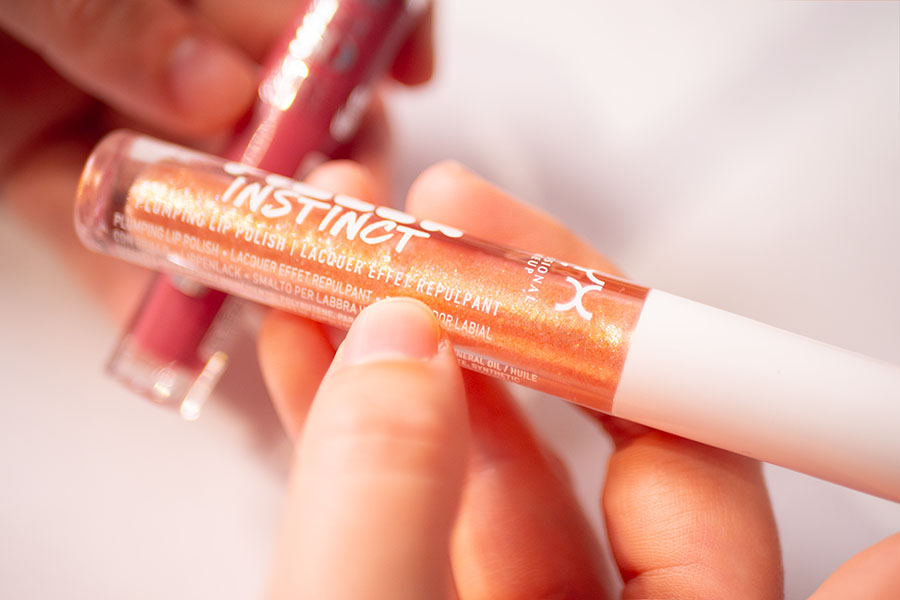 We also looked at whether they were able to offer a volumizing effect to the lips.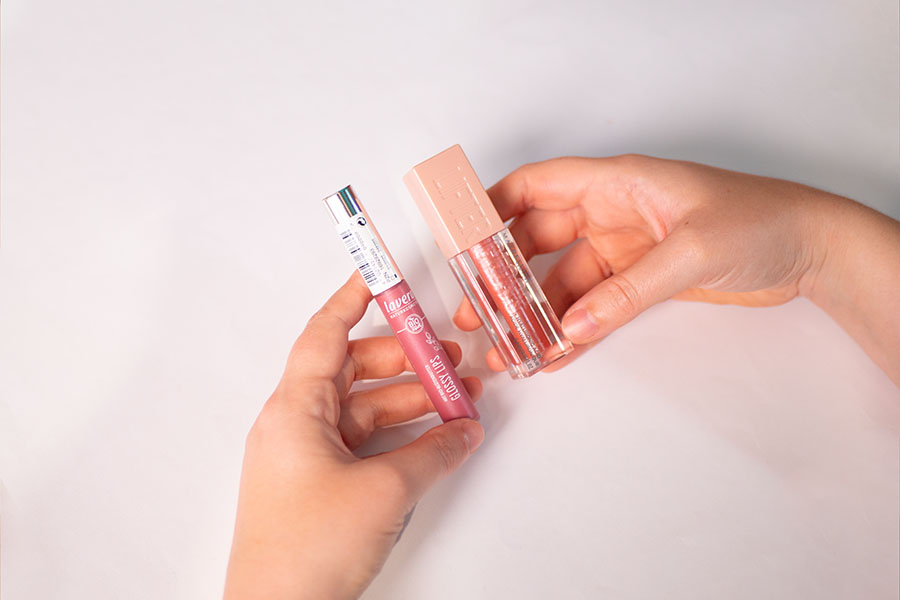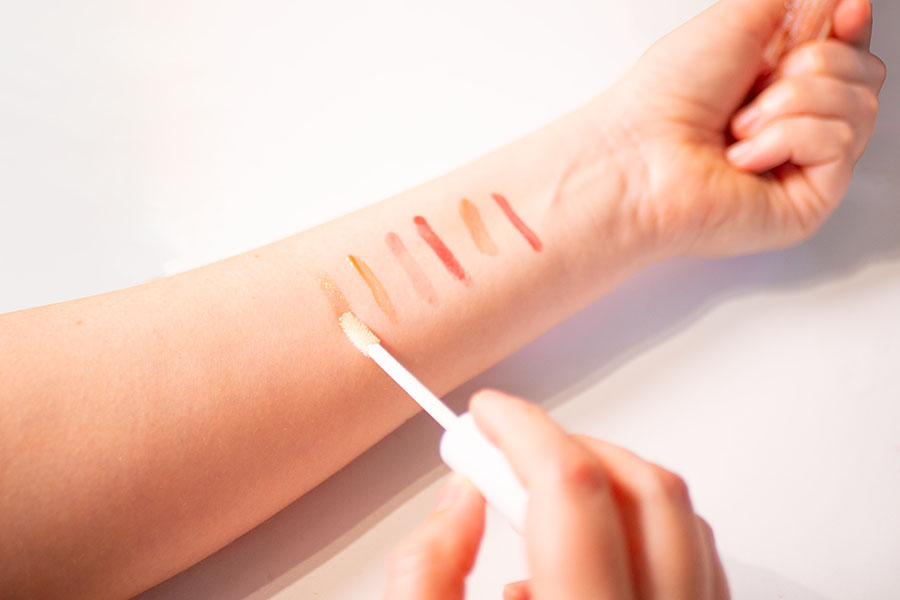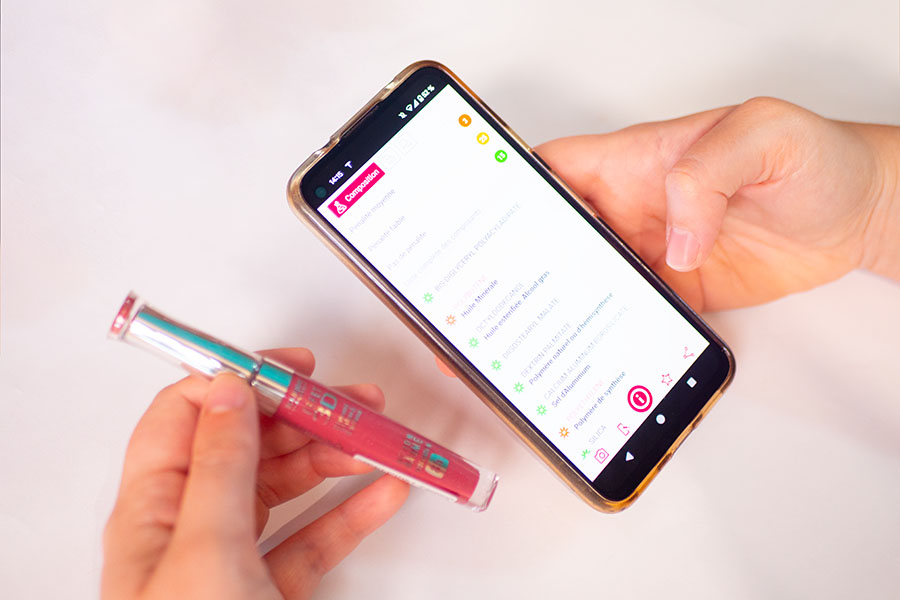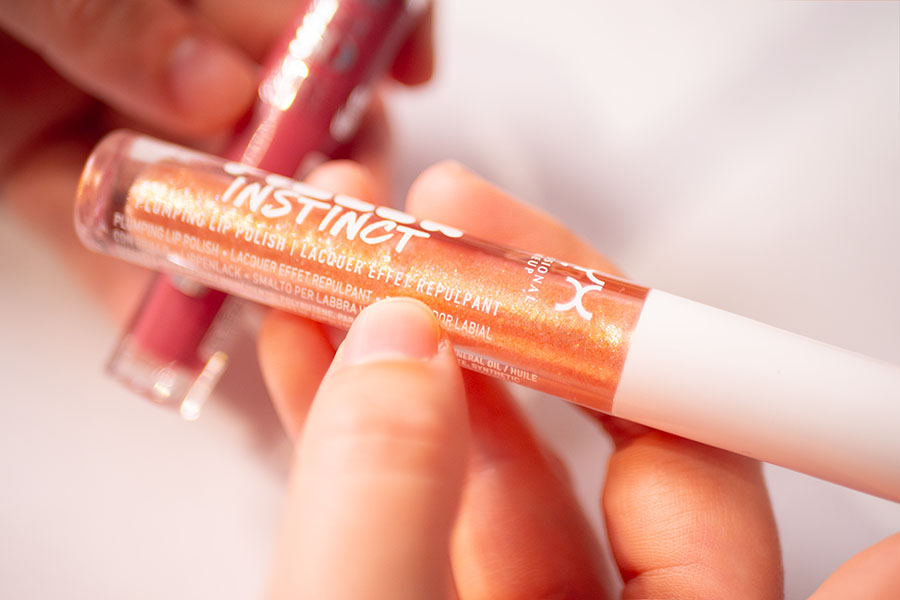 Meilleur pas cher
Available in a wide range of shades, this gloss held up slightly better than the others in our tests. What's more, its glitter caught the light better.
Concretely, this gloss's glitter reflected light more, giving the impression of slightly fuller lips during our tests. Its '003 Moon' shade, on the other hand, turned out to be less dark than the tube suggested. Note that online, we saw 14 different ones (although the official site currently lists only 5), some of which are even more nude, and others more pronounced (red, fuchsia, mauve…).
Here, the applicator is a little thicker than what we've seen on the others. On the other hand, it's just as soft and fluffy. It allowed us to apply the gloss quite easily. Its staying power wasn't significantly better than the others, but we did notice that there was still a bit of glitter left after a meal, which is always better.
As for the packaging, we were glad it was a little bulkier (square base), as we found it easier to hold like that. What's more, we find the list of ingredients on the label that closes the gloss.
Finally, the composition is clearly one of the worst we evaluated: mineral oil, preservatives, synthetic polymers, fragrance… And like all those tested, this gloss may also contain titanium dioxide.
Our selection
200+ Comparisons

2000+ Products Tested

100% Impartial
Why trust us ?
Selectos compares and tests hundreds of products to help you buy better. We sometimes receive a commission when you buy through our links, which helps fund our work. Learn more
How did we test?
In order to test the glosses, we started by assessing the quality of their applicator. We noted whether they were rather fluffy, soft, thin, thick, precise, bristly… Next, we applied each gloss to judge their pigmentation and ease of application. We paid particular attention to checking whether the color in the tube proved as pronounced once applied to the lips. We also looked to see if they were able to offer a volumizing effect to the lips, but this wasn't the case for any of them.
Of course, we noted their tenure over the course of a day. Unfortunately, it soon became clear to us that lip gloss is one of the cosmetics you need to reapply regularly during the day. Indeed, it goes off very quickly after you've had a few drinks or during a meal.
Finally, we checked their composition using the INCI Beauty app, keeping a close eye in particular on the presence of titanium dioxide (dangerous to health when ingested or inhaled), but they could all contain it (used as a white colorant).
How to choose your lip gloss
The gloss should have a wetter effect than the lipstick once applied. To help you make your choice, here's a list of criteria to consider before making your purchase:
The format:

the 3 main formats are the stick, the tube with applicator and the jar. In this article, we've chosen the tube with applicator, which is more common than the others and easier to apply.

The color:

it's recommended to choose a shade that matches your skin color. For example, darker skin tones such as coral, apricot or orange can be used. On the other hand, lighter shades (peach, pink, beige) are preferable for lighter skins, so that the effect is not too discordant. But in the end, it's mostly a matter of taste and style, and everyone does as they wish.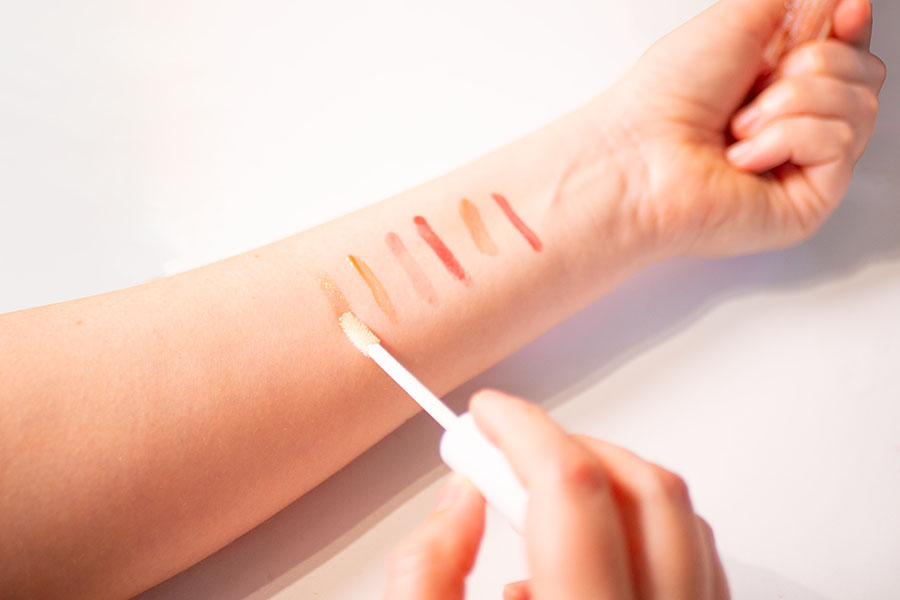 The volumizing effect:

glosses with this effect have a composition that allows your lips to swell slightly, reflecting light. For this reason, they are particularly recommended for thin lips.

Titanium dioxide:

it's used as a colorant. Unfortunately, lip glosses often contain it (even in organic products). For this reason, we advise against licking your lips too much, as this ingredient is mainly hazardous to health when ingested and inhaled.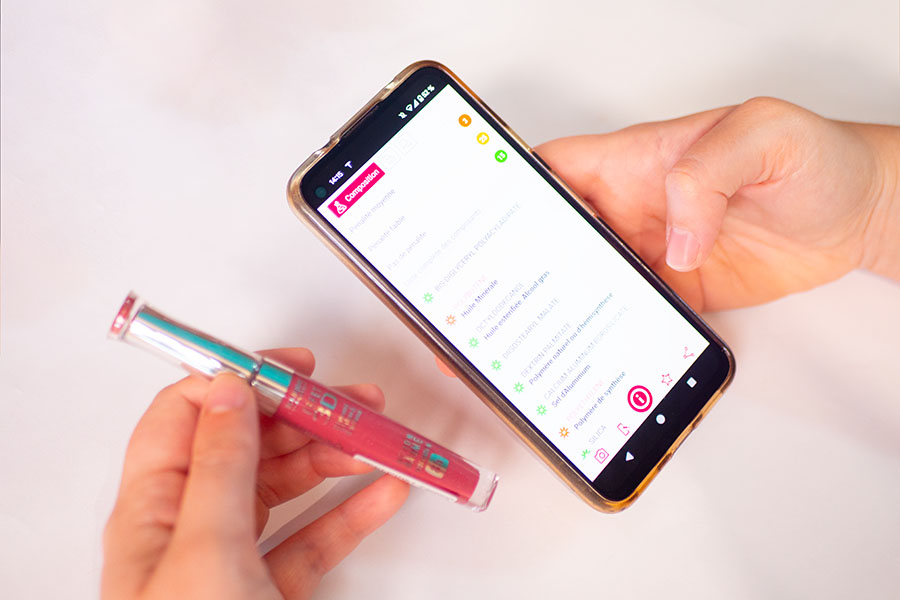 Other glosses we recommend
Benecos Natural Lipgloss (€3.99 at time of publication): A second, more natural and affordable solution. During our tests, this natural gloss (may still contain titanium dioxide) was easy to apply thanks to its soft, fluffy, thin applicator. On the other hand, the 'Natural Glam' shade we'd chosen turned out to be rather unpigmented, and even with a lot of application, we didn't manage to get the color on our lips that was visible in the tube. In the end, the result wasn't really noticeable. What's more, there was no volume effect, and the gloss went right off when we ate. It was therefore necessary to reapply some during the day. However, pigmentation concerns don't seem to apply to the other shades ('Embrasse-moi' or 'Fleur Rose') which are darker or brighter according to users. Please note that the brand has not put the list of ingredients directly on the tube, but that it can be easily found online.
Bourjois Paris Effet 3D (€5.20 at time of publication): A gloss with a brush. The '03 Brun Rosé' shade of this gloss was quite pronounced during our tests. We even judged that the rendering on the lips was indeed that of the tube. Instead of an applicator, this time we used a brush, which proved more precise. The whole is pleasant to apply and wear. On the other hand, the 3D effect didn't seem real to us, as our lips didn't really take on volume… And like the others, we have to reapply some after a meal. If the composition is not directly indicated on the tube, it was noted on the sachet in which the gloss arrived. However, it did not correspond to that on the official website, and included ingredients unknown to the INCI Beauty application. If you have particularly sensitive skin or allergies, we therefore advise against this solution.
NYX Professional Makeup Filler Instinct (€7.95 at time of publication): A tingly gloss. We were very surprised by this gloss during our tests. After easily applying it with its thin, soft, fluffy applicator, we felt tingling on our lips for around 30 minutes. Depending on your degree of sensitivity, this may feel like a simple tingling sensation, or like mini-burns. For our part, we didn't find it very pleasant. Rest assured, this effect is perfectly normal and is even highlighted by the brand (plumping effect). Even so, we weren't convinced that it helps give lips more volume. On the other hand, while its 'Brunch Drunk' color is fairly light, we found it very glittery. So, as with the Maybelline New York in the main selection, the glitter stayed on a little longer than other glosses, even after a meal. Note that there are 6 different shades, some of which are darker. The ingredients list is clearly legible on the tube and is far from the worst of all, but clearly not the best either.
Other glosses tested
Rimmel Oh My Gloss (€7.99 at time of publication): In our tests, this gloss stuck a little more than the others, but it also had the worst possible composition (mineral oils, synthetic polymers, chemical UV filters, allergens, suspected endocrine disruptors…). What's more, it had very light pigmentation once applied, and didn't hold up any better than the others.