Updated on 12 June 2023
After 10 hours of research and a careful comparison of 28 disposable pads, 11 of which were tested, we determined that
Rael Organic Cotton Regular
offers the best value for money.
Our choice, Best mid-range
Not only are they comfortable, but their healthy and environmentally friendly composition is perfect for sensitive skin.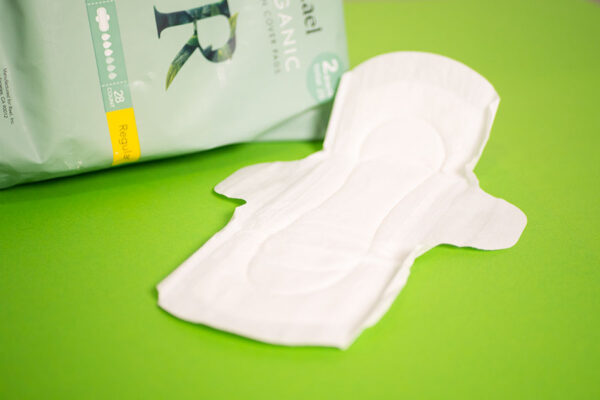 At about 25 cm long and 8 cm wide in Regular size, this pad is suitable for regular flows, although it is available in different versions to suit all flows. Designed with Leak Locker technology, it has side walls to prevent leakage. The super absorbent core provides satisfactory absorption of liquids. Made entirely of organic cotton and free of dyes, chlorine, perfumes and chemicals, with a soft, hypoallergenic veil, it does not cause skin irritation or reactions and is suitable for sensitive skin. It is healthy for the body and is ecologically designed, from the pad to the packaging. It is also quite thin and breathable, so it is not only unnoticeable but also pleasant to wear. The wings ensure that it stays in place inside the underwear. However, there are two small complaints: it doesn't mask menstrual odours, and during our tests, the glue tended to pull small coloured particles out of the underwear.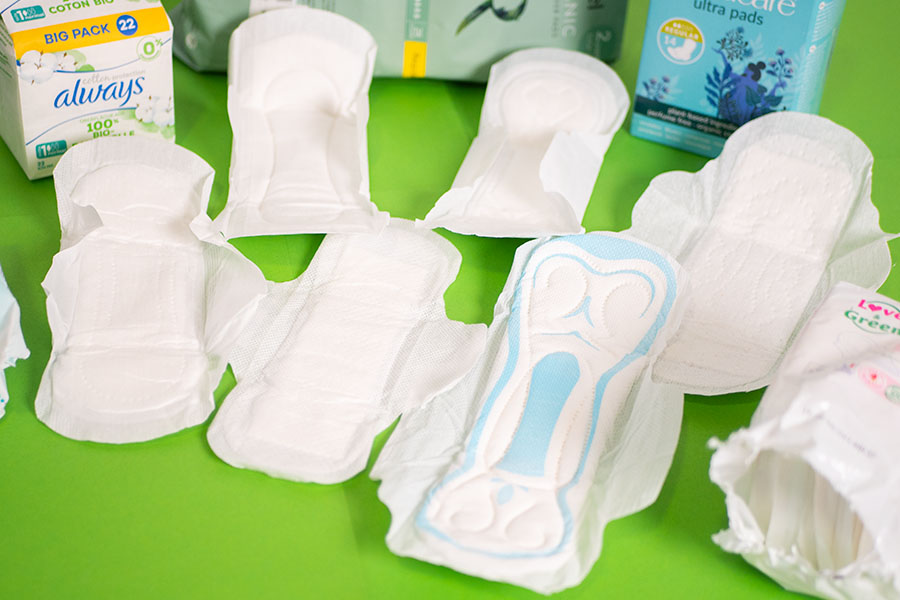 Some of the pads we tested.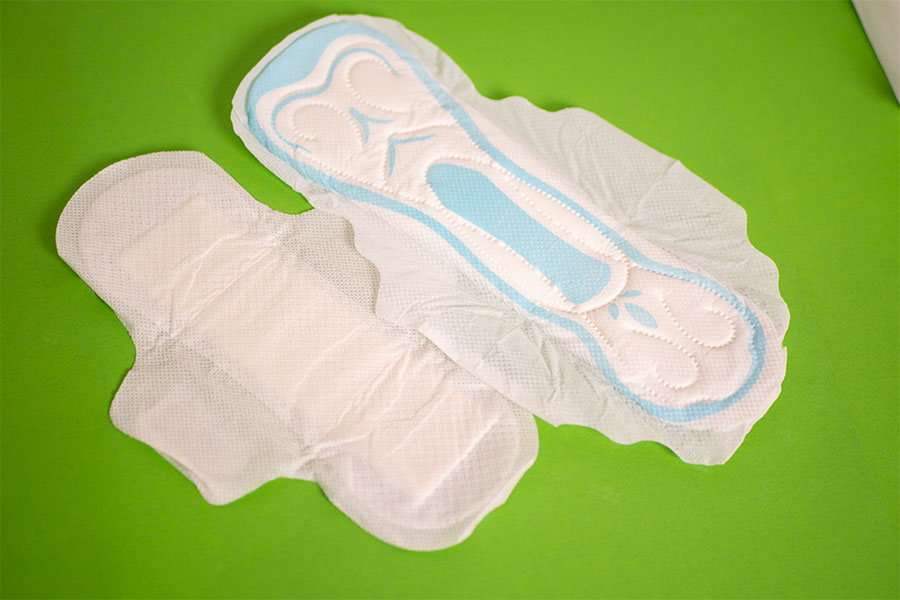 To start with, we looked at the size of each one.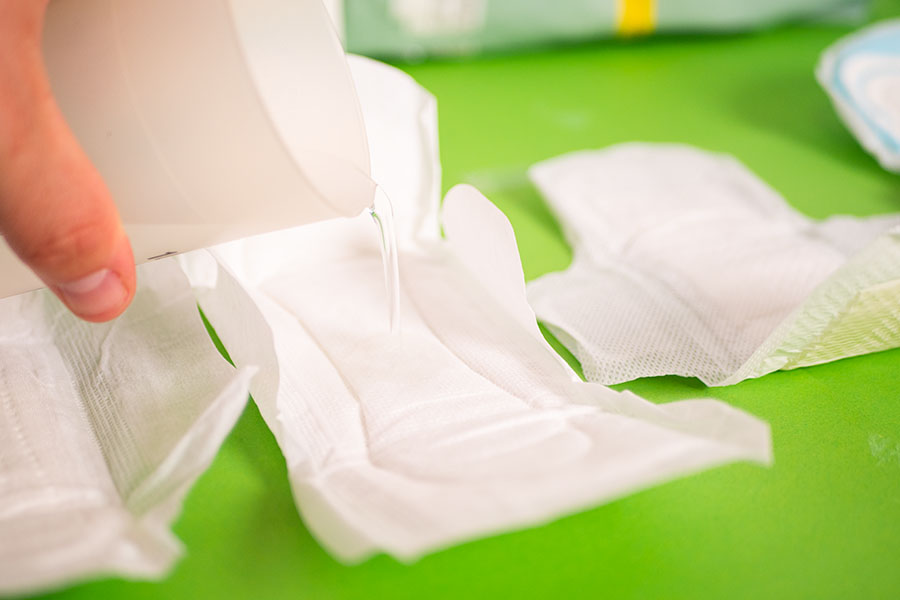 We did an absorption test.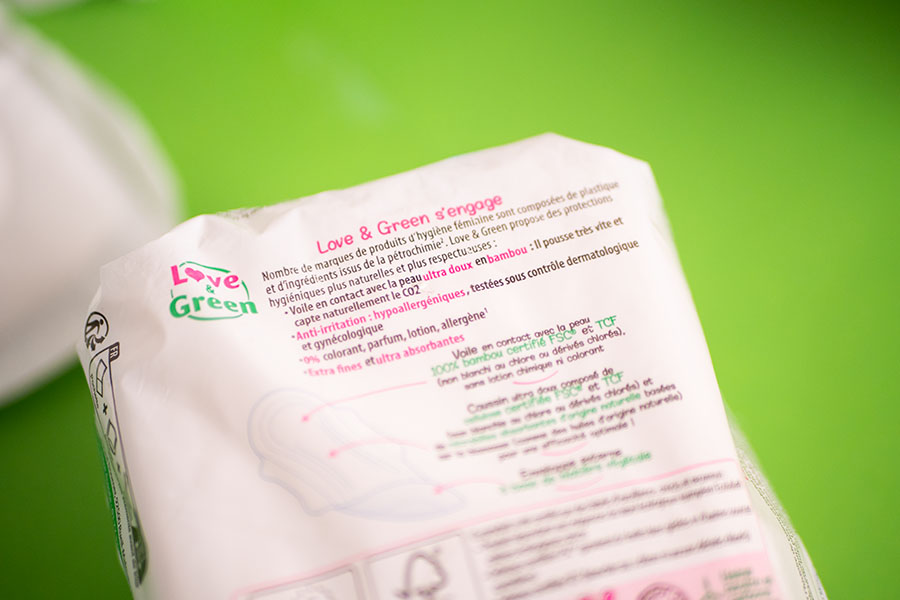 We checked that their composition was as clean as possible.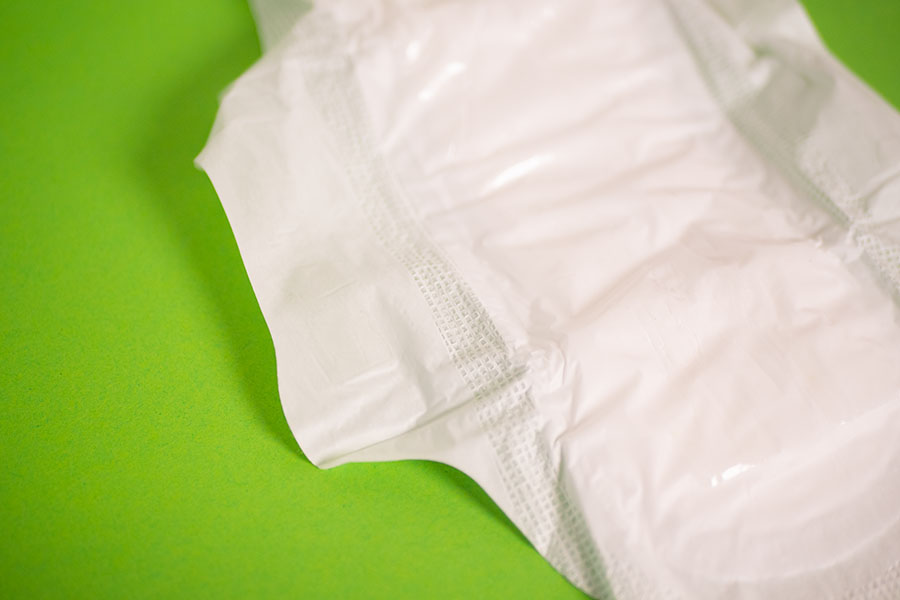 We looked to see if they were thin enough, discreet, soft and breathable.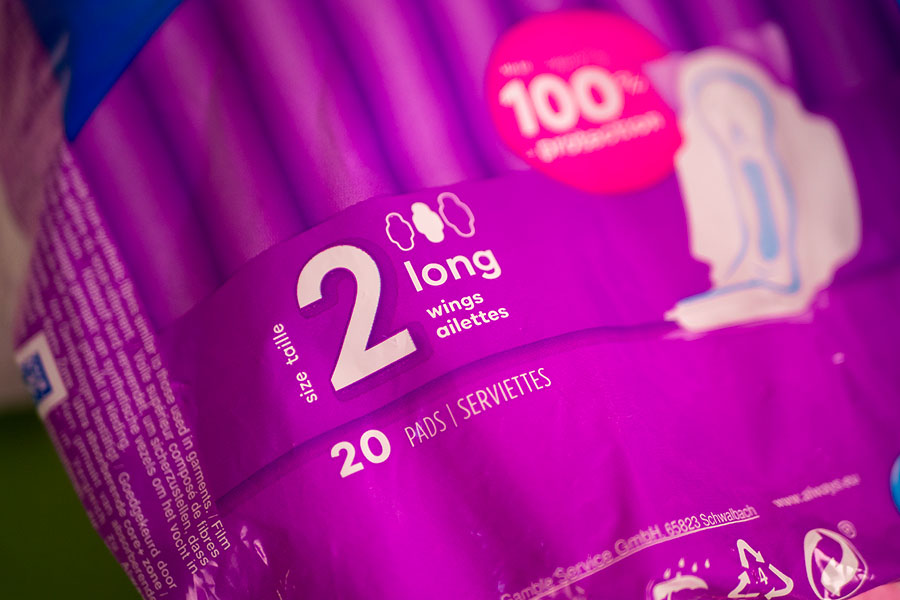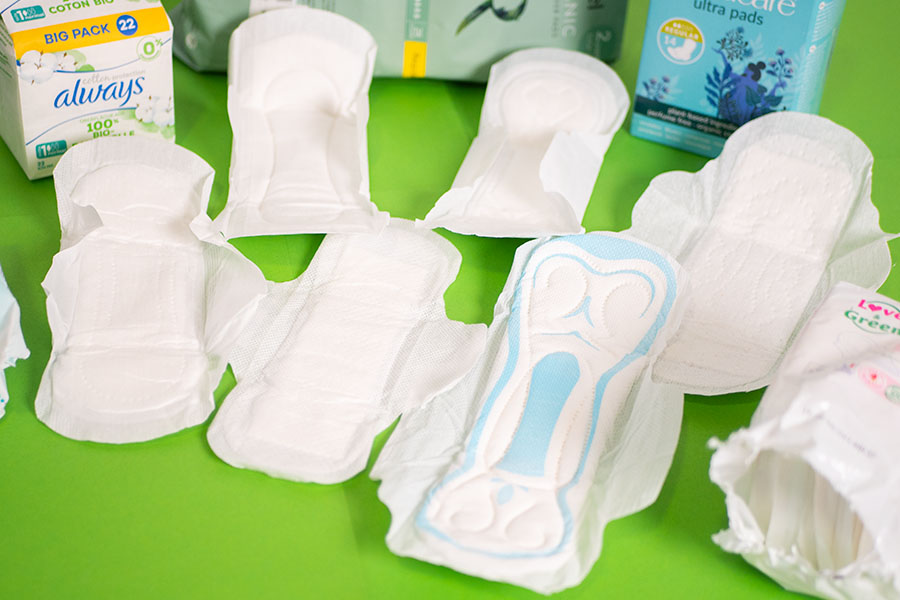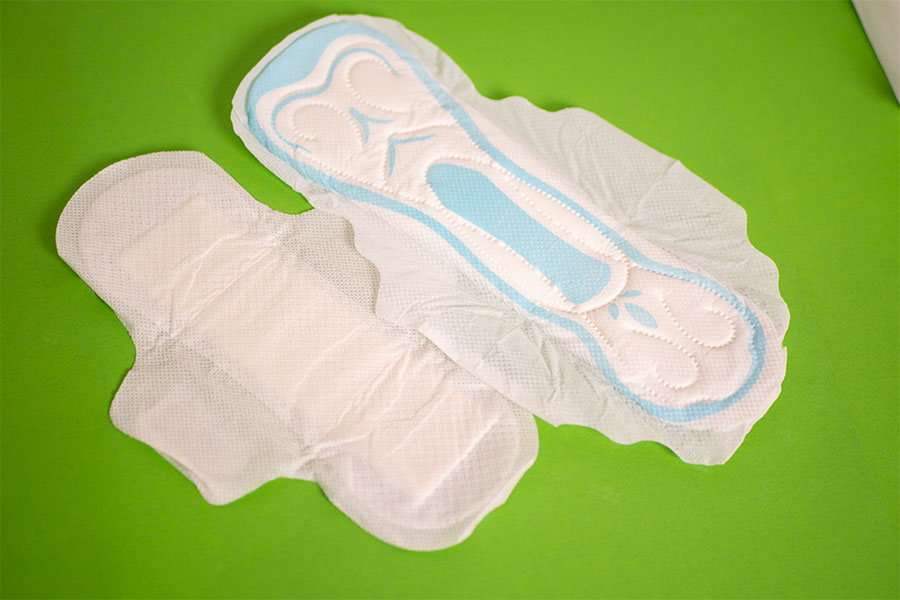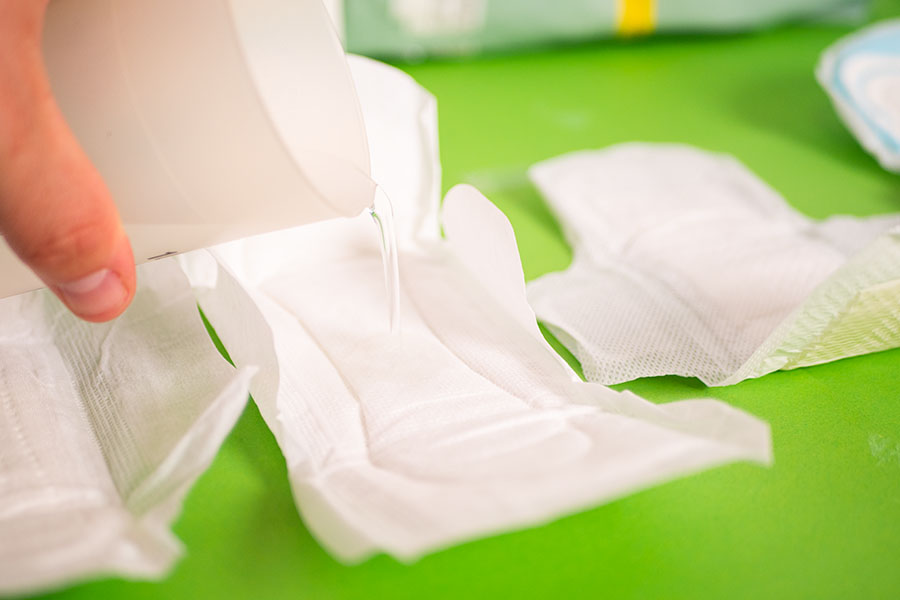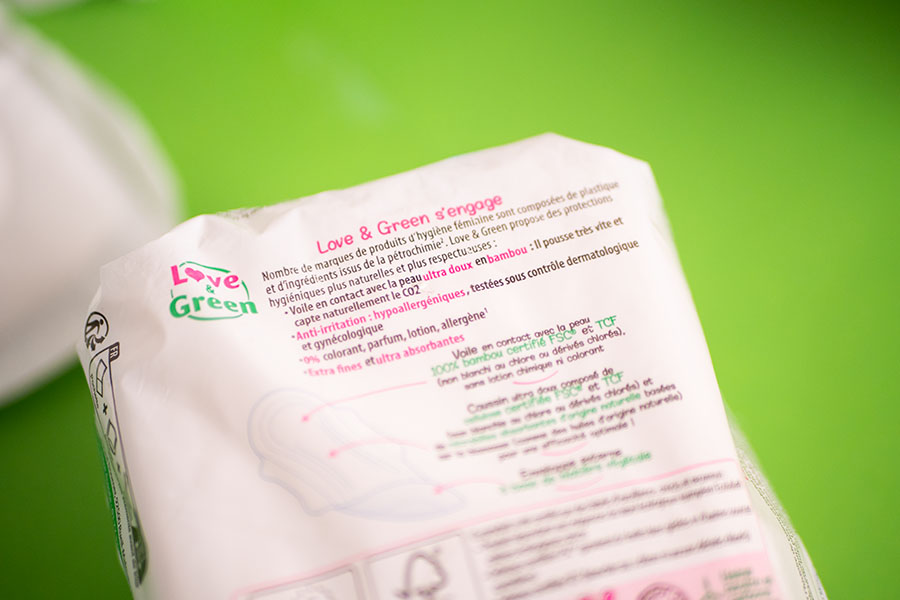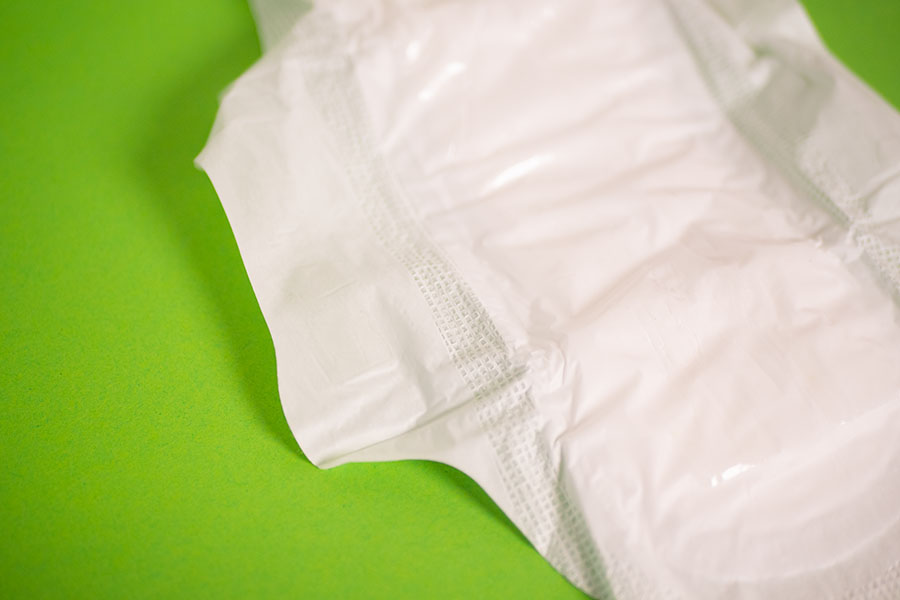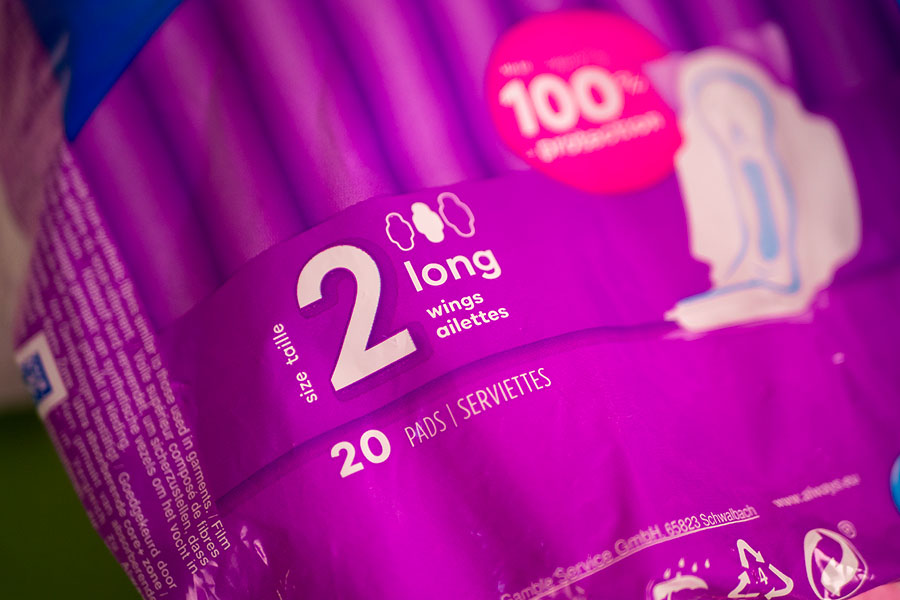 Best budget
Discreet and pleasant to wear, its biodegradable and compostable properties make it a healthy and environmentally friendly product.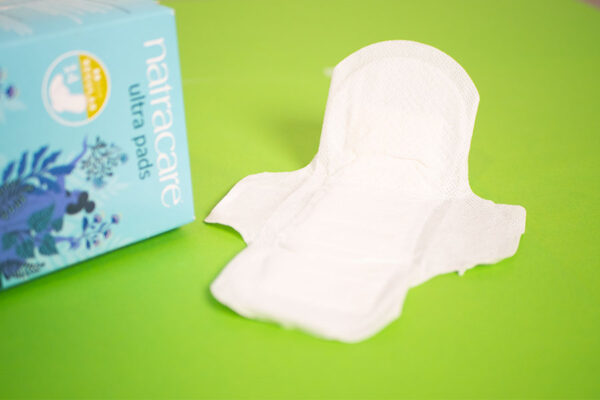 This pad is quite thin and breathable, but a little shorter and narrower than others, which means that it is barely noticeable under your underwear. This means that it is more suitable for smaller briefs as if the underwear is too big, you are likely to get 'leakage' from the sides. Advertised for regular flow (2 drops out of 5), it does not absorb the most liquid, but we did not notice any leakage. The top sheet, which has been awarded the Nordic Swan eco-label, is made from fragrance-free, chlorine- and bleach-free organic cotton with an absorbent core of natural, plant-based cellulose. This makes it healthy for the body. Our tests have shown no irritation or skin reactions. It can also be industrially composted following local regulations, demonstrating its environmental credentials. The wings guarantee a good hold, especially since the glue, which is only applied at the ends, is strong enough without tearing the fabric of the underwear.
Best high-end
These pads are economical, soft and very comfortable to wear. In addition, they have a healthy composition with numerous bio-health certificates.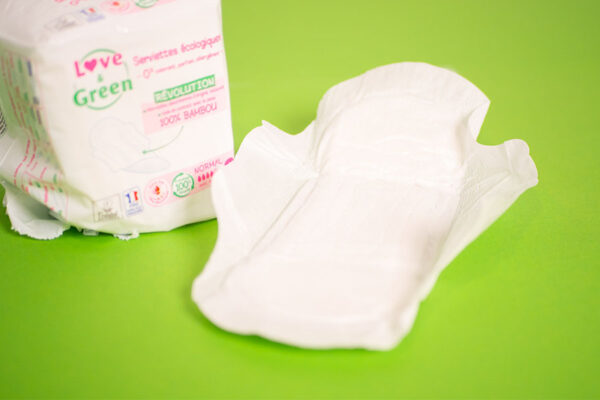 This pad is thin and discreet so it fits comfortably in your underwear. It absorbs slightly less than other products, but its natural microspheres are still effective for normal flow (but not for postpartum or urinary incontinence). Its hypoallergenic formula has been dermatologically and gynaecologically tested. It is FSC, Ecolabel, Cosmébio, Ecocert, GOTS and TCF certified and is composed mainly of natural ingredients. It contains 0% dyes, fragrances, allergens and chlorine. The fleece that comes into contact with the skin is made entirely of bamboo viscose, which is healthy for the environment and the body and does not cause skin reactions. The wings keep it in place, but what impressed us most in our tests was the soft, breathable material that makes it very comfortable to wear. When the adhesive is removed, there is a slight release of tissue particles from the underwear, but this is moderate compared to other products.
Budget alternative
Designed for sensitive skin, it contains no controversial substances and is comfortable to wear. At an affordable price, it does the job perfectly.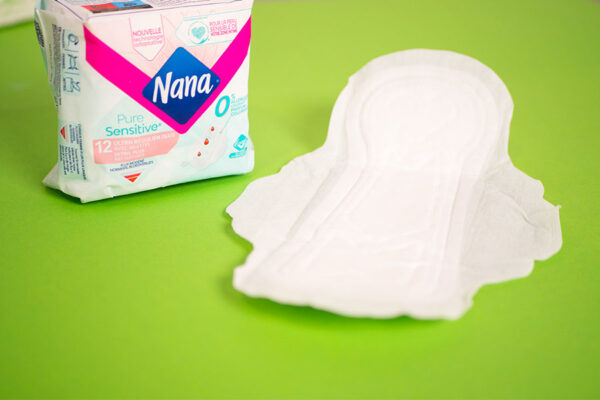 It is quite thin but has three absorption zones that give satisfactory results with liquids and moderate flows. Its SHA (Independent Dermatological Accreditation) approved surface veil does not contain perfumes, dyes or common allergens, reducing the risk of irritation for sensitive skin. It is also very soft and, thanks to Courb-V technology, conforms to your curves. We found it thin, breathable, discreet and comfortable, but in our tests, the wings did peel off slightly after overnight wear.
Our selection
200+ Comparisons

2000+ Products Tested

100% Impartial
Why trust us ?
Selectos compares and tests hundreds of products to help you buy better. We sometimes receive a commission when you buy through our links, which helps fund our work. Learn more
How did we test?
To be as objective as possible, we selected several pads of the same or similar size. We first took into account the size of each pad. We then wore them during the menstrual period and carried out an absorption test with syringes containing 5 ml and 10 ml of liquid. This also allowed us to check how well they absorbed odours.
Of course, we checked that their composition was as clean as possible for both the body and the planet, and we took the opportunity to see if there were any reactions or irritations on our skin. For comfort, we checked that they were thin, discreet, soft and breathable enough. Finally, we made sure they stayed on securely by checking the hardness of the glue and the presence of fins (or wings).
| Name | Absorption | Composition | Wings | Comfort |
| --- | --- | --- | --- | --- |
| Always Maxi | 5/5 | 2/5 | Yes | 4/5 |
| Nana PureSensitive Ultra+ | 4/5 | 4/5 | Yes | 5/5 |
| Love & Green Normal | 3/5 | 5/5 | Yes | 5/5 |
| Always 100% Coton Bio Normal | 3/5 | 5/5 | Yes | 5/5 |
| Rael Organic Cotton Regular | 4/5 | 5/5 | Yes | 5/5 |
| Natracare Ultra Pads Regular | 3/5 | 5/5 | Yes | 5/5 |
How to choose your pads?
In recent years there have been several controversies related not only to the excessive waste generated by feminine hygiene products but also to the issues surrounding the potentially harmful impact on our health.
For this reason, we advise you to opt for alternatives that are safer for both your health and the environment.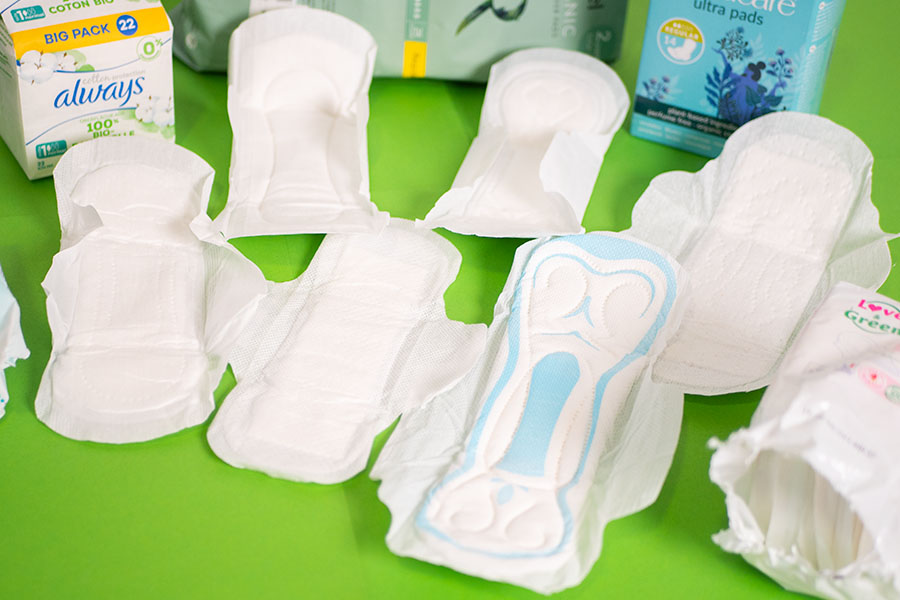 If you are on a tight budget, you should know that some large retailers offer healthy and even eco-friendly solutions at an attractive price (such as Carrefour). But fortunately, the range of organic cotton sanitary towels is becoming more widespread and it is becoming easier and easier to find effective, comfortable, healthy and affordable solutions on the market.
To help you make the most sensible choice, here are some criteria to consider before buying:
Sizes and formats: Pads are ideal at the beginning or end of the cycle, as a complement to a menstrual cup or tampon, or simply for everyday convenience. For traditional daily use, daytime pads are the most suitable. Note that some brands offer formats suitable for thongs and pantyhose. Finally, night-time pads are designed for heavy flow and are often thicker and longer. There are also formats for maternity or incontinence.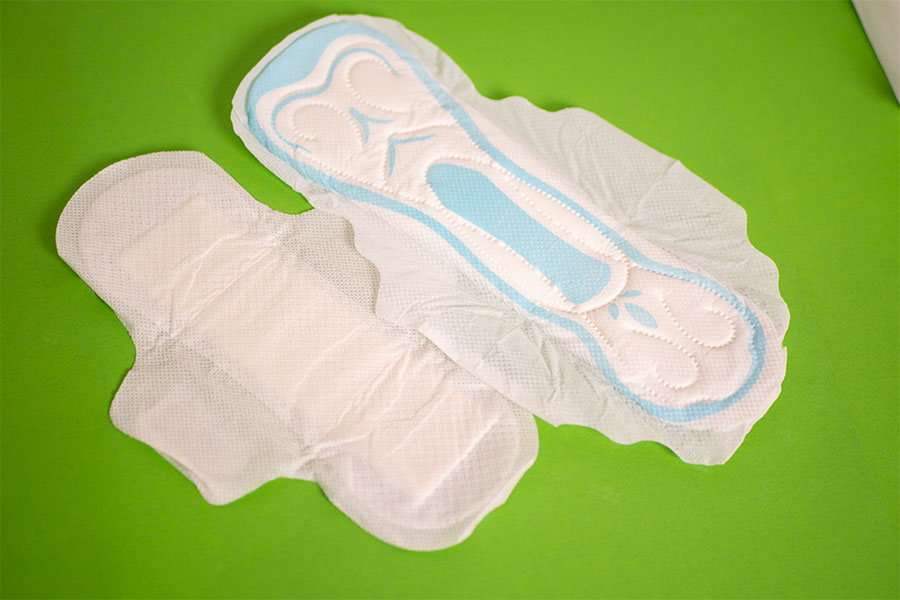 Convenience: Many have protective wings that stick to the bottom of the underwear to hold the pad in place and prevent leakage. Please note that the adhesive on natural and organic models is often a little weaker than on conventional products. For maximum protection and peace of mind, some brands also offer different lengths of protection for each flow and different levels of absorbency.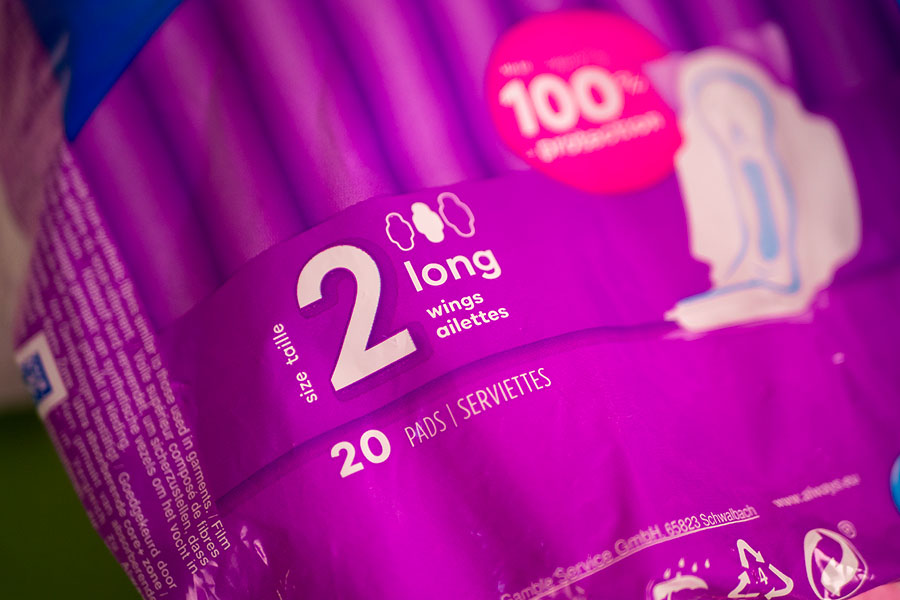 Composition: Unlike conventional sanitary napkins, organic alternatives do not contain fragrances, which are considered by many to be unpleasant and, above all, likely to cause irritation and allergic reactions. The skin contact layer is usually made of soft, breathable organic cotton. Other ingredients include wood pulp, bioplastics made from corn starch and an absorbent core made from sodium polyacrylate (whose slow biodegradability raises questions).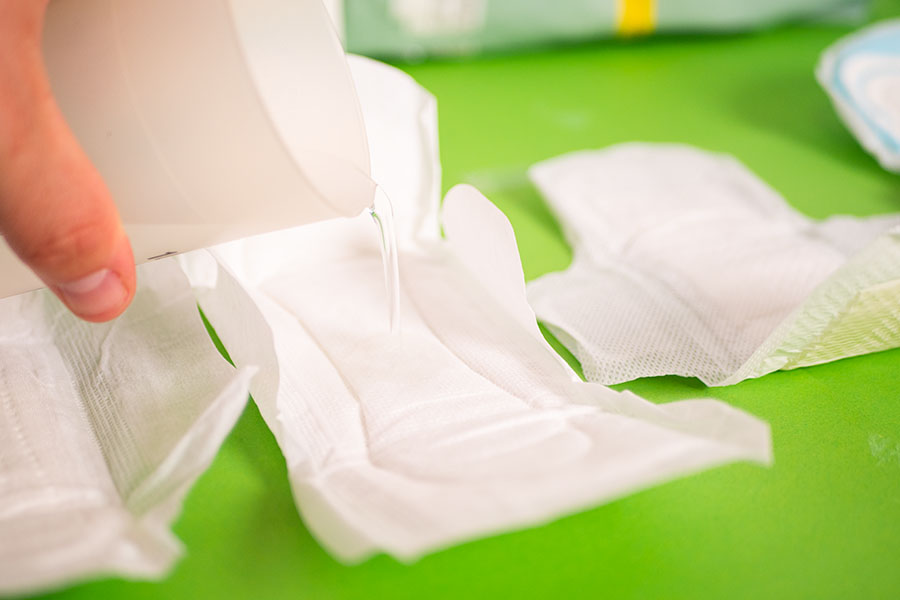 Biodegradability: in terms of ecological impact, the most eco-responsible products usually contain at least 80% biodegradable components. Some brands even offer 100% compostable products, which you can dispose of in your garden. Be sure to check the information on the packaging. And in any case, don't flush sanitary towels down the toilet.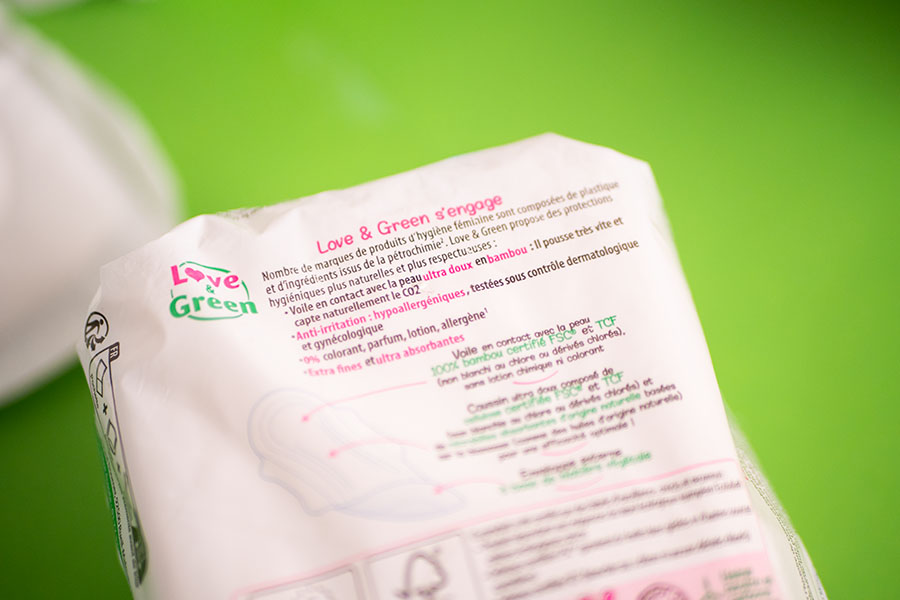 Labels: To make sure your purchase is as environmentally friendly as possible, look for the Nordic Swan label or the European Ecolabel. Many pads carry the TCF (Totally Chlorine Free) logo, which means they have not been chlorine bleached (a process criticised for the harmful dioxins it produces). For organic cotton, choose GOTS-certified products. Finally, some brands carry the FSC label, a sign that the wood resources come from sustainably managed plantations.
Other recommended compresses
Always Maxi (£7.33 / 18 pcs. upon publication): more comprehensive and dermatologist-approved. This pad is longer, slightly wider at the back and slightly thicker than the stocking (available in different sizes). It passed our absorbency tests with flying colours, thanks to its ultra-absorbent Core+ core and the anti-leakage barriers that surround it, offering maximum protection. Its fragrance-free composition did not cause any skin irritation or reaction. It is also very comfortable and stays in place well despite our repeated movements. During our tests, we also found that it contained odour quite well.
Always 100% Coton Bio Normal (£3.95 / 10 pcs. upon publication): a healthy, environmentally friendly composition approved by SHA dermatologists. This pad is made from organic cotton and does not contain perfumes, dyes, bleach or any of the 26 allergens listed by the EU. It is therefore non-irritating and suitable for sensitive skin. It is breathable, and the wings ensure a good hold. In addition, the packaging is made of recyclable paper. During our tests, we found it a little less absorbent than others, which makes it more suitable for light flows. It is also quite thin and discreet, which makes it more suitable for smaller undergarments.
Other compresses put to the test
Vania Super Maxi Confort (£10.62 / 16 pcs. upon publication): This pad offers superior absorbency for day and night use. Although it contains odours fairly well, its scented composition is a little less clean. It is also too thick, not very breathable and has no wings (but holds quite well).
Vania Maxi Confort (£8.83 / 18 pcs. upon publication): It is very absorbent for normal flows. However, although its scented composition limits unpleasant odours, it is not without its flaws, as it is very thick and not very discreet. It also lacks wings, although this does not affect the fit too much thanks to its strong adhesive.
Nana V-Protection Ultra Régulier + (£5.99 / 14 pcs. upon publication): Its 3 absorption zones offer unmatched reliability for moderate flows. It is also thin, breathable and comfortable to wear. However, its synthetic composition is somewhat less gentle, and the glue fades the colour of the lingerie.
Love & Green Maxi Normal (£4.95 / 16 pcs. upon publication): This pad passed our absorbency test for heavy flow. Its highly certified bamboo viscose composition is soft and healthy for the body and the planet. However, it is quite short and thick, which makes it less breathable, and the lack of wings means it doesn't hold up as well at night.
Organyc Clinically Proven Protection Moderate Flow (£8.99 / 10 pcs. upon publication): Despite being made of biodegradable organic cotton, which is suitable for sensitive skin, its absorbency is a little lower than others. In addition, its glue is less tenacious, does not mask menstrual odours at all and has a strange smell when unpacked.
Translated by Selectos