Updated on 14 March 2023
After 19 hours of research, a detailed examination of 39 electric beaters and testing 8 of them, we have come to the conclusion the
Bosch Styline MFQ4020
currently offers the best value for money.
Our choice, Best mid-range
Thanks to its lightweight and non-slip handle, it is extremely comfortable to use. In addition, it offers good power, and its accessories are easy to install and remove.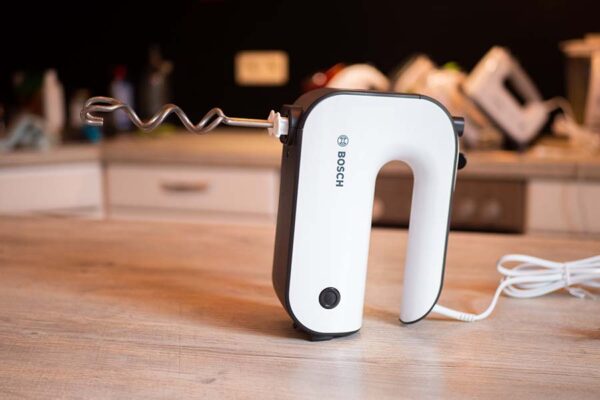 With its 450W of power, this Bosch model was very fast and efficient during our tests. It took just 40 seconds to whip an egg white (compared to one minute for other models). However, although it has 5 speeds, its Max option, which acts as a Turbo mode, actually offers the same performance (speed and noise) as the last speed. It is quieter than most beaters tested, with only 54 dB at the first speed and 70 dB at the maximum speed. It comes with 2 kneading hooks and 2 stainless steel beaters, all 4 of which are dishwasher safe. From a practical point of view, it is easy to use and comfortable to hold thanks to its non-slip handle, lightweight (875 g) and soft-touch coating. However, the latter tended to retain more flour residues.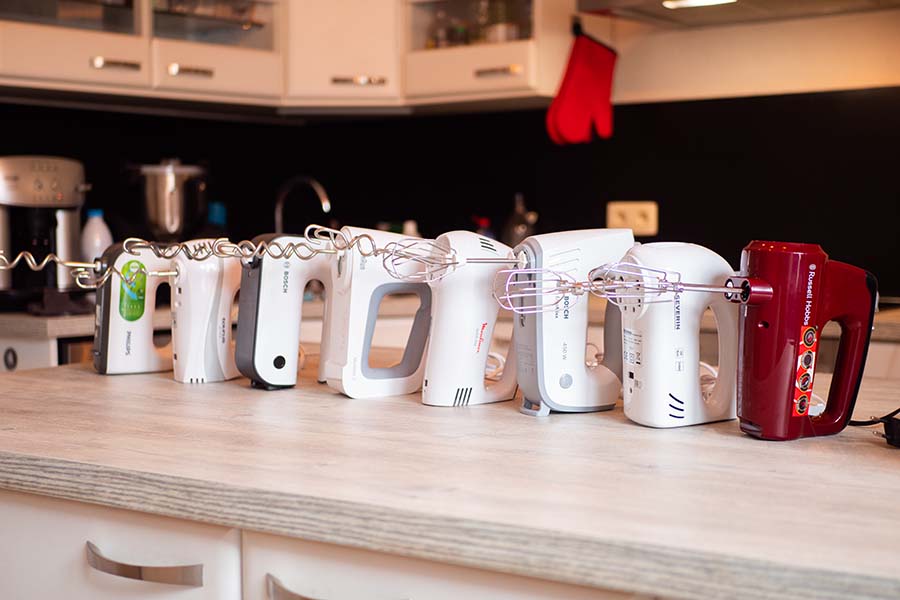 The electric mixer is an indispensable element in the kitchen, mainly for working dough.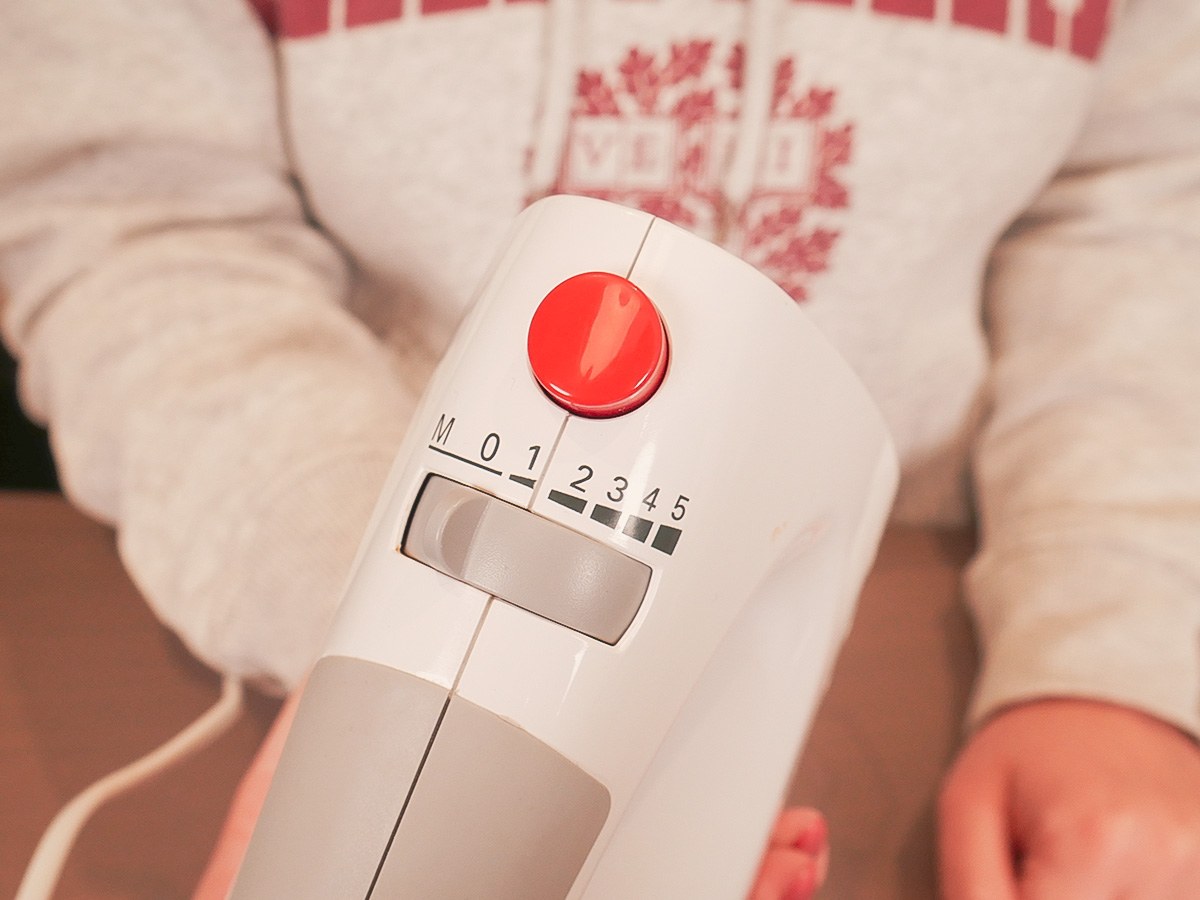 Speeds generally range from 3 to 5: the higher the speed, the more precise the appliance.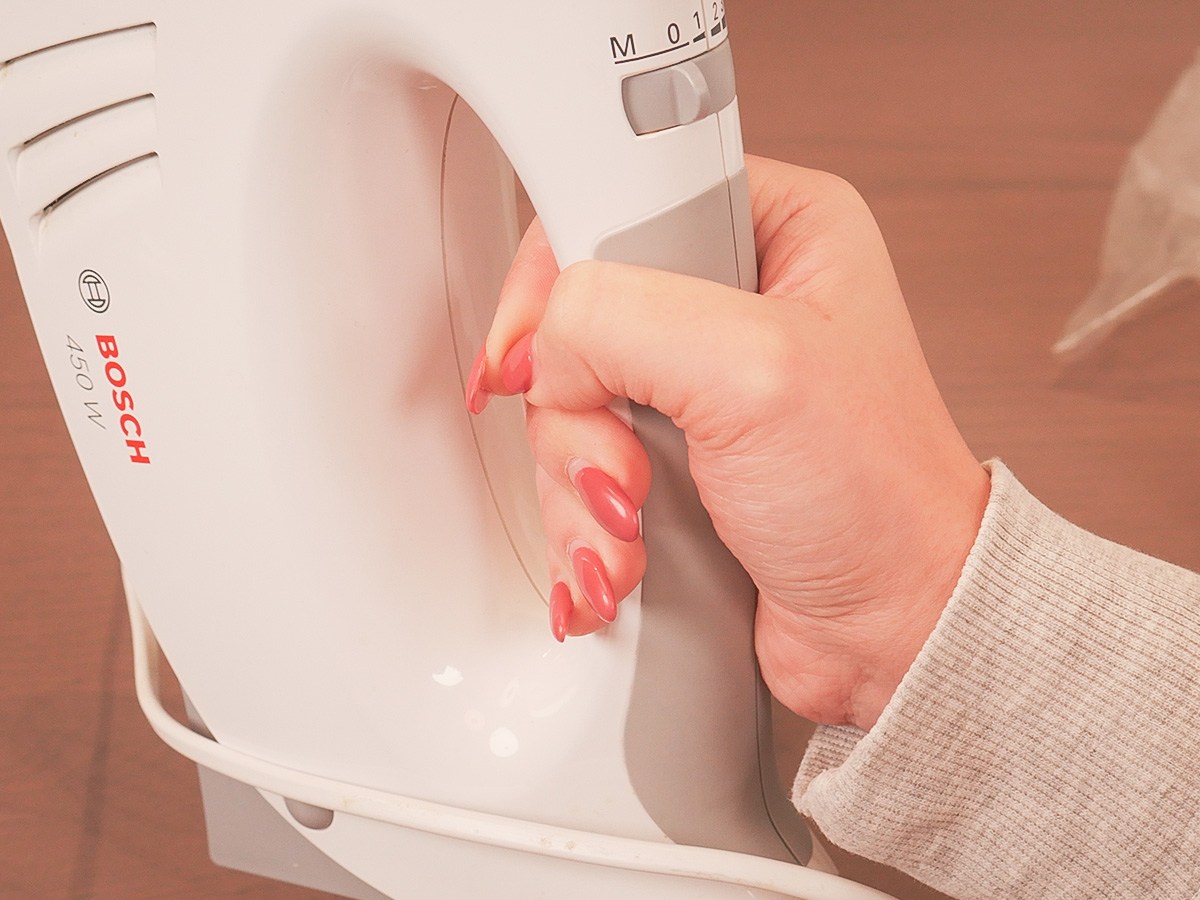 The handle must be comfortable for optimal use.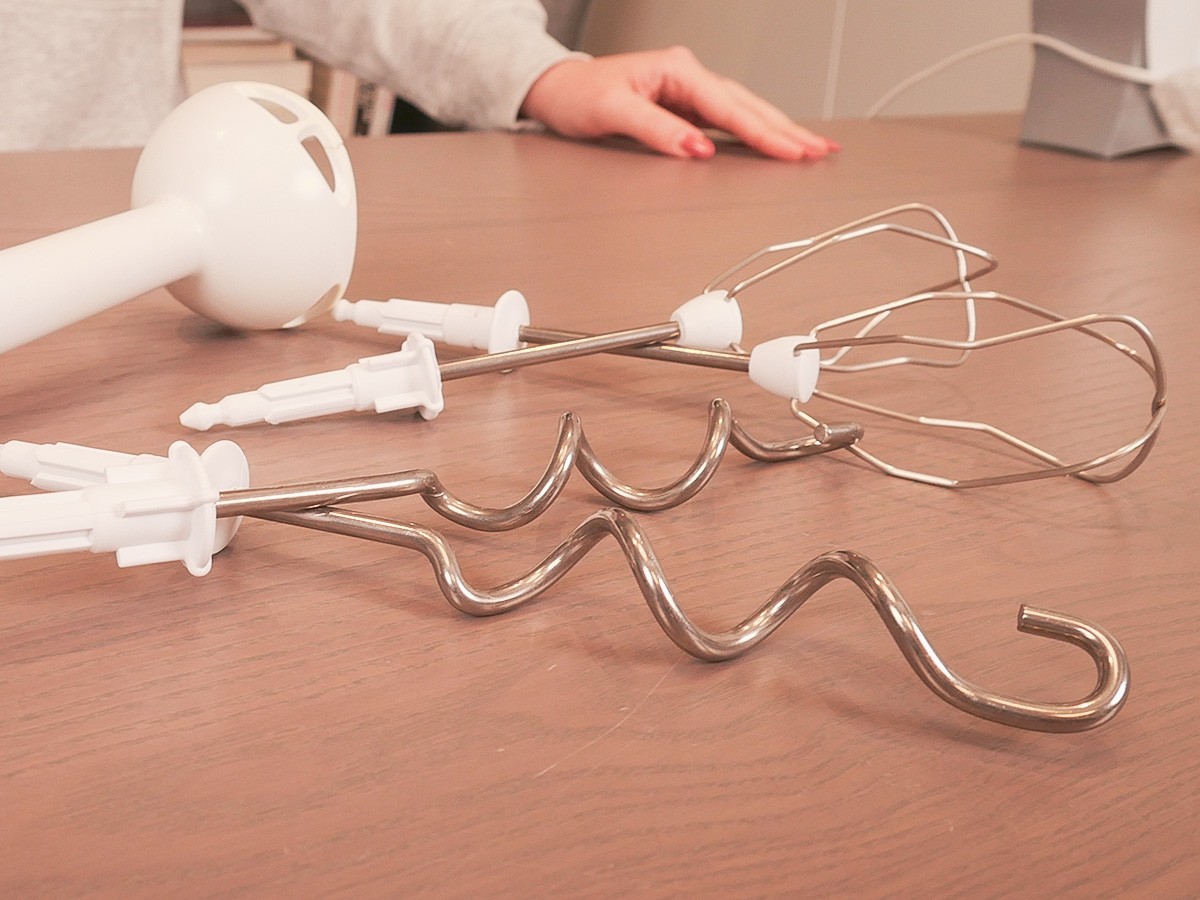 Accessories are supplied in pairs (beaters, hooks, etc.).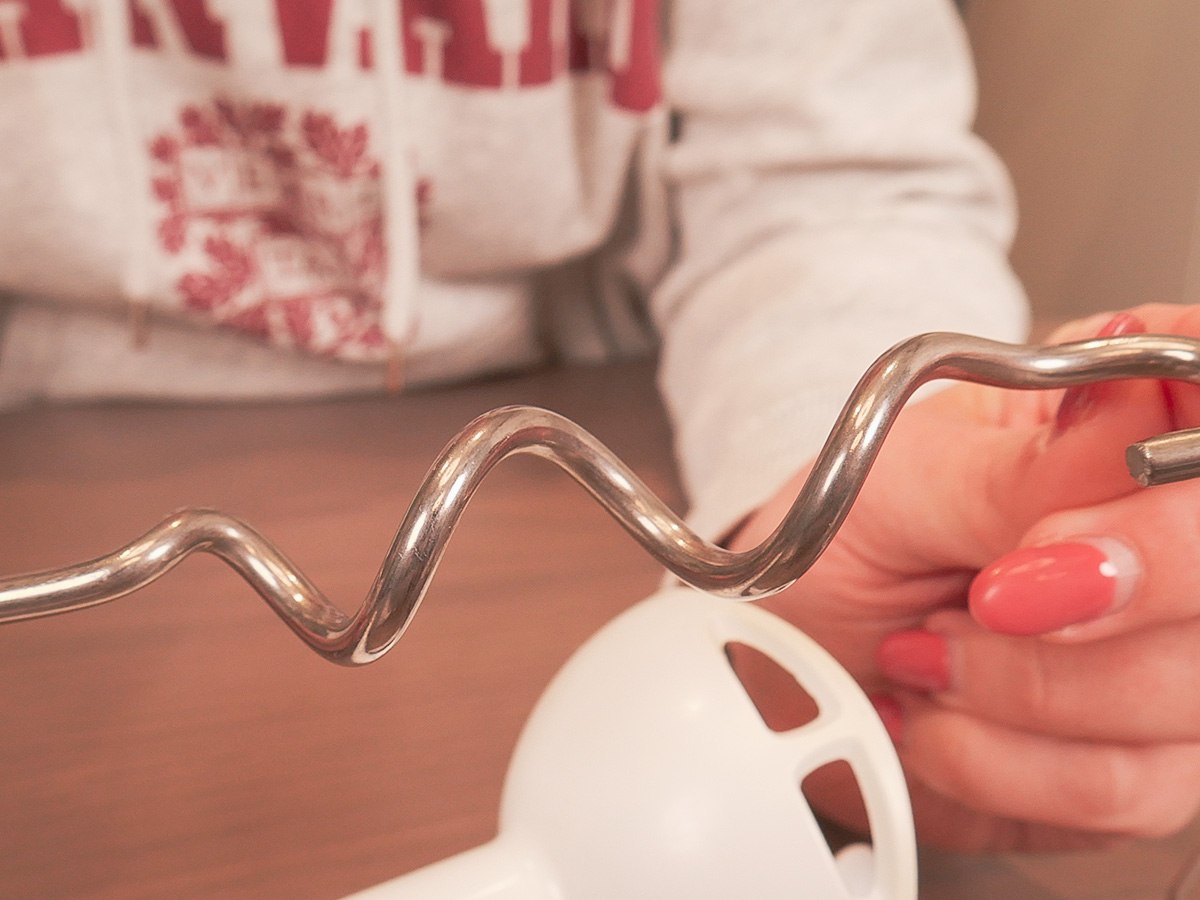 The accessories are usually made of stainless steel, wear-resistant and easy to maintain.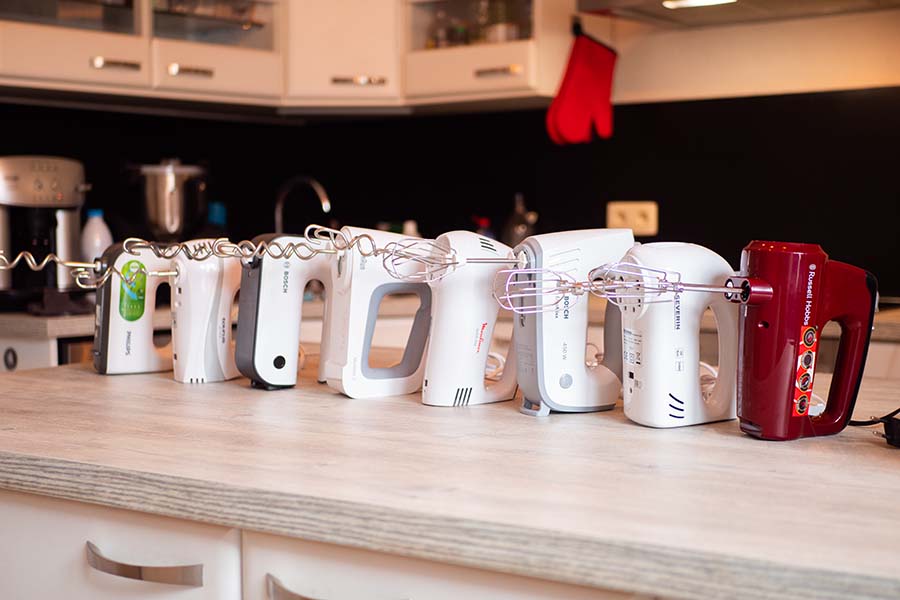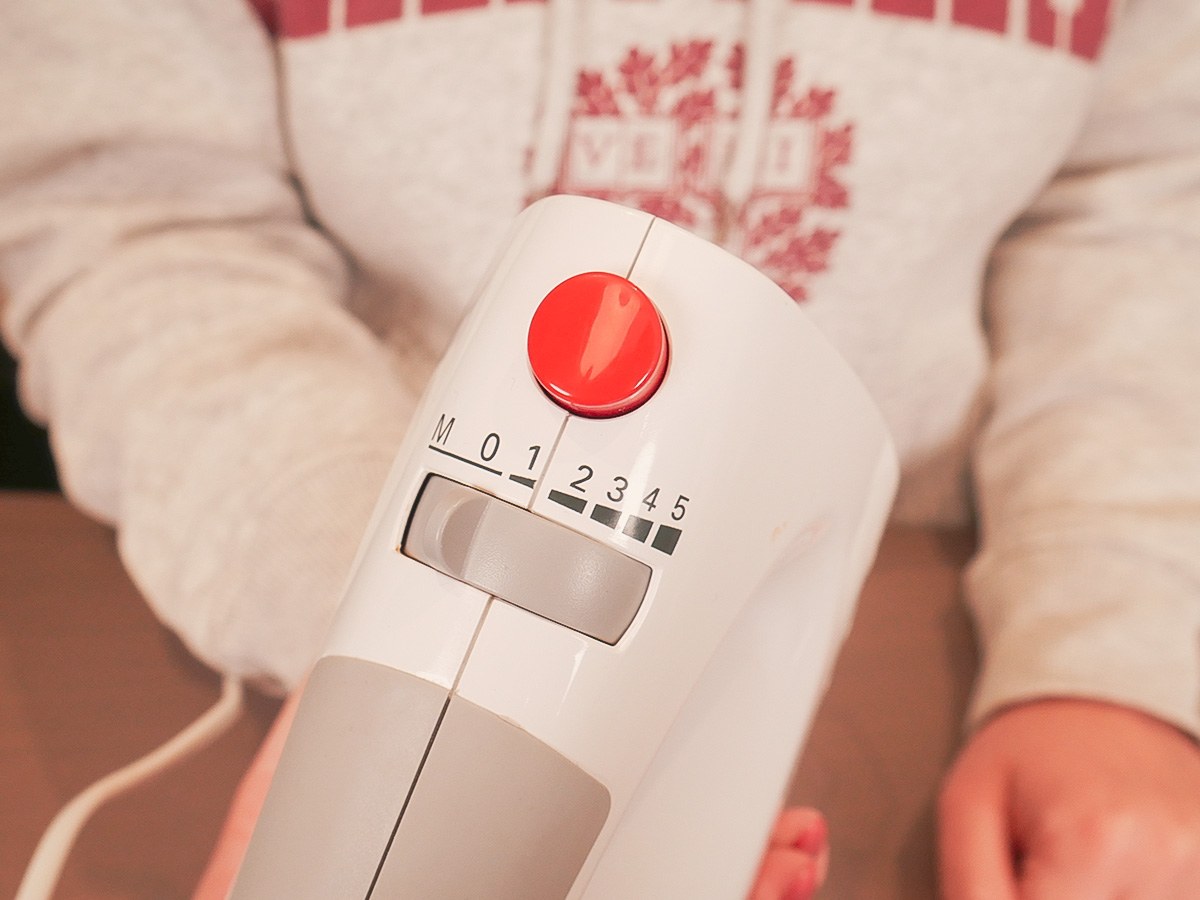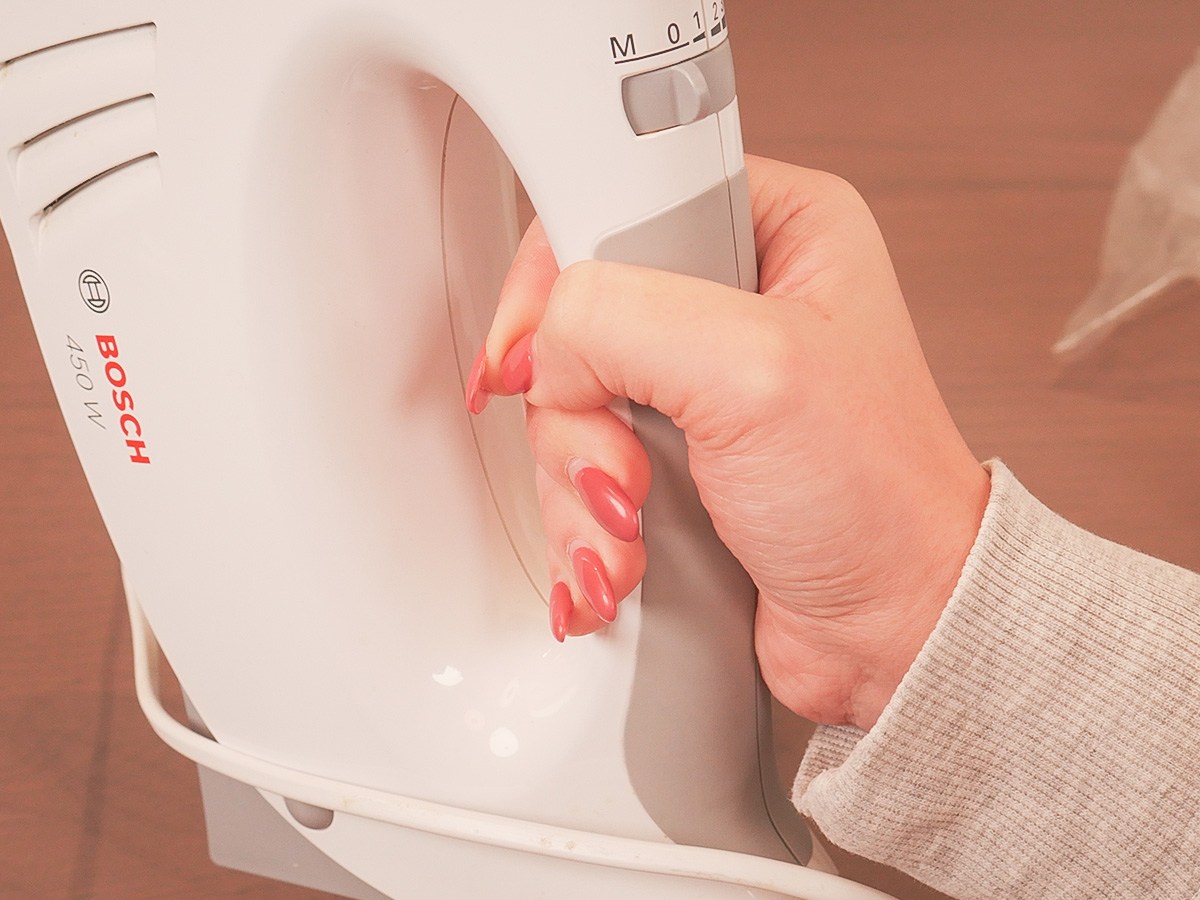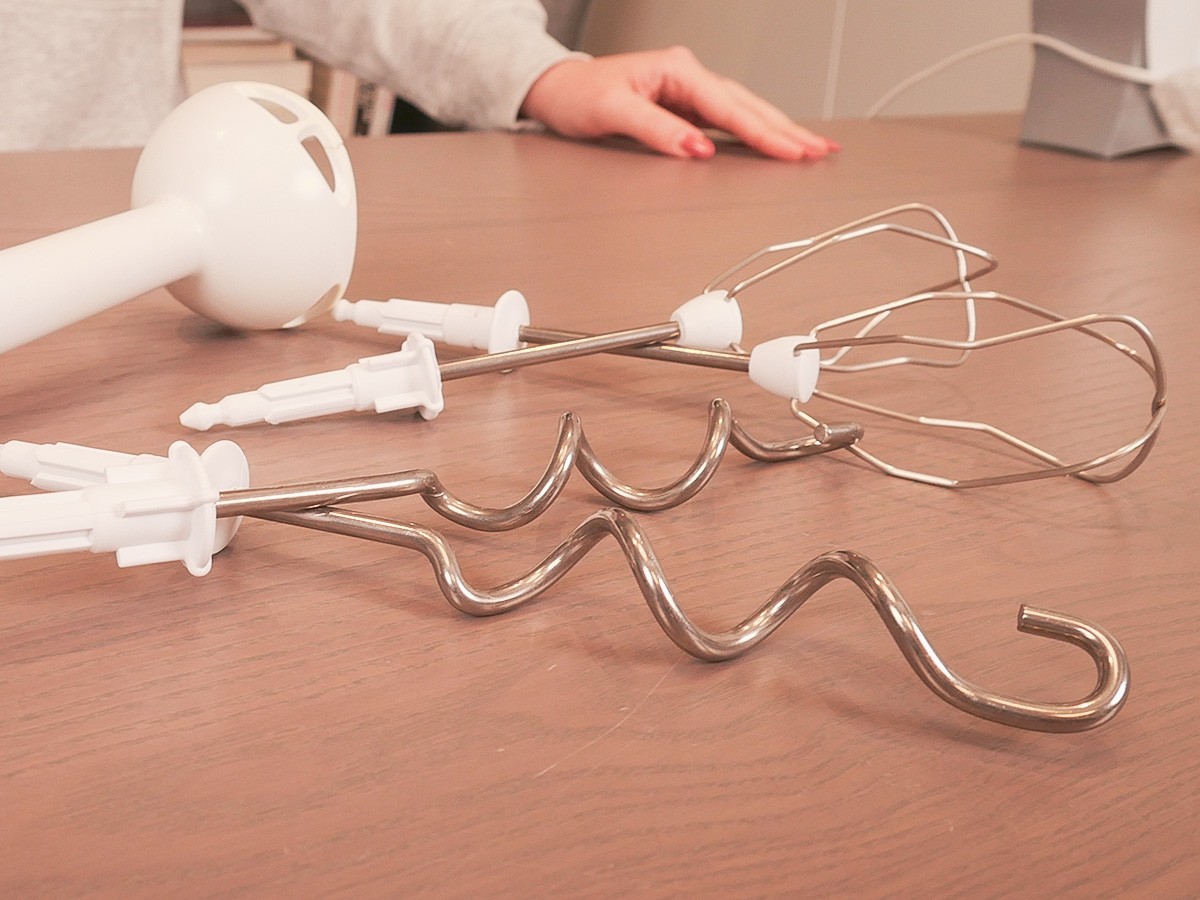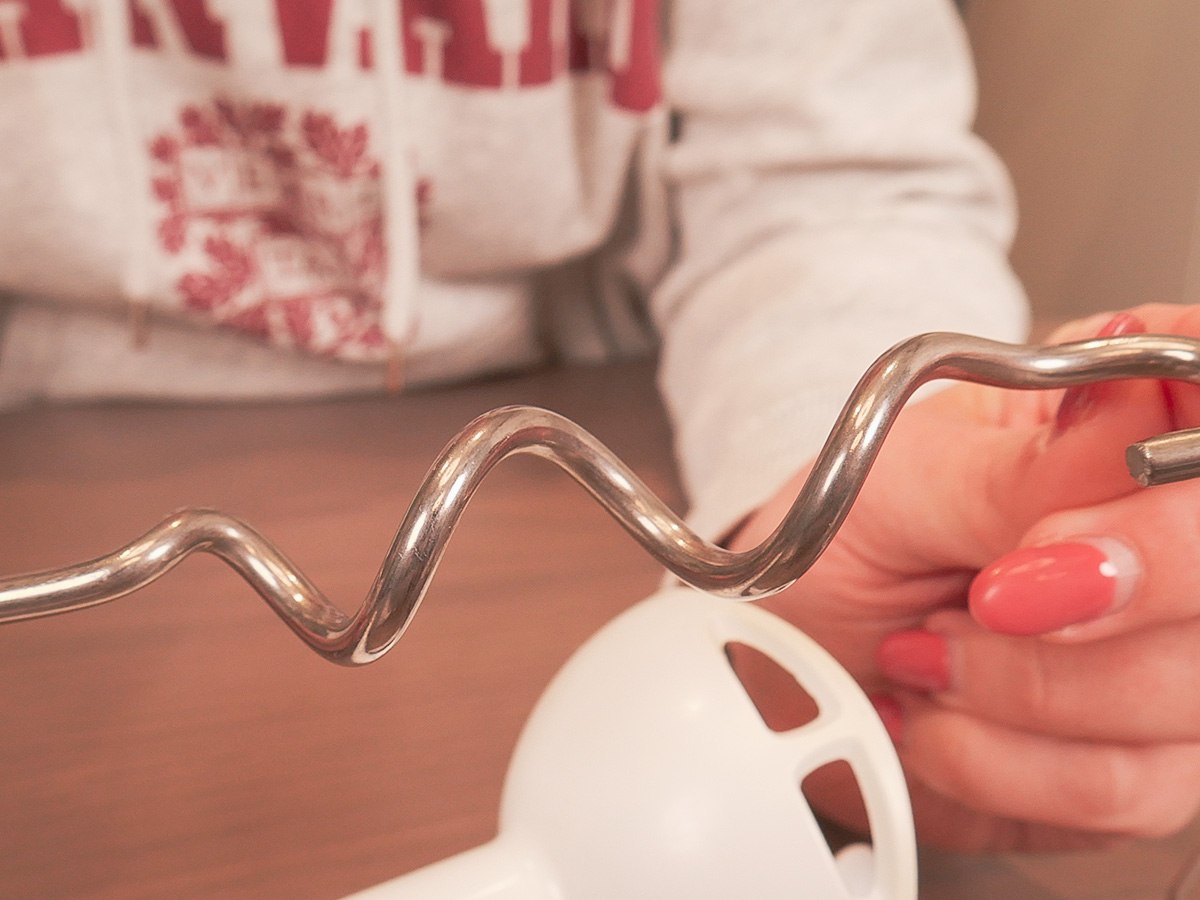 Best high-end
With its 700 W of power, this mixer is the only one in the selection to offer 9 speeds plus a Turbo mode. In addition, it has an extra-long power cord.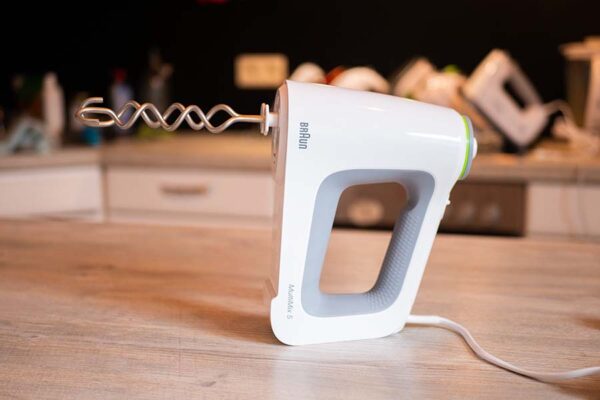 In our tests, the Braun HM5000WH shone for its efficiency in whipping up an egg white in just 35 seconds (the fastest time). It also stood out for its quirky design, as its speeds are changed via a knob rather than a simple slider. We found it very easy to turn with the thumb, even in full use. The wheel gives access to all 9 speeds, but also to the Turbo mode on the far right. The Soft Grip handle is very ergonomic and has a place for the index finger, which makes it easy to grip. We had no problem putting on or taking off the various attachments. And although the box includes 2 beaters and 2 hooks (dishwasher safe), it should be noted that this model is also compatible with a chopper and a blender. Slightly louder than the Bosch Styline, we were particularly annoyed by the higher-pitched noise from the seventh speed onwards (67 dB at speed 1 and 74 dB in Turbo mode). Finally, at almost 1 kg on the scales, it is a slightly heavier model.
Our selection
| Our choice, Best mid-range | Best high-end |
| --- | --- |
| | |
| Bosch Styline MFQ4020 | Braun HM5000WH |
| Thanks to its lightweight and non-slip handle, it is extremely comfortable to use. In addition, it offers good power, and its accessories are easy to install and remove. | With its 700 W of power, this mixer is the only one in the selection to offer 9 speeds plus a Turbo mode. In addition, it has an extra-long power cord. |
| £ 51.27 on Amazon | £ 82.93 on Amazon |
Why trust us ?
Selectos compares and tests hundreds of products to help you buy better. We sometimes receive a commission when you buy through our links, which helps fund our work. Learn more
How did we do the tests?
The first thing we did was to analyse the material quality and design of each device (sturdiness, materials used, the possibility of attaching/removing accessories without damaging them, etc.), as well as its ergonomics (grip, presence of accessories, ease of access to the various buttons, effective ejection of the whip, length of the cable, weight, etc.).
We then measured the noise level emitted by each at 50 cm (approximate distance between the engine block and your ears when used on the worktop) at speeds 1, 5 and maximum (and in Turbo when available). Finally, we timed the speed at which each model was able to mount an egg white to test their efficiency.
How to choose an electric mixer?
Whether you are a chef or a casual cook, an electric whisk is an indispensable tool for working with doughs, as well as for preparing various sauces, cakes and recipes of all kinds. However, there are certain criteria to take into account when choosing an efficient and durable appliance: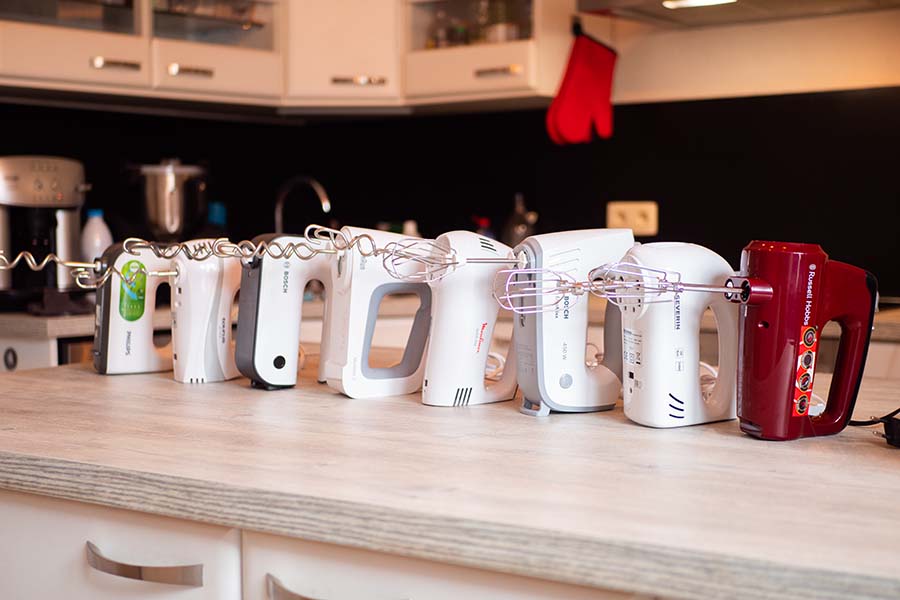 The quality of the material: the body of these appliances is usually made of plastic (a lightweight material), but the more powerful ones also incorporate stainless steel (although heavier). The fittings are usually made of stainless steel, for good wear resistance and easy maintenance.
The power: determined by the number of watts of the motor, typically between 80 and 600 W. Higher power is associated with a more powerful motor and therefore the ability to whip a more consistent dough. The choice should depend on its use and the amount of dough to be whipped.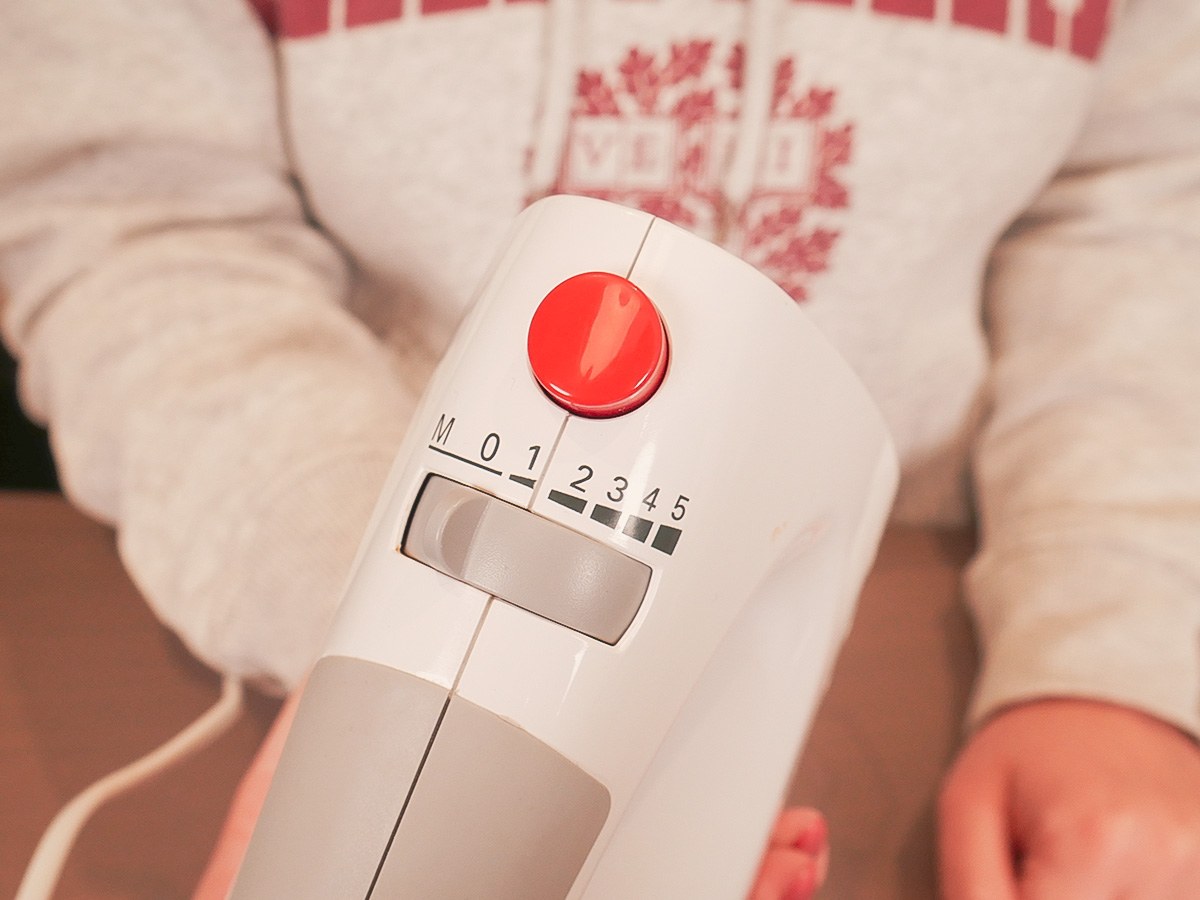 The number of speeds: usually between 3 and 5. The higher the number, the more precise the appliance. And although these appliances are mainly used for mixing ingredients, you will be tempted to see how flexible this small appliance can be depending on the number of speeds it has.
The low-speed start: with this function, the mixer starts running at low speed to avoid unnecessary splashing on the worktop.
The size: if you don't have much space in the kitchen, it is important to choose a mixer that is easy to store. Compact models offer convenient storage options for accessories and the power cord.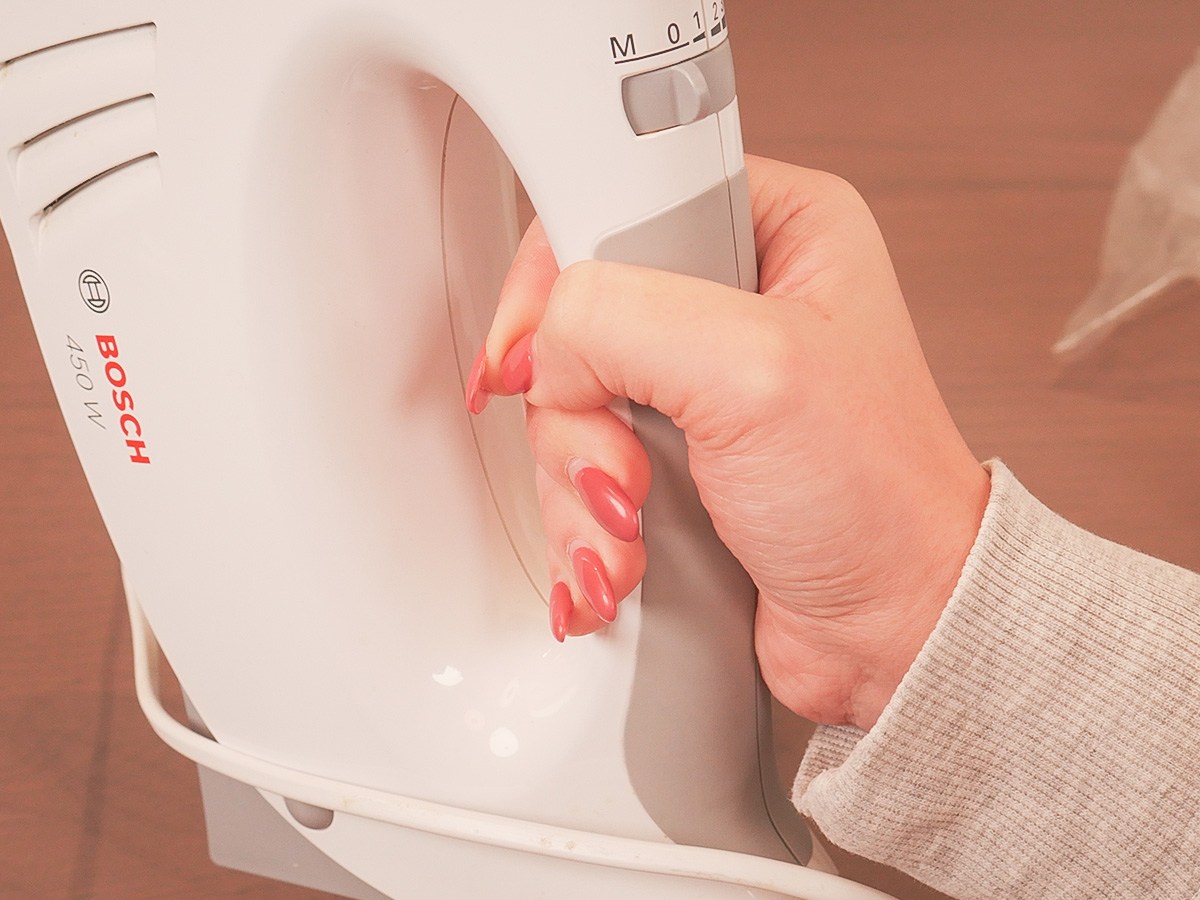 He aquí algunos criterios suplementarios que mejoran aún más la comodidad de uso:
The handle: it must be comfortable. You can choose between parallel or slanted handles (a bit more traditional). As you will have to lift the whisk during use, check whether the handle and the weight of the appliance are suitable for you. By the way, some handles are non-slip.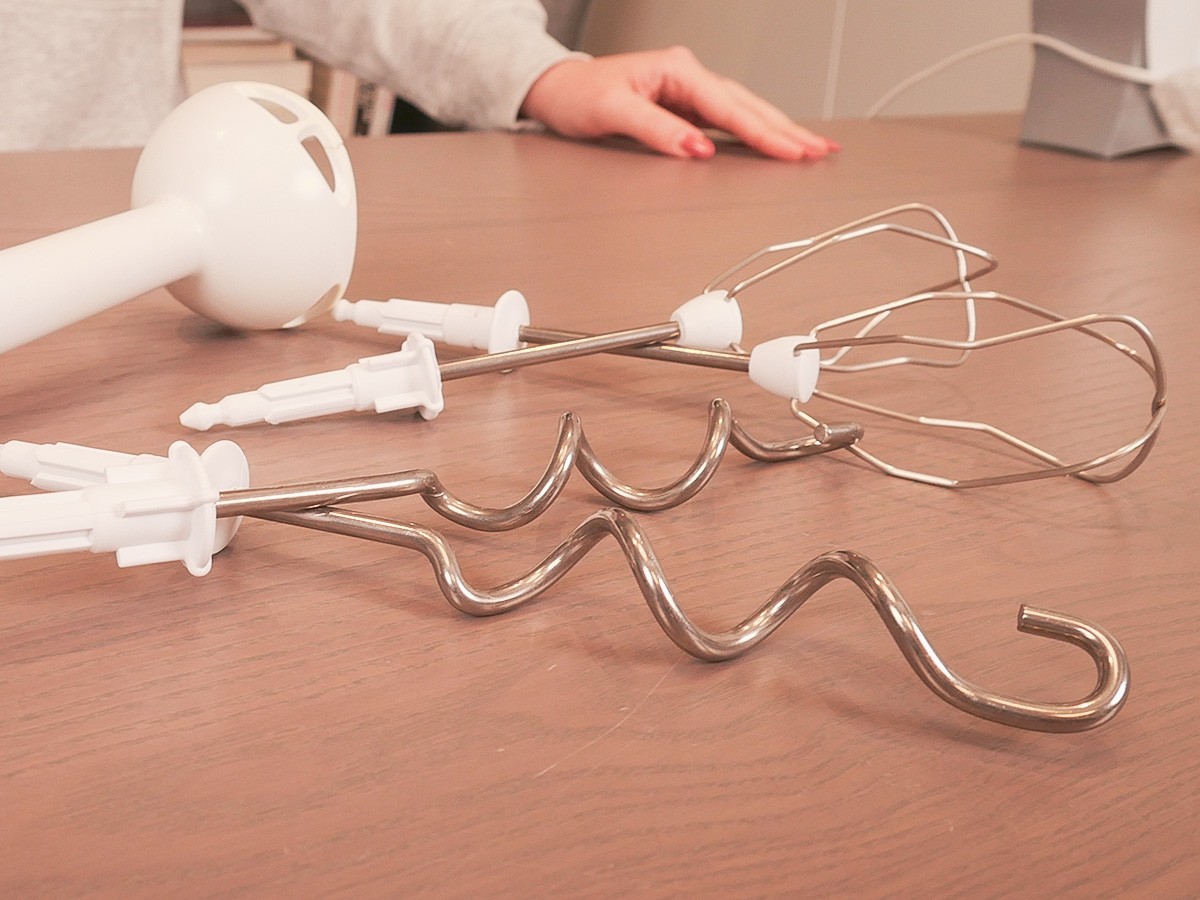 The control buttons: they should be easy to reach (changing speed should be easy). If the buttons are too soft or too stiff, you can accidentally press the high-speed button and end up with a face splattered with an egg…
The accessories supplied: they always come in pairs, you can have a set of whips or simple hooks, but also other accessories. Some machines come with a bowl. We recommend a steel bowl (lighter, more durable and resistant to rust). Some machines also come with a stand or a storage compartment.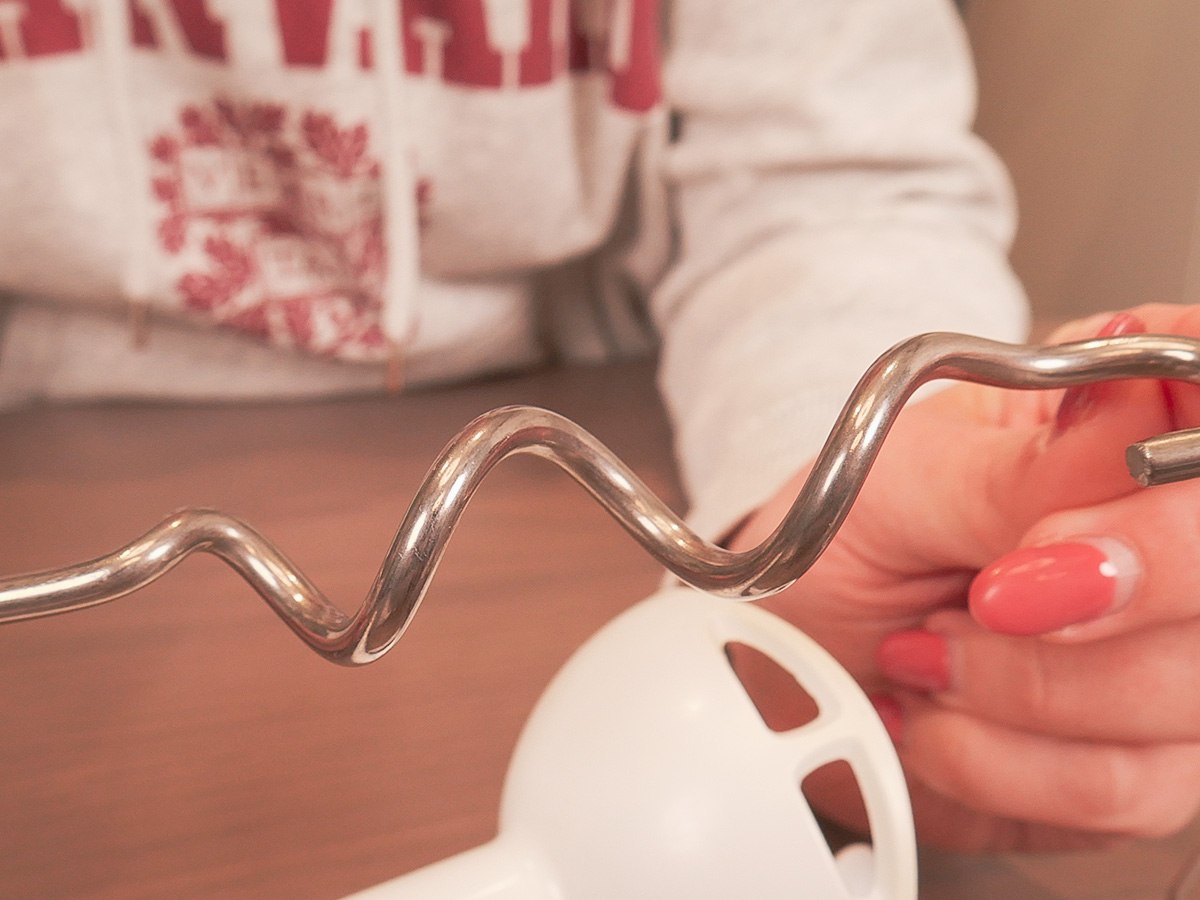 Ease of maintenance: this depends to a large extent on the material of which the beater body and accessories are made. Seamless appliances are the most recommended for ease of cleaning. For the accessories, thin, curved and stainless steel ones are recommended (easier to use).
Other models we recommend
Taurus Station Inox 913515000 (£30.85 upon publication): an economical, but less efficient option. Although it is not as fast as the other models we have tested (one minute to beat an egg white), this appliance is still functional. It has two classic beaters and two hooks for thicker doughs which, unfortunately, are not dishwasher safe. It has a good grip and is very light, with only 870 g on the scales. It's very easy to use, but we were a little disappointed to discover that the Turbo mode goes at the same speed as the fifth gear, which makes it useless. It also makes a lot of noise (82 dB for these two positions). All in all, it is a functional and cheap model, but there is room for improvement.
Moulinex Quick Mix HM3101 (£38.39 upon publication): another mid-range option. Thanks to its 300 W power and different speeds, this model is suitable for all kinds of preparations. It has 5 operating speeds and a Turbo mode. Its blades and mixers are dishwasher safe, making them easy to clean. In our tests, we found the quality of the materials to be superior to other models in the same price range. It proved to be efficient and had good overall ergonomics despite its heavier weight (1.020 kg). In addition, it lost out to the Bosch model in the top selection because of its higher noise level in Turbo mode (82 dB).
Philips HR3741/00 (£39.60 upon publication): efficient, but lacking in ergonomics. In our tests, we liked this model less, as its heavier weight (1.050 kg) is less well distributed when held in the hand. In addition, we found that it took much more effort to put the accessories in place or to remove them by pressing the eject button. All this cost its place in the main selection. This is a pity because apart from all this, it is fast, efficient, and less noisy than others (66 to 74 dB) and its accessories can be washed in the dishwasher.
Other models we have tested
Severin HM 3820 (£39.75 upon publication): with 84 dB in Turbo mode, it is the loudest model we have tested. In addition, not all the speeds correspond to their number and the beaters are not dishwasher safe. In the end, it is quite annoying, as it is efficient and ergonomic.
Russell Hobbs Desire 24670-56 (£27.99 upon publication): like many other models of this price or less expensive, it offers the Turbo function just to look good on paper, as it goes at the same speed as in the fifth position… In addition, it is quite noisy (83 dB at maximum speed), its beaters are very light and its somewhat particular design will not appeal to everyone.
Bosch ErgoMixx MFQ364V0 (£95.54 upon publication): perfect at first sight (good grip, quieter than others, many accessories, fast, powerful…), this model disappointed us when we used it, as it gave off a bad smell!
Translated by Selectos