Updated on 5 January 2023
After 13 hours, a comparison of 21 vegetable slicers and our tests of 5 of them, we consider the
Oxo Good Grips Simple
to be the best at the moment.
Our choice, Best mid-range
This tilting model stands out for its ability to easily cut food into slices or julienne strips and for its handle, which offers a comfortable grip.
£ 31.98 on Amazon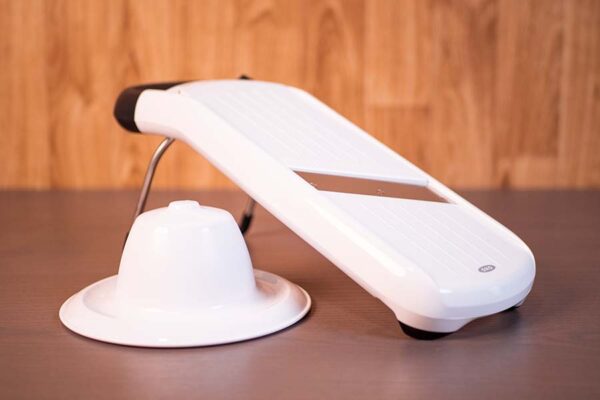 This mandoline consists mainly of a sturdy plastic body, a stainless steel blade and a rotating handle that allows it to be held at an angle. It stands out from its competitors with its tilting foot, its efficiency, its finger guard (which can be stored upside down) and its lockable blade. It also has a cutting thickness adjustment system (at the top) and a julienne function with a safety button. In our tests, we easily cut cucumbers, courgettes, potatoes and carrots. However, the thicker blade (6 mm) could not cut the courgettes and apples all the way through without breaking them. In addition, the white colour of the product is quickly coloured by foods such as carrots.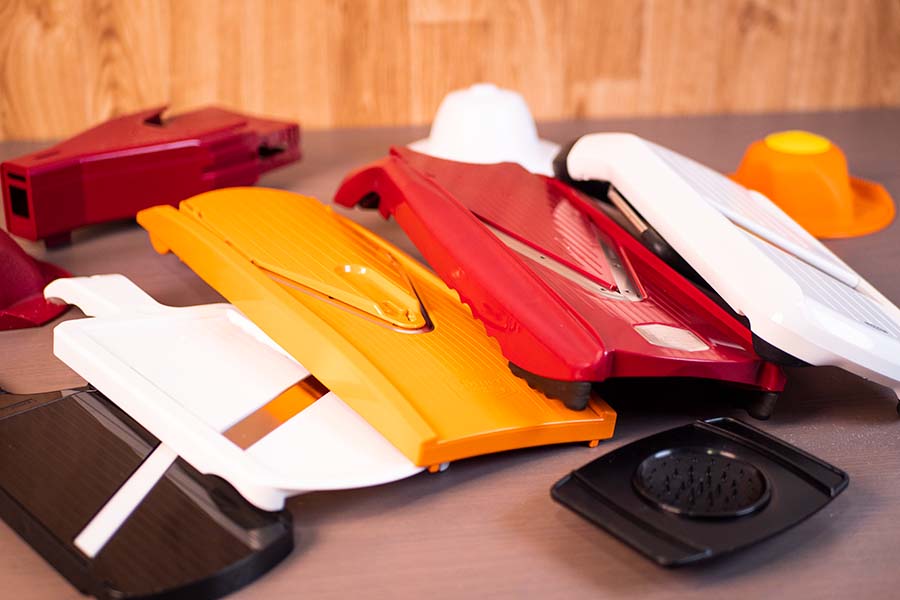 A vegetable slicer is an essential tool in the kitchen. It allows different cuts to be made with a multitude of vegetables and fruit.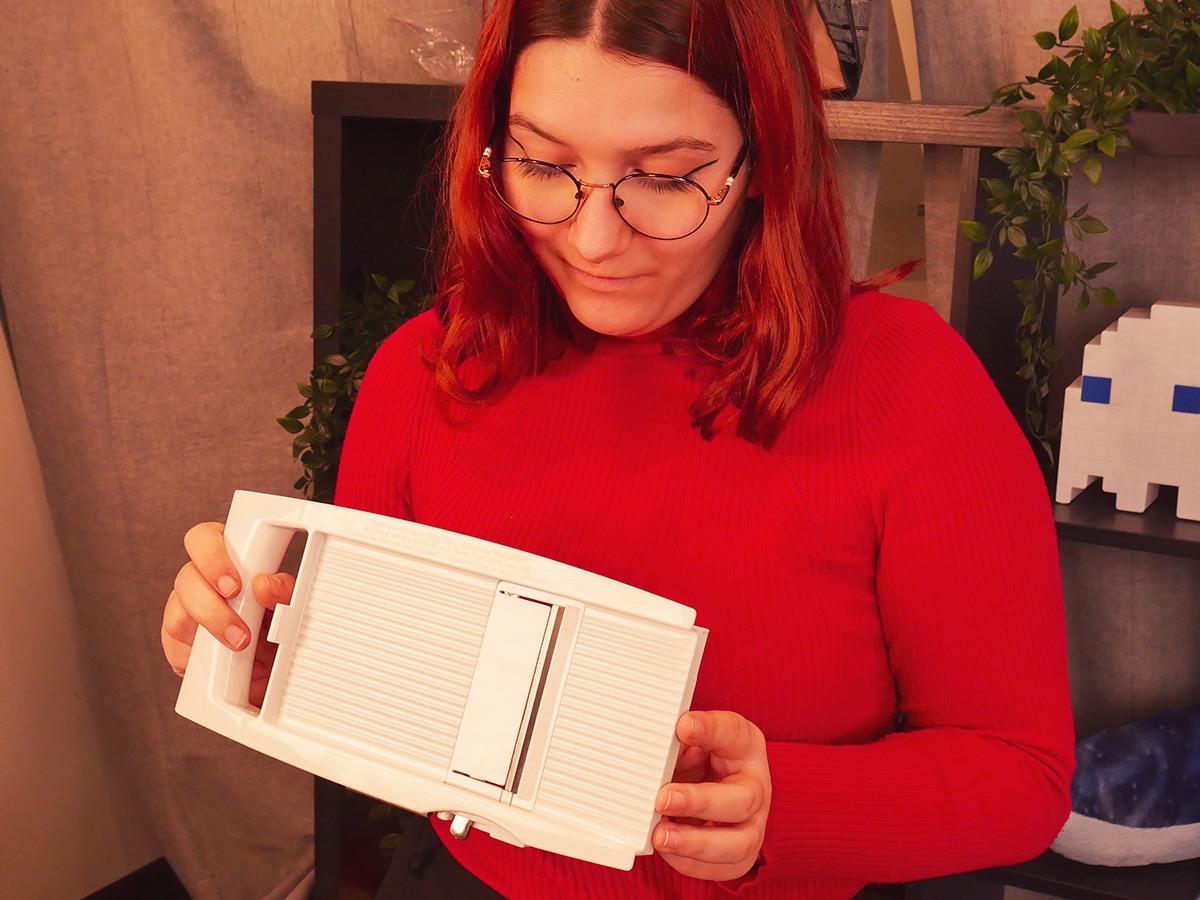 There are different types, from models with a single blade to models with several interchangeable blades.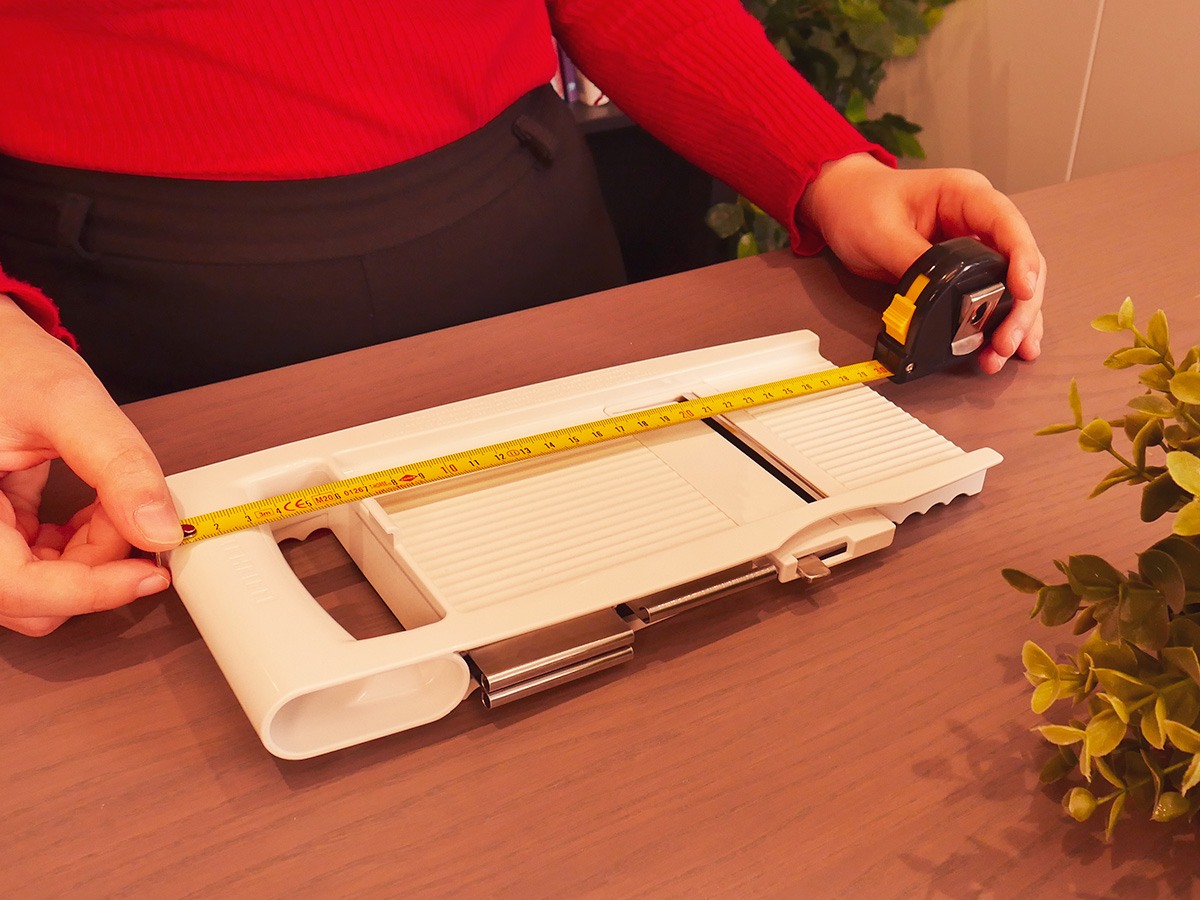 The larger it is, the more vegetables you can cut.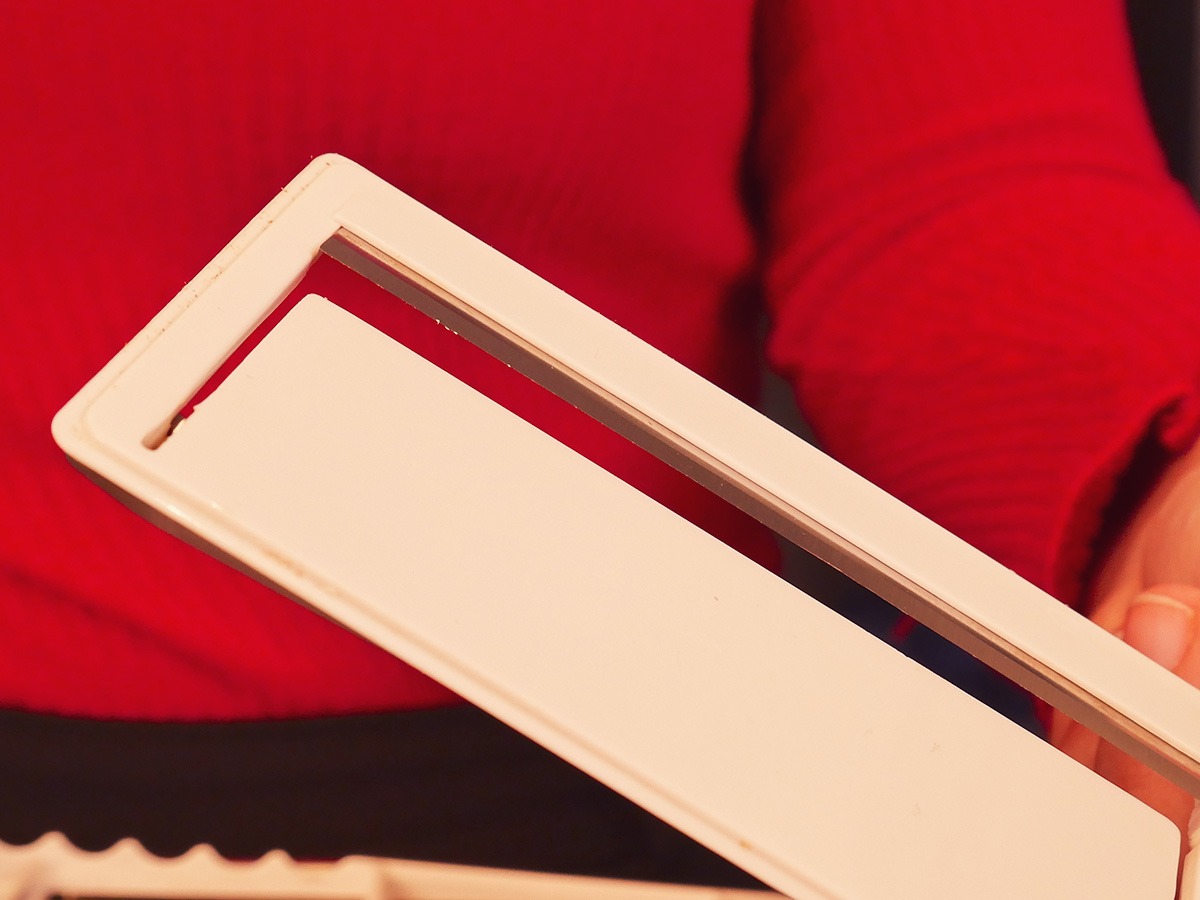 The blades have different designs (diagonal V-shaped...).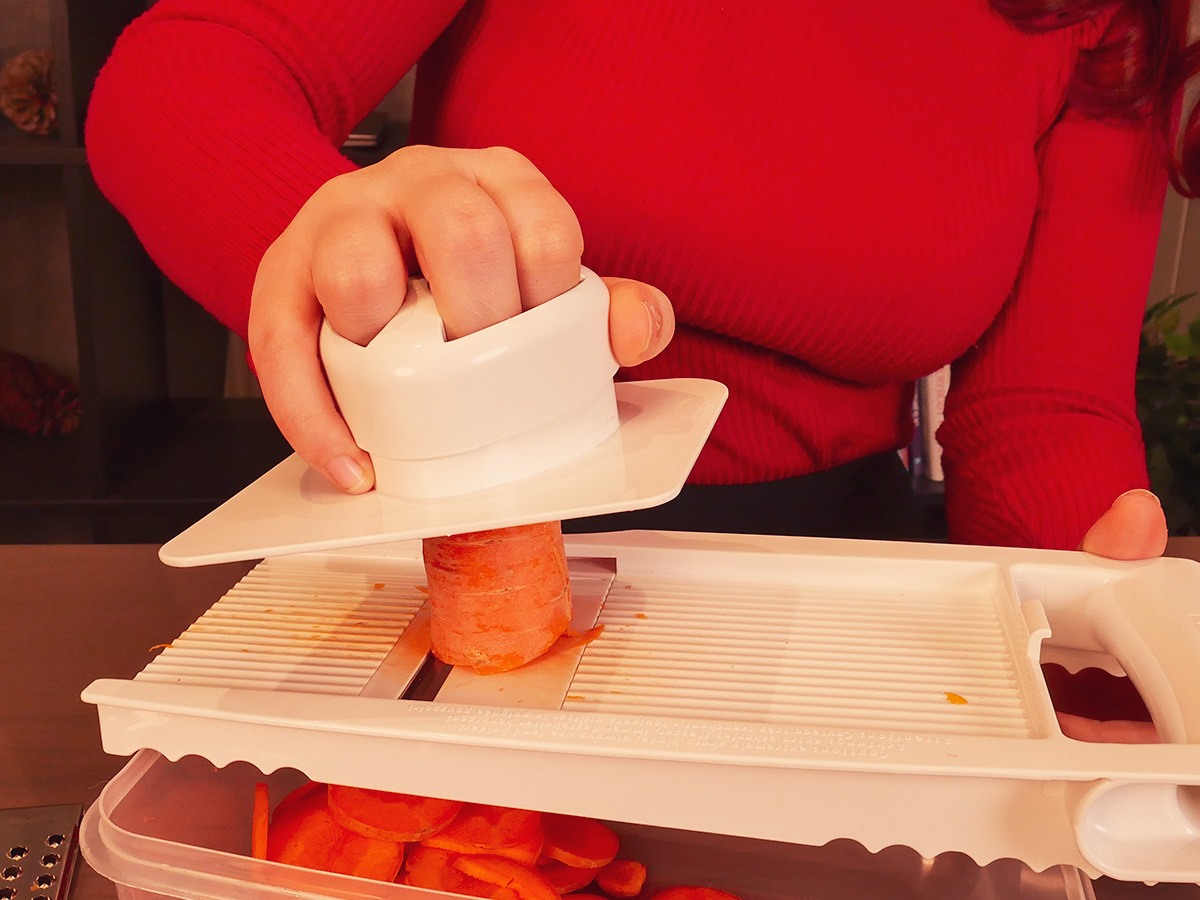 How to cut vegetables comfortably and without incident? With a finger guard.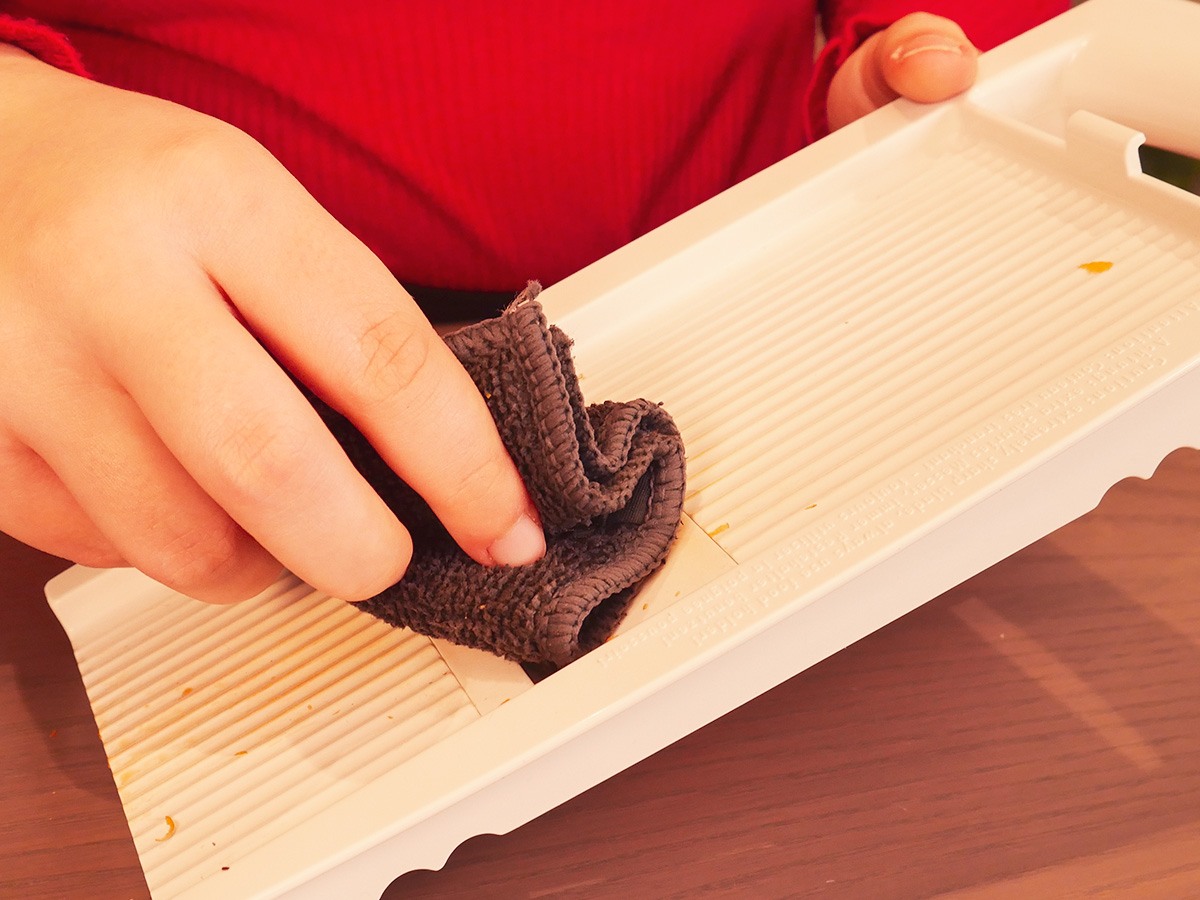 It is best to wash the mandoline by hand to avoid damaging the blades.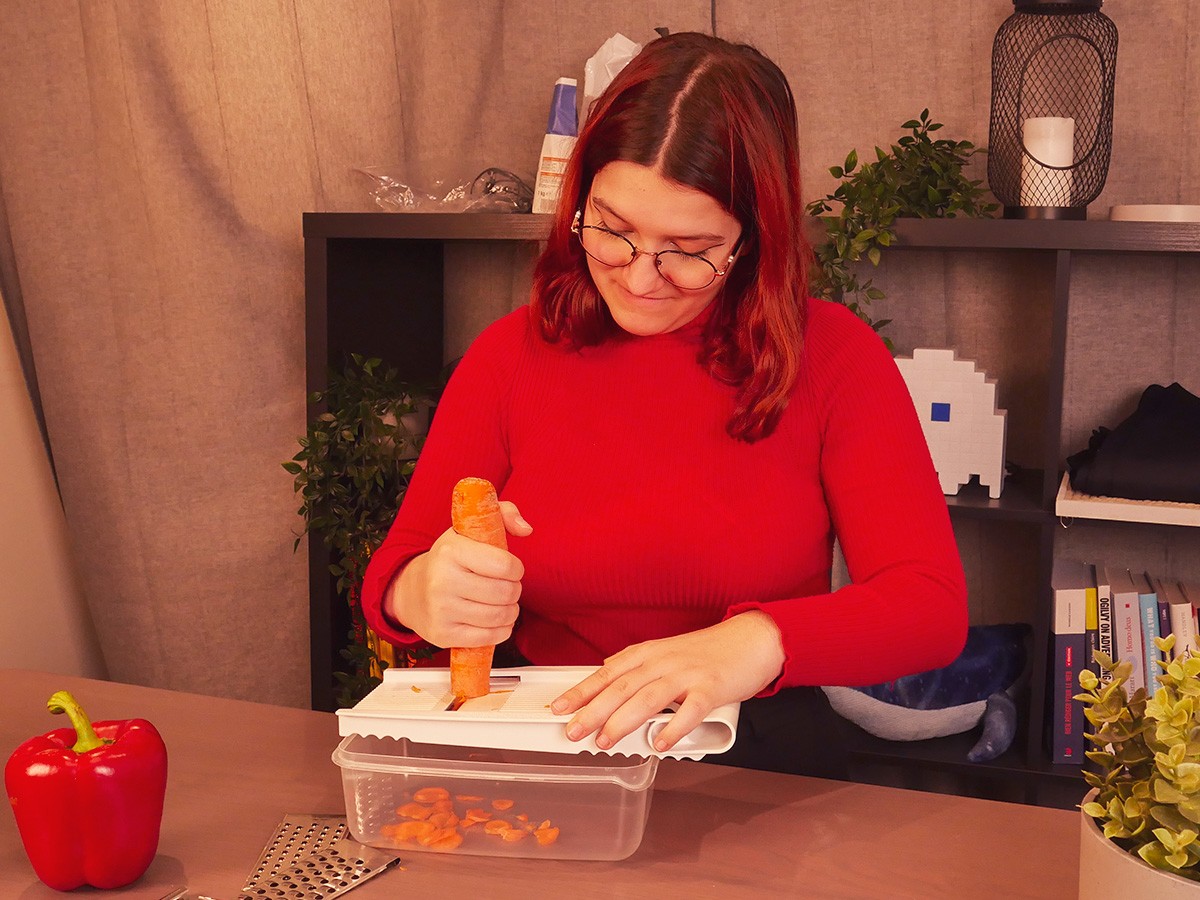 The multifunctional ones have interchangeable blades that allow you to vary the type of cut.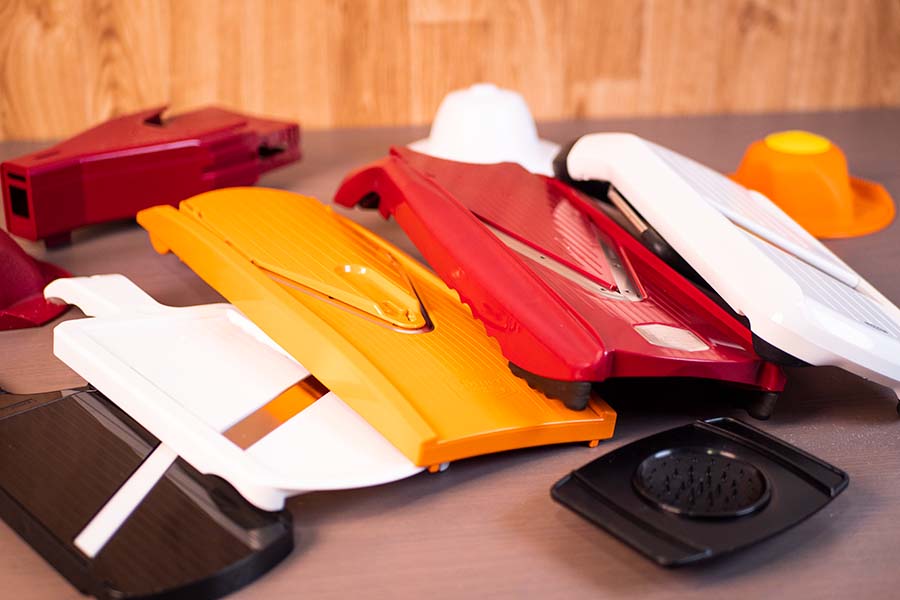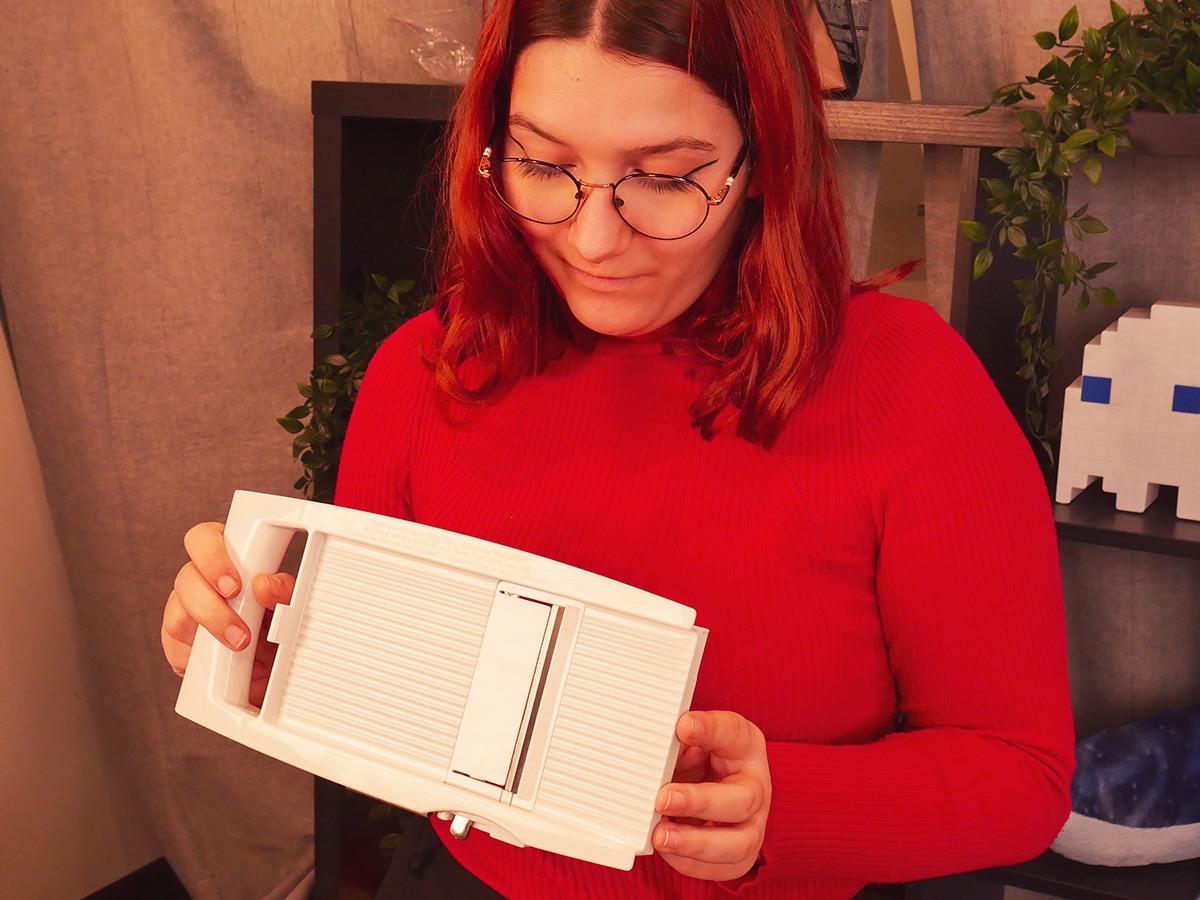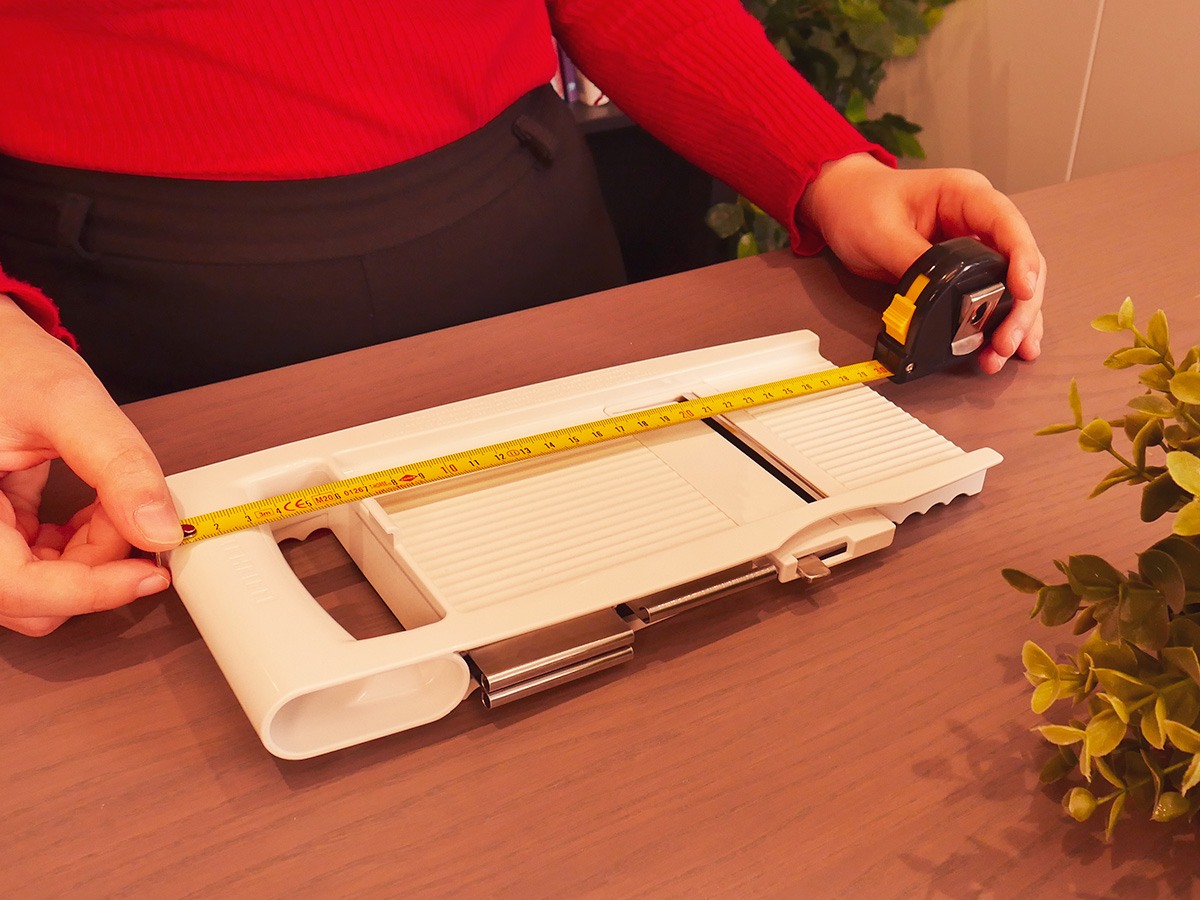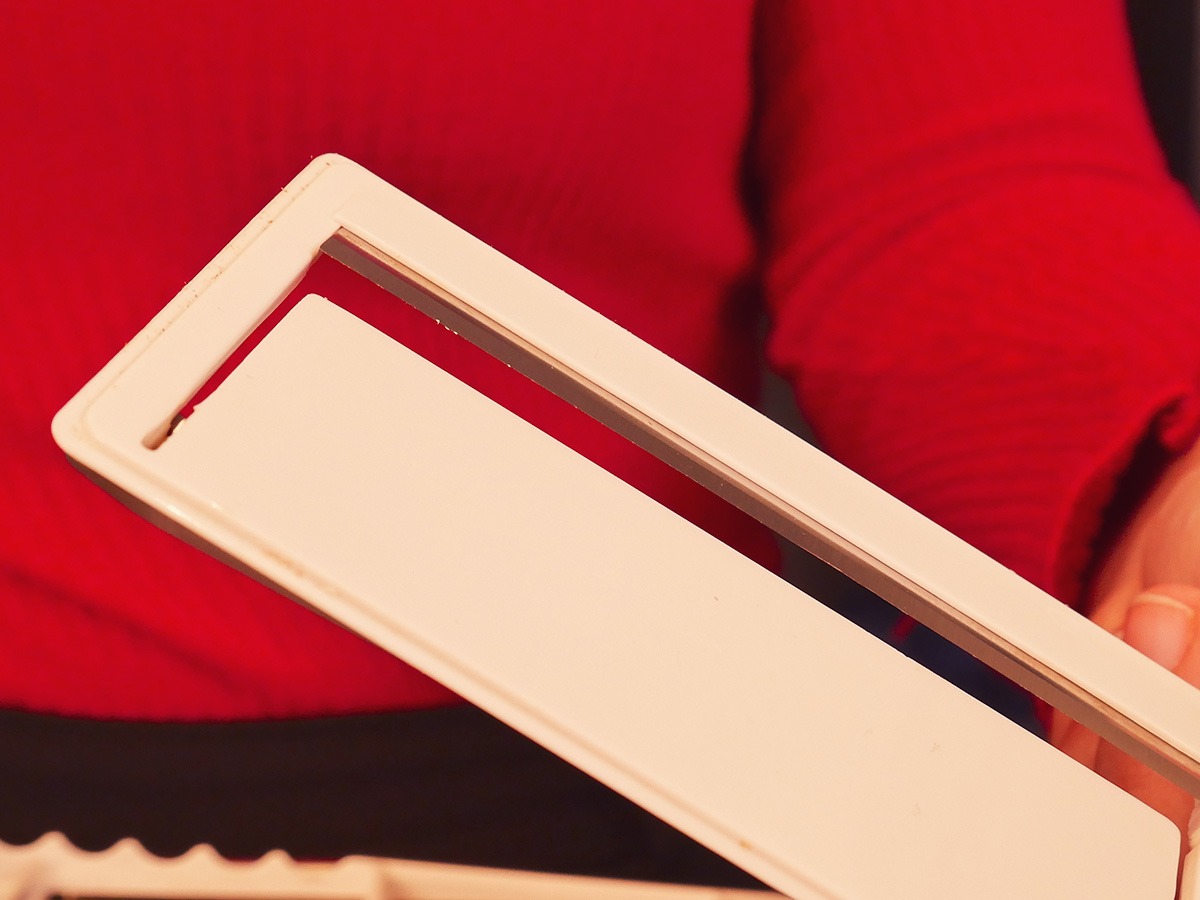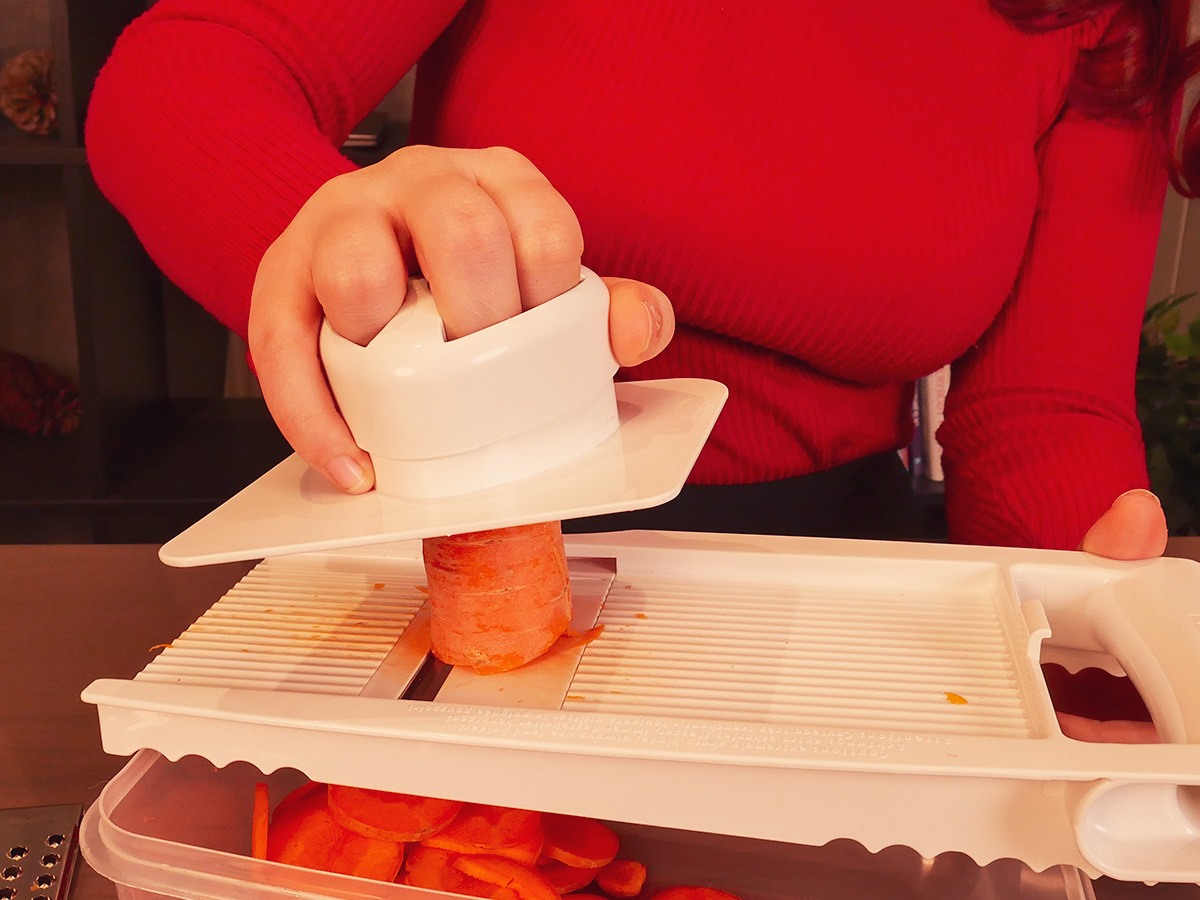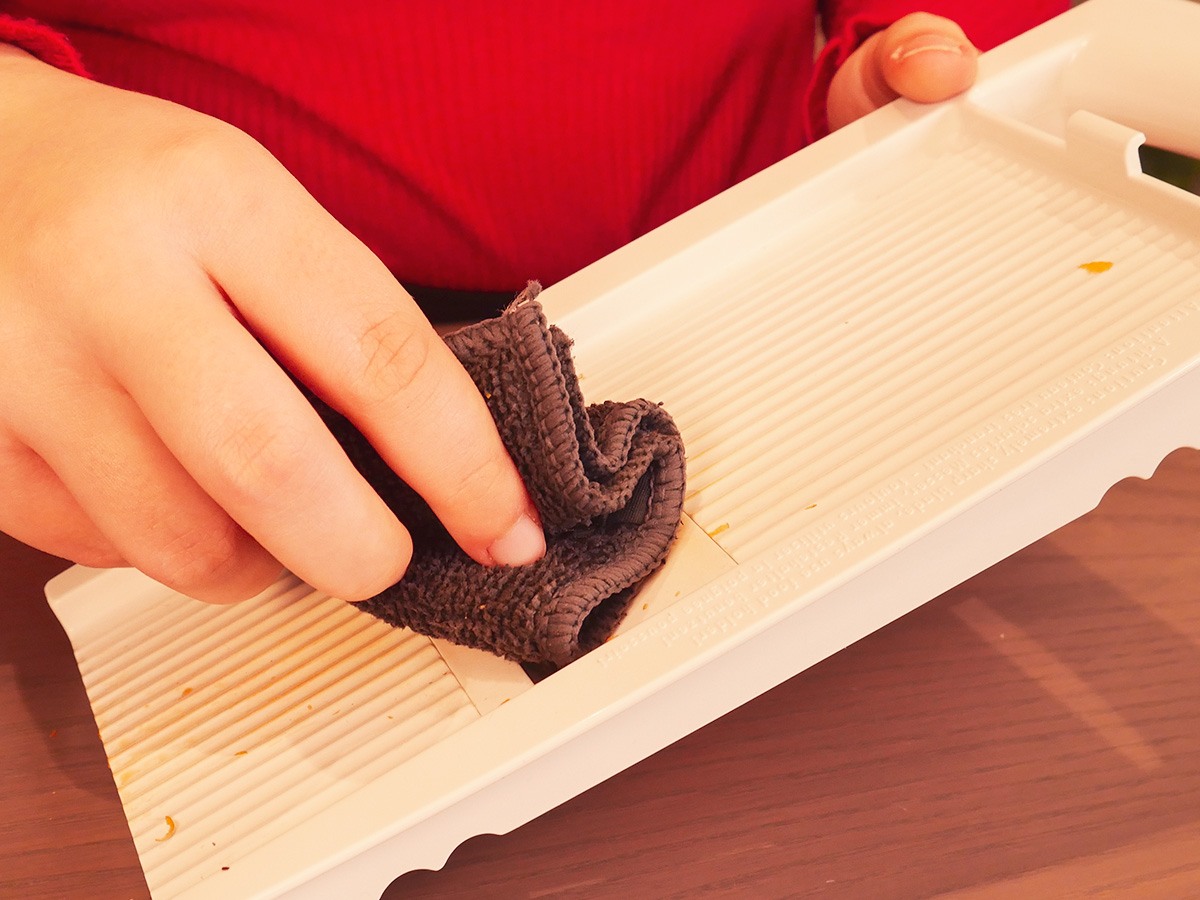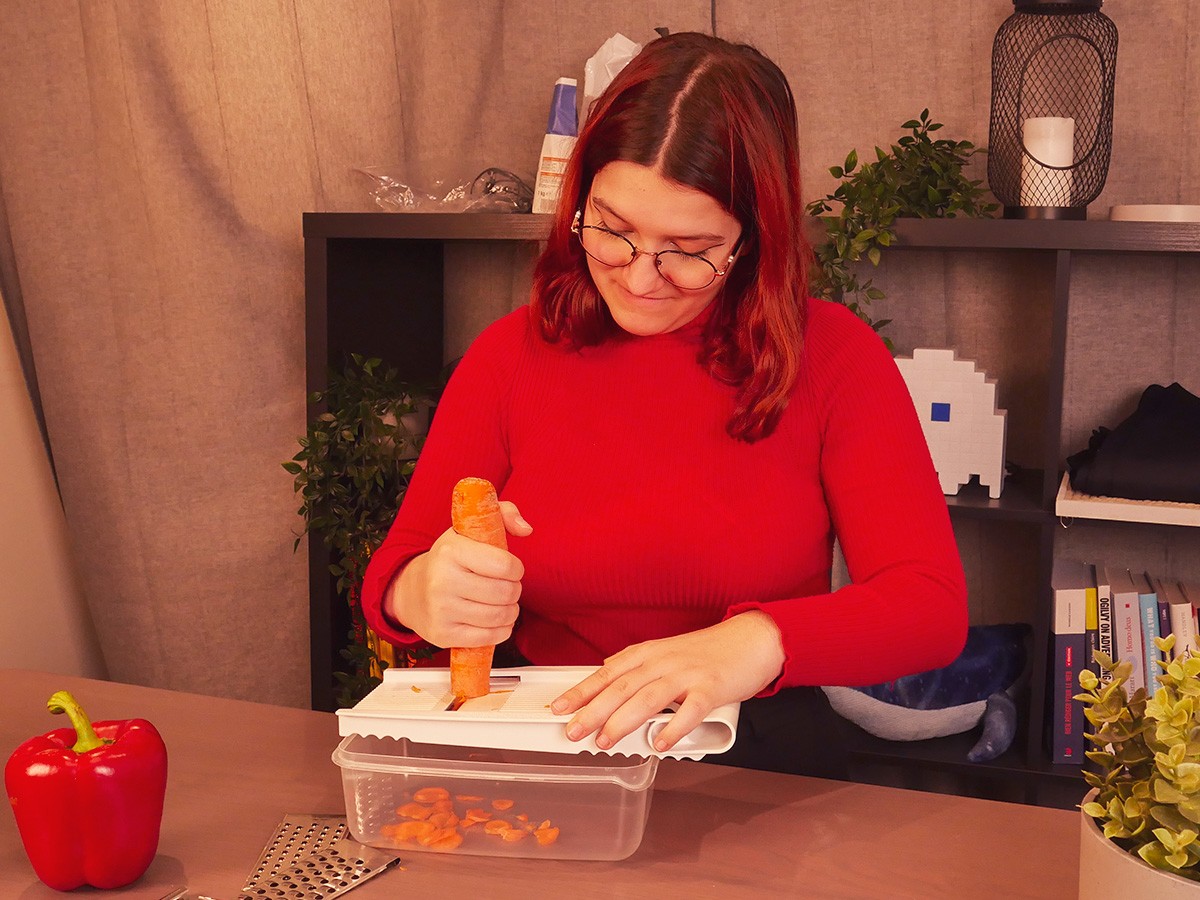 Best high-end
This model is the most complete and versatile of our selection. It is the most suitable if you want to cut into slices, sticks or even cubes.
See the price on Amazon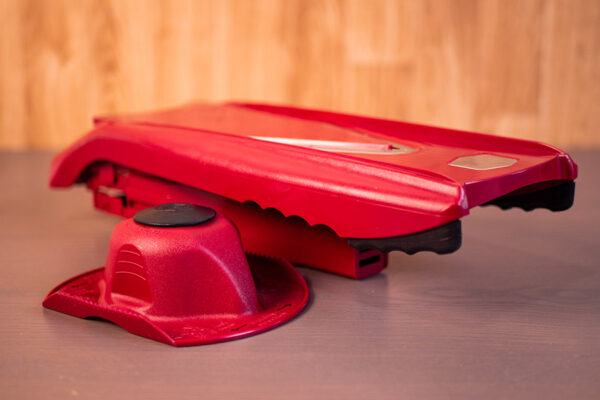 During our tests, we found the different cutting possibilities of this mandolin particularly interesting. Indeed, with its 3 interchangeable plates, you can cut different thicknesses and shapes: slices of 4 thicknesses, sticks and cubes. Among our selections, this is the model with the most accessories. We found it effective for cutting vegetables such as carrots, courgettes and cucumbers. However, potatoes were a bit more difficult to cut and we had to press a bit harder on the finger guard to finish cutting the slices. As for the mushrooms, the result was not the most satisfactory, but it seemed a bit better than with the other models. Finally, it is available in several colours.
Our selection
200+ Comparisons

2000+ Products Tested

100% Impartial
Why trust us ?
Selectos compares and tests hundreds of products to help you buy better. We sometimes receive a commission when you buy through our links, which helps fund our work. Learn more
How did we do the tests?
To test the mandolines, the first thing we did was to analyse their material quality (materials, sharpness of the blade, robustness of the system for changing the cutting thickness). Next, we checked that they were sufficiently practical and safe (the presence of a good finger guard, the possibility of locking the blade by adjusting the height to the 0 position, instinctive and practical way of choosing the height).
We then moved on to the actual test by cutting different types of food (courgettes, carrots, potatoes, apples, cucumbers and mushrooms). This also allowed us to see if they were coloured, especially with carrots (if the colour did not come out after washing). Finally, we tried the other types of cut (sticks, julienne).
How to choose a kitchen mandoline?
In the kitchen, this utensil is mainly used to make thin cuts, such as radish and cucumber slices for salads, or to thinly slice potatoes for a gratin, for example. Other cuts (cubes, julienne, waffle slices, etc.), which are more difficult to achieve with kitchen knives, can also be made easily. However, there are some features you should keep in mind if you want a quality mandolin that will allow you to cut your food effortlessly, and that will last for many years in your kitchen.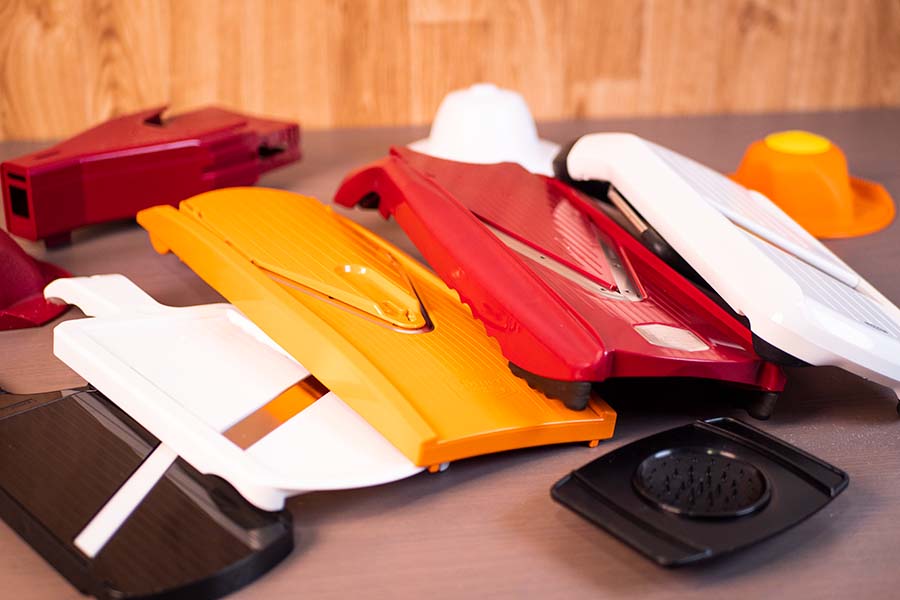 To do this, it is first necessary to distinguish between the different types of mandolin available on the market:
The classic: easy to use and generally cheaper, it is designed for people who simply want to slice or dice their vegetables and fruit. An ideal choice for preparing salads quickly.
The multifunctional: with interchangeable blades, it allows you to cut julienne, brunoise, sticks, embossed slices, etc. Thickness options can vary from thin to just over 1 cm. Each blade is removable for washing, changing or sharpening.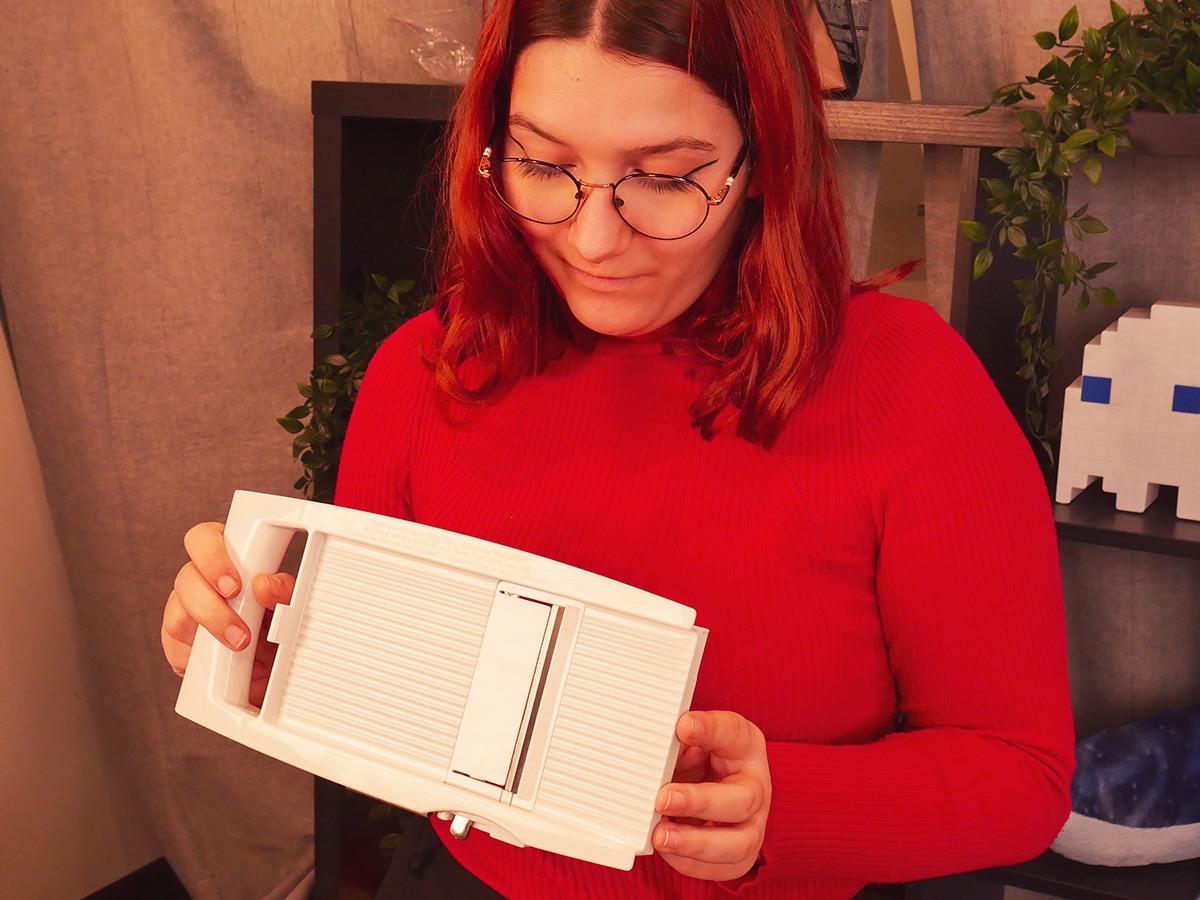 The Japanese: popularised by the Benriner brand, this type of mandolin is becoming increasingly popular in professional kitchens. They are economical, light and very sharp. They have a diagonal blade for the better cutting control. Their compact and portable design is also ideal for storage.
Unlike the electrical appliances (multifunction robots, food processors, blenders, mixers, etc.) we have compared and which require a careful reading of their many features, before buying a mandolin, there are only a few points to consider:
The base: it should be stable and not bend under pressure. A solid, smooth body allows for smooth action. Its large width allows you to cut large round vegetables such as aubergines, tomatoes, onions, fennel and large potatoes. You shouldn't have to cut vegetables by hand before slicing.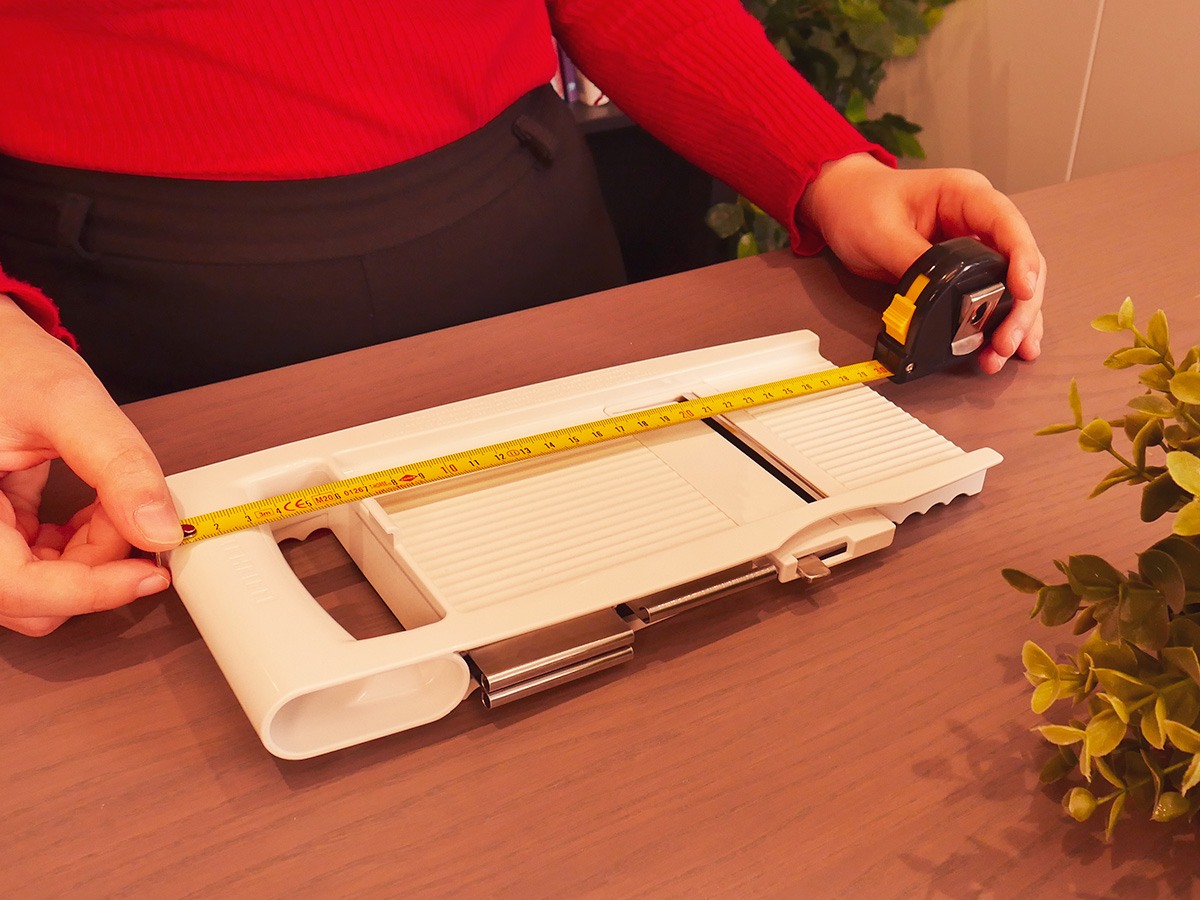 The blades: there are different types of blades. Some mandolines have a V-shaped one (increasingly popular with home chefs) and others have a single blade for straight cuts that are perfect for potatoes and other hard vegetables. Diagonal blades are mainly found in Japanese models and allow easy cutting of all types of vegetables. The blade is usually made of stainless steel or ceramic.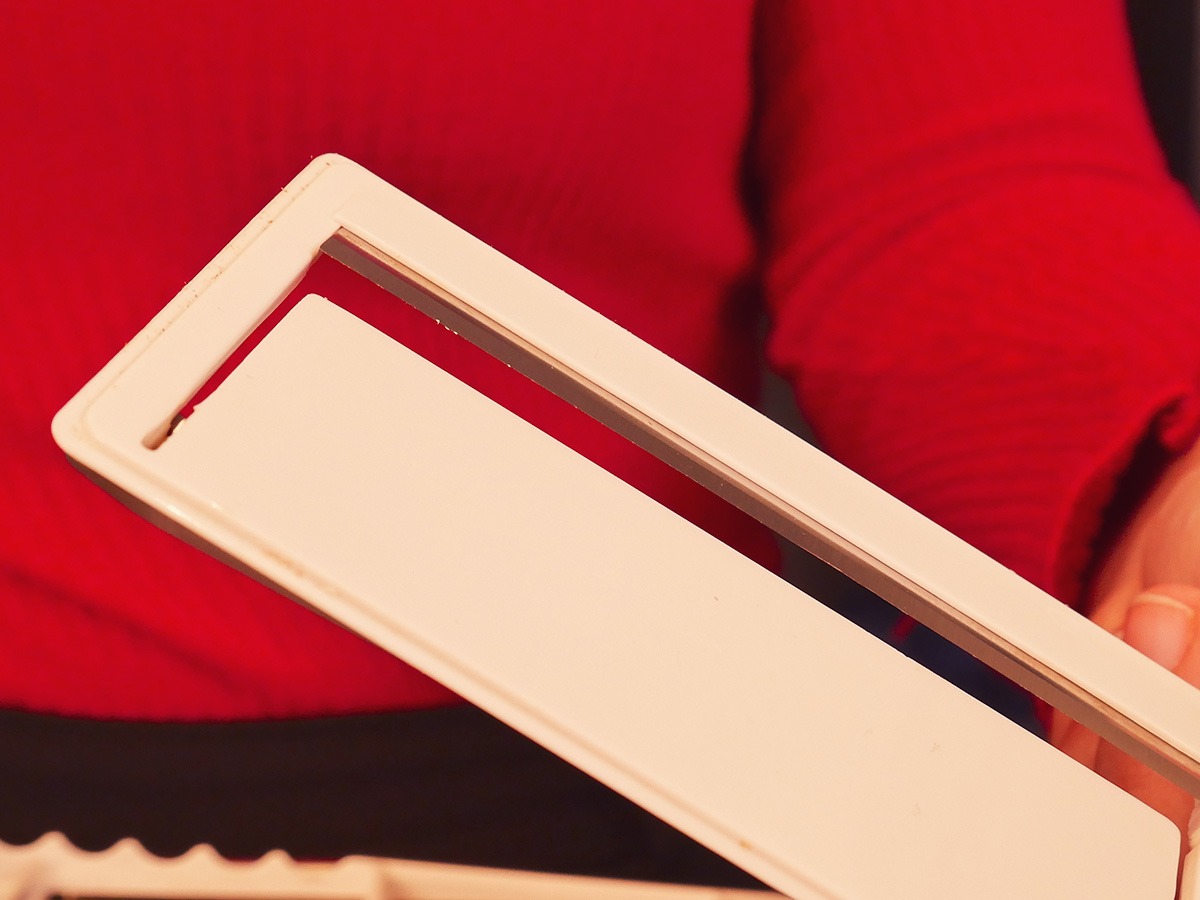 The finger guard: prevents cuts and fits comfortably on the hand. However, if the opening of the pusher is too narrow, it will limit the length of the cuts. We also recommend using a glove and a mandolin with a handle for a better grip and smoother cutting.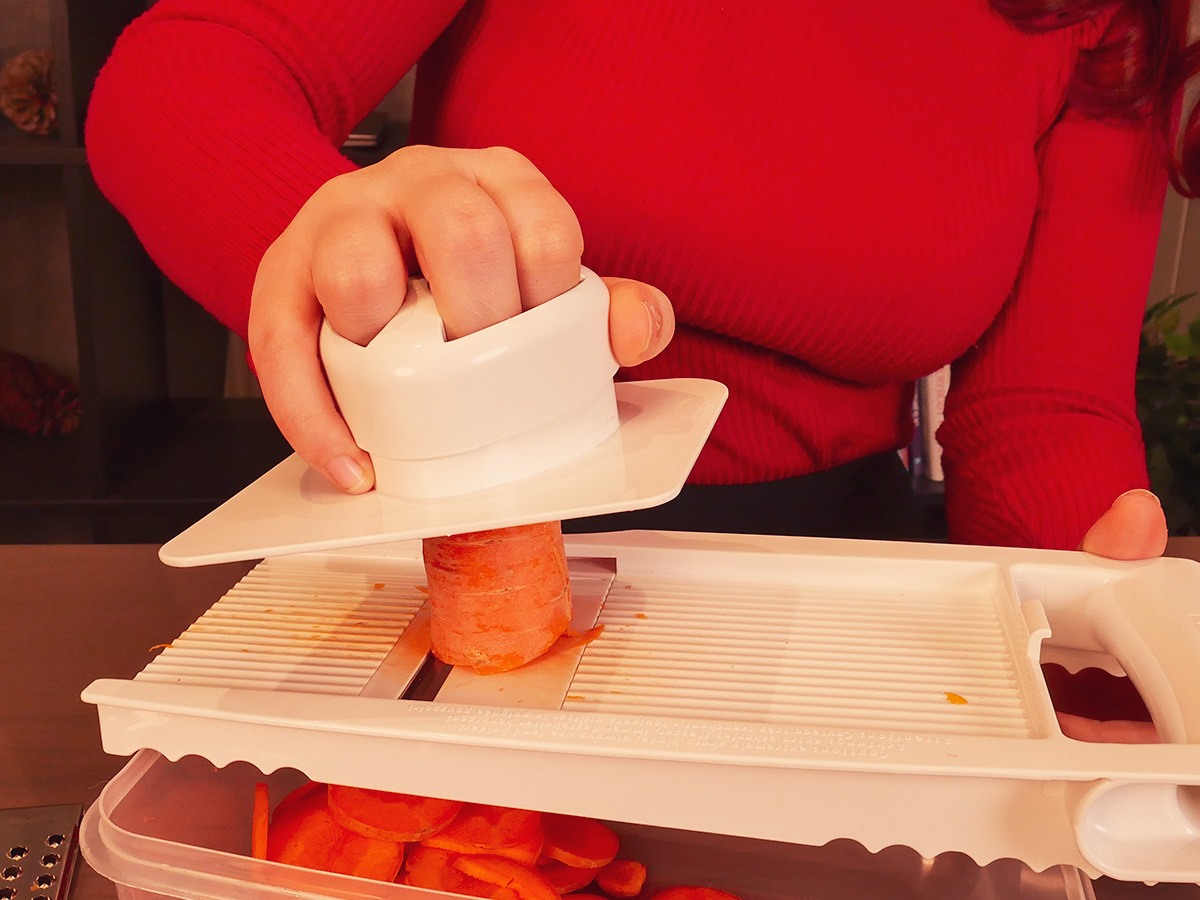 Cleaning: even if the mandoline you choose is theoretically dishwasher safe, it is best to wash it by hand. The detergents used in dishwashers tend to dent the blades.
Other mandolines that we recommend
Fackelmann 45331 (£7.99 upon publication): an economical alternative, but of lower quality. This economical model is made of stainless steel and plastic. It allows you to cut a variety of foods quickly and efficiently while offering some protection for your fingers (pusher). You can adjust the cutting size from 1 to 6 mm. During our tests, although it was generally quite efficient, we were less convinced by the quality of its materials (a conical blade, plastic is quite cheap…) and therefore did not include it in the main selection.
De Buyer Kobra V axis (£50.90 upon publication): a mid-range option. Made in France with a V-shaped stainless steel blade, this mandolin is easy to use, robust and very efficient. It allows you to cut fruit and vegetables, whatever their consistency, into thin slices from 0.2 to 5 mm (integrated wheel). The ergonomic design also protects your hand while slicing thanks to the pusher. In its price range, we prefer the Börner V5 Powerline Plus Set, which comes with more accessories and is much more popular with users. Nevertheless, we are keeping it in mind!
Other tested mandolines
Börner V1 ClassicLine Starter (£20.90 upon publication): slightly cheaper than its big sister, we found it less practical when it came to changing accessories. And, in general, it also has the same shortcomings as the V5.
Kyocera CSN 202 (£29.95 upon publication): we find it too expensive for its design, although it offers good performance. We also find it very fragile, especially the system for choosing between the four thicknesses.
Translated by Ramsés El Hajje