Updated on August 10, 2023
After testing 9 steam straighteners, we've concluded that the
Philips 8000 Series
is currently the best handheld steam straightener in terms of efficiency.
Our pick, Best mid-range
This model combines power, efficiency and practicality. Tested before it reaches your hands, it also offers a greater guarantee of not coming across a faulty model.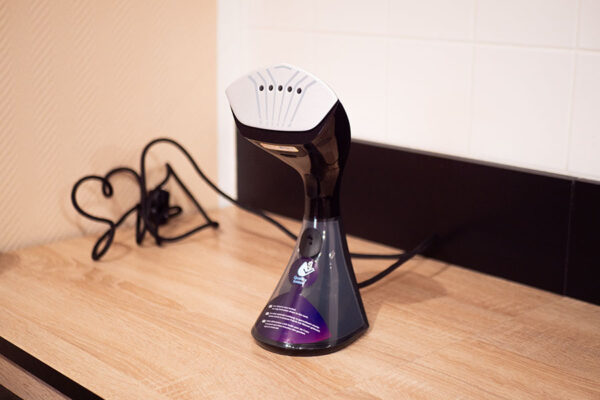 On unpacking, we were surprised to find that this steam steamer was wet. A label told us that it had been tested before being sold to check that it worked properly. We think this is a good thing, as it reduces the risk of coming across a faulty model.
To start our tests, we timed it to take 60 seconds to heat up. Once it was ready, we tested it on a dress and a t-shirt. And we have to say, it proved far more effective than many of the other models we tested, thanks to its high flow rate of 32 g/minute. It managed to smooth out the wrinkles in the shirt's collar as well as its small pocket. With its OptimalTEMP technology, there's no risk of burning clothes. Its anti-drip system also worked well. Note that it can be used vertically or horizontally and also has an Eco mode that works well.
During our tests, we consumed around 80 ml to straighten a dress and a t-shirt (plus the continuous minute to "clean" the device before use). So, we estimate that its 230-ml reservoir will allow you to wrinkle up to 7 or 8 t-shirts (or equivalent short-sleeved garments). However, it's not removable, which doesn't make it easy to refill.
Finally, our only complaint is that it weighs slightly more than the next 2 models (almost 1.9 kg without water).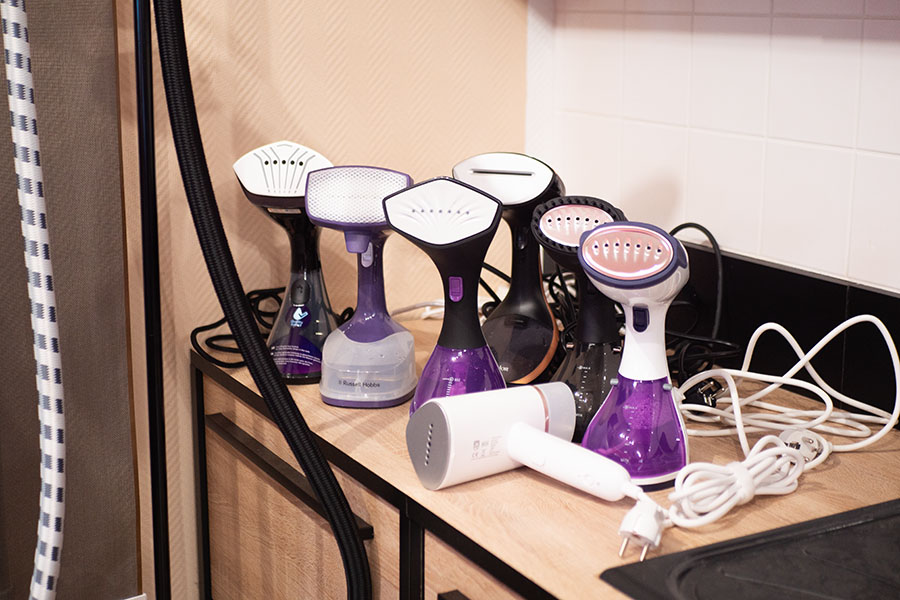 The different steam straighteners we tested.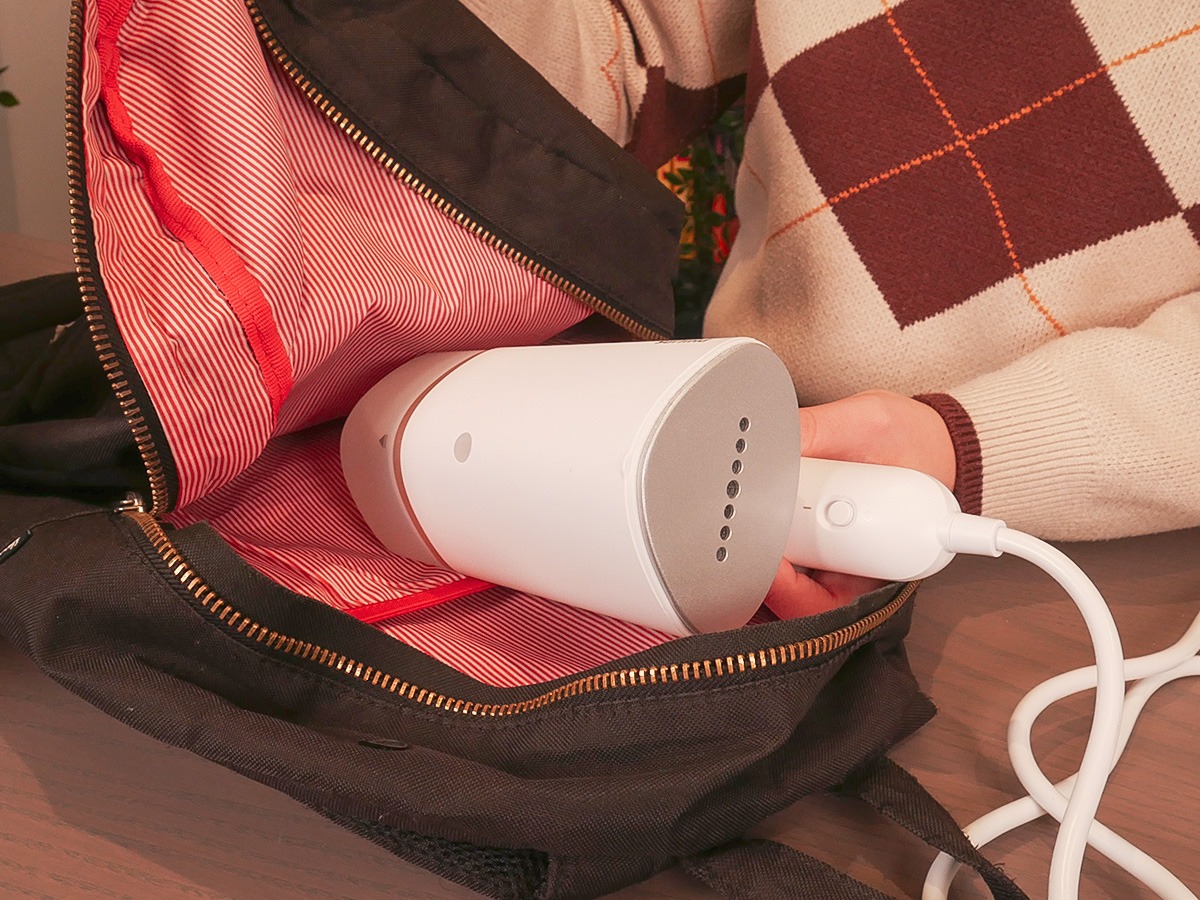 Hand-held steam straighteners are often used by people who travel and want to remove wrinkles.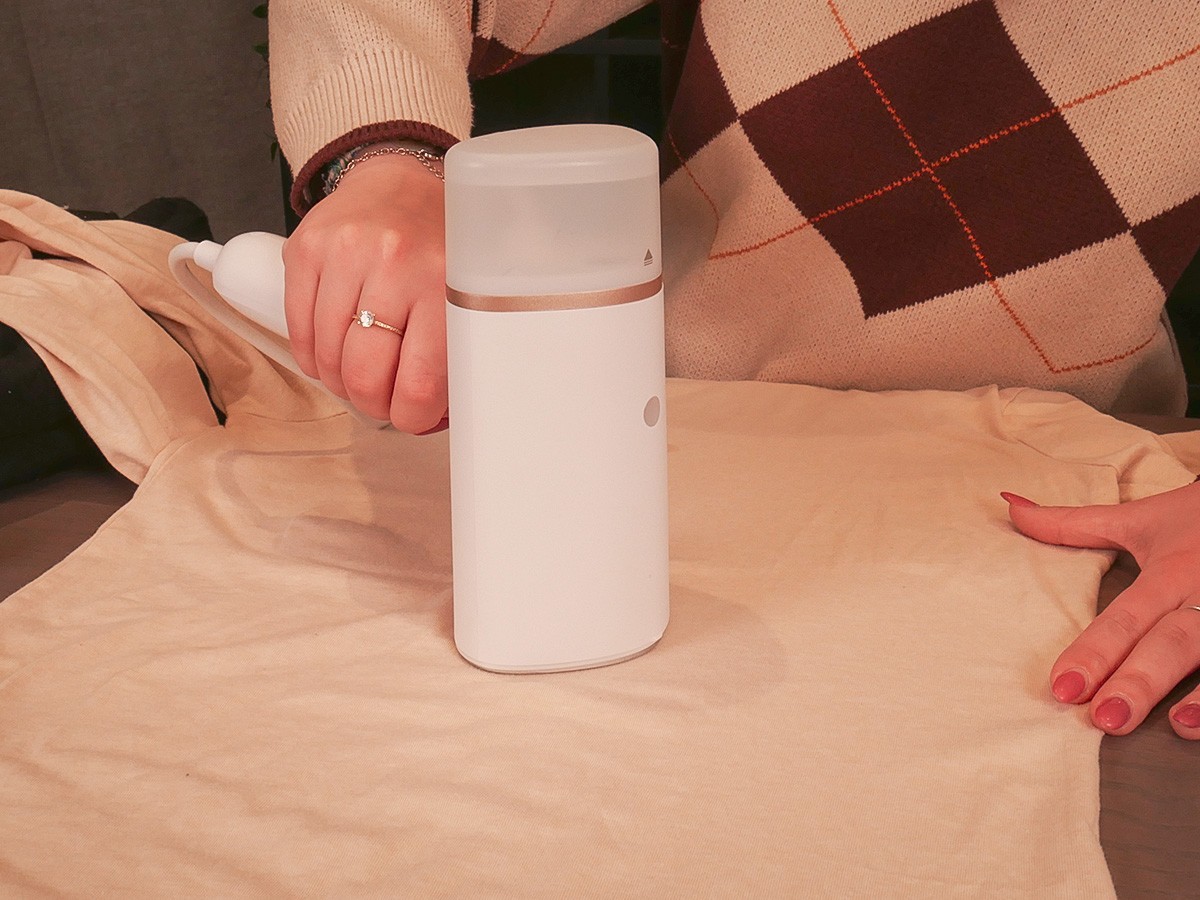 The steam flow rate has a direct effect on the removal of creases, quite a few models approach 20 g per min.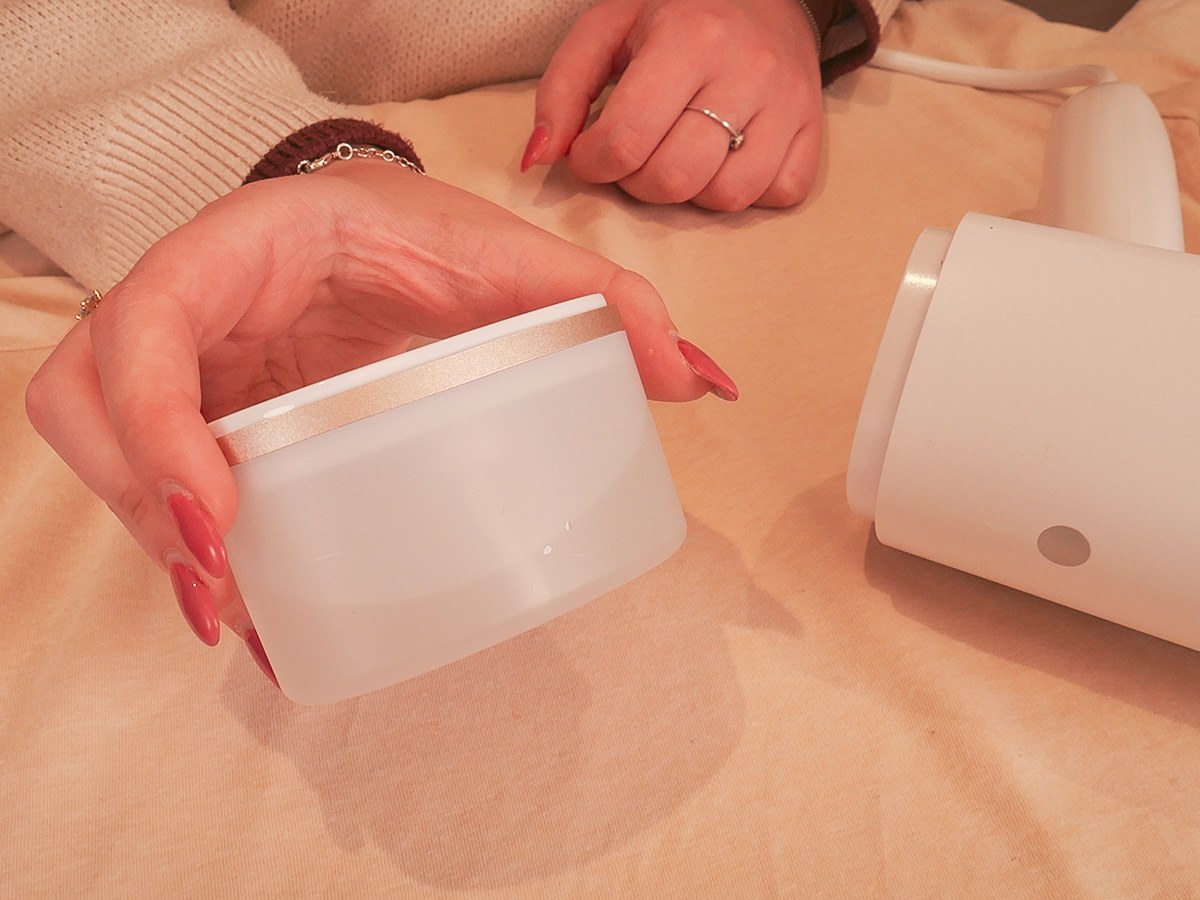 If the tank is small, you'll have to refill it more often and interrupt your work.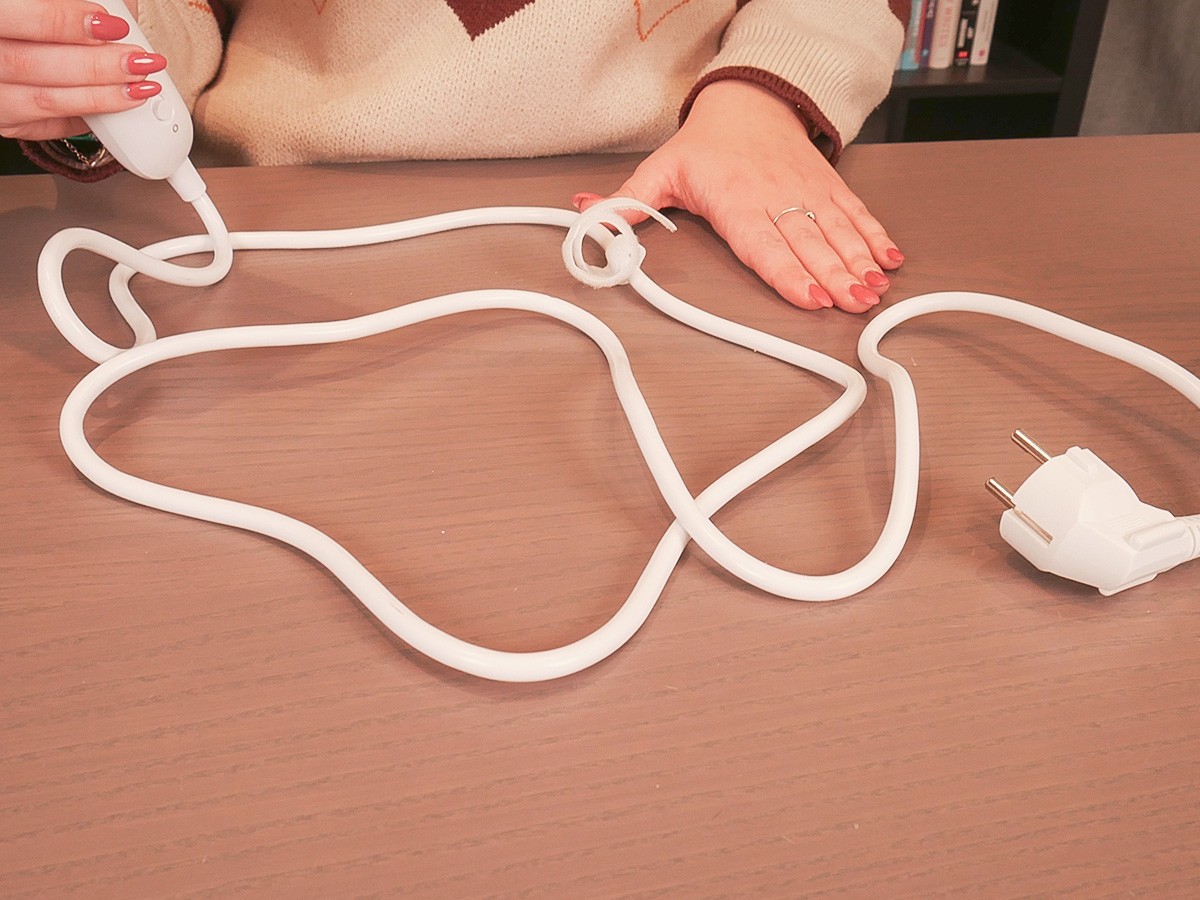 Pay attention also to the length of the power cord, which could limit its use.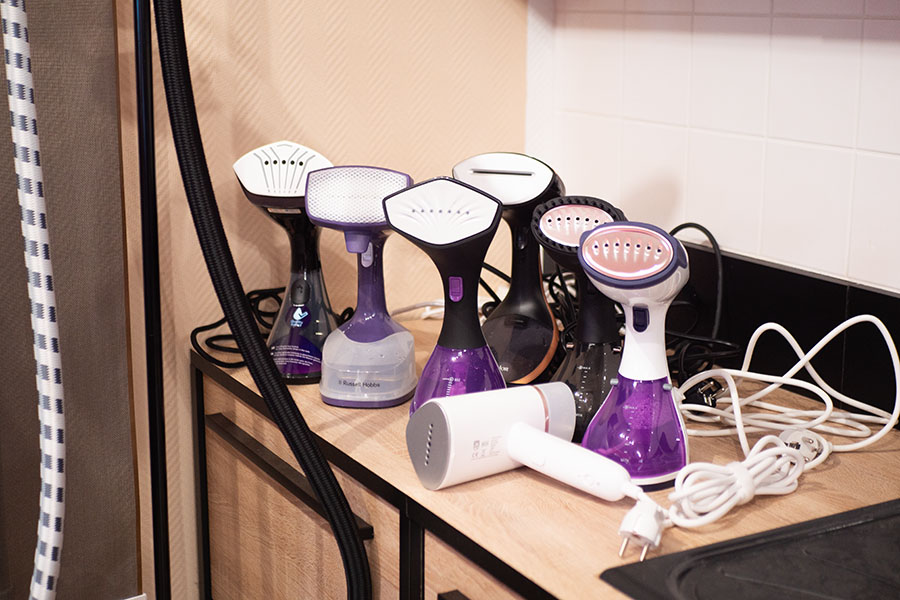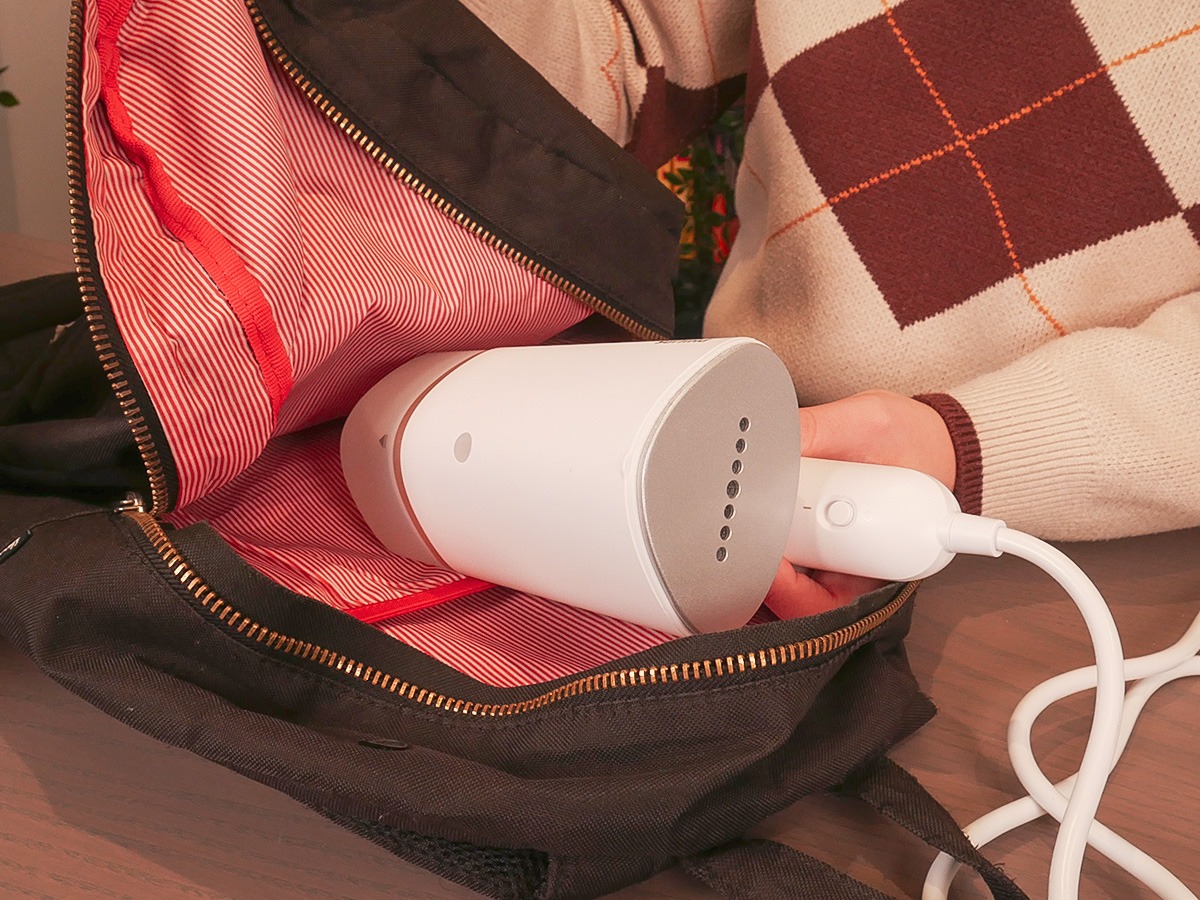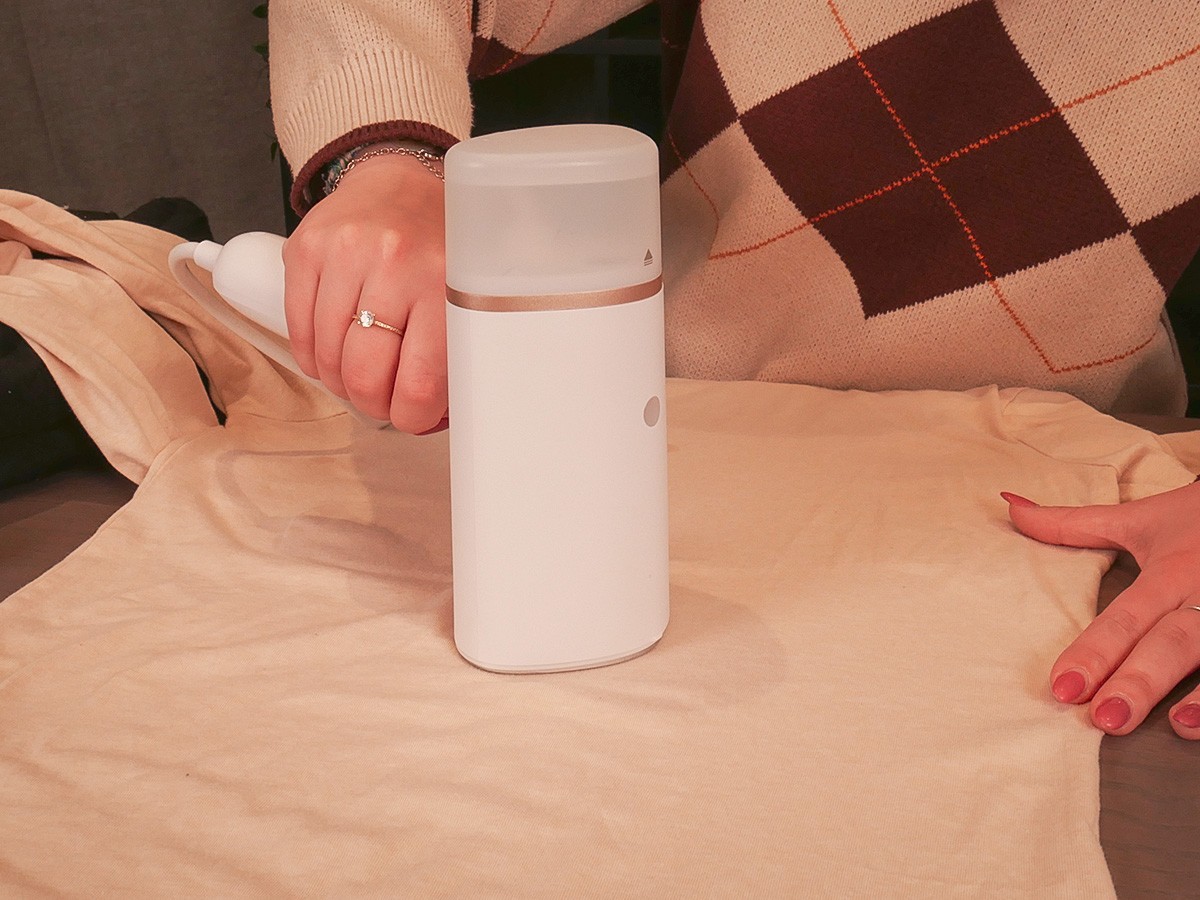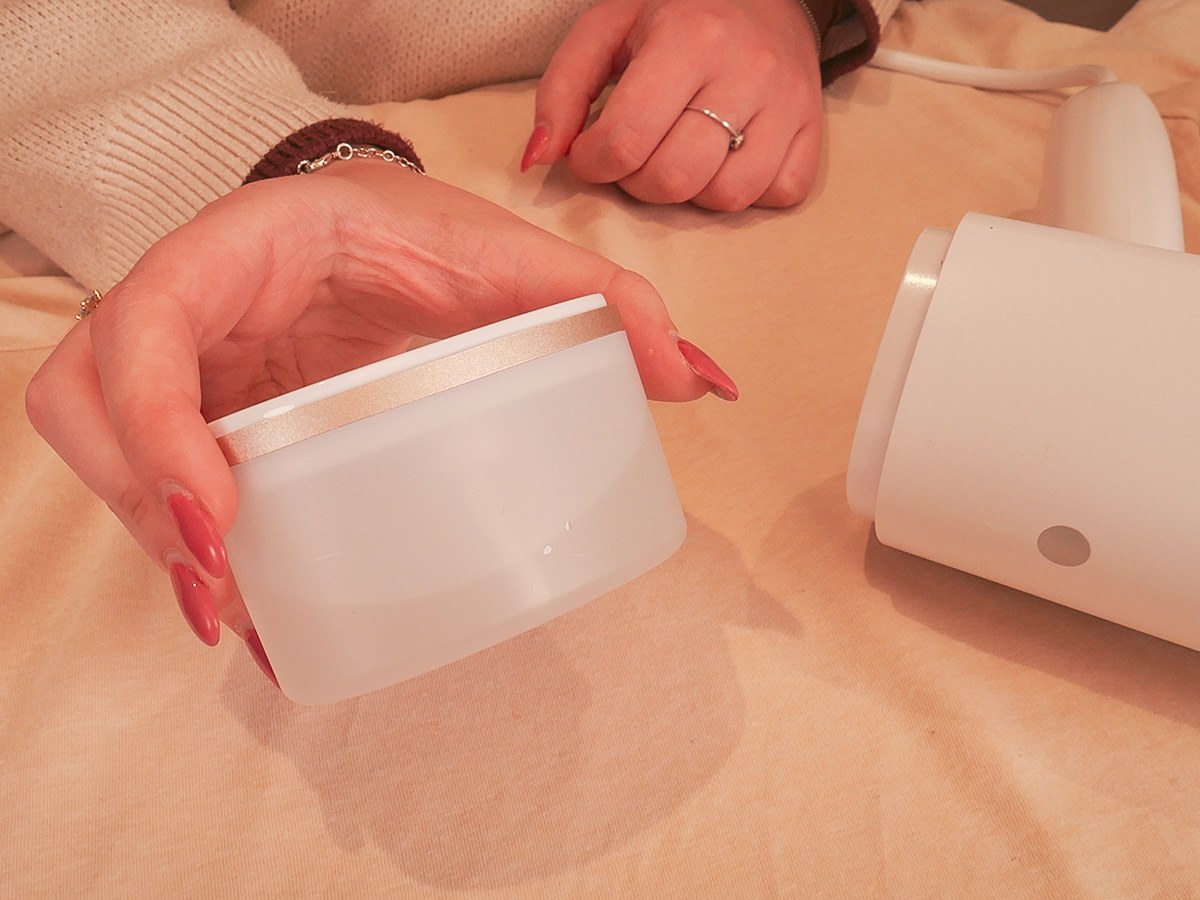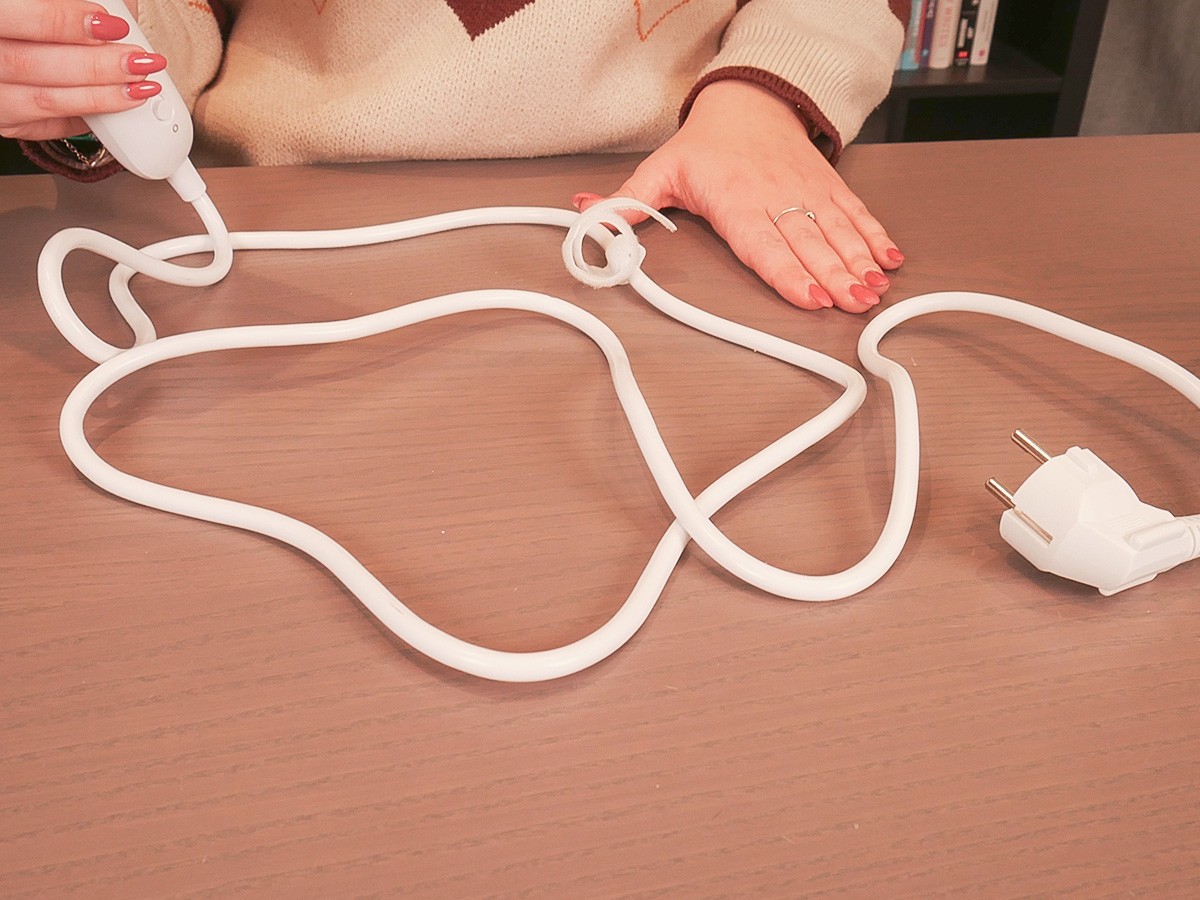 Cheap alternative
Coming with a brush, linen brush and measuring glass, this steamer is the most complete in accessories in this selection and can be used on all types of fabric.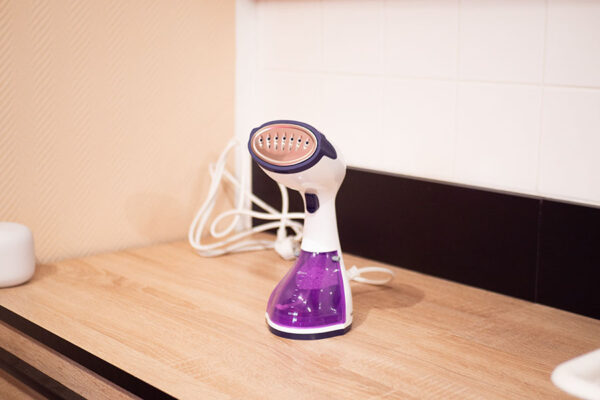 Similar in every way to the SteamOne S-Travel presented above (hard to know who copied who), this Tristar model is a good option for a quick fix without having to get out your iron and board. However, don't expect perfect results.
The main difference between the 2 models is that this Tristar includes 2 accessories to clip onto its head and a measuring glass versus a single brush on the SteamOne. Here, therefore, we have a brush for linen in addition, which offers a better guarantee of not damaging this type of fabric.
As for performance, we found this Tristar to be a little less efficient than the previous model, with its 1200 W of power for a steam output of 20 g/minute. It was also a tiny bit slower to heat up (33 seconds) and dripped a little more when used.
Finally, we used 45 ml of water by letting the steam run continuously for 1 minute and straightening 2 garments (a blouse and a t-shirt). Thus, we estimate that the 260 ml reservoir allows you to straighten up to around 10 or 11 t-shirts (or clothes of equivalent size).
Our selection
| Our pick, Best mid-range | Cheap alternative |
| --- | --- |
| | |
| Philips 8000 Series GC800/80 | Tristar ST-8916 |
| This model combines power, efficiency and practicality. Tested before it reaches your hands, it also offers a greater guarantee of not coming across a faulty model. | Coming with a brush, linen brush and measuring glass, this steamer is the most complete in accessories in this selection and can be used on all types of fabric. |
| £ 136.38 on Amazon | £ 30.23 on Amazon |
200+ Comparisons

2000+ Products Tested

100% Impartial
Why trust us ?
Selectos compares and tests hundreds of products to help you buy better. We sometimes receive a commission when you buy through our links, which helps fund our work. Learn more
How did we test?
In order to test the steam straighteners, we began by observing their material quality and their design. We noted the presence of additional accessories such as interchangeable heads and structures for hanging garments. For the more complete ones, we also judged whether they were simple and quick to assemble. We also noted the practicality of access to their reservoir and the size of it.
Then we timed their heating time to check that it corresponded to what was entered. Once up to temperature, we ran them all in vacuum for about 1 minute to remove any factory impurities. Then we could start using it.
We tried our hand at straightening various types of garments: shirts, blouses, dresses, t-shirts… So we could see the results on delicate garments, as well as on cotton. We paid particular attention to the fact that the straighteners don't drip on clothes. Naturally, these tests enabled us to estimate their practicality and efficiency. Finally, we checked the amount of water used during these tests to assess how many garments could be straightened with each model.
How to choose your steam steamer
Despite the fact that they can't replace ironing irons traditional ones, let alone centrales vapeur in terms of efficiency, steam straighteners offer a series of non-negligible advantages such as compactness and rapid heating. However, it's not easy to make a choice without knowing the criteria to consider.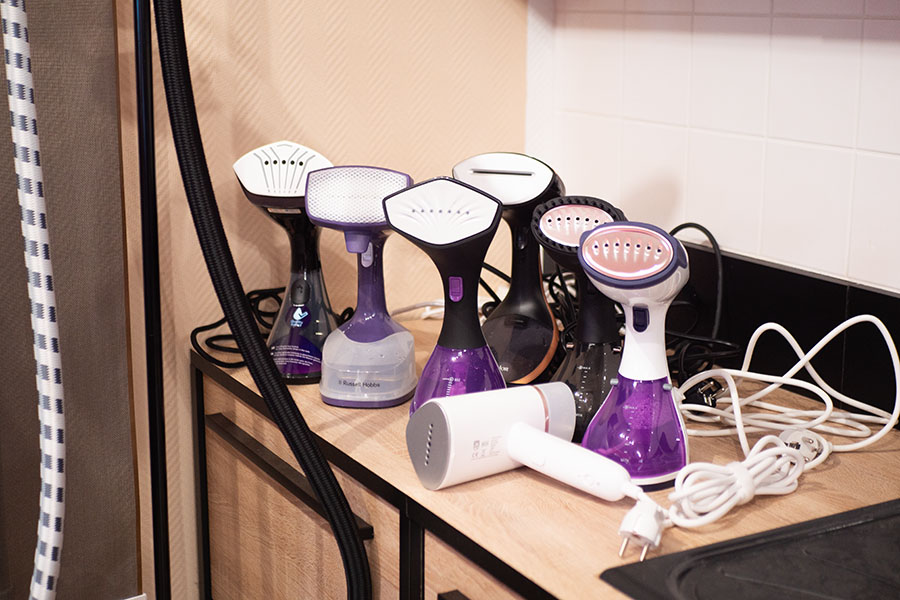 First of all, you need to know that steam straighteners fall into two distinct categories:
Hand-held steamers

: these are mainly intended for people with little room for ironing, or for those who travel frequently and want a nomadic solution for wrinkle-free, quickly refreshed clothes. These models are lightweight and compact. They can sometimes be handled both vertically and horizontally, but this is a parameter to be checked at the time of purchase. Also pay attention to the length of the power cord, which may limit their use.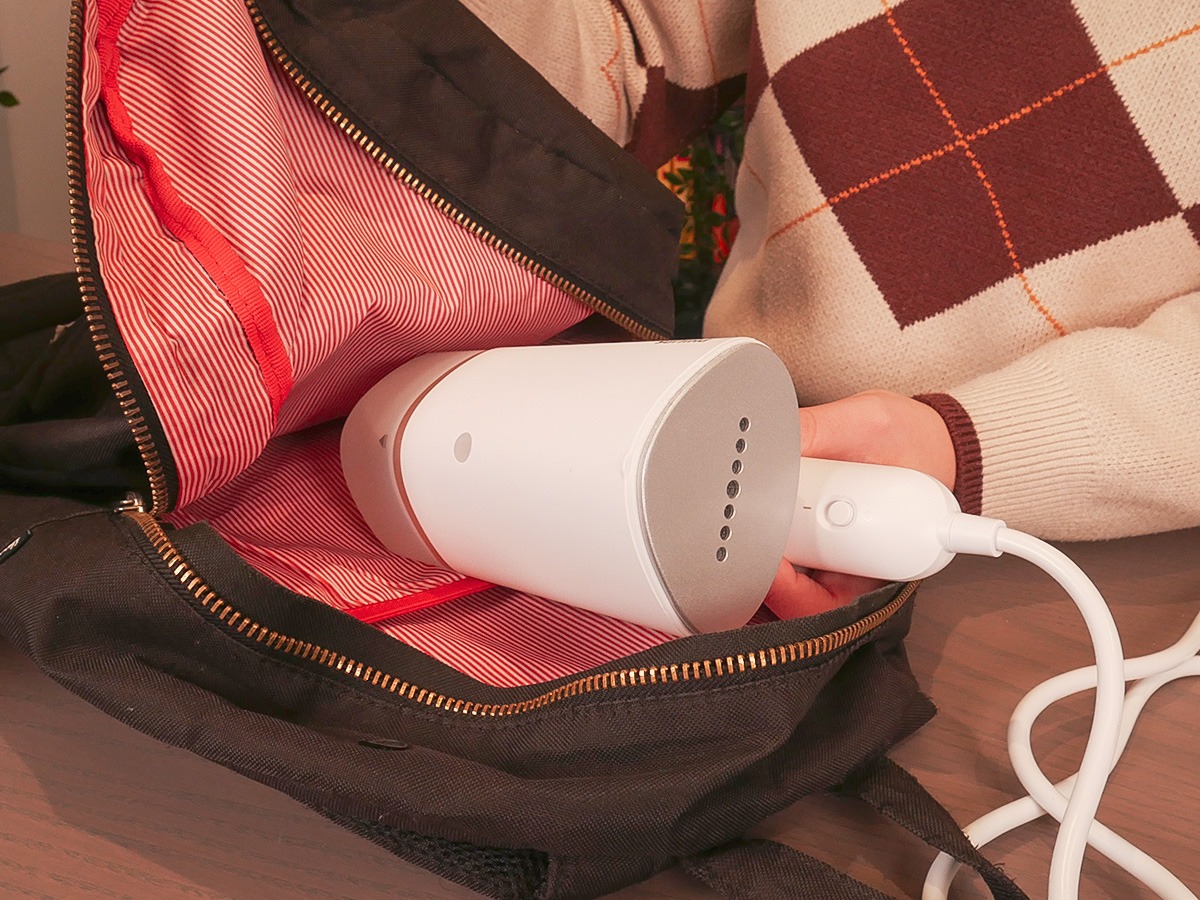 Stand-mounted ironers

: these are designed for people who don't have enough room for a traditional ironing board, but still have certain requirements on linen treatment or wish to use the steamer on large or heavier fabrics such as bedding or curtains. They are generally operated vertically, using a hanger or clip system on which the fabric is hung directly. Some models feature a horizontal tilting board to approximate a traditional iron.
Knowing this, here's a series of important criteria to consider before any purchase:
Steam flow

: this has a direct effect on the elimination of creases. Many models approach 20 g/min, while the most powerful can exceed 30 g/min. Obviously, a higher number gives much better results.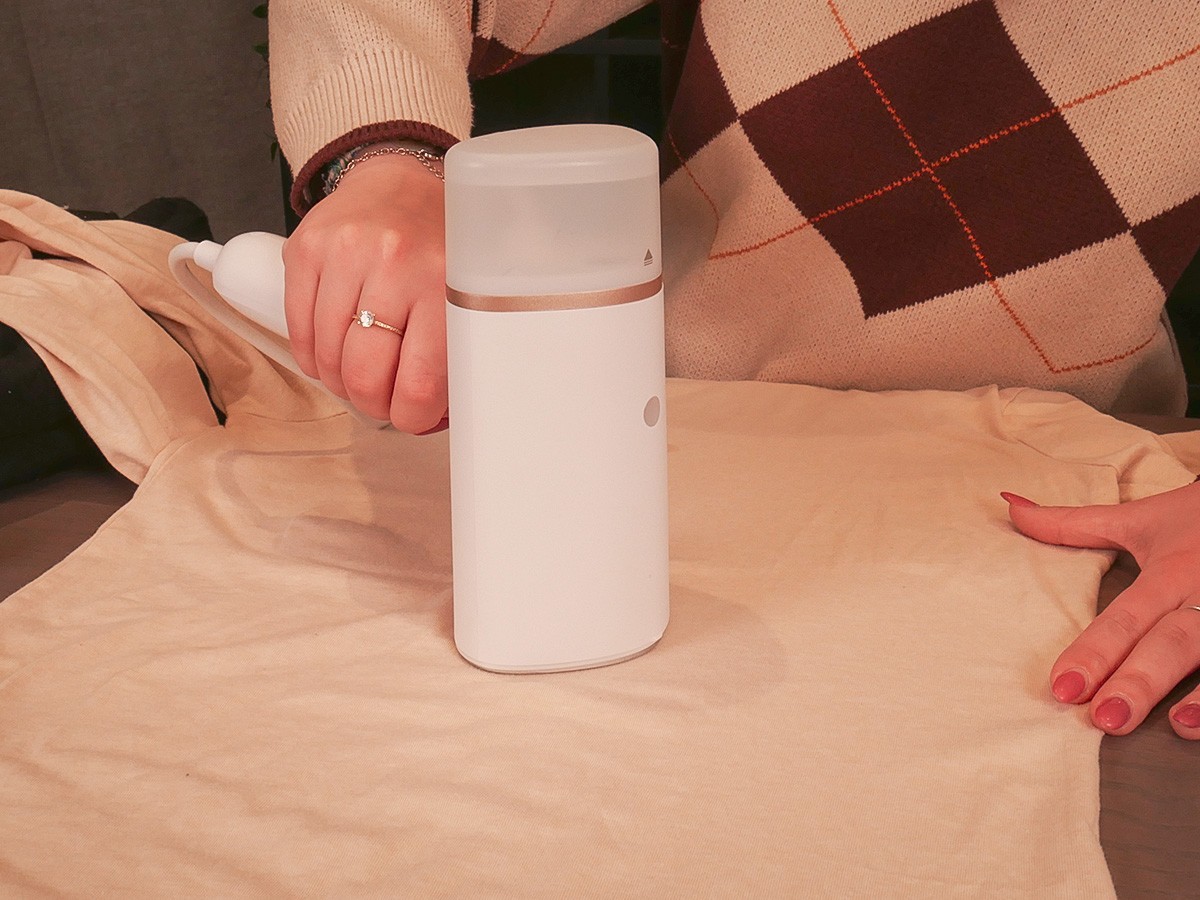 The power

: calculated in Watts, this figure mainly influences heating speed. Prefer appliances with a minimum wattage of 1000 to 1200 W, this is the minimum for them to be truly effective.

Tank capacity

: this too is extremely important. You'll waste an enormous amount of time with a small tank if you have to refill it too often and therefore constantly interrupt your work.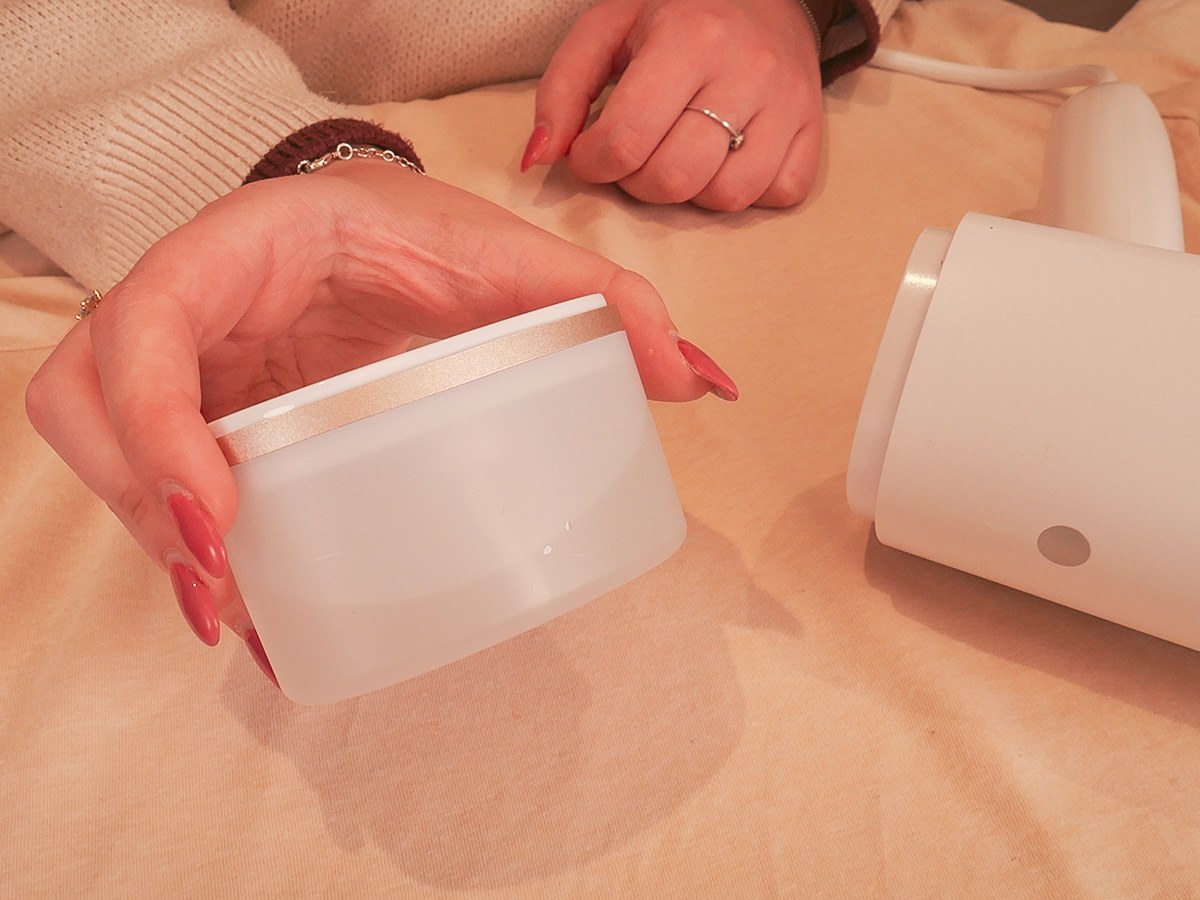 Autonomy

: if it's unlimited, you have the option of refilling the tank in full use, which compensates for a smaller tank capacity. In the case of limited autonomy, you are obliged to wait for the device to cool down before refilling the tank, and thus wait for it to heat up again.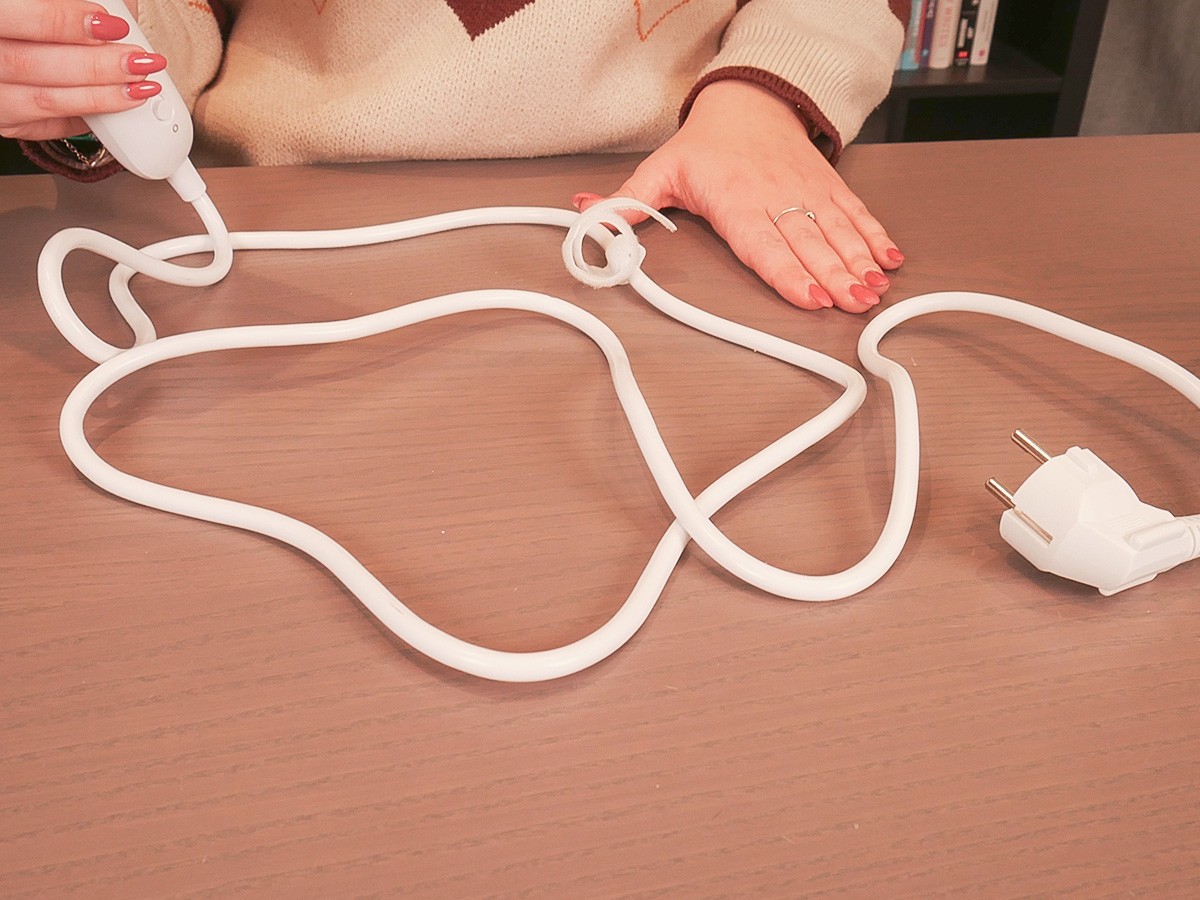 Accessories and settings

: from one appliance to another, different uses and settings are possible. You'll also find various accessories, more or less useful, depending on your use. If you opt for a transport model used only to refresh your clothes from time to time, there's no need for complicated accessories or settings. If, on the other hand, you have special needs, on domestic or delicate textiles, sometimes wider or thicker, the addition of a brush may prove judicious.
Other steam straighteners we recommend
Philips Series 3000 STH3020/10 (€81.29 at time of publication): A travel solution. Ready to use in 30 seconds, this hair straightener has the unique feature of folding up to take up as little space as possible in a suitcase. And during our tests, we found that this in no way hindered its performance. In fact, it was one of the best at smoothing even the most delicate garments. As a result, T-shirt collars were smoothed out properly, and more delicate dresses were wrinkled without being damaged. Note that it comes with a practical storage pouch, so you can take it with you when you travel. However, to keep it compact, Philips has only equipped it with a 120 ml reservoir. However, in use, we reckon it can smooth up to 5-6 t-shirt-type garments (less if they're larger garments like dresses or jumpsuits). Finally, it also has the advantage of not having run when in use.
Other steam straighteners tested
Tristar ST-8921 (€38.99 at time of publication): This model simply wouldn't pump water during our tests. As a result, it was unusable.
Russell Hobbs Steam Genie 256600-56 (€61.67 at time of publication): We preferred to rule out this model because of its lack of practicality (complex accessories to change and seal that comes off). In addition, it leaked a little during use.
Calor Access Steam Care DT9100C0 (€129.77 at time of publication): Less efficient than the 2 Philips you've seen previously, this Calor also leaked in use and smelled pretty bad when unpacked (the smell finally went away after a while). In addition, we found its reservoir less convenient to remove and replace.
SteamOne MI60SB Minilys Plus (€138.00 at time of publication): We were not convinced by this model. In fact, it leaked when used, the fixed hanger didn't allow you to do the back of the garment easily, it smelled bad (even after several minutes of use), there's no setting for the steam that comes out constantly and it lost a huge amount of power when there wasn't much water left.
Calor Pro Style Care IT8470C0 (€229.99 at time of publication): Given its price and performance, we can only advise you to put your money elsewhere (an excellent top-of-the-range iron or a mid-range steam power station, for example). Impractical, you have to hold the head with one hand and change the ironed clothes with the other, wrinkling them again in the process… The head can also slide off the structure if it's not placed exactly opposite, which risks burning you.