Updated on 24 February 2023
After 42 hours of research among 26 smart bands, 16 of which were tested, we believe that the
Xiaomi Mi Band 7
 is the best choice suitable for all audiences in terms of price-quality ratio.
Our choice, Best mid-range
Its numerous functions, larger and more beautiful display, longer battery life, simplicity and a reliable connection are its main assets. It is comfortable to carry and use.
£ 36.85 on Amazon
Lightweight and discreet, this comfortable smart band offers a wide range of features suitable for the casual sportsman or woman. There are no major innovations over the previous version, but the screen is bigger (1,62") and even better looking with its AMOLED display, the battery life is up (between 10 and 14 days depending on use) and there are more activities (110 sports modes and automatic activity detection for 5 of them) and training data (VO2, recovery time, training load, etc.). The heart rate shows good accuracy this time, but it still struggles with intervals. It also has NFC and a reliable connection. However, while we appreciated the simplicity of the application in our test, we didn't find it to be very comprehensive and advanced in its analysis. Fortunately, it is compatible with other fitness applications to centralise data. Moreover, there is no light sensor, which sometimes bothered us at night, and we regretted the absence of a GPS chip.
Smart bands are often designed as ordinary-looking to be worn on a daily basis.
The features are many and varied, from heart rate indication to GPS.
Some models are adapted to specific practices such as swimming, which requires waterproofness.
Some features are more battery-consuming and drain it quickly, such as the GPS.
Your smart band has several sensors. But the more sensors you have, the faster your battery will wear out.
A dedicated application is a very good tool if you want accurate data.
Best high-end
Its main asset is the integration of some innovative health features which, combined with better image quality, makes it a reliable and interesting product despite its high price.
£ 106.13 on Amazon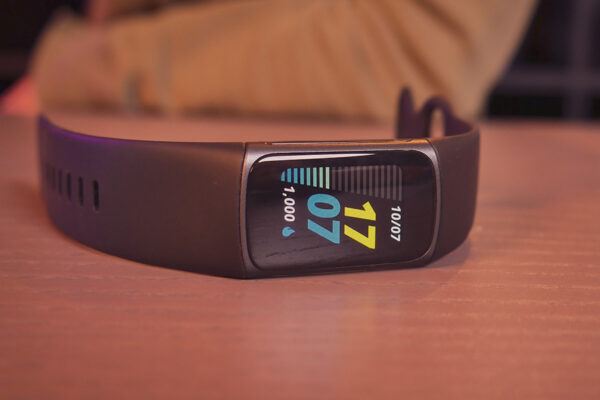 With its excellent AMOLED display, new and enhanced features, interesting application and accurate sensors, it is one of the best smart band for health. Indeed, it can now assess stress management, recovery and heart rate variations: innovative options for this type of accessory. In addition, thanks to NFC, it is possible to make contactless payments. Apart from the lack of an altimeter, the sports functions are also interesting, especially the presence of a GPS, which can however affect the operating time when it is active (only 5 hours). Otherwise, the battery lasts for up to 7 days and it can be recharged using its handy magnetic charger. During our test, however, we noticed some interface flaws (unresponsive display, menus in English), not to mention its excessive price and the need to take out a subscription to get the most out of it. Plus, you do not have much detail on your wrist so you will need to open the app regularly to check your data.
Mid-range alternative
This accessory is especially dedicated to sports and health with its multitude of functions. It has a nice screen, its interface is intuitive and its fast charging function is useful.
£ 44.99 on Amazon
This slightly thinner and lighter rectangular smart band is stylish and comfortable to wear. It has a nice 1.47″ AMOLED display that is easy to read in most situations. Its interface is intuitive and there is a single physical button. The Huawei Health app is quite comprehensive with the creation of health programs according to your goals. It boasts up to 2 weeks of battery life, and even though it's less than that in use (rather 10 days, or even less with intense activity monitoring), it's still compelling. And thanks to the fast charging, you can get up to 2 days of battery life back in just 5 minutes of charging. Its physical button is also practical. There are 96 sports modes (some of which are automatically recognised) and a large number of connected, health and sports functions. During our test, the sleep analysis was consistent, but the heart rate sensor sometimes struggled to keep up with our changing rhythm. However, it lacks GPS, NFC and an ambient light sensor, and there are few improvements over its previous version.
Our selection
| Our choice, Best mid-range | Best high-end | Mid-range alternative |
| --- | --- | --- |
| | | |
| Xiaomi Smart Band 7 | Fitbit Charge 5 | Huawei Band 7 |
| Its numerous functions, larger and more beautiful display, longer battery life, simplicity and a reliable connection are its main assets. It is comfortable to carry and use. | Its main asset is the integration of some innovative health features which, combined with better image quality, makes it a reliable and interesting product despite its high price. | This accessory is especially dedicated to sports and health with its multitude of functions. It has a nice screen, its interface is intuitive and its fast charging function is useful. |
| £ 36.85 on Amazon | £ 106.13 on Amazon | £ 44.99 on Amazon |
200+ Comparisons

2000+ Products Tested

100% Impartial
Why trust us ?
Selectos compares and tests hundreds of products to help you buy better. We sometimes receive a commission when you buy through our links, which helps fund our work. Learn more
How did we test?
To begin with, we wore each smart band for several days to evaluate their real use in everyday life. Thanks to this, we have already been able to judge the ergonomics, comfort, operating time and handling of the application. The screen quality was checked in full sunlight and in a dark room in order to estimate the visibility under various lighting conditions.
We spent several hours navigating the menus and testing all the features. As a result, we wore the smart bands for several consecutive nights and checked certain sport disciplines (including mainly running and several cycling modes). As far as heart rate is concerned, we compared the results with reliable smart watches or pulse sensors of fitness equipment.
How to choose your smart band?
Whether it is a simple activity sensor, a pedometer, a survival GPS for the modern adventurer or a sports-oriented smartwatch, there is something for everyone on the smart band market… as long as you know what to look for!
Here is a list of criteria to consider before buying your accessory:
Sensors: they allow a set of signs to be calculated, such as the number of steps, heartbeats, a route, the level of oxygen in the blood or the intensity of the sun. But be aware that the more sensors there are, the more the battery life is impacted. The GPS is one of the most battery-consuming.
Features: some of the more common features are calories burned, sleep statistics, pace, time, distance, pulse, etc. On more expensive models, you can even reply to messages, control your music playlist, and there is a GPS function, an automatic shutdown system, an alarm clock, a stopwatch, etc. If the GPS function is essential for you, we invite you to consult our comparison of GPS smartwatches.
Design: this is always biased. But since the point of a smart band is to be worn all the time, you might as well get one you like and one that is comfortable to wear at the same time. In this respect, interchangeable bands have a certain advantage. If a screen is built-in, it is essential that it has good visibility. Ideally, it should have a coloured, anti-glare OLED screen and be large in size.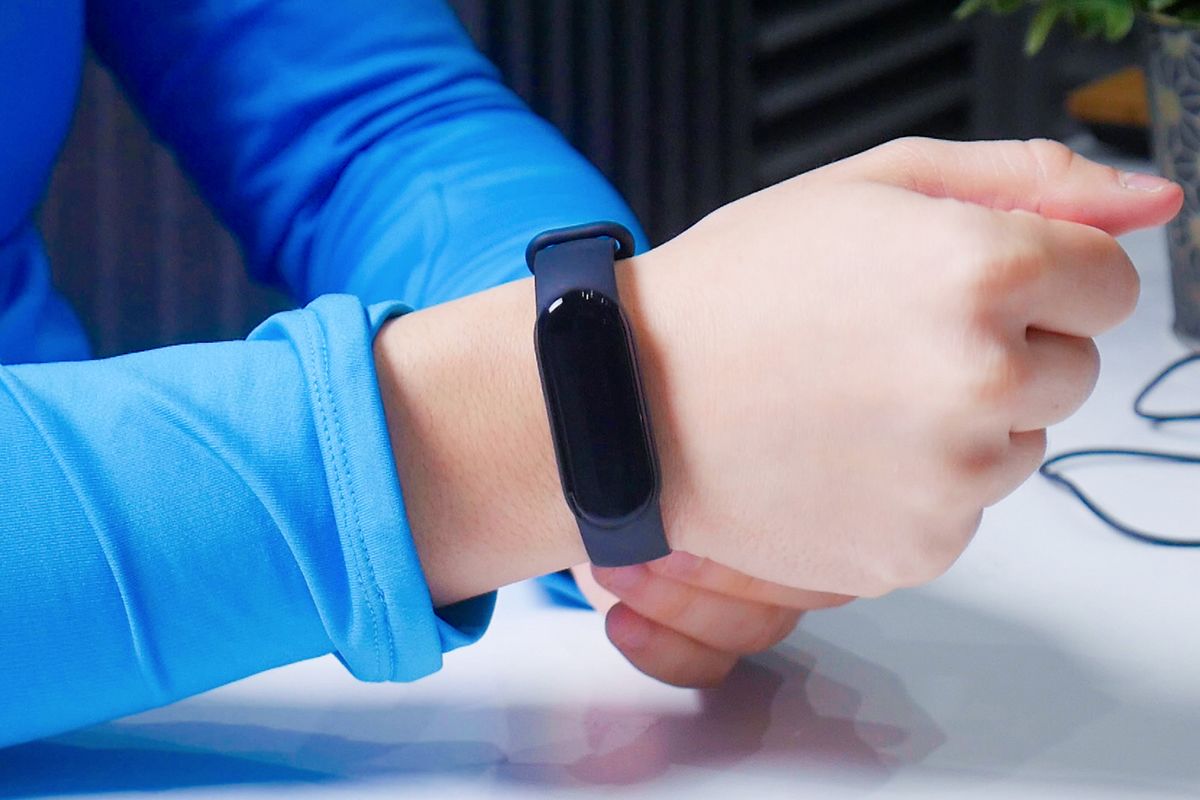 Autonomy: it is necessary to determine how it is powered, either via batteries cells or via a battery. Batteries can last for several months, while a proper battery will last for about a week, depending on the use and the activation of functions. Compared to smartwatches, the smart band offers much better autonomy. It can go up to 3 weeks for some high-end models.
Application: it will allow you to follow the results of your activities and to make your settings. The more features it has, the more accurate it will be. Some of these include sports coaching, challenges and advice on how to improve your lifestyle.
Use: some are more for health purposes, others for sports. In this context, make sure that it corresponds to the sport practiced. For example, for swimming, it must be 100% waterproof. For cycling and running, a GPS function is also interesting. The smart band has therefore a very different use from a simple

 

smartwatch

.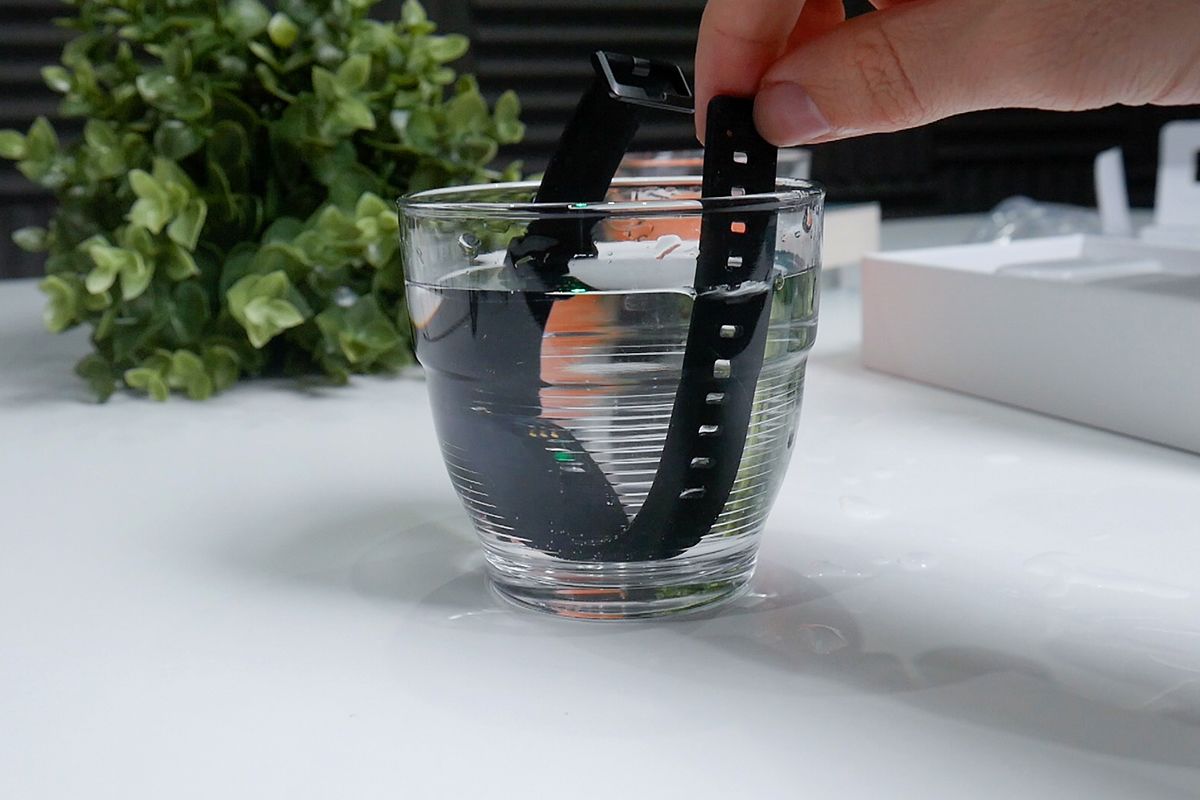 Other smart bands we recommend 
Xiaomi Mi Band 6 (£43.69 upon publication): a convincing features/design/endurance/price ratio. Although it lacks a GPS sensor, it has a very nice screen quality and good battery life. With the addition of a pulse oximeter, it enhances both health and sports functions, although it's more interesting for general health checks. It still has its usual strengths of easy handling, an intuitive app and a handy magnetic charger: three things we liked during our test. However, compared to its successor, its screen is smaller (1.56″) and it only has 30 sports modes. In addition, some calculations are slow and/or approximate. 
Huawei Band 6 (£38.66 upon publication): pretty much the same as the Band 7 with a few exceptions. After our test, we could see that they don't have GPS, but all their sensors cover both sports and health. Although it lacks a bit of ergonomics (such as the lack of a light sensor and a power-saving mode), it is still feature-rich, durable and easy to learn. Indeed, its operating time is the same (10 to 14 days depending on use) and it has the same fast charging principle as its successor. However, unlike its successor, it does not integrate NFC. Apart from that, is half band, half watch design offers a good reading comfort thanks to its excellent screen quality, and we found its application very intuitive.
Fitbit Inspire 3 (£84.99 upon publication): simple but accurate sensors to monitor health. Its lightweight and extremely thin design is comfortable to wear and it has a responsive AMOLED touchscreen with a brightness sensor that is comfortable to read, despite the narrowness of the screen. Its sensors show good accuracy but there is no GPS, ECG or NFC. During our test, we were seduced by the Fitbit application which is very complete. In addition, the operating time varies between 7 and 10 days, which is already convincing. However, the magnetic charging cable is a bit short. In addition, many options are only available via the Premium subscription, which increases the cost of this connected bracelet. Without these, the bracelet loses a lot of interest in our opinion.
Other smart bands we tested
Honor Band 5 (£29.99 upon publication): In addition to being a little outdated compared to the current market, its operating time is limited and its functions are basic and not always precise. Only its design and screen quality really stand out. 
Oppo Band (£39.99 upon publication): Sure, its screen quality, simplicity, comfort, health monitoring and secondary features are its strengths, but it lacks some metrics and functions.
Xiaomi Redmi Smart Band Pro (£42.00 upon publication): Its strengths lie in its screen of quality, handling and endurance, while its weaknesses lie in a poorly developed application, in the lack of accuracy of some sensors and in the absence of a GPS.
Amazfit Band 5 (£24.00 upon publication): It is ideal for those looking for a simple and functional model with a nice design and excellent operating time. However, for its current price, it remains less attractive than its competitors and its characters are a little small on the display.
Xiaomi Mi Band 5 (£39.47 upon publication) : Although it has excellent operating time and a convincing design, it is a bit outdated and has already been overtaken by several generations of new models. 
Huawei Band 4 Pro (£68.74 upon publication): It offers interesting options for triathletes and athletes such as the GPS sensor. The good screen quality, ergonomics and the application appealed to us. However, it is an older model.
Garmin Vivofit 4 (£66.53 upon publication): The quality of the screen is detrimental to user comfort and the application is not always easy to use, although the analyses are quite advanced. Very durable, it is only suitable for those who can make sacrifices on ergonomics.  
Fitbit Inspire HR (£126.99 upon publication): Through its thin and discreet design, it offers accurate health data to be consulted on a complete application. However, we regret its few paid functions, its monochrome screen and the absence of a GPS chip.
Fitbit Luxe (£89.00 upon publication): It's a must-have in terms of reliability and comprehensive tracking, but there's a slight lack of visual comfort in the display, functionality and endurance. We recommend it to those looking for a trendy and aesthetically pleasing bracelet.
Fitbit Charge 4 (£110.63 upon publication): It showed real qualities through its precise calculations but we regret its bulky design and its perfectible screen quality. In addition, its successor is much more interesting for a much lower price. 
Translated by Laura Wautier