Updated on 8 May 2023
After having analysed and tested several models, here are the steps to follow to properly clean your smartphone.
Step 1: Clean your phone case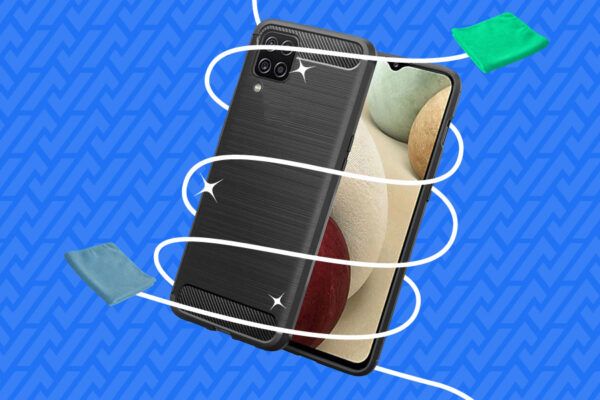 YOU WILL NEED
Two clean cloths
Very lightly soapy water or a solution of white vinegar and warm water
Clear water
Your phone case is the area most susceptible to smudges and other dirt. It is the part that your device rests on when it is placed on a table, for example.
To clean it, first dust it with a clean cloth. If there are stains, you can soak a cloth in very mild soapy water and rub the soiled areas. Then wipe with another cloth moistened with clean water to remove the residue.
After cleaning, allow the device to dry completely to avoid malfunctions when you switch it on again.
Step 2: Taking care of the screen and the photo sensor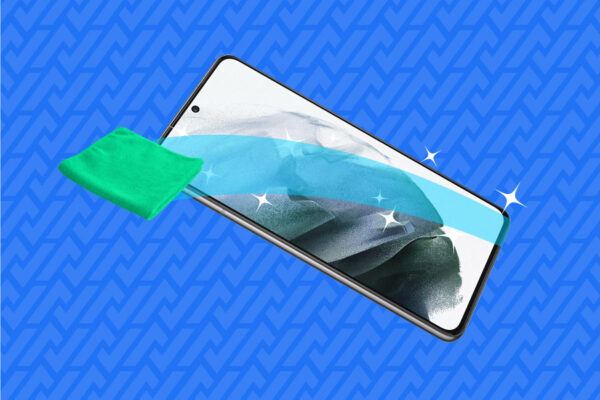 YOU WILL NEED
An alcohol-free or isopropyl alcohol-based solution (70%)
A clean microfibre cloth
The screen and the photo sensor are the most sensitive parts of your device. To clean them, it is necessary to take precautions.
Although a normal cloth can be used, due to the resistance of the elements used today, we recommend the use of a microfibre cloth.
The cleaning itself is quite simple: moisten the cloth with a few drops of solution and gently rub the screen/photo sensor in a circular motion.
Let the device dry completely after cleaning to avoid malfunctions when you switch it on again.
Step 3: Cleaning the charging port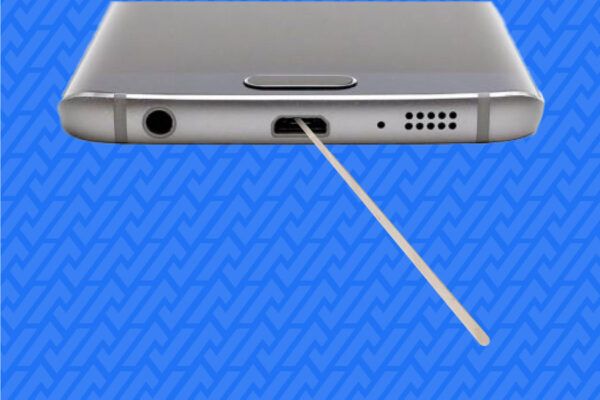 YOU WILL NEED
A wooden or plastic toothpick
Compressed air-blower
The ports on your smartphone are a nest of dirt, especially if you carry your device around in your pocket. Cleaning them can improve contact with the cables you plug into them.
The method is simple: take a wooden or plastic toothpick (avoid metal) and carefully scrape the inside of the charging port, starting at the top of the socket.
Be careful when you get to the sides, as they contain a spring-loaded element to secure your cable. If no dirt seems to come off at this point, don't insist.
Once this is done, blow some compressed air in. Make sure you hold the spray/blower diagonally to the phone to extract the dirt.
This operation can help solve charging problems but is relatively risky if you do it too forcefully, as it is easy to damage the internal parts of the connector, rendering the smartphone unusable.
The best smartphones of the moment
| Our choice, Best budget | Best mid-range | Best high-end | Budget alternative | High-end alternative |
| --- | --- | --- | --- | --- |
| | | | | |
| Xiaomi Redmi Note 11 Pro | Google Pixel 7 | iPhone 14 Pro | Google Pixel 6 | Samsung Galaxy S23 Ultra |
| Although not as innovative in terms of photography as other versions, the Redmi Note 11 Pro stands out for its impressive battery, fast charging and excellent connectivity. | With a beautiful screen and a powerful chip, it offers impressive versatility with Google-quality photo processing. Apart from its limited battery life, it outperforms its competitors in its price range. | With a developed and improved photographic sector, good battery life, a nice screen, a powerful processor and new security features, it is an ideal choice if you are willing to pay the price. | Designed to dominate the smartphone market, this new version combines high efficiency, optimised photography and maximum performance. | It certainly has the most versatile camera on the market (with dedicated astrophotography and night modes), one of the most beautiful screens and performance to match, but it comes at a high price. |
| | | | | |
Translated by Ramsés El Hajje