Updated on 6 April 2023
After spending three hours comparing and analysing 9 USB-C flash drives and testing 6 of them, we believe that the
SanDisk Ultra Dual Drive
offers the best value for money at the moment.
Our choice, Best budget
Despite its low price, this USB-C flash drive has some very good features, such as dual connectivity and a wide range of capacities.
£ 16.19 on Amazon
In our opinion, the Ultra Dual Drive is the most interesting USB-C drive for the general public. It is compatible with computers (USB-A 3.0), but also with mobile devices via the USB-C 3.1 port. Be careful, though, as it is not ruggedised. In our tests, we had to wait between 44 seconds (on a Windows 2019 PC) and 1.59 minutes (on a 2018 Chromebook) to transfer a 2.22 GB movie to the memory. In writing, it was faster, which is normal considering our slightly outdated PCs, with 32 seconds for the Chromebook (i.e. about 14 seconds/GB) and 19 seconds for the Windows (i.e. less than 9 seconds/GB). Finally, this version is available in various capacities ranging from 16 to 256 GB.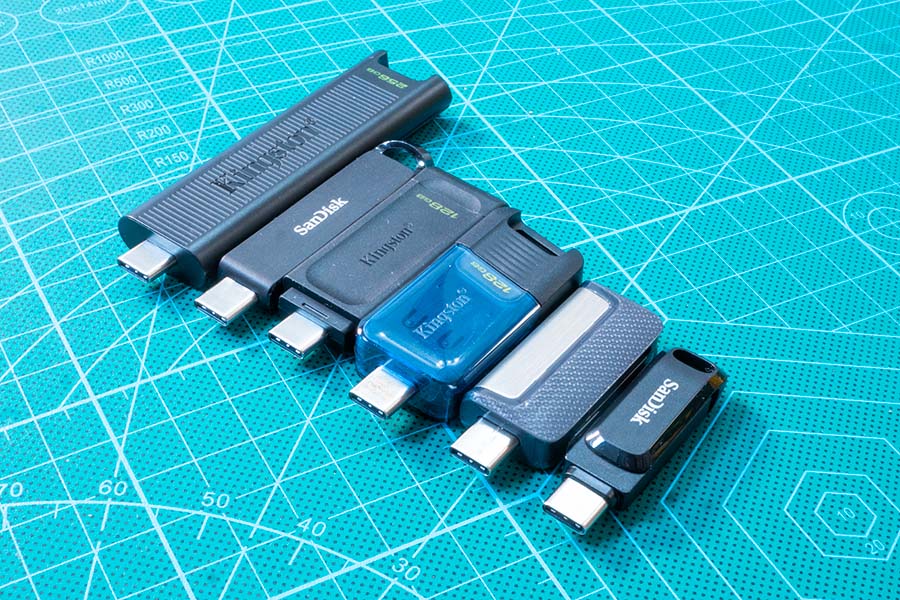 There are so many manufacturers of USB memory sticks that it is difficult to know which one to choose.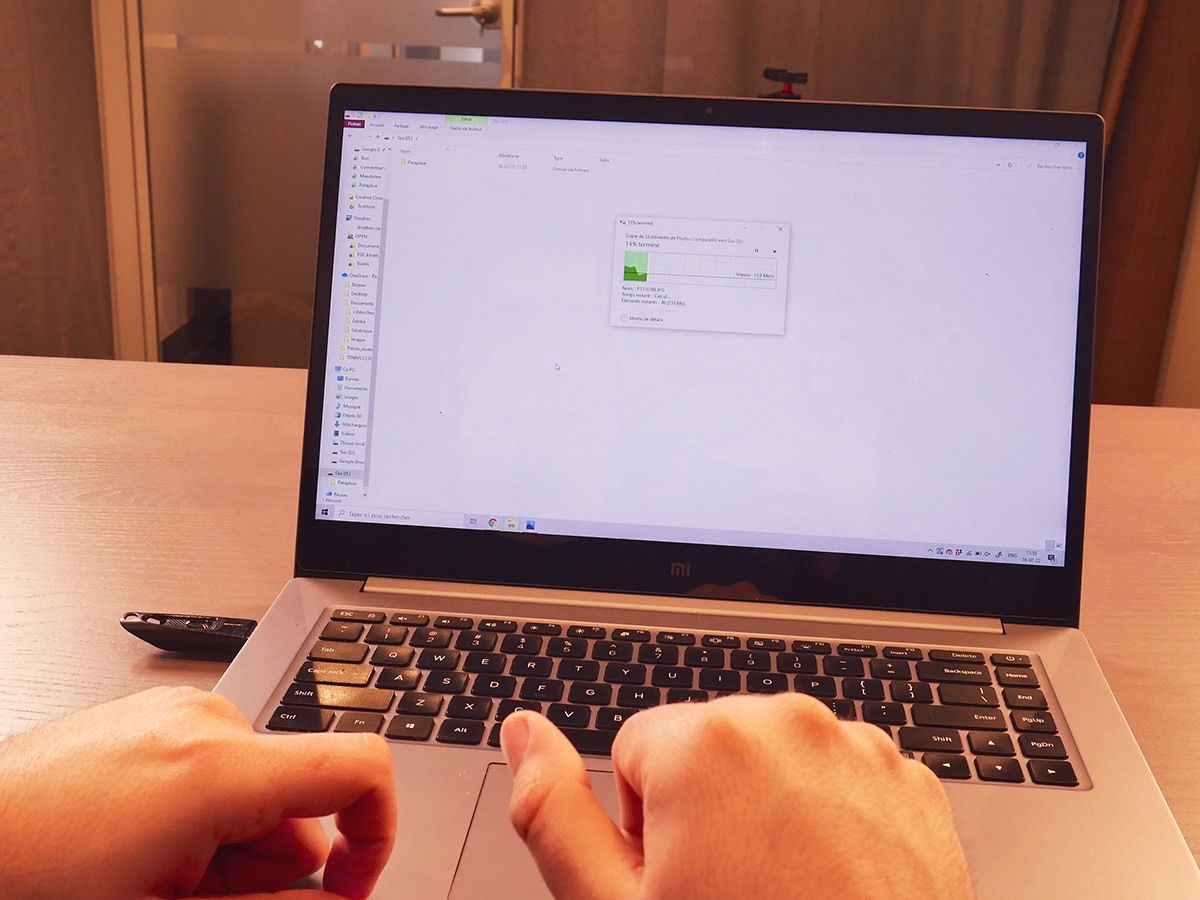 The transfer speed is evaluated according to two values: read and write.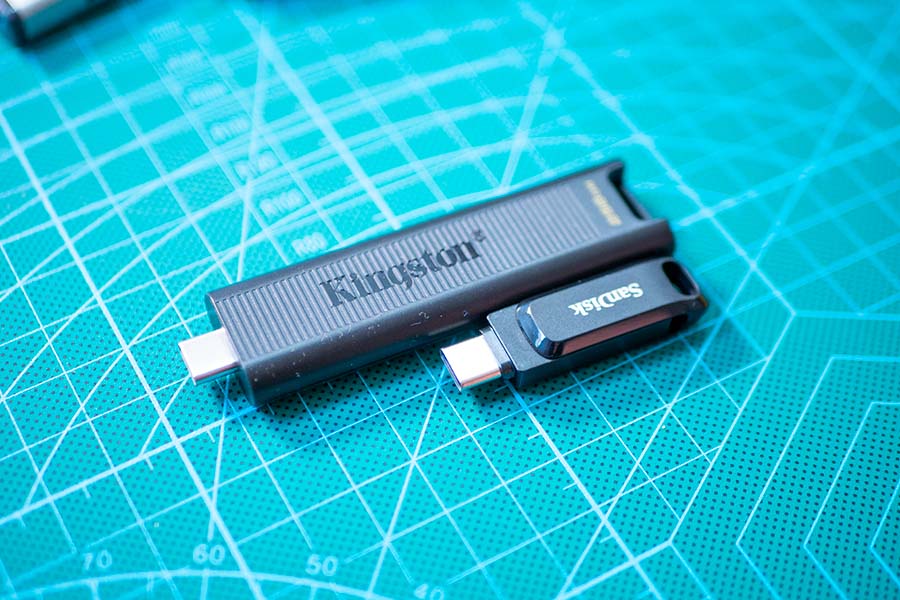 The size of a USB flash drive affects its portability, but also the risk of losing it.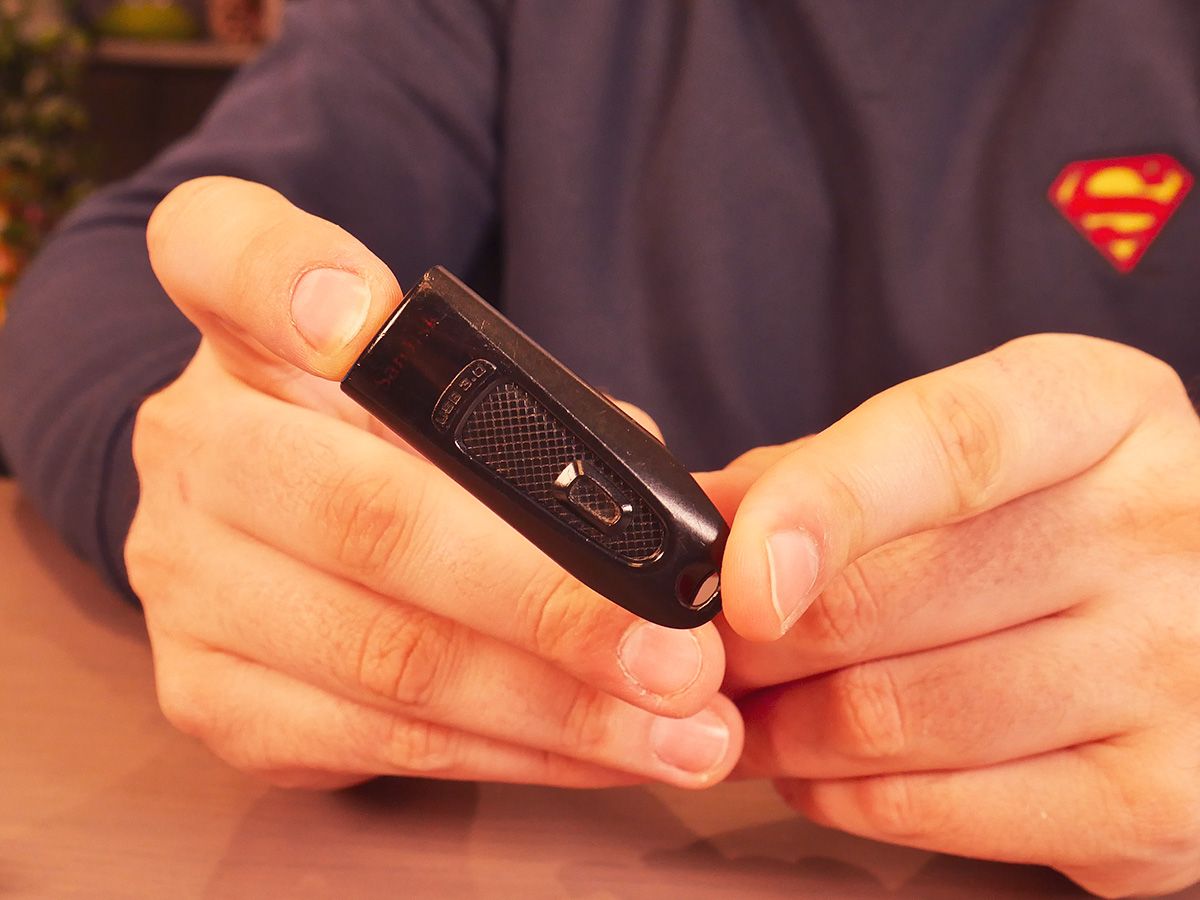 The quality of the materials determines their durability, but also their resistance to damage.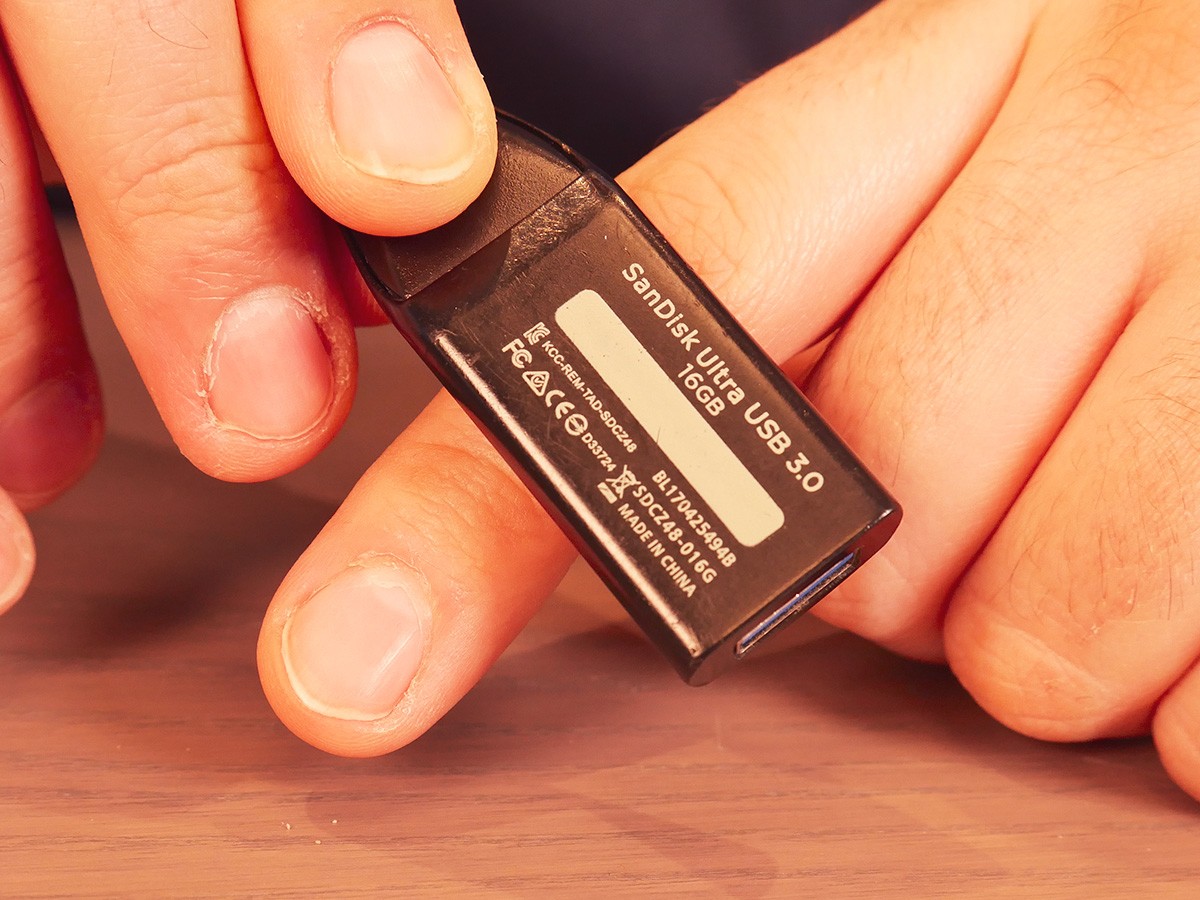 The capacity of the keys is increasing, with models capable of storing several TB of data.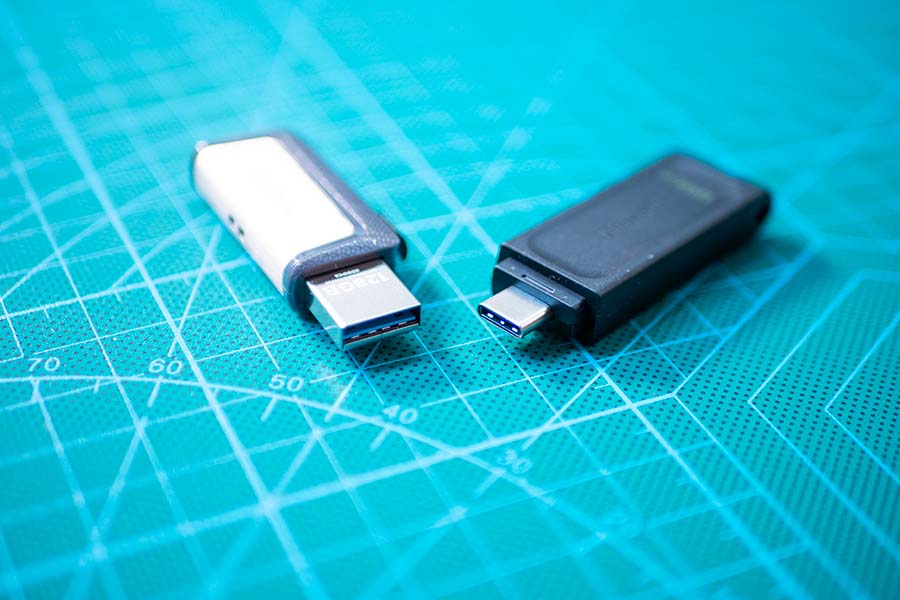 The standard of the drive determines the achievable transfer speeds. The next standard will be USB4.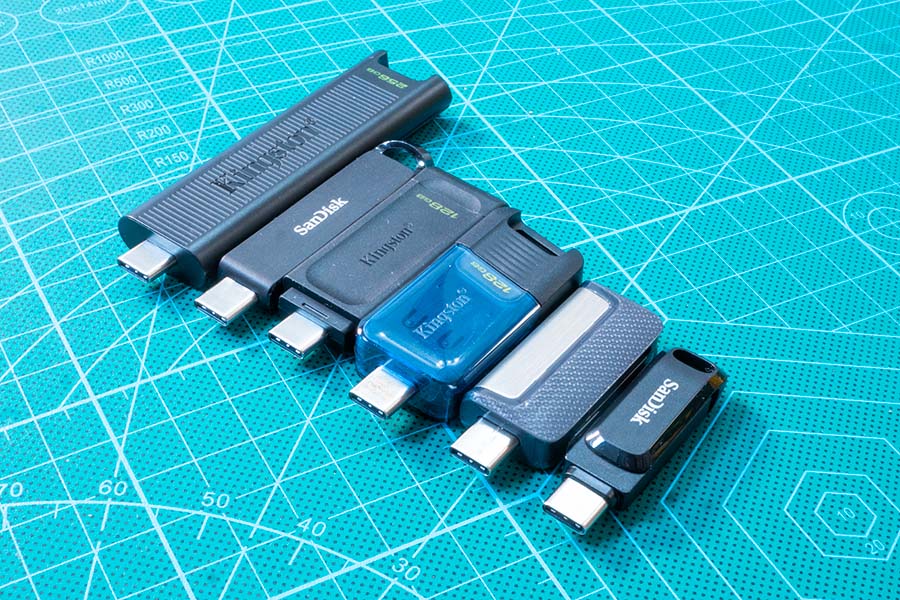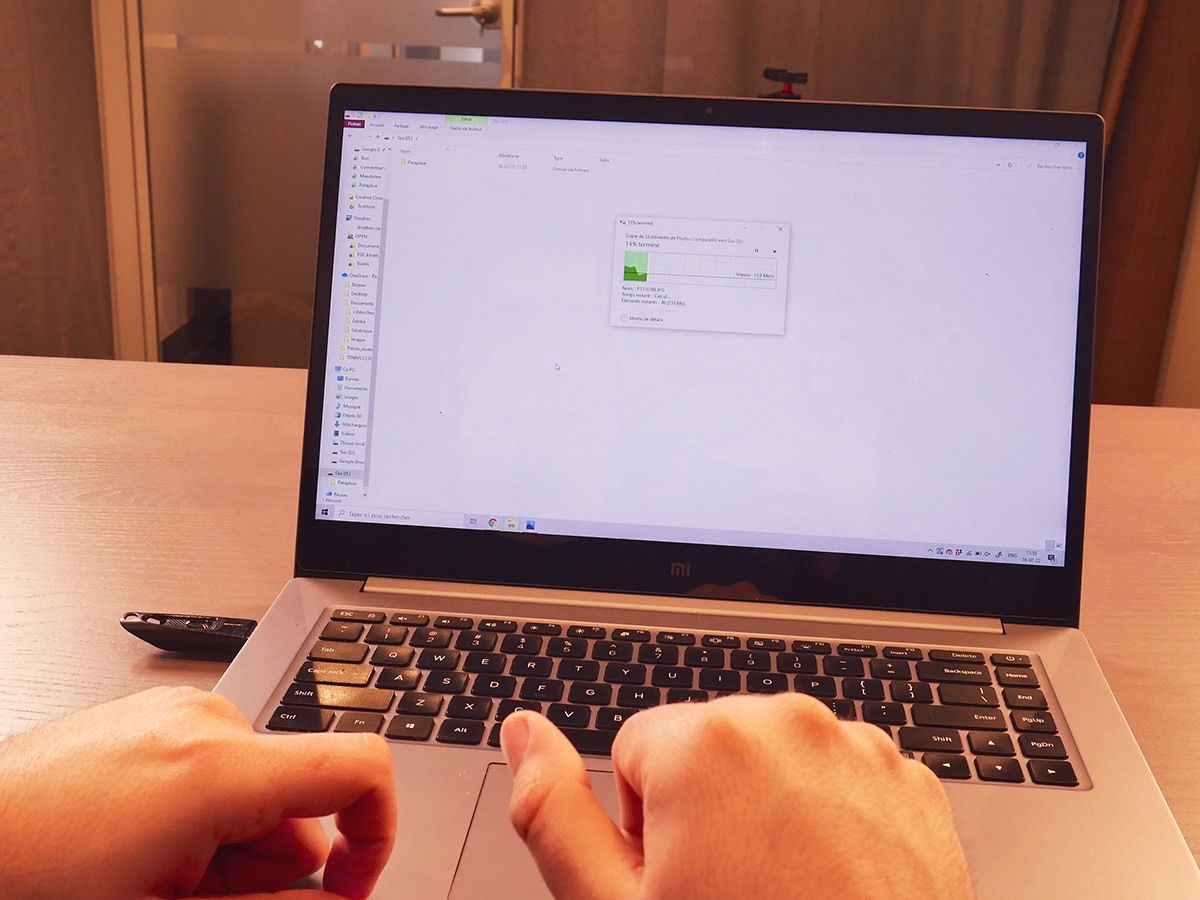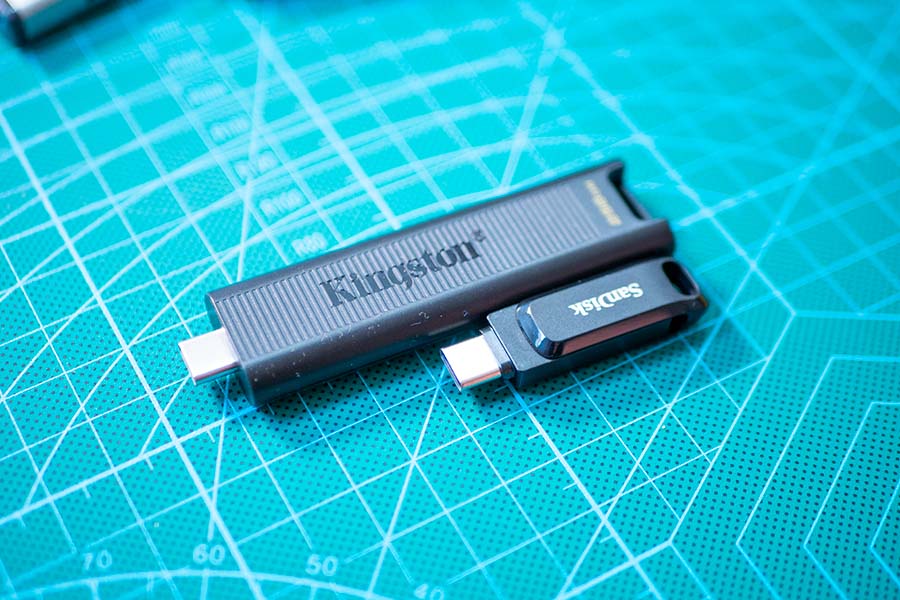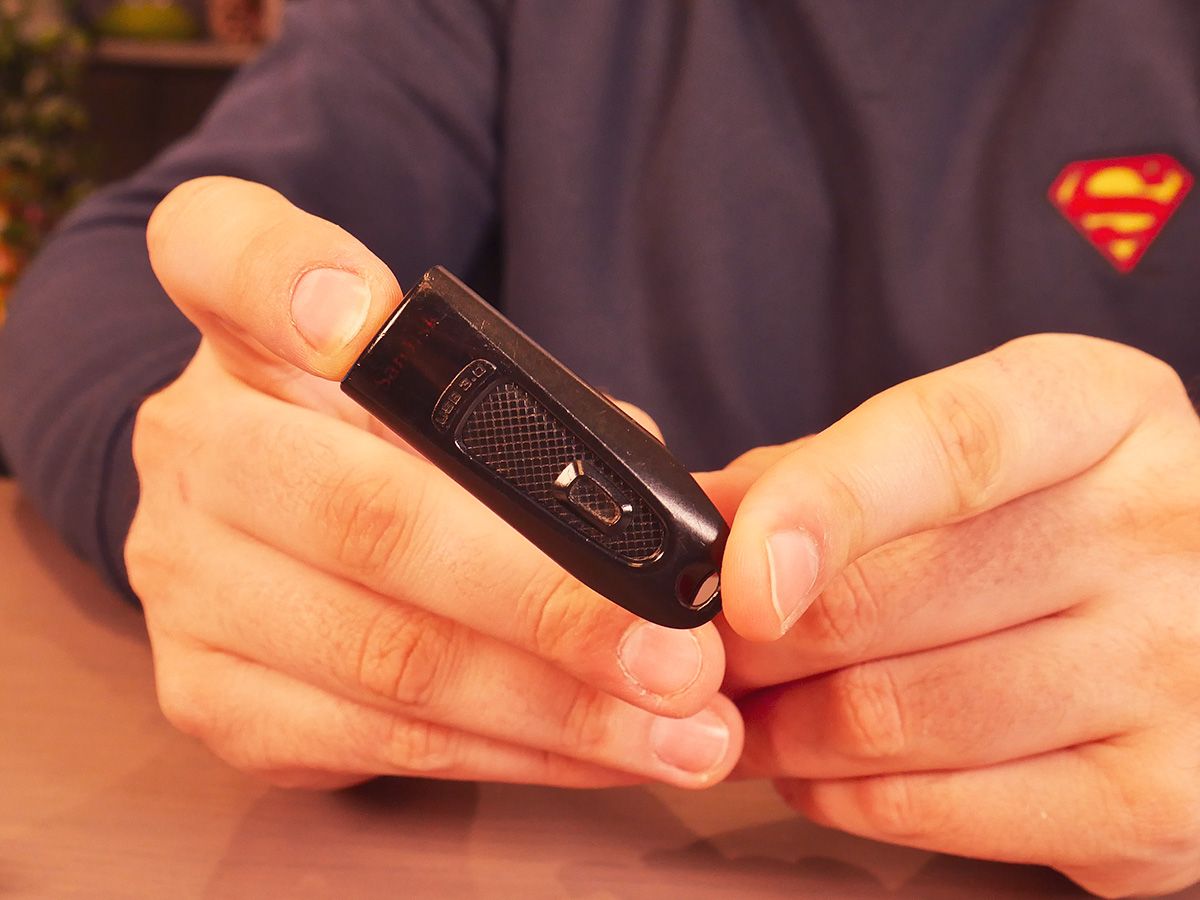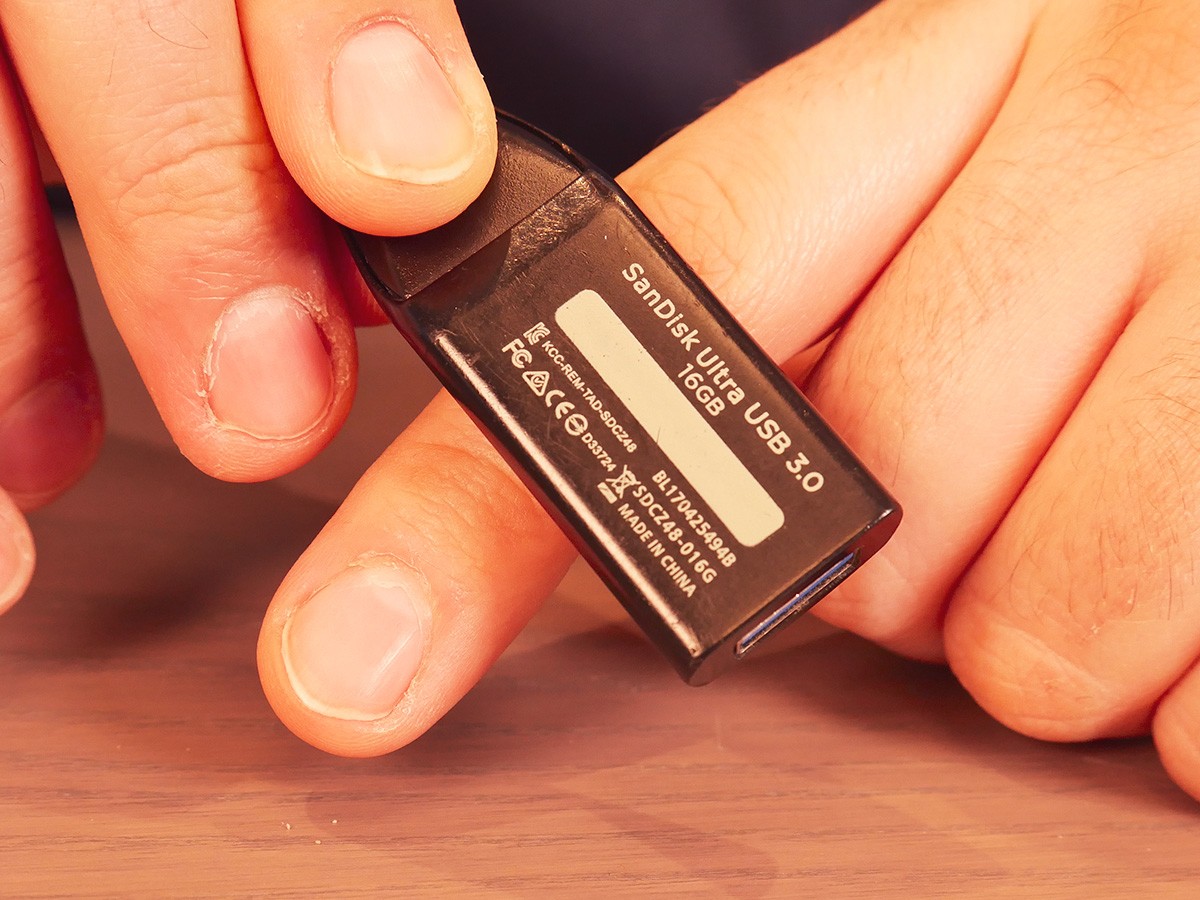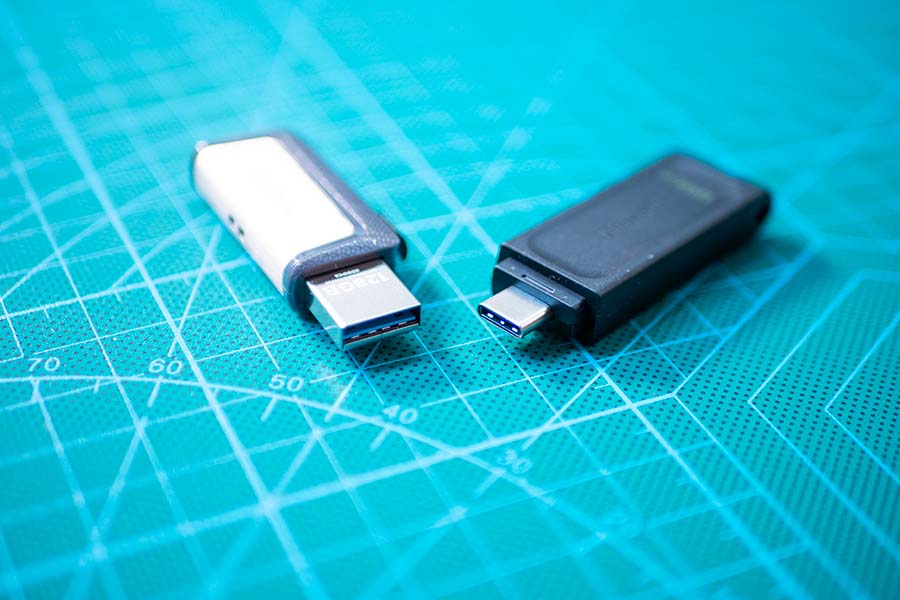 Best high-end
It has the best performance of our selection thanks to a speed worthy of the best external SSDs. To achieve this, the brand has opted for USB-C 3.2 Gen 2.
The DataTraveler Max is the most powerful USB flash drive in our range with a read speed of 1GB/s and a write speed of 0.9GB/s. It is also available in generous capacities from 512GB to 1TB. This makes it the perfect solution if you need compact, high-performance storage that can replace a portable SSD. In our tests (using 4-5-year-old laptops), this drive remained the best, with read speeds of less than 3 seconds/GB on the Windows PC (2019) and less than 12 seconds/GB on the Chromebook (2018). The writing was even faster, at around 10 seconds/GB on the Chromebook and less than 2 seconds/GB on Windows (note that these values improve with more powerful laptops). However, some compromises have been made to limit the entry price: the choice of a plastic case, the lack of dedicated software and the use of a single USB-C port.
Budget alternative
In addition to a USB-A 3.1 Gen. 1 and USB-C connection, this drive is very practical for everyday use. You can switch from one connector to the other with a flick of the wrist.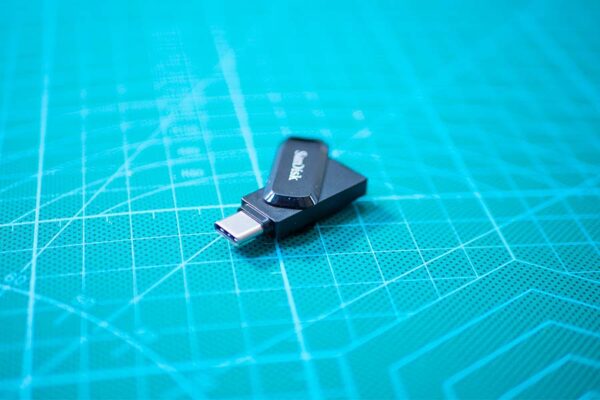 Available in capacities from 32GB to 512GB, this 2-in-1 USB Flash Drive is really handy. When we used it, we found it very easy to switch from one connector to the other. We simply pushed the plastic piece to one side or the other in an ultra-fluid motion, unlike many other drives where you have to force a button. Like all the other USB keys we have tested, it is CE-marked, proving that it complies with European legislation. Theoretically, it has a read speed of 150MB/second (6.666 seconds/GB). During our tests, we managed to transfer a 2.22GB movie in 2 minutes from our Chromebook (i.e. about 55 seconds per GB) and 47 seconds via Windows PC (i.e. 21 seconds/GB). In writing, it was also better than the others at 8 (Windows) and almost 15 (Chromebook) seconds/GB. In short, it may not offer the best performance/price ratio, but it is certainly handy and ideal for frequent use.
Our selection
200+ Comparisons

1500+ Reviews

100% Impartial
Why trust us ?
Selectos compares and tests hundreds of products to help you buy better. We sometimes receive a commission when you buy through our links, which helps fund our work. Learn more
How did we do the test?
To evaluate the USB-C drives, we first looked at their design, paying particular attention to the materials used. We also looked at their ergonomics and, most importantly, how easy they were to open (in the case of models with a lid) or slide open (in the case of models with a button or other connector).
We then moved on to the performance tests themselves. We timed how long each driver took to read and write the same 2.22GB movie. Since most people don't necessarily have a state-of-the-art laptop at home, we decided to test it with two older PCs: a 2018 Acer Chromebook CB713 and a 2019 Acer Notebook 514 running Windows.
Name
No. of connectors
Theoretical reading rate
Achieved read speed on Chromebook (2.22GB movie)
Achieved read speed on Windows PC (2.22 GB film)
Achieved write speed on Chromebook (2.22GB film)
Achieved write speed on Windows PC (2.22GB movie)
SanDisk Ultra Dual Drive
2
150 MB/s
1'59"
(18 MB/s)
44"
(50 MB/s)
32"
(69 MB/s)
19"
(116 MB/s)
Kingston DataTraveler Max
1
1 GB/s
26"
(85 MB/s)
6"
(370 MB/s)
23"
(96 MB/s)
4"
(555 MB/s)
SanDisk Ultra Dual Drive Go
2
150 MB/s
2'2"
(18 MB/s)
47"
(47 MB/s)
33"
(67 MB/s)
18"
(123 MB/s)
Kingston DataTraveler 80 M
1
200 MB/s
1'37"
(22 MB/s)
1'8"
(32 MB/s)
20"
(111 MB/s)
13"
(170 MB/s)
SanDisk Ultra
1
150 MB/s
1'59"
(18 MB/s)
42"
(52 MB/s)
27"
(82 MB/s)
17"
(130 MB/s)
How to choose a USB-C flash drive?
Choosing a USB flash drive can be a really "difficult" thing to do, as there are so many different models available. Performance, reliability, standards, etc. These devices evolve so quickly that it is almost impossible to keep up with the latest developments.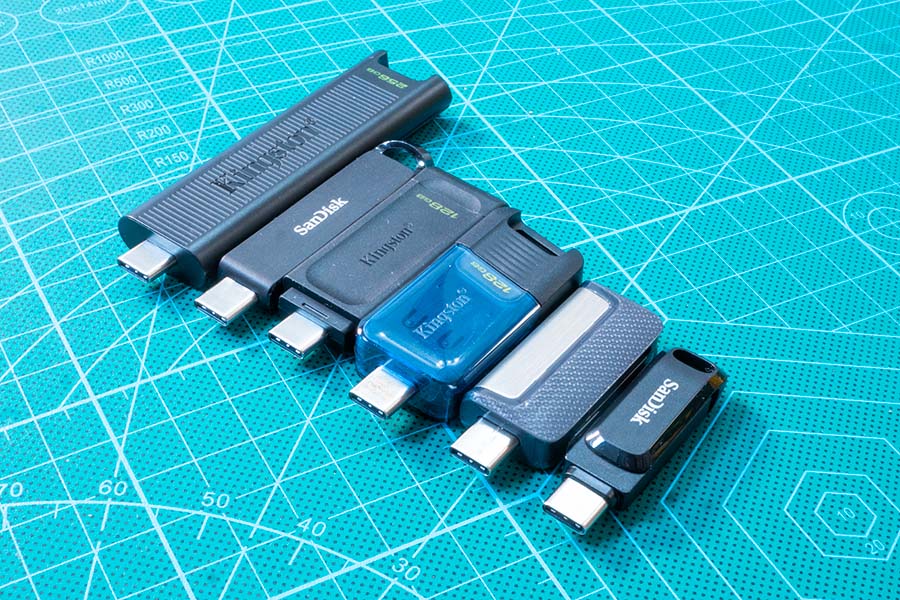 To help you, we have set out a number of criteria that helped us make the final selection:
Size: A USB stick is usually between 1 and 7 cm long. The optimal size depends on the intended use. Of course, although a small USB stick is more practical for transport and use, it is easier to lose.
The material and design: Obviously, this is subjective. However, we recommend that you opt for models with a retractable mouth or cap, which undoubtedly improves the physical security of the device. They can be made of plastic, rubber or metal. The most resistant are the metal and rubber ones, but the plastic ones are cheaper.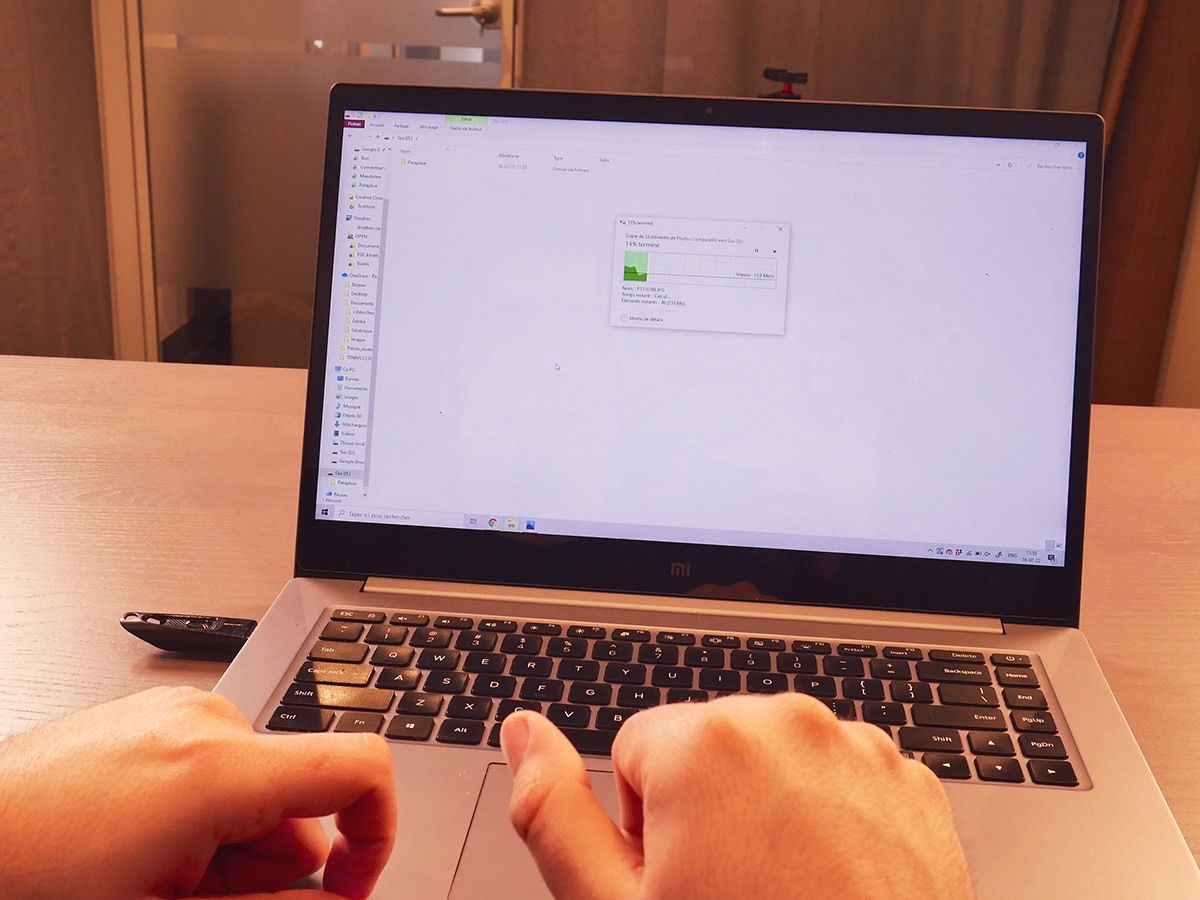 Memory: this is the first criterion to consider. It can range from 8 to 512 GB. If you only want to store a few documents or a folder of music, 16 to 32 GB will be enough. For us, 128GB is the best compromise. If, for some reason, you need more space, we recommend you look for an external hard drive.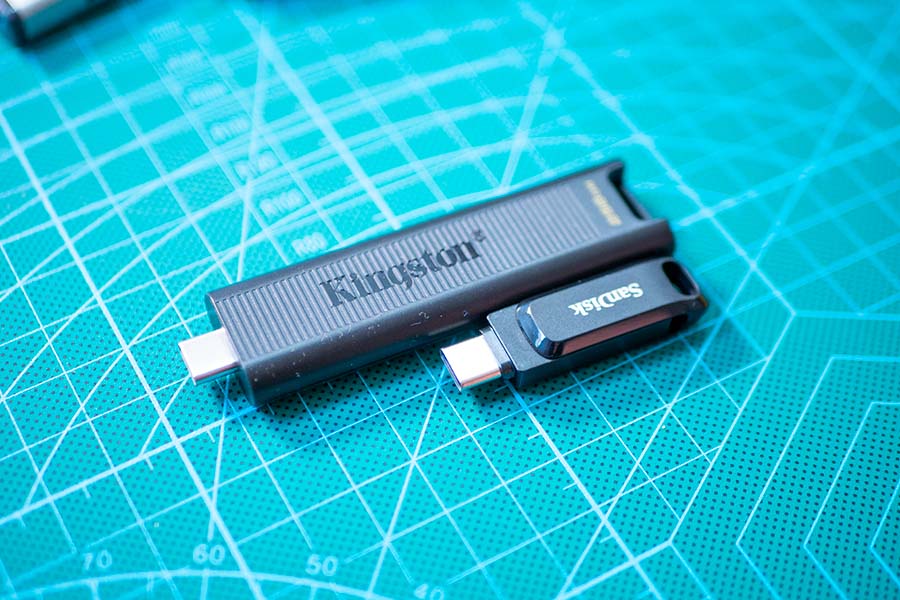 Throughput: This is the speed at which the USB transfers or stores files. The transfer speed is calculated in two parts: the read speed (passing a file from a USB to another device) and the write speed (the time it takes for the USB to record a file or document). Transfer speeds range from 20 Mbps to more than 400 Mbps.
The standards: USB 2.0 is the most widely used, but is increasingly being replaced by USB 3.0, which is much faster. There is a new, even faster standard, USB 3.1 Gen.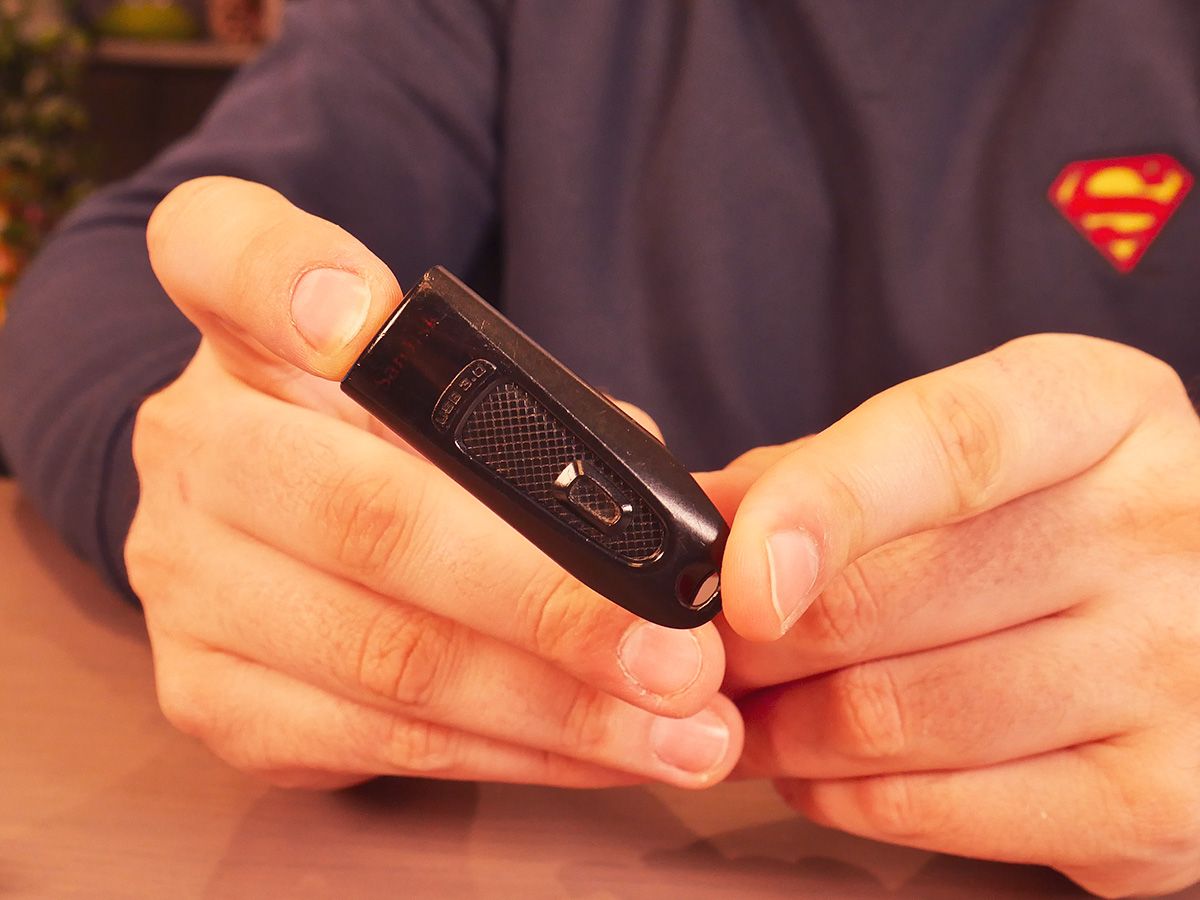 Security: Some brands, such as SanDisk, often include software with their USB devices. The most common are encryption programs that protect your documents with a password. Some even offer fingerprint identification.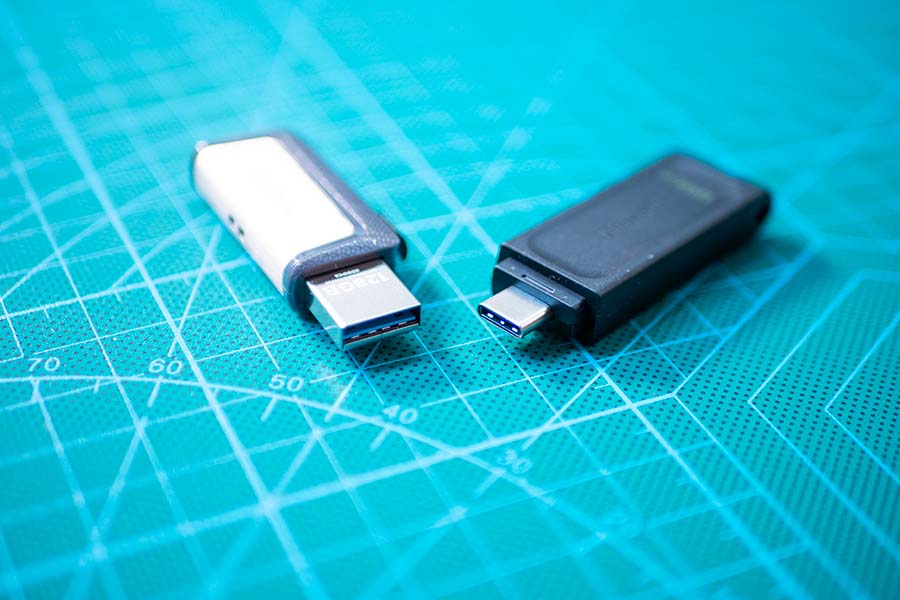 Data recovery: There are other programs (usually downloadable) that allow you to recover your data in the event of loss or theft. Again, SanDisk is the leading manufacturer of such software.
Other models we recommend
Kingston DataTraveler 80 M 128 GB (£16.71 upon publication): our 3rd economic option. This USB-C 3.2 Gen 1 is available in capacities from 64 to 256 GB. Theoretically, its read speed can reach 200 MB/second. In reality, we managed to transfer 2.22GB in 1 minute 37 seconds (43 seconds/GB) from our Chromebook and in 1 minute 8 seconds from our Windows PC (30 seconds/GB). For writing, it is the fastest of the cheap models we tested at less than 6 seconds/GB on Windows and 9 seconds/GB on Android. But the reason we decided to leave it out of our top selection, despite all its qualities, is due to its design (the materials that make up its structure are less solid). In addition, we found its retractable tip to be not very fluid.
SanDisk Ultra 128 GB (£14.69 upon publication): simple, but effective. This model with the retractable connector performed well in our tests. In reading (target value of 150 MB/second), it took less than 19 seconds to transfer 1 GB with the Windows PC and 53 seconds/GB with the Chromebook. As usual, writing was faster on the Windows PC at 7 seconds/GB and 12 for the Chromebook. The reason we left it out of the main selection, despite this data, is that we prefer to recommend models with two connectors instead of one. Here we only have USB-C 3.1, while the two selected models in its price range also have a USB-A. In addition, we found it less convenient to slide the connector on this model than on the others. On the other hand, we did notice the presence of a small red LED that lights up when a transfer is in progress.
SanDisk iXpand Flash Drive Luxe 128 GB (£50.99 upon publication): an alternative with Lightning and USB-C. This dongle has two connectors: a USB-C 3.0 (older) and a Lightning connector. This allows you to transfer files from your iPhone, iPad and/or Mac to Windows or Android devices and vice versa. However, the theoretical read speed is a tad slower at just 90MB/second, making transfers more leisurely. While this seems very practical on paper, users have reported some recurring problems when using an iPad. In addition, an application must be installed to read the photos, as the iPhone format is not compatible with PCs. However, this drive will soon cease to be useful with all the latest technologies, as they are now obliged to offer charging via USB-C…
Another tested model
Kingston DataTraveler 70 128 GB (£9.34 upon publication): During our tests, this USB-C flash drive caused some problems, especially with our Windows PC. It was no longer recognised (even though it was new), the PC asked for it to be analysed and repaired, and there were problems with data transfers…
Translated by Ramsés El Hajje