Updated on 8 March 2023
The editorial team's recommendations
| Our choice | For detectives | A little bit of sweetness | The best of the must-haves | For the fans of the politically incorrect | Immediate boarding! | The most interesting release of the moment | A new escape game | A whole universe to discover |
| --- | --- | --- | --- | --- | --- | --- | --- | --- |
| | | | | | | | | |
| Privacy No Limit | Code Names | In the Palm of your Hand | 7 Wonders : Architects | Cards Against Humanity | Ticket to Ride: Europe | Throw Throw Burrito | Unlock! : Game Adventures | Cartaventura: Lhasa |
| Read a statement, answer it anonymously with yes or no and then reveal the answers. Which of you might have answered ''yes'' to : ''I have already visited an erotica fair''? Mystery... | Combining imagination and fun, Code Names is a puzzle game. The aim of the game is to find as many predefined words as possible by giving only one. Can you make the right associations? | This game is above all a sensory and moving experience. In a gentle way, you try to discover memories that your teammate tries to make you guess with only a few objects. | In this game you build one of the 7 wonders of the world, make scientific discoveries and create an army in order to collect as many victory points as possible to win the game. | "Read a gap sentence and then the others have to complete it in the worst possible way. After which you choose the answer you prefer." This is the concept of this dark humour game. | Immerse yourself in the railways of Europe in the 1900s and try to reach cities before the end of the game. Your network must be the most efficient and continuous to win the game. | Unhook the frames, put away the vases and protect your TV, because it's about to be burrito wars in your living room! Much funnier than Grandma's Scrabble, this game promises to provide you with lots of laughs. | Expected by the fans of the series, this Unlock! about the 3 famous board games Ticket to Ride, Mysterium and Pandemic keeps its promises and manages to convey the universe of these games. | Part game, part story, this little box contains a great adventure driven by the choices you make. You simply read the cards you receive as you make decisions that affect the end of the story. |
| | | | | | | | | |
Our choice
Read a statement, answer it anonymously with yes or no and then reveal the answers. Which of you might have answered "yes" to : "I have already visited an erotica fair"? Mystery…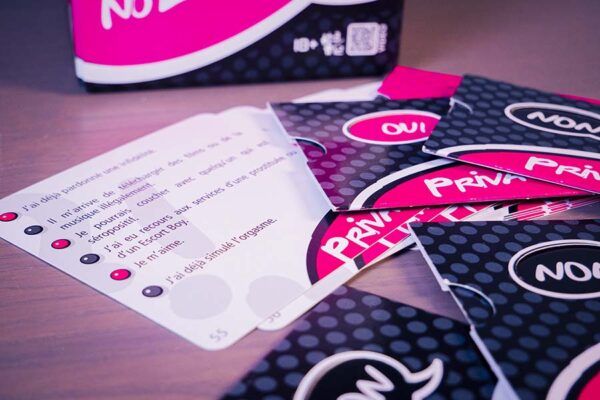 Are you looking for a game forbidden to under 18s that will help you get to know your friends better without any limits? Look no further! This No Limit version of Privacy is an atmospheric game for adults that deals with more than 400 sensitive (for or against the death penalty), naughty and even trashy subjects. Very easy to set up and play, it is suitable for 3 to 12 players. You can decide at any time to stop the game, which makes its playing time quite variable. And for obvious reasons, we do not recommend it for families. It is possible to answer anonymously and not to look at who answered what in the group, but in our opinion, in smaller groups, it can be interesting to use the game as a support for discussions.
For detectives
Combining imagination and fun, Code Names is a puzzle game. The aim of the game is to find as many predefined words as possible by giving only one. Can you make the right associations?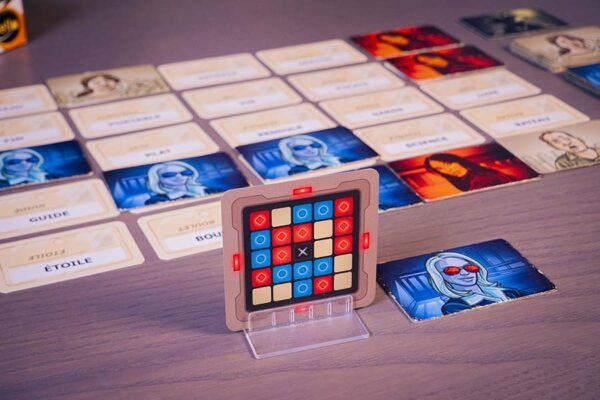 This spy-themed game has become one of the best board games in just a few years thanks to its simple mechanics, which nevertheless require a great deal of concentration and skill. It can be played by 2 to 8 players. And if some users think that playing in duel slows down the game dynamics, we did not have this feeling during our tests. It does make your brain work a bit, as a minimum of vocabulary is required. In addition, you also have to show ingenuity and visualisation. But do not worry, it is all in good fun! Note that with this game, you will (re)discover the way your friends think and that some of them do not think at all in the same way, which makes the games more complex.
A little bit of sweetness
This game is above all a sensory and moving experience. In a gentle way, you try to discover memories that your teammate tries to make you guess with only a few objects.
For adults who like delicacy, teamwork and moving games, we recommend In the Palm of your Hand. Combining cooperation and competition, you have to guess more memories than the opposing team by touch only. The game is played by 2 to 8 players for games lasting about 30 minutes. And if you are still not convinced, the cards are just as poetic as the rest of the game, with Dixit-like illustrations. You can play it with adults for an emotional moment (especially with grandparents), or with children from 10 years old to stimulate their sense of touch.
The best of the must-haves
In this game you build one of the 7 wonders of the world, make scientific discoveries and create an army in order to collect as many victory points as possible to win the game.
With this new version of the famous strategy game 7 Wonders, the original game's universe is completely restored: 7 wonders to build, resources to do so, scientific advances and military battles. Ideal for beginners, we found it easier to play than its original version. All the more so as the counting of points is also much easier. You have one action to carry out per turn: choose one of the three carts at your disposal. Too simple? Well, the stacks to your left and right are shared with your opponents in those positions. So, is it better to prevent the one on your right from taking a third wood or the one on your left from having his second science token?
For the fans of the politically incorrect
Ideal for aperitifs with friends, this game is intended for an adult audience only. This game is a delight for those who are politically incorrect. It is therefore ideal for spicing up all kinds of aperitifs. The game can be played by 3 to 10 players and lasts about 30 minutes. As the manufacturer rightly points out, the magic lies in the discrepancy between questions and answers, because it is this aspect that gives Cards Against Humanity its humorous dimension. Note that depending on the people you play with, the games can unfold very differently. So you will quickly realise what makes some people laugh rather than others. During our tests, it happened that with one group of friends, we lost and with another, we won.
Immediate boarding!
Immerse yourself in the railways of Europe in the 1900s and try to reach cities before the end of the game. Your network must be the most efficient and continuous to win the game.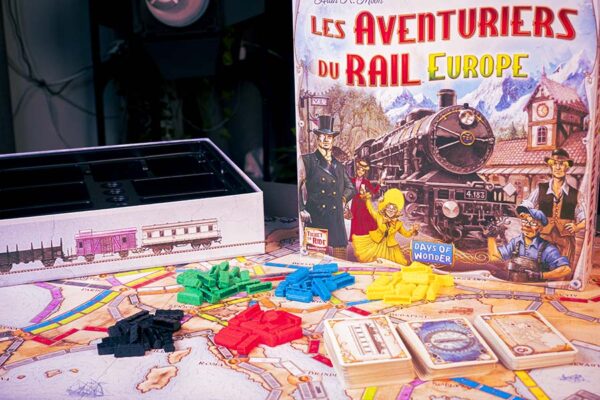 This world famous board game is immersive and entertaining. Its simple rules and smooth mechanics allow the uninitiated to play it fairly quickly. We recommend it to people who want to get into strategy games without having to tear their hair out reading the rules. It can be played by 2 to 5 players for games of about 1 hour once you have got the hang of the game. For beginners, it takes about 30 minutes per player. During our tests, we particularly appreciated the fact that there is never a dull moment and that there is always something to do to pursue your goals. 
The most interesting release of the moment
Unhook the frames, put away the vases and protect your TV, because it's about to be burrito wars in your living room! Much funnier than Grandma's Scrabble, this game promises to provide you with lots of laughs.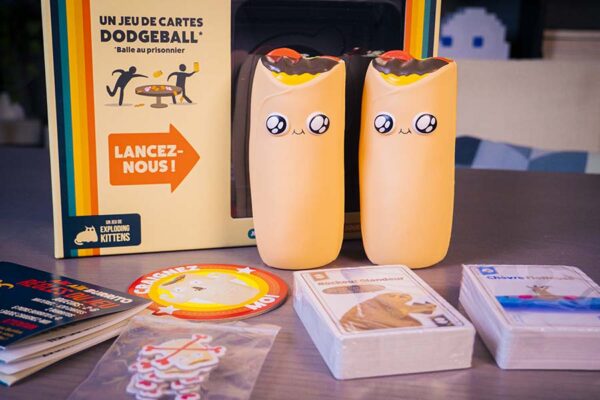 Made by the creators of Exploding Kittens, Throw Throw Burrito is also a great atmospheric game. The aim of the game is quite simple: form trios of identical cards and throw foam burritos at your friends and family members to score maximum points. Although it is accessible for ages 7 and up, we guarantee that it is just as much fun to play with adults. In our opinion, it is best to avoid mixing adults and children, as the balance of "power" is not fair enough. The games are quite short (15-20 minutes) and it is recommended to play them with 3 to 6 people, but according to our tests, it is more fun with 4 people and can easily be played with 7.
A new escape game
Expected by the fans of the series, this Unlock! about the 3 famous board games Ticket to Ride, Mysterium and Pandemic keeps its promises and manages to convey the universe of these games.
This Unlock! surprises players by developing 3 new scenarios based on 3 famous games. Some say it is the first game that manages to properly integrate the theme of the chosen games into another game. As with the other Unlock! boxes, you will need the dedicated app to play (available on Android and iOS). The box is accessible from 10 years old for games of about 60 minutes each and to be played from 1 to 6 (although it is better to be 3-4). Overall, this is one of the best boxes Space Cowboys have made so far according to BGG, much better than the Star Wars one.
A whole universe to discover
Part game, part story, this little box contains a great adventure driven by the choices you make. You simply read the cards you receive as you make decisions that affect the end of the story.
Cartaventura Lhasa is a completely atypical narrative and decision making game. We recommend it to the most adventurous and patient among you, as a game lasts about 1 hour when played with several players (to agree on the choices to be made). The illustrations are particularly beautiful. There are 5 different endings in the box, but we advise you to space out the games so that you do not remember too much about the different paths you have already explored. Also, although it can be played from 1 to 6 players, we recommend up to 3, as this simplifies the decision making process. And for those who see themselves in other places and times, there is also a Vinland box.
How have we made the selection?
To help you choose the best board games, we have taken into account some of the biggest names in the gaming world. We have also based our results on the knowledge and opinions of a wide audience (such as the reviews of BoardGameGeek, among others).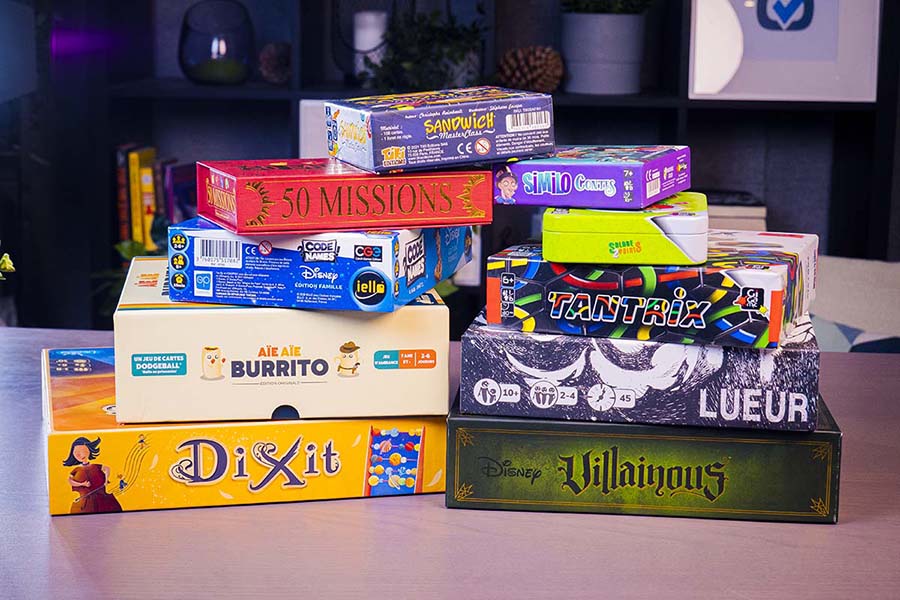 We have also analysed renowned publishers and were able to test most of the games mentioned in the editorial office and at home with family and friends.
Translated by Selectos