Updated on 15 March 2023
The editorial team's recommendations
| Our favourite | The must-have | The most awaited novelty | Come on, run away! | An exciting research | A worldwide success | Several games in one |
| --- | --- | --- | --- | --- | --- | --- |
| | | | | | | |
| Escape Room - The game | Unlock! Secret Adventures | Scooby-Doo: Escape | Exit: The Abandoned Cabin | Exit: Dead Man on the Orient Express | Escape The Room: Mystery at The Stargazer's Manor | Unlock!: Game Adventures |
| Four completely different scenarios await you in this box. In each one, you will have to solve puzzles to discover three codes to enter into the timer in less than an hour. | A new encounter with Professor Noside, a train adventure and a trip to the land of Oz are the three scenarios that await you in this third instalment of the Unlock! range. | Play as Freddy, Velma, Daphne, Shaggy and Scooby-Doo in this haunted mansion adventure. Together, you will solve various puzzles to understand the mystery of Lady Fairmont's ghost. | It´s one of the most popular Exit games. This box locks you in a mysterious cabin deep in the forest. Of course, you'll have to escape before the owner returns... | A murder, eight suspects. Take on the role of a real detective and try to solve the case before it's too late and the famous Orient Express arrives in Constantinople. | Suitable for ages over 10 yo, this game aims to introduce the experience of escape games to youngsters, confronting them with simple, but no less sophisticated, conundrums. | Long awaited by the series' fans, this Unlock! about the three popular board games Ticket to Ride, Mysterium, and Pandemic delivers on their promises, and succeed in conveying the universe of these games. |
| | | | | | | |
Our favourite
Four completely different scenarios await you in this box. In each one, you will have to solve puzzles to discover three codes to enter into the timer in less than an hour.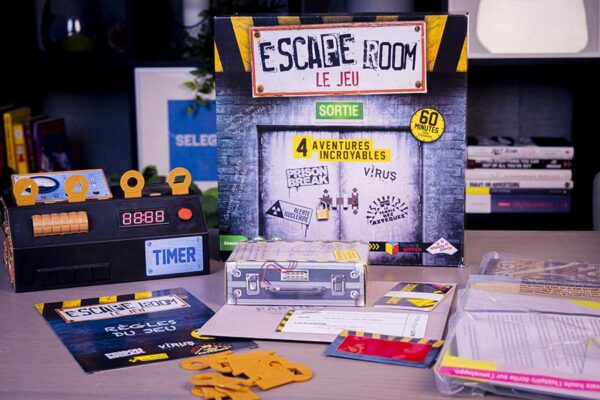 If you like puzzles that require you to manipulate objects of all kinds, you'll love this game. Far from being "simple", it has complex mechanics in which nothing is left to chance. For this reason, it is only accessible for ages 16 and up, and we advise you not to play it with younger people. Designed for a group of 3 to 5 players, from beginners to advanced, we have tested it with four players, and we think it is the best possible configuration. In particular, four different quests give the game some replayability, although it is not infinite. You will have to make copies of some of the items if you want to lend or trade them later on.
The must-have
A new encounter with Professor Noside, a train adventure and a trip to the land of Oz are the three scenarios that await you in this third instalment of the Unlock! range.
Like all Unlock! versions (except for the one-off adventures), this one contains three different stories that can only be played once. Still, each of them gives you about 1 hour of gameplay (so 3 hours in total). It is the box we recommend the most after the first one (which we will talk about later) for those who want to play again. Indeed, we greatly appreciate finding a Noside Story (in a universe we already discovered in the first box). Moreover, the adventure in the land of Oz will satisfy the fans of this story, who will be delighted to meet the iconic characters there. Finally, you will be immersed in the Wild West on board the Tombstone Express.
The most awaited novelty
Play as Freddy, Velma, Daphne, Shaggy and Scooby-Doo in this haunted mansion adventure. Together, you will solve various puzzles to understand the mystery of Lady Fairmont's ghost.
This cooperative game offers a great immersion in the Scooby-Doo universe thanks to narrative texts that match the original characters. The quizzes are of a decent level, so you can play them as a family from the age of 12 and up. We recommend playing it with three or more people to get the most out of it. The whole story will take about 2-3 hours, but it can be divided into chapters so that it can be played in several parts. Once you have completed the story, you count your points and see how many points you have earned. The advantage over other games, like Exit, is that you don't have to destroy anything…
Come on, run away!
It´s one of the most popular Exit games. This box locks you in a mysterious cabin deep in the forest. Of course, you'll have to escape before the owner returns…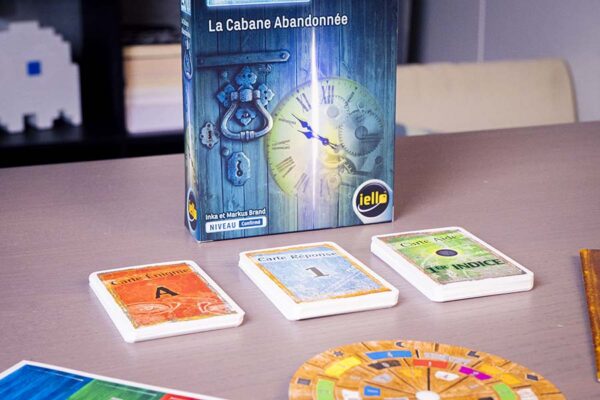 Thanks to our test, we can confirm that this game is intended for amateur or experienced players (from 12 years old) rather than beginners. And although it is recommended for 1 to 4 players, we advise you to have at least three players to be able to solve all the puzzles it contains. The duration of the game is indicated between 45 and 90 minutes, but it will depend on your level and the number of players. Specifically, this game is based on cards, a decoder disc and a booklet that gives access to all kinds of small challenges. We were delighted to see that a set of rules explaining how the logic of the cards and the decoder works is included with the purchase. On the other hand, it is a pity that some pieces have to be destroyed (cutting, writing, colouring…).
An exciting research
A murder, eight suspects. Take on the role of a real detective and try to solve the case before it's too late and the famous Orient Express arrives in Constantinople.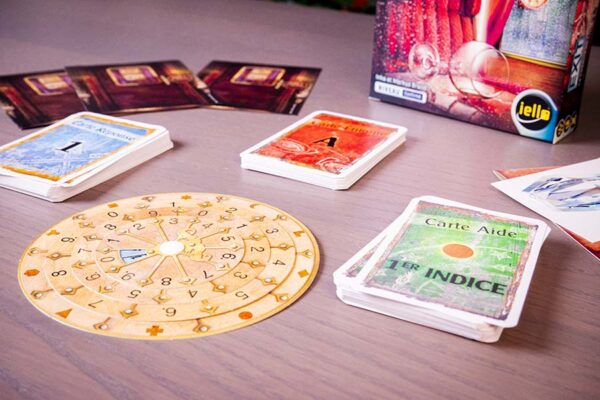 Like the aforementioned The Abandoned Cabin, this game is aimed more at an audience familiar with the mechanics of escape games. However, this did not prevent it from winning the first prize at the Kennerspiel des Jahres 2017. Accessible from the age of 12, it can bring together a maximum of 1 to 4 players. And as for the principles of life-size escape games, they will have up to 60 minutes to solve the investigation proposed to them. You will have to open your eyes and work as a team to have the chance to find the culprit and close this criminal investigation. Like all Exit games, its weak point is the lack of replayability, as you have to "destroy" some cards… Fortunately, it is still easy to copy or photograph the elements to lend them to other players.
A worldwide success
Suitable for ages over 10 yo, this game aims to introduce the experience of escape games to youngsters, confronting them with simple, but no less sophisticated, conundrums.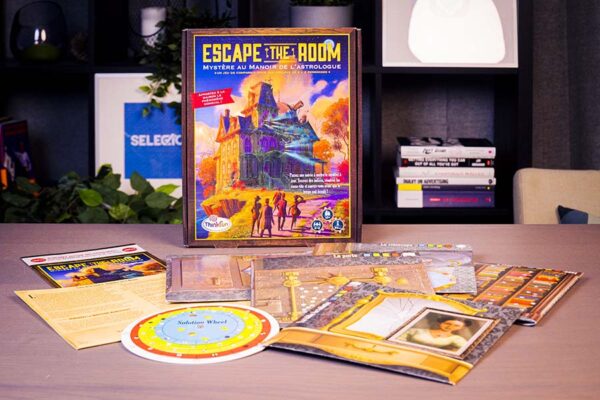 Very accessible, this game, which has won the hearts of thousands of players all over the world, is intended for young people (from 10 years old) or adults who are just starting in the world of board games. In fact, during our test, we found the tasks to be extremely simple. All the more so because the players are guided entirely by very explicit clues directly in the various texts that they pick up as the game progresses. On the other hand, the plot is well-handled, and the mechanics remain fluid. Unlike most other escape games, the 3 to 8 players will have up to 90 to 120 minutes to save themselves from the mysterious mansion that holds them captive.
Several games in one
Long awaited by the series' fans, this Unlock! about the three popular board games Ticket to Ride, Mysterium, and Pandemic delivers on their promises, and succeed in conveying the universe of these games.
Unlock! surprises players by effectively developing three scenarios based on three famous games. Some even say that it is the first game that manages to correctly integrate the theme of the chosen games into another one. As with the other boxes, you will need the dedicated app to play it (available on Android and iOS). It is also accessible for ages 10 and up for games of around 60 minutes each and for 1-6 people to play (although 3-4 is best). Overall, it's one of the best versions Space Cowboys has done so far according to BGG, much better even than Star Wars.
How have we made the selection?
To help you choose the best board games, we have taken into account some of the biggest names in the gaming world. We have also based our results on the knowledge and opinions of a wide audience (such as the reviews of BoardGameGeek, among others).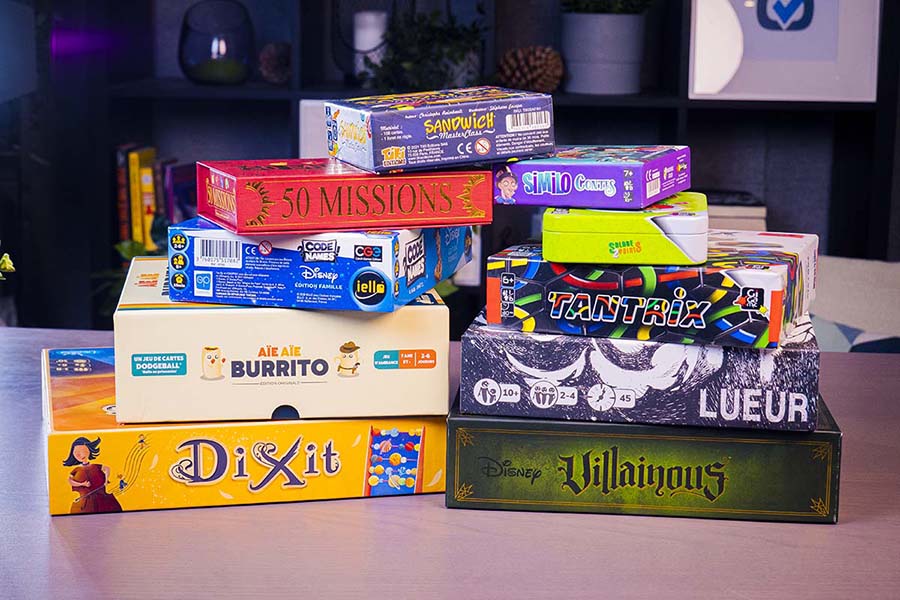 We have also analysed renowned publishers and were able to test most of the games mentioned in the editorial office and at home with family and friends.
Another board game we recommend
Unlock! Exotic Adventures (£19.14 upon publication): a 4th version of Unlock! Working as well as ever, this Unlock! contains three new adventures with the bogeyman, the dinosaurs and Scheherazade. It has simply been left out of our main selection due to its increased complexity (in fact, we didn't manage to completely solve the Challenger Expedition). We, therefore, recommend it to veterans of the field.
Translated by Ramsés El Hajje