Updated on 3 February 2023
The editorial team's recommendations
| Our choice | The must-have | An enchanted forest | A worthy classic | Will you save the world? | The most interesting release of the moment | Hippocrates |
| --- | --- | --- | --- | --- | --- | --- |
| | | | | | | |
| Ticket to Ride: Europe | Catan | Living Forest | Carcassonne | Pandemic | 7 Wonders : Architects | Hippocrates |
| Popular among gamers around the world, this board game and card game is now compatible with Amazon's personal assistant, Alexa, giving you a unique and fun experience. | By now, it is so successful that saying it is extremely popular would be an understatement. We must say that it is not only easy to play, but also very entertaining. | Become a nature spirit to save the Sacred Tree of the forest from burning! To do this, you will have to replant trees, extinguish flames and collect flowers to awaken the Guardian of the Forest. | Now as famous as the city itself, this game combine construction and strategy. besides being addictive, it is also easy to play, which makes it appeal to a wide and varied audience. | While this cooperative strategy game can ben complex, it is known for the fun it provides and its ability to get players' grey cells working hard. | In this game, you build one of the 7 wonders of the world, make scientific discoveries and create an army in order to collect the maximum number of victory points to win the game. | As the heirs of Hippocrates, who has just passed away, you must continue the treatment of the patients so that his knowledge is not lost. The more you save, the better your reputation will be. |
| £ 36.29 on Amazon | £ 39.99 on Amazon | £ 51.92 on Amazon | £ 35.30 on Amazon | £ 34.95 on Amazon | £ 29.17 on Amazon | £ 57.91 on Amazon |
Our choice
Popular among gamers around the world, this board game and card game is now compatible with Amazon's personal assistant, Alexa, giving you a unique and fun experience.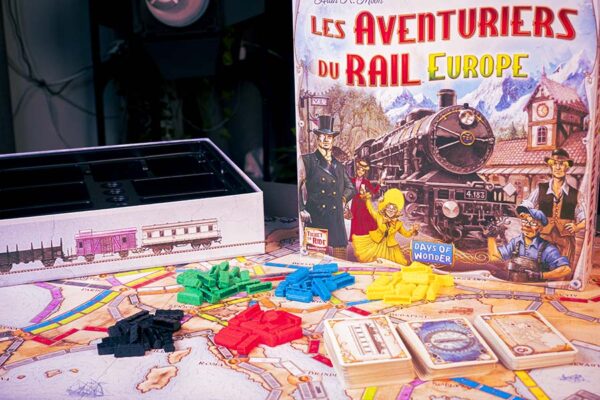 This game is played between 2 and 5 players from 8 years old. Each game is estimated to last about an hour, which turned out to be accurate during our tests and is pretty much average for a board game. The goal is quite simple: besides building railway lines connecting the biggest European cities, each player tries to achieve secret objectives to become the greatest traveller. This Europe edition includes the addition of special connections (tunnels and ferries) and various secret objectives that make the game more complex. But do not worry, it is accessible to beginners. And if you want a little more challenge, there are different versions that involve boats.
The must-have
By now, it is so successful that saying it is extremely popular would be an understatement. We must say that it is not only easy to play, but also very entertaining.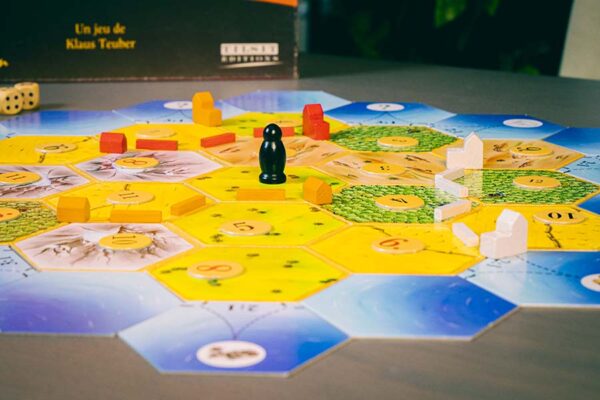 Thirty million games have been sold worldwide. Its success? It is due to its fluid mechanism, its tactical and strategic depths as well as its great conviviality. It requires between 3 and 4 players from 10 years old. The duration of the game is estimated at about 75 minutes, but count on 2 hours for the first games. Catan takes place on a desert island, but full of resources. The goal is to build cities and colonies faster than your opponents. To do so, you have to exploit your resources and channel your growth while being careful not to attract the envy of your neighbors… Very addictive, our only reproach is that it is rather unfair depending on who starts the game.
An enchanted forest
Become a nature spirit to save the Sacred Tree of the forest from burning! To do this, you will have to replant trees, extinguish flames and collect flowers to awaken the Guardian of the Forest.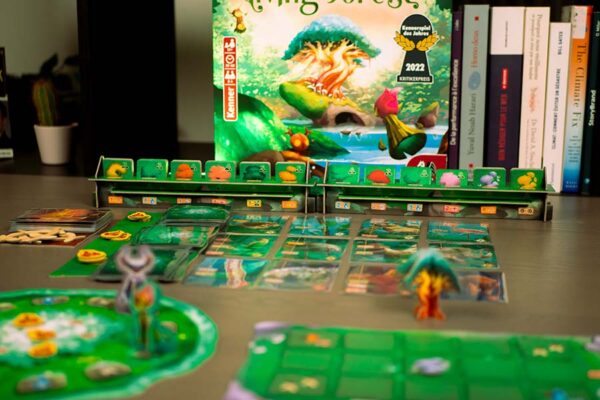 What makes Living Forest one of our favourites is the fact that it offers a complete immersion in another world. Thanks to its beautiful accessories, but also its superb illustrations, we are immersed in an enchanting universe. During our tests, we appreciated the length of the games of about 40 minutes and the fact that it is just as enjoyable to play with 2 as with 3 or 4 players. Although it is accessible to players aged 10 and over, we must point out that there is a lot of information to remember from the start of the gale and that this can be a little frightening for uninitiated players. But if you manage to get past the explanations, you will appreciate the richness of its mechanics: deckbuilding, stop or continue, moving on a board…
A worthy classic
Now as famous as the city itself, this game combine construction and strategy. besides being addictive, it is also easy to play, which makes it appeal to a wide and varied audience.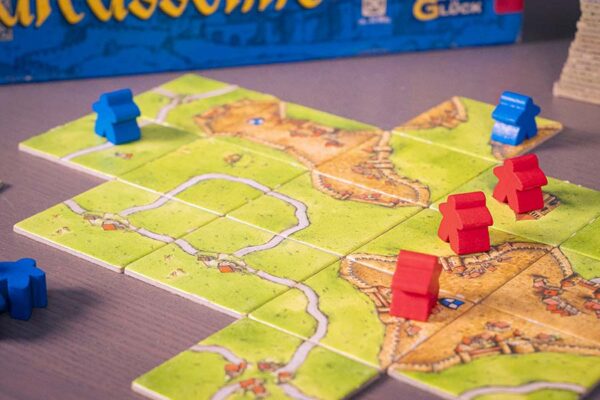 This game can be described as a classic thanks to its simple rules, which leave a lot of room for strategy. It requires 2 to 5 players and is accessible from 8 years. Even if it is a real construction game, the length of the games is not affected as they last maximum 45 minutes. Players must take turns placing tiles to form the board. Points are awarded according to the size of the combinations created and the game ends when all tiles have been placed. Overall, we found Carcassonne very accessible, ideal for beginners and enjoyable for amateurs. However, it is a game about strategy and planning, and much less about an atmosphere that favours interaction between the players.
Will you save the world?
While this cooperative strategy game can ben complex, it is known for the fun it provides and its ability to get players' grey cells working hard.
Aimed at players of 10 years and above, it is played between 2 and 4 players and offers games designed to last between 30 and 60 minutes. Its principle is simple: you must successfully counter the progression of four distinct diseases by trying to find cures. Each player is given specific strengths that must be combined with those of the other participants in order to save the world from a pandemic. We liked this game for its non-repetitive aspect. It offers a range of tactics depending on the characters drawn by each player. A little more complex, we recommend it more to initiated than to beginners. Note that there are different versions of this game and that if you want to try a more recent one, we recommend the Legacy.
The most interesting release of the moment
In this game, you build one of the 7 wonders of the world, make scientific discoveries and create an army in order to collect the maximum number of victory points to win the game.
With this new version of the famous strategy game 7 Wonders, the original game's universe is completely restored: 7 wonders to build, resources to do so, scientific advances and military battles. Ideal for beginners and definitely accessible from 8 years old, we found it easier to play than its original version. All the more so as the counting of points is also much easier. You have one action to carry out per turn: choose one of the three carts at your disposal. Too simple? Well, the stacks to your left and right are shared with your opponents in those positions. So, is it better to prevent the one on your right from taking a third wood or the one on your left from having his second science token?
Hippocrates
As the heirs of Hippocrates, who has just passed away, you must continue the treatment of the patients so that his knowledge is not lost. The more you save, the better your reputation will be.
Expected like the messiah on Kickstarter, Hippocrates received a rather mixed reception from fans of big board games. Indeed, it turned out to be less complex than they would have liked. However, this accessibility makes it much more appealing to families who are used to playing and would like to try a game with more difficult choices. Your choices always have an impact on your subsequent actions. You have to plan them and sometimes sacrifice things in order to save as many people as possible. Suitable for 1 to 4 players from 12 years old, its games last about 1h30. The criticism that can be made is that it takes a long time to set up. Nevertheless, all this contributes to the immersion in the game and its re-playability.
Other strategy board games we tested 
The Crew (£14.00 when published): A cooperative card game. With its space theme, The Crew is really nothing than a folding game with increasingly complex constraints. While this has pleased the critics (it has won numerous awards), we are not convinced that it really revolutionises the world of strategy board games. For us, it is more of an atmospheric little game to play with friends when you want a little more tension in the air.
Risk (£25.99 when published): A must, but too long. When you think of strategy games, you think necessarily of Risk. Unfortunately, we have decided to leave this excellent board game out of our selection, as it is far too long for most players. Only those who like long games are really happy to play a game of this length. However, it is well worth a look for anyone who likes to make plans that only become apparent after several rounds.
7 Wonders (£38.40 when published): The original version more and more complex to find. Playable from 10 years old for games of about 30 minutes, this original version of 7 Wonders is a bit more complex and anarchic than the recent Architects. As we present the latter in the interesting new releases, we preferred to leave it out of the main selection to offer you more diversity. Nevertheless, you should know that it is a real must-have and its Duel version is just as interesting.
Villainous (£35,99 when published): A classic for Disney fans. In Villainous you play as one of Disney's most famous villains: Ursula, Prince John, The Queen of Hearts, Captain Hook, Maleficent and Jafar. Each of the villains has their own cards depending on the story they are picked from. So this game is very asymmetrical and full of twists and turns. It is the latter that some players may not like. In fact, your opponents will put obstacles in your way in order to be the first to achieve their evil and personal goal.
Agricola (£49.90 when published): A real treasure. A must for fans of German-style board games, Agricola is a game of worker placement. Accessible from 12 years old, it takes about 30 minutes of play per person and is played from 1 to 4. The aim is to develop your farm in order to score as many points as possible at the end of the game. We have decided to leave out this excellent and award-winning game, as it is unfortunately often considered too long and a bit too complex. However, it has two versions to include families more easily.
Translated by Laura Wautier