Updated on 3 November 2022
After 8 hours of research among 39 popular models, 5 of which have been tested, we have determined that the
Nerf Super Soaker Hydra
is currently the best value on the market.
Our choice, Best mid-range
The main advantages are the powerful jet and the large tank. Very bulky, it is more suitable for teenagers and adults, but it ensures a good grip.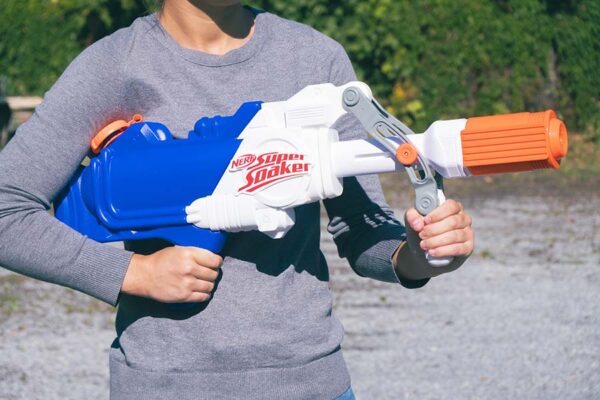 This rather long model has a pressure pump system that can be operated via its two handles. From the first time we held it in our hands, we immediately noticed the power of its jet. The large tank is necessary for this power, and we found it sufficient. The filling of the tank takes a long time. Another consequence of its large tank is that it takes up a lot of space and is quite heavy (about 1 kg), which makes it more difficult for a young child to handle. During our test, we still appreciated its good ergonomics, even if it requires both hands to operate. Because of its large size, we also had difficulty filling it at the sink.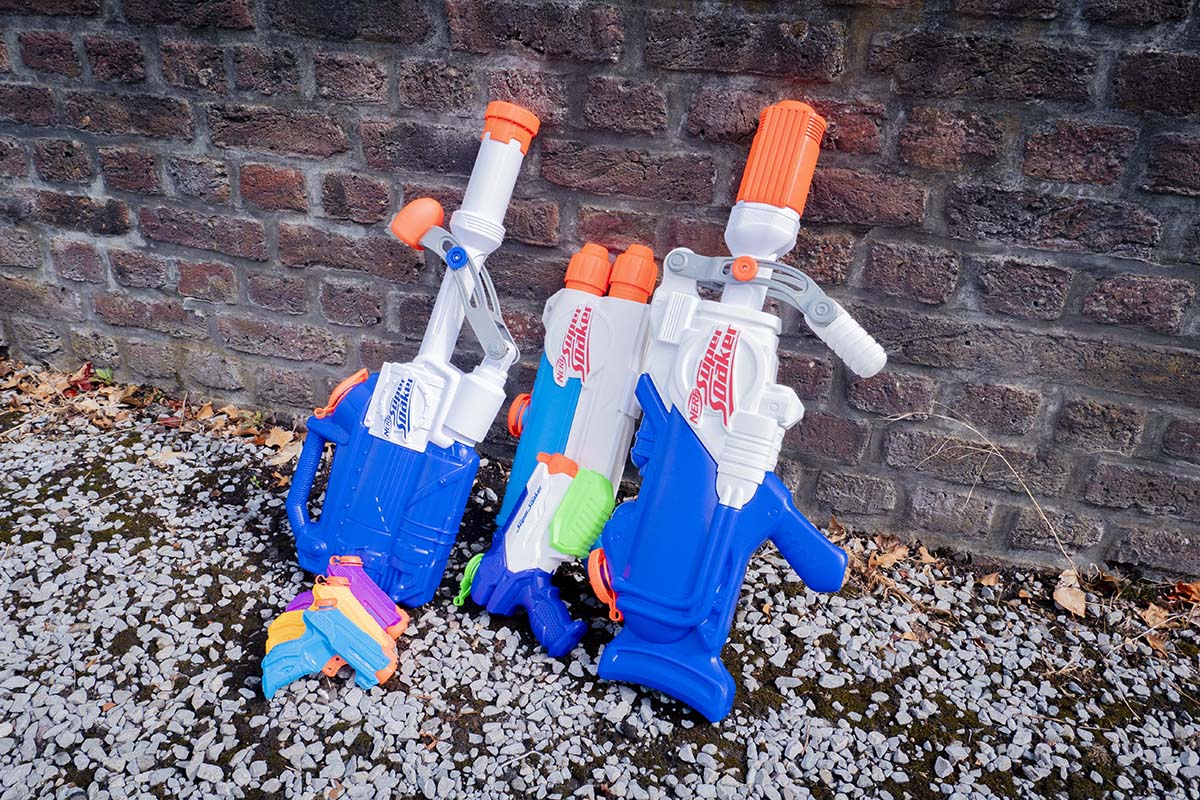 Because of its success, there are many different models, which makes the choice somewhat difficult.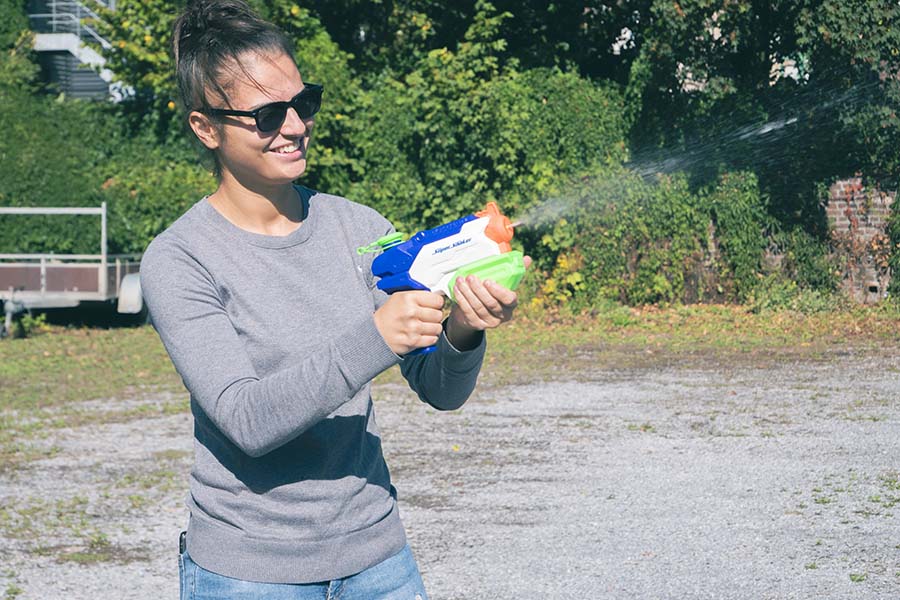 The pump gun is more cumbersome, but it allows you to shoot farther.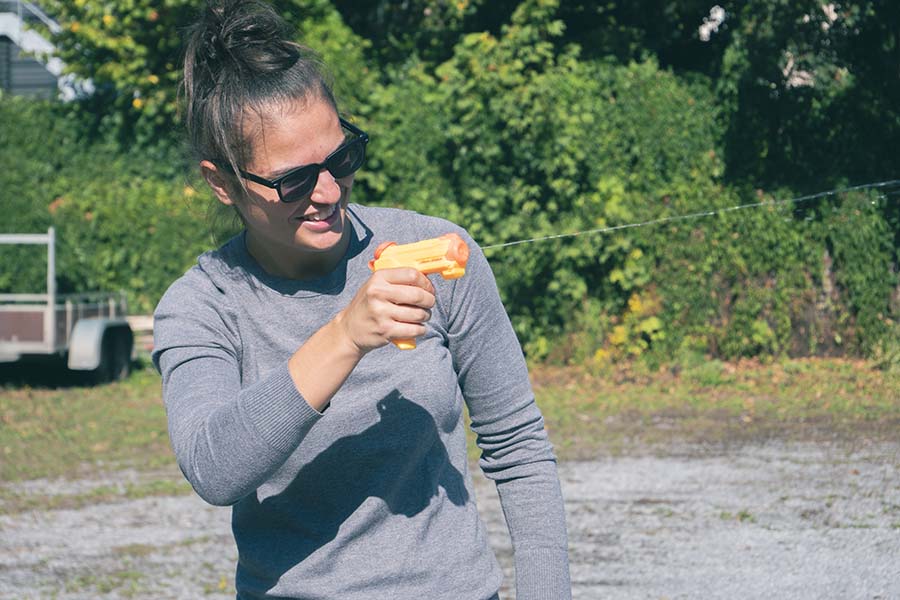 The non-pump water gun is lighter and easier to handle, but not very powerful.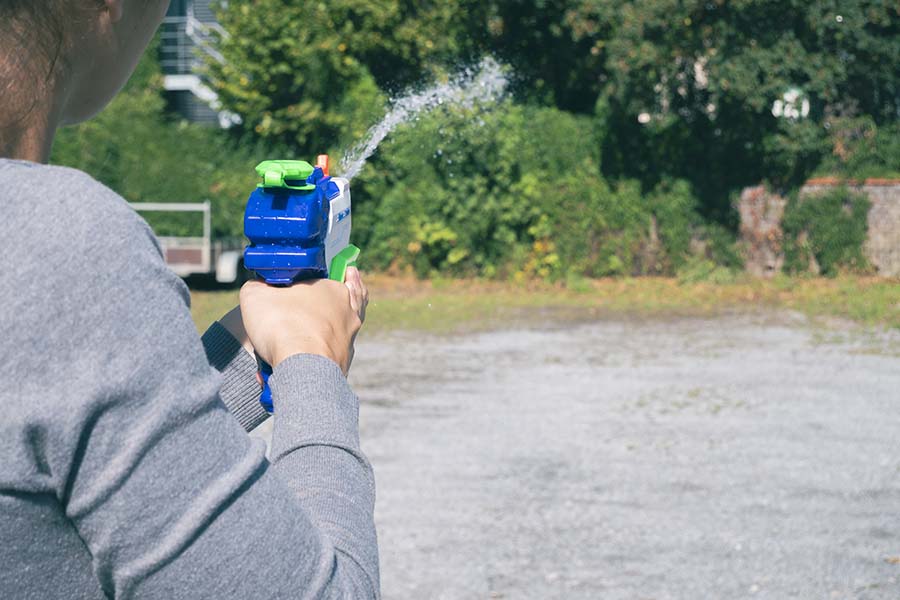 Water guns can deliver jets from 2 to 15 metres.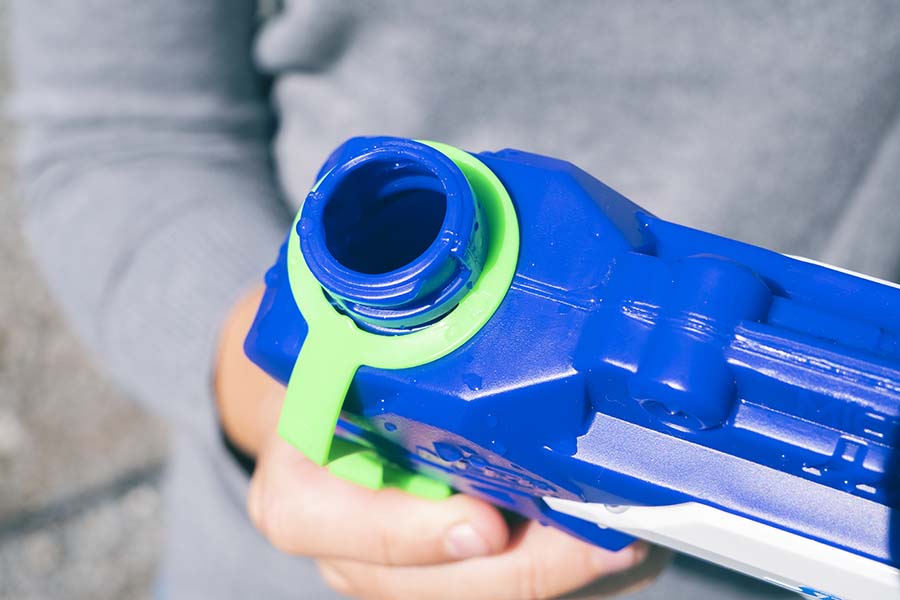 A tank capacity of 300 ml is already interesting.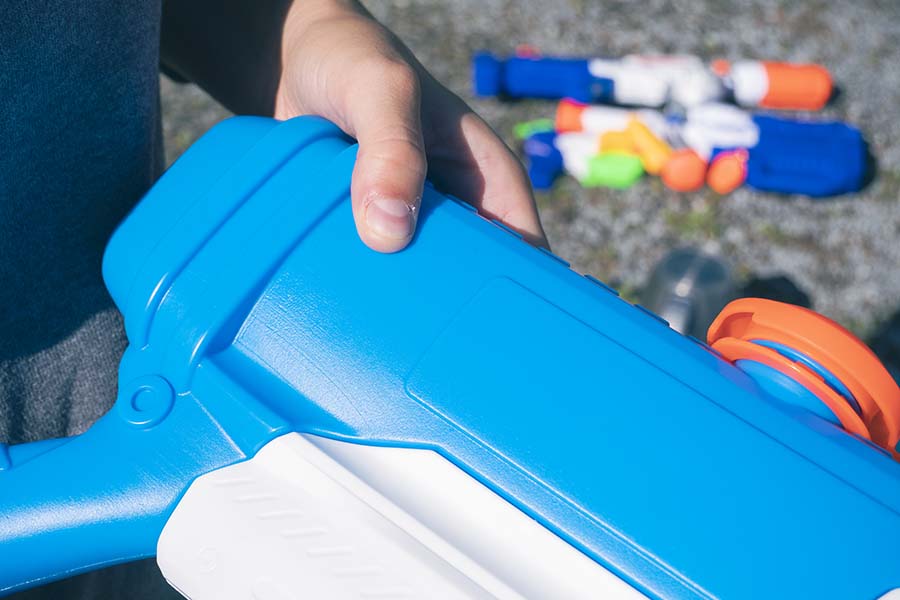 Water guns are usually made of ABS plastic, as this material is very shock resistant.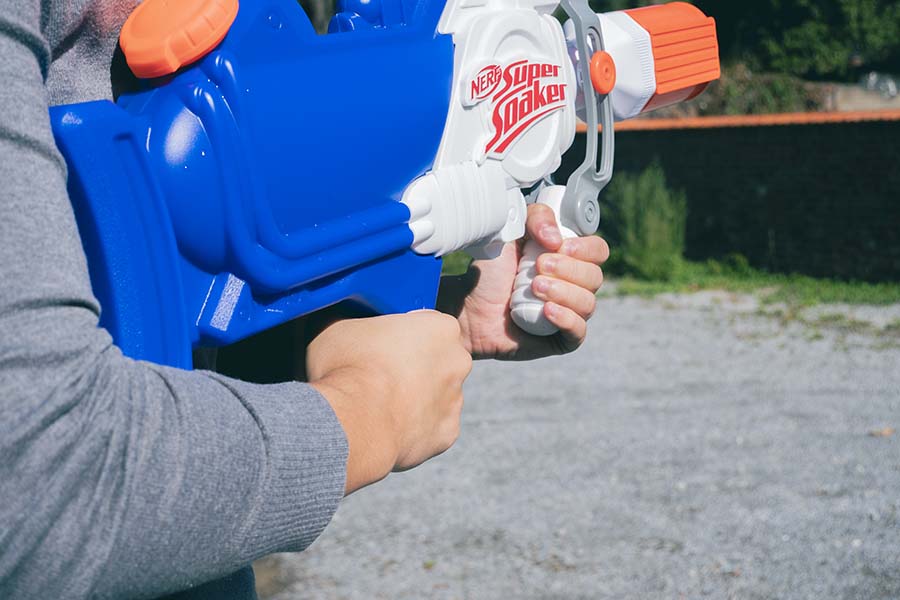 For more comfort and ease of use, choose a gun that is adapted to your body shape.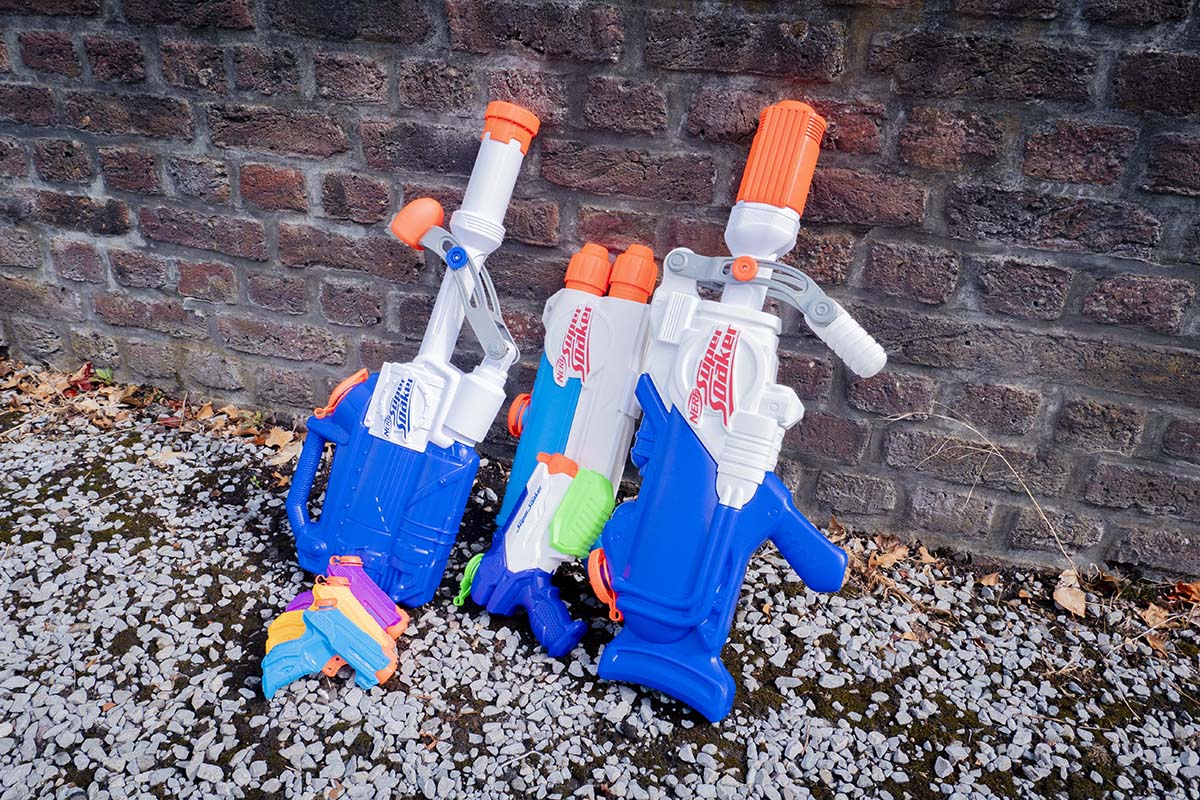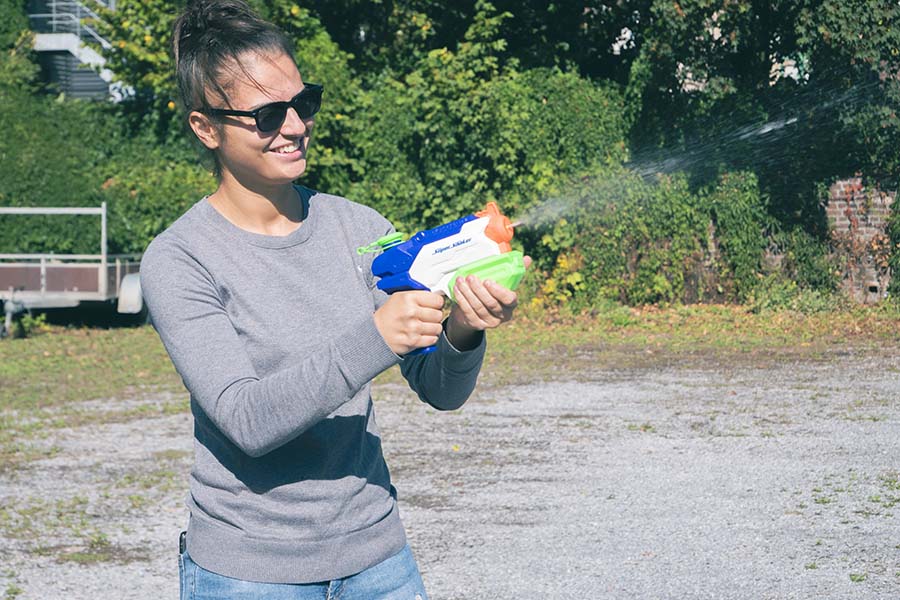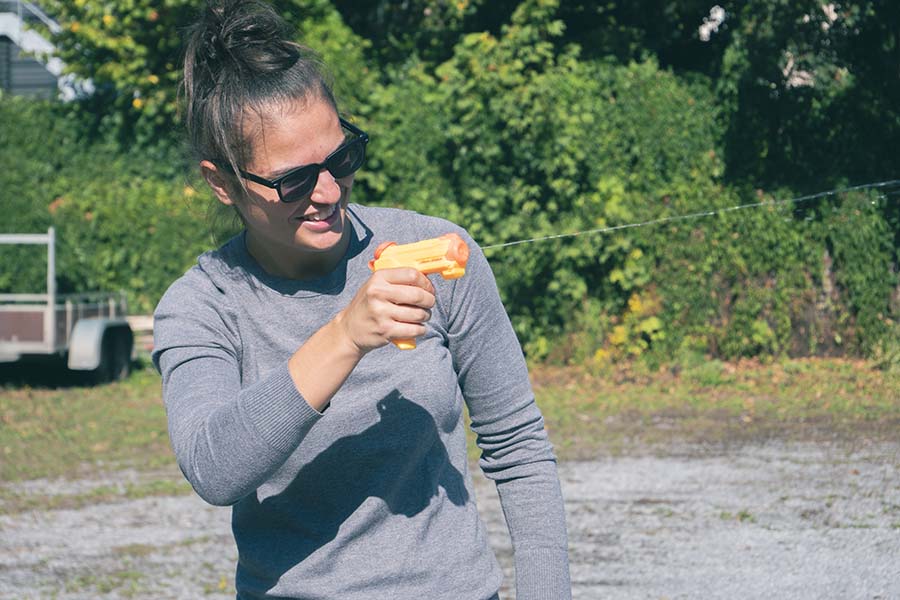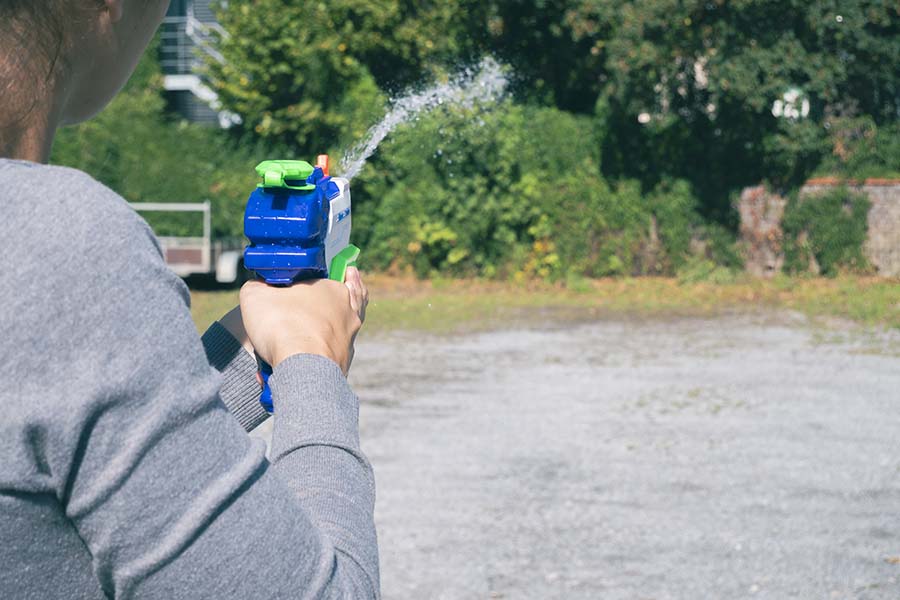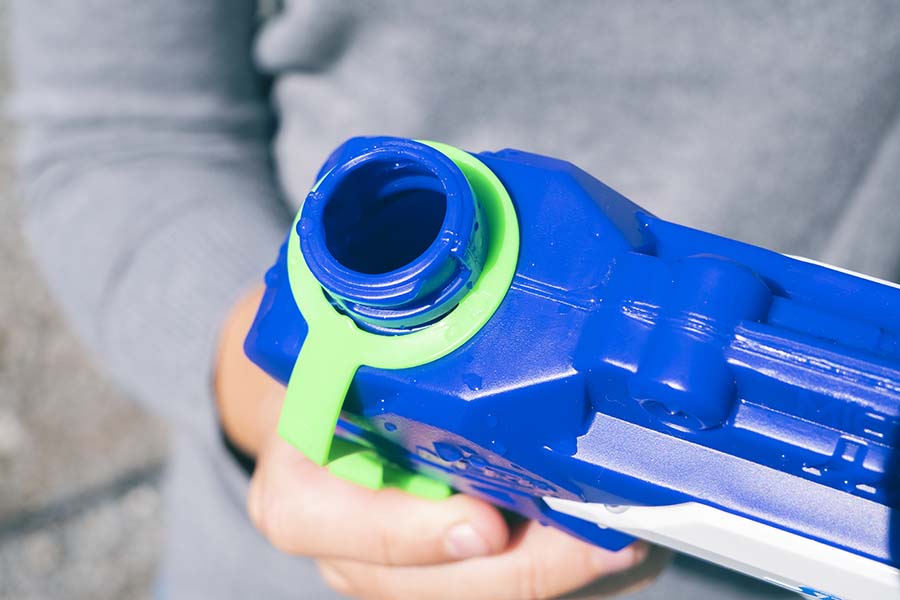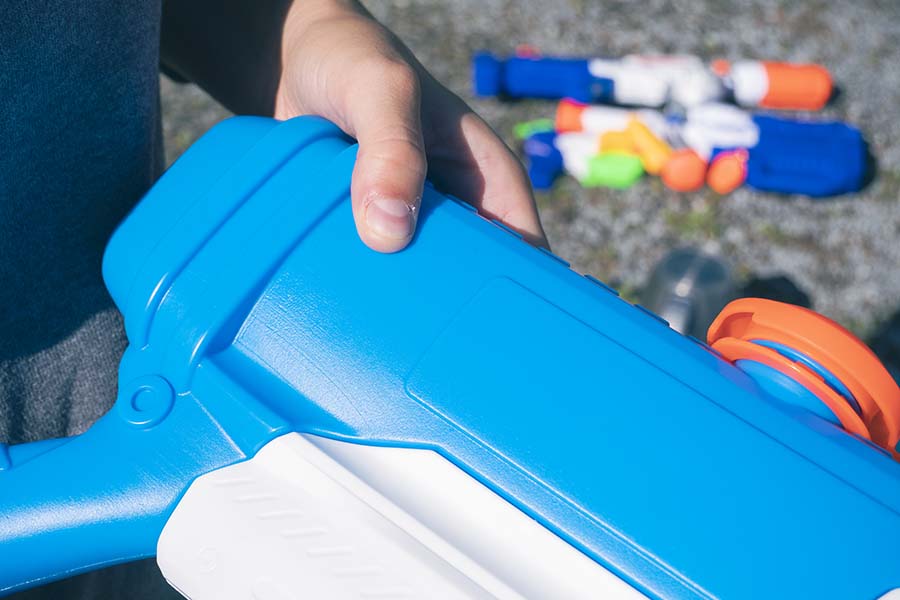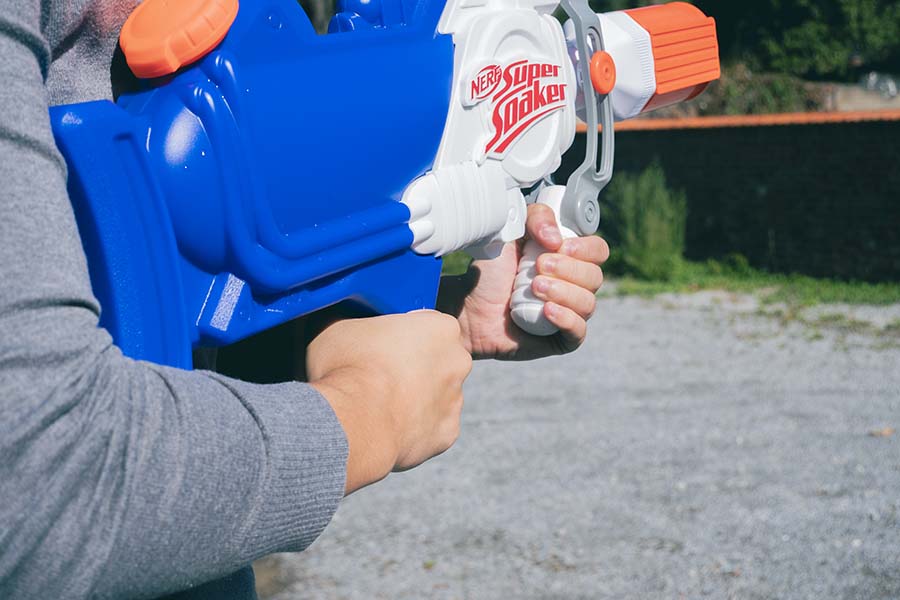 Best budget
This water pistol has a very interesting power/manipulability ratio. Its small size, lightweight and good grip make it ideal for younger children.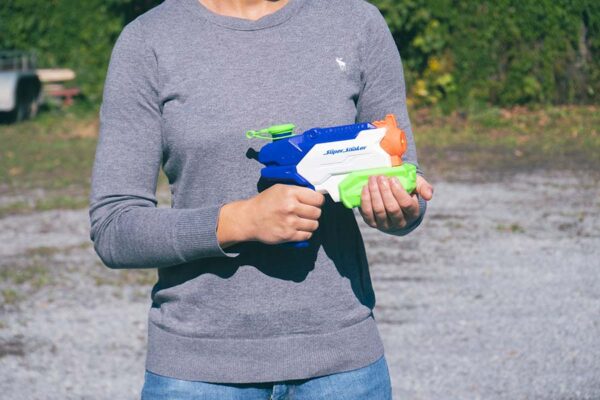 It allows you to hit distant targets at a good speed (although we never reached the targets placed at 10 m during our test). We were surprised at how powerful it was considering its small size. Indeed, it is small and light, making it easy to handle. We also found it to be easy to handle and we think it is perfectly accessible to children over 6 years old. However, indeed, it is best used with two hands. Although the opening cap is easy to grasp and this model is easy to fill, the 300 ml tank empties quite quickly due to the power of its jet… so you will have to think about refilling it regularly.
Best high-end
More suited to teenagers or adults, this atypical toy has a large tank and delivers powerful jets that wet even the most distant opponents.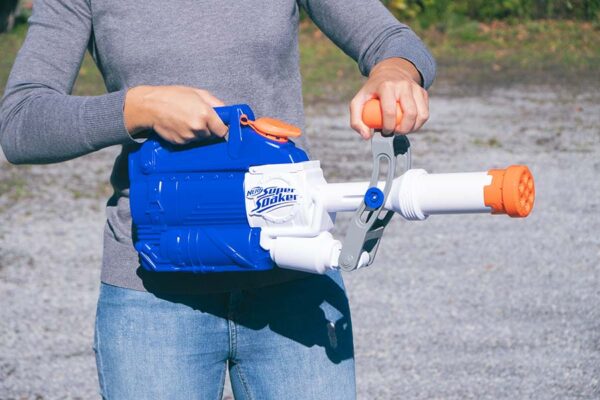 This water pistol has a pump mechanism that propels shots quite far (just under 10 m). Its large tank (1.6 L) is easy to fill but it takes a little time. With powerful jets of 170 ml at each action, it can send about ten jets. During our test, we found it bulky and heavy, and the particular operation of its handles requires a bit of force to operate the mechanism and keep a certain stability when shooting. When we put it in the hands of children, we still observed some difficulty in holding it. In addition, it requires the use of both hands. Therefore, we recommend it more to teenagers and adults.
Mid-range alternative
It has excellent ergonomics, and even though the tank capacity is small, it is both easy to fill and comfortable to hold. With it, the opponents have only to behave well…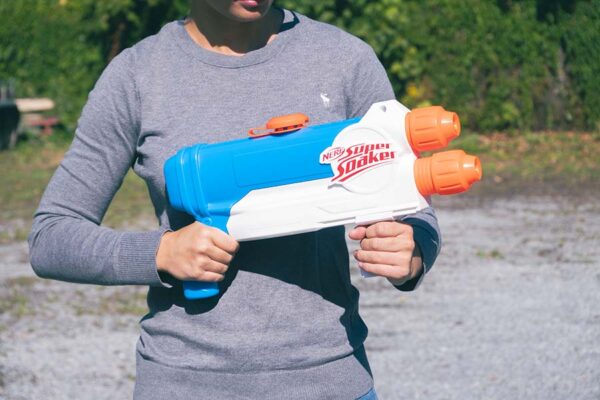 Lightweight and easy to hold, this water pistol is ideal for children and teenagers. Indeed, its two handles guarantee a perfect grip. However, we found that it takes a bit of strength to operate the pump and both hands are needed to work. Also, in our opinion, it is quite noisy when in use. According to the manufacturer, it squirts up to 10 m, but in reality, during our test, the shots were always less than the maximum distance indicated. The two outlets are not very powerful either, but they allow you to aim at the whole body of your opponents. We also regret the small capacity of the tank, although it does not empty too quickly and is very easy to fill. A small additional detail: it is possible to add a support strap, which we appreciate.
Our selection
200+ Comparisons

2000+ Products Tested

100% Impartial
Why trust us ?
Selectos compares and tests hundreds of products to help you buy better. We sometimes receive a commission when you buy through our links, which helps fund our work. Learn more
How did we do the tests?
To evaluate these water pistols, we played a battle game and put each model in the hands of people of all ages (young children, children, teenagers and adults). This allowed us to judge their handling and grip, especially in terms of size and weight.
To check the power and range, we set up several targets at different distances to see if they reached the distances advertised by the manufacturer. And finally, we took into account the practicality of the cap and its water tightness, as well as the filling time of the tank and its capacity.
How to choose a water gun?
With summer always synonymous with fun, what better way to cool off than with a water fight? Like the nerf for dry play, the water gun is very popular. But because of its success, there are many models to choose from, which makes it somewhat difficult to choose.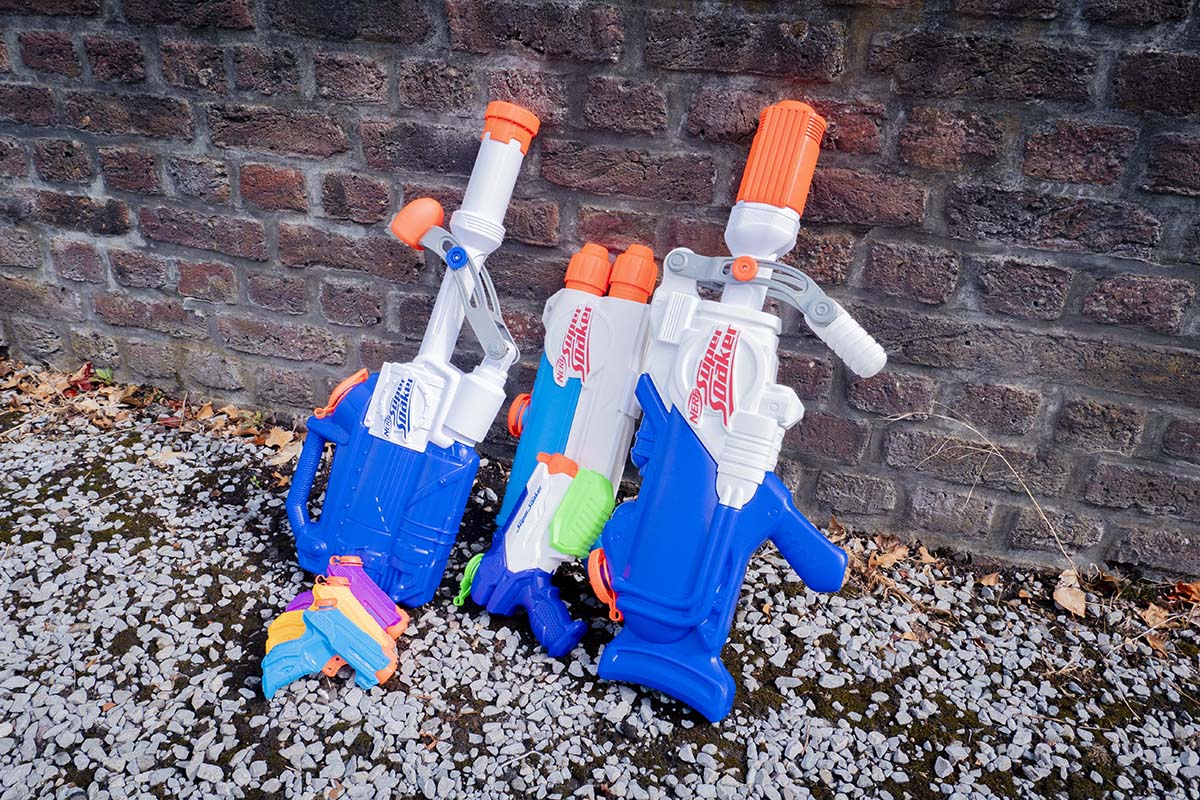 First of all, you have to determine the different types of water guns:
The pump gun: heavier and bulkier, it allows for more distant and precise jets thanks to its compressed air technology. It is therefore suitable for older children, teenagers and adults, as it requires a two-handed grip.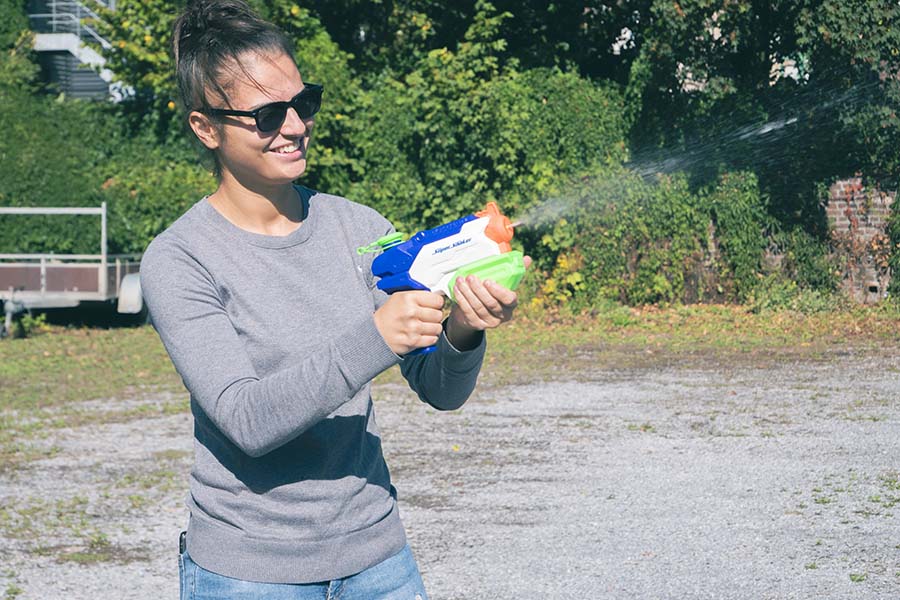 The pumpless gun: it is lighter and easier to handle, but it is not very powerful. It is more suitable for young children (under six years old).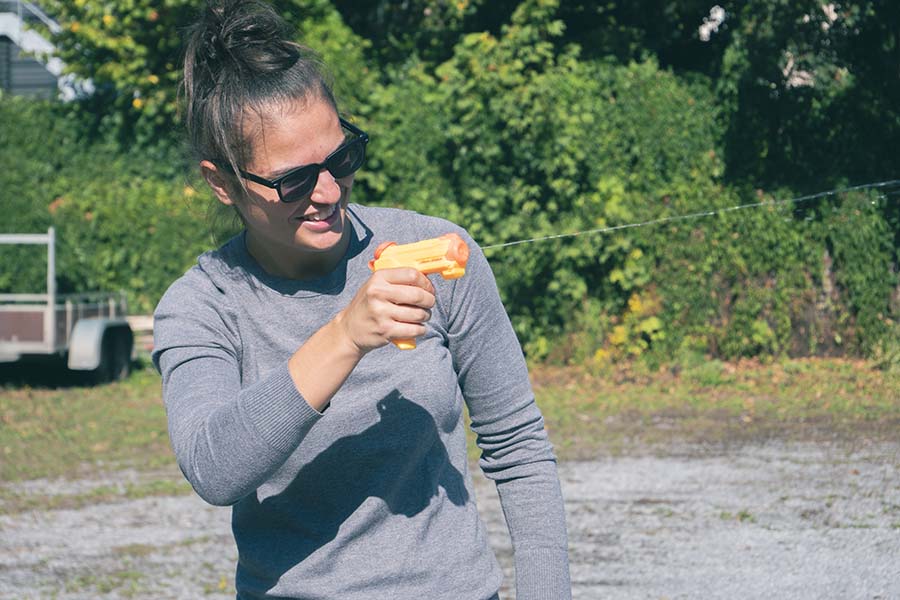 Other criteria to consider when choosing the right model are:
Power: water pistols can emit jets from 2 to 15 metres. Be careful, however, that with high power, you have to stay far enough away from your target not to hurt your eyes.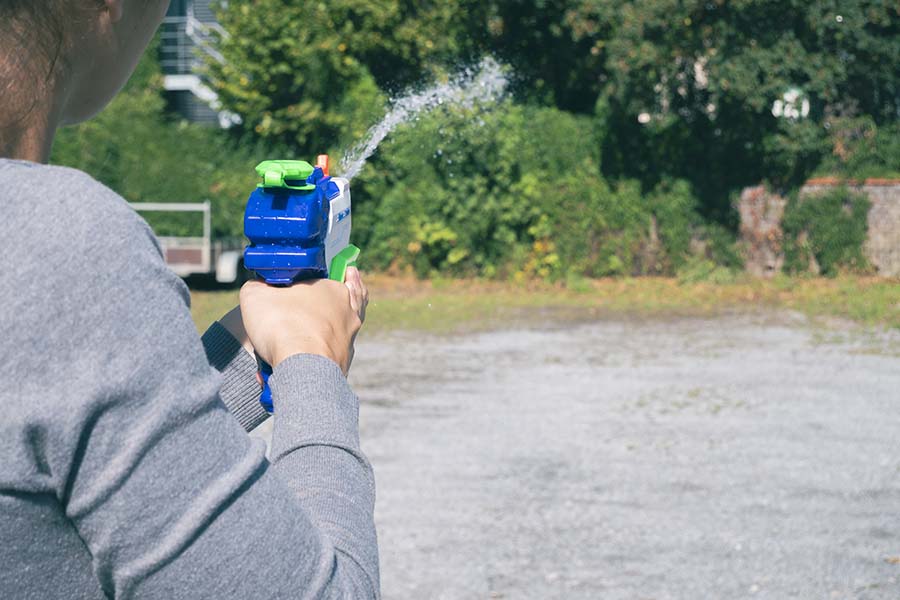 The capacity of the tank: the larger it is, the less time it takes to fill it, but it can also be heavier. Some models offer a reserve tank to be attached to the back of the gun, or even a neck compatible with water bottles. However, a 300 ml tank is already an interesting option.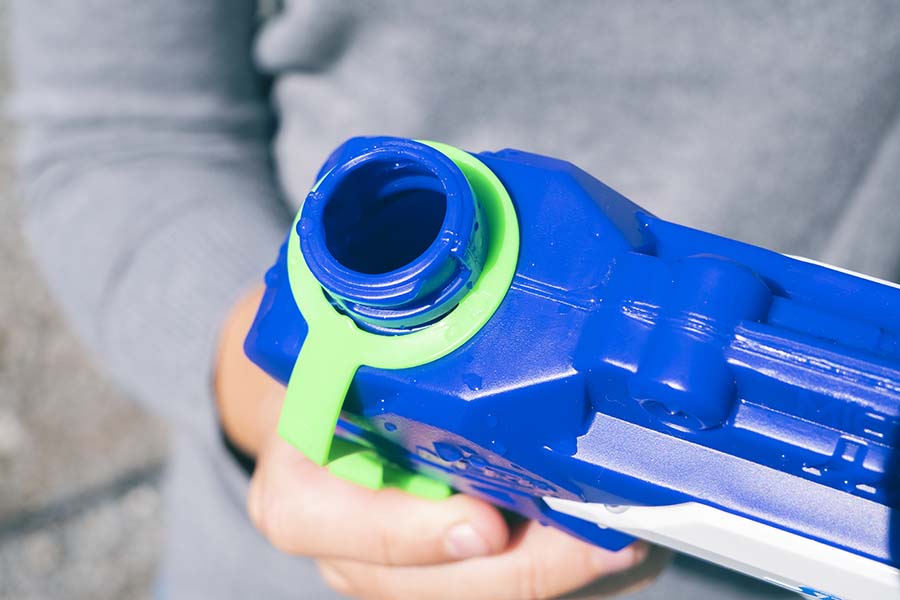 Materials: ABS plastic tends to be the most popular due to its impact resistance. Pay attention to the overall quality of the weapon, especially the trigger and grip.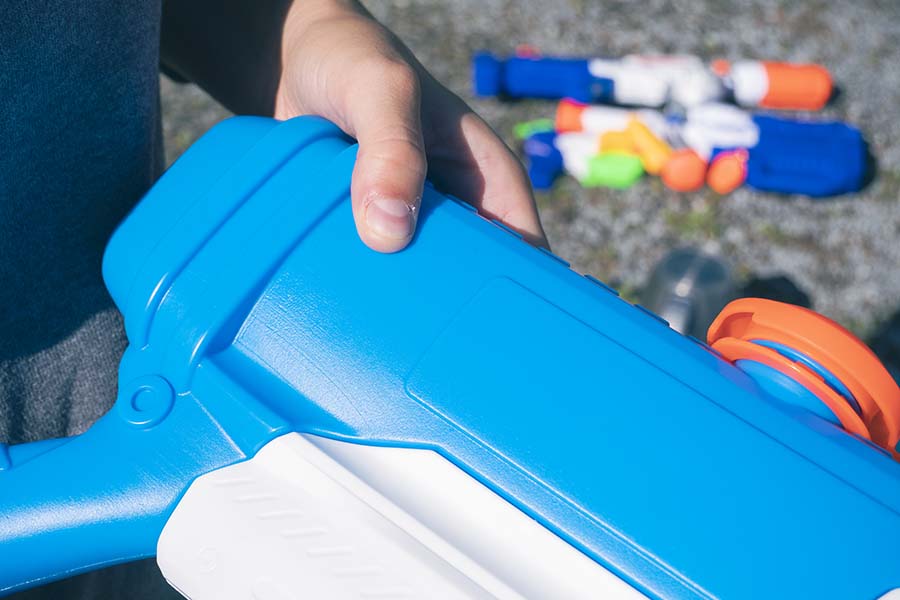 Handling: for greater comfort and ease of use, choose a gun suited to your body type. For a child, lightness and smaller sizes are preferable, as opposed to older children who can use a heavier and more voluminous gun. The unscrewing and clipping system must be simple and accessible to all.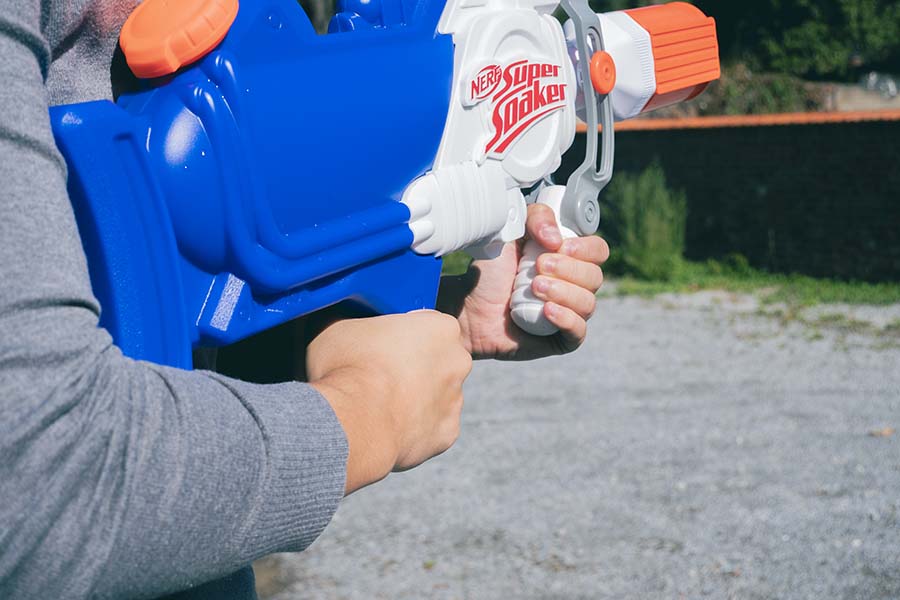 Other recommended water guns
Nerf Super Soaker Freezefire (£19.14 upon publication): a powerful alternative. This discreet-looking toy has plenty of power to send water up to 11.5m. Its opening cap is large enough to hold a few ice cubes. The filling is easy, and it is simple to use. It works without a trigger and you only need to slide the pump handle to activate the machine. Nevertheless, with its small tank (0.6 L), it empties quite quickly.

Nerf Fortnite TS-R Super Soaker (£23.72 upon publication): a design that will please Fortnite fans. With its blue and orange design, this bestseller from the Fortnite range is aimed directly at video game fans. It has a cannon that shoots water from a great distance. It is very sturdy and can be quite bulky in the hands of small children, but this does not hinder its use to any great extent. However, its 1 L tank is slightly smaller than the competition.
Nerf Super Soaker ZipFire (x3) (£12.99 upon publication): a good choice for young people. This brightly coloured model delivers small jets with a maximum range of 5-6 m. Equipped with a trigger, it is easy to use. Its tank is thin, but thanks to the small jets, it lasts surprisingly long before needing to be refilled. What's more, in our test it took us only a few seconds to fill it. Its ultra-compact size and its lightness (180 g) make it usable with one hand to play Lucky Luke… and especially handy for the youngest. On the other hand, it is not powerful enough for a big child or a teenager.
Translated by Ramsés El Hajje