Updated on August 8, 2023
Our choice, Best mid-range
Its robust, durable structure limits air loss and supports heavy loads. Its great thickness and pillow make it a comfortable add-on model, and its built-in inflator is very practical.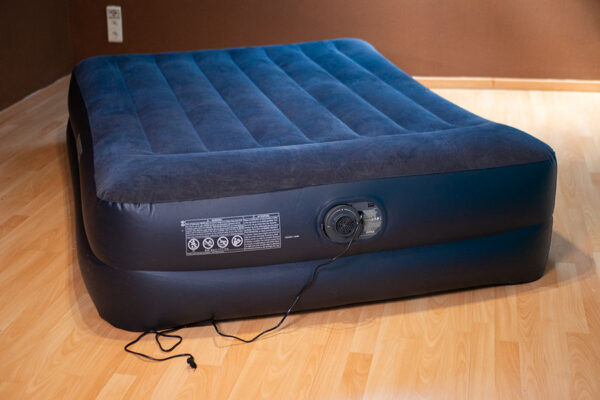 This mattress is 203 cm long, 152 cm wide and 42 cm thick. This means it's too thick to fit into a tent, but it's perfect as an extra bed for at home. The extra thickness makes it very comfortable to sleep on, and means that you can get up easily because you're elevated. Plus, in the event of air loss, you won't find yourself on the floor as quickly.
In terms of capacity, this is a 2-person model supporting up to 272 kg of load. Its dimensions and capacity therefore testify to the fact that it admits larger people. Made from PVC with Fiber-Tech technology, it boasts good material quality with improved stability and firmness. Overall, we found air retention good enough to get through several nights without having to re-inflate it.
Comfort-wise, it's advertised by the brand as belonging to Intex's "Plus" range (between the Standard and Deluxe ranges). Its horizontal honeycomb structure and soft velvet-effect flocking promise a pleasant, invigorating welcome and a comfortable sleep. During our test, we particularly appreciated the integrated pillow, which supports the cervical spine and offers added comfort. However, we did get the impression of sinking slightly when we were on the edges.
Weight-wise, it weighs in at 5.85kg, which is too heavy for hiking gear, but still decent given its thickness and accessories. It comes with a storage bag and a removable electric inflator integrated directly into the structure. It inflates and deflates quickly (about 3 minutes for inflation), with the desired action selected by turning the knob. However, the power cable is a little short in our opinion.
The different inflatable mattresses we tested.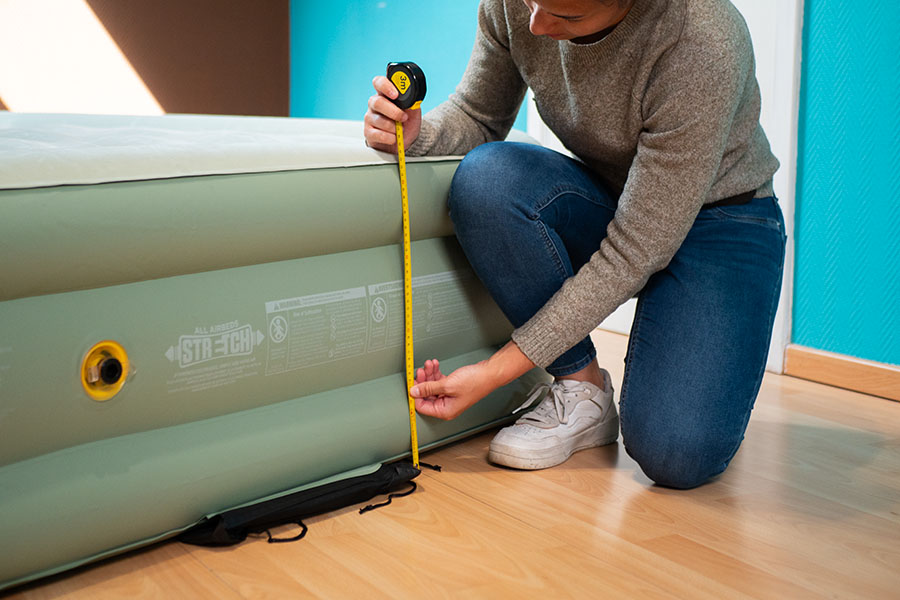 We measured each mattress.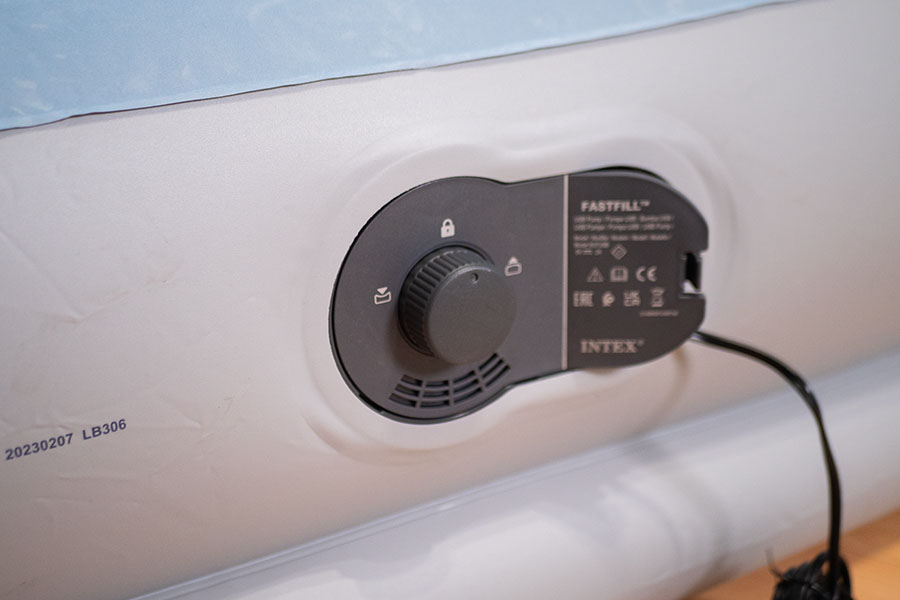 We analyzed the inflation system and time.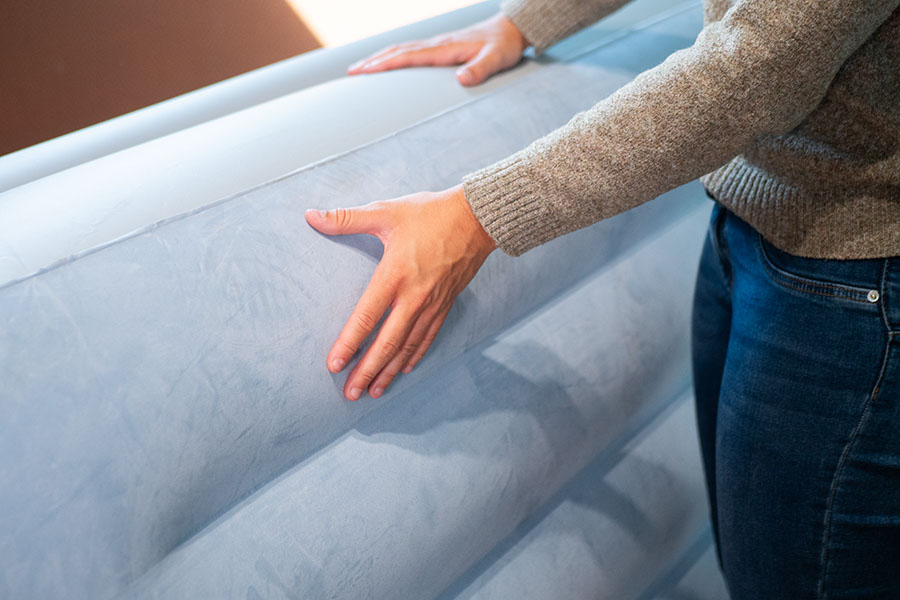 We evaluated the surface quality.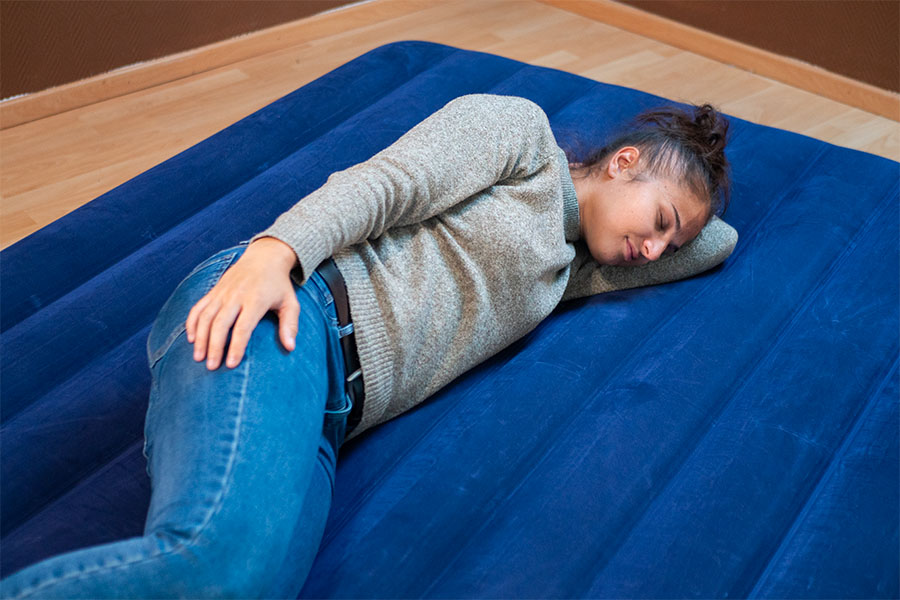 We tested the comfort of each mattress.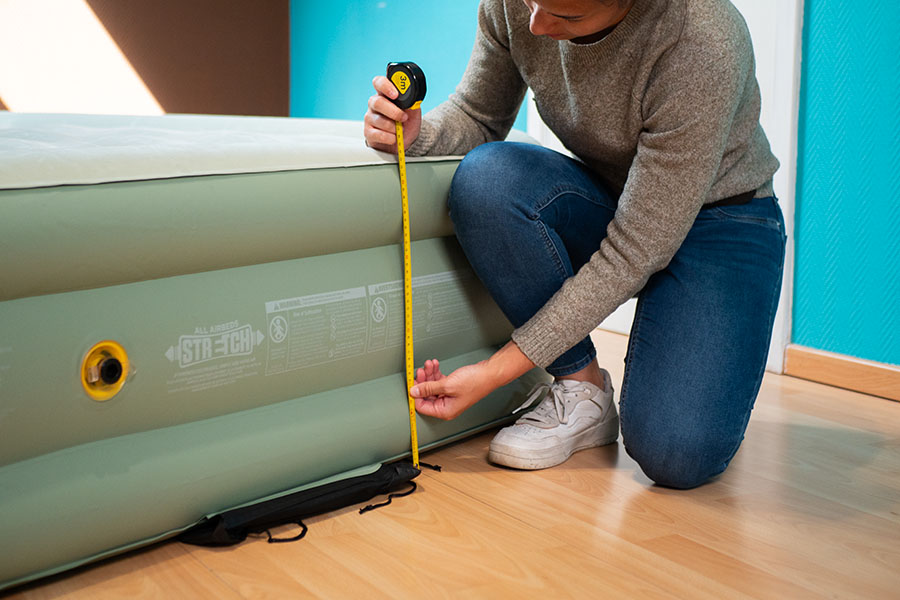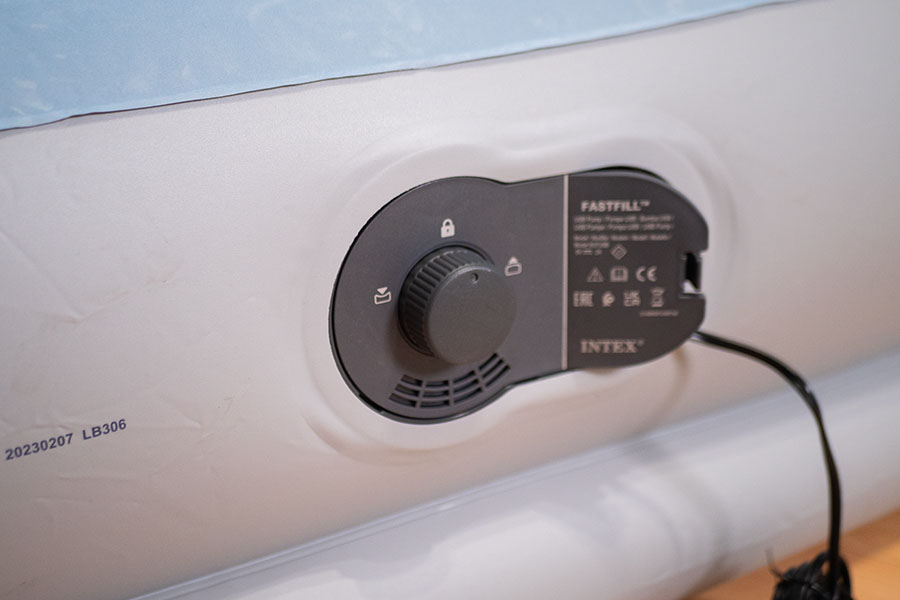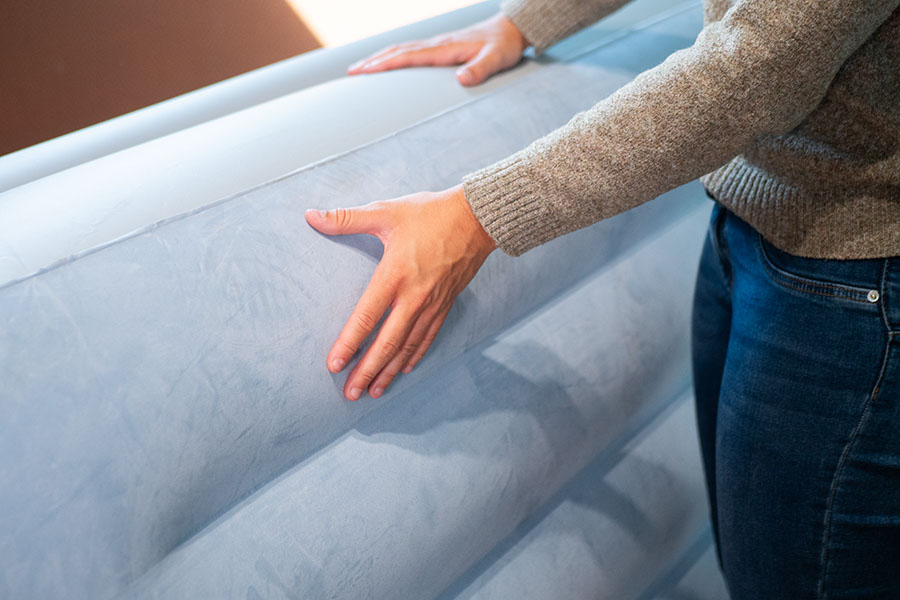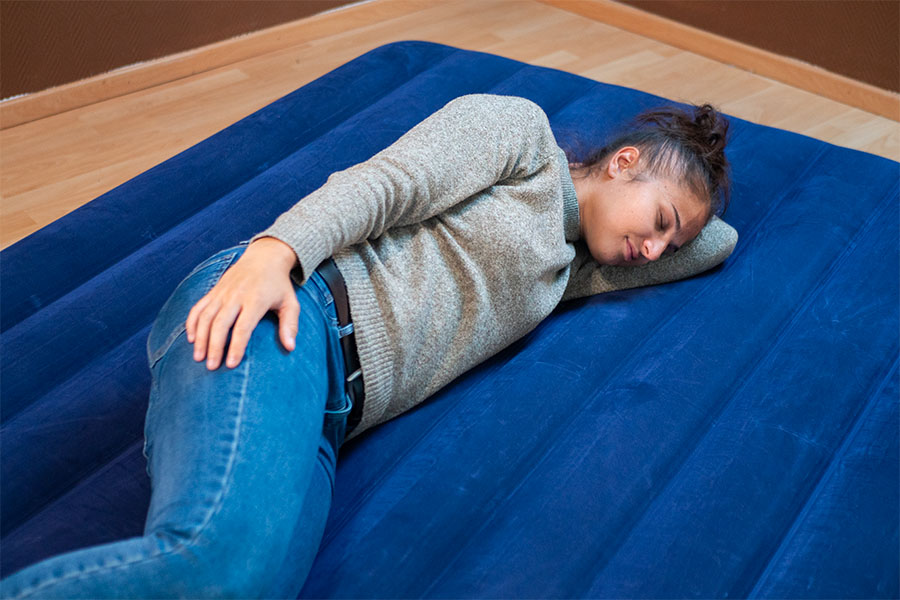 Best cheap
Offered at a mini price and very light, this is an ideal mattress for occasional hiking. It is nonetheless sturdy and reliable, and its dimensions are interesting at this price.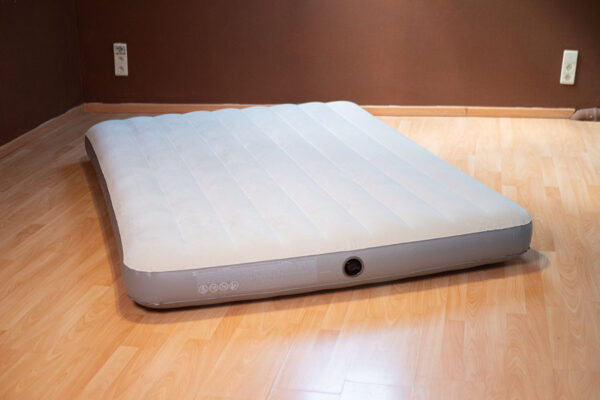 With its 152 x 203 cm and 25 cm thickness, this model has good dimensions for its price and admits 2 people with a maximum supported load of 272 kg. Suitable for camping, hiking or trekking, its low weight (3.71 kg) makes it easy to transport.
Classed in Intex's "Standard" range, it offers satisfying comfort and its soft velvet-effect surface is pleasant to the touch. What's more, you won't sink into it near the edges. The PVC bottom and Fiber-Tech technology reinforce its structure, making it more durable, stable and comfortable.
During our test, we found that it remained sufficiently inflated after a night's sleep. What's more, the 2-in-1 valve has wide openings and allows rapid inflation and deflation. As such, it can be inflated with a manual or electric inflator, but no pump is supplied, or even any accessories.
Best top of the range
Ideal for a guest room at home, this super-thick model offers unrivalled comfort, great stability and high resistance thanks to its careful design that avoids air leaks as much as possible.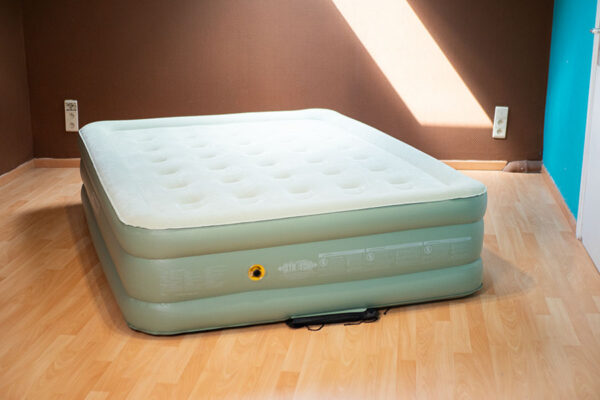 This 2-person Queen Size mattress has approximate dimensions of 198.1 x 152.4 cm and a thickness of approximately 45.7 cm. While its length is a little shorter than other models, making it less suitable for very tall people, it is the thickest in this comparison, allowing you to get up easily and enjoy greater comfort. Of course, it's too thick to be integrated into a tent and too heavy (6.7 kg) to be used for hiking or trekking, but it's an ideal auxiliary model for the home. With this great thickness, there's no risk of finding your butt on the ground at the end of the night.
With a maximum load capacity of 272.2 kg, it admits people of a heavier build. Designed in PVC with high-quality materials and a reinforced structure, it's waterproof, strong, tear-resistant and therefore durable. The Double Lock valve and Air Tight system prevent air leaks, and in our test we found it held its loft well.
Our first impressions spoke directly to its great comfort and overall good stability. Indeed, you don't sink in near the edges, and the velvet-like surface is soft and pleasant. In terms of transport, it folds up compactly thanks to the Wrap N-Roll storage system, and there's a storage bag attached to the mattress. Unfortunately, there are no other accessories, which is unfortunate at this price. Coleman recommends using one of their rechargeable or 120V air mattress pumps to inflate this model.
Cheap alternative
Its thickness/quality/price ratio is very interesting for occasional use when hiking or camping. What's more, it's lightweight, inflates quickly and limits air loss.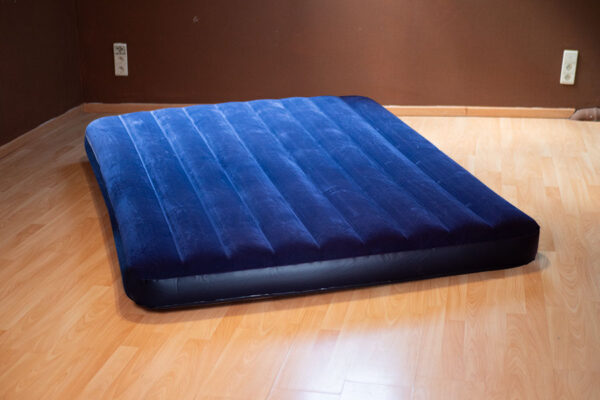 Available in several sizes (Standard, Queen Size and King Size), this 2-seater mattress has a satisfactory thickness (25 cm) for its price. It is therefore suitable for most people, and can support a maximum load of 272 kg.
In addition, it stores easily and remains light enough (only 4 kg) than to be taken hiking, trekking or camping (in a tent). Part of Intex's "Standard" range, it offers decent comfort, and its soft velvet-effect surface with horizontal honeycombs is pleasant to the touch. The inner structure is reinforced with Fiber-Tech technology, providing greater resistance, durability, stability and firmness.
During our test, we found that it remained relatively well inflated at the end of the night, indicating little air loss. What's more, the 2-in-1 valve makes inflation and deflation quick and easy (especially with an electric pump). Unfortunately, no accessories are supplied by the brand.
Our selection
200+ Comparisons

2000+ Products Tested

100% Impartial
Why trust us ?
Selectos compares and tests hundreds of products to help you buy better. We sometimes receive a commission when you buy through our links, which helps fund our work. Learn more
How did we test?
To test the air mattresses, we placed users of different builds and sizes to assess comfort and dimensions (length, width and thickness). This allowed us to see whether it was a booster mattress or a camping mattress. We also judged the ease of transport through their weight and bulk when folded.
By placing a consistent and equivalent load on each model overnight, we observed air retention. Aside from that, we assessed the quality of the surface (softness, messy or not, shape, etc.) and also went to the edge to see if they provided support and stability in all areas of the mattress.
With regard to inflation, we measured the inflation time for each mattress (although this varies according to the desired firmness). Finally, we took into account the accessories supplied with the purchase or integrated into the structure (inflator, storage bag, repair kit, pillow, etc.).
How to choose an inflatable mattress
Whether used as camping equipment or as a simple extra bed, the inflatable mattress is very popular on the market. Many brands try to stand out with ever more innovative models, but regularly have to contend with air loss.
To choose the one that suits you best and provides the most comfort, we've made a list of criteria to consider:
Dimensions:

there are several sizes, from the famous single-person model (90 x 190 cm) to Queen Size (160×200) or King Size (180 x 200 cm) for two users.

Thickness:

the thicker it is, the greater the comfort. Indeed, if it's too thin and faces air loss, you can quickly find yourself with your back to the ground. And the higher it is, the easier it is to get up. From 16 to 38 cm, it's more of a camping model (a thick mattress is not recommended in a tent). Above 38 cm, it acts as a real extra bed.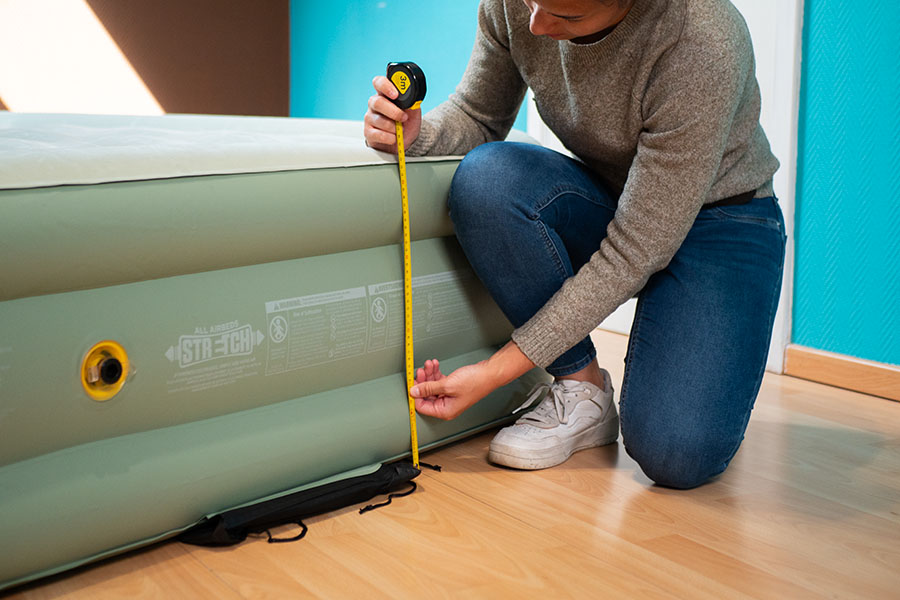 The quality of the materials:

generally, they're designed with vinyl or PVC. Several technologies incorporate thousands of fibers or numerous air springs for added comfort, stability, strength and durability. Velvet is regularly chosen to cover the sleeping surface, as it is very pleasant to the touch. Since tearing is common, a multi-layer material is more resistant to perforation. Materials also determine its air-holding capacity and waterproofing, an indispensable notion for camping.

The inflation system:

it can be inflated either via the mouth, using a manual pump, or with an electric inflator. In the latter two cases, manufacturers often promise inflation in under five minutes, depending on the desired firmness. The third solution requires less effort, but is noisier. A 2-in-1 valve allows deflation. Note that your mattress will need more or less recurrent inflation depending on outside temperatures.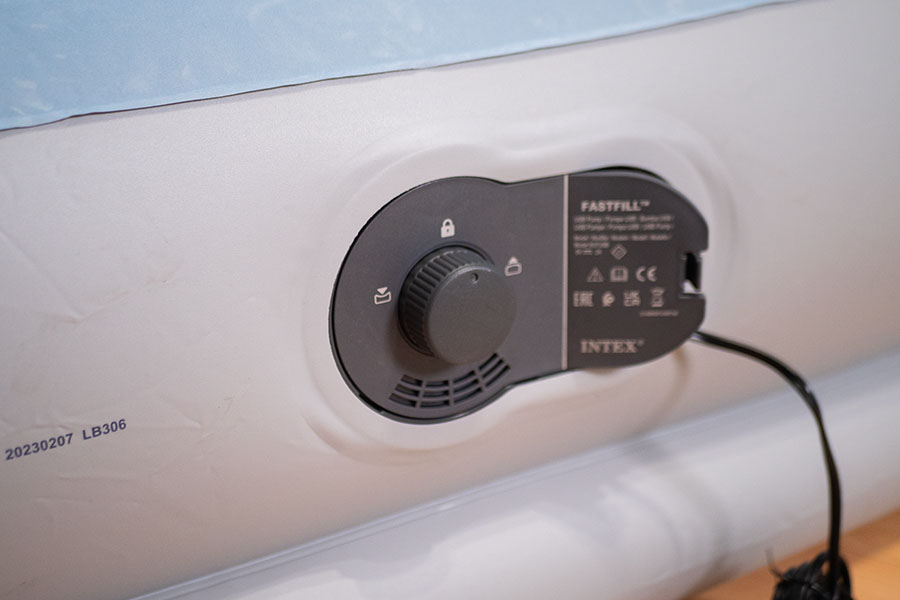 Weight:

this element is related to the volume of the mattress and the quality of the materials, as these influence its weight. While this is not a determining factor for home use (although storage becomes complicated above 7-8 kg), a lighter model (4-5 kg) is recommended for hiking and trekking.

The accessories:

generally, the manufacturer supplies several accessories. Among the most popular are a storage bag for easy transport, a pump and a repair kit to alleviate problems caused by abrasions. In addition, some offer a pillow integrated into the design for better cervical support.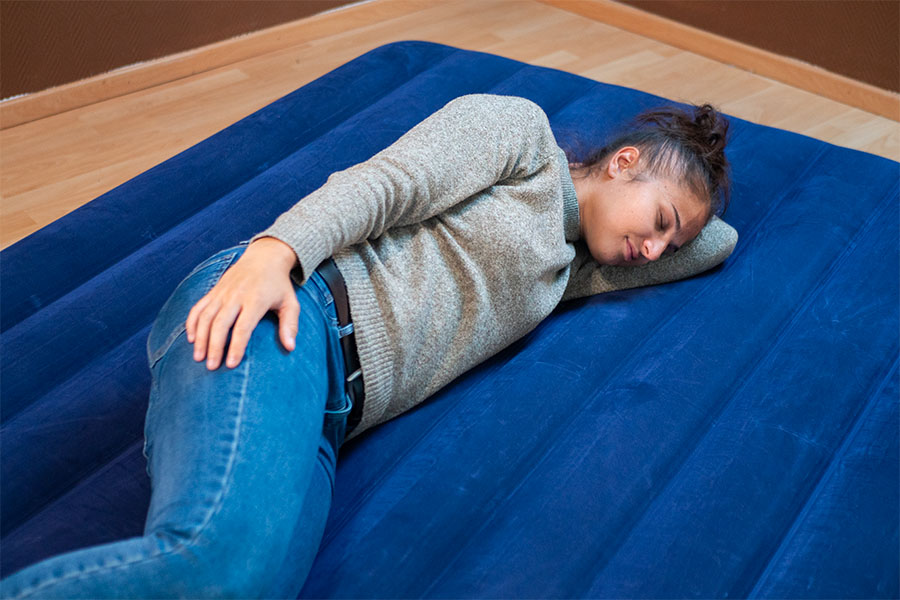 Other air mattresses we recommend
Quechua Air Comfort 140 cm (€45.00 at time of publication) : Good for hiking or trekking. its dimensions of 200 x 140 cm allow it to accommodate 1 to 2 users (although you'll be a bit cramped with 2). On the other hand, it's quite thin (only 17 cm thick), and in the event of air loss, you're likely to end up with your bottom on the floor. It's therefore less suitable for heavier people, who risk losing too much air to go a whole night without touching the ground. During our test, we also found it harder to get up. But the advantage of this thin, narrow mattress is that it fits easily into a tent. Weighing in at 4.2 kg, it's also easy to transport on hikes or treks, especially as a carry bag is included. In terms of comfort, it's fairly breathable and its surface is pleasant to the touch. Overall comfort is decent, although other models in its range have done better. Made from PVC, the 2-in-1 non-return valve ensures rapid inflation and deflation, and in our test we recorded a time of around 2 min for inflation with an electric pump.
Intex Dura-Beam Plus Mid-Rise Comfort Air Mattress (€45.50 at time of publication): Another interesting option with integrated inflator. It's available as a single or double model, and boasts a comfortable 36 cm thickness, allowing you to stand up easily and not touch the ground in the event of air loss. This makes it suitable for heavier people, but we found the length of the single model a little too short for taller people. Classed in Intex's "Plus" category, it guarantees good sleeping comfort, with a velvet-effect surface that's pleasant to the touch. What's more, you won't sink in when you're lying close to the edges. Designed in PVC with a ground ring and Fiber-Tech technology, it boasts superior stability, and in our test we found that it lost little air and remained sufficiently inflated after one night. In terms of accessories, we're quite satisfied, since it comes with a carry bag and incorporates a USB electric pump in its structure that inflates and deflates the mattress. Despite this, you'll need a USB-A charger, and the inflation time is a little longer than for other mattresses (around 4 minutes for the single model).
Other inflatable mattresses tested
Quechua Air Basic 140 cm (€30.00 at time of publication): Its dimensions are too limited, whether for 2 people or for larger sizes. What's more, it's very thin (16 cm). As a result, you soon find yourself on the ground in the early hours of the morning due to air loss, and it's harder to get up again. Even so, its small size and light weight (4 kg) make it ideal for hiking or integrating into a tent.