GOOD POINTS
Ergonomic and elegant

Excellent display quality

Long battery life

Easy to use

Wireless charging

Accurate accelerometer

Many connected functions

Good responsiveness
NEGATIVE POINTS
Quite bulky on the wrist

Software could be improved

Inaccurate heart rate

Does not allow answering messages
Summary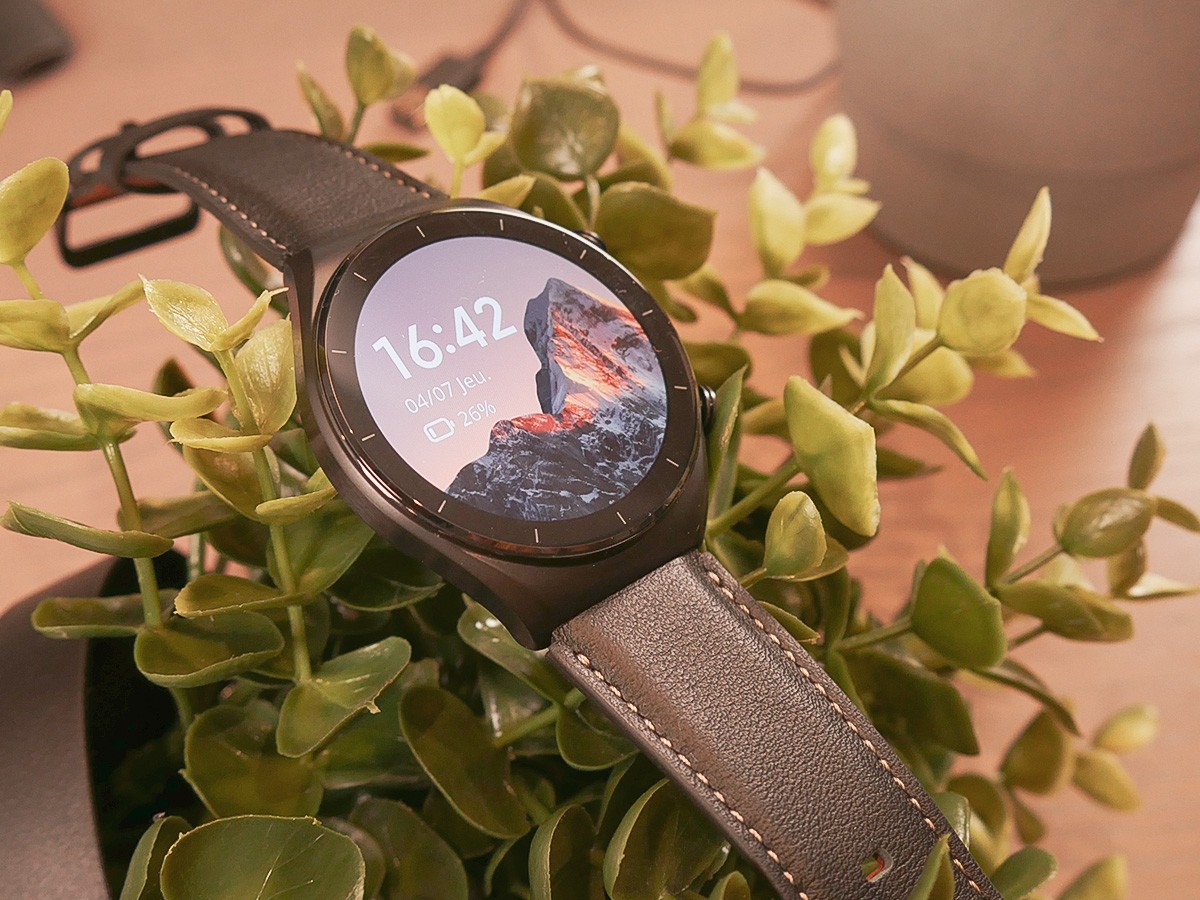 Design
This 52-gram smartwatch has a sleek, urban aesthetic, with a fairly slim circular stainless steel dial. Compared to the Active version, which has a sportier look, its materials are of superior quality. It does feel a little bulky on women's wrists. When it comes to the format, it is generally more suitable for men.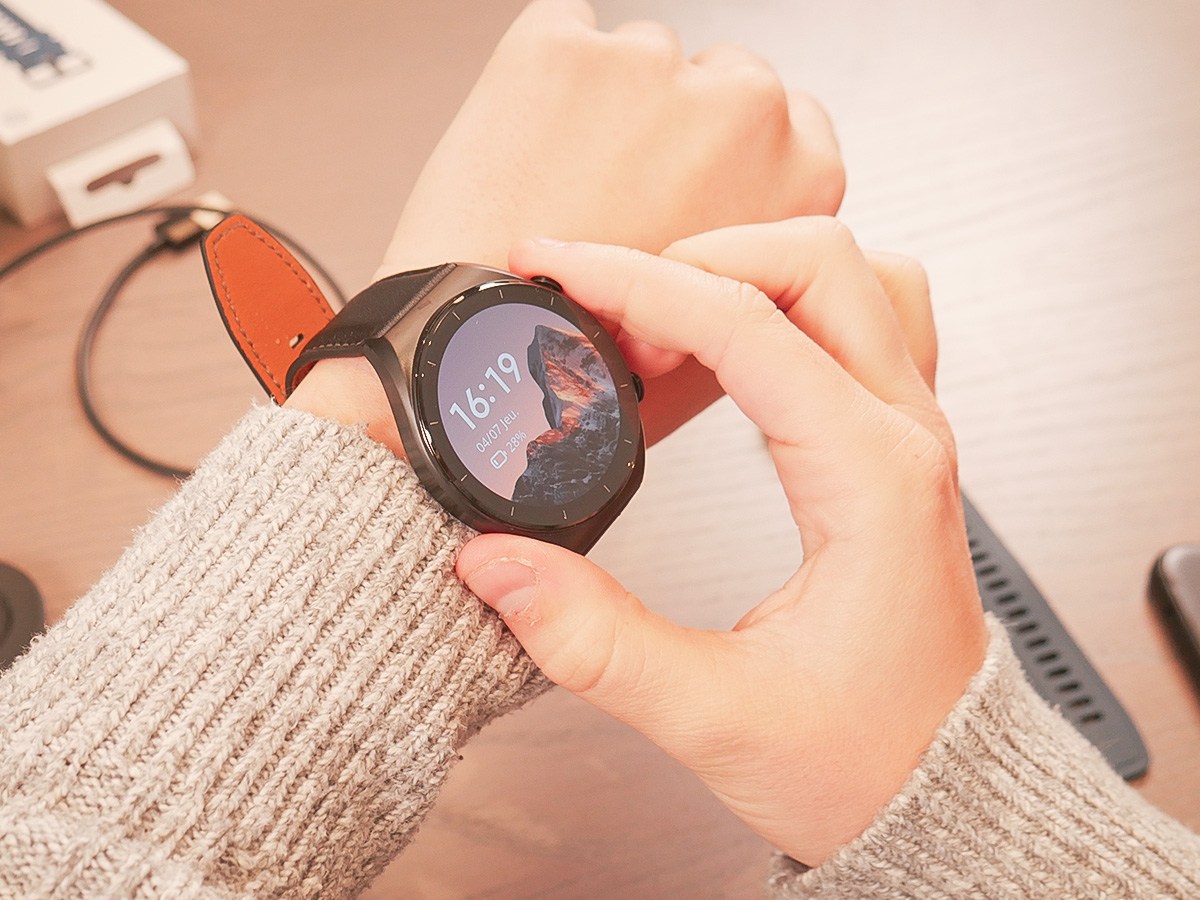 Two straps are included with the purchase: one in leather, which goes well with an urban look, and one in fluorinated rubber, which is more suitable for sports. The attachment system is classic and the strap can be changed quickly.
With its 5 ATM certification, it is resistant to water, dust and sweat. So you can wear it in the shower or in the pool, but it is not designed for diving or other high-pressure water activities. Finally, it has a handy feature that allows you to "squeeze out" the last drops when it has been exposed to water.
Like the classic version, the 1.43″ AMOLED display has a resolution of 466 x 466 px, making for a comfortable reading experience in the dark as well as in the light, thanks in part to the ambient light sensor. The light can also be manually adjusted in five levels. In addition, the sapphire glass protects the screen well from scratches, a material not found on the Active version.
The Mi Watch S1 has an Always On smart display that turns on automatically when you raise your wrist. The dial is also customisable. In addition, you can adjust vibration, lock and sound directly on the wrist. Xiaomi has a built-in Do Not Disturb (NPD) mode and offers the option to set a PIN code.
The watch has a responsive touch interface that is manipulated with scrolls and swipes. It also has two side buttons on the right that access widgets and sport modes (or anything else, as it is customisable). In case of problems, you can rely on the Alexa voice assistant.
The menus are intuitive and easy to navigate. Several languages are available, including Spanish. Finally, we found the RTOS operating system to be fluid, but unlike Wear OS, for example, its app library is very limited (only three apps at the moment).
Fonctions
With Wi-Fi and Bluetooth 5.2 AptX connectivity, the S1 syncs very quickly with the My Fitness app (iOS and Android compatible) via QR code. However, it does not have ANT+ technology.
The Mi Fitness app (which replaces Mi Wear) is very intuitive. It is divided into four tabs: "Health" with health data, "Workout" with a list of all your activity sessions, "Device" with widget settings and "Profile". For your information, Mi Fit has been replaced by the Zepp Life app.
The data is automatically synchronised, which makes it even easier to use. The watch is quite independent, allowing you to view a lot of information from your wrist.
To bring all the information together, it is possible to synchronise the collected data with other sports or health apps such as Strava or Apple Health, among others.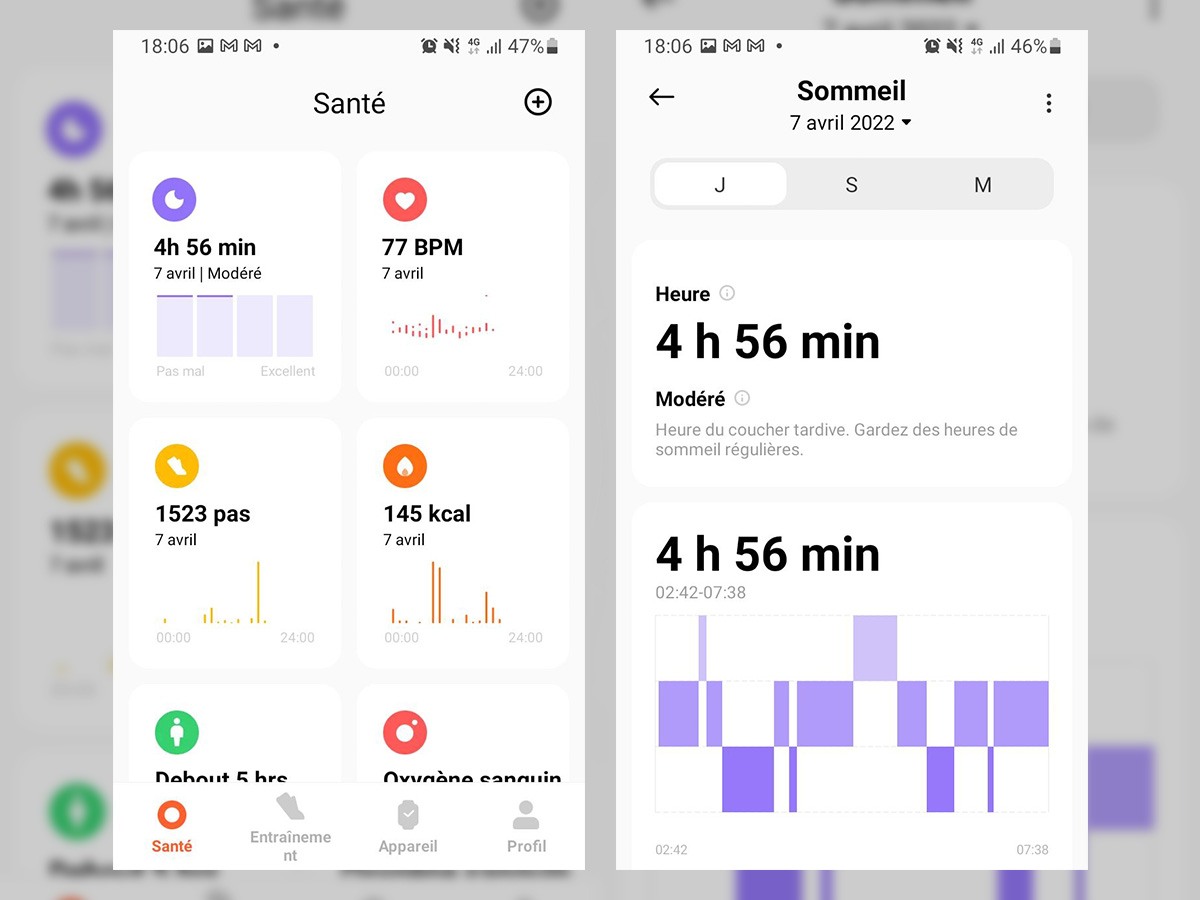 There are a number of health options, including sleep analysis. In our tests, bedtimes/ wake times were well identified, but it sometimes failed when someone got up in the middle of the night.
Once you open the app, you can track the course of your night. In fact, the watch details deep, light and REM sleep times, although the deep sleep time tends to be a little high. During the night, the watch also measures your blood oxygenation level (SPO2) and heart rate. For more complete statistics (a history is available).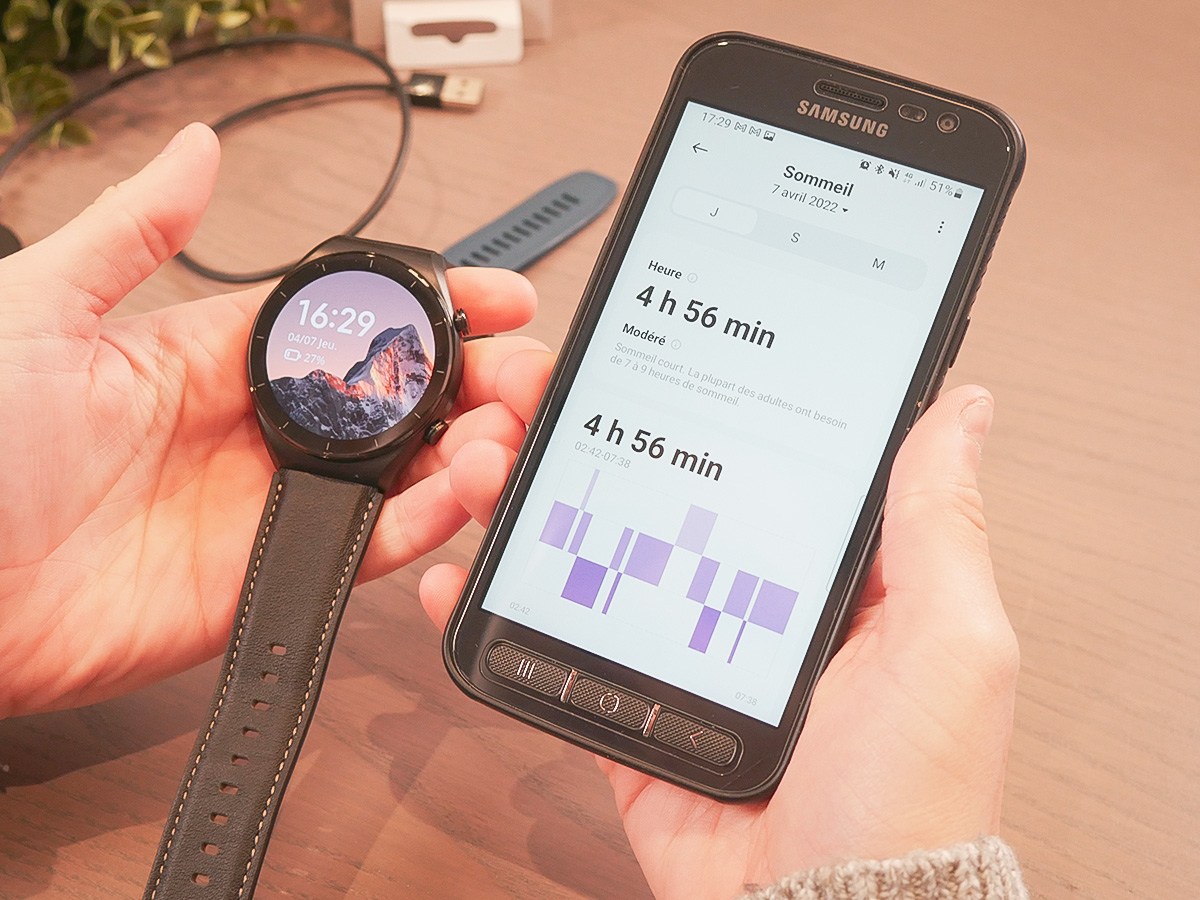 Another interesting option for women is health monitoring based on a calendar with estimates of menstruation, ovulation and the fertile period. You can add symptoms or set reminders based on your own cycles.
Xiaomi also has a blood oxygenation sensor (SPO2) to see how your body acclimatises at altitude. In addition, this model has a stress sensor, as well as the traditional breathing exercise that consists of a few repeated breaths based on a pattern and according to a predefined duration and speed.
In terms of physical activity, we were particularly impressed by the accelerometer, which showed a margin of error of less than 1% in the step count.
The app and the smartwatch provide daily data, including statistics on calories burned, the number of steps taken and the number of times you've been stationary or on the move.
Its barometric altimeter is useful for checking altitude and atmospheric pressure, and it also has a built-in electronic compass. These are two interesting features for mountain sports or orienteering enthusiasts.
The dual-band GPS sensor has good accuracy and is not as affected by wooded areas when plotting routes. In addition, the signal picks up fairly quickly and is compatible with the five most popular positioning systems (including GLONASS, GALILEO, BDS and QZSS).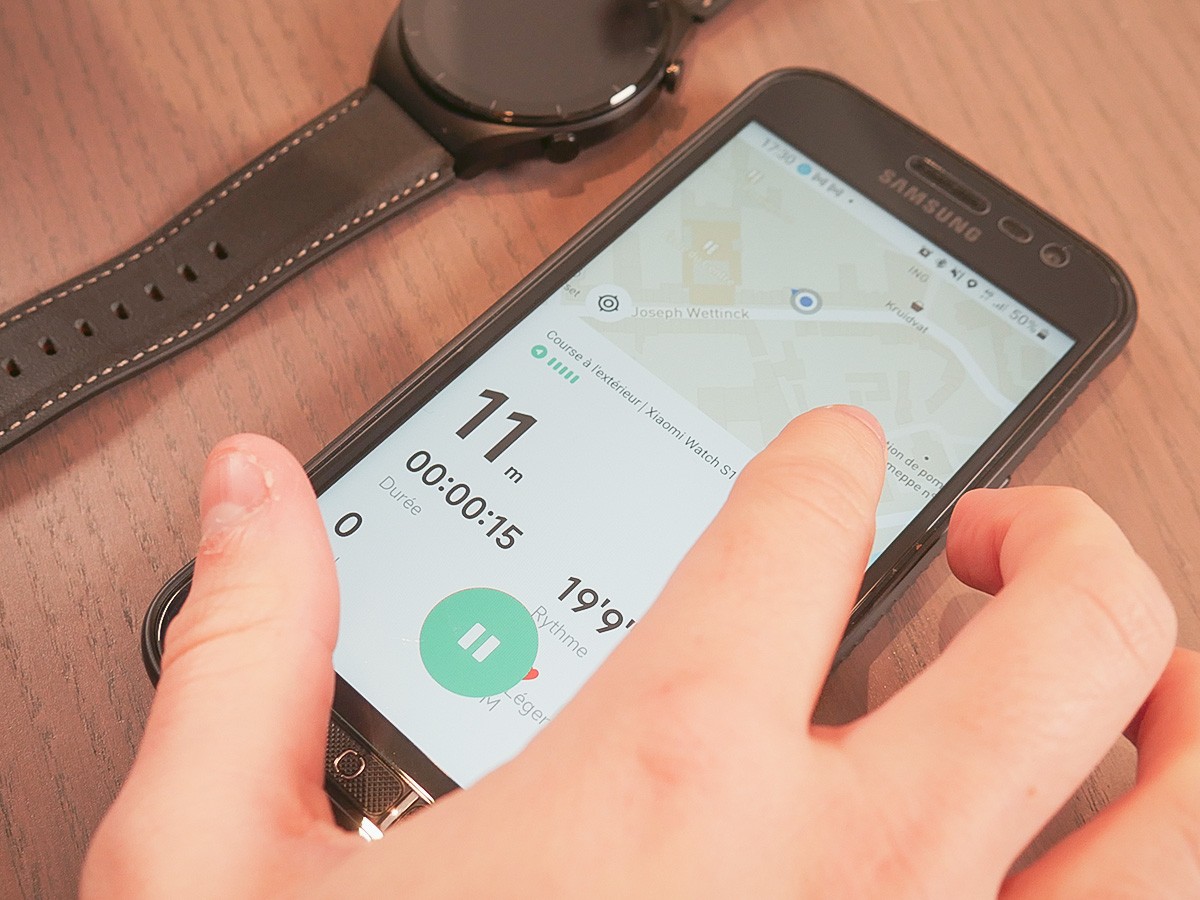 The Mi Watch S1 features 117 sports disciplines, including 19 professional training modes. There are several modes related to running, cycling, swimming and fitness, but also water sports, outdoor activities, combat sports, ball sports, winter sports, recreational sports, motor sports, various types of dance, and so on. It even has a mode for triathletes, but no a multisport mode. Activity history is available on the wrist.
As for its advantages, it can detect the start of an activity or automatically recognise the swimming style.
We were able to test the outdoor running mode. To begin with, all the information is easy to read during training.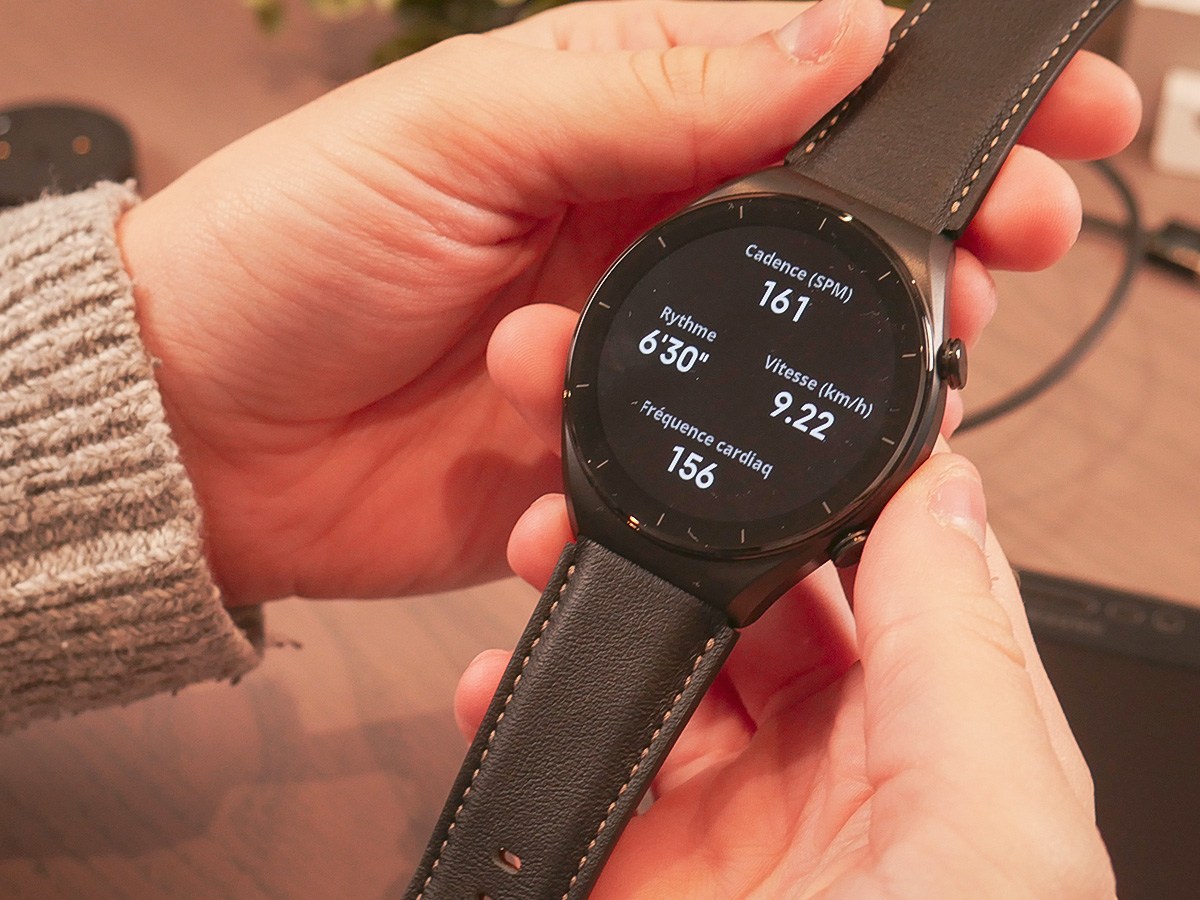 You will get the classic data of your activity with some graphs (distance, speed, pace, cadence, altitude/level, etc.), but it does not necessarily go into great detail. There is, for example, no power measurement.
The calories lost are a little exaggerated, while the heart rate (measured continuously) is more inconsistent. If at rest it seems fairly reliable, during activity it is far from reliable, especially in split sessions (one of Xiaomi's major weaknesses). For greater precision, you should know that this model is compatible with external sensors.
All this is accompanied by a stopwatch, a timer and several inactivity alerts.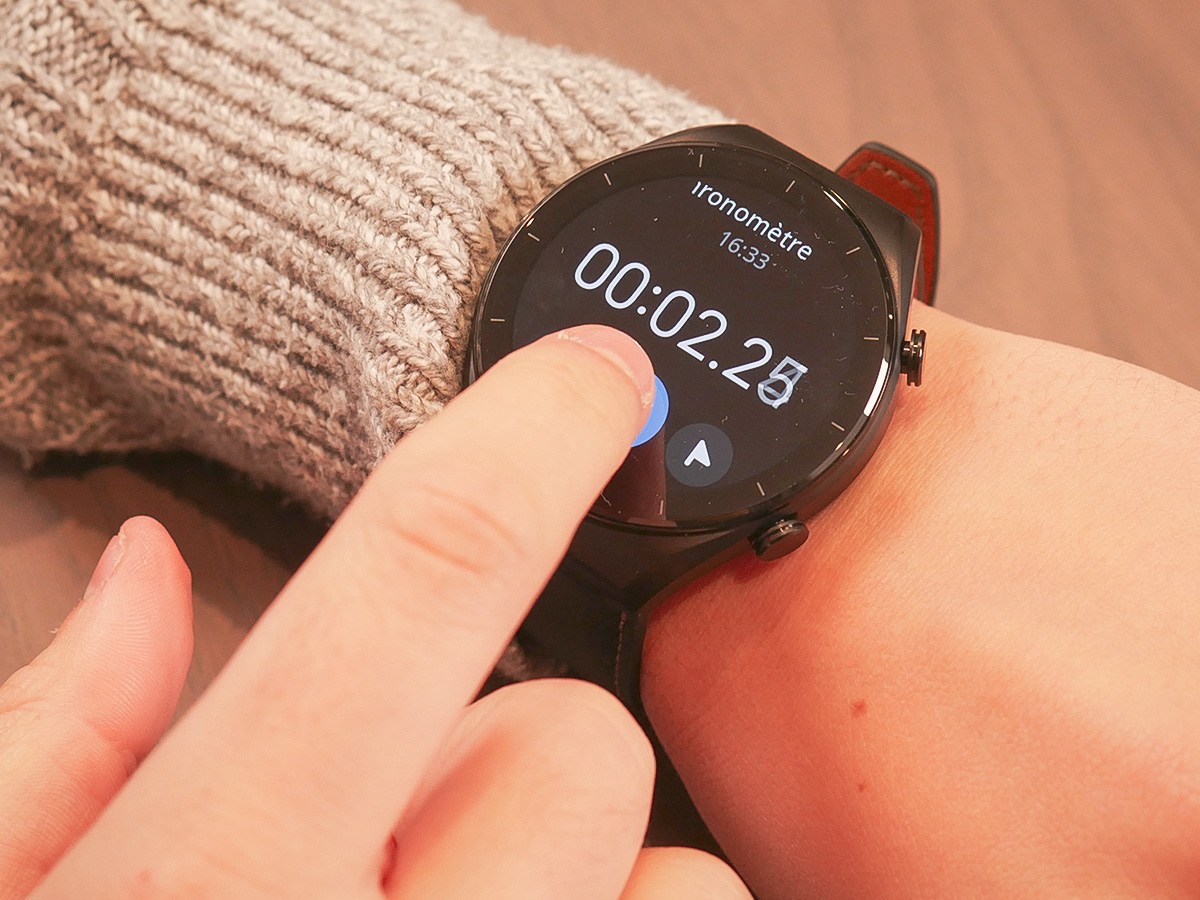 Let us now turn to the connected functions. First of all, there is a microphone and a speakerphone for making calls. For the latter, voices are audible and ambient noise is well filtered, but like all smartwatches, the volume is quite low. It also receives messages and notifications from social networks in clearly legible characters, but it is not possible, for the moment, to answer them.
Thanks to the integration of an NFC chip, it is possible that contactless payments (via Mastercard and other partner banks) will be possible in the future, but this is not yet available in the UK.
In addition, you can set alarms, control your smartphone's camera remotely, locate it or connect headphones.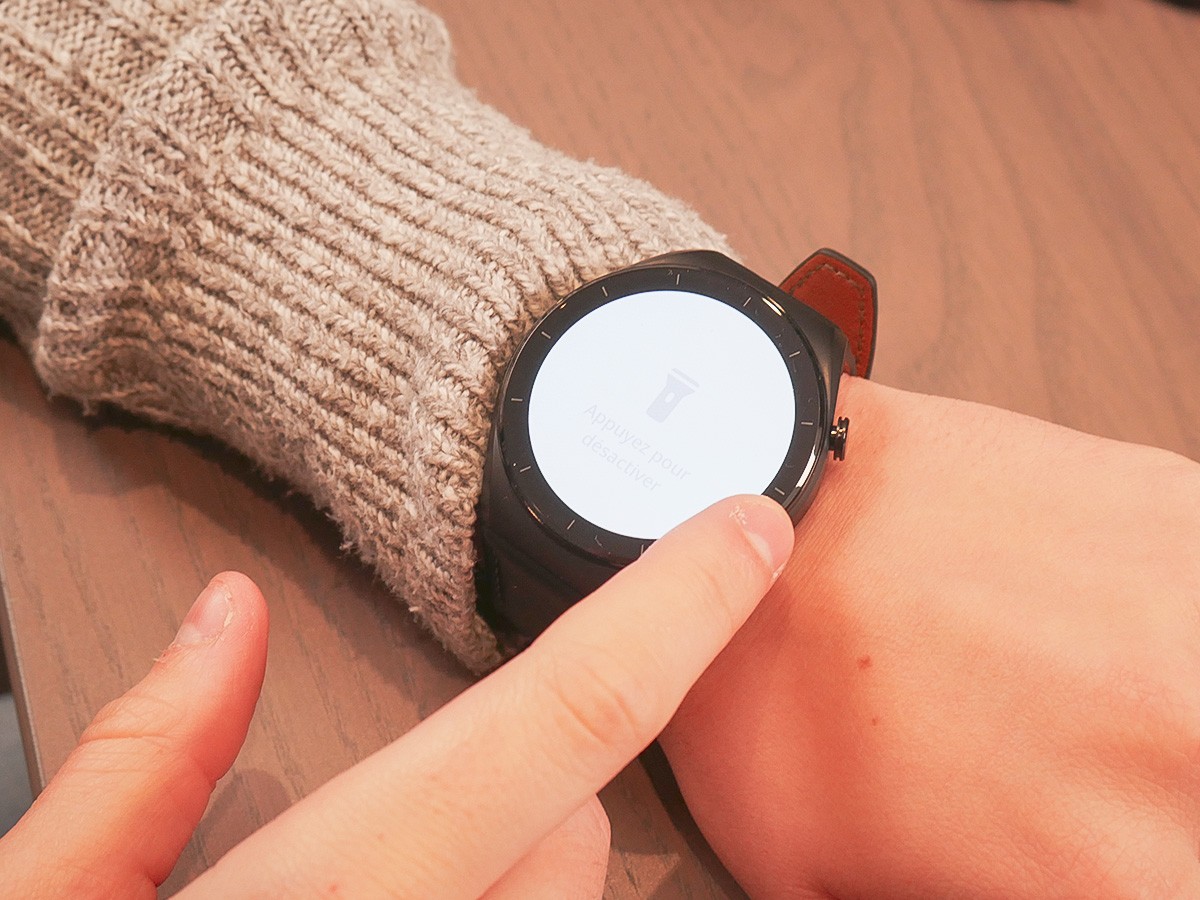 The pocket torch function works, but it's really just the screen on with a blank background. Obviously it's not as good as a real torch, but well…
On the other hand, the S1 allows you to control the music (playback and volume) on your smartphone (Spotify, Youtube, etc.) with good responsiveness.
Finally, you have access to the weather forecast for the next four days with a daily index of air quality, temperatures, humidity levels and sunrise and sunset times.
Battery life
Xiaomi claims a battery life of 12 days in smartwatch mode, 24 days in standby mode and 30 hours with GPS activated. In practice, it will last between 9 and 12 days with 30 minutes of physical activity every other day and normal, even regular use.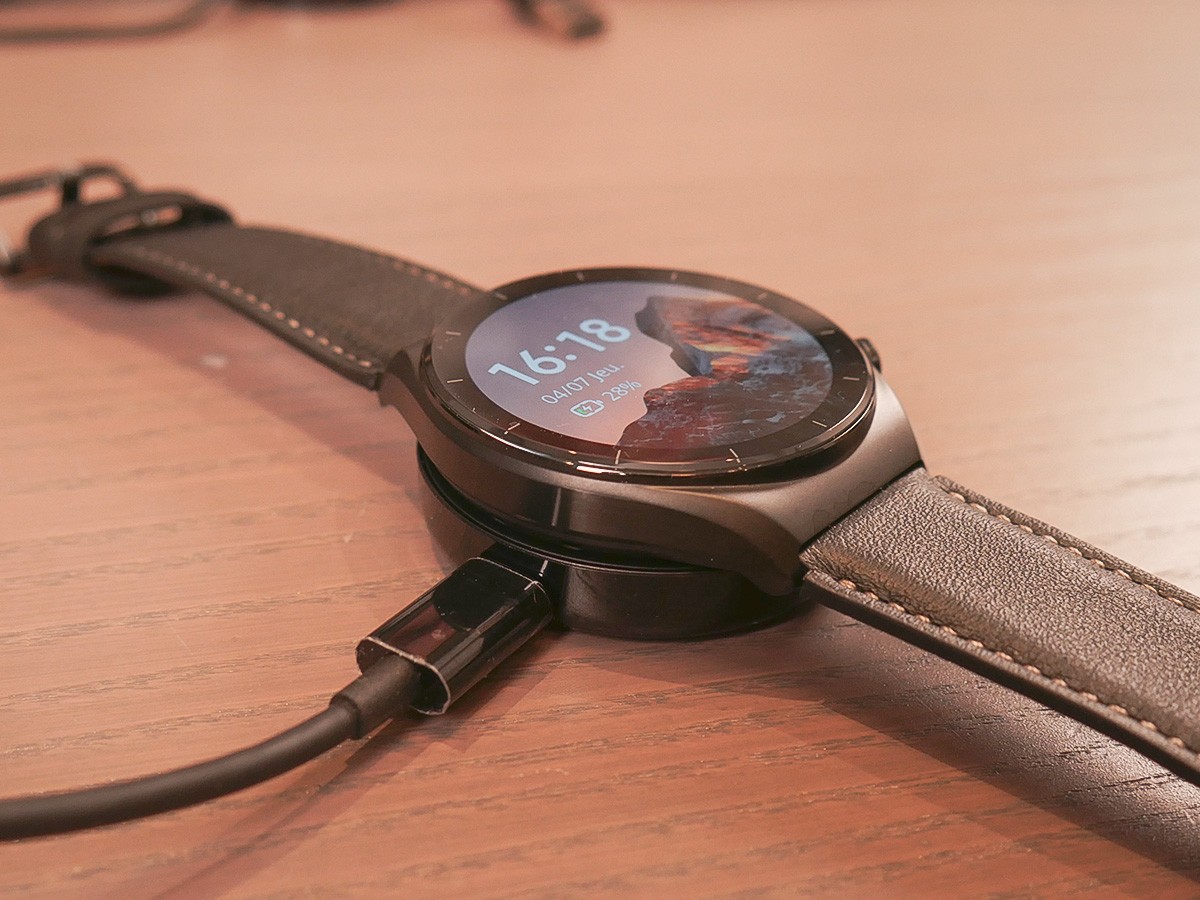 It is obvious that the more the GPS is used and the more continuous measurements or constant display is activated, the more battery power is consumed. You can check the battery status from the display.
It supports wireless charging technology (a handy charging pad is included with purchase) and goes from o to 100% power in 2 hours.
Conclusion

The Xiaomi Mi Watch S1 has a high-quality design, a comfortable reading display and an excellent battery, as well as a very interesting price/performance ratio. We particularly appreciate its large number of connected functions, its ease of use and its good responsiveness.

However, it is a rather bulky watch for people with slim wrists. In addition, the heart rate measurement is mediocre, as is the software experience. Fortunately, the brand is working to alleviate these bugs with future updates.

GOOD POINTS

Ergonomic and elegant

Excellent display quality

Long battery life

Easy to use

Wireless charging

Accurate accelerometer

Many connected functions

Good responsiveness

NEGATIVE POINTS

Quite bulky on the wrist

Software could be improved

Inaccurate heart rate

Does not allow answering messages
Translated by Ramsés El Hajje