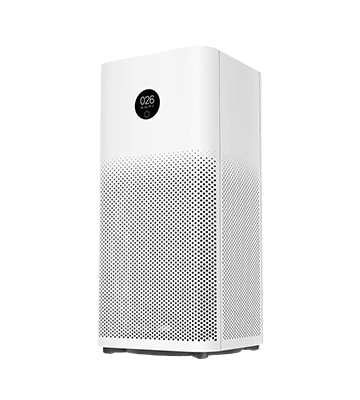 GOOD POINTS
Highly effective in removing particulate matter

Quiet standby and first speed mode

Effective in purifying gases and odours

Clearly legible display and night-time switch-off facility
NEGATIVE POINTS
Quite noisy from 2nd gear onwards

App could be improved
Summary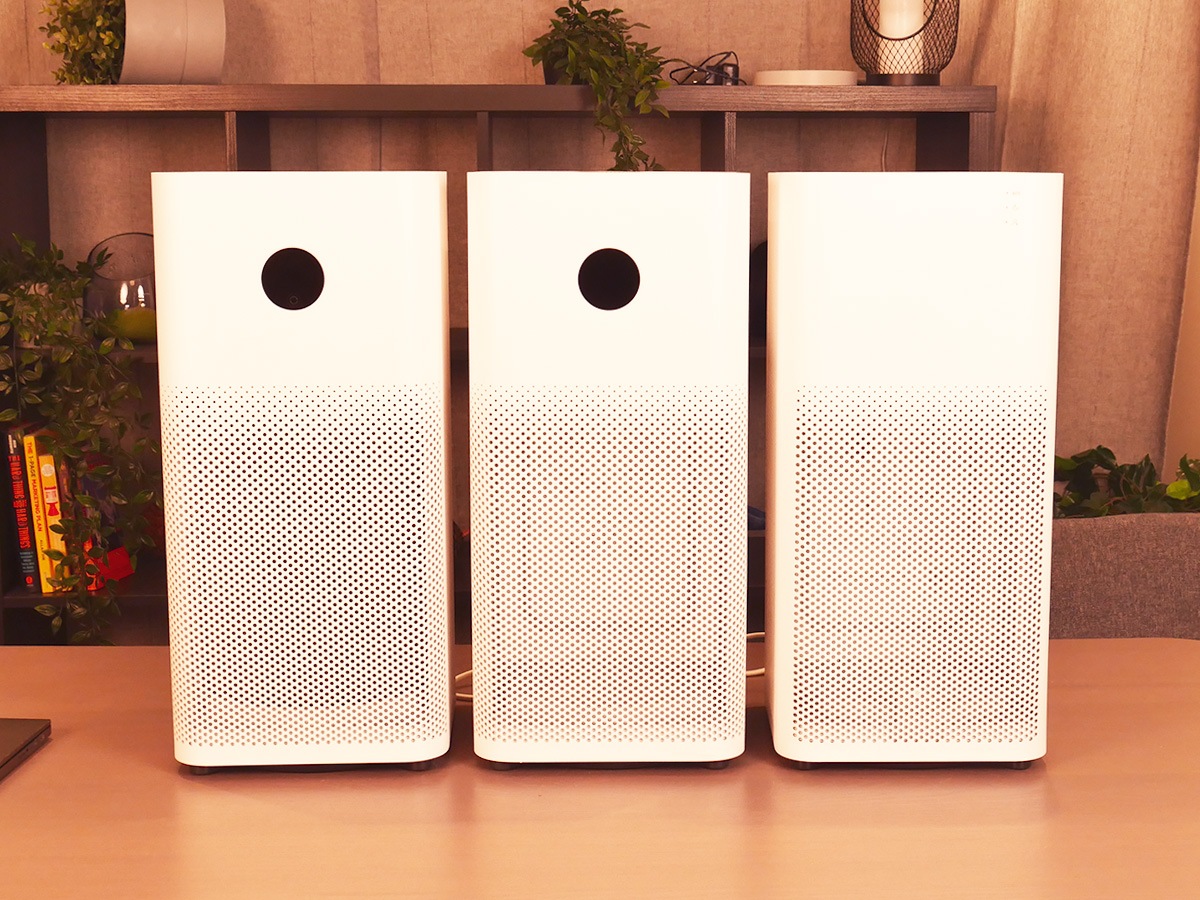 Design
When we unpacked this air purifier, we discovered a fairly modern model with a square base. Relatively compact (24 x 24 x 52 cm), we would have preferred to find a grey colour rather than white to blend in a bit better, but that's just our personal opinion.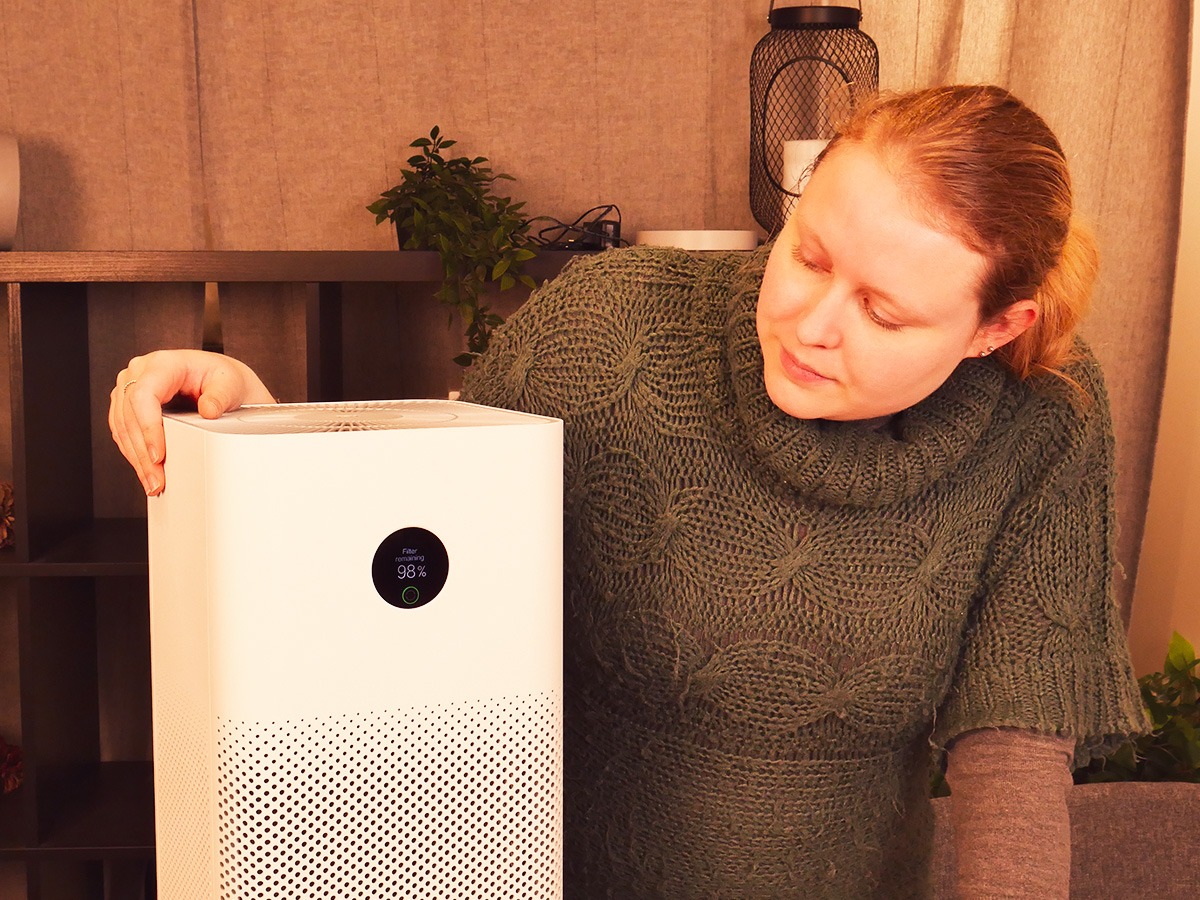 Access to the filter is fairly easy. However, it takes some force to remove it. The brand recommends vacuuming it regularly and cleaning the surface of the purifier with a soft cloth. Depending on your use, it should be replaced every 6 to 12 months.
Note that it is possible to choose one with different characteristics: antibacterial, classic, specifically for formaldehyde… They each cost around €30, which is in the average price range.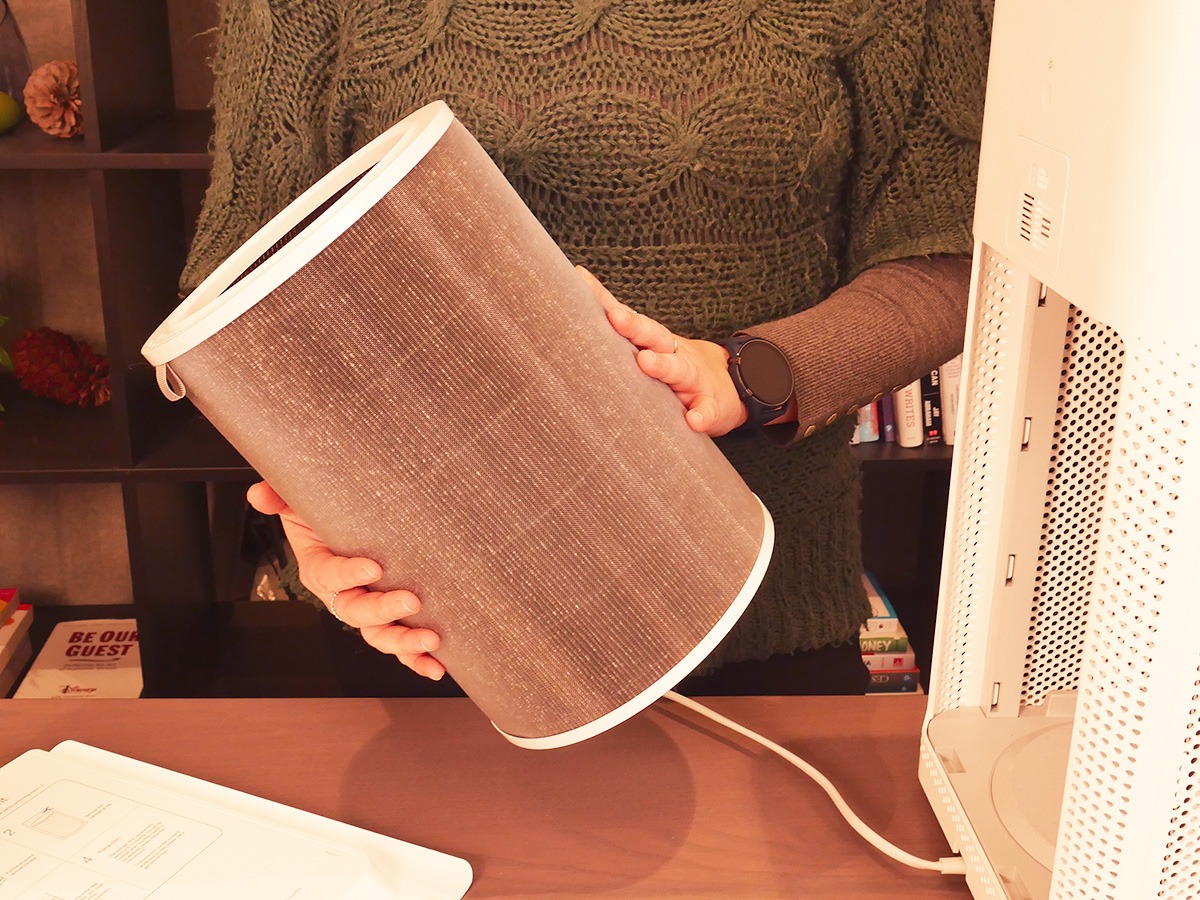 For our test, we opted for the basic model included, a HEPA filter with activated carbon that should remove 99% of particles in the 0.3 µm size range.
When it comes to controls, you can choose between the bright and colourful OLED touchscreen or the Mi Home app. We found the screen to be clearly legible and fairly instinctive to use despite only having one button. A long press turns it on or off, while a short press changes the purge speed. The whole thing is responsive and answers correctly.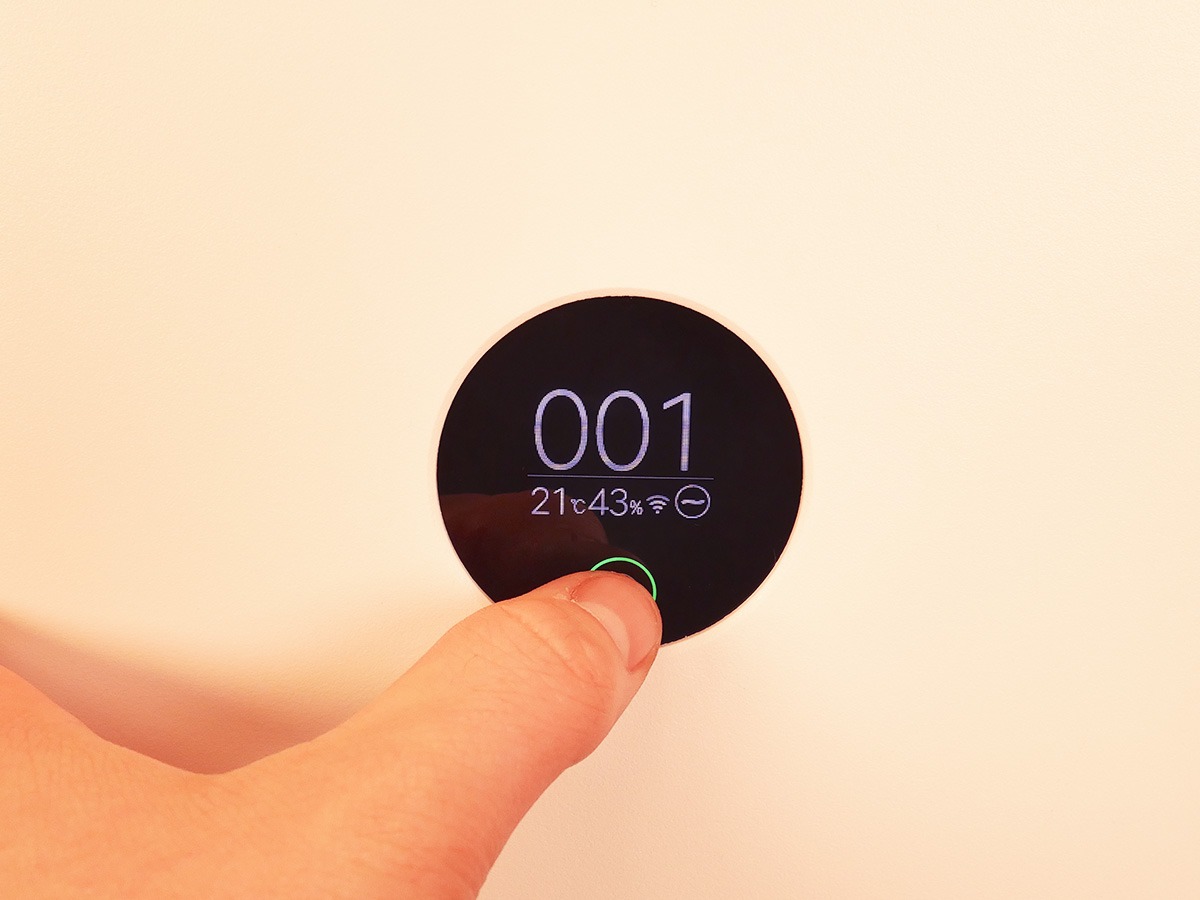 Its main negative point is the lack of a handle, combined with its rather high weight compared to its size (about 4.8 kg).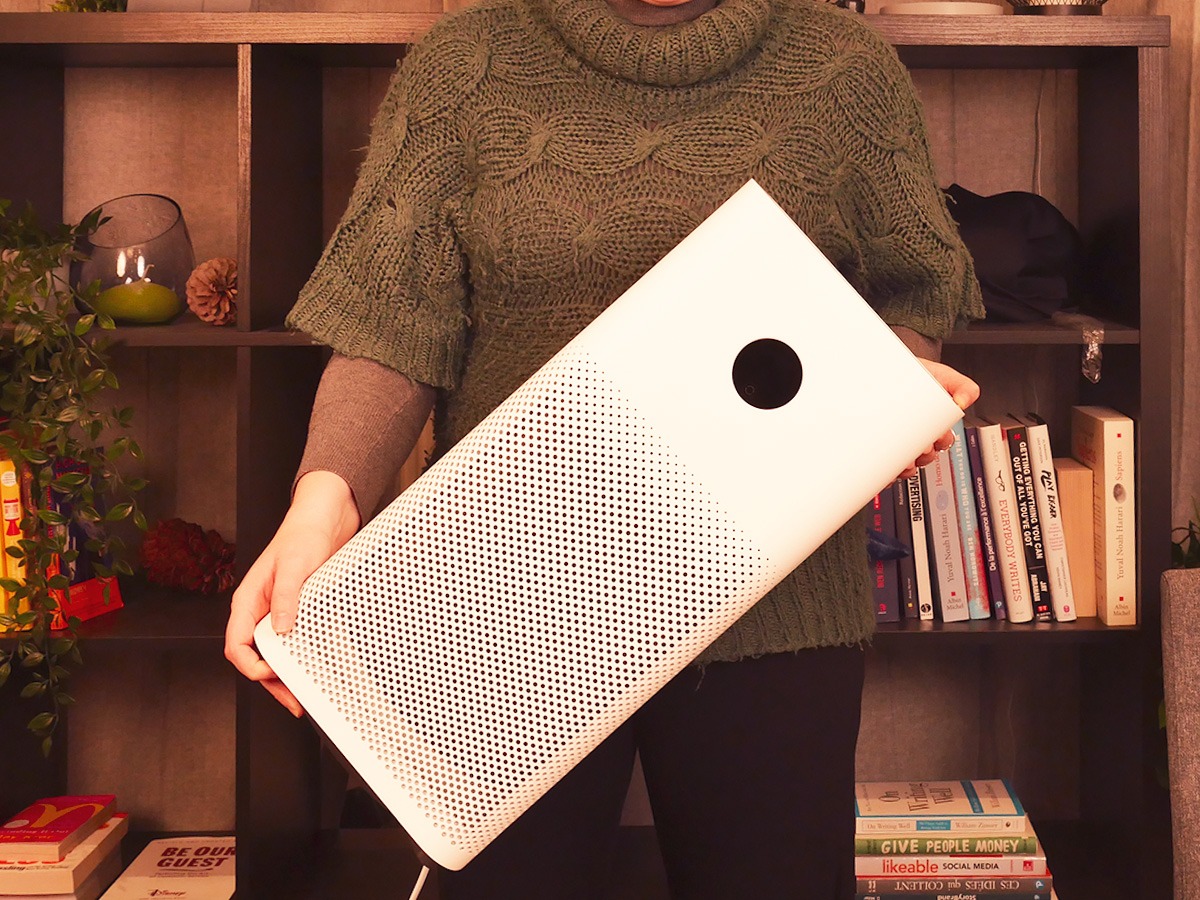 Features
As explained earlier, you have a choice of controls via the touch screen or the Mi Home app. The screen gives access to the different purification modes and speeds. There are 3 speeds (low, medium, high), an efficient Automatic mode, a Sleep mode and a Favorite mode.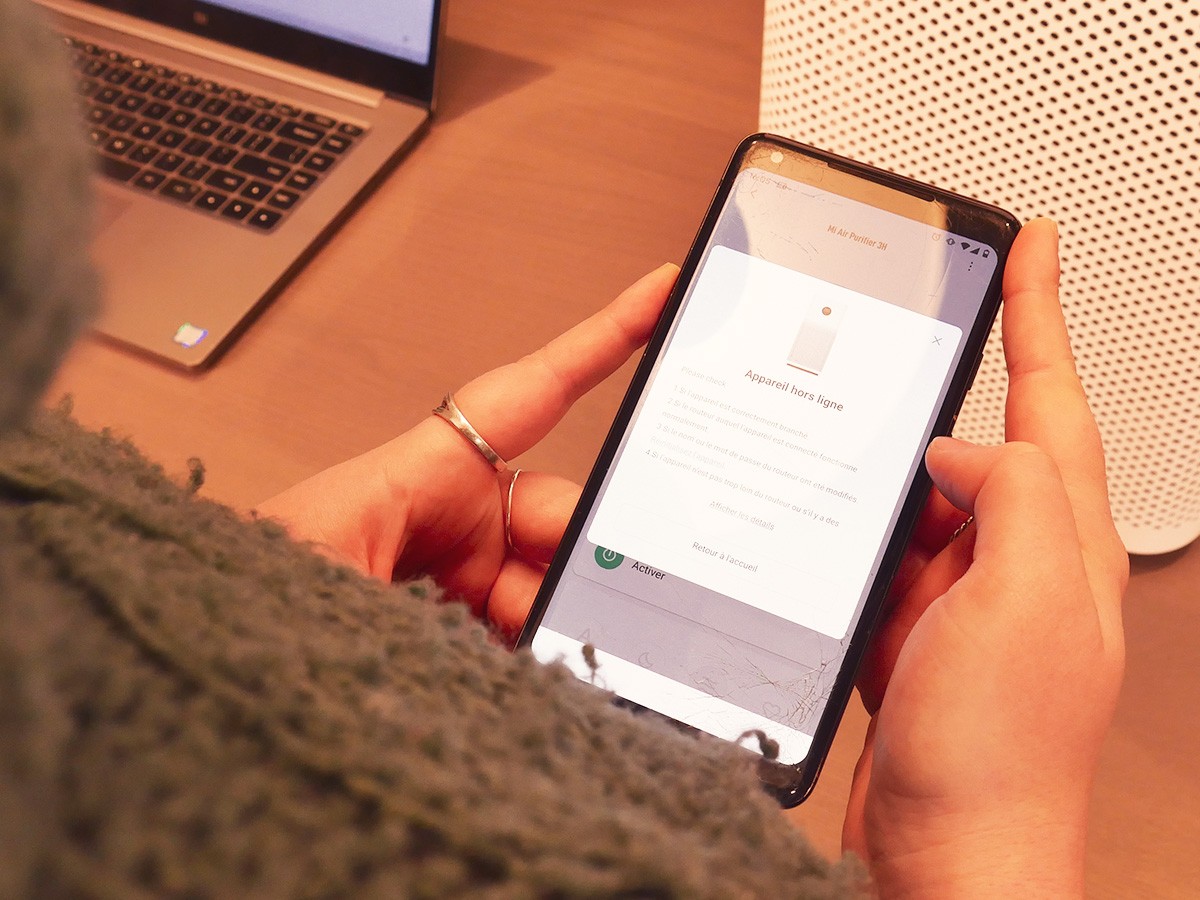 It also indicates the number of PM2.5 present in the air as well as the quality of the air this causes via 3 colours (green: 0-75 µm; orange: 76-150 µm, red: over 150 µm). Finally, it indicates the presence of Wi-Fi as well as the humidity level in the air and the temperature.
To allow you to use it at night, there is also a button on the back of the device, above the filter access panel, to adjust the brightness of the screen. We found that it could have been better placed, but it does exist. So you can choose to turn off the screen completely or dim it.
As for the app, it caused us some difficulties with the first smartphone, but not with the second. Indeed, after downloading the Mi Home application, you have to pair the purifier. This was impossible to set up for either of our two smartphones despite both being Android-based. So we suspect you may have the same problem depending on which version of Android your phone is running.
Once the app is connected, we can use it as a remote control. Of course, we have access to power on and standby as well as speed and brightness settings. The Favourite mode is a Manual mode where we can adjust the suction speed more precisely. There is also a delayed start and stop, both of which work well, as well as a parental control.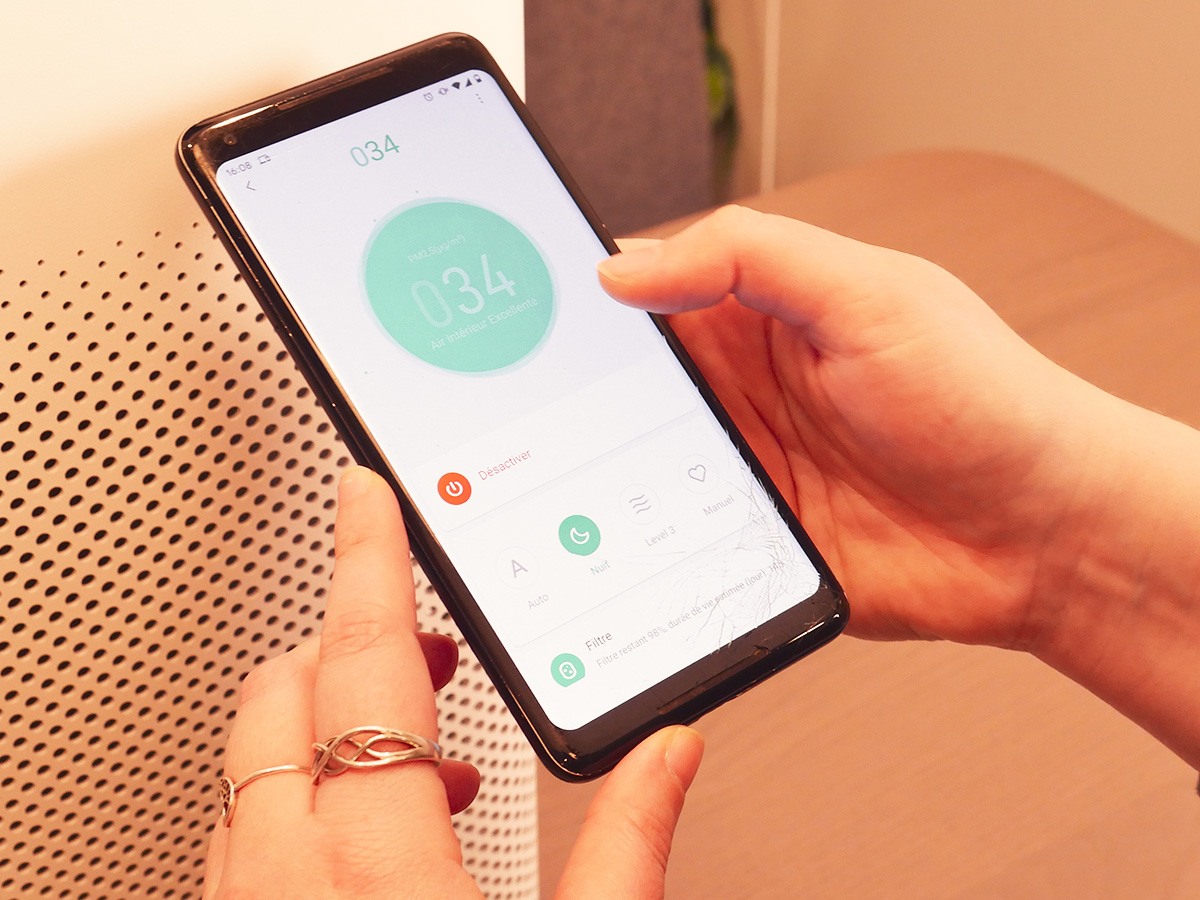 On the other hand, we note that the application could be better translated and more instinctive, especially with regard to the device search which is not the most obvious.
Performances
Thanks to its filters, this model should be able to purify the air of fine particles (PM2.5) and HCHO (formaldehyde) as well as TVOC (volatile organic compounds, i.e. odours). This is to be achieved at a rate of 400 m³/h (CADR or filtered air volume).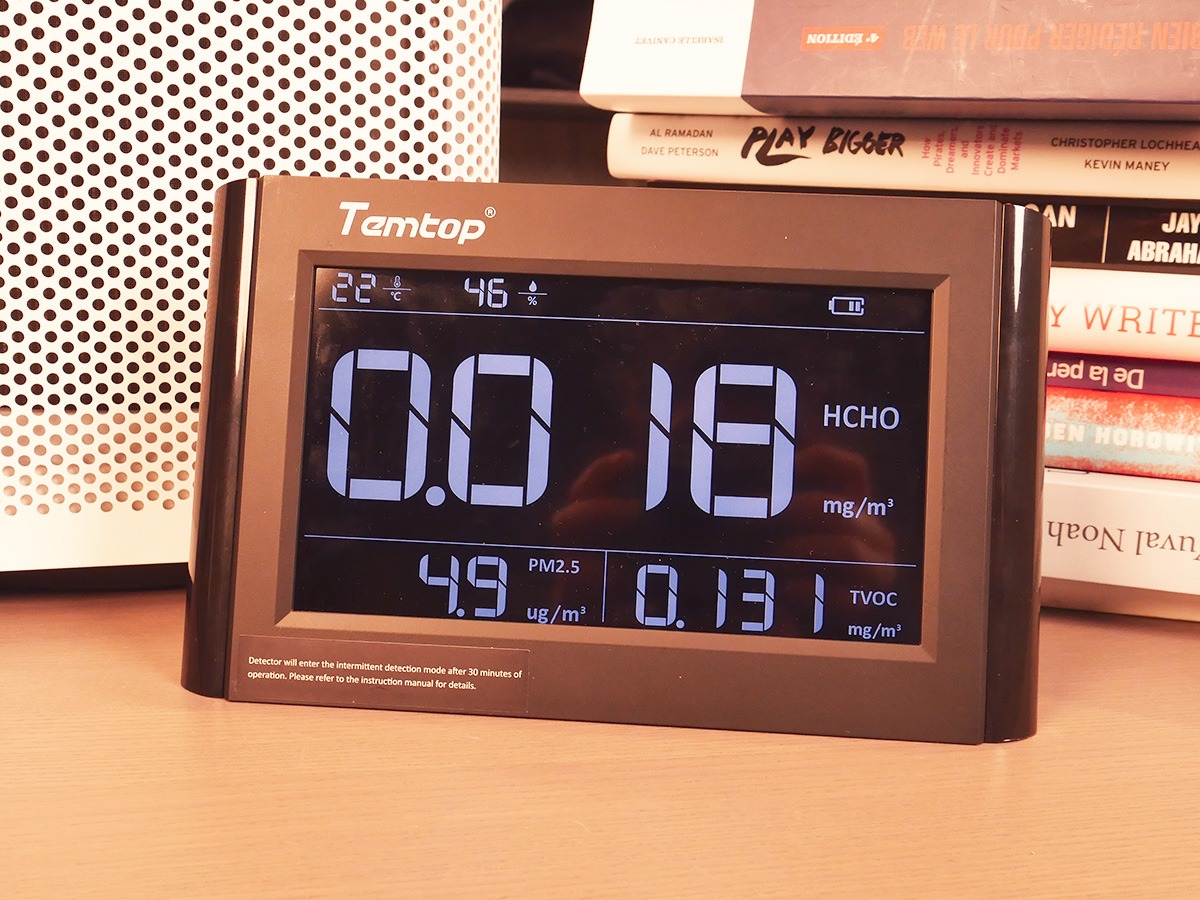 In our tests, we began by checking the ability of the 3H to remove PM2.5 (airborne particles less than 2.5 µm in diameter).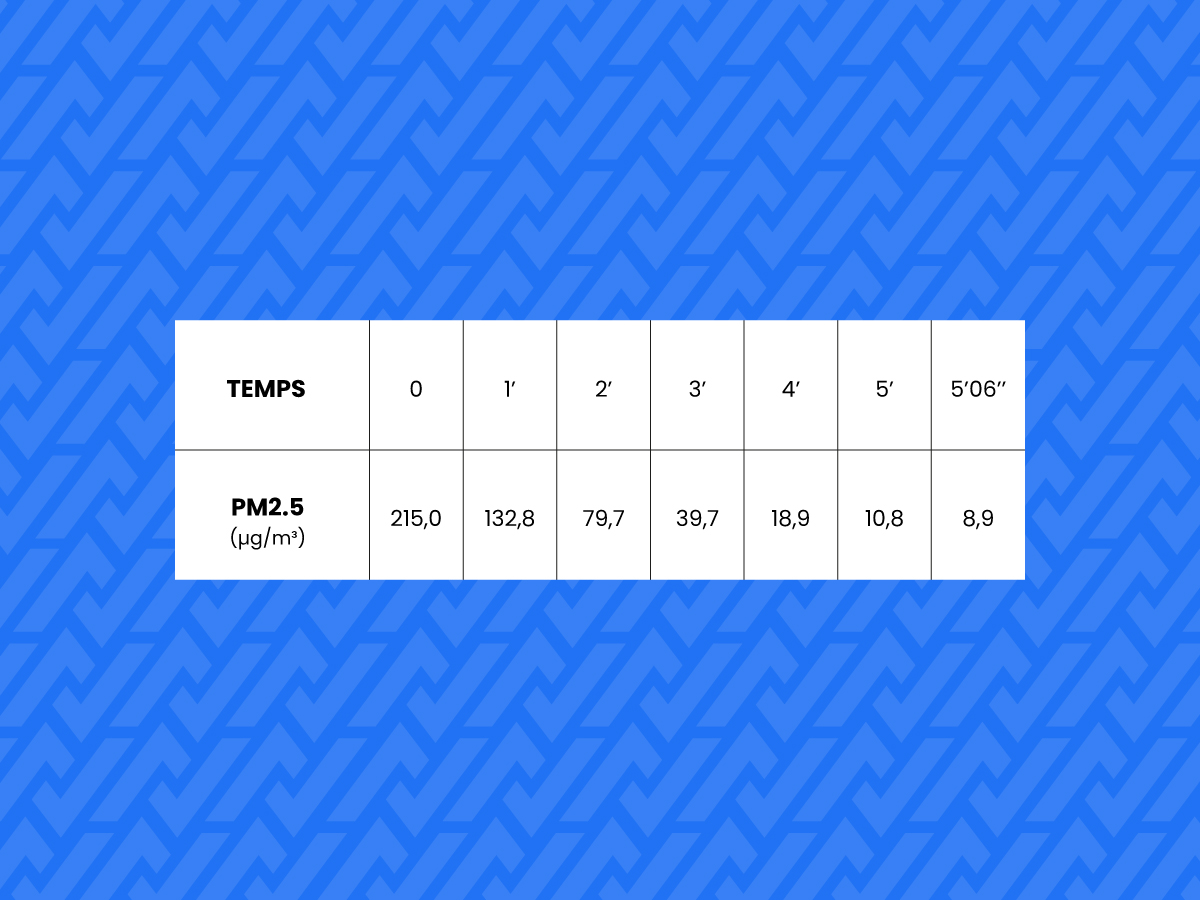 After burning a scented candle in a room of about 10 m³, it takes 5 minutes 06 at maximum speed for this purifier to drop the PM2.5 below 10 µg/m³ (knowing that we leave the candle lit and that it starts to run when there is already a level of 214.0 µg/m³ in the room).
This result is very satisfactory although it does not reach the speed indicated by the CADR (400 m³/h) since we rather reach 118 m³ purified per hour. However, these differences in figures are partly explained by the fact that the candle was left on throughout the test and that we do not have a lab. We prefer to carry out our tests in everyday places in order to give you answers that we hope will better correspond to your real needs.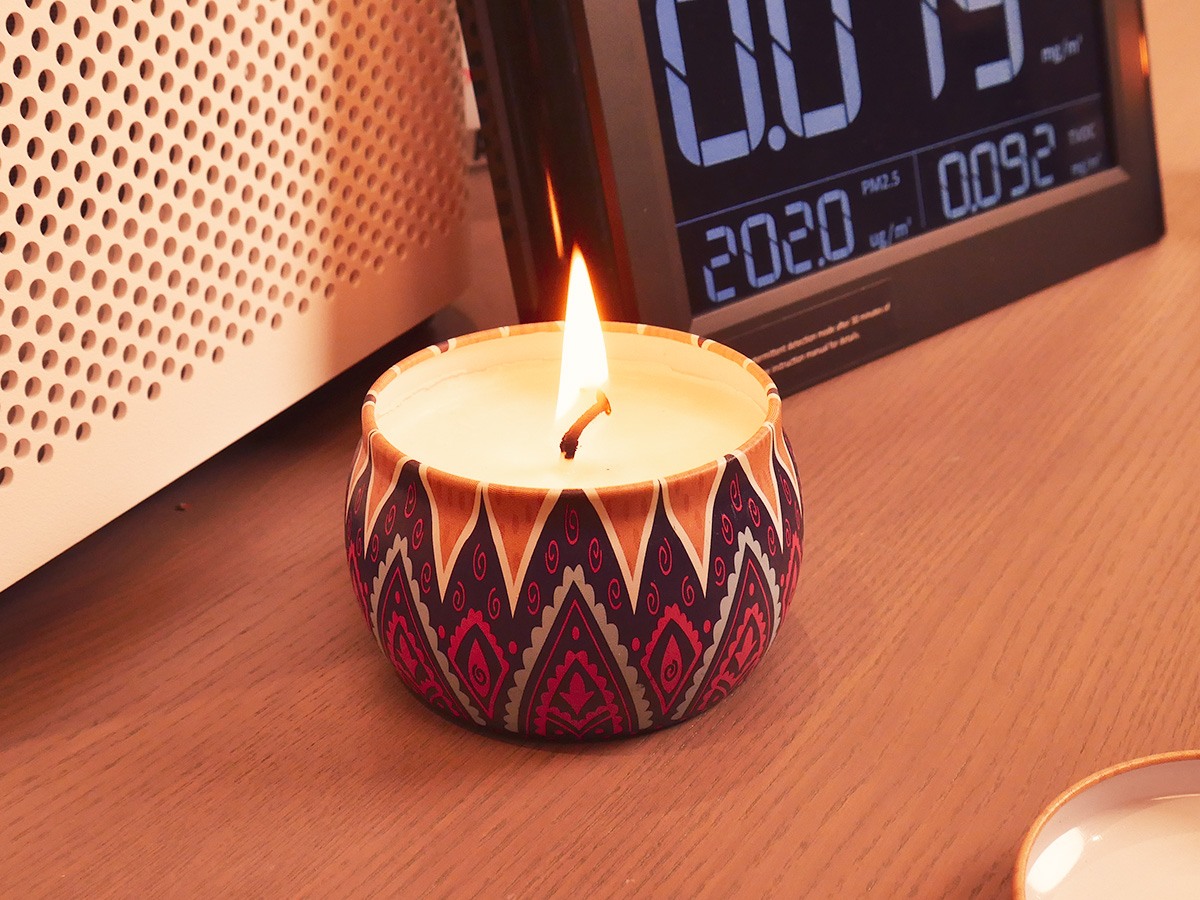 In parallel, we repeated the same test with two older versions of the 3H. It appeared that the newer version performed better overall (although the same filter was used for all three).
For TVOC (total volatile organic compounds, i.e. odours) and HCHO (formaldehydes), it always takes longer to see real improvements, especially at minimum speed.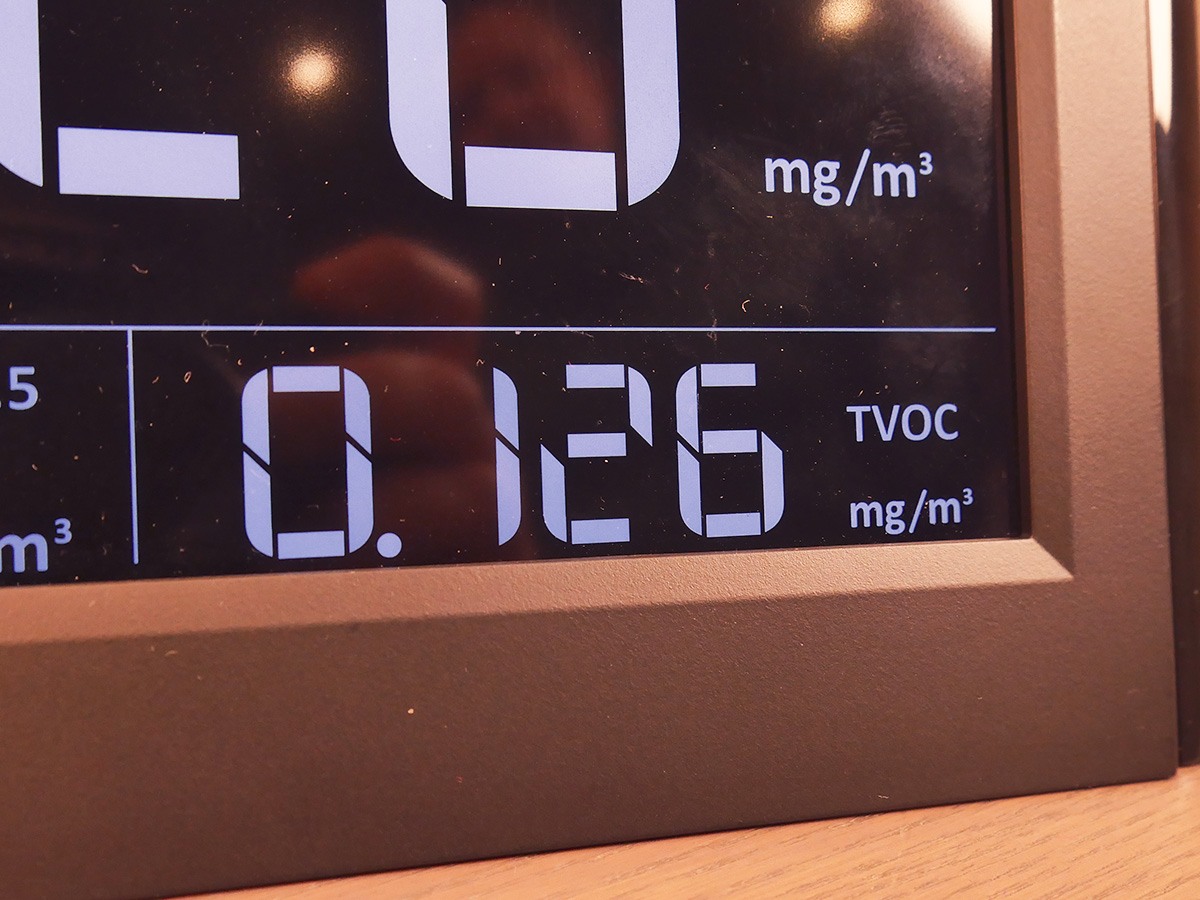 Therefore, we measured the air quality after our Xiaomi 3H had been running (at minimum speed) for several hours in a room of about 130 m³ in which an adult (who naturally emitted pollutants into the air when breathing and eating) was present.
Note that we also did the experiment without running the purifier for 6 hours in order to have a baseline measurement to work from. After these 6 hours under the same conditions, we found an increase of + 0.026 mg/m³ for TVOC and + 0.057 mg/m³ for HCHO.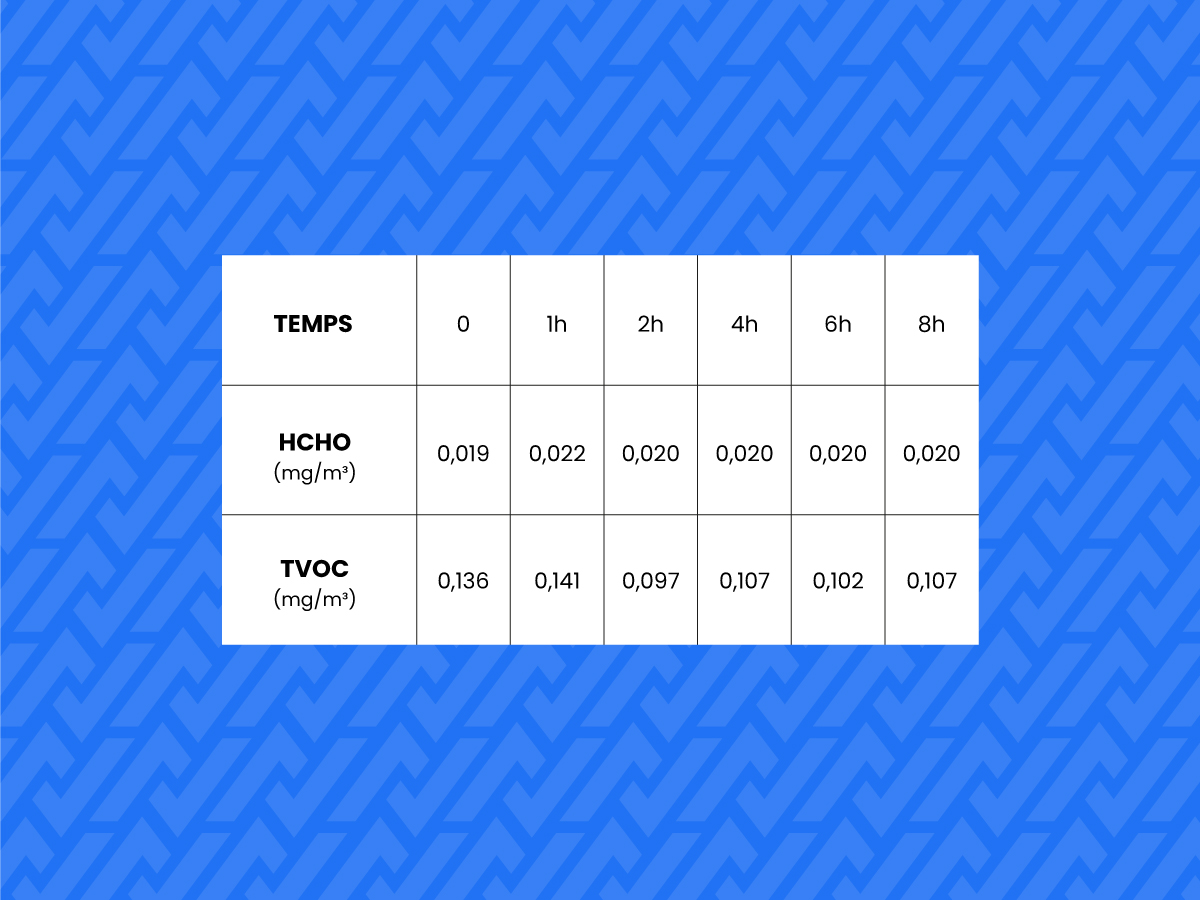 In conclusion, on a daily basis, we found that the minimum speed is sufficient to control the air quality of such a room over the long term since neither TVOC nor HCHO significantly exceeded the starting threshold. The 3H even managed to reduce TVOCs, proving that its carbon filter is able to slowly but surely reduce odours at this rate.
We also tested its ability to purify a bedroom at maximum speed. Similarly, the test was quite conclusive and the 3H manages to reduce HCHO and TVOC. We also used it to remove pet and kitchen odours. This also seemed to be effective.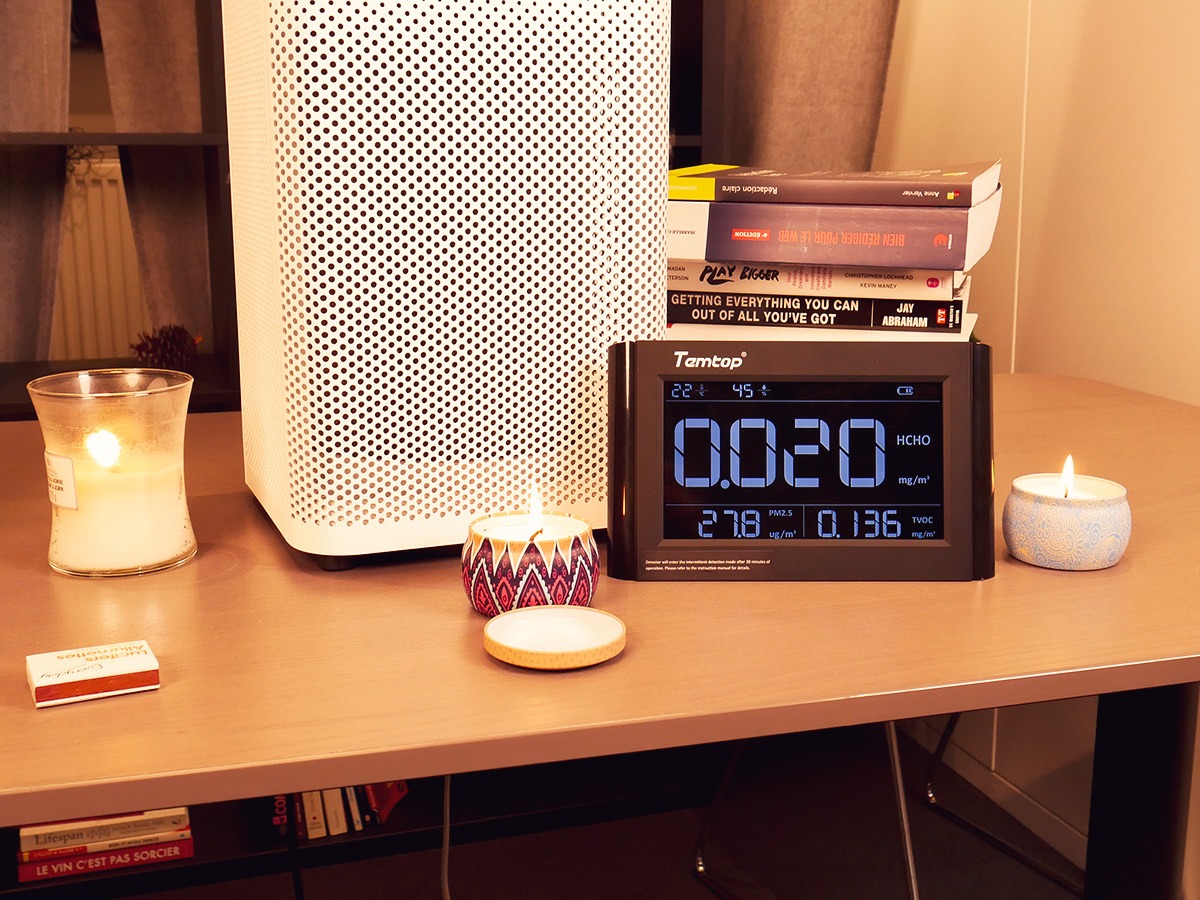 Finally, we found that the 3H is partially silent. The standby mode is simply not detected by our sound meter. It could still be disturbing for the more sensitive among you at night. The first gear is also quite quiet (36.3 dB). However, the second and third gears are considerably louder at 52.2 and 57.6 dB. However, the worst is the noise when we touch the button with 63.9 dB. Fortunately, this can be suppressed via the app.
Sound of the 3 power levels:
Conclusion

Finally, this air purifier is a more powerful and efficient device than its predecessors. Its application can be improved, but in our opinion it is intuitive and easy to use.

Although its price is debatable, we recommend it especially for people with allergies or respiratory problems.

GOOD POINTS

Highly effective in removing particulate matter

Quiet standby and first speed mode

Effective in purifying gases and odours

Clearly legible display and night-time switch-off facility

NEGATIVE POINTS

Quite noisy from 2nd gear onwards

App could be improved
Translated by Ramsés El Hajje