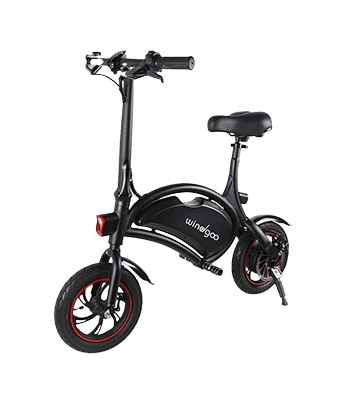 With an extremely attractive price, the Windgoo B3 has convincing arguments to make users fall in love with it.
Basic and well designed, will it live up to expectations? Find out the results of our tests.
Summary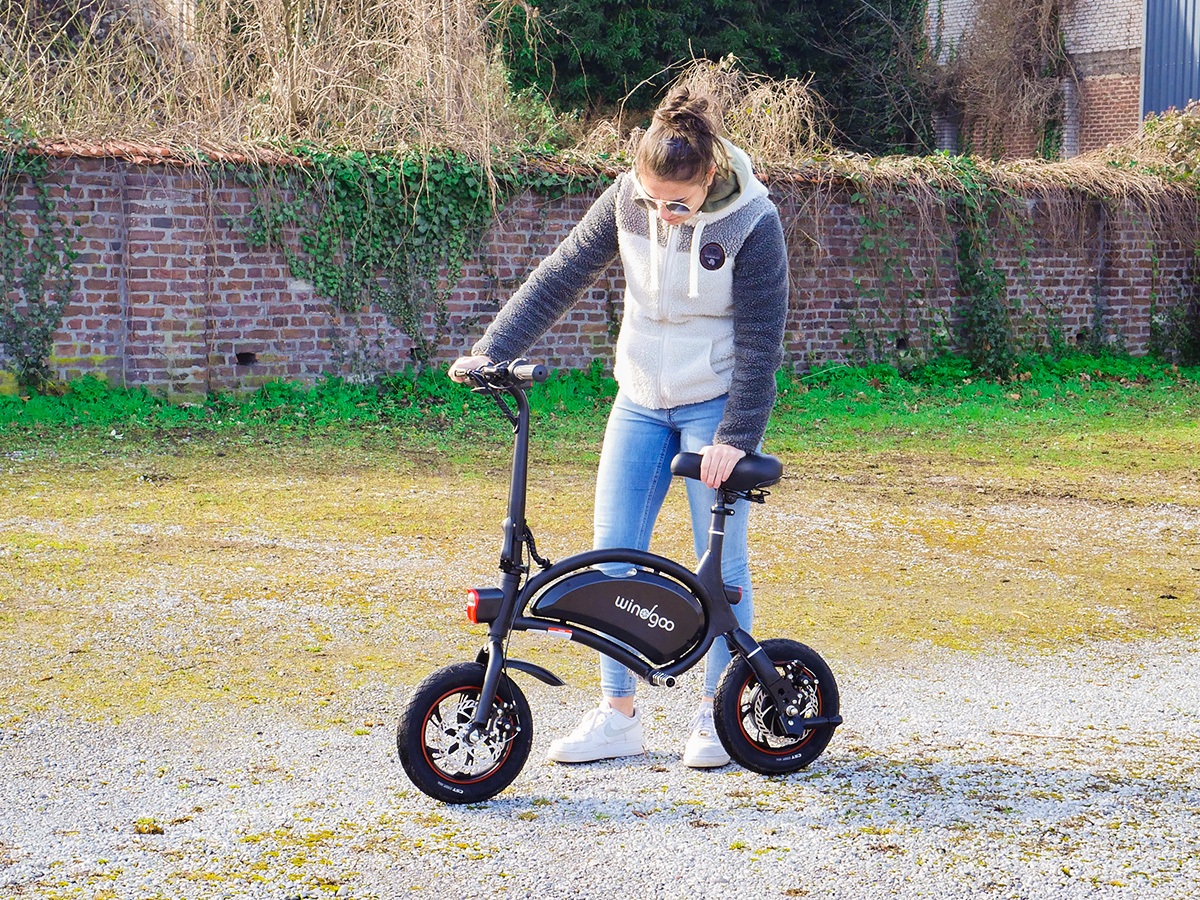 Design
Available in black or black/white, the Windgoo is somewhere between a scooter, a bicycle, and an electric scooter.
It has a beautiful design that resembles the silhouette of a dolphin with a curved frame. Matte finishes and red accents, as well as the brand's logo on the battery, give it a touch of style.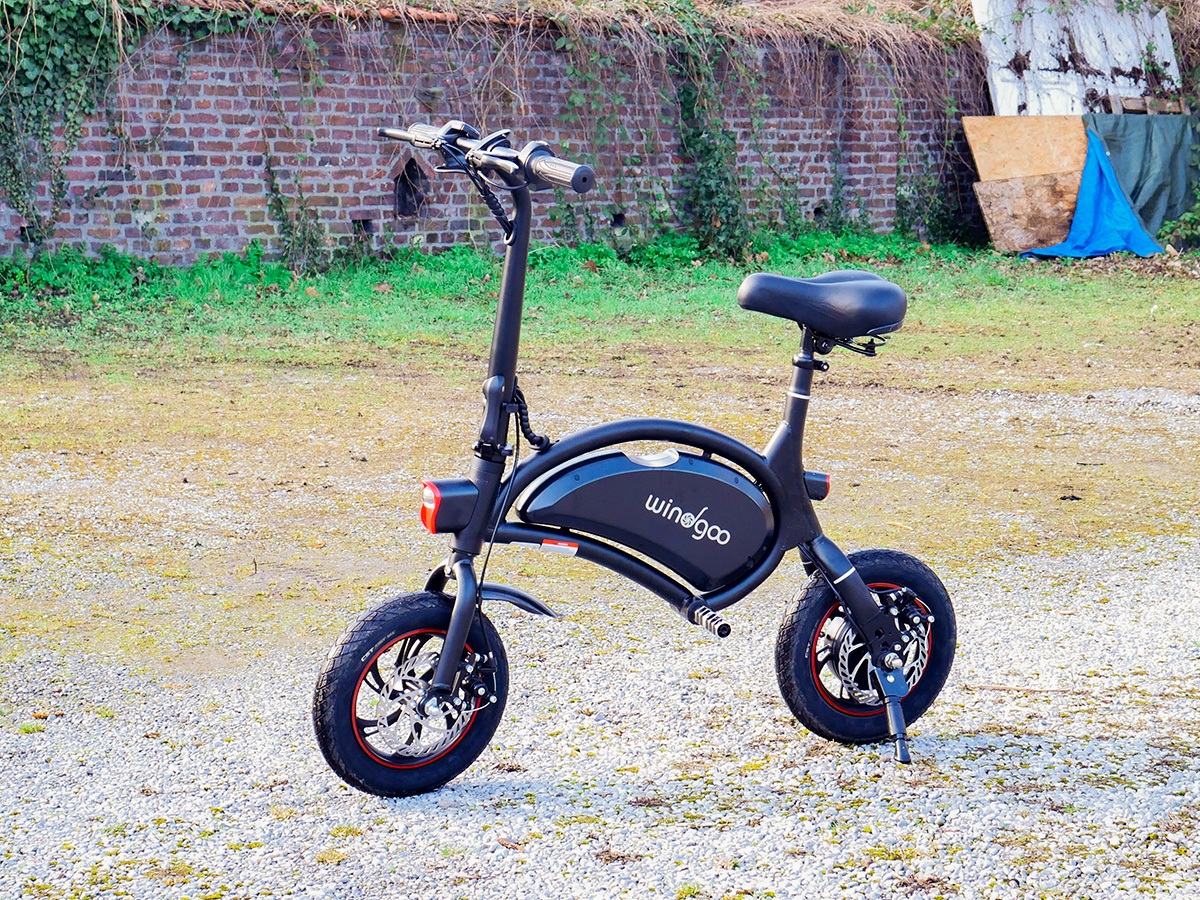 For your information, this model is IP54 certified (the minimum required for an electric bike battery) and the maximum load capacity is 120 kg.
After opening the package, unpacking and assembly took only 10 minutes. Everything is pre-assembled on delivery, except for the footrests and seat. The handlebars also need to be raised.
As for the folding system, it is simple and takes truly little time: just unhook the handlebar from the lock and then fold it into the frame. However, it is not possible to fold the frame. As a result, it takes up slightly more space than a bike with a fully foldable frame. When folded, it measures 105 x 20 x 20 x 70 cm.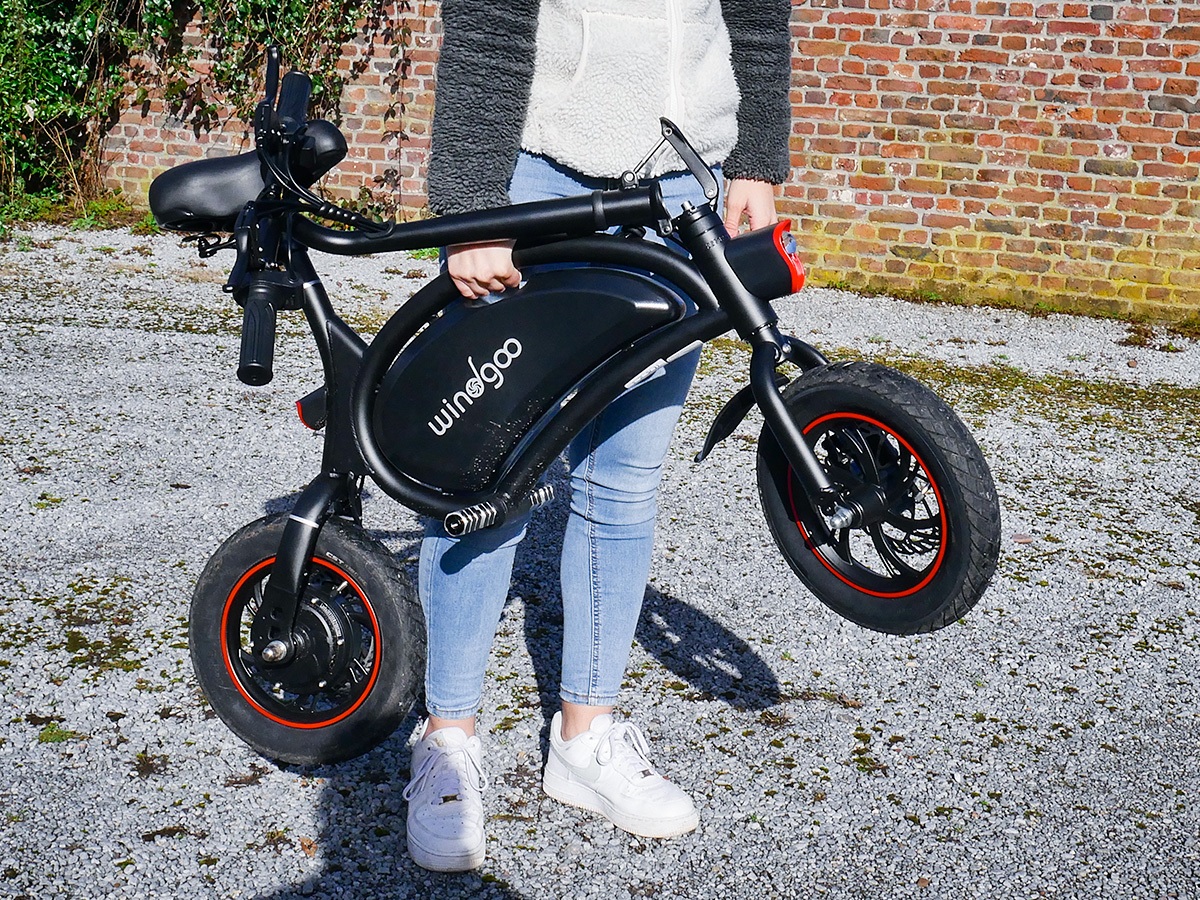 However, the frame serves as a handle, which is very practical for transporting it. And thanks to its small wheels, it can easily be put in the boot of a car or taken on public transport. It weighs only 14.7 kg, making it noticeably light and easy to transport.
The Windgoo B3 has an aluminium frame with an internal cable channel that does not interfere with the driver. First of all, we would like to point out that it is not the most suitable model for tall users. In fact, people of 1.70 m will be able to put their feet on the ground even with the highest saddle height.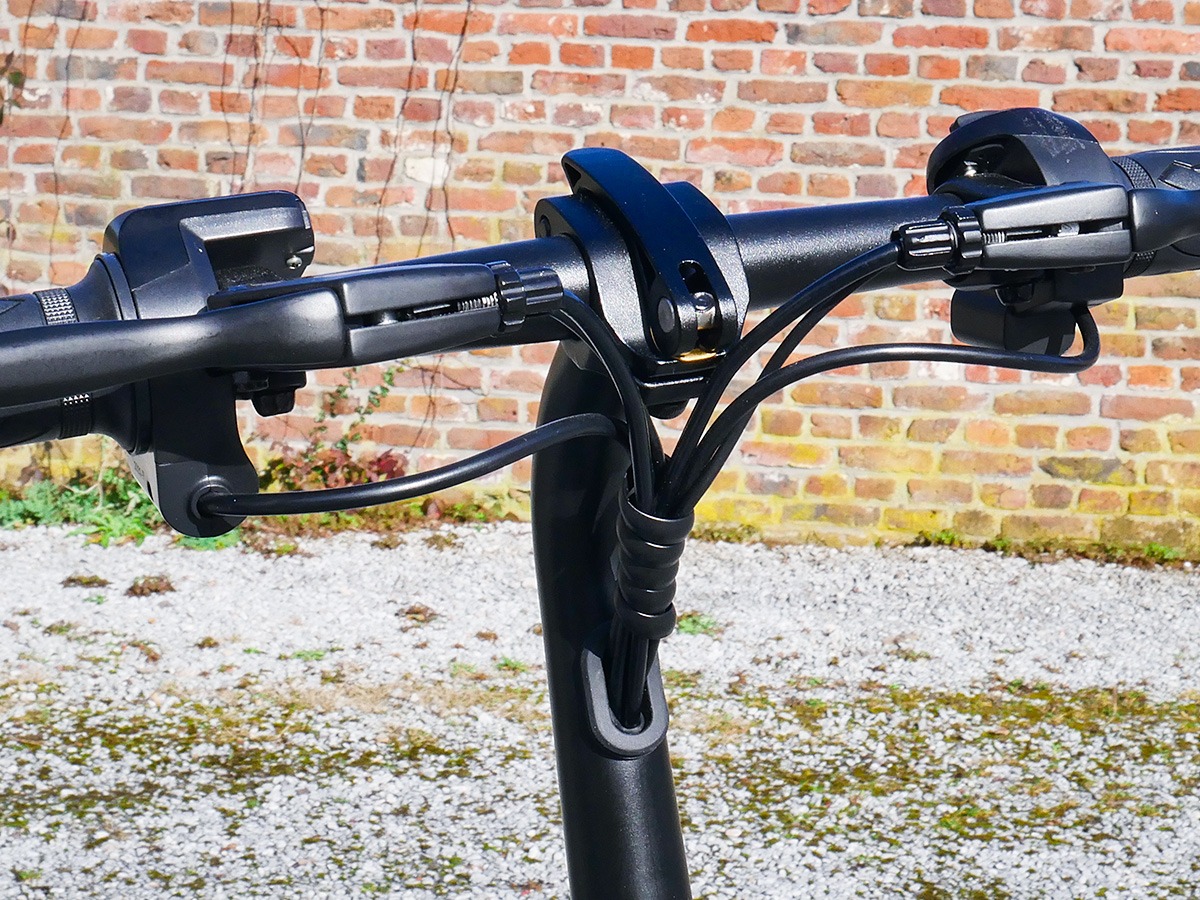 The riding position is upright and quite comfortable, as is the seat. However, we have seen worse saddles on higher-end models. Overall, we were quite satisfied with the ride comfort, especially as the ride is quite smooth.
The absence of pedals is not very practical compared to a folding electric bike, because when the battery is flat, you can only rely on your feet to move the little vehicle. In addition, you must get used to stabilising yourself on the footrests for the first few metres. Fortunately, this process does not take long.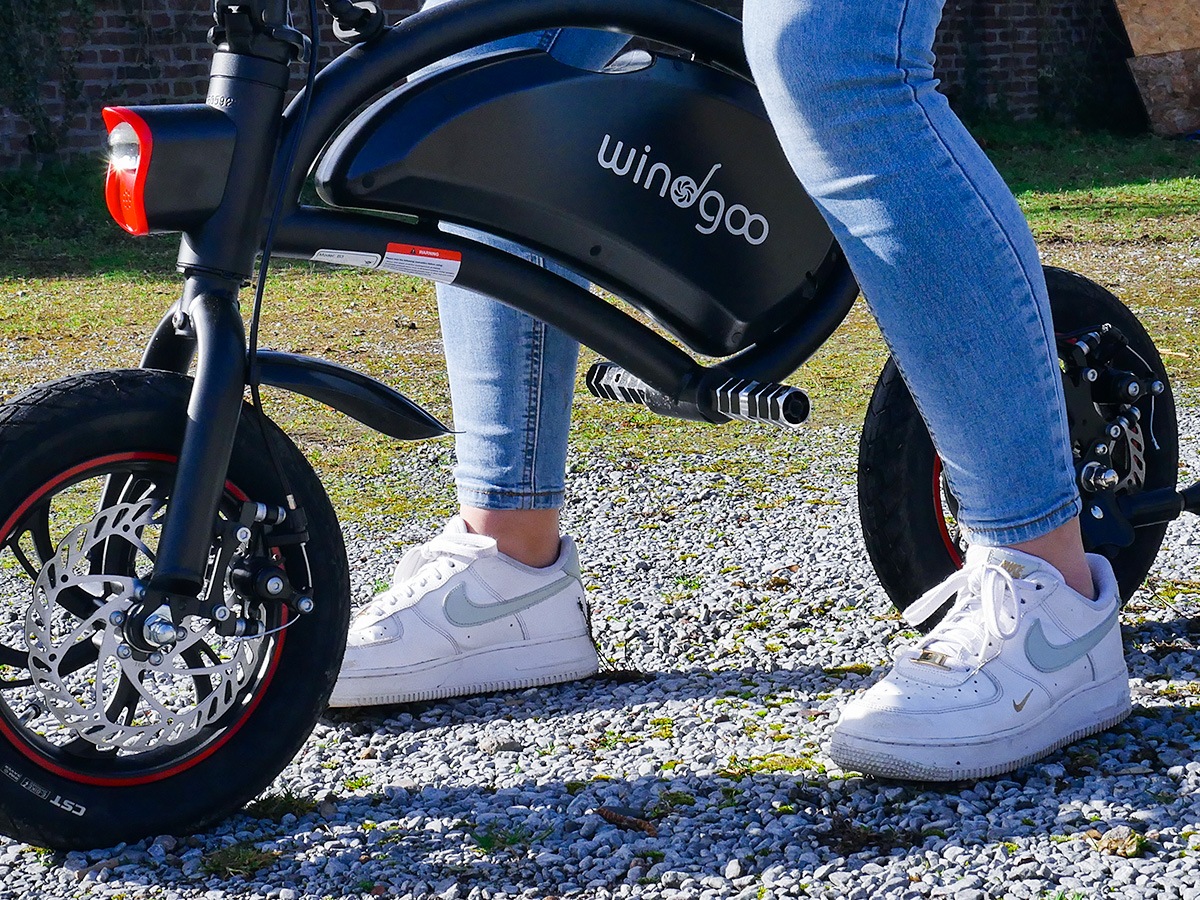 In terms of accessories, there is a left side stand. It is located on the rear wheel and keeps the bike stable when stationary. It also has a small mudguard on the front wheel, but it is not enough to counteract large splashes (if there are puddles of water, etc.).
It also has an LED headlight and a taillight. And although it doesn't have a bell, it has a handy electronic horn which is also easy to activate.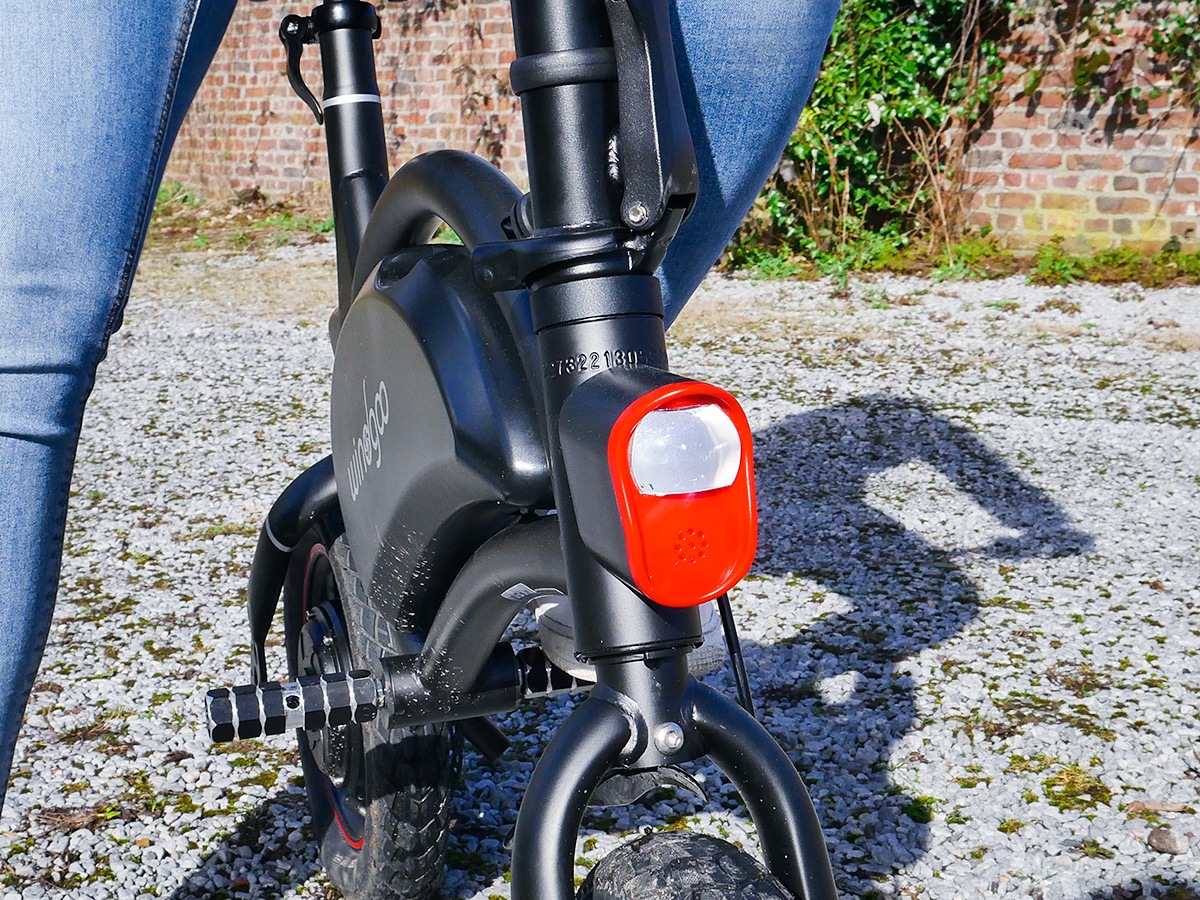 Finally, its LED display is legible in all circumstances, although it only indicates the battery status… It is a pity it wasn't better exploited (distance counter or other similar functions, for example).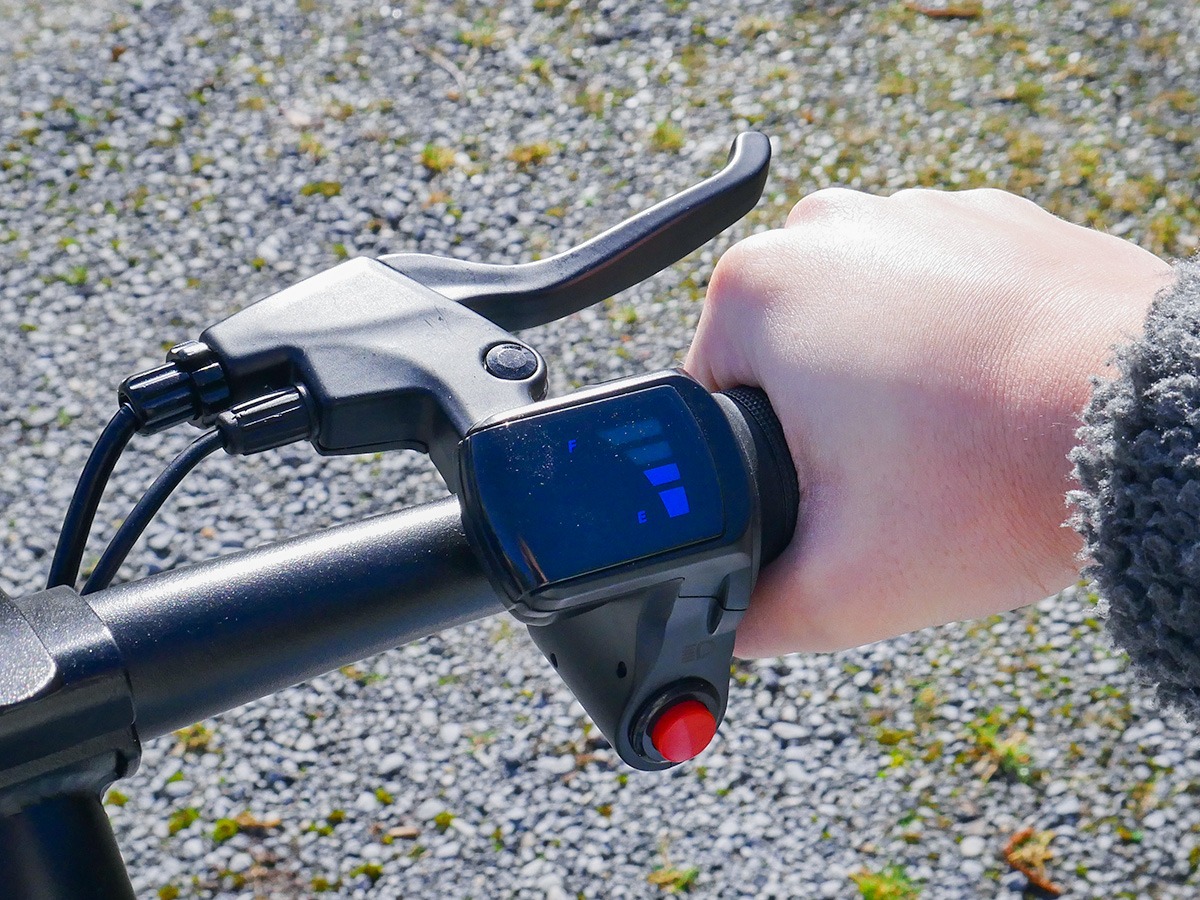 Performance
The Windgoo B3 is driven almost like a motorbike, i.e., you have to press the ignition button and then turn the right handlebar to activate the electric assistance.
Overall, both control and handling are good. The sensations are quite positive, regardless of the fact that the assistance cannot be adjusted in levels and must be controlled with the wrist.
Its 350W power allows it to reach 25 km/h, so it respects the current road traffic laws.
However, while responsiveness is good on flat surfaces, the same cannot be said for uphill. In fact, this machine is only capable of overcoming gradients of less than 10°. In fact, we got "stuck" several times in the middle of a slope, forcing us to push with our feet until we reached the top.
The rear disc braking system is quite sensitive and effective, even on downhill slopes. It should also be noted that the tyres did not suffer any punctures during the test drives.
On the other hand, thanks to its small 12″ wheels, it can weave through traffic, even if it is a bit unstable in turns. The same goes for potholes, where it tends to bounce, sometimes almost falling over (and when the ground is wet… even worse). We only recommend it for smooth and dry roads.
Another feature is that it has no suspension and no transmission. As for the latter, it makes some sense, as it makes it easier to control, but at the same time makes it difficult to calibrate the electric assistance on climbs.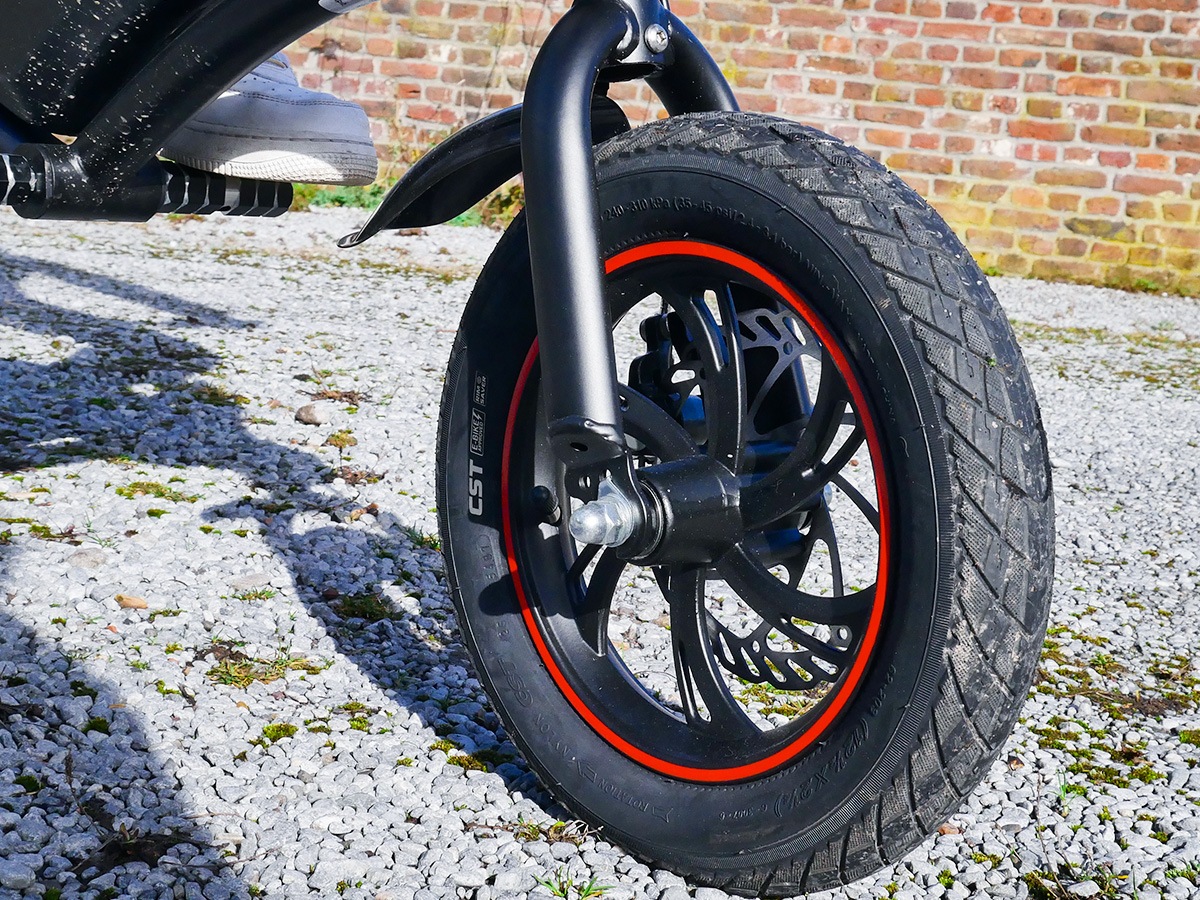 With no suspension, it is not as comfortable on rough or paved roads. However, without these components, maintenance is much easier and less frequent.
Consequently, this model is intended exclusively for urban use on smooth roads and flat terrain. It is sufficient for short trips, but the performance is limited for long distances.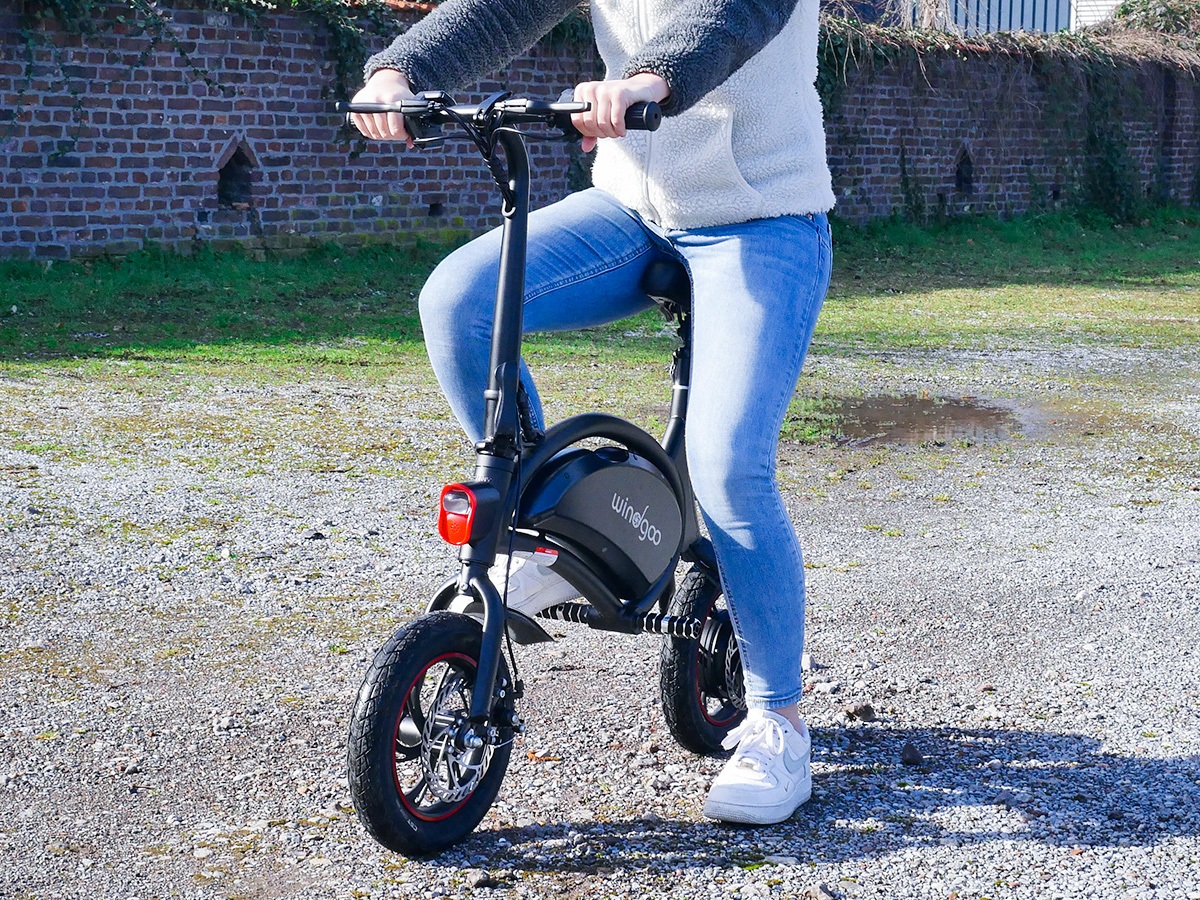 Another point to note: the assistance stopped unexpectedly after a few kilometres. At first, we thought it was a battery fault, but after a while it started again. This makes us doubt its reliability, especially since other buyers also mention a few failures due to a short circuit in the motor.
Battery autonomy
The manufacturer claims a range of 15 to 17 km (depending on use). In practice, we found that these values do not correspond if the person weighs more than 60 kg. We have to say that we used it at maximum power on a more or less hilly terrain, but we maintain our idea that its range does not reach 17 km.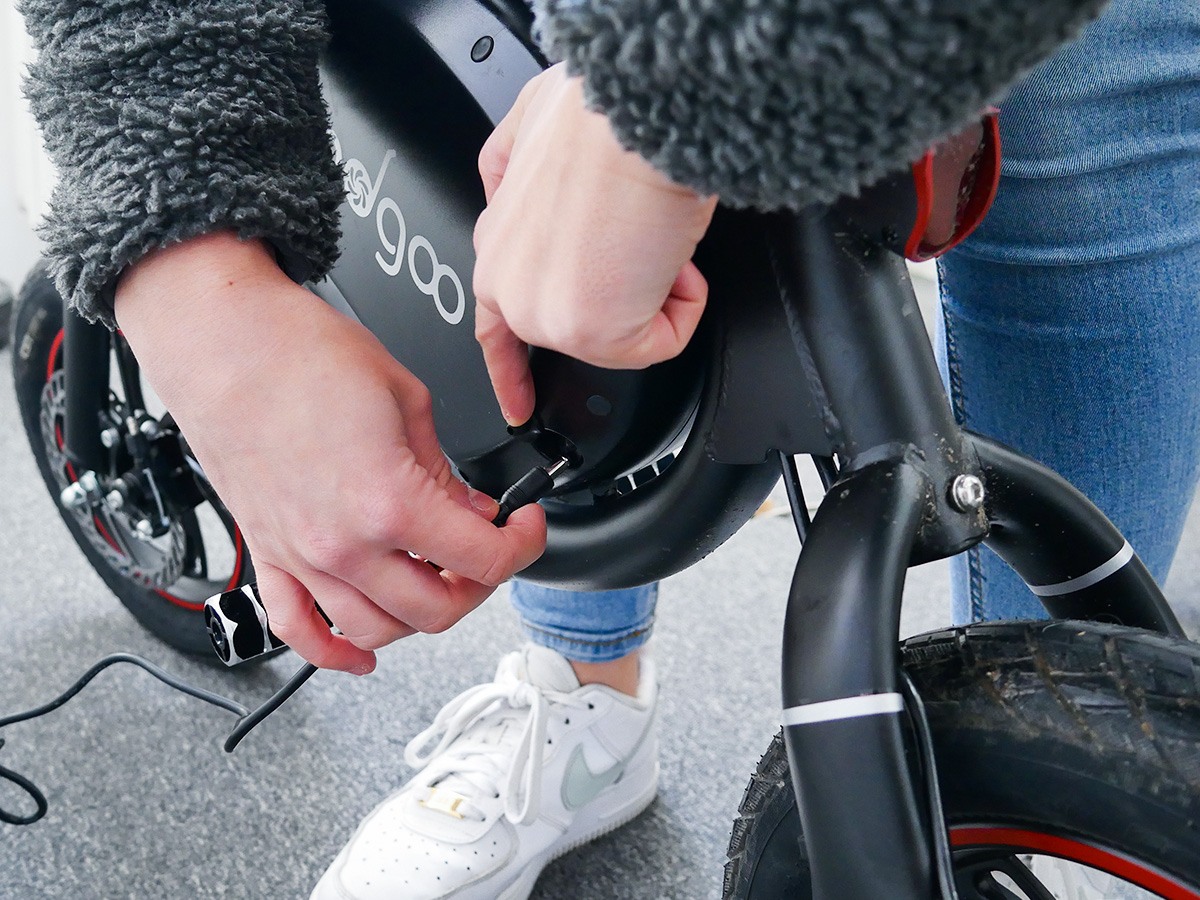 Its 4400 mAh lithium-ion battery (non-removable) is in the centre of the bike, on the frame. You will need to wait 3-4 hours for a full recharge.
Conclusion

Lightweight, well-designed and fairly well equipped, the Windgoo B3 is particularly easy to assemble, fold and ride.

While its braking performance is good, we were less satisfied with its climbing ability, stability, obstacle absorption and range.

In addition, we have some doubts about the reliability of the motor. Still, its excellent price/performance ratio makes it ideal for urban commuting on flat roads and terrain.

GOOD POINTS

Lightweight

Attractive price

Easy to use

User-friendly

Braking performance

Quality workmanship

Easy and quick to assemble

Simple folding

Convenient

Various accessories included

NEGATIVE POINTS

Not suitable for footpaths or paved roads (smooth ground only)

Low range

Not the most compact (folded)

Not the most suitable for tall people

No speed and distance indication

Performance on slopes

Slight lack of stability

Engine reliability
The Best Electric Folding Bikes of the moment
| Our choice, Best cheapest | Best mid-range | Best of high-end |
| --- | --- | --- |
| | | |
| Moma Bikes ebike 20.2 | Xiaomi Himo Z20 | Blanc Marine 26PM4 |
| This model has a strong focus on design and has one of the best battery ranges in our selection. Lightweight and well equipped, it is the perfect urban bike. | This Xiaomi bike has focused its efforts on safety, as well as its battery and lights. In addition, its console is very complete and makes it perfect for beginners. | In addition to its good performance, it has a totally safe design both in its electrical system and in its usual components and folding. |
| | | £2282,00 en Alltricks |
Translated by Ramsés El Hajje