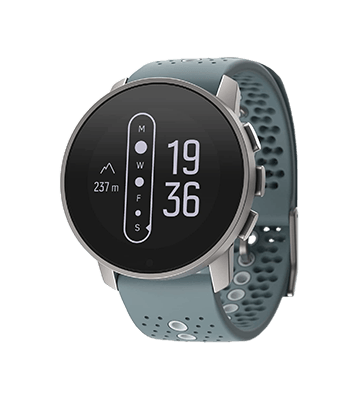 GOOD POINTS
Modern and subtle design

Fast charging

Interesting and accurate navigation system

Good battery management in GPS mode

Good waterproofness

Wide range of data
NEGATIVE POINTS
Limited connected functions

Lack of SPO2 accuracy

Incomplete sleep analysis

Unresponsive interface

Tedious pairing with some smartphones
Summary
Design
This GPS watch has a sporty look with a robust circular dial made of sapphire glass and stainless steel. Its case is more compact than the previous version and the watch does not take up too much space on the wrist, making it ideal for both men and women. The titanium version weighs 52g, while the steel version is 62g.
We particularly liked the beautiful and comfortable silicone strap. Its fastening system is practical and guarantees a good hold due to the large number of holes. Please note that the strap is interchangeable.
With a water resistance rating of 10 ATM, the Suunto 9 Peak can be used for most water sports, including swimming and snorkelling (if the temperature differences are not too big). For diving, however, you will need to consider a different watch.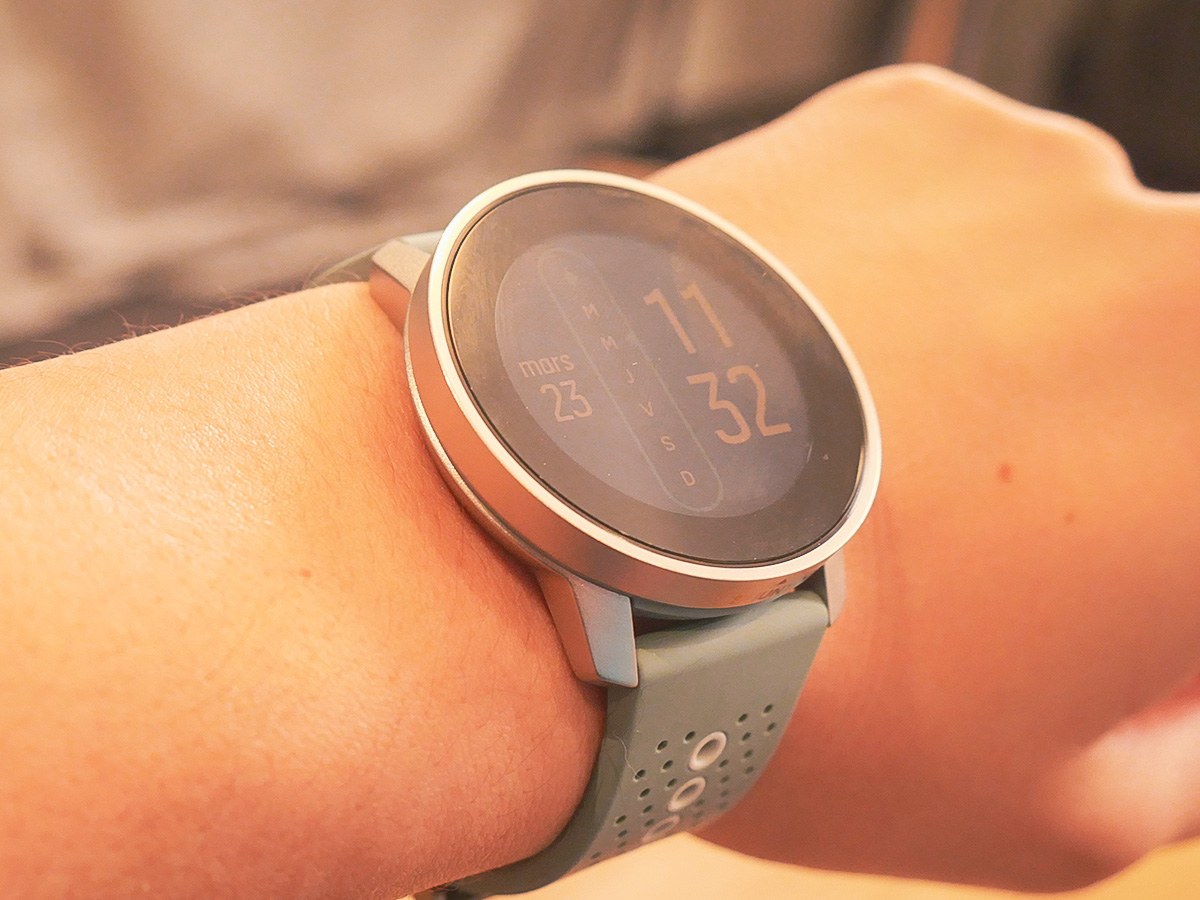 The 1.2″ colour LCD display has a resolution of 240×240 px. It is not as comfortable to read as an AMOLED, but it has a better contrast against light and does not hurt the eyes in the dark. It also has an ambient light sensor (although the light is often insufficient).
And although it leaves slight fingerprints, this does not hinder the use and viewing of the screen, especially as the panel is scratch-resistant. However, we would have preferred a borderless display.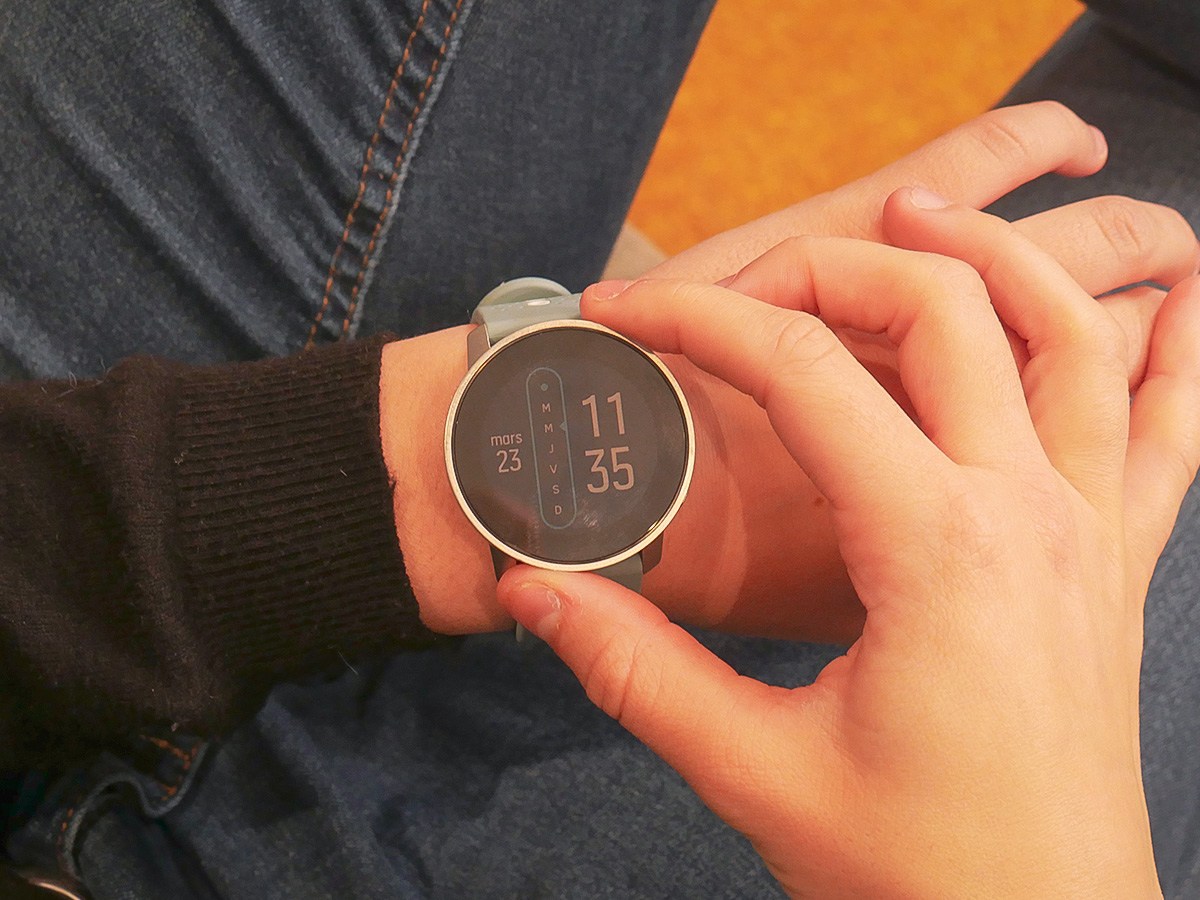 You can change the dial and its colour, adjust the tones, language, time and date, and backlight. The watch always stays on so you can read the time, day and date at any time.
The interface is touch-sensitive and can be manipulated by swiping and scrolling. In contrast, it is not very responsive. You can also rely on the three physical buttons on the right side of the case.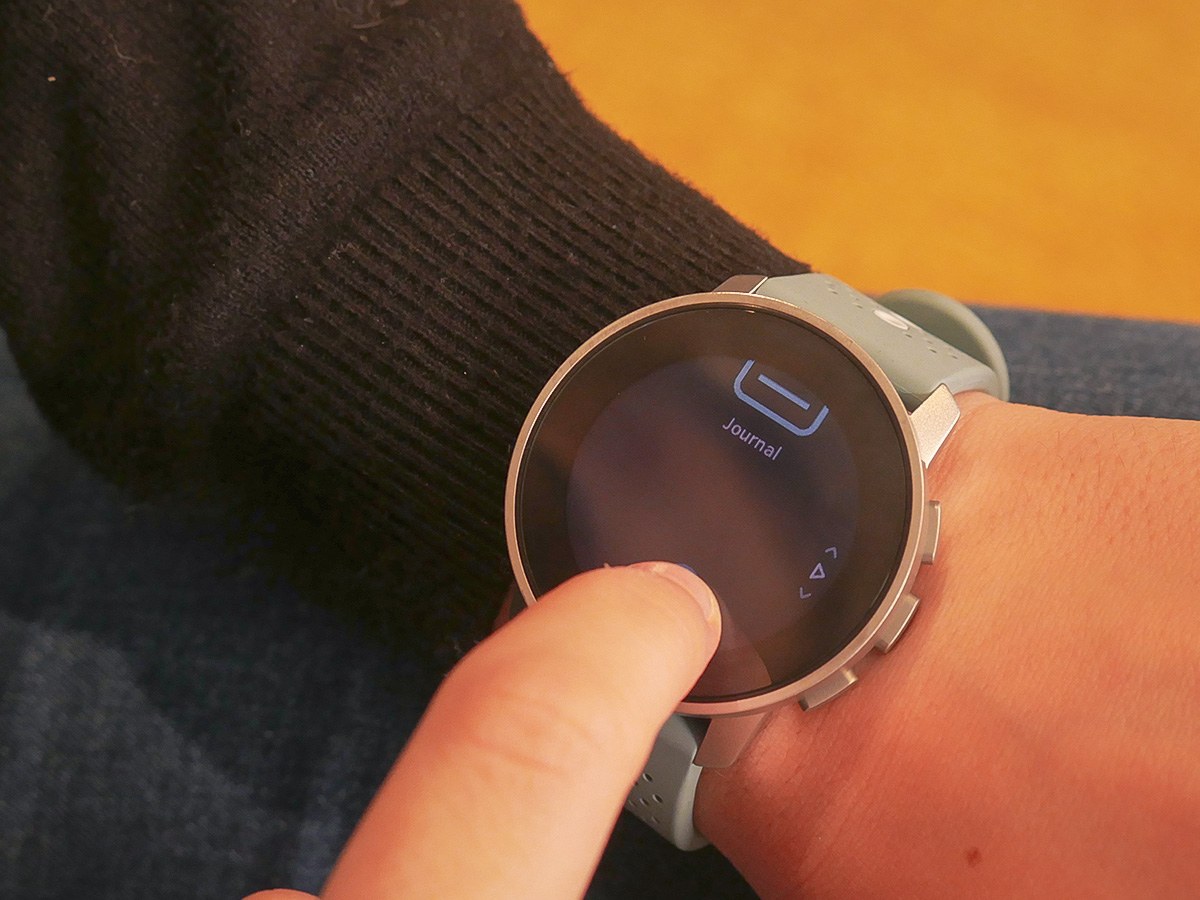 In general, the menus are quite intuitive and relatively easy to use. In addition, they are available in English and other languages.
Features
This device has a Bluetooth connection, but not ANT. One of its major shortcomings, in our opinion, is the synchronisation with the smartphone and more specifically with the app. In fact, the pairing proved to be very irregular with our Google Pixel 4a. Fortunately, with the iPhone 12 Pro Max there were no problems.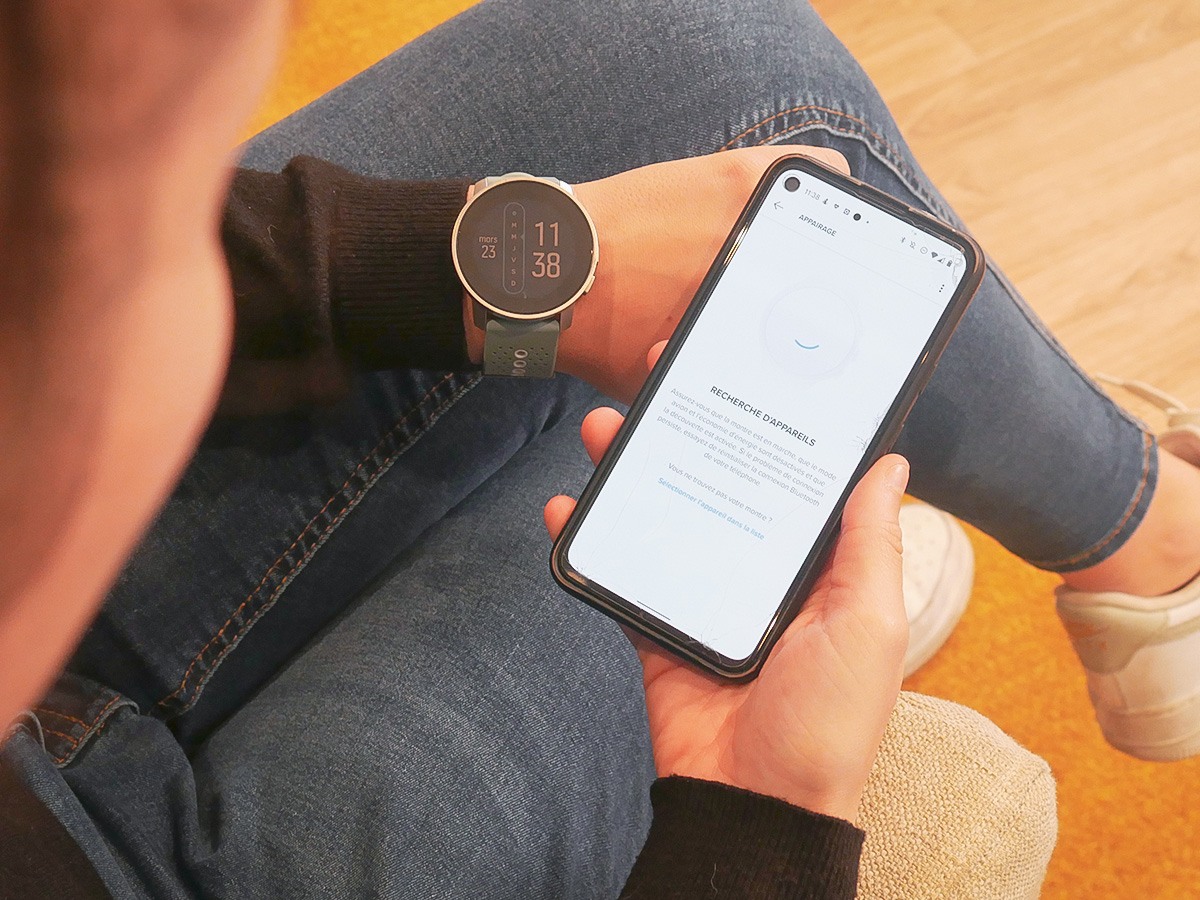 When syncing, a user profile needs to be created. The Suunto app is compatible with both iOS and Android and is divided into five tabs: home, calendar, diary (with all daily data), map (GPS) and profile. It's neither the most intuitive nor the most comprehensive of the apps we tested, but it does the job by providing some graphics. Updates are done automatically via Bluetooth from within the app.
Overall, the app focuses on sport. In addition, it is compatible with other sports apps, such as Strava, Training Peaks, Komoot, etc. This once again demonstrates its sporty character and allows athletes to centralise their data.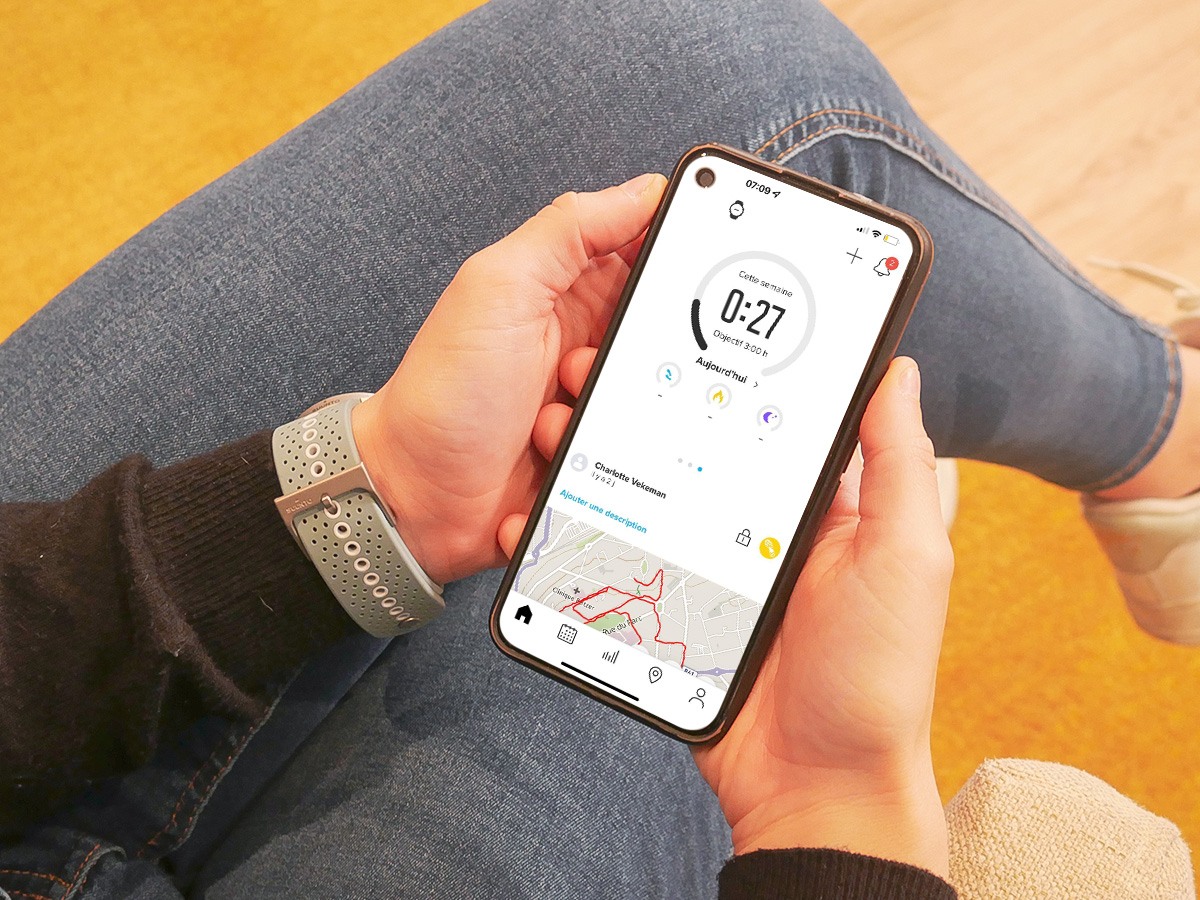 In terms of health, this watch does not offer any health monitoring functions for women (e.g. menstruation periods), breathing exercises, blood pressure measurement or electrocardiogram.
However, the basic functions are available, starting with sleep analysis. According to our observations, bedtime and wake-up time were correctly identified. The watch records deep sleep time, but not light or REM sleep, which makes the analysis incomplete.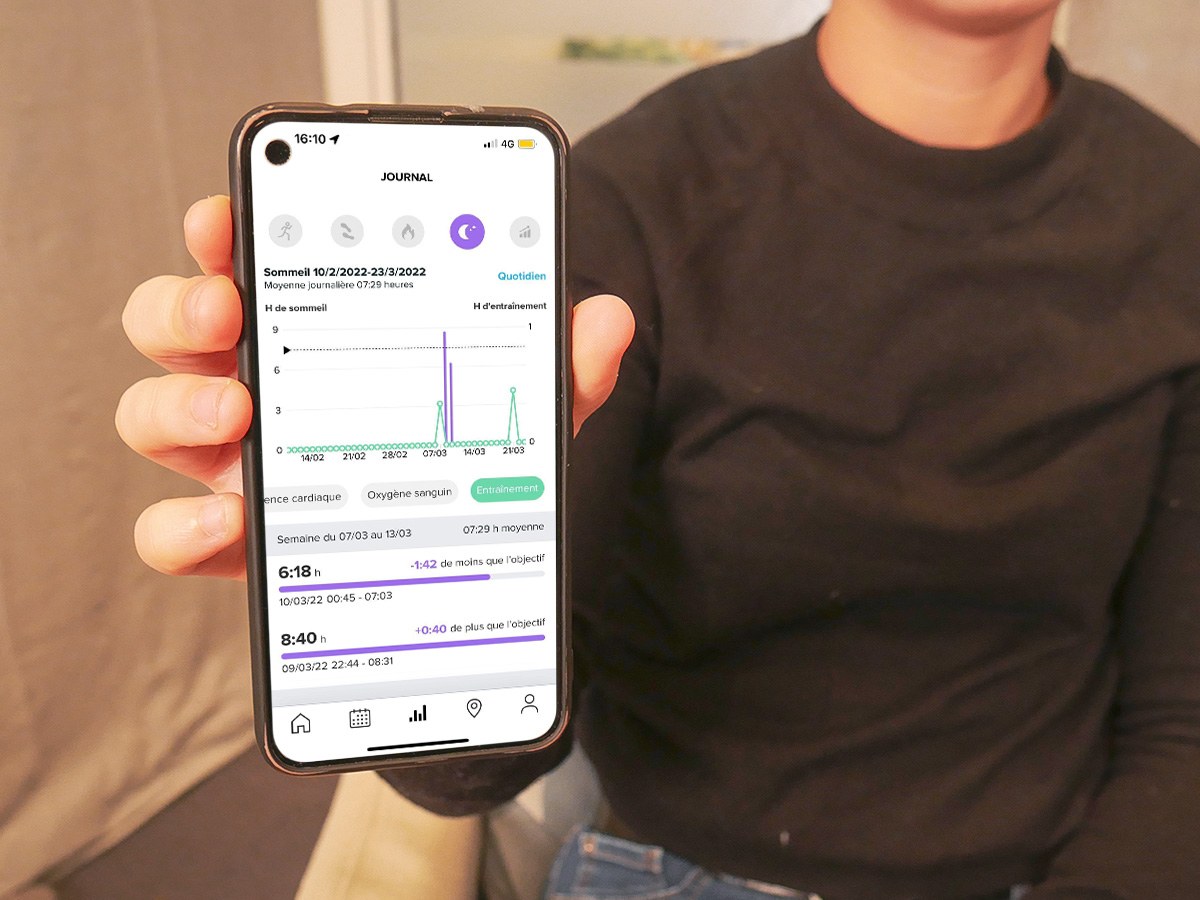 The 9 Peak measures heart rate during sleep (but we found the measurement a bit high compared to other models) and you get an overall assessment of your sleep quality with a score indicating whether you are meeting your goals.
Finally, Suunto provides some graphs showing wake-up data, heart rate and other sleep-related parameters.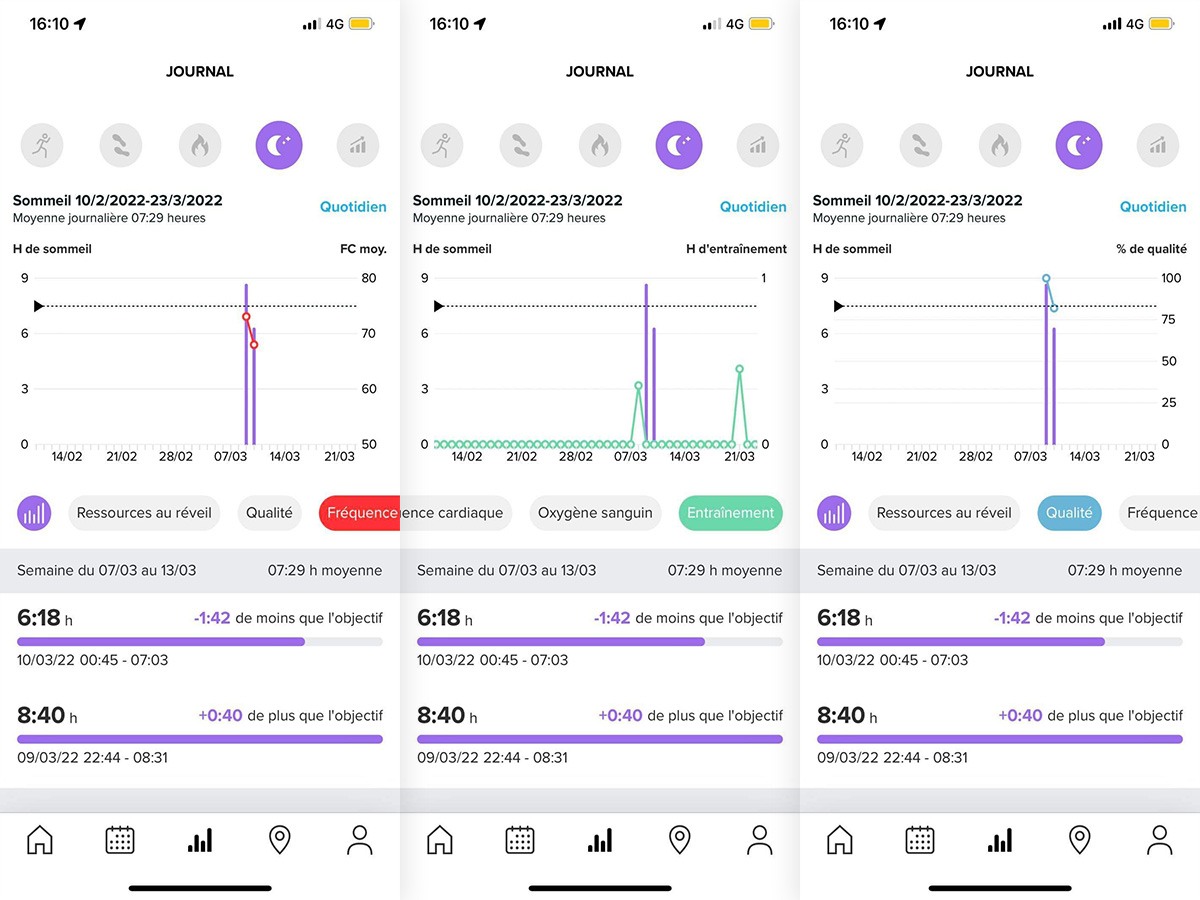 One of the new features is the addition of a blood oxygenation sensor (SPO2) to assess your acclimatisation to altitude. However, accuracy is not always present, as the result is often relatively low. In addition, the app does not provide any graphs or history for this function.
The watch also offers a stress sensor. This and the SPO2 measurement must be done manually.
During the test, we also found that the accelerometer seemed a bit inaccurate, both in the step count and in the evaluation of distances.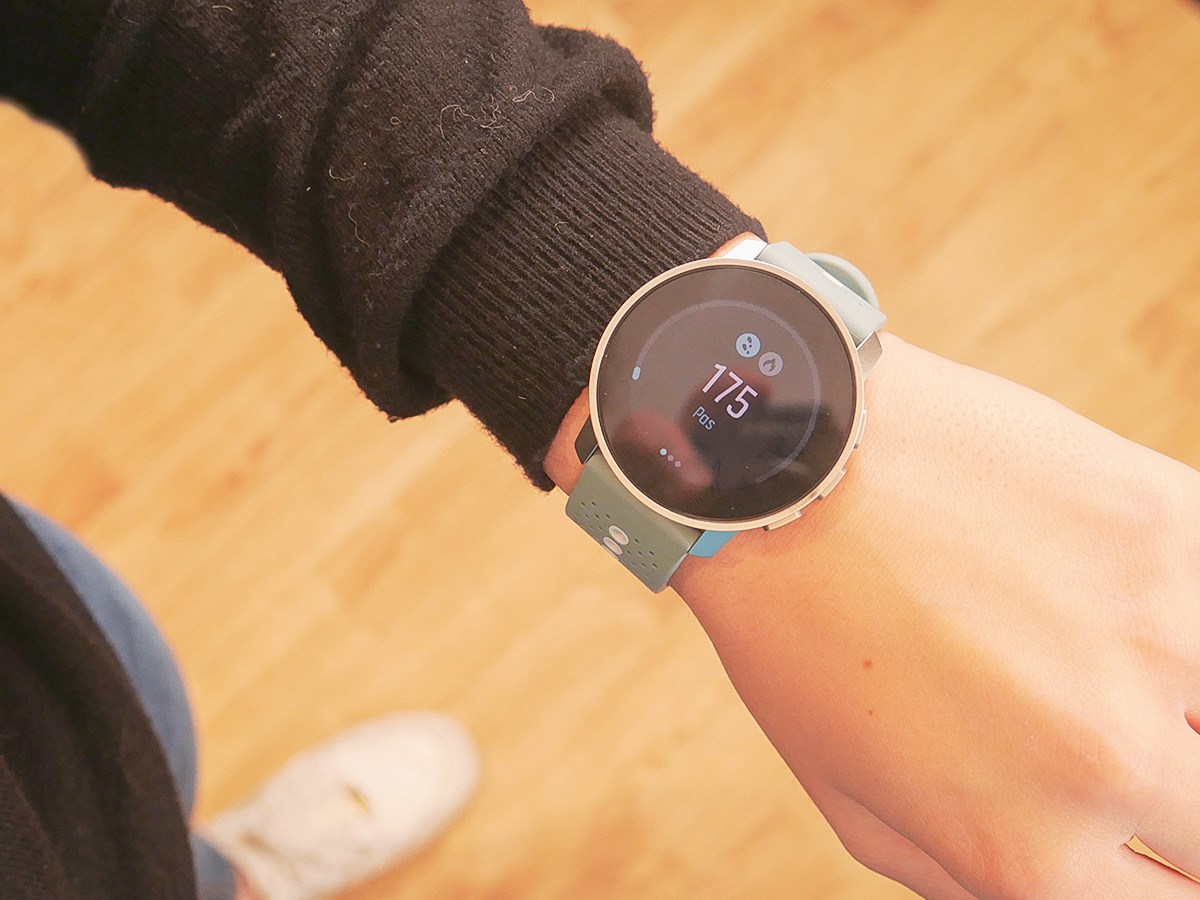 Fortunately, GPS is more reliable, even in the most forested areas. Together with Glonass, Galileo, QZSS and Beidou, this function allows you to plan routes and follow the path to your destination.
In contrast, the 9 Peak does not include map support, but the Snap to Route and Ghost Runner modes are sufficient. You can import routes in GPX format or create your own.
The watch also includes an electronic compass and a barometric altimeter that measures altitude. Both elements are accurate and interesting for mountain sports enthusiasts (orienteering, trail running, trekking, hiking, etc.).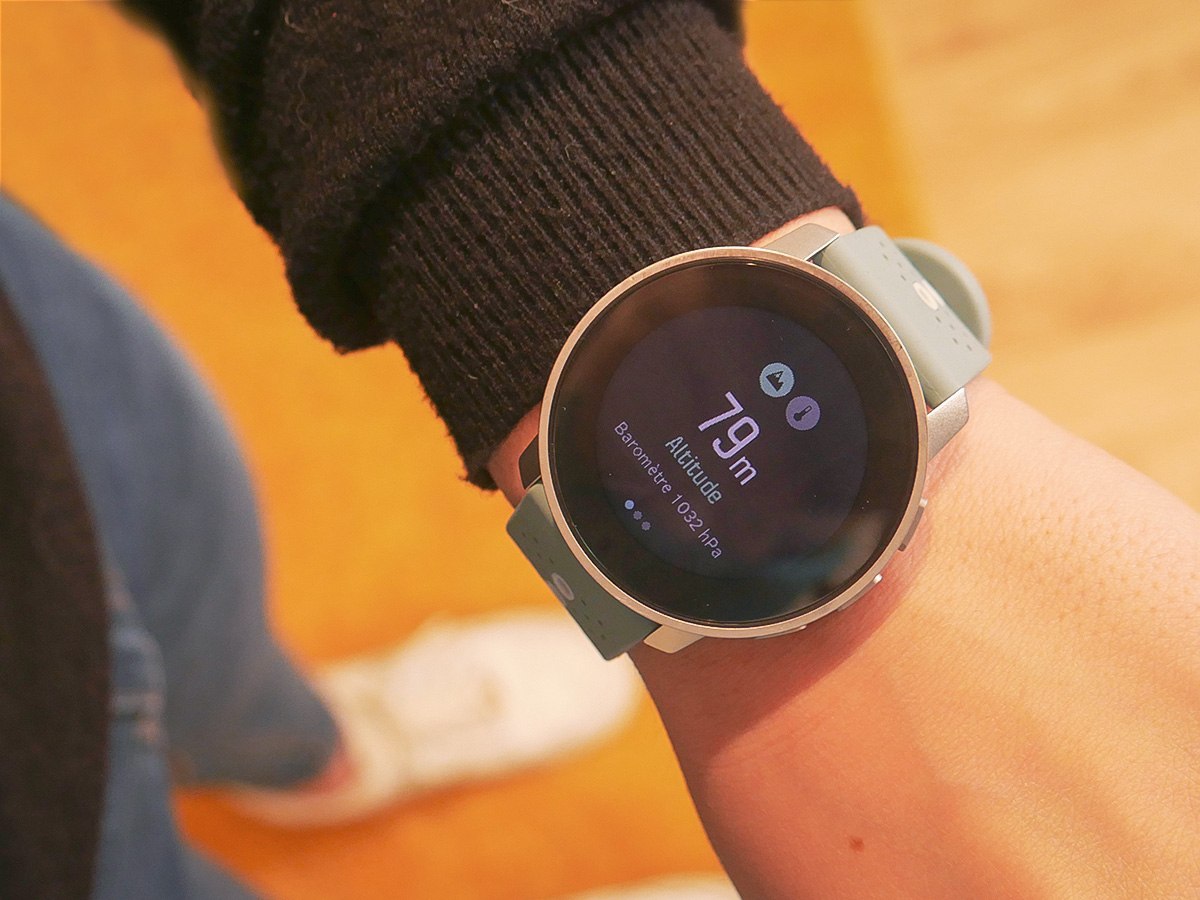 In terms of sports, there are more than 80 activity profiles, including a multisport profile, a triathlon mode, various types of running, cycling, swimming, mountain sports, motor sports, extreme sports, martial arts, combat sports, winter sports, water sports, ball sports, racket sports, as well as other practices related to fitness, athletics, etc.
We were able to try out some of these modes during our tests, and it is possible to configure the display of the data fields from within the application.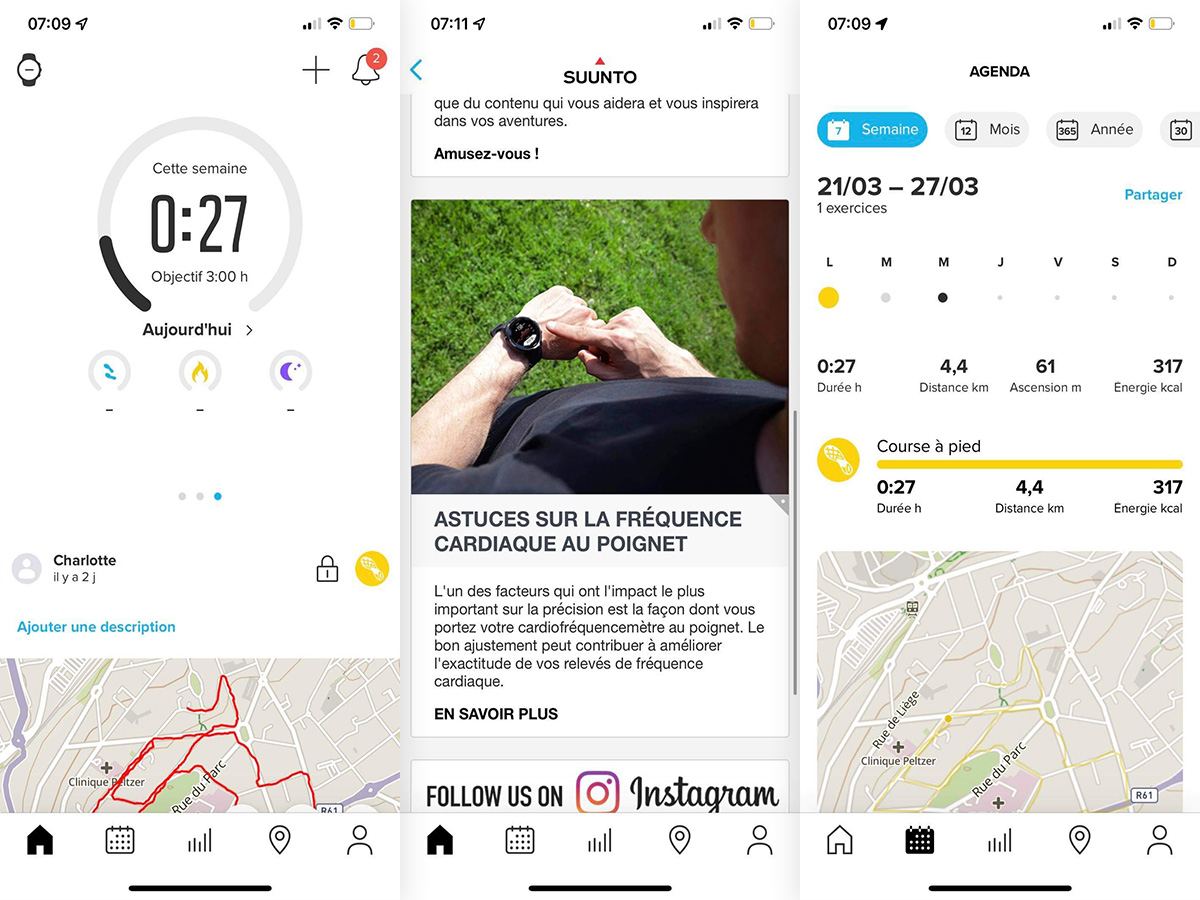 The watch records your VO2 max. During activity, you can access this data easily and conveniently. It includes the basic data (distance, speed, exercise duration, pace, cadence, steps, heart rate, calories burned, etc.), and you also get more unusual but very useful data such as TSS (showing the difficulty of the activity), PTE (the impact on your fitness), elevation gain, temperature and EPOC (showing the intensity of the session). Some of these graphs are only available in the app.
According to our observations, when GPS is not activated, distances are evaluated rather poorly, which distorts the speed data. The calculation of calories lost also seems a little disproportionate.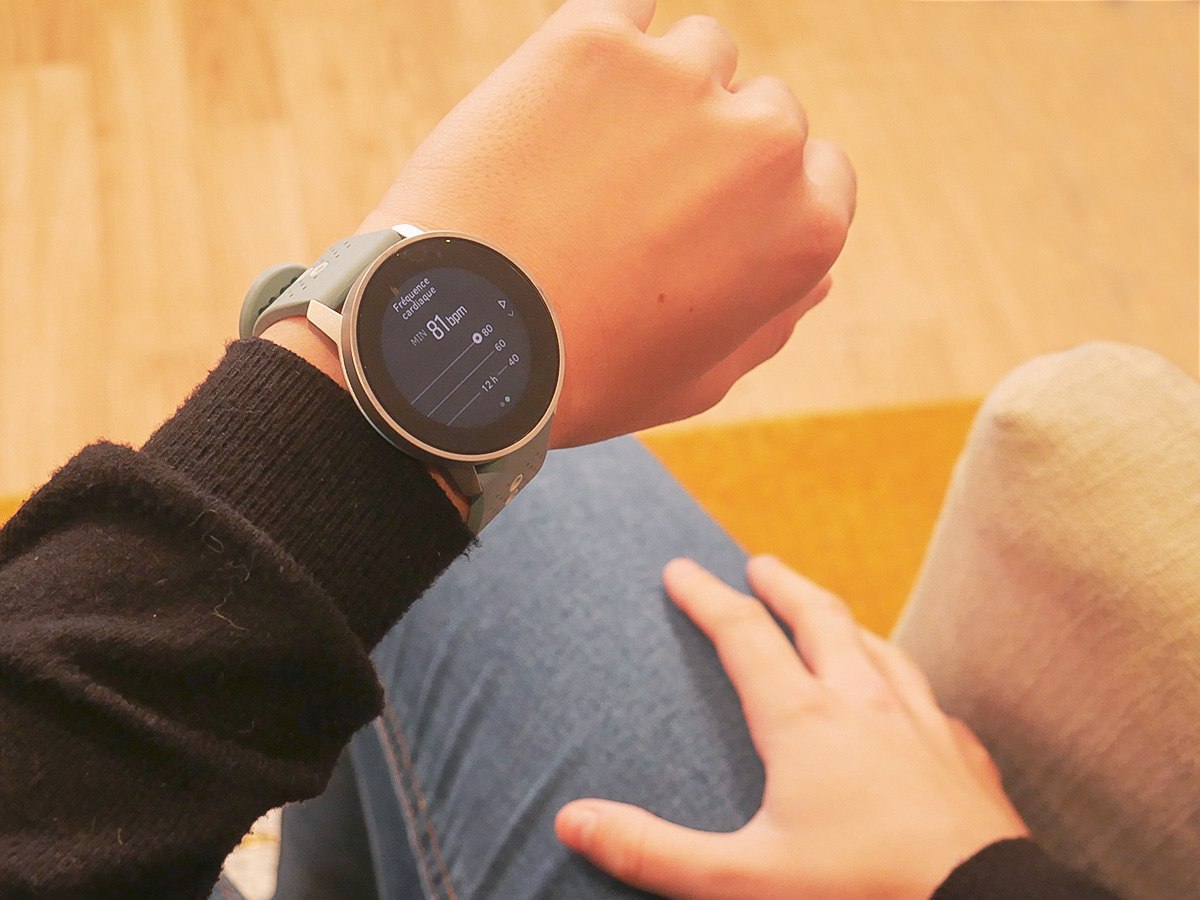 On the other hand, the heart rate shows excellent accuracy, both at rest and during running sessions. Heart rates are taken even in swimming mode. Unfortunately, in the case of swimming and cycling, the results are more inconsistent.
For more accurate measurements, external Bluetooth sensors can be added (for example, a Stryd sensor as a source of distance and pace data to compensate for the lack of a power sensor for running).
Each day, you will be able to access certain graphs on your daily physical activity (number of steps taken, calories burned or consumed per hour, training time, etc.). In addition, the fitness level and recovery time required allow you to better manage your body after exercise. The physical age helps to visualise your fitness level.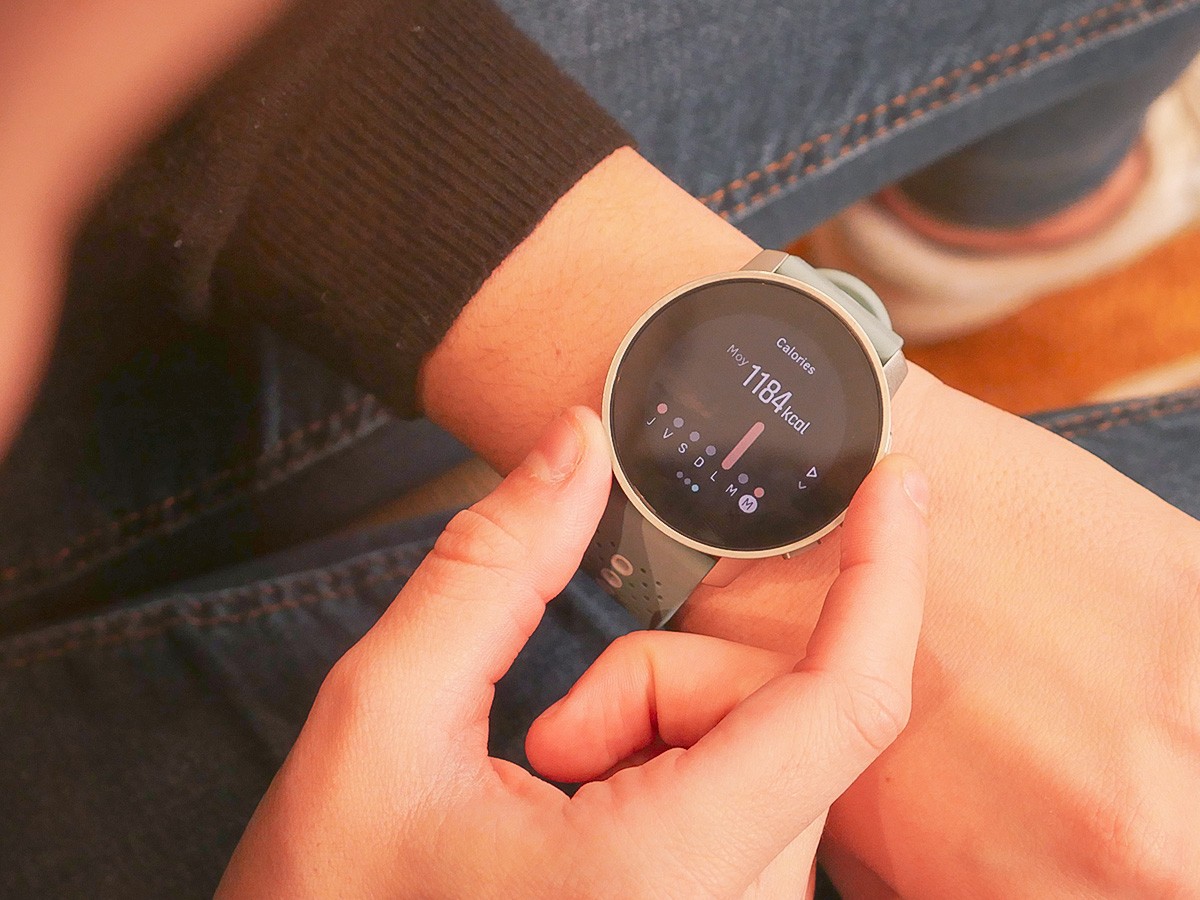 Do Not Disturb and Airplane modes prevent distractions during your daily activities.
Connected functions are more limited. You will be able to receive calls, text messages and social media notifications, but not respond. Message visibility is also convincing, but the watch doesn't support emojis.
In the menus there is a calendar, a chronometer, alarms (sunrise/sunset, storm, alarm clock, etc.), but with no NFC chip, contactless payments are impossible.
Finally, the Suunto allows you to control your music from your smartphone. These respond well enough to the touch interface of the menus.
Battery life
The brand promises a battery life of around 7 days in smartwatch mode (with constant measurements) and 25 hours in GPS mode (170 hours in GPS Eco mode).
The "energy saving" mode limits functionality but prolongs battery life. It is also possible to change the GPS accuracy to save battery life.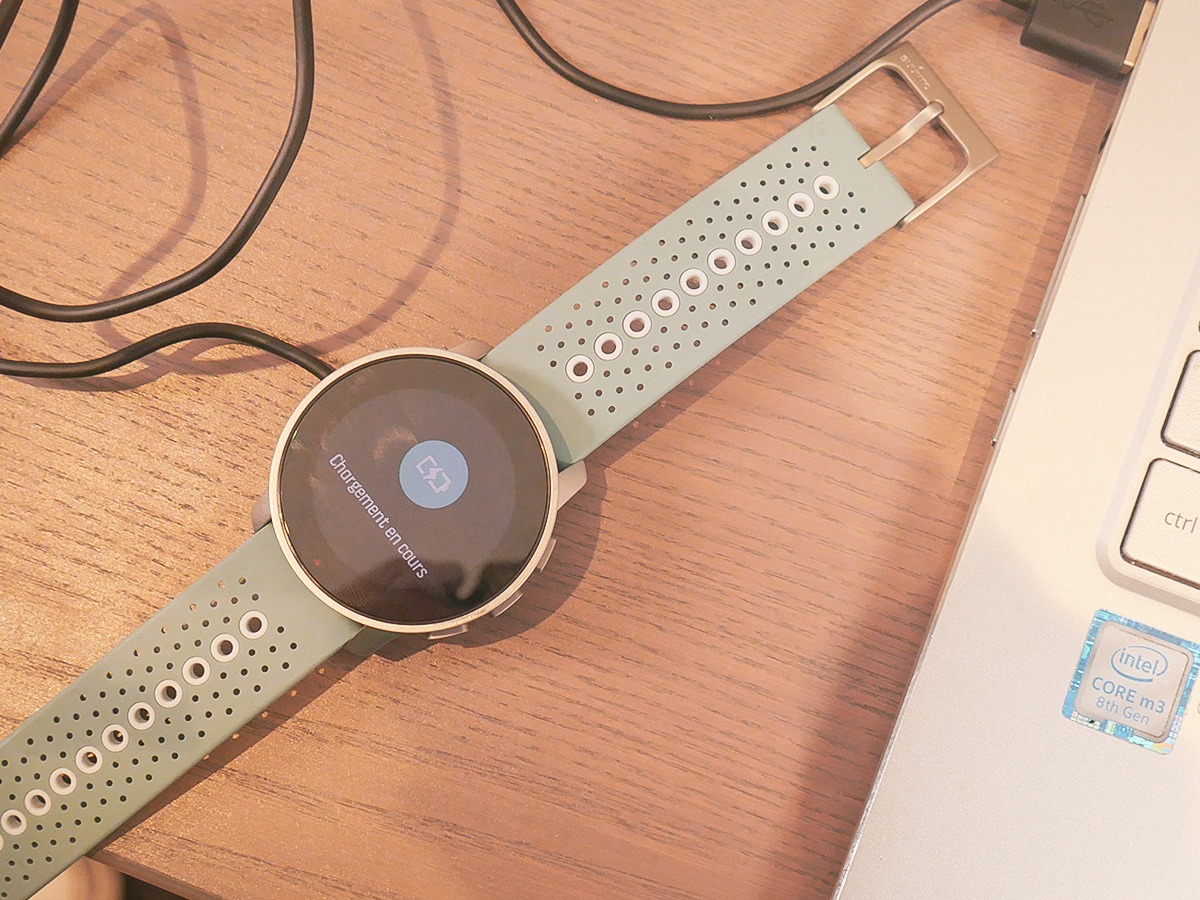 In addition, the watch has a battery indicator: when the battery runs out, simply place the dial (without removing the strap) on the magnetic charger. It takes approximately 1 hour to fully charge (four times faster than the previous version).
Conclusion

The Suunto 9 Peak is a great GPS sports watch with its modern design, sophisticated navigation system, extensive data and GPS range. It is ideal for mountain sports and triathlon enthusiasts.

However, due to its less developed health functions and its sometimes tedious pairing, we do not recommend it for everyday use.

GOOD POINTS

Modern and subtle design

Fast charging

Interesting and accurate navigation system

Good battery management in GPS mode

Good waterproofness

Wide range of data

NEGATIVE POINTS

Limited connected functions

Lack of SPO2 accuracy

Incomplete sleep analysis

Unresponsive interface

Tedious pairing with some smartphones
Translated by Ramsés El Hajje