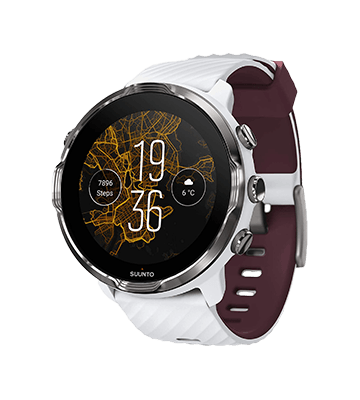 GOOD POINTS
Ideal for sport with unprecedented data
Mapping options
Quality display
Robust
Good responsiveness
HR and GPS accuracy
Many smarts functions
NEGATIVE POINTS
Low autonomy
More limited health functions
Not compatible with other external sensors
Voice assistant rather slow
Distance estimation
Summary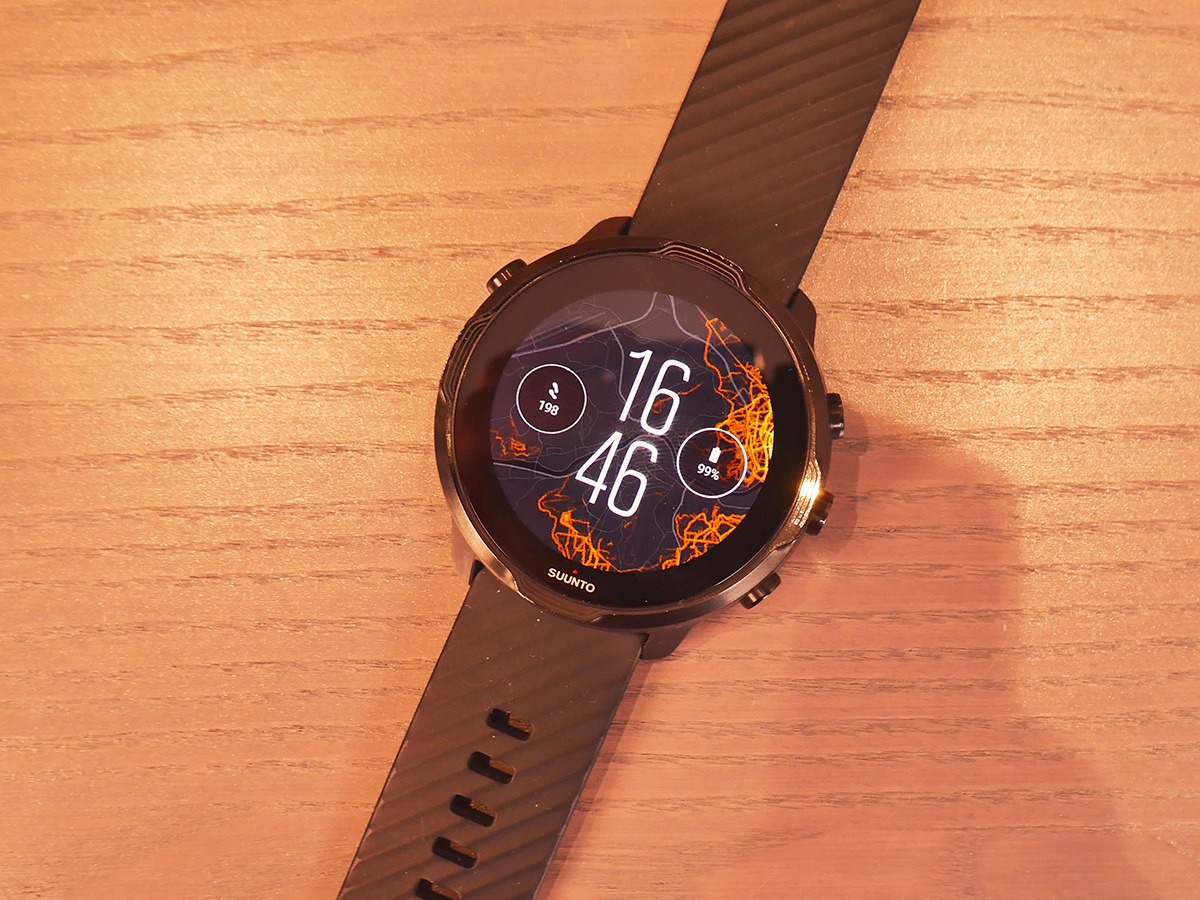 Design
The Suunto 7 has a sporty look with a large, thick circular dial (15.3 mm thick by 5 cm in diameter). It is quite bulky on the wrist, which makes it not very suitable for female wrists and hinders comfort during evening or training. Please note that it weighs 70 g.
The removable silicone strap (24 mm wide) is very flexible and therefore pleasant to wear. Thanks to the numerous holes, it ensures a good fit regardless of the size of the wrist.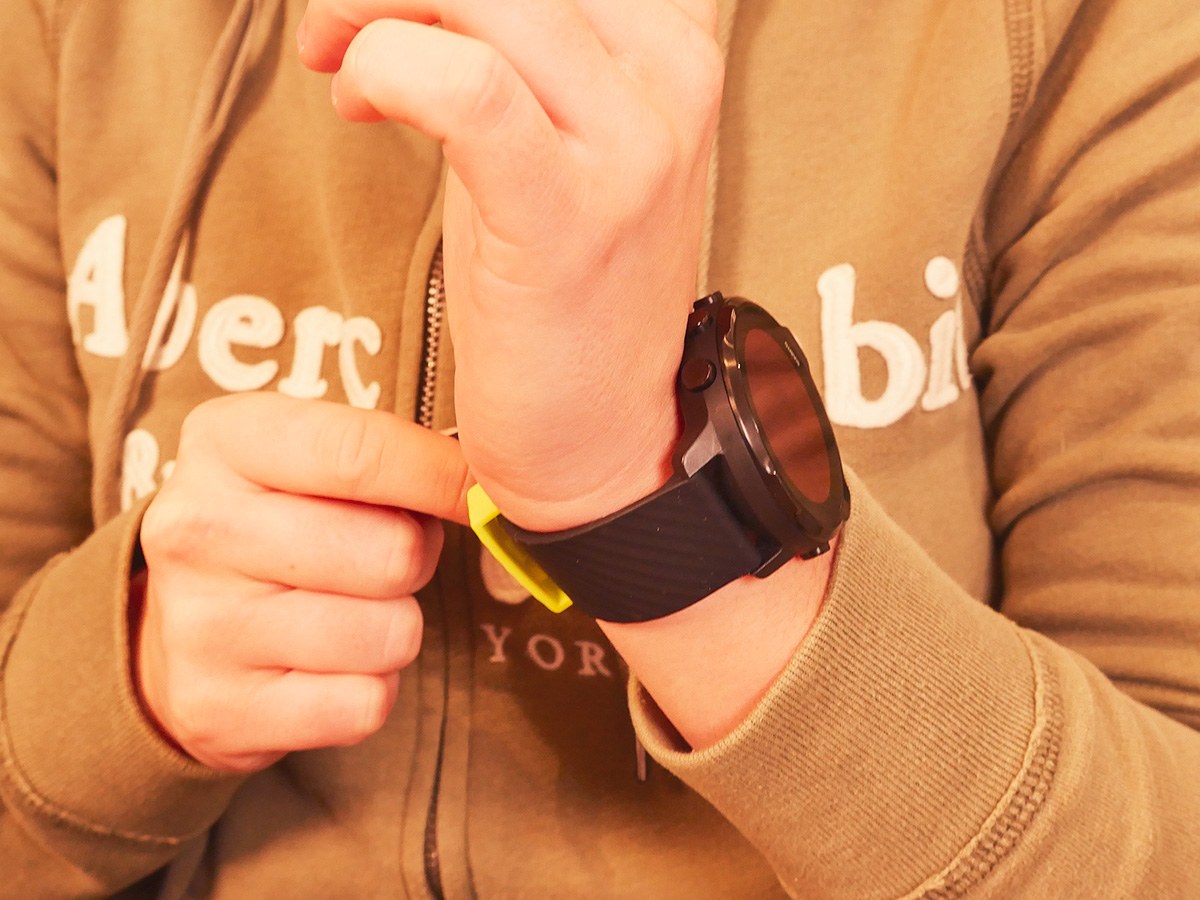 With 5 ATM certification, this watch resists dust, sweat and water, and can even be worn in the shower or on the surface of the pool. On the other hand, you cannot dive with it on. It also shows good shock resistance.
The AMOLED display offers excellent quality with good colour and good readability, as it is exceptionally large. The display would have been better with a borderless slab, but it is still quite good (despite some reflections in the sun). It has a resolution of 454 x 454 px and is resistant to fingerprints and scratches thanks to Gorilla Glass.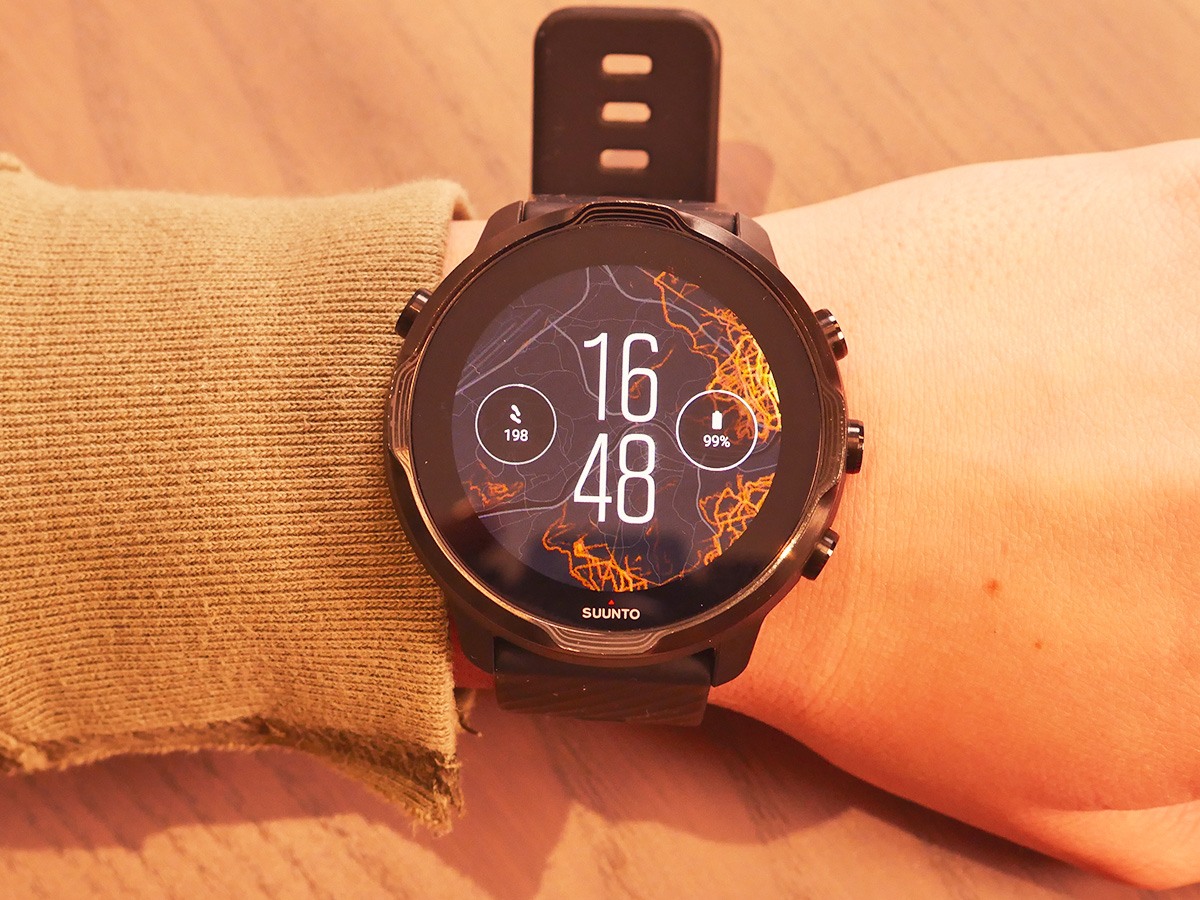 This model has an automatic brightness sensor, but the light can also be manually adjusted in three levels. There are many customisation options, such as smart display, do not disturb mode, aeroplane mode, sleep timer, vibration settings, sunlight boost, font size, touchscreen lock, notification preview and more.
Another interesting feature is that the base dial is a heat map of your area, which includes the most popular routes taken by runners.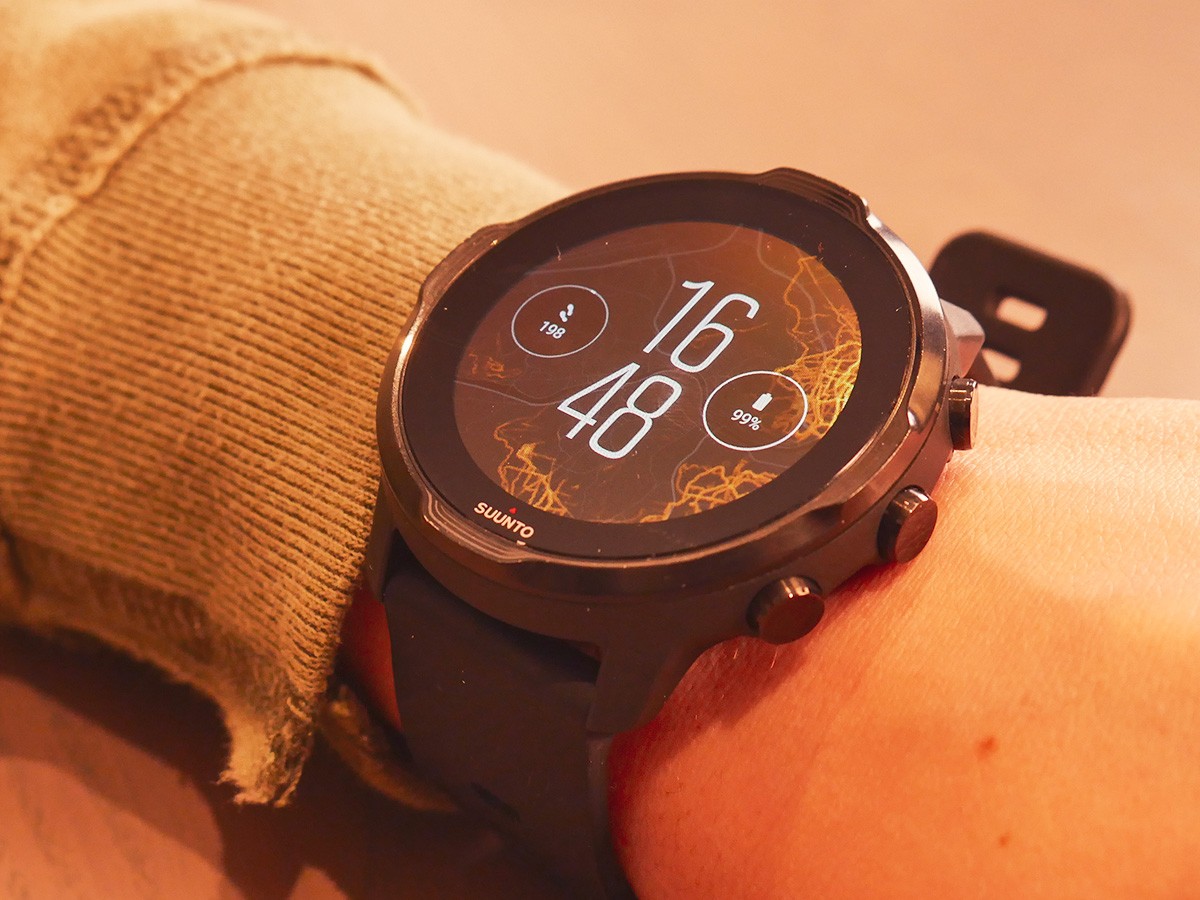 Menus are available in 19 languages, including Spanish. The screen is touch-sensitive, and the interface works with swipes and scrolls. Operation is relatively simple, and the display is very responsive.
Suunto also relies on the presence of four physical buttons: one on the left that gives access to the functionalities under Wear OS or the voice assistant, one on the top right for sport modes and access to maps, one in the centre right for music and finally a last one on the bottom right that sends directly to the stopwatch. These last two buttons can be customised. They are very practical for sports sessions or when wearing gloves.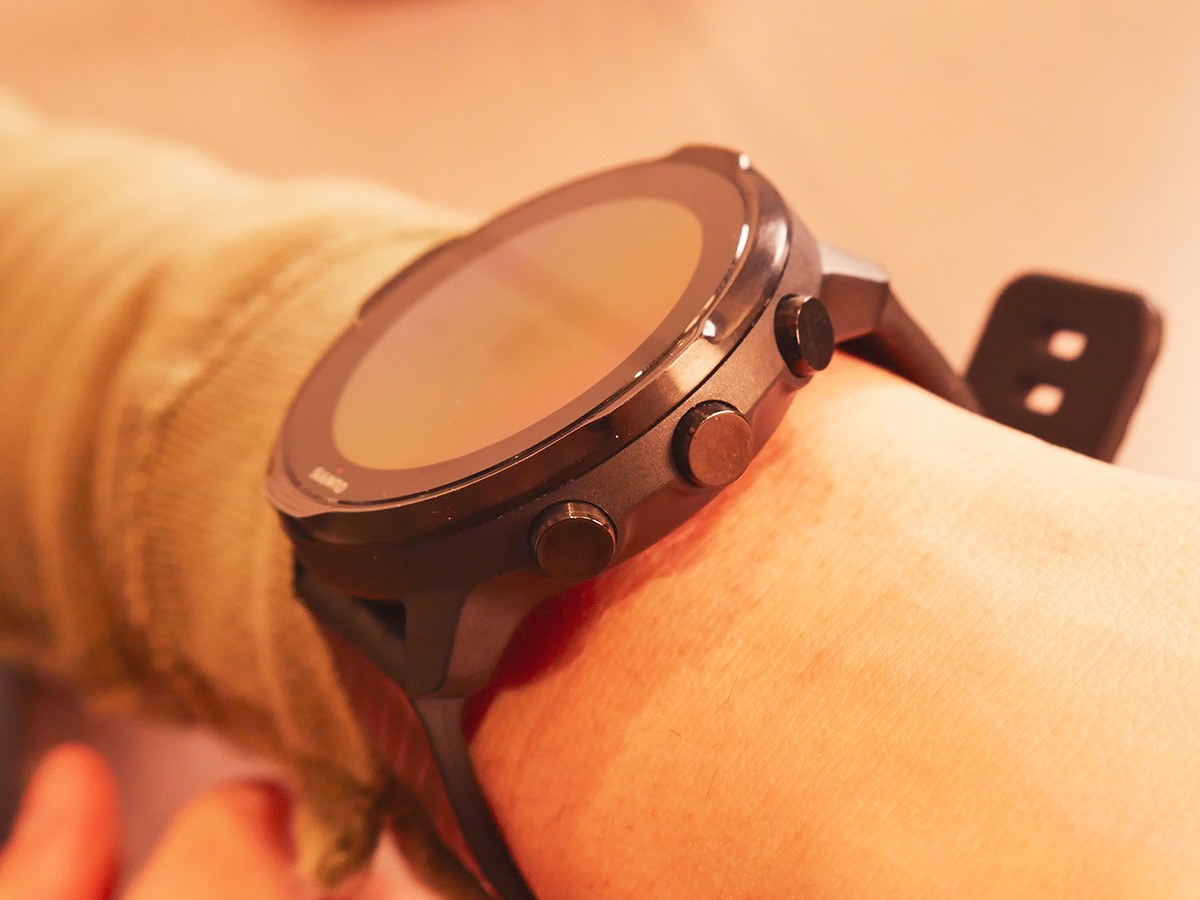 Finally, the Suunto 7 relies on Google's voice assistant, which is a bit slow.
Features
This model has Wi-Fi and Bluetooth connections, as well as NFC and ANT+ communication technologies. It is compatible with Android (we evaluated it with a Pixel 4a) and iOS, but some apps cannot be added to iPhones.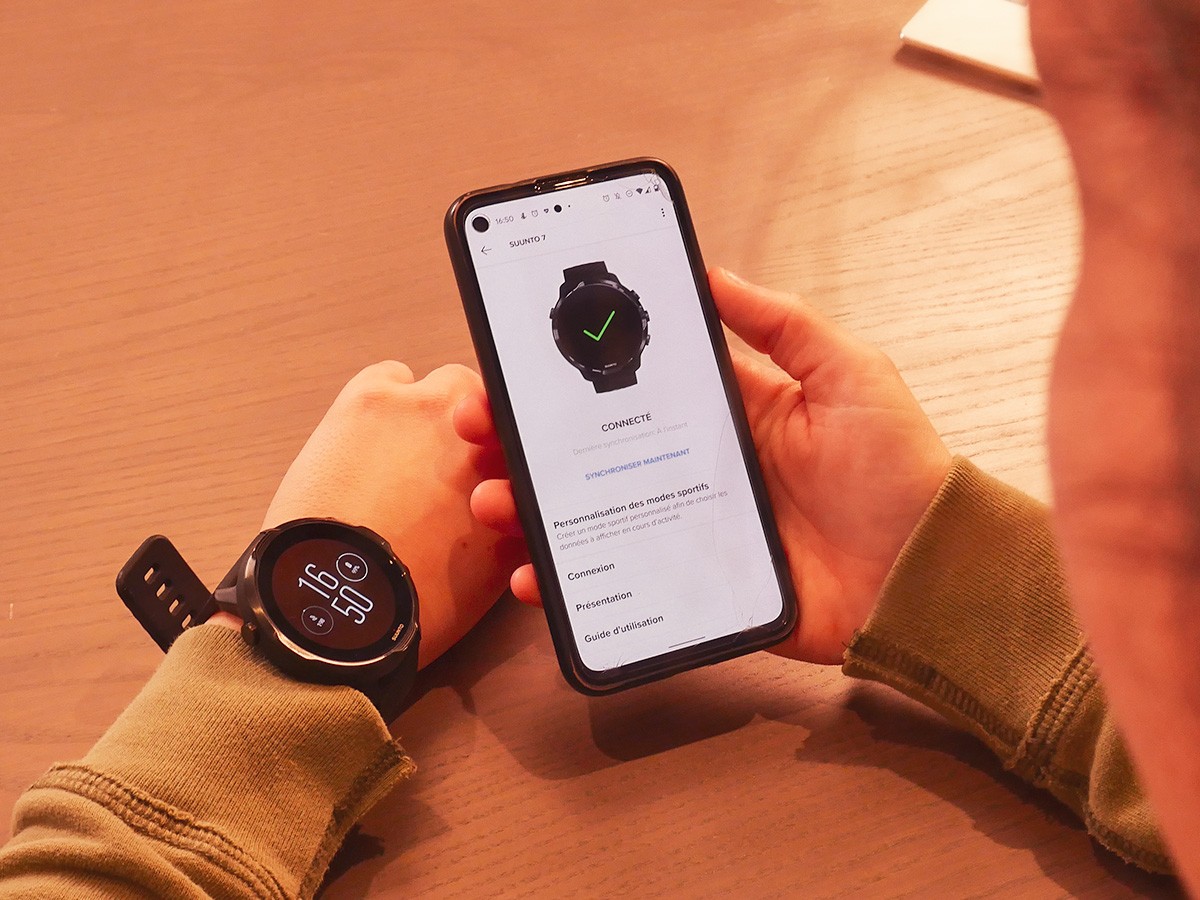 During our test, it took a while to sync the watch with the smartphone. First you must go through Wear OS and then through the Suunto app. After that, you need to register your profile in the app. It is not complicated, but it will take a few minutes.
The Suunto app is not the most intuitive, but it performs more than adequately. It also gives you access to a lot of information from your wrist.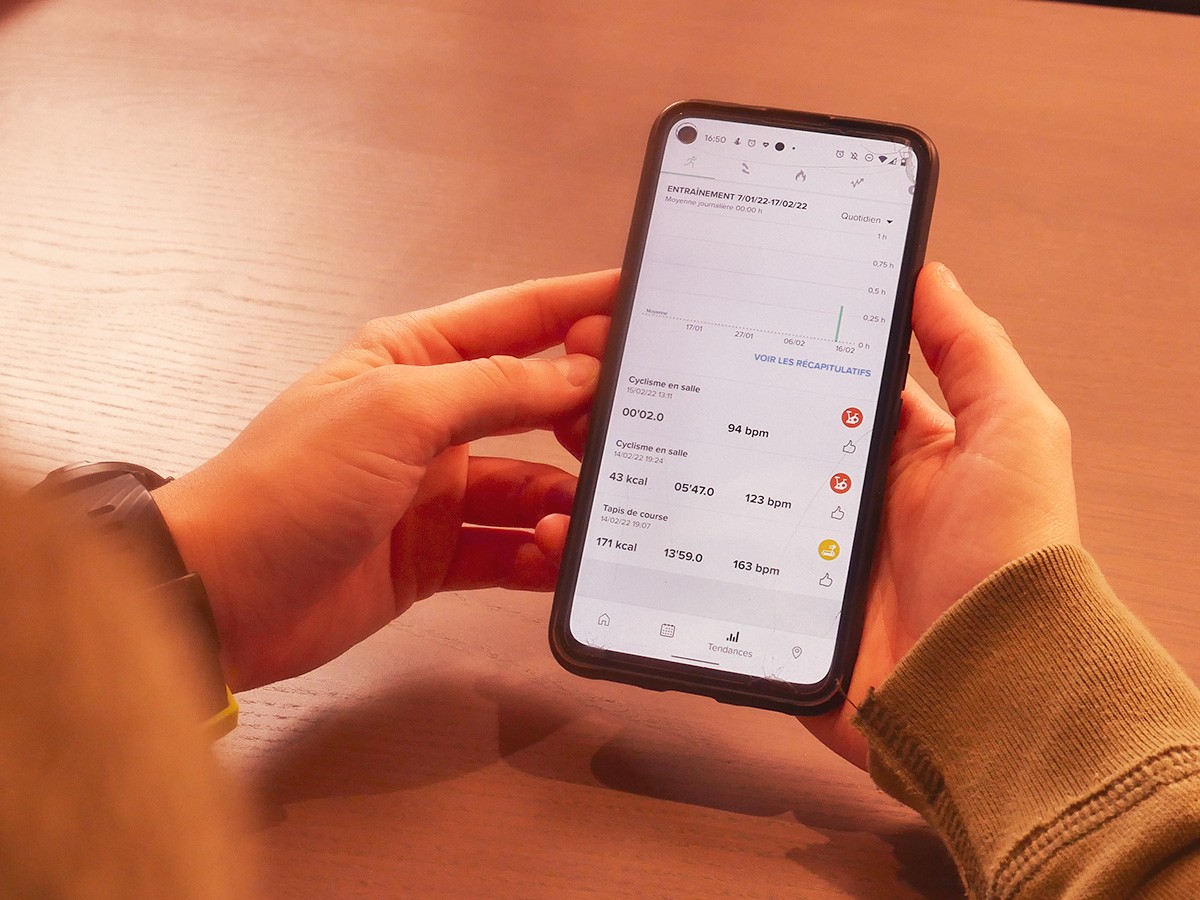 It is divided into four tabs: "home", which offers a quick glance at the day's data, "calendar", which shows the schedule of sports sessions, "trends", which provides more detailed information on daily fitness and activities, and "map", which allows you to create or view routes.
Note that it is also compatible with sports apps such as Google Fit, Under Armour, Adidas Running, Training Peaks or Strava, allowing you to centralise your data.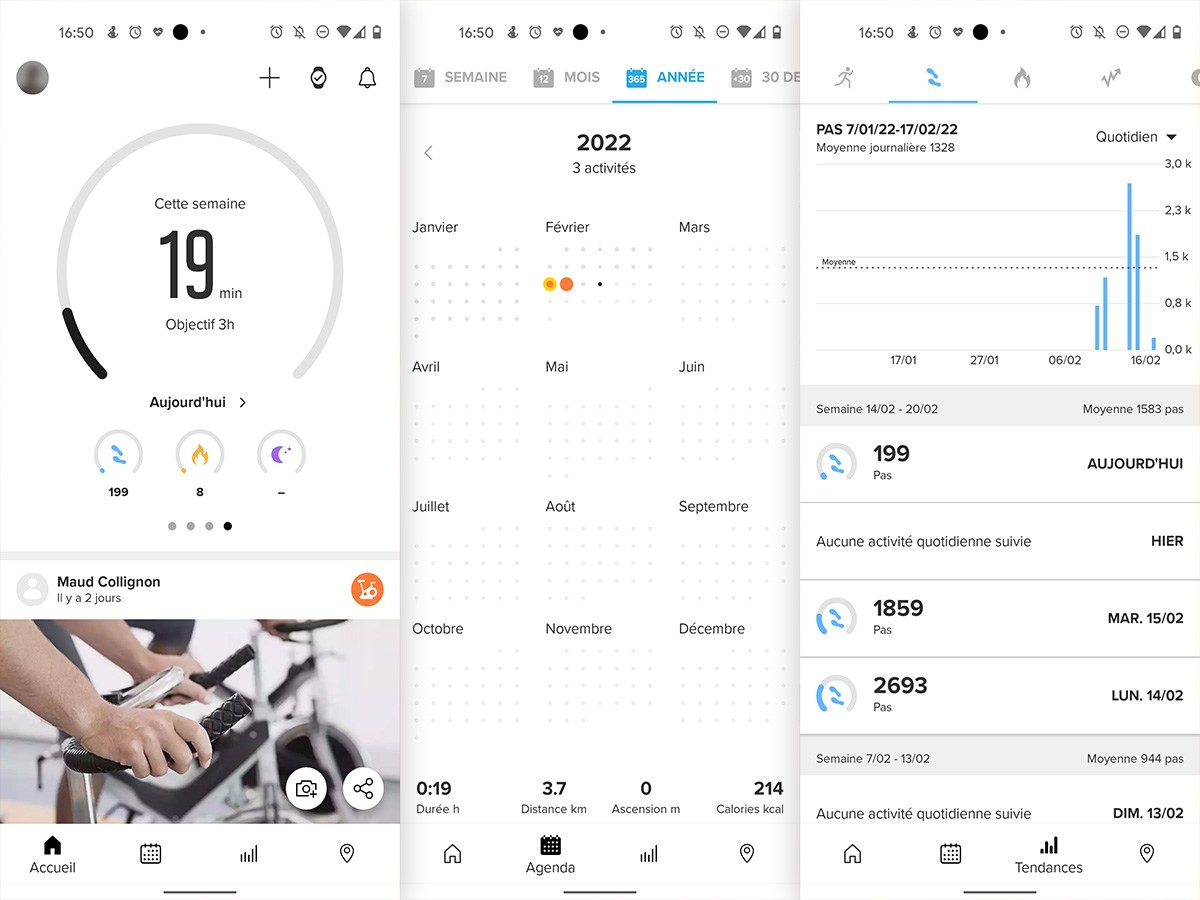 We did not experience any desynchronisation, but we regretted the lack of data synchronisation between Suunto and Google Fit, which forced us to use both.
Google's Wear operating system remains as pleasant and efficient as ever.
Among the health functions, there are several important absences, such as menstrual cycle tracking, a stress sensor and blood oxygenation (SPO2) calculation. There are also no more modern functions such as an electrocardiogram, blood pressure measurement or temperature sensor.
On the other hand, there is the analysis of sleep. According to our observations, the hours of sleeping, falling asleep and waking up correspond to the nights spent. They are related to their goals. The distribution of sleep times (REM, light or deep) also seems to be consistent.
The application, like the watch, shows you the data at the time of waking up with the percentage gained and the evaluation of your sleep quality. Your heart rate is also reliably recorded while you sleep (available as a graph from the watch).
Overall, the analysis is quite complete, even if it lacks the SPO2 measurement, which could have made it possible to detect sleep apnoea problems.
In addition, thanks to Fit Respiration, this model benefits from the traditional exercise of repeated inhalations and exhalations according to a predefined time (from 1 to 10 minutes) and guided by a small drawing on the watch. You will not be able to set the rhythm, but you will get a graph of all your breathing sessions throughout the week.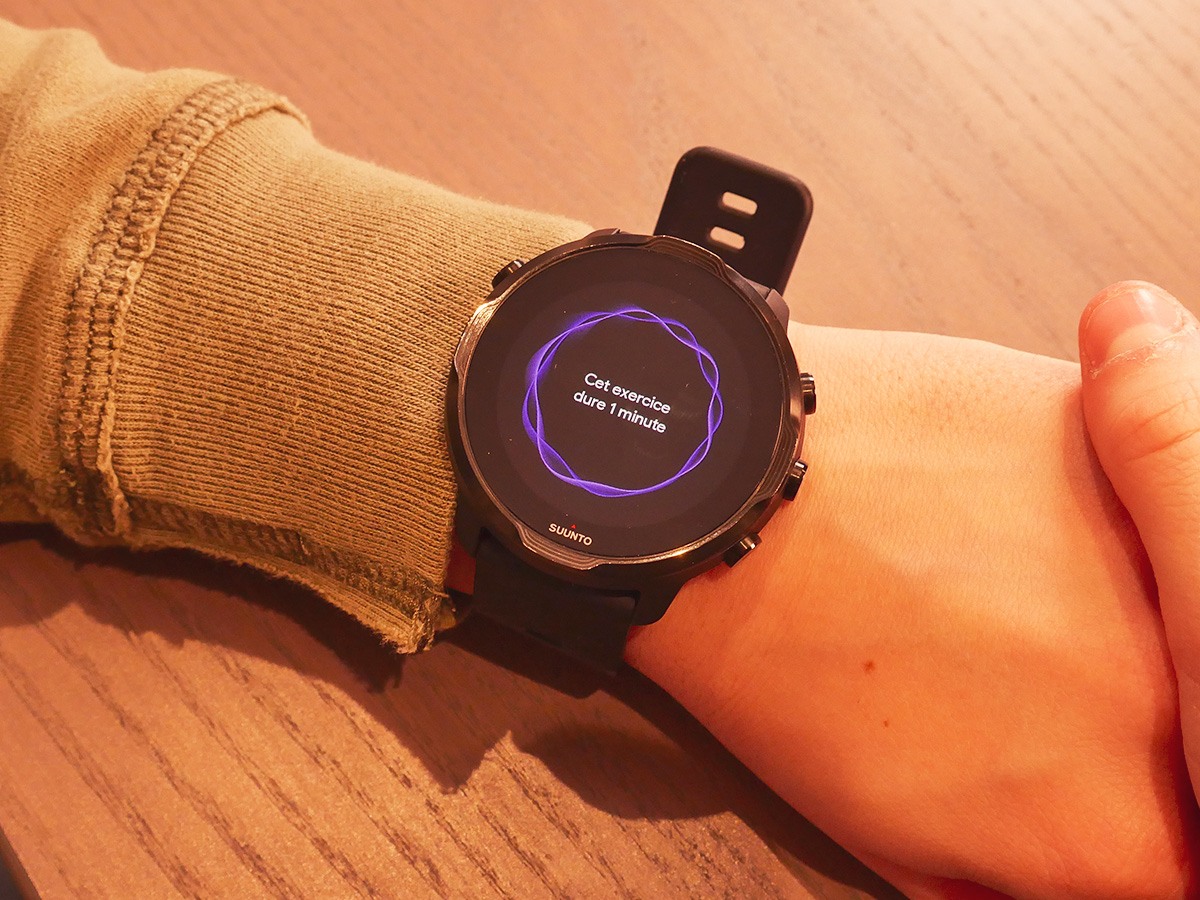 Every day, Suunto 7 records your daily data, including the number of steps taken, calories burned and recovery time from your activities. The Suunto app supplies an overview of your fitness and fatigue levels as well as your physical data.
In terms of sports, this model supports 70 sports, including various running, cycling, swimming, indoor, winter, water, team, and snow sports, as well as other outdoor and performance sports (orienteering, athletics, motorsports, etc.).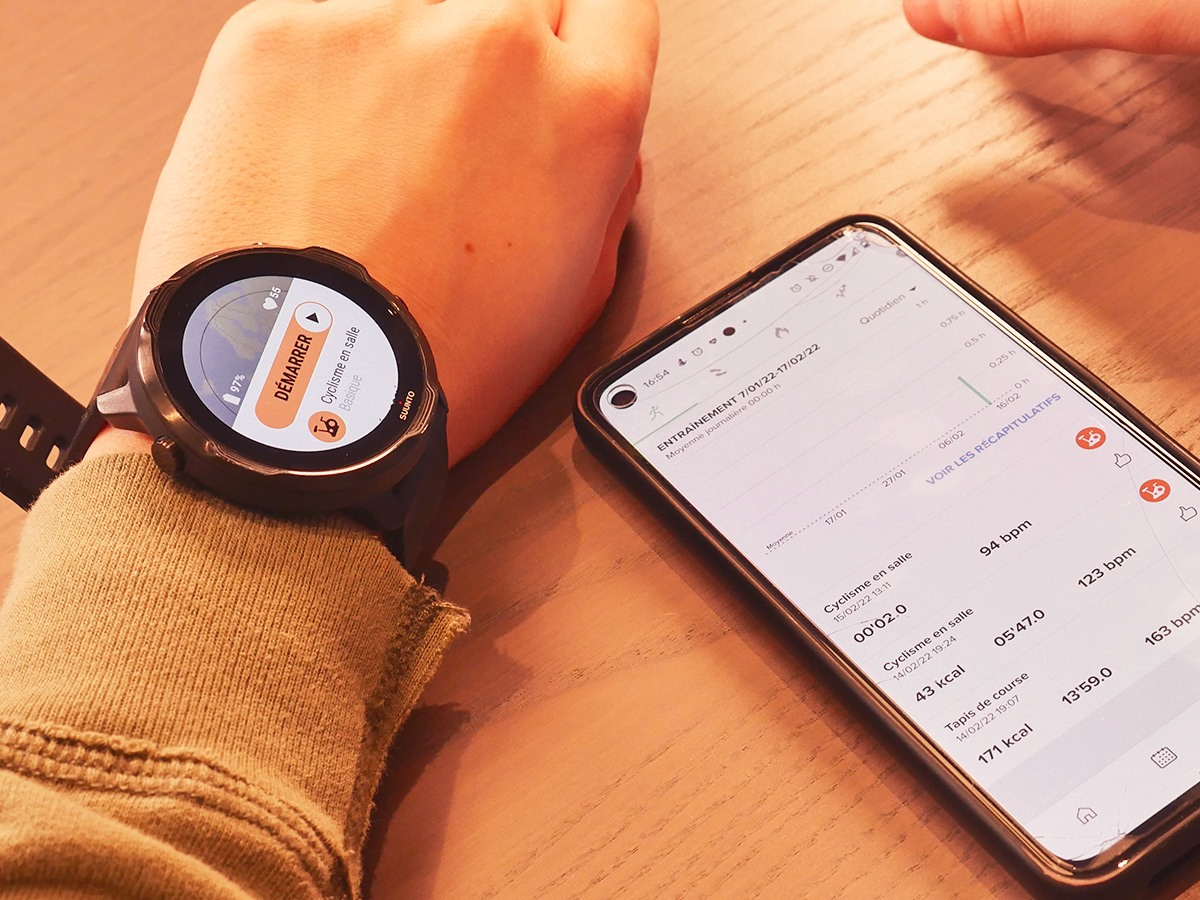 There is automatic detection of certain activities and automatic pause. Activity history is available on the wrist, and you can adapt your workouts according to the goals set in Google Fit.
The presence of a barometric altimeter and an electronic compass are undeniable advantages for mountain sports enthusiasts looking for altitude and elevation accuracy.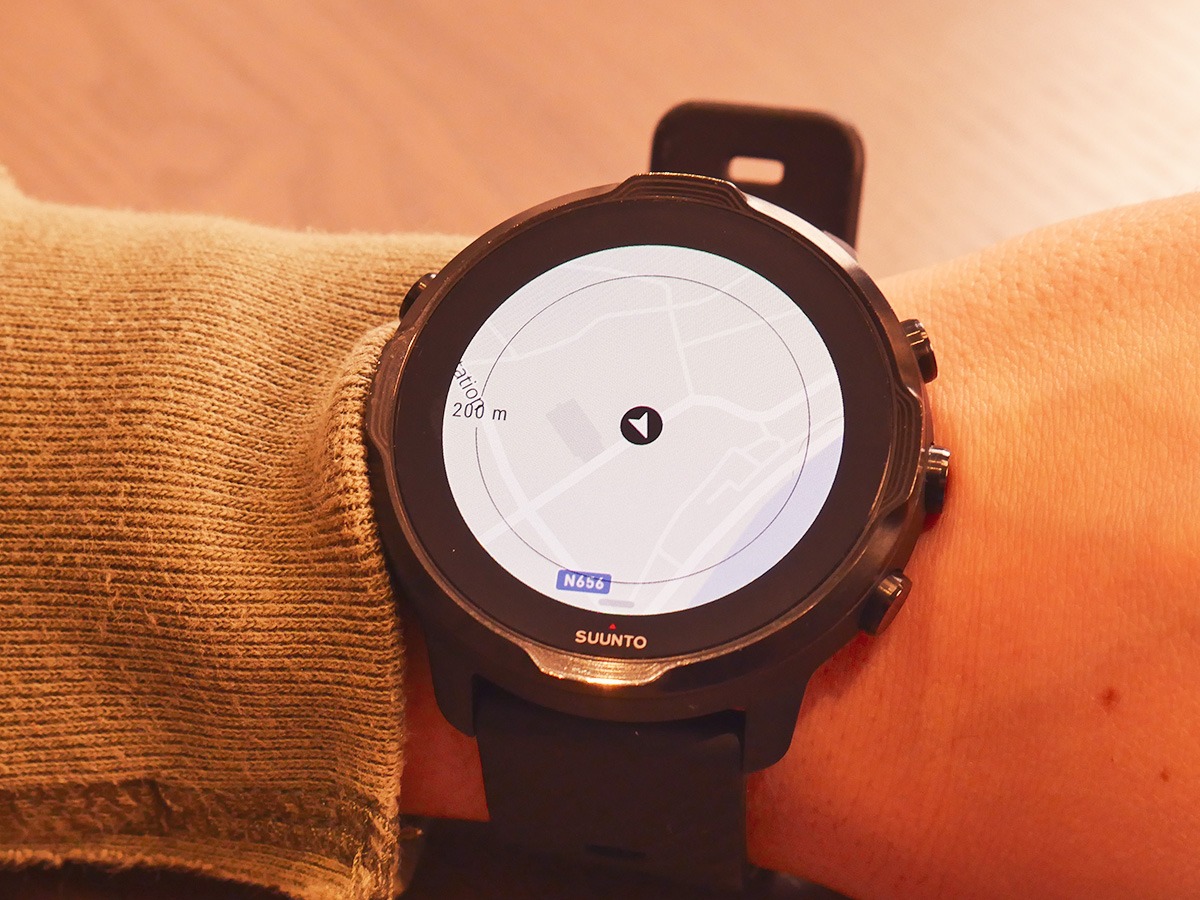 GPS is accompanied by GLONASS, QZSS, Beidou and Galileo positioning systems. Accuracy is the order of the day, even on the most wooded trails or routes.
Other benefits include the ability to create downloadable routes via Wi-Fi from the app, access popular routes or use offline or heat maps for 15 activities and view them on the watch. This is a rare option on the market so far, especially as the maps are well readable. If we get a bit more demanding, it is a pity that it is limited to a maximum area (about 60 km²).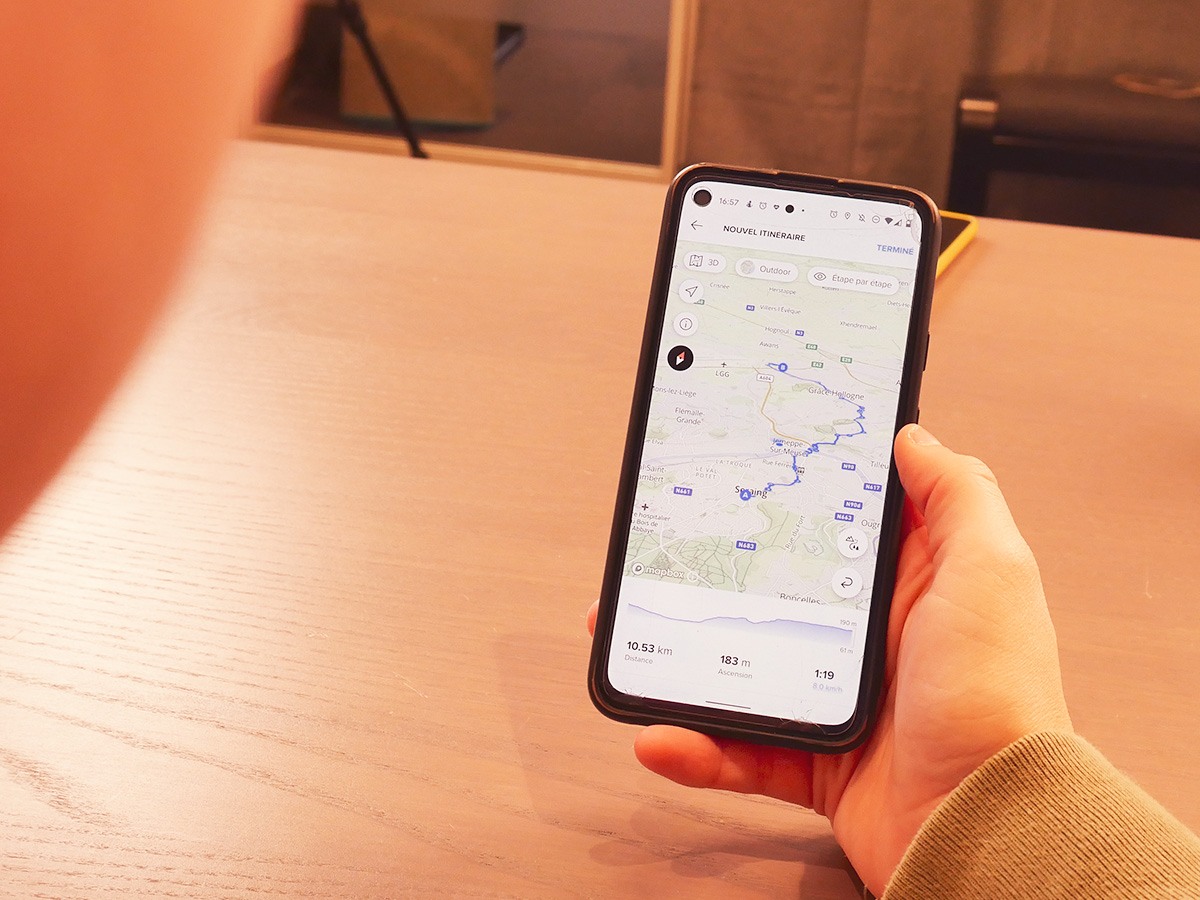 We tested the "treadmill" and "exercise bike" modes. In general, all the information is easy to read during the activity. As with the other models, the bike mode is not as comprehensive as the running modes.
It offers a whole series of classic data (heart rate, pace, etc.), but it also has new ones such as the recovery time required, the Training Stress Score, which indicates the difficulty of the activity, the PTE, which shows the impact of the exercise on physical condition, or the EPOC, which gives an indication of the intensity of the session. In addition, for each of the data there is an explanatory note.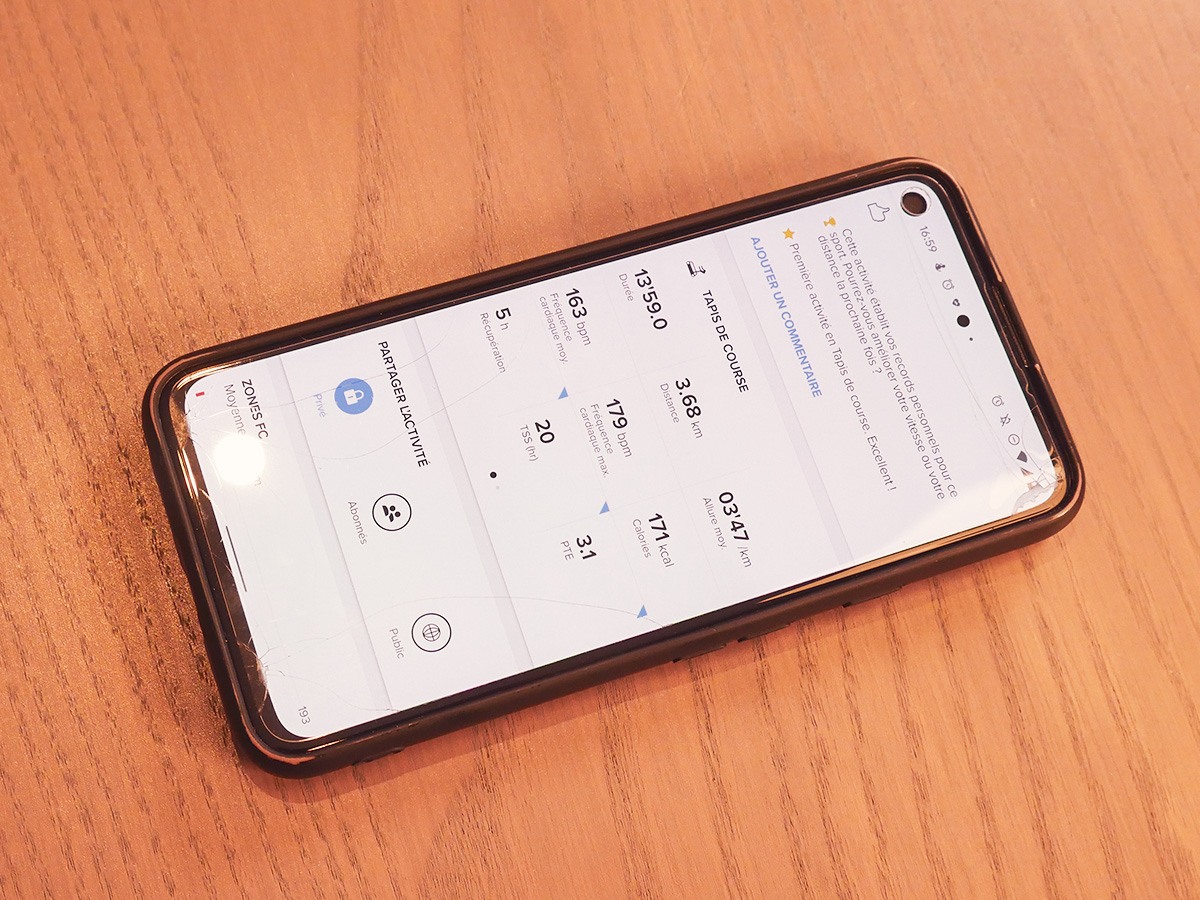 You will have access to several available graphs and a summary of your activities over the last 30 days. In addition, you can follow your evolution for each km in the application with a quite simple graph.
However, the distance estimation is too imprecise (we compared the results with several fitness machines). As a result, the speed and calories burned are also poorly estimated. And unfortunately, as this model is not compatible with external sensors, there is no real solution to improve its reliability, apart from an external app that can fill this gap.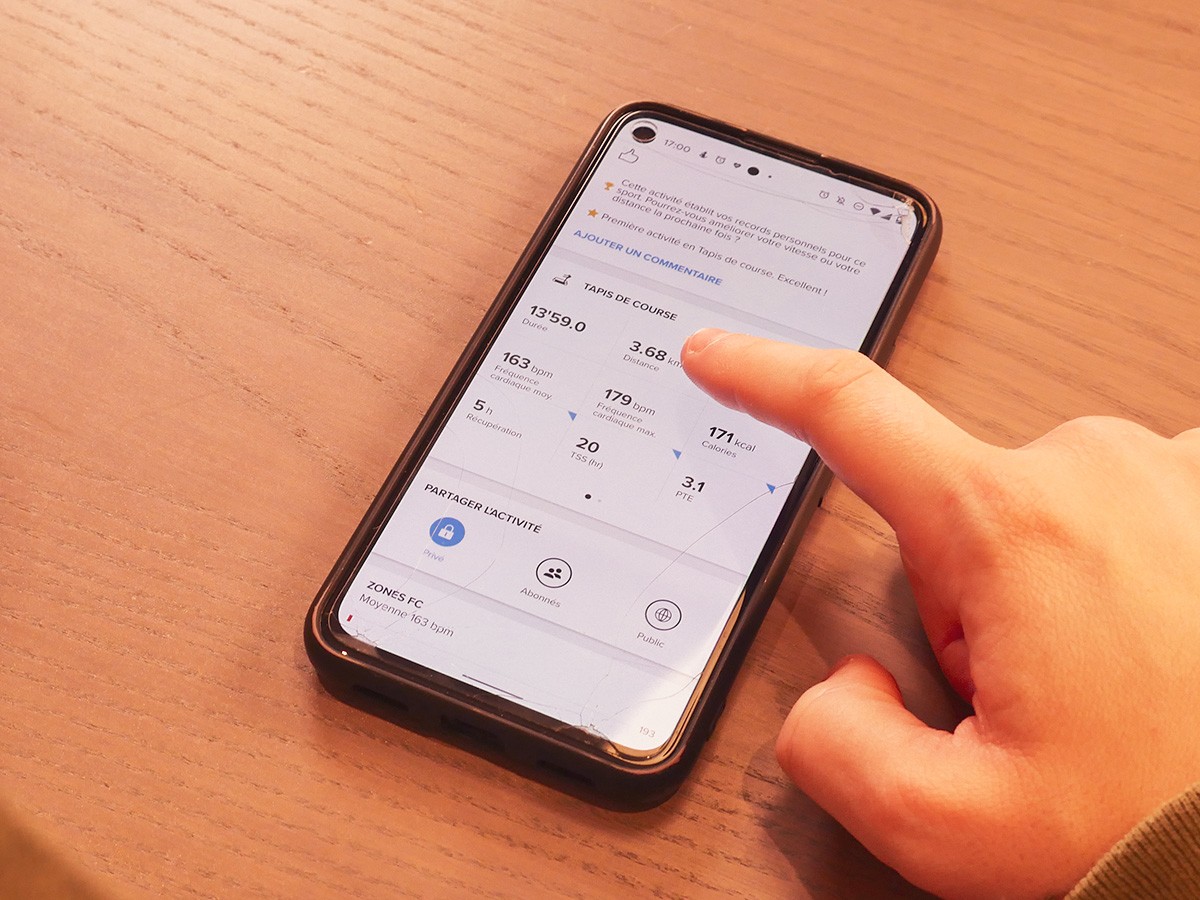 Heart rate, both at rest and in motion, seems more correct. However, the lack of heart rate alerts remains a criticism.
Among the other connected features, Wear OS really adds its touch. Also, the Play Store allows other apps to be installed.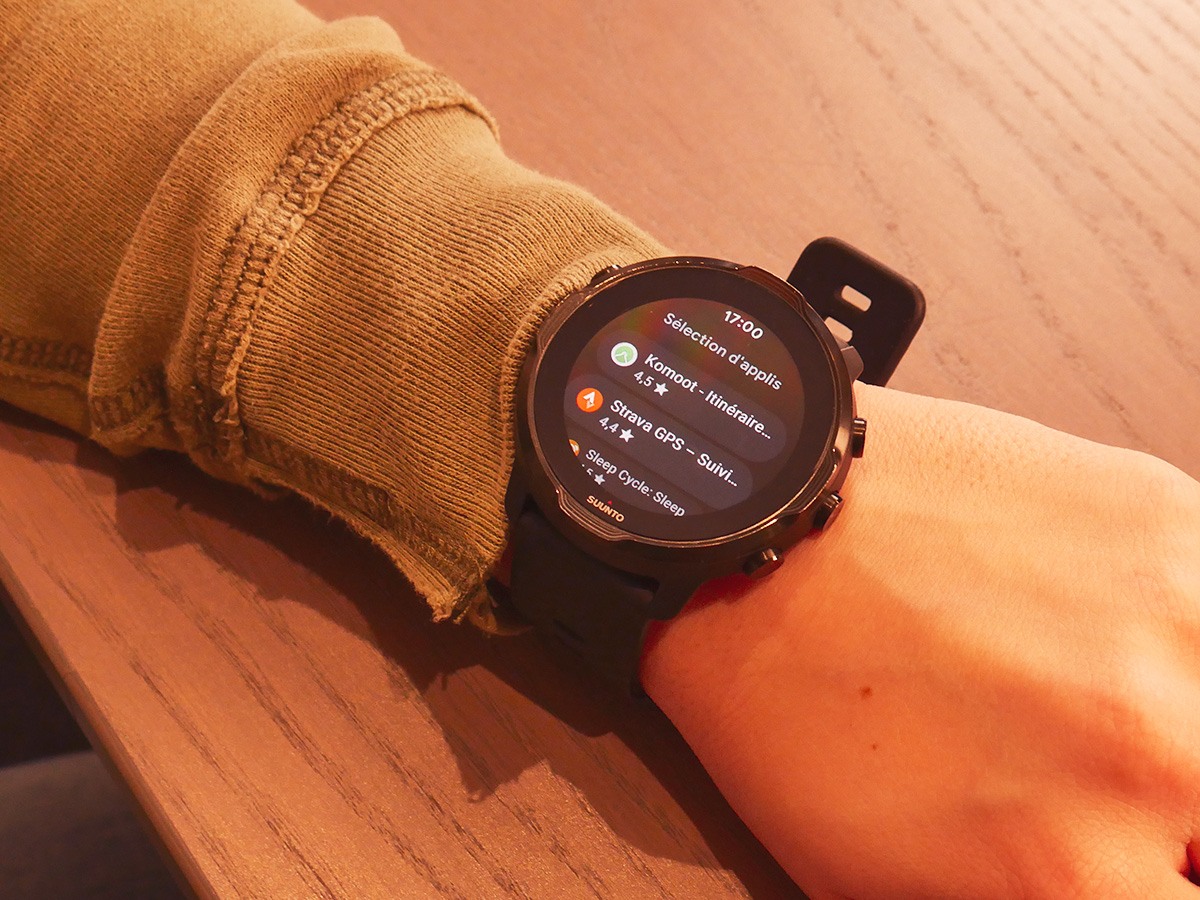 In addition, you can make contactless payments via Google Pay if your bank is compatible. However, if you remove the watch from your wrist, you will not be able to access Google Pay. This is an added security feature.
You can also receive messages from social networks (not all for iOS users) and calls. Messages read well and you can reply to them (Android smartphones only), although the characters are a bit small to type on the keyboard. However, when it comes to calls, you cannot pick up the phone (because there is no speakerphone).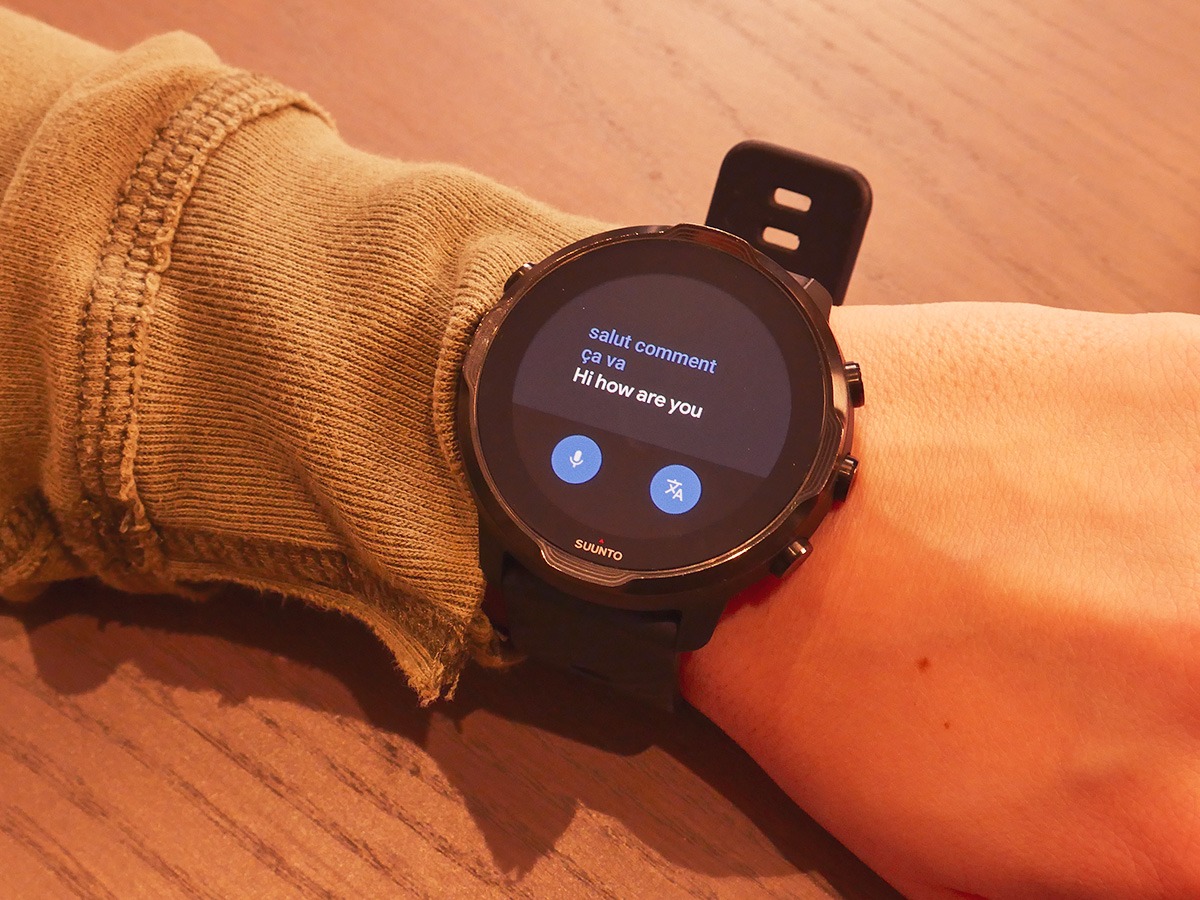 In addition, Suunto offers inactivity alerts, silent alarms, a translation service, and reminders. The brand also offers a calendar, various timers, and a stopwatch.
There is also a torch mode, but it is not a flashlight as such, it simply illuminates the display in white at maximum brightness…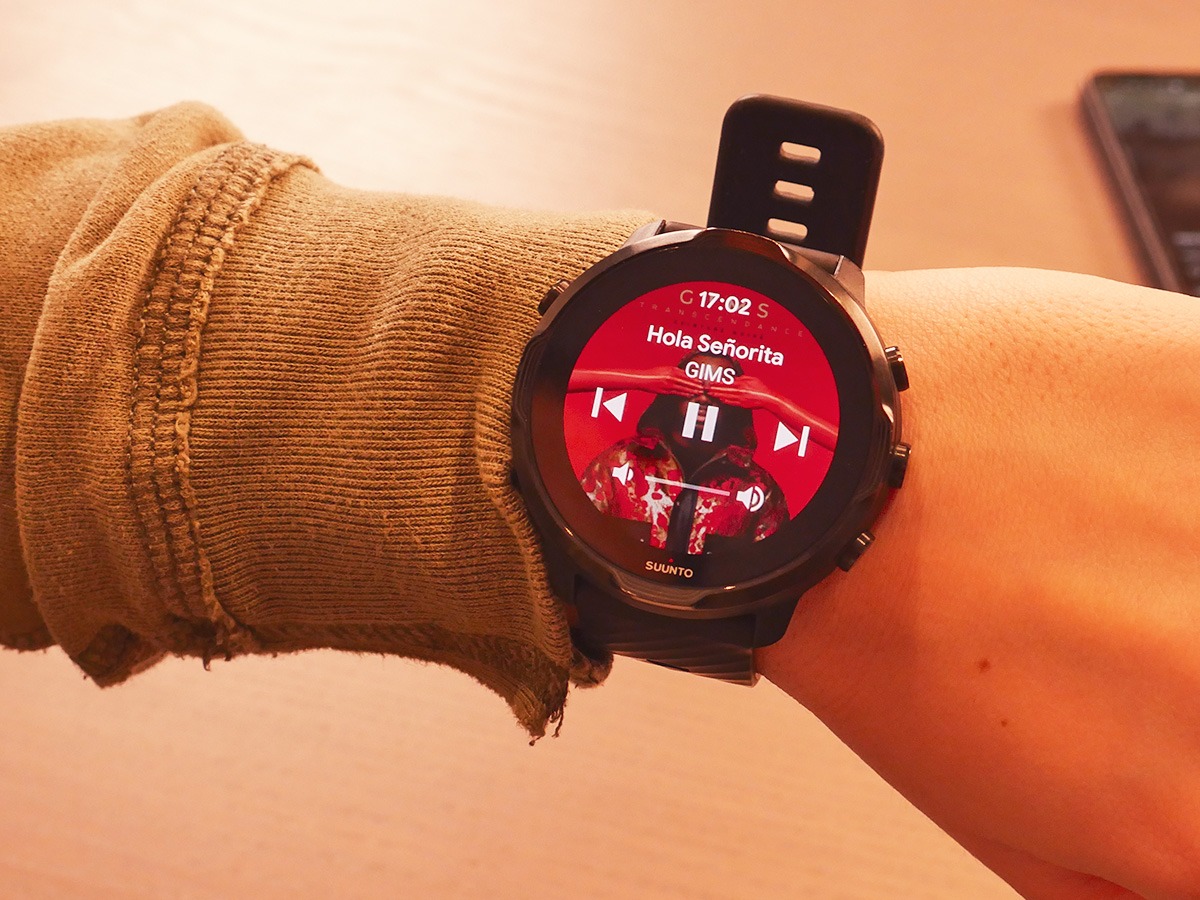 It also has access to the weather forecast for the next 8 hours and allows you to control music from your smartphone with good responsiveness (Spotify, YouTube Music, etc. but not Deezer). There is even the choice to connect headphones, speakers, or earphones to the watch via Bluetooth.
Finally, it is possible to find the smartphone using the watch.
Battery life
The brand claims a battery life of around 48 hours. But it all depends on how you use your watch (active functions, screen brightness, etc.).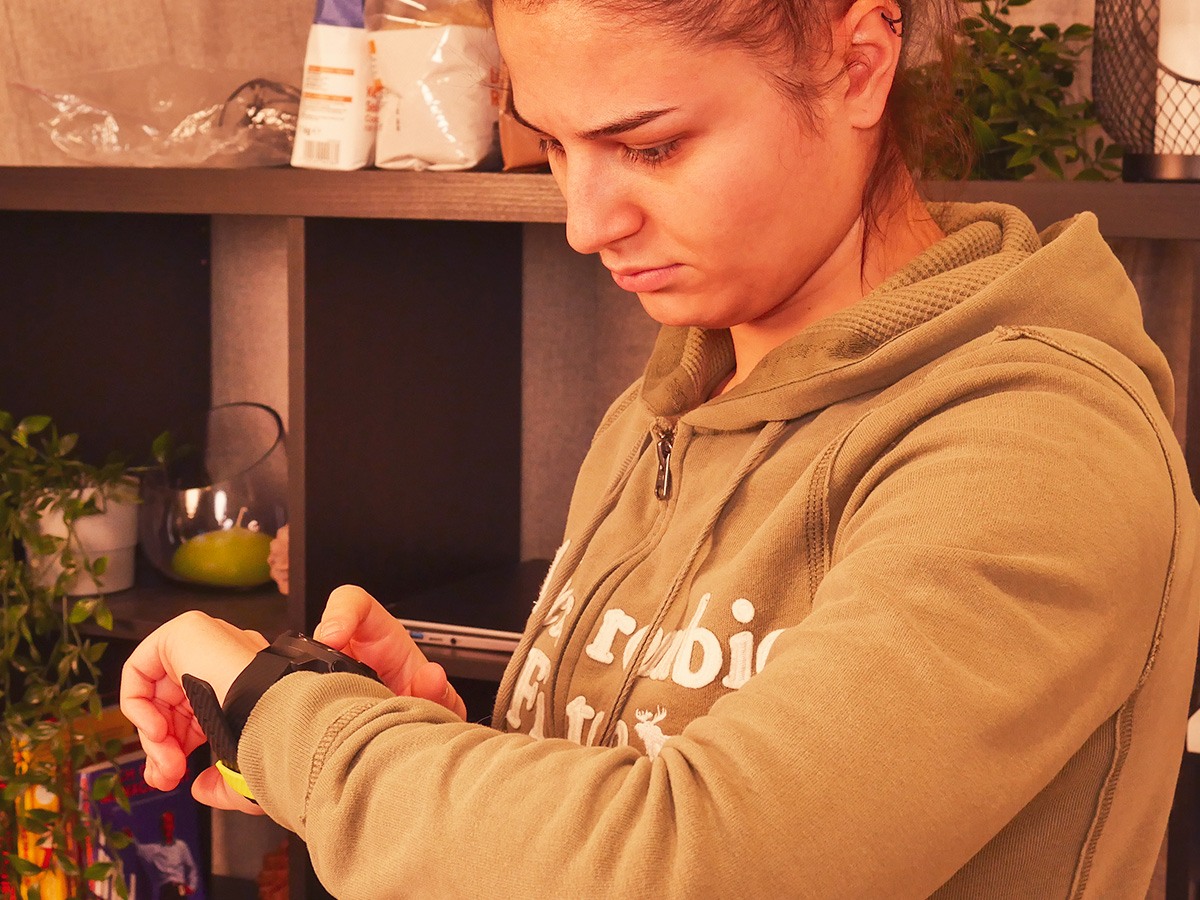 In practice, this is between 1 and 1.5 days, but with GPS activated, its performance is considerably reduced (up to a maximum of 12 hours). The battery life is therefore still quite low, especially since with very intensive use, with continuous measurements and with the screen always on, it rarely exceeds 8 hours.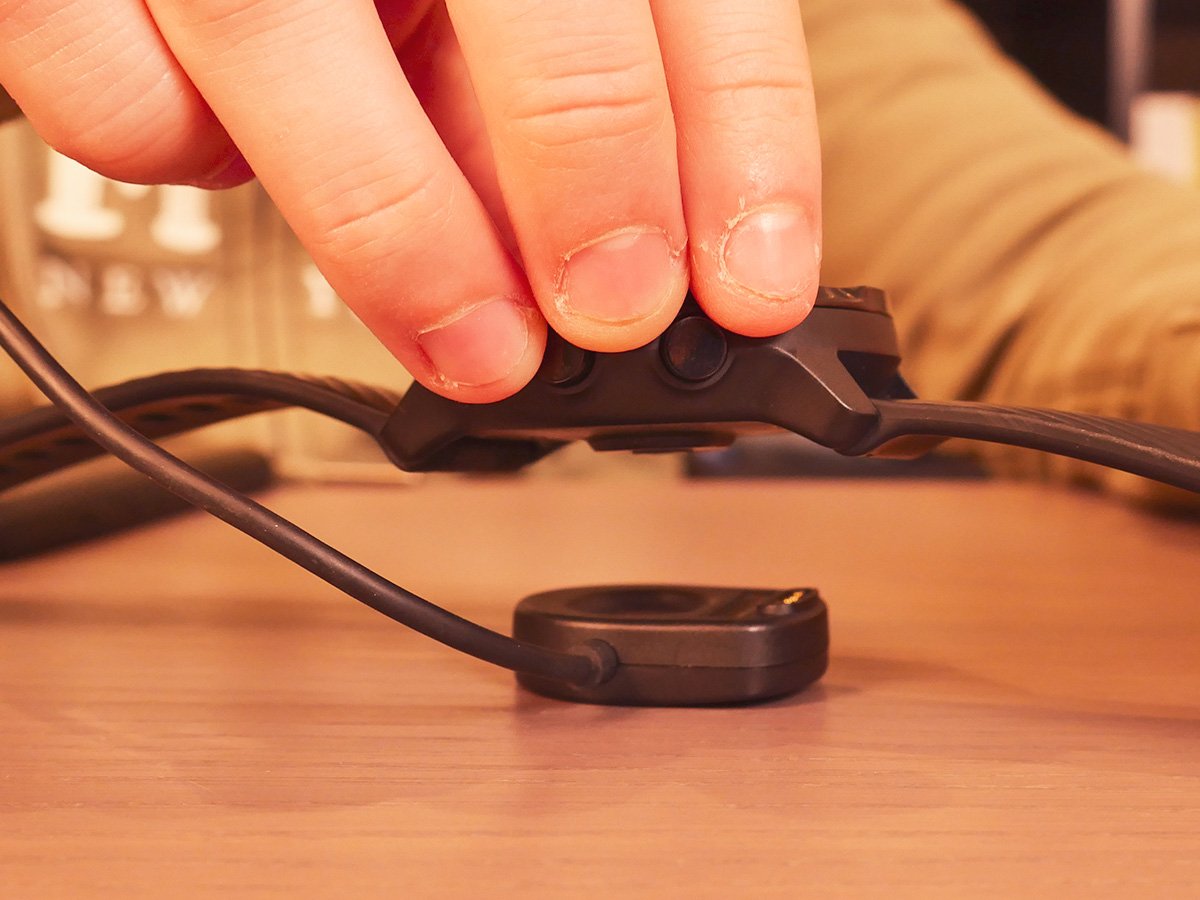 There is a battery level indicator and a power saving mode that limits functionality.
When the battery is low (i.e., almost every day), it takes approximately 1 hour and 40 minutes to go from 0 to 100%. Unfortunately, this model does not support a wireless charging station, but the magnetic charger is still very handy.
Conclusion

With its numerous maps, accuracy, robustness, unprecedented sports data and connected features, the Suunto 7 is a very attractive option despite its reduced range and bulky format.

While not perfect, it is still an excellent choice for urban and sporty use. On the other hand, it does not have many options dedicated to health.

GOOD POINTS

Ideal for sport with unpublished data
Mapping options
Quality display
Robust
Good responsiveness
HR and GPS accuracy
Many connected features

NEGATIVE POINTS

Low autonomy
More limited health functions
Not compatible with other external sensors
Rather slow voice assistant
Distance estimate
Translated by Ramsés El Hajje