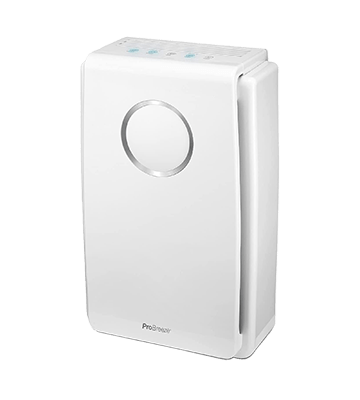 GOOD POINTS
4-layer filter

Easy access to filters

Intuitive operation

Quiet operation

High particulate performance (although a bit slow)
NEGATIVE POINTS
Without handle

Mixed performance with gases and odours
Summary
Design
The design of this air purifier is very similar to that of the Alps XL (which we tested earlier). In fact, it is also made of white plastic and is quite compact (32.5 x 17 x 54 cm), but it differs by its silver circle on the filter cover.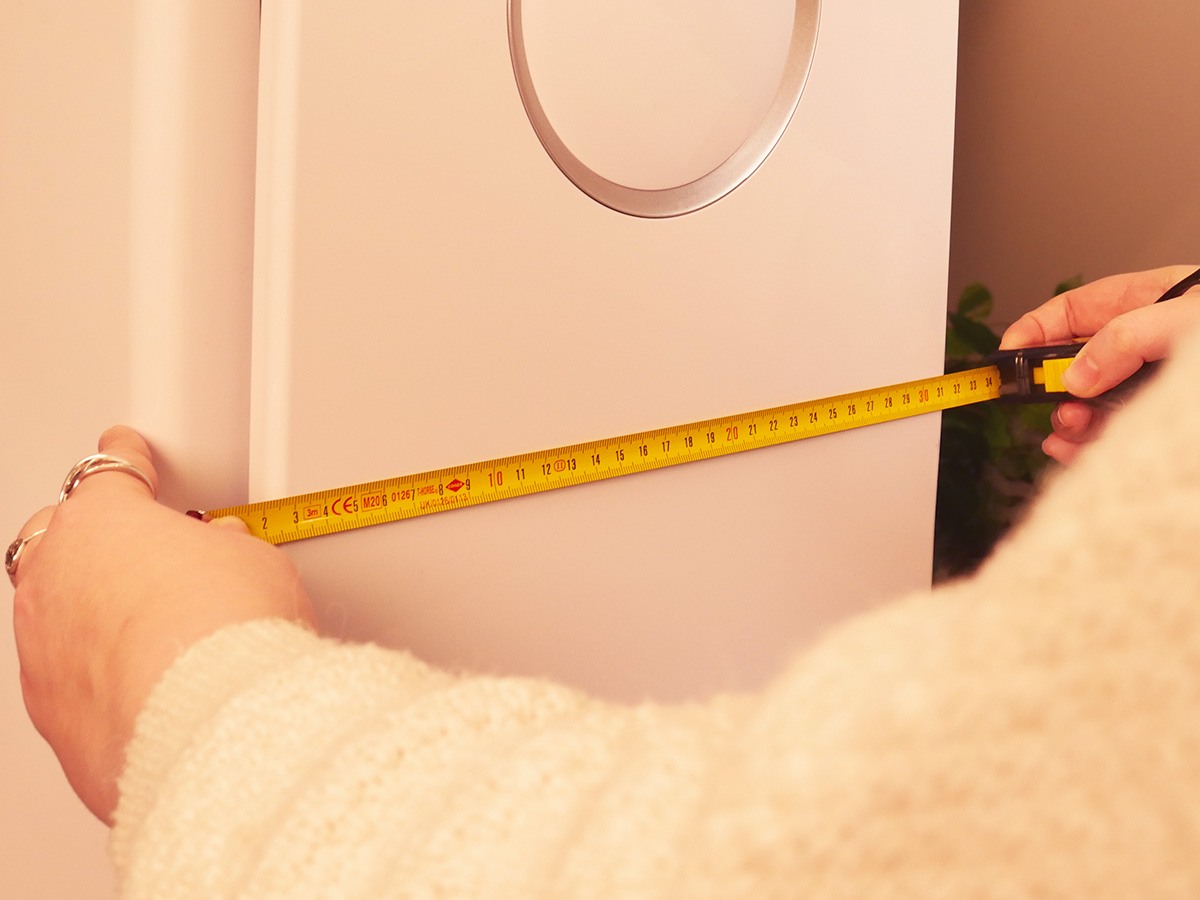 To remove the cover, you have to pull it up a little before you can remove it completely. Once you get the hang of it, the task is not very complicated.
Behind it is a four-layer filter: the pre-filter (dust and other larger dirt), the True HEPA filter (fine particles larger than 0.3 µm such as allergens, moulds and bacteria filtered at 99.97%), the activated carbon filter (volatile organic compounds, odours, smoke, gases, etc.) and the cold catalysis formaldehyde filter (HCHO).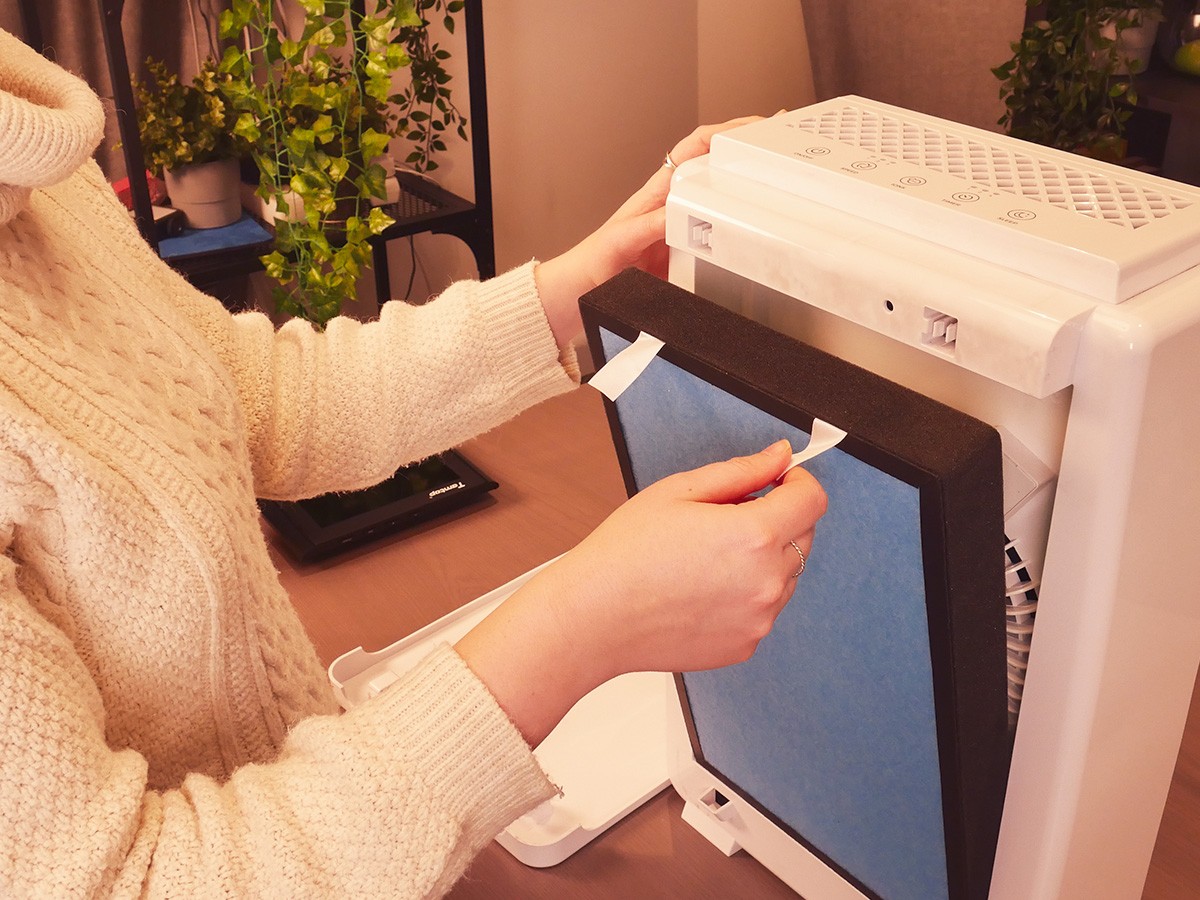 To keep it effective for as long as possible, it is recommended to vacuum it every month. And after 5,000 hours (about 20 months at a rate of 8 hours of use per day), you will have to replace it with a new one (for a reasonable price of about 30 euros).
On the control panel there are five touch buttons that light up when pressed. Their logos are quite clear and allow for fairly instinctive use. The downside is that they make a rather unpleasant noise.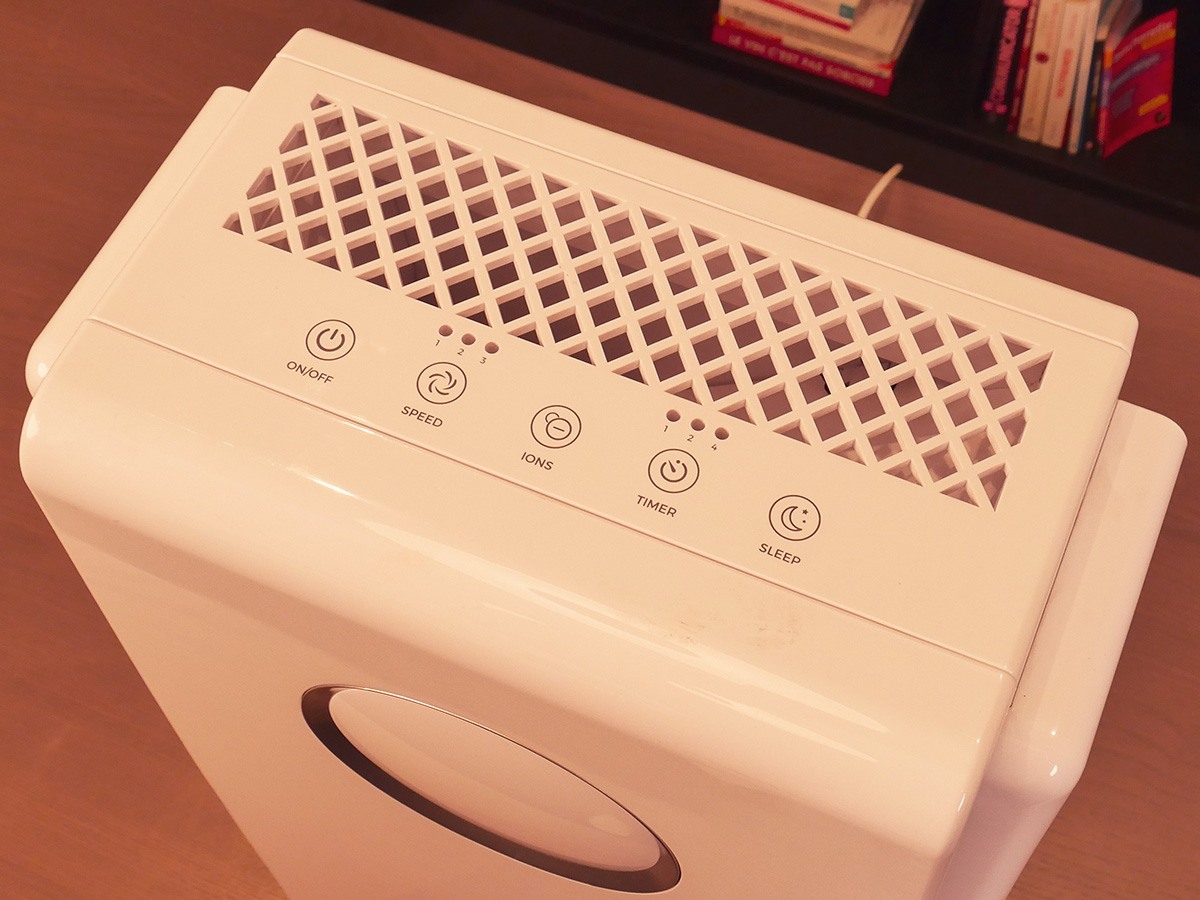 To finish with the design, we must highlight the absence of a handle. This does not make it very practical when moving it from one room to another, especially considering its weight of 5 kg.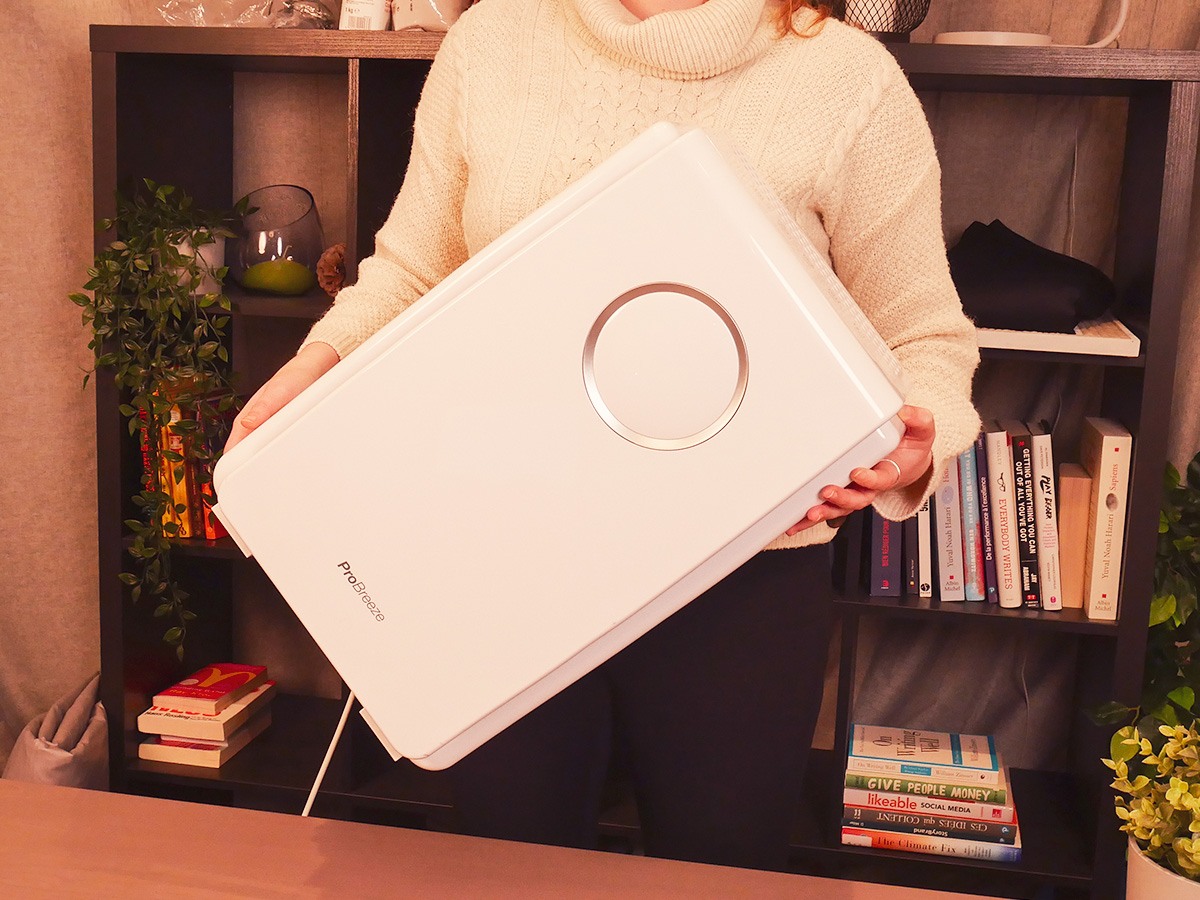 Features
Like the Alps XL, the PB-P01's five touch buttons give you access to all its functions. The first one allows you to turn the purifier on and off while the second one allows you to choose between the 3 speeds. Note that switching on the device activates the intermediate speed.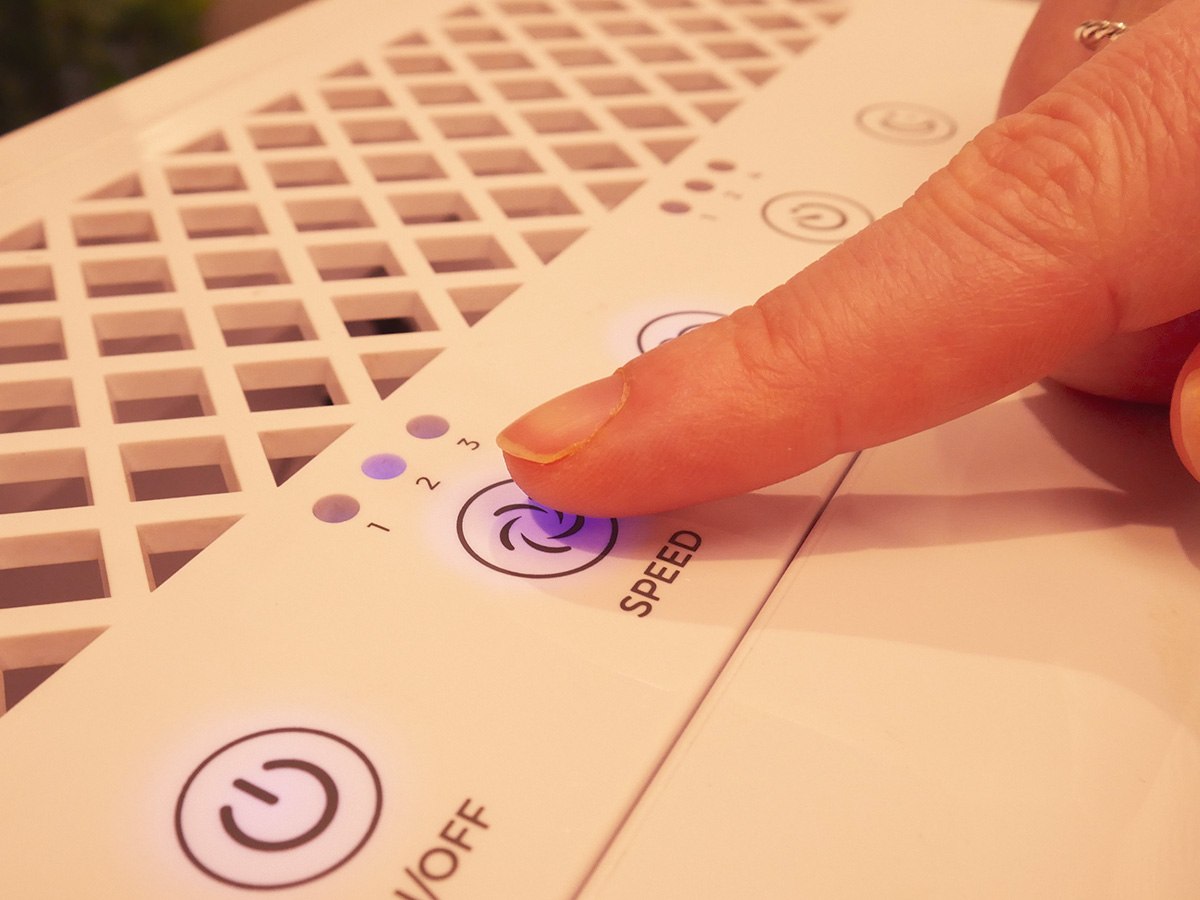 The third logo indicates a mild ionisation. In concrete terms, this should release negative ions into the purified air (which would be beneficial for health). As we have not been able to test this function, we will not comment on it.
To switch the appliance on or off in delay, the fourth button allows you to choose between 1, 2 and 4 hours. In our tests, the purifier switched on and off according to the set time.
Finally, the last button activates/deactivates the Standby mode (the device returns to first speed and dims the lights). In principle, this should allow it to be used at night. However, it does not turn off the lights completely, which is not very practical, and it keeps beeping if another button is touched.
Performance
With its filter, the Pro Breeze should, in principle, be able to purify the air of allergens, smoke and suspended dust particles. The brand claims that it can do this for a volume of 218 m³/h (CADR or volume of filtered air). In our tests we first checked this with our air quality monitor.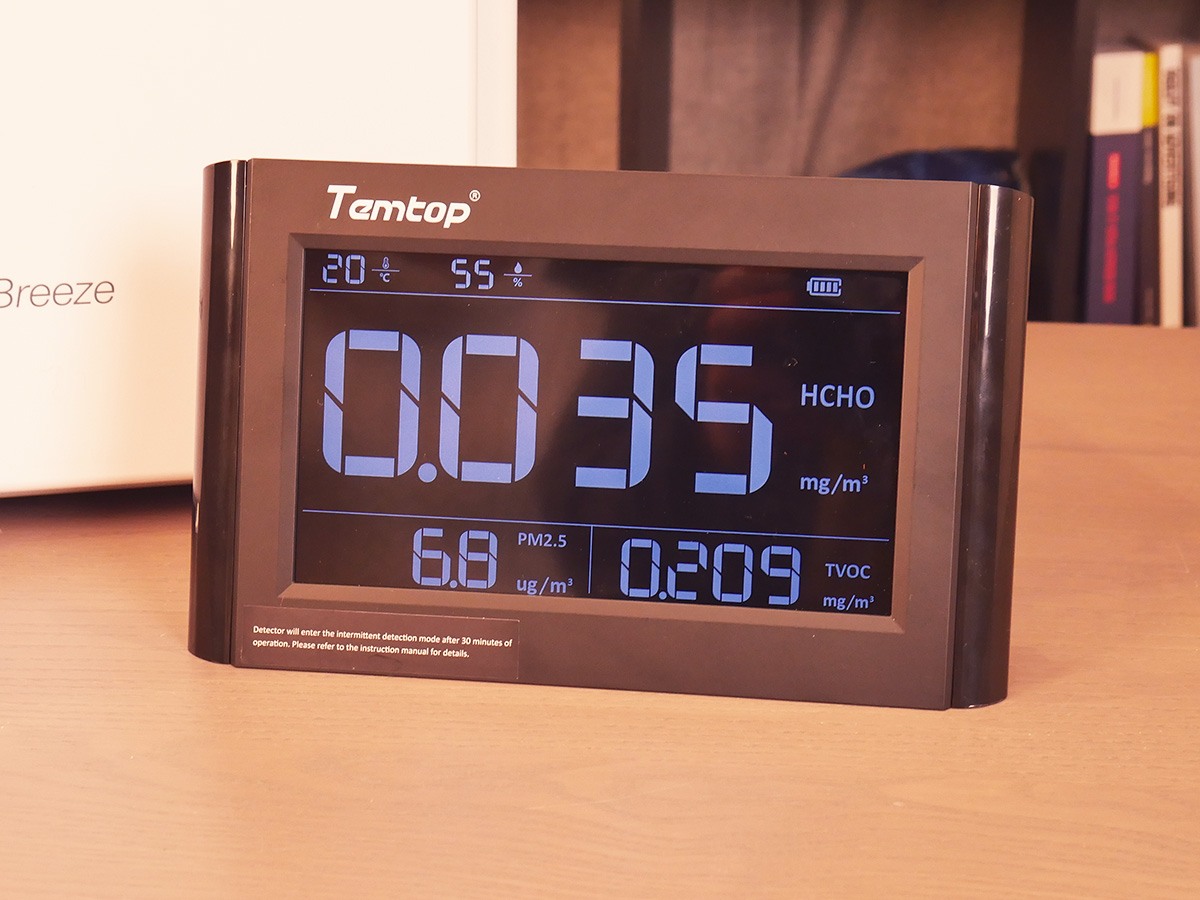 We started by testing its ability to remove PM2.5 (airborne particles less than 2.5 µm in diameter) by burning a candle in a small room of about 10 m².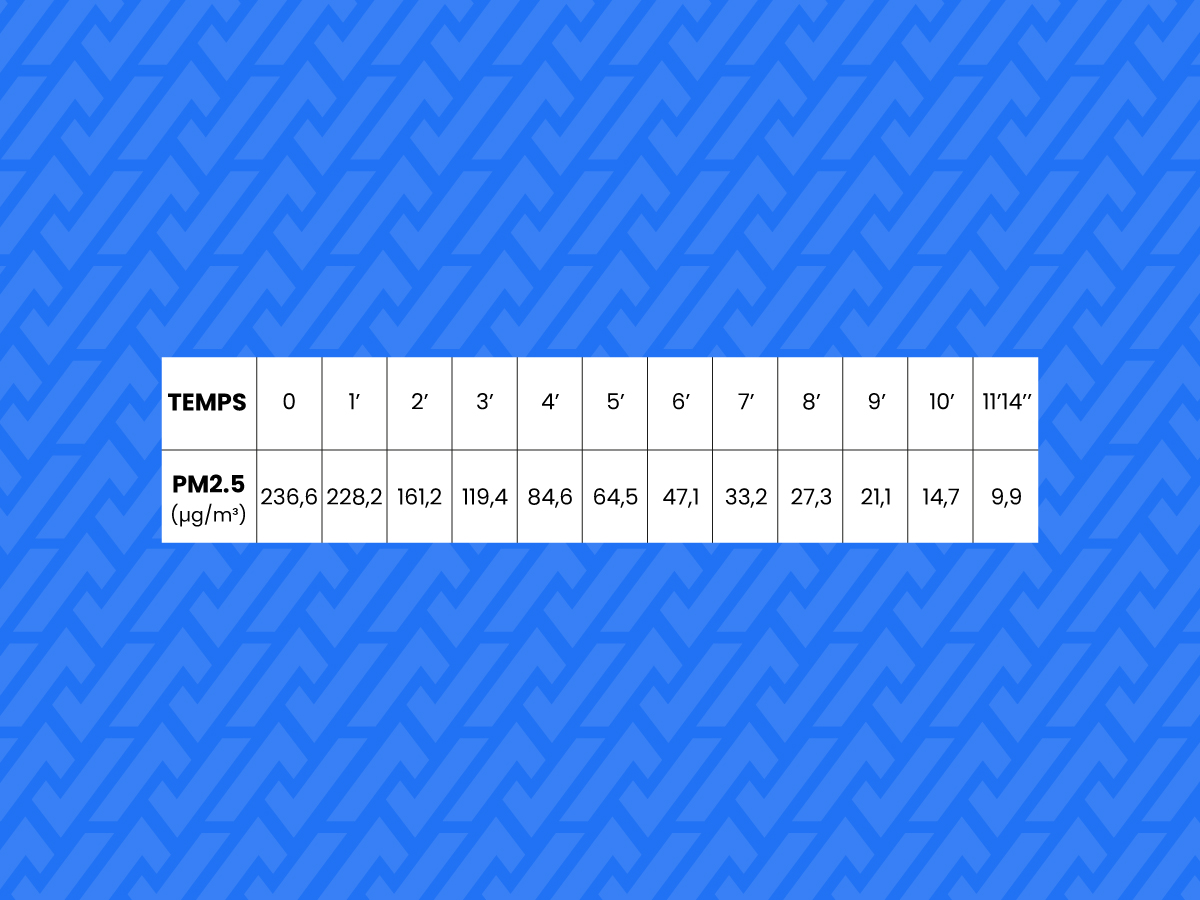 It was after 11 minutes that these PM2.5 fell below 10 µg/m³ (knowing that we left the candle burning and that it started to work with a level of 236.6 µg/m³ in the room).
This result is moderately satisfactory. Indeed, the purifier manages to remove the particles, but it takes its time. Compared to another model like the Medify, for example, it takes about 2.5 minutes longer to finish the task.
As for the CADR, the result was 53 m³/h (which is far from the 218 m³/h advertised by the brand). However, these differences in the figures can be partly explained by the fact that the candle remained lit throughout the test and that we do not have a laboratory at our disposal. We prefer to do our tests in everyday places in order to give you answers that we hope will better correspond to your real needs.
In the case of HCHO (formaldehyde) and TVOCs (total volatile organic compounds, i.e. odours), these components always take longer to be removed before real improvements start to be seen, especially at minimum speed.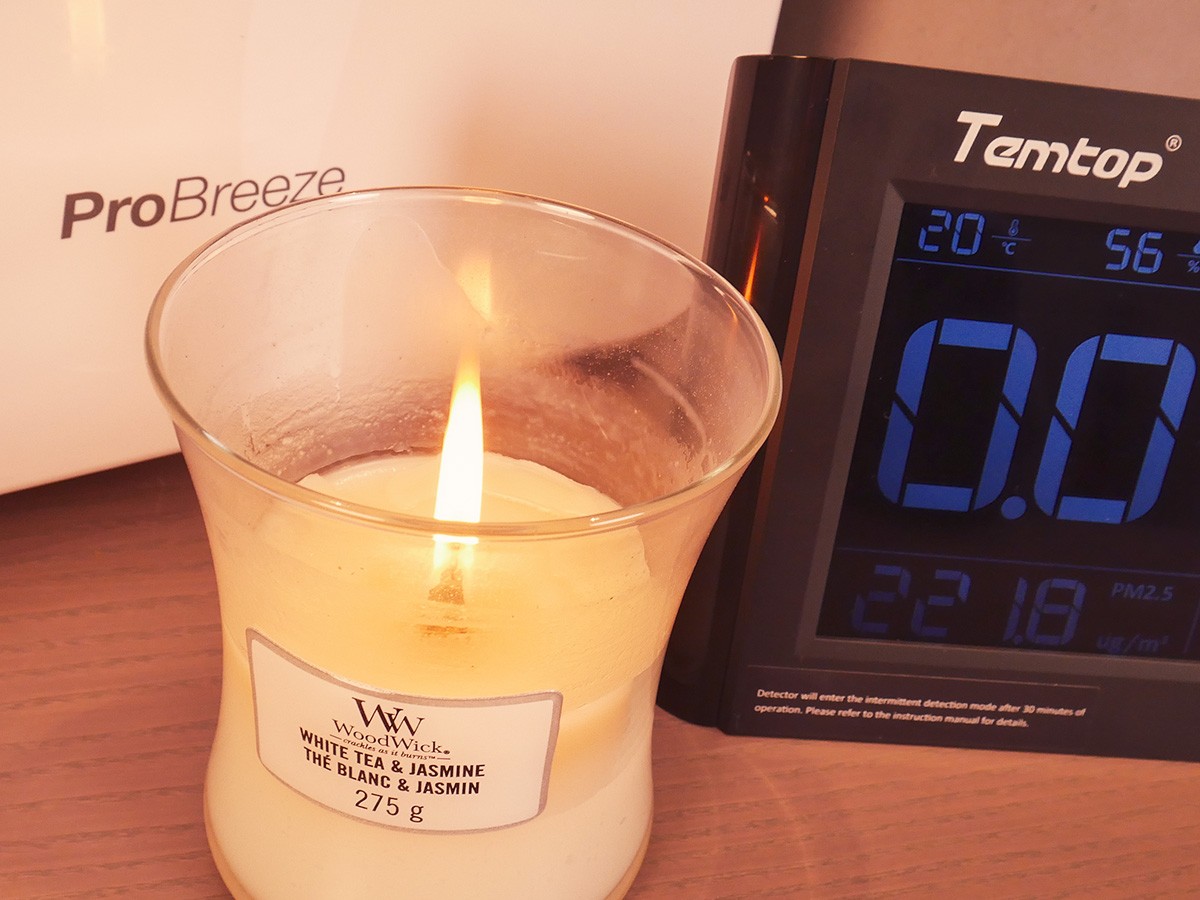 Therefore, we regularly measured the air quality while our Pro Breeze was running at first speed. This test lasted several hours and was carried out in a living room of about 130 m³ in which an adult (who naturally emits pollutants into the air when breathing and eating) was present.
It should be noted that we also ran the experiment without running the purifier for 6 hours in order to have a reference measurement to work from. After these 6 hours under the same conditions, we found an increase of +0.057 mg/m³ for HCHO and +0.026 mg/m³ for TVOC.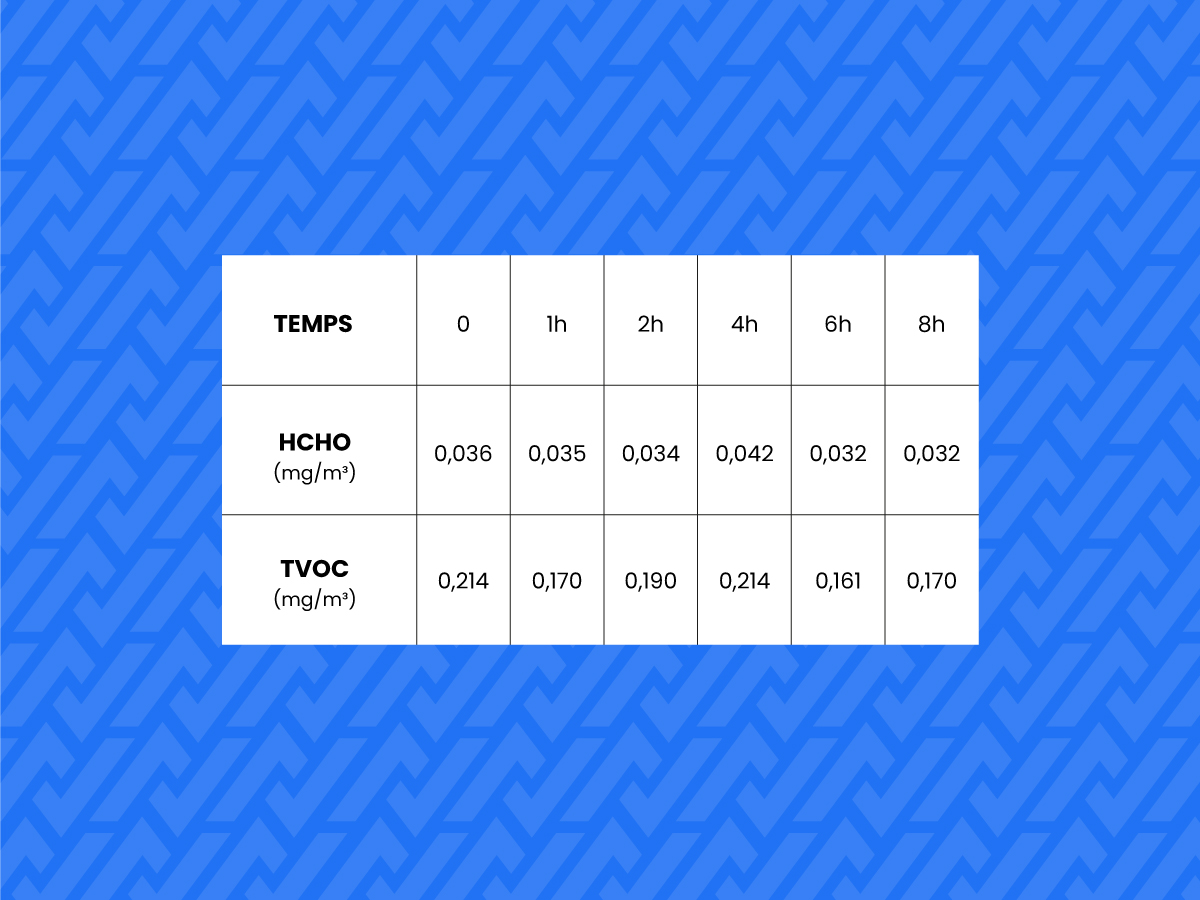 On a day-to-day basis, we found that the minimum speed is sufficient to monitor the air quality of that room in the long term, as neither the TVOCs nor the HCHOs exceeded the baseline threshold.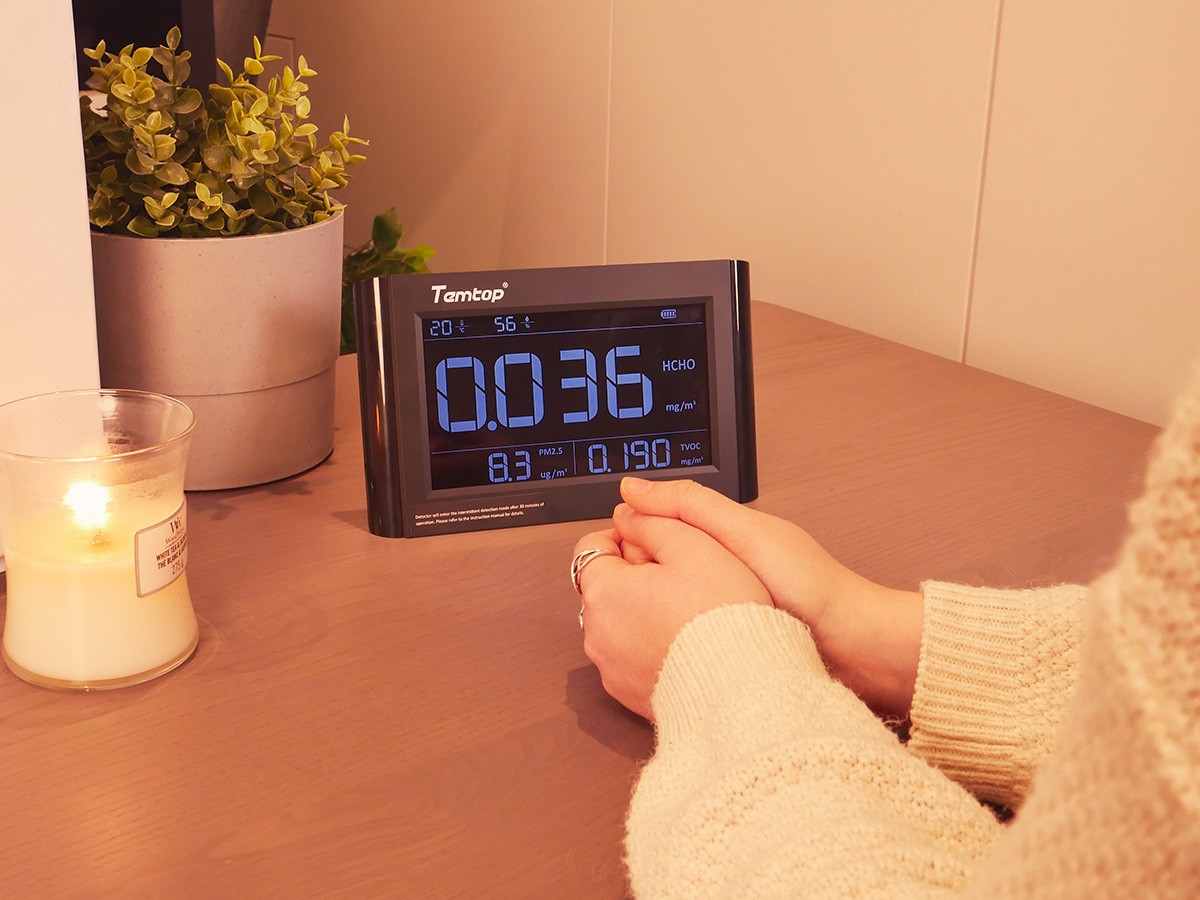 Unfortunately, our tests in the bedroom were inconclusive in terms of fumes and odours. We also used it to remove kitchen and pet odours, but if our sense of smell is anything to go by, we can say that it was not very effective either.
Finally, it is a fairly quiet appliance. It emits only 37.3 dB at first speed, which will allow you to sleep with it in the room if your ears are not too sensitive (and if the light doesn't bother you). After that, the noise rises to 49-55 dB. We have tested other, quieter purifiers, but it is far from being the noisiest.
Noise level of all 3 speeds:
Conclusion

Overall, the Pro Breeze is an effective purifier for particulate matter (PM2.5) removal, although it takes a while. However, the results with gases and odours are a bit contradictory.

On the other hand, it is quiet and intuitive, and its filters are easy to change.

GOOD POINTS

4-layer filter

Easy access to filters

Intuitive operation

Quiet operation

High particulate performance (although a bit slow)

NEGATIVE POINTS

Without handle

Mixed performance with gases and odours
Translated by Ramsés El Hajje