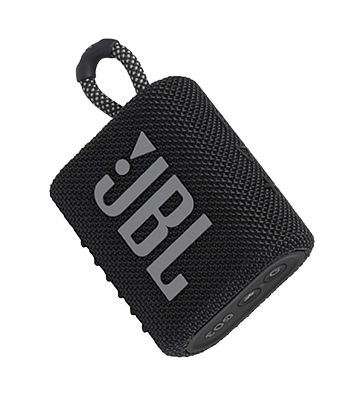 True to its principles, JBL is renewing its legendary model in order to maintain its good position in the market for Bluetooth speakers in its range.
Will it achieve the same success as its previous versions? We have checked it out.
Summary
Design
The Go 3 is shaped like a small block. This third version does not stray too far from the brand's classic design, but this time they have opted for rounded edges and greater compactness.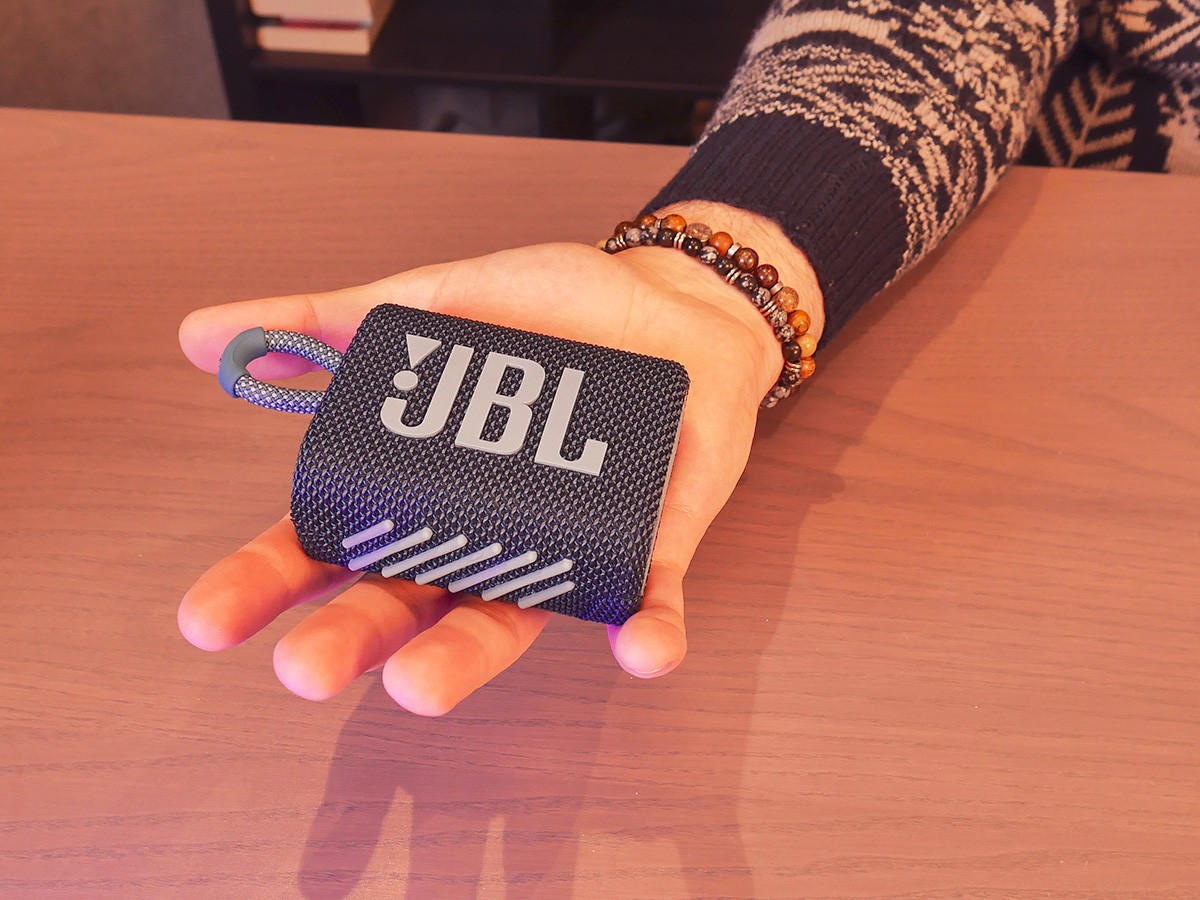 The materials are equally qualitative with a mix of mesh fabric and soft-touch plastic. Of course, it is available in diverse colours.
Its robust casing is IP67-certified and comes with an integrated strap.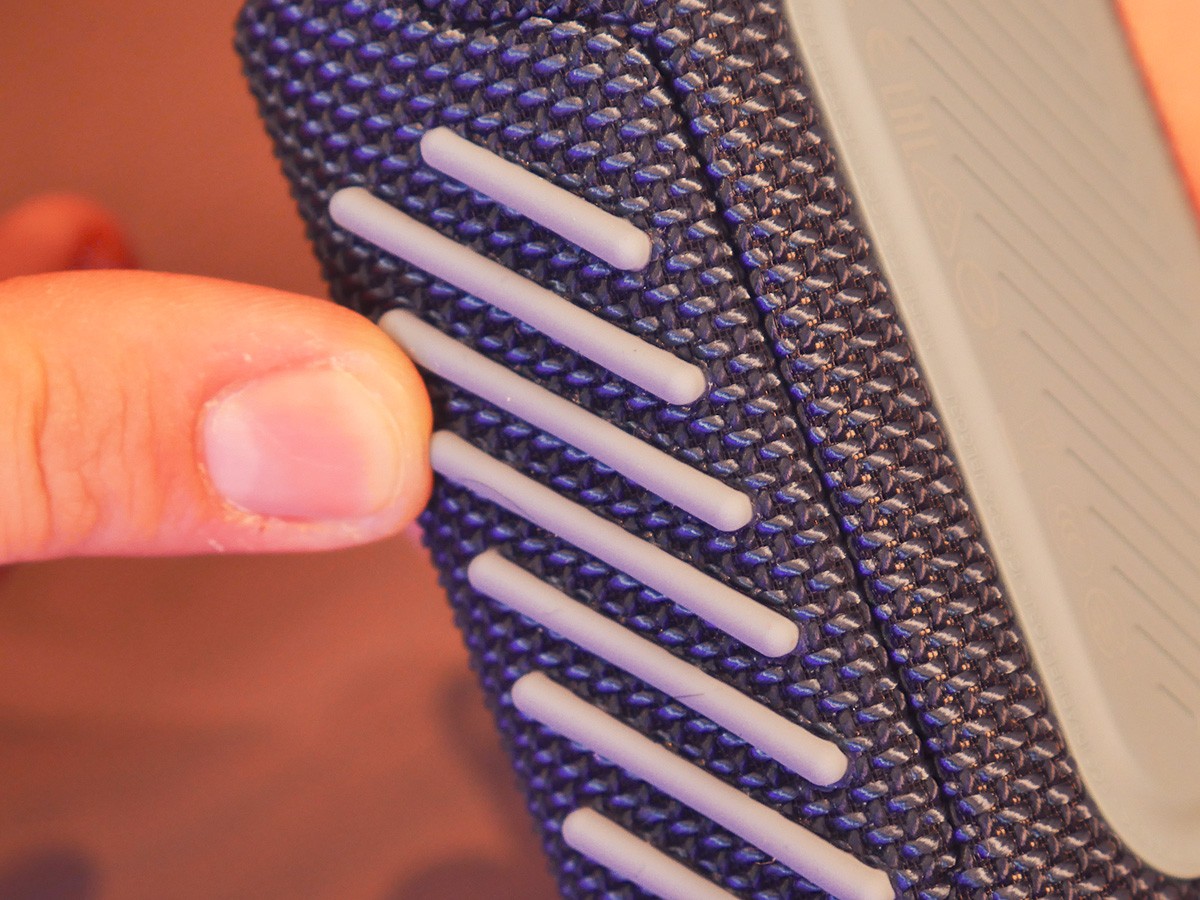 The bottom is made of rubber, which ensures a secure grip and minimises parasitic vibrations.
The controls, on the other hand, are quite classic with bulky buttons dedicated to volume control, play/pause, the pairing button, and power. The next track can be requested by pressing the play button twice. Unfortunately, and as usual for JBL, there is no way to go back to the previous track.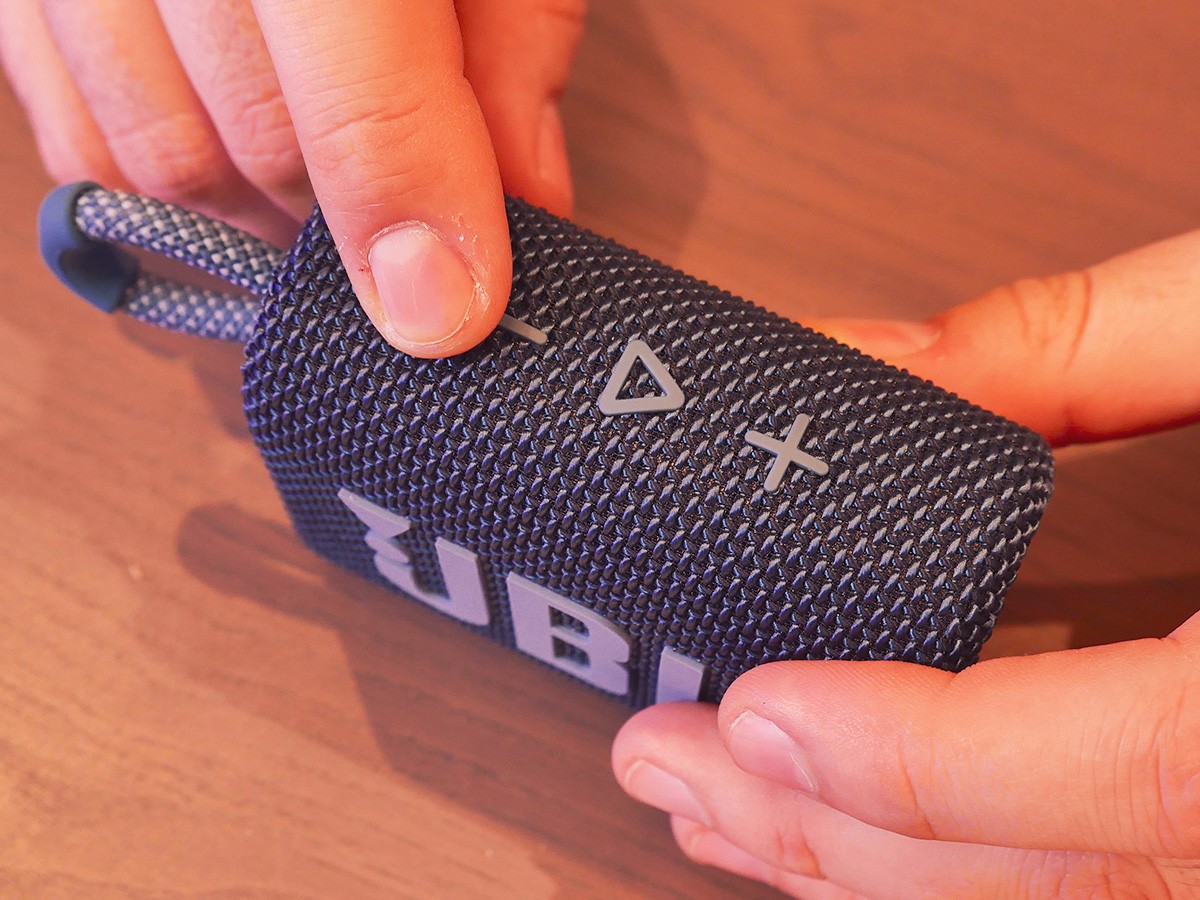 The connection, finally, is limited with Bluetooth 5.1 and…. that's about it. The brand decided to bypass the auxiliary port, which was present on the previous model, as well as Bluetooth multipoint. It is also impossible to access the brand's app or the hands-free function.
Sound quality
The Go 3's small size conceals many surprises. Between its generous power, deep bass, and high overall precision, it has everything it needs to be one of the best models in its class.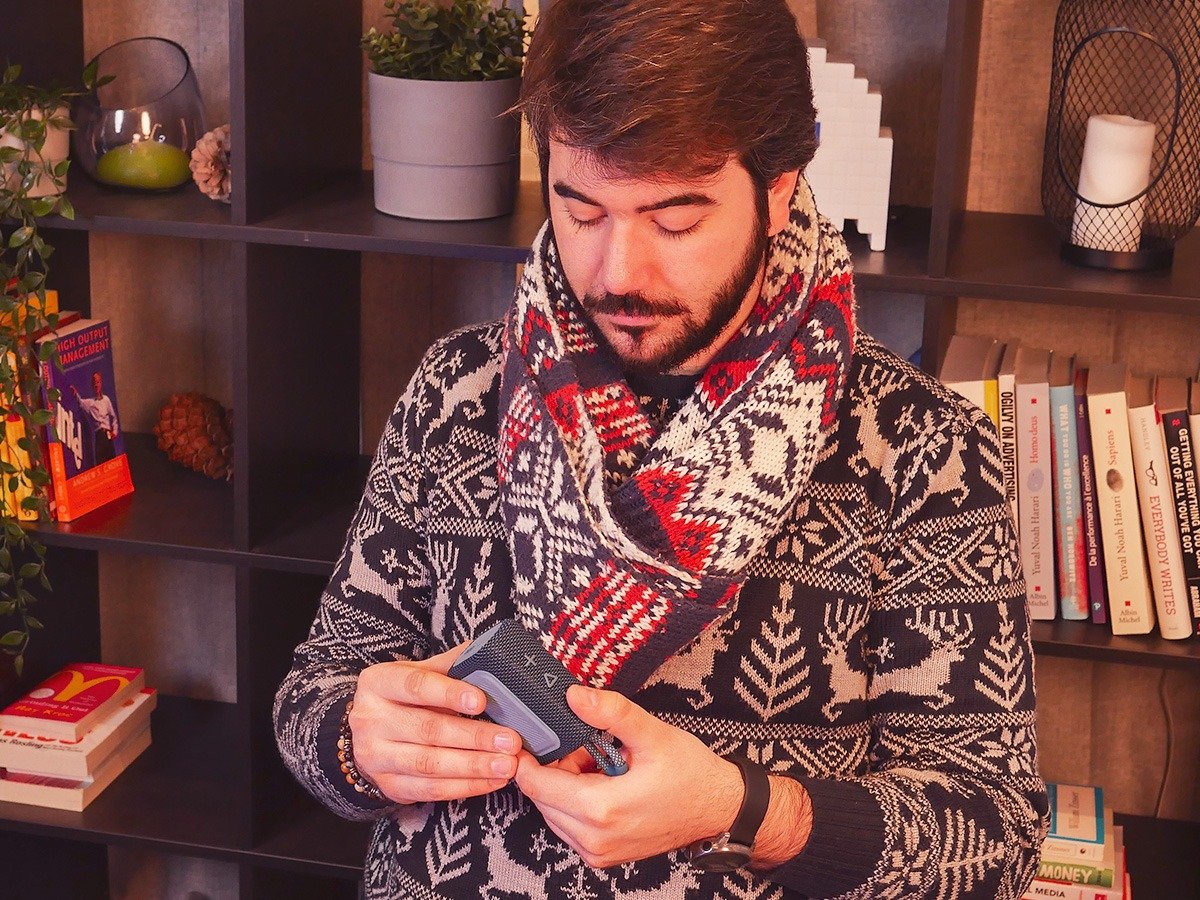 The performance is warm and convincing, no matter what kind of songs you listen to. The different sound sources are respected, allowing for a clean result, even on complex titles. However, there is a slight flaw affecting the medium sounds, which affects the final representation a little bit.
Sound performance test with an excerpt of the song Poylow & BAUWZ – Hate You (royalty free)
The power is more than reasonable and allows you to enjoy a rich and generous sound, both indoors and outdoors. Please note that at maximum volume, bass tends to lose its splendour and saturation may appear on some high-pitched sounds such as electric guitars.
Battery life
The battery life of the Go 3 is in the upper middle range. The brand's advertised value of 5 hours is far from the real value, as we found that at 50% volume it can reach almost 12 hours. Of course, at 100%, the result decreases drastically by a maximum of 3 hours. Finally, full charging takes 2 hours and is done via a USB-C port.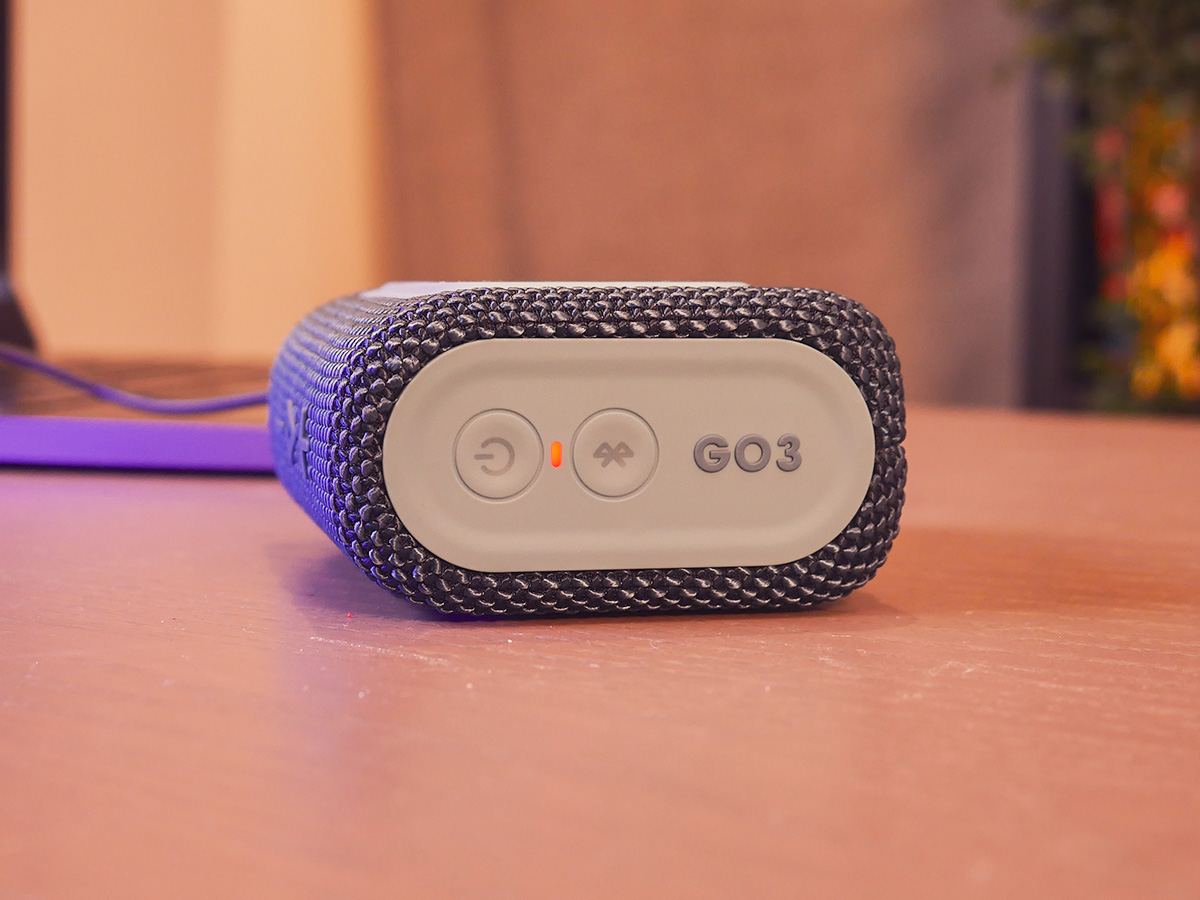 Conclusion

For us, the JBL Go 3 has almost everything you would expect from a compact Bluetooth speaker.

In addition, it presents a more than interesting format/price/performance ratio. Despite the lack of certain commands, such as "Previous Track", for example, these minute details do not detract from its overall rating.

GOOD POINTS

Size/power ratio

Surprisingly well-rendered bass

Balanced and rich restitution

Robust and rugged (IP67)

Pleasing design and materials

NEGATIVE POINTS

Loss of auxiliary input

No Previous Track command
Translated by Ramsés El Hajje