Updated on 8 May 2023
After testing and analysing several models, here are the 3 steps to follow for a good mattress cleaning.
Step 1: Remove stains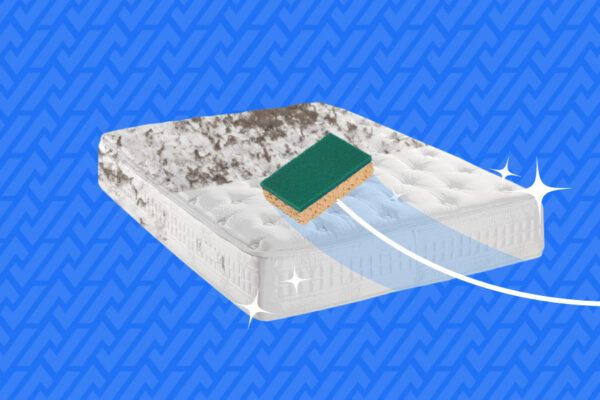 WHAT YOU'LL NEED
Hot water
Dishwashing soap
Household vinegar
Protective gloves
Absorbent towels
Do not use too much water when cleaning your mattress. It is also important to treat the entire surface of the mattress, as spot cleaning will cause stains to appear over time.
To remove stains, simply mix 1 litre of warm water, 10 drops of dish soap and one glass of white vinegar. After rubbing the surface of the mattress with a sponge (or cloth), take some time to rinse and wipe with towels. It is essential to leave the mattress to dry in the open air for a few hours.
If the stains are stubborn, you can rub them with ammonia (½ cup in 1 litre of hot water) but don't forget to wear gloves and goggles, as this is an extremely toxic product.
Step 2: Getting rid of bad odours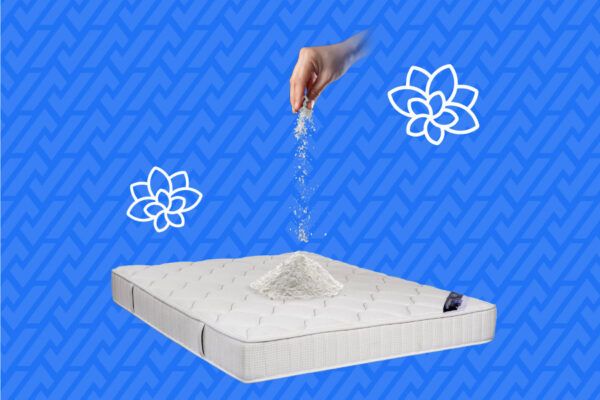 WHAT YOU'LL NEED
Baking soda
Protective gloves
A brush
A hoover
Over the months, some stains can be the source of unpleasant odours (sweat, urine, other body fluids, etc.).
To remove them, sprinkle the mattress with baking soda and leave for at least 4 hours. After this time, remove most of the dust with a brush and vacuum the remaining baking soda with a hoover.
Step 3: Daily mattress care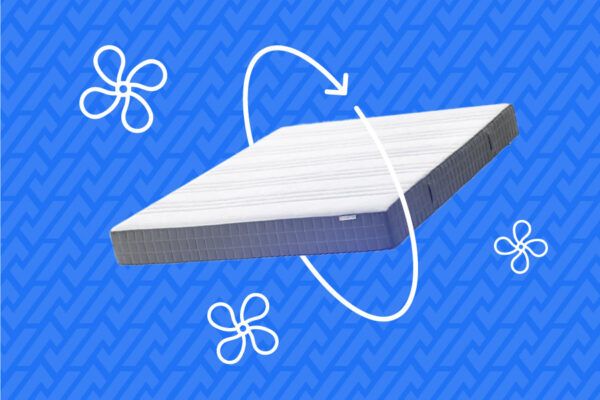 WHAT YOU'LL NEED
A waterproof and machine washable mattress cover
A hoover
It is very important to have a mattress topper (or bed protector), as it can protect your mattress by absorbing possible liquids (sweat, urine, saliva) and creating a barrier against dust and other particles.
Here are some additional tips to maintain it better in the long run:
Change the sheets once a week and machine wash them at 60°C.

Air your mattress regularly and turn it over every 6 months (be careful to differentiate between the winter and summer sides, if necessary).

Vacuum it at full power every 3-4 months.

Ideally, replace it every 10 years.
Best mattresses of the moment
| Our choice, Best mid-range | Best budget | Best high-end | Budget alternative | Mid-range alternative | High-end alternative |
| --- | --- | --- | --- | --- | --- |
| | | | | | |
| Eve Hybrid Premium | Morphea Jade Premium | Tediber The Incredible | Emma One | Emma Original | Hypnia Supreme Hybrid |
| This thick mattress offers the perfect combination of comfort and support thanks to its high-quality design, while maintaining sleep independence. The cover is also suitable for sensitive skin. | This mattress focuses on comfort with its generous thickness and seven support zones. It is not easy to clean, but it is one of the most breathable mattresses we have tested, and the price is quite attractive. | It has advantages in terms of thermal regulation and heat removal with its cool, machine washable cover. It is also comfortable and supports well as it is soft on the surface yet firm. | Despite its thinness, this foam mattress has a healthy and hygienic design and provides good sleep independence. Ideal if you don't want to spend too much. | It is the best seller in France. This foam model provides back support and we liked its soft bounce and overall comfort. The cover is hygienic and it is suitable for sensitive skin. | Its integrated overlay and pocket spring technology make it soft and super comfortable. Although it is less hygienic and less cool than its competitor, it provides a high rebound and a lot of back support. |
| See the price on Amazon | £ 419.99 on Morphea | £ 790.00 on Tediber | | | £ 589.99 on Hypnia |
Translated by Ramsés El Hajje