Posted on 6 April 2022 
After spending 16 hours analysing a wide variety of products for our comparative articles, here are our 5 tips to follow to clean your wooden deck properly.
Step 1: Remove stains and dirt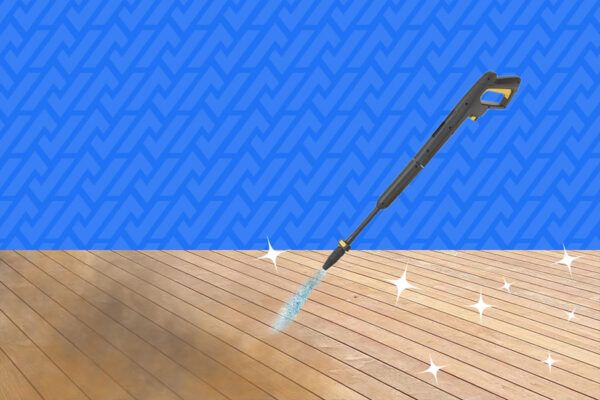 YOU WILL NEED
A spatula
Dishwashing liquid or white vinegar or a high-pressure washer or baking soda and/or citric acid
A broom
Water
Whether enjoying a good meal in summer or having a drink with friends, wooden decks are often covered with dirt, stains of all kinds, lichen or moss, which can make them slippery. Wood can age badly and discolour. It is therefore recommended to clean the wooden deck twice a year.
First of all, avoid leaving furniture on your deck for a long time, as this can leave indelible marks. Also, remember to regularly remove visible dead leaves and use a spatula to remove encrusted dirt.
There are several options available:
It is advisable to use terre de Sommières several times to absorb stains.
Dishwashing liquid can be used to remove grease stains.
White vinegar is also effective in removing moss and vegetation. To do this, mix water with household vinegar and pour the resulting product on the wooden deck. Leave it for a few days, then sweep with a brush and rinse with water.
A quick way to get rid of dirt is to use a

high-pressure washer

. For the latter option, keep the tool more than 50 cm away from the terrace and use low pressure. Be careful, if used incorrectly, it can damage the deck.
Baking soda and citric acid can also be used to remove scum. Put some (about 20 g of baking soda or 75 g of citric acid) in 1 L of water, then apply, mop and rinse with a hose.
Step 2: Clean the wood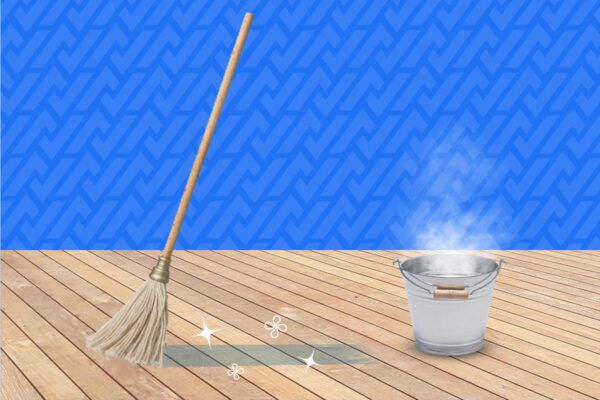 YOU WILL NEED
Black soap
Baking soda
Bucket of hot water
A broom
A cloth
Sodium percarbonate
Washing powder
Bleach is harmful to the environment and to plants. It is so aggressive that it can change the colour of the wood. More natural products (black soap, baking soda, for example) are healthier for the environment and the porch, and act as insecticides, degreasing and cleaning the wood. Here are some tips:
Use only black soap (4 to 10 tablespoons) in a 10 L bucket of hot water or mix black soap with equal parts baking soda in a cup and pour the solution into a large bucket of hot water. Then dump it over the deck and sweep with a broom. Leave it for about 30 minutes, then rinse it with water and dry it with a cloth to prevent it from rotting.

If your wooden deck is very dirty, sodium percarbonate (very powerful) will remove grey stains. You can dilute 1L of sodium percarbonate in a 10L bucket of water and scrub with a brush.

The washing powder is also effective on very dirty areas with stains caused by organic animal waste. Put some of this powder in warm water, dump it on the deck, scrub with the brush in the direction of the wood fibres and finally rinse generously. Do not leave these products for a long time (only a few minutes), as it may bleach the wood.
Step 3: Bringing back the colour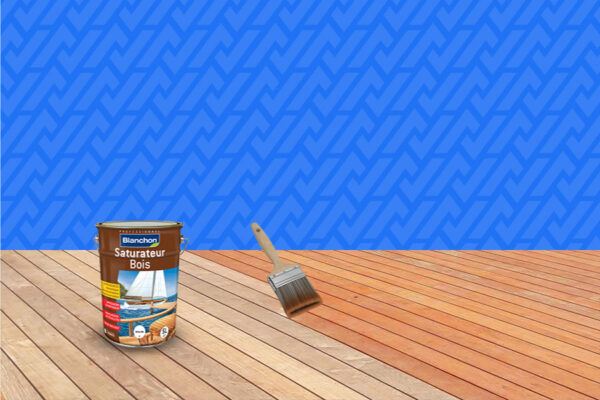 YOU WILL NEED
A degreaser
Baking soda
Saturator for wood
Water
Oxalic acid
A brush
Greying is a change in the wood's colour after long exposure to UV rays, rain and pollution. Some film-forming products, such as stains, paints or varnishes, are not recommended because they tend to "suffocate" the wood.
Start by using an environmentally friendly cleaner, such as a degreaser, to remove grey tones, overcome stains and clean the deck. Another option is to use baking soda with water to clean the entire deck.
After that, carefully apply a saturator (and oxalic acid) to restore the natural colour of the wood. Leave it for about 15 minutes and then brush the entire wooden deck.
Step 4: Get rid of bad smells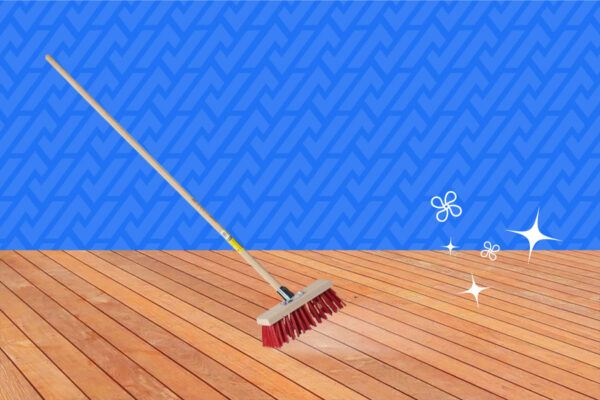 YOU WILL NEED
Baking soda
A broom
Rotting wood causes bad odours. After following all the above steps, add a few pinches of baking soda and leave for a few hours, then sweep up.
Step 5: Apply preventive products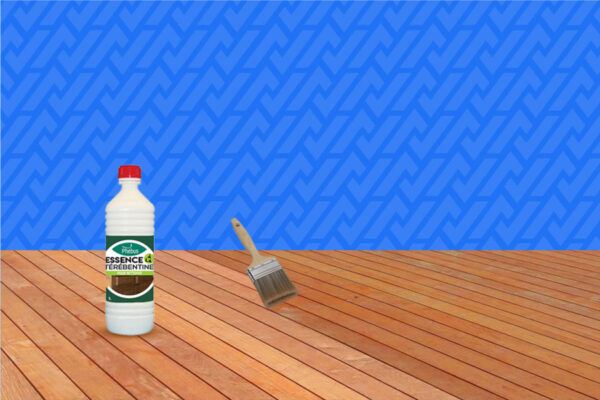 YOU WILL NEED
Water
Boron salt
Linseed oil
Turpentine
Protective oils
A broom
A brush
There are products that can be used to prevent insect attacks, fungus formation and greying.
Mix 1 litre of water with 10 cl of boron salt to repel insects and delay the formation of fungi. Afterwards, you can apply linseed oil and turpentine with a brush to limit greying and slow down the progress of water in the wood. As a result, the decking will become dirty more slowly. Finally, protective oils guarantee better resistance to water and sun.