Updated on 8 May 2023
After having thoroughly tested and analysed dozens of models, here are the steps we recommend you take to choose your oven.
Step 1: The volume, adapted to your needs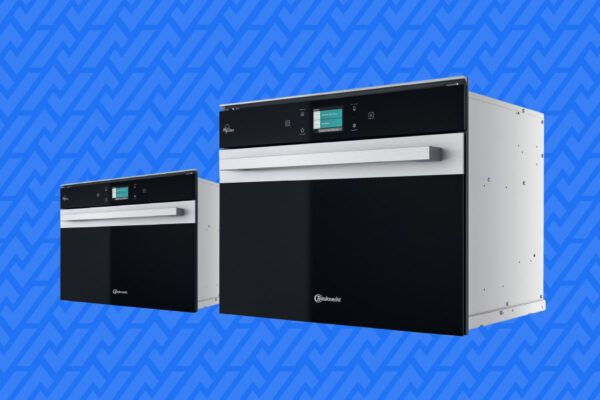 WE ADVISE YOU
Measure the space available if you need to build in your oven
NOUS VOUS DÉCONSEILLONS
An oven of less than 60L if you usually cook for 4 people or more
The size of your oven should match the space you have available to install it, but should also be adapted to the number of people you are cooking for.
The average volume of an oven is 50 to 65L, which corresponds to the needs of a family of 3 to 6 people. Below 45L, it is more of a mini oven, generally freestanding, while some models offer a larger volume, above 70L.

The standard width of a built-in oven is 60 cm. Some kitchens allow larger ovens to be built-in, up to 90 cm wide. You should check these dimensions before buying an oven or choose a freestanding model.

Some large ovens offer a double cavity. It is then possible to cook two dishes simultaneously at slightly different temperatures, or to use only one of the two cavities, thus reducing power consumption. 
Step 2: The cooking methods, depending on what you cook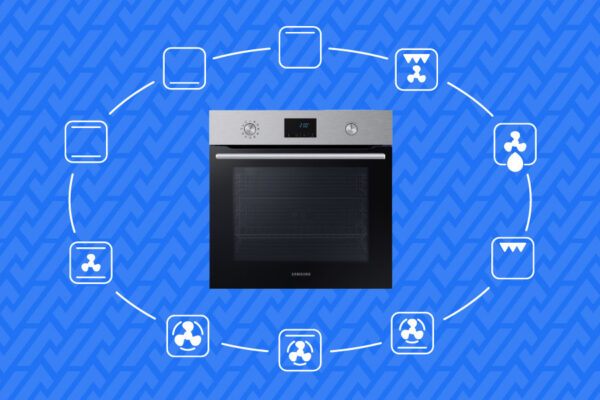 WE ADVISE YOU
A fast and versatile fan-assisted oven
A steam combination oven, if this is a method you use regularly
NOUS VOUS DÉCONSEILLONS
An oven that only offers natural convection, limiting the possibilities
Modern oven are called multifunctional because they offer several cooking methods, making it possible to vary the preparations.
Natural convection is the most basic cooking method. It works by means with two heating elements, one at the top of the oven, the other one at the bottom. They can be used simultaneously or separately, but the cooking is done on one level only.
A forced air oven (or forced convection) adds a fan to these heating elements to ensure a better distribution of hot air. 
A fan-assisted oven often works with hot air.

It has a third heating element, this time circular and located at the bottom of the cavity. This improves the speed and the homogeneity of the heating.

Some ovens offer steam cooking. Not only it preserves all the nutriments in the food, it also avoids the drying effect in some preparations.
Step 3: The type of door opening, depending on whether the oven is at the top or bottom of the worktop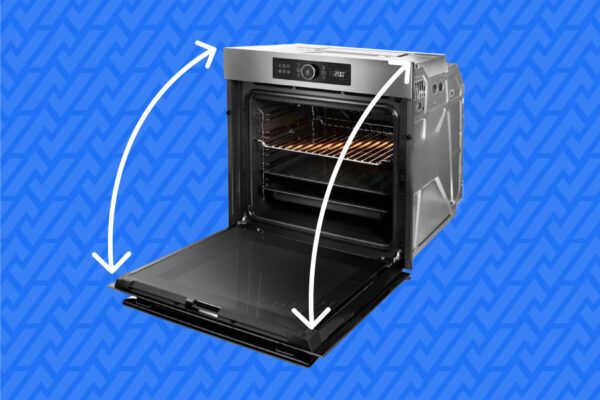 WE ADVISE YOU
A side opening for an oven at hight
A retractable door if you lack space in the kitchen
A drop-down door if the oven is at the level of the worktop or lower
WE DO NOT RECOMMEND
A drop-down or drawer opening for an oven at height
Although most ovens are fitted with a drop-down door (top to bottom), some models offer other types of opening to suit your kitchen design.
The lateral opening is more suitable for ovens located high up. However, take into account the direction of the opening (to the left or to the right) as it cannot be changed after the purchase.
The retractable door is a drop-down door that slides underneath the oven to save space and provide easy access to the oven's interior. 
The drawer opening is suitable for built-in ovens placed under a worktop. It provides a better view and makes it easier to insert the dishes.
Step 4: The maintenance, automated or not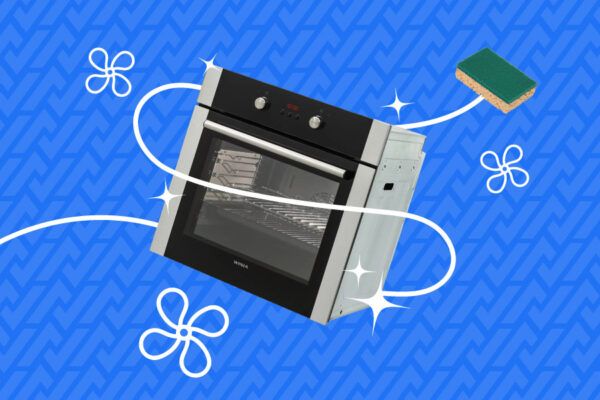 WE ADVISE YOU
Pyrolysis, the most efficient but energy consuming process
Hydrolysis, requires little energy but slightly less effective on stubborn marks
WE DO NOT RECOMMEND
Skipping an automatic cleaning mode
Using highly chemical, odorous and potentially harmful products
Maintenance is an important step, whether you use your oven regularly or occasionally. Fortunately, moderns ovens now have automatic cleaning modes to make your life easier.
Pyrolysis cleaning is really popular nowadays because it eliminates the need for effort. The interior temperature rises to 500°C to burn to ashes all remnants of grease, sugar or food. All you have to do next is wipe the oven down with a damp cloth. Be careful to remove all the accessories beforehand, they would not withstand such a high temperature. 
Catalysis is activated during a cooking programme where the temperature rises above 200°C. It is a little less effective and must be combined with a little of sponge cleaning, but it still makes your job easier.  
Hydrolysis works like a steam bath and softens stuck-on dirt for an easier cleaning. It is the most economical cleaning mode because it uses little energy.
Step 5: The safety, the essential criterion in the kitchen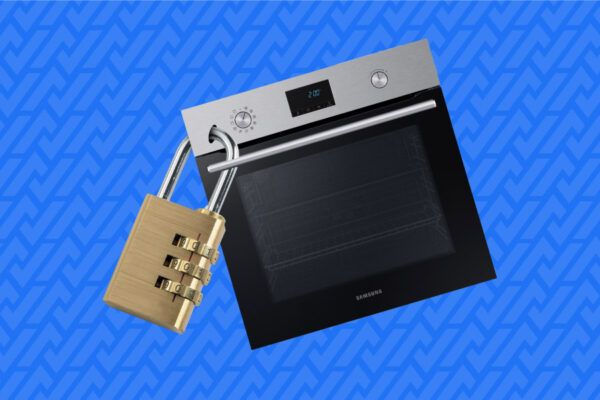 WE ADVISE YOU
Use a cold door system and a lock if you have children
WE DO NOT RECOMMEND
Do not neglect the telescopic rails, which makes it much easier to insert and monitor dishes
Ovens are much safer than before. Here are the options we recommend you to follow to avoid burns. 
The cold door system is particularly interesting if you have young children at home and your oven is placed under the worktop. It is composed of several layers of glass between which the air circulates to cool them down, so the temperature remains limited even when the oven reaches very high temperatures.
Locking the control panel and/or the door is also a really good option if you have children.
The telescopic rails are a great advantage to prevent the grill and/or the dish from falling over. 
Step 6: The interior organisation and accessories, in order to vary preparations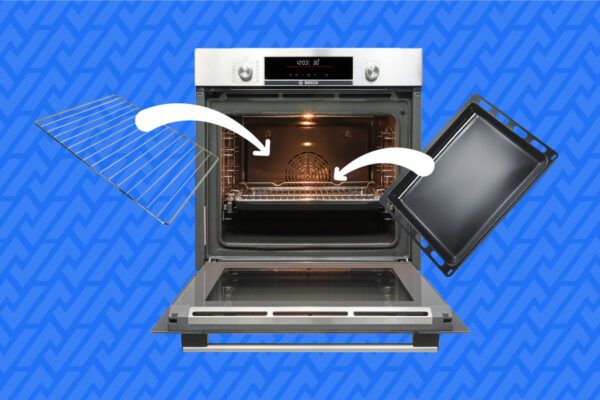 WE ADVISE YOU
At least one shelf and a dripping pan
A cooking probe if you are a meat lover
WE DO NOT RECOMMEND
Investing in accessories without checking their compatibility
While some accessories are supplied directly with the oven, others must be purchased separately.
It is ideal to have at least one shelf and a drip tray.
For cooking meat to perfection, a built-in roast probe is an interesting option.
Some top-of-the-range ovens come with a rotating spit, ideal for cooking a roast chicken or a larger piece of meat evenly.
Depending on the size of your oven, it is interesting to be able to arrange your shelves and dripping pans on several levels, to adapt the height of the dish according to the desired result or to cook several dishes simultaneously.
Step 7: The energy consumption, with an impact on your electricity bill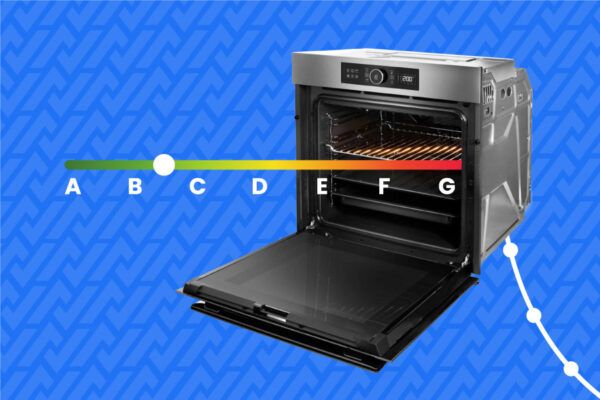 WE ADVISE YOU
An A-rated energy class oven
WE DO NOT RECOMMEND
Do not use pyrolysis too frequently, as it uses a lot of electricity
Against all expectations, the oven is one of the appliances that consume the most electricity annually. This is partly due to the frequency with which it is used, compared to other appliances.  
As with most appliances, choose an A energy class for your oven.

If your appliance is equipped with pyrolysis, limit its use, as it is a highly energy-consuming process. 
Conclusion
Before buying an oven, it is important to assess the space available to you: this will determine the dimensions, the installation and the type of door opening.
The rest of the criteria depend more on your way of cooking, according to which you will choose the cooking methods and the interior organisation of your oven. This is an appliance that you will keep for several years: do not make your choice too quickly.
Translated by Ramsés El Hajje