Updated on 8 May 2023
After hours of research, analysis and testing, here are our tips to help you choose a great bike.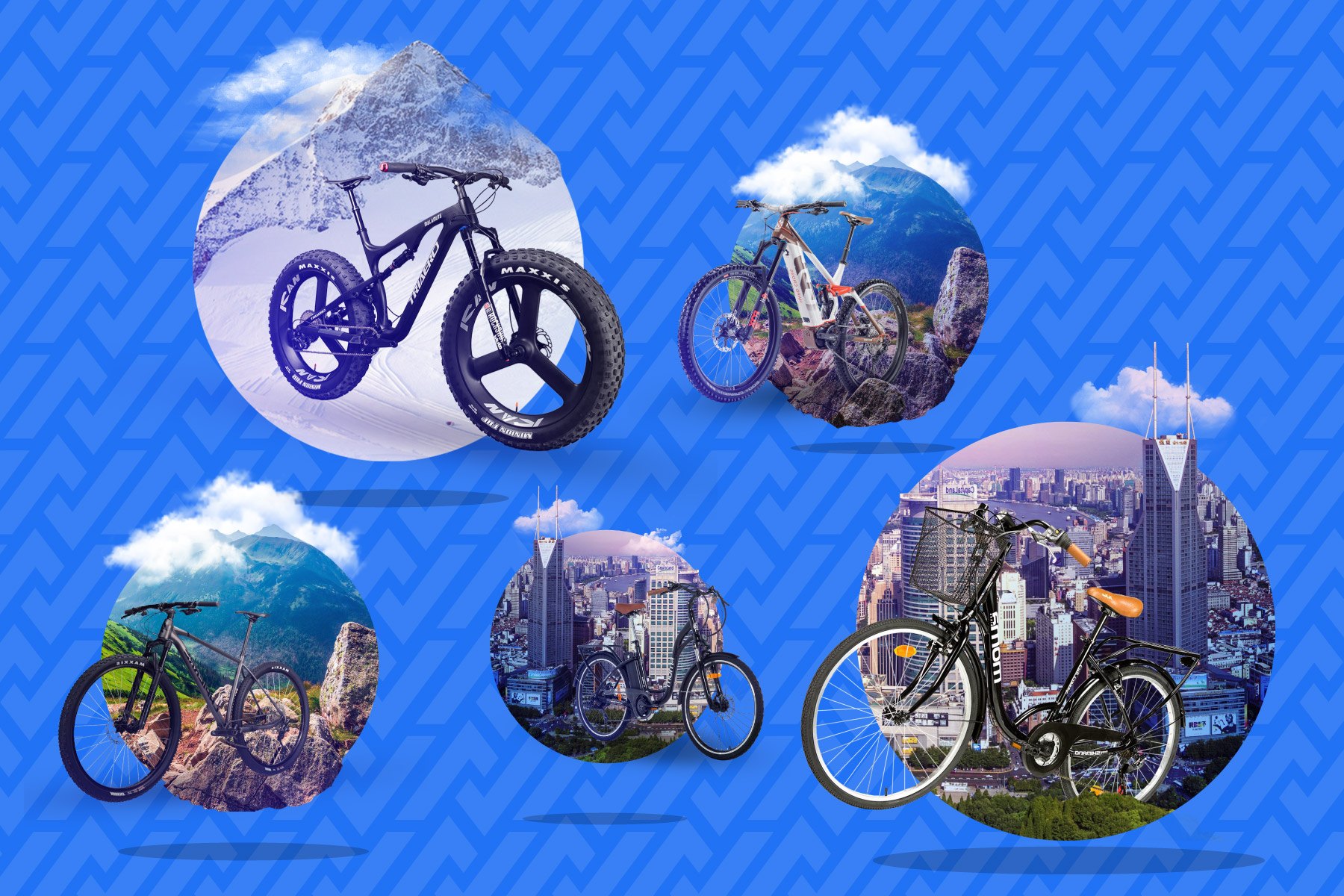 Step 1

: The practice

Each type of bike has its strengths and weaknesses,  that is why it is important to determine the use and type of route you will be taking, before choosing the right bike.
As the name implies, the 

city bike

 is ideal for city riding or getting to your job as it offers a comfortable riding position. It is usually well-equipped to run errands or carry things over flatter terrain. 

The 

road bike

 is usually lighter and more often favoured by hardened athletes who want to cover long distances on the road at a fairly high pace. 

Very versatile, the 

hybrid bike

 is the middle ground between a city bike and a mountain bike. You have a more upright riding position and the tyres allow you to ride on slightly hilly or uneven country paths (dirt roads, paths with bumps, rough roads…), which is why there is usually at least one suspension system. 

The 

mountain bike 

is perfect for those who like more challenging routes, such as forest paths or muddy grounds. It has better handling, thicker, grippier tyres and excellent shock absorption.

Less stable and less comfortable, the 

folding bike

 is ideal if you use public transport. It takes up little space thanks to its folding system and still allows you to make short journeys in the middle of the city. 

BMX

 allows you to tackle courses worthy of motocross. The aim is to make multiple jumps for extreme sensations. As a result, the bike is smaller, as are the wheels, but the handlebars are larger. The seat is also lower.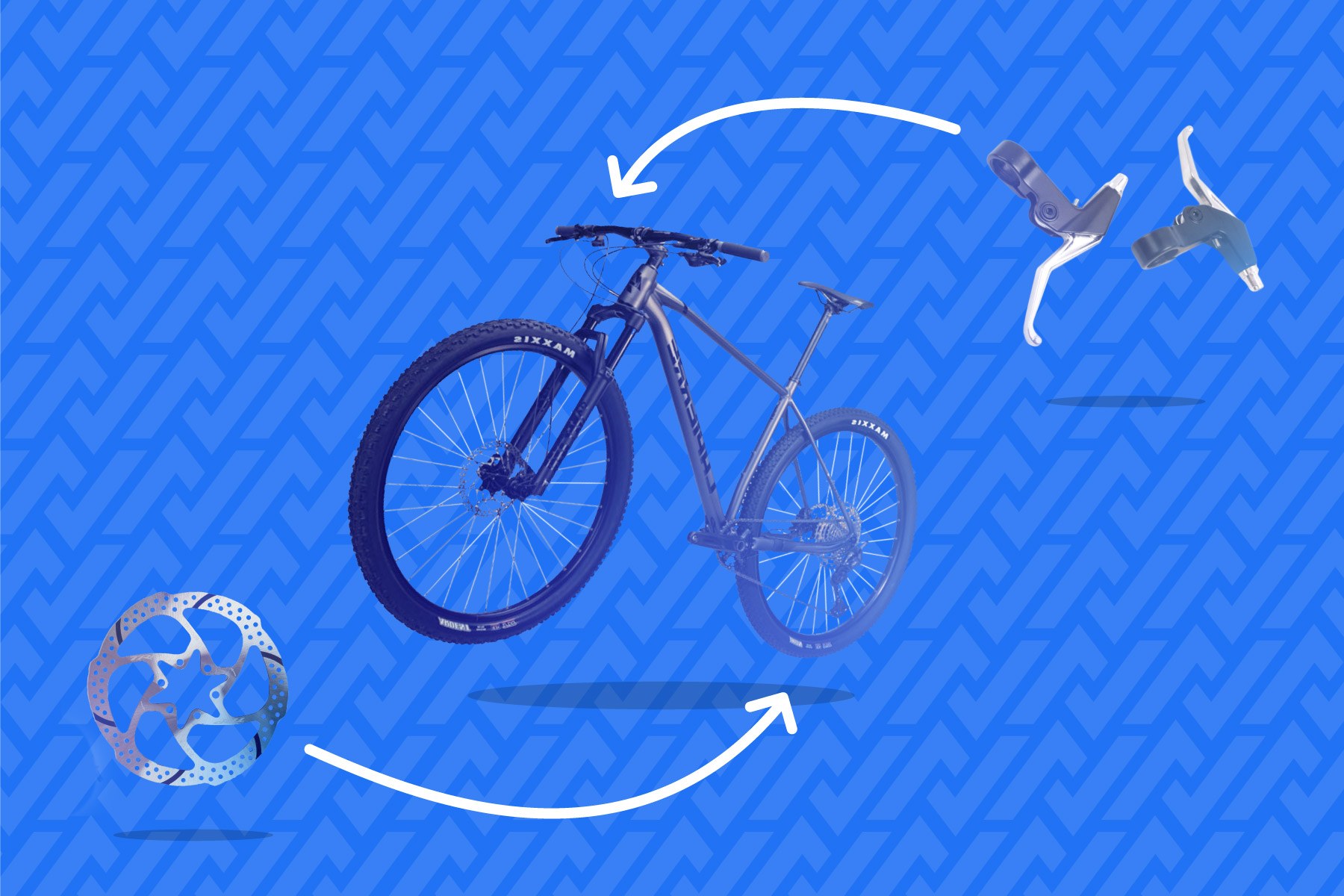 Step 2

: Brakes

The more you ride on very mountainous terrain or very technical ground, the more you need to focus on safety. The quality of the brakes is the most important safety factor.
Although they require more maintenance, 

disc brakes

 are more reliable than 

calliper

, 

skate or drum brakes

. They are therefore used more on difficult trails, technical or even very hilly courses (with large descents) or in wet weather or for those who ride regularly.

Hydraulic disc brakes

 offer more control than 

mechanical disc brakes

, which is why they are often on more expensive models.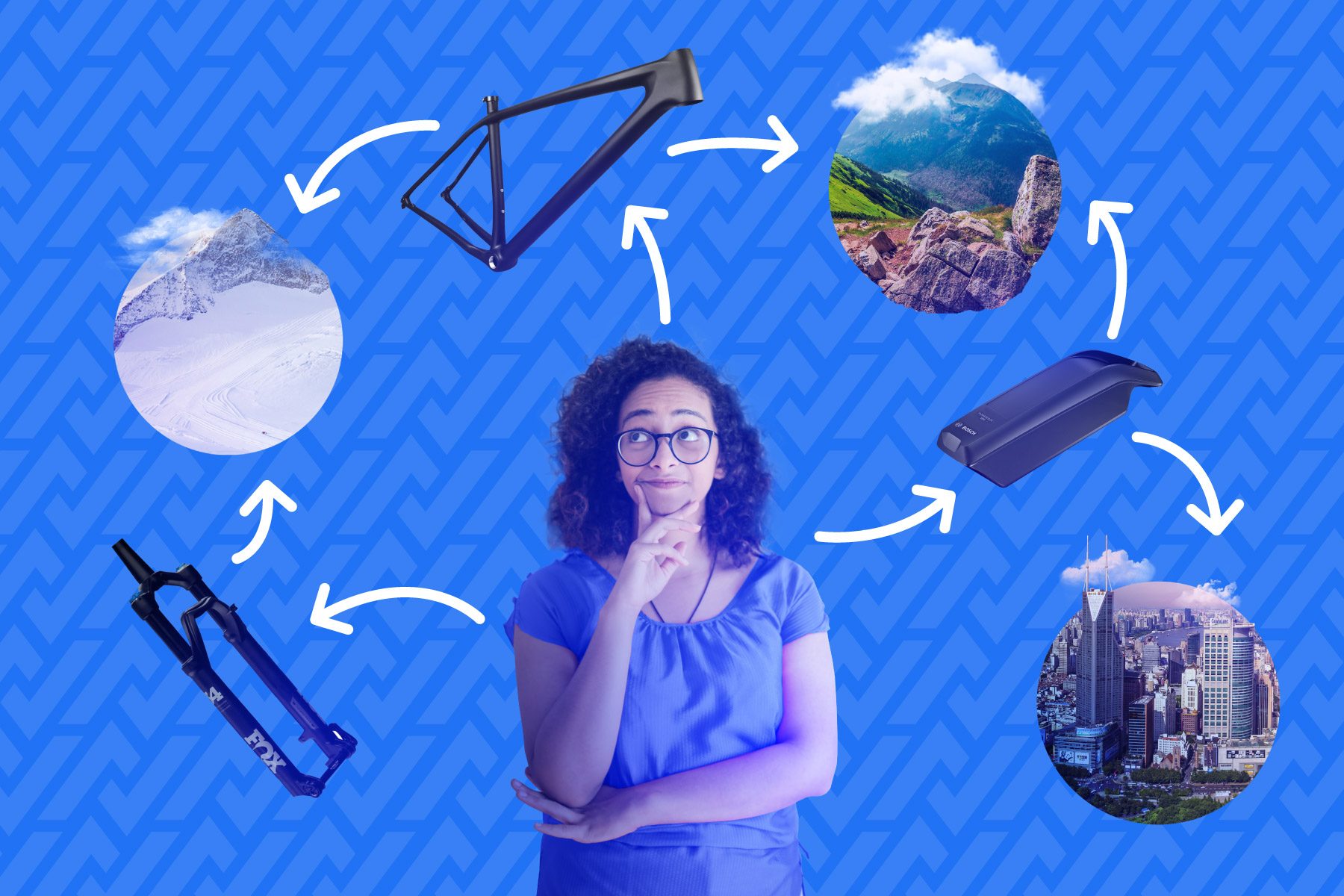 Step 3

: Components

Some technical characteristics can affect the comfort of use, and especially the power and reactivity of the bike. These must be taken into consideration depending on the terrain you will be riding on.
If you are looking for a lighter or more responsive bike, it is better to choose a carbon frame (obviously more expensive) which, thanks to its limited weight, provides more power and comfort than bikes made of aluminium or steel.
The suspension system provides partial or full shock absorption on uneven ground. However, suspension adds weight to the bike, which can reduce its performance or responsiveness, especially on climbs. If you are doing jumps or tricks, suspension is still a must. 
If you need extra help to climb hills, an electric assist can also be interesting. However, as it adds to the weight of the bike, it is important to ensure that the battery is sufficiently durable. Moreover, the maximum speed of the assistance should not exceed 25 km/h, because in this case you will have to take an insurance.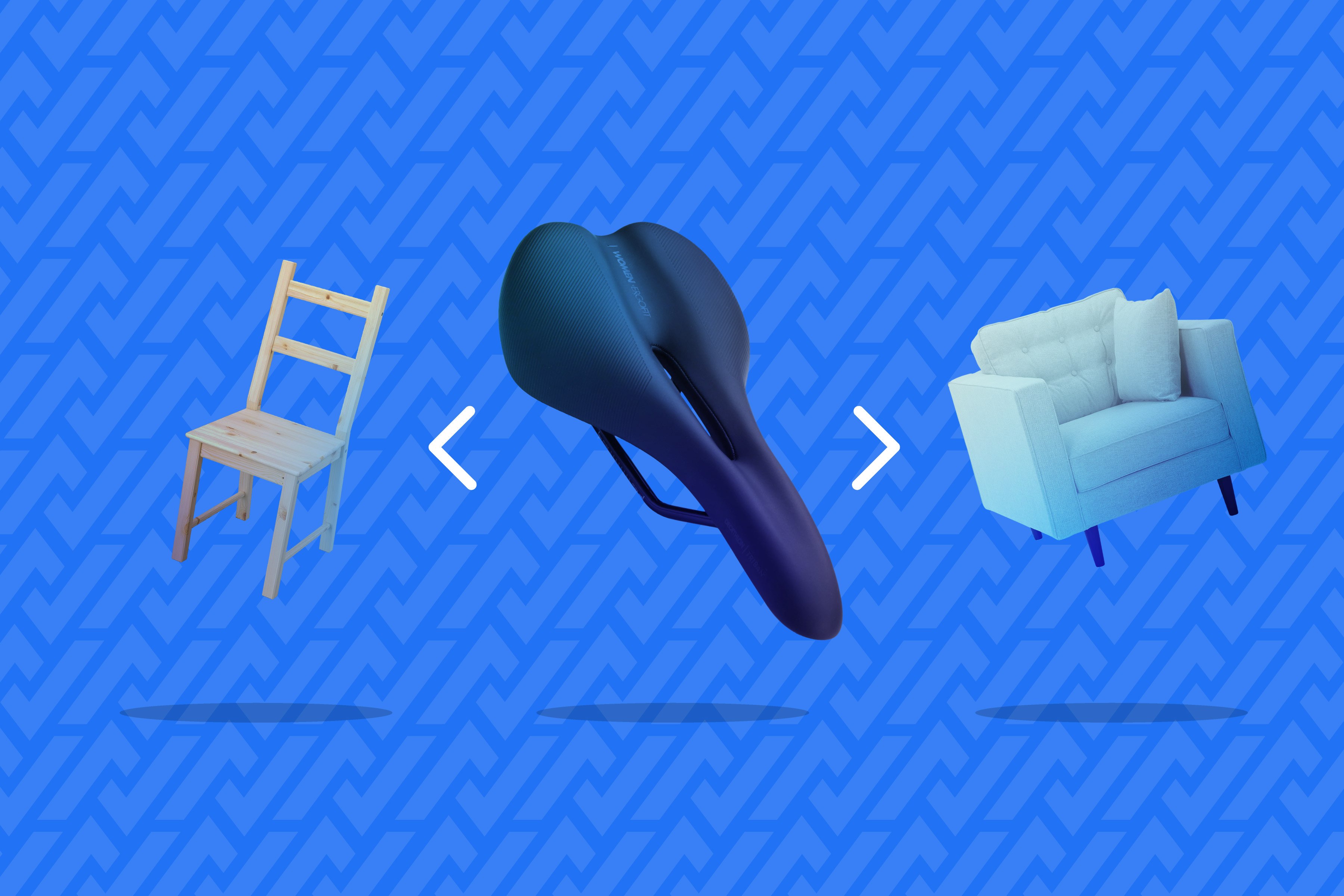 Step 4

: Riding position and saddle

They affect both comfort and performance. 

The type of saddle should be chosen according to your morphology. It also influences the position of your back. 
The stiffer you are, the higher your position should be, and in this case you should choose a wider, curved saddle. For more flexible backs, a flat, slimmer saddle is better.

For a city bike, a more flexible, wider seat with an upright position is recommended. For a hybrid bike, we recommend a long spout with a wide enough seat for a semi-reclined position. Mountain bikes and racing bikes have a flatter, slimmer and longer saddle, so as to favour a more aerodynamic position. 

For longer rides, rounded saddles are preferable, while for shorter rides that require more power, a flat saddle is better?
The riding position is different depending on whether you are aiming for performance (more reclined position for higher speed) or comfort (more upright position, with better visibility). 
Generally, a road bike will have a more reclining position, as opposed to a city bike which always has a more upright position.
The size of the bike is also important, so you should refer to the manufacturer's or seller's instructions about this.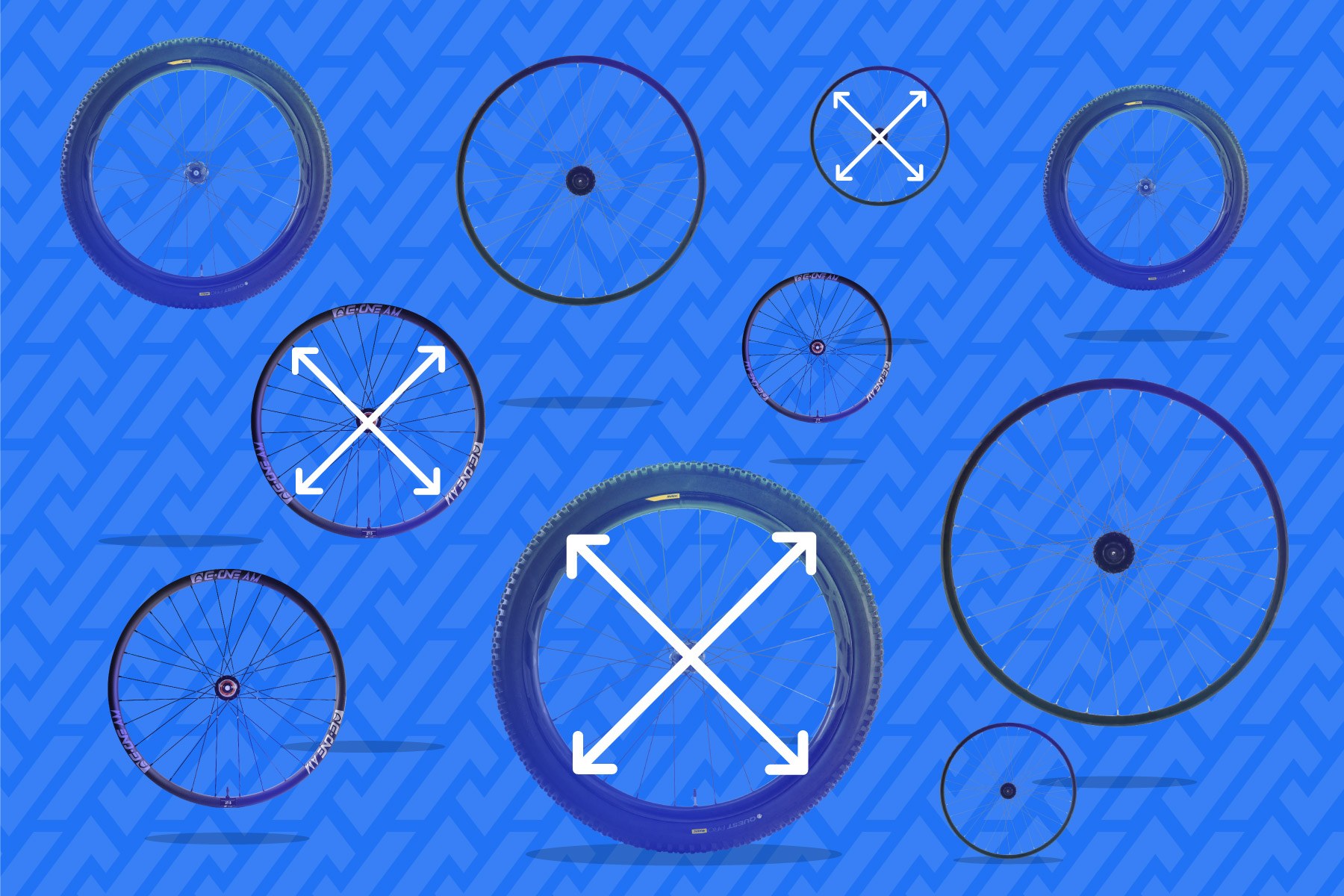 Step 5

: Handling

The size of the wheels affects the comfort, responsiveness and handling of the bike. Of course, the wheels should also be chosen according to your size and riding style. The drivetrain depends mainly on your level of activity and the terrain you ride on.
The 

26″

 wheels are faster and easier to handle. The 

29″

 wheels provide more comfort and stability, especially on rough terrain. They are however less responsive due to their greater weight. Lastly, the 

27.5″

 wheels offer an excellent compromise between the two and are preferred for their versatility.

Make sure your centre of gravity is not too high. In theory, the smaller you are, the less you should opt for large wheels and vice versa. 

If the 

drivetrain

 is located at the hub, the bike is more manageable and easier to maintain. If you have little training or lack stamina, opt for a 

triple drivetrain

 as it adapts to your shape. The 

single

 drivetrain is lighter and more efficient, and easier to handle. Finally, the double drivetrain is a good compromise, but it still requires good physical condition. 

Tyres

 are generally smoother and thinner on a road bike and thicker on a mountain bike. The notching is often more important if you are travelling on certain trails or rougher (cobbled) or even wetter ground, to get a better grip.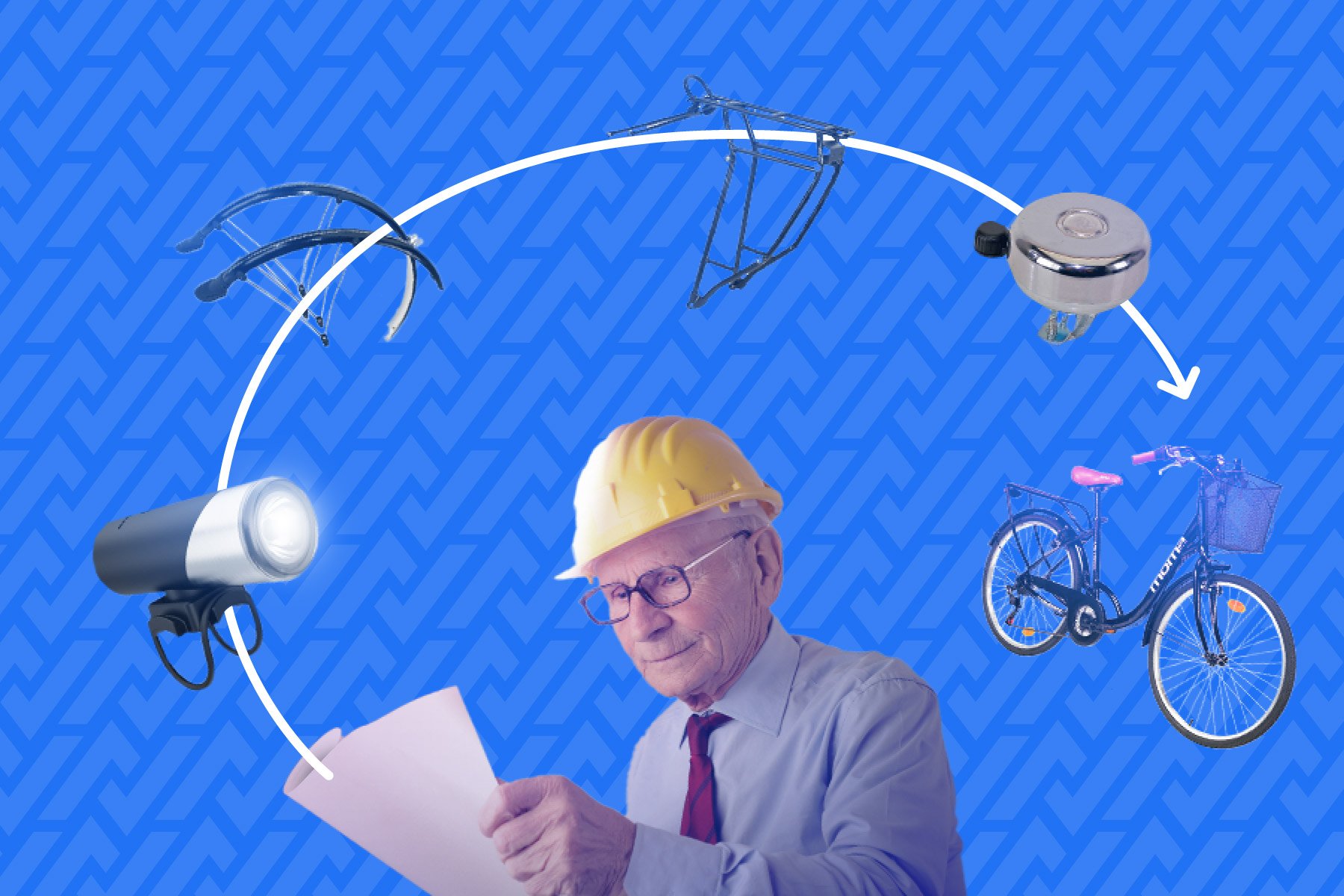 Step 6

: Additional equipment

Some models do not have additional equipment because it adds to the weight of the bike and therefore affects performance. For others, however, it is more useful, particularly in terms of safety and/or practicality. 
For good vision by day and night, consider 

efficient and durable

 lighting. And to ensure your visibility to other road users, a rear light can also be very useful. These are mandatory accessories if you are going to be travelling in dark environments.

Mountain bikes have shorter and wider mudguards to prevent mud from splashing on you. In contrast, city bikes often have longer and narrower mudguards like their wheels. Watch out for the wheel friction, the compatibility and the weight. It is clear that if you use your bike to get to work, you will need to pay particular attention to this element to ensure that you always arrive at work fresh and clean.

If you have errands to run, documents to carry or other items, a 

pannier rack

 or a 

basket

 is probably an essential piece of equipment for you. However, keep an eye on the maximum weight limit to avoid any unpleasant surprises. The same goes for cyclists who want to carry their water bottles: a 

bottle holder

 is probably the most practical.

When travelling, you are subject to several stops, which is why we recommend the use of a kickstand. If you have an electric bike or a heavier bike, opt for a double-centre kickstand which is stronger and offers more balance. If you have a lighter bike, a side kickstand may be sufficient. However, be careful about compatibility and setting.

In a city, you will often be confronted with pedestrians and other weak users (scooters, skateboards etc.). An audible 

bell

 can be used as a warning of danger or passage.
Translated by Ramsés El Hajje