Updated on 23 May 2023
After 18 hours of research, a comparison of 30 popular models and our tests of 8 of them, we recommend the
Philips PerfectCare PSG7030/20
the most for its excellent price/performance ratio.
Our choice, Best mid-range
This model offers excellent value for money and is the lightest iron on the market. Fully automatic, it is extremely practical.
See the price on Amazon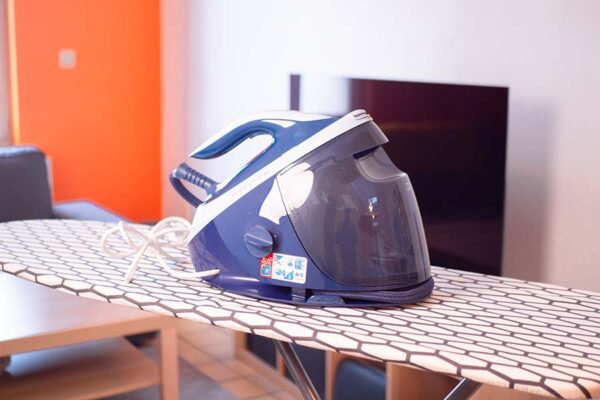 During our tests, we found the iron of this powerful machine to be the lightest of all (less than 700g) and very comfortable to use. This feeling was reinforced by the SteamGlide Elite soleplate, which glides perfectly over all types of clothing. The removable tank (max. 1.8 litres) has a large opening for easy filling. The tank also has two small holes for easy emptying when needed. Please note that you will need more than 500ml to be able to use it without having to stop while ironing, even with small amounts of laundry. Once the tank was full, it only took 2 minutes of heating to get the iron ready. Its capacity of 120g/minute (600g/minute maximum in ironing mode) was ideal for T-shirts and trousers, but it lacked a bit of power for shirts. However, the very fine tip of the iron is ideal for getting between buttons. In terms of noise, we found it to be quiet overall, as it only made an occasional pumping noise (unlike other machines where this noise is constant). As with many Philips ironing centres, we were able to lock the iron in its base for easy movement. Finally, there is a place to store the iron cord, but not the power cord (1.70m).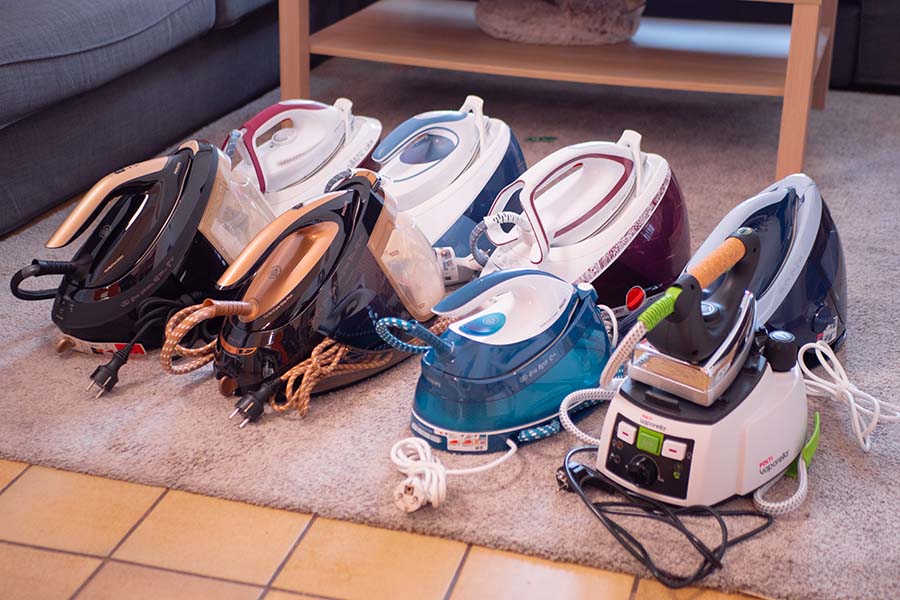 The different models we tested.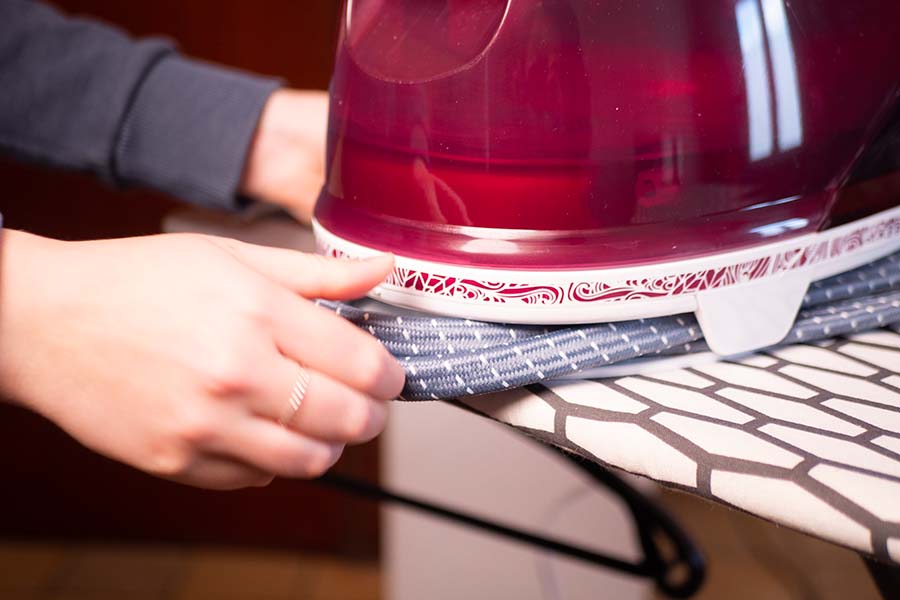 We started by checking their design.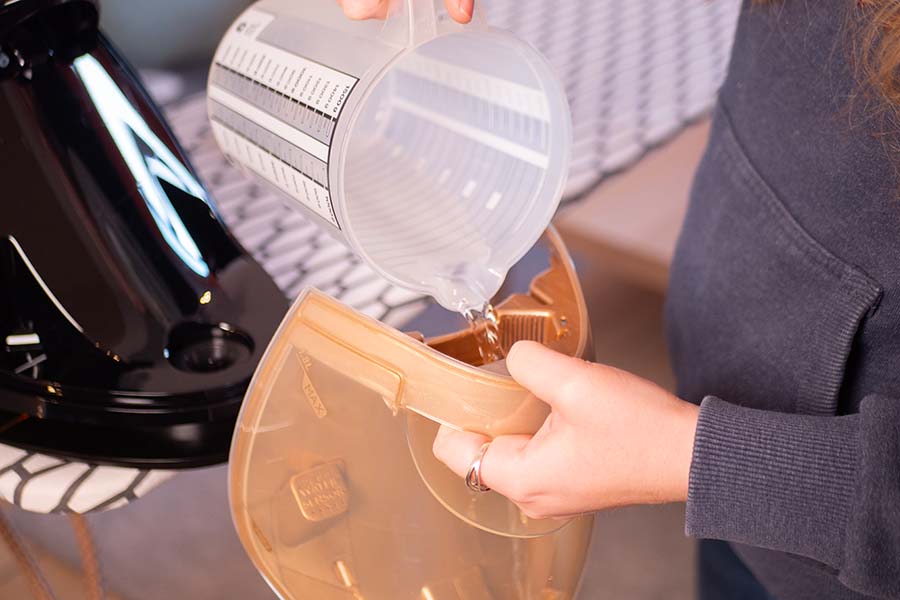 We also checked whether the tank was easy to fill.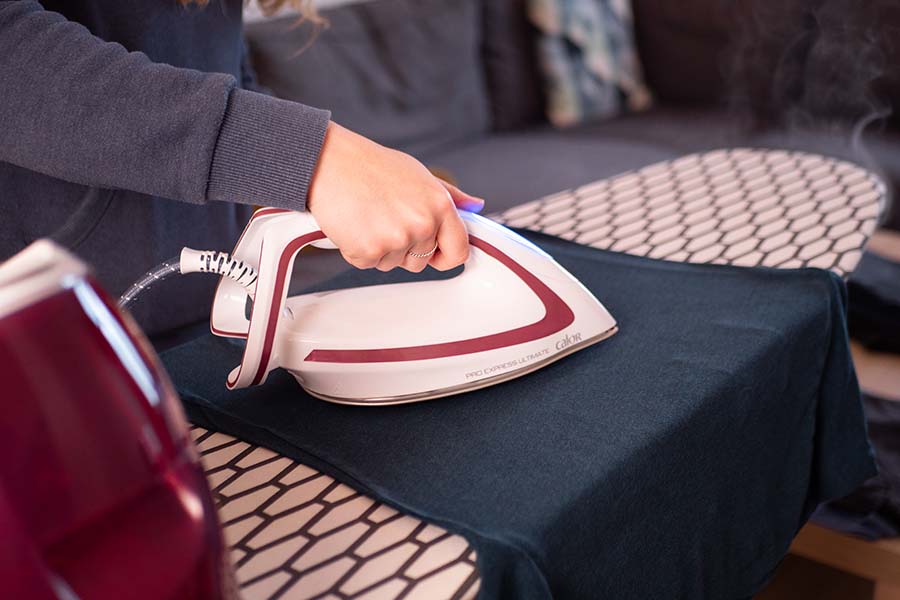 Next, we looked at how easy they were to use.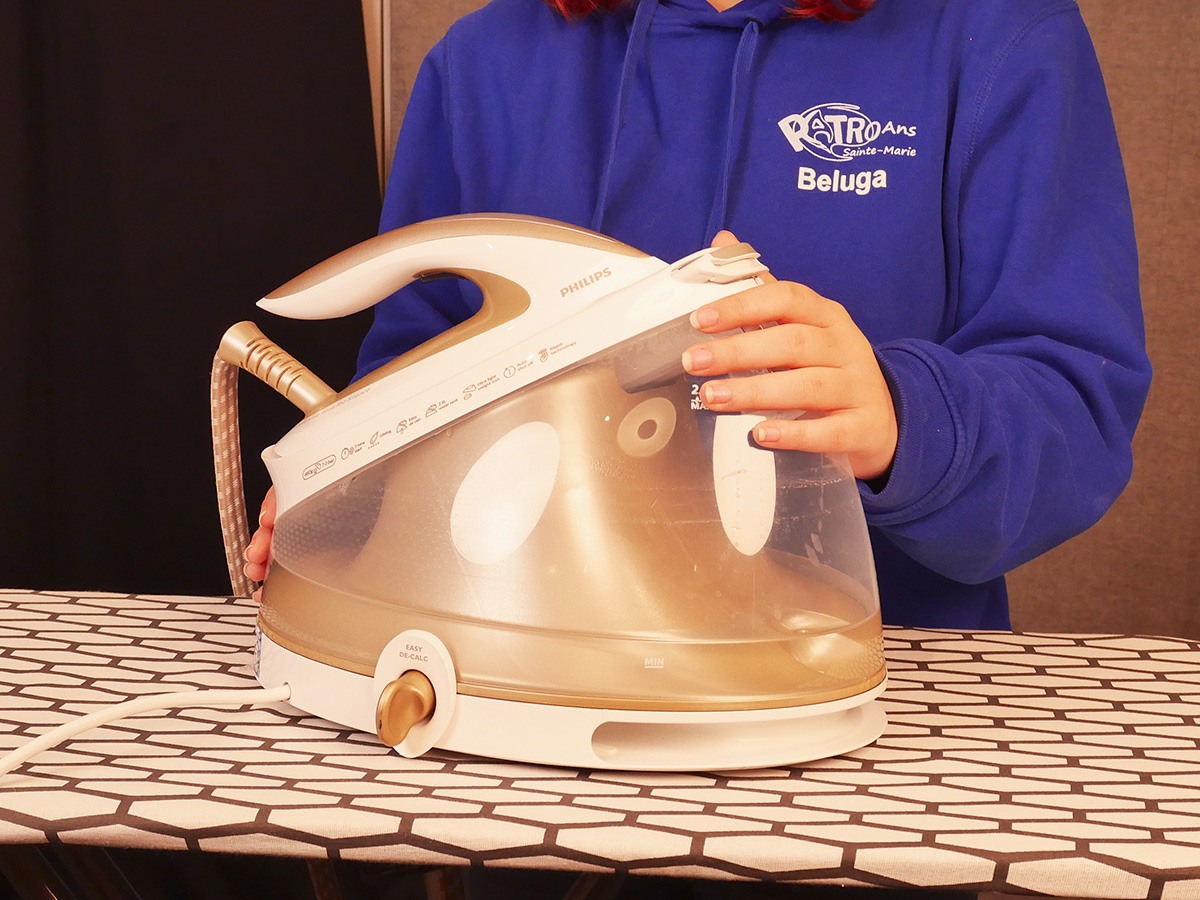 The average warm-up time is about two minutes.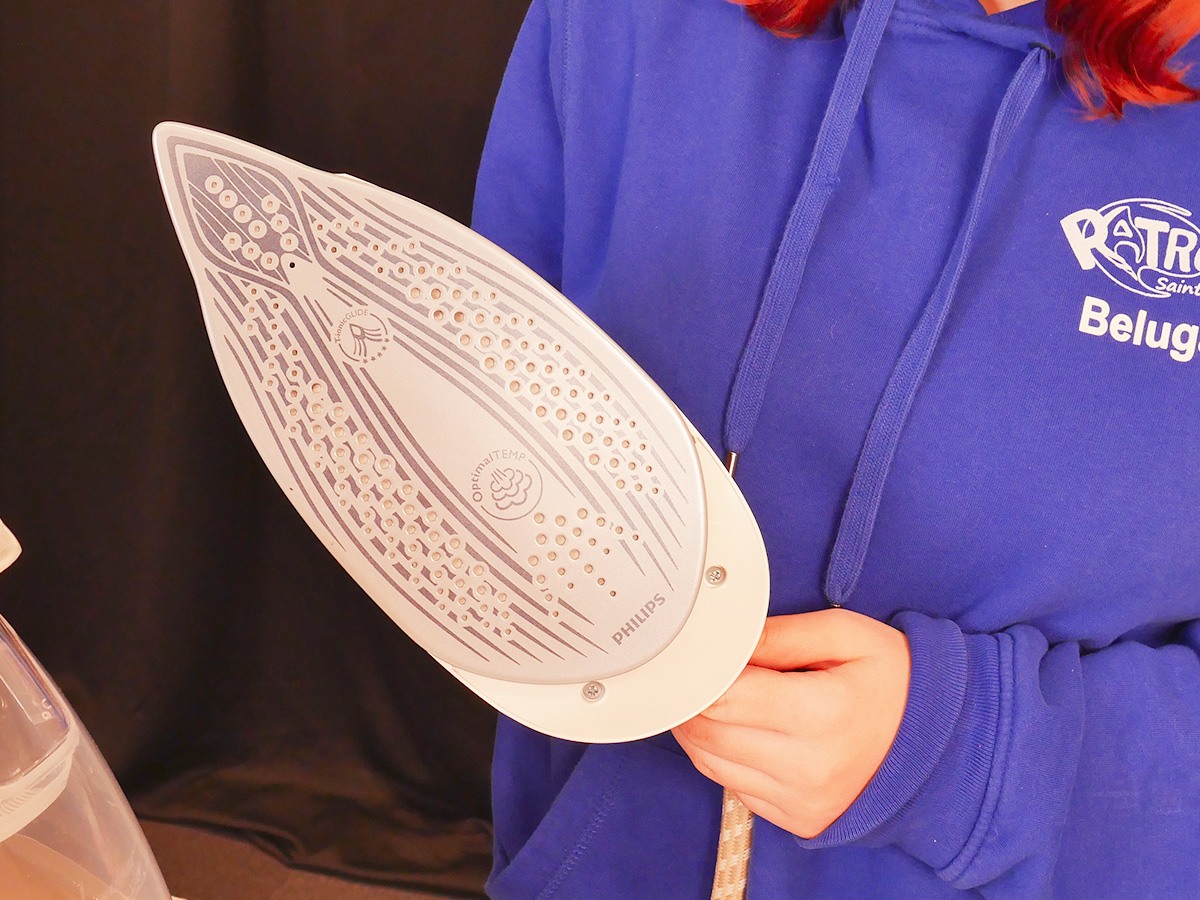 As for the soleplate, aluminium should be avoided: it gets damaged very quickly and tends to build up limescale.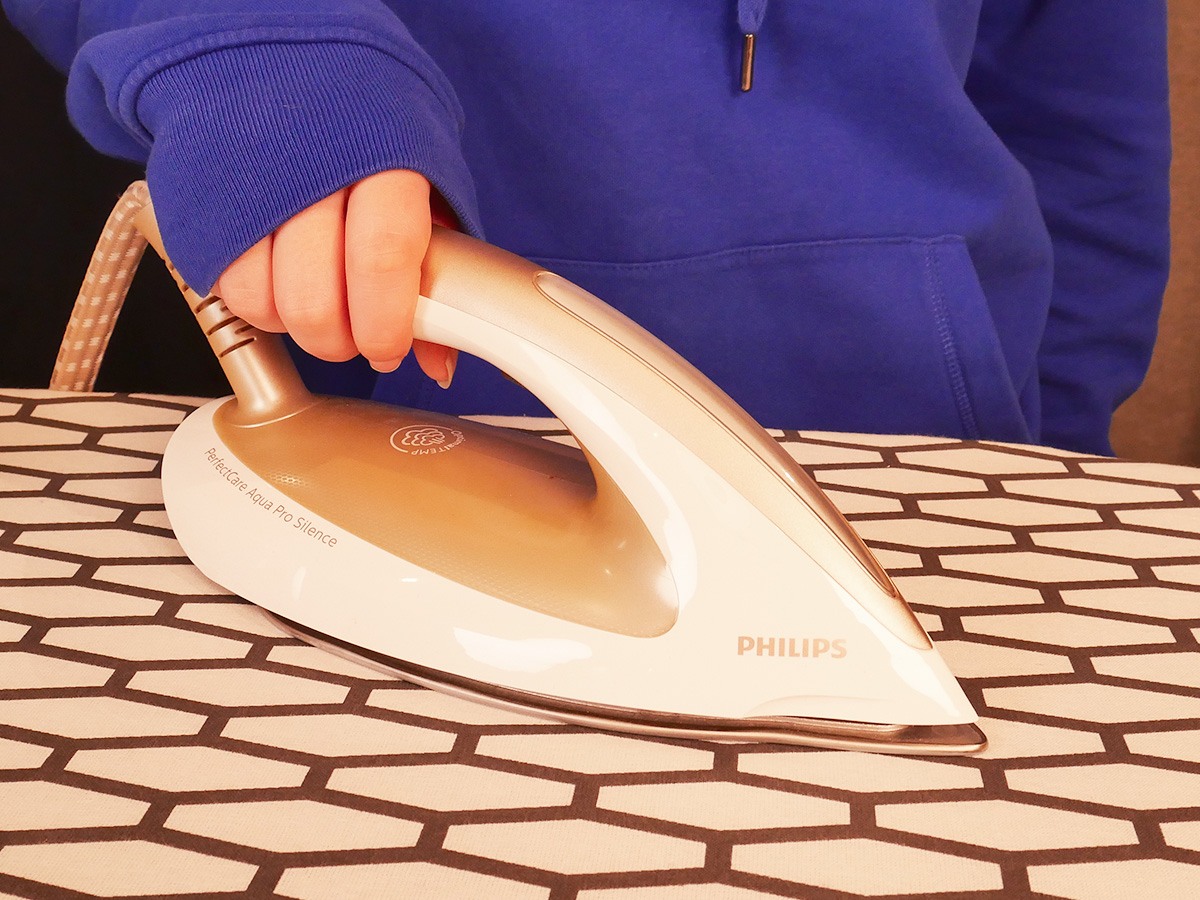 Although the iron is lighter, the steam ironing station offers a higher capacity.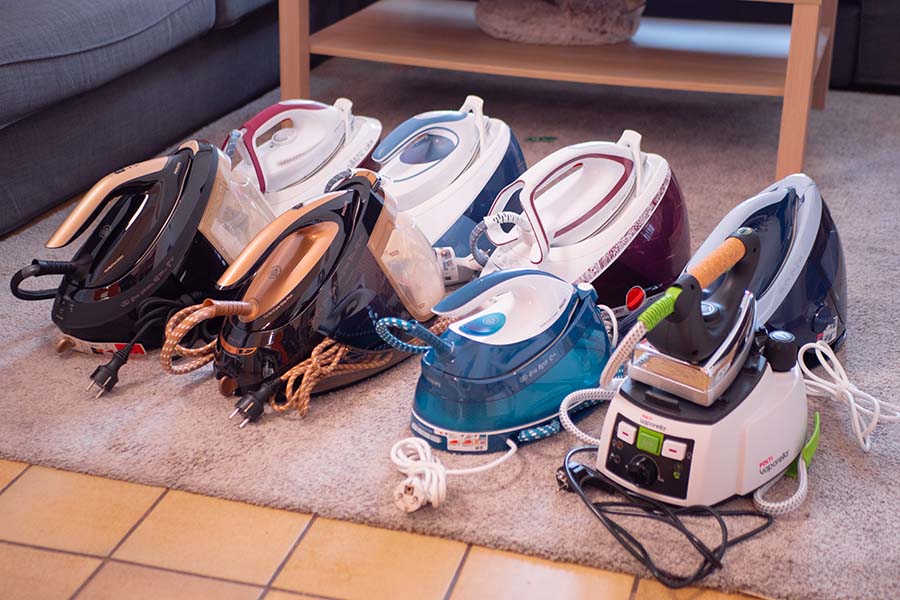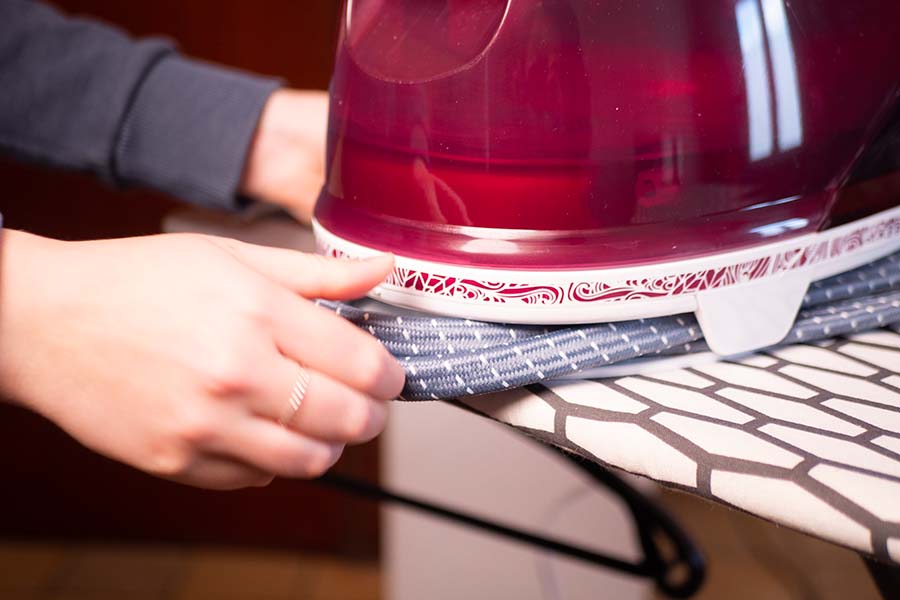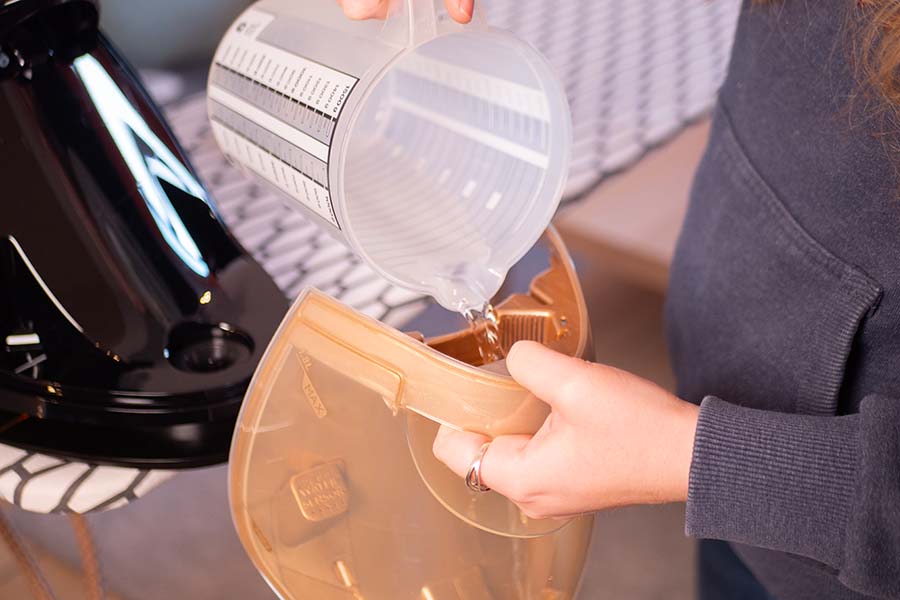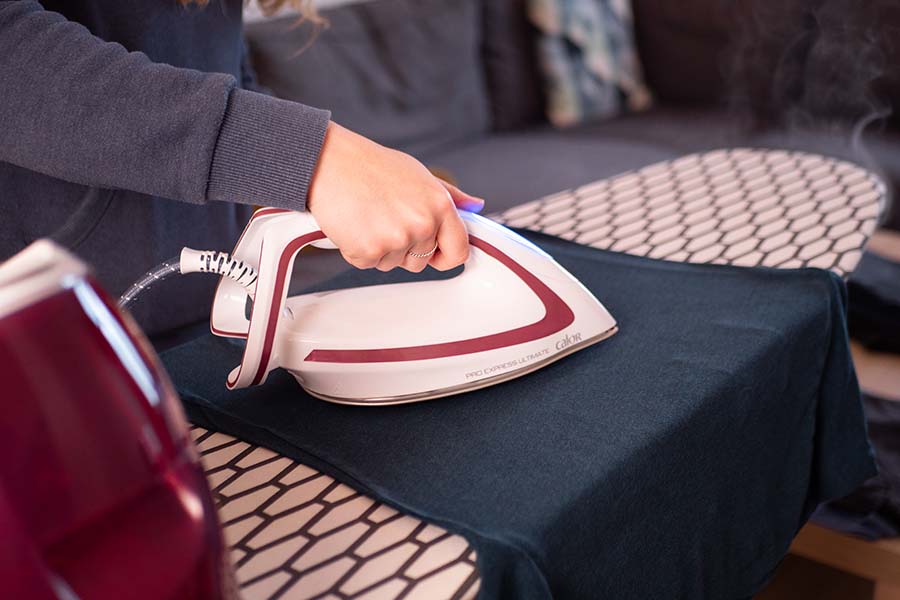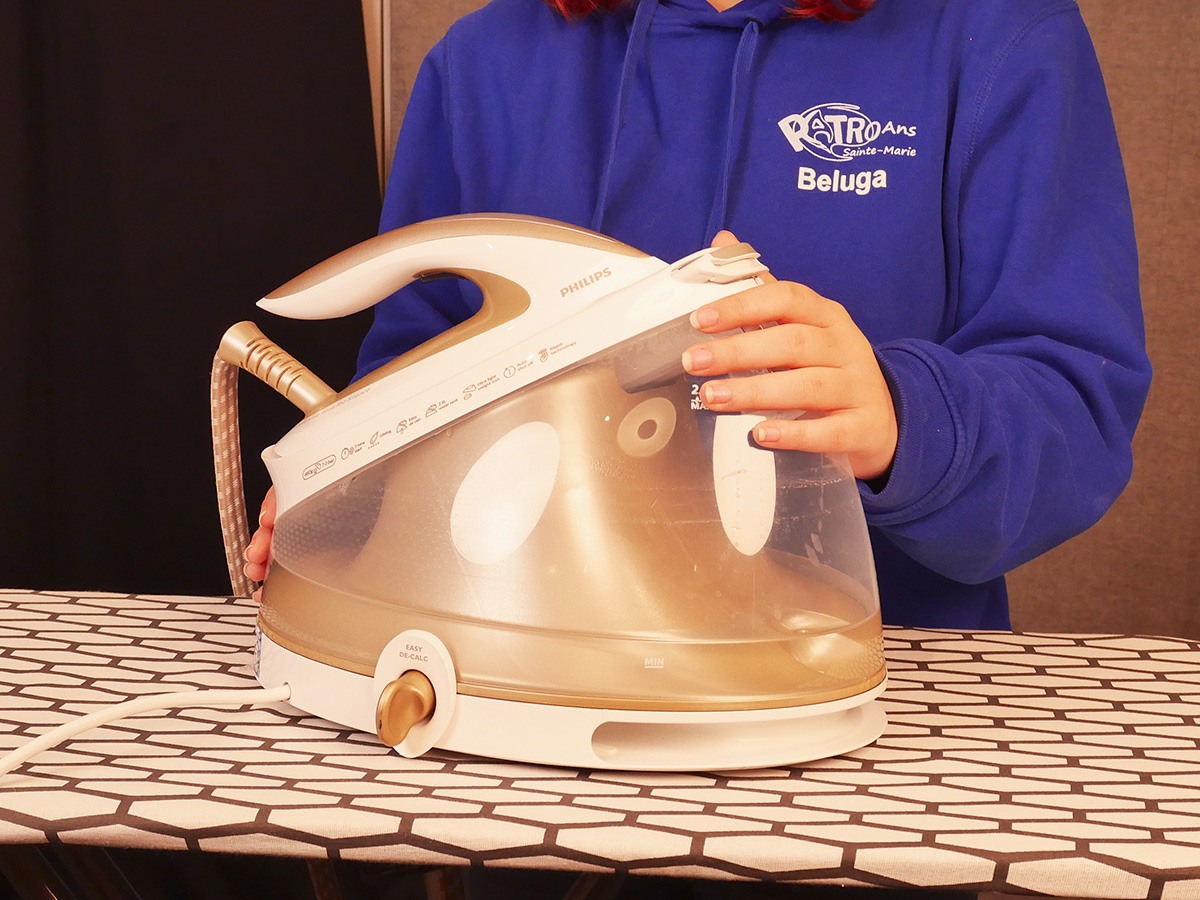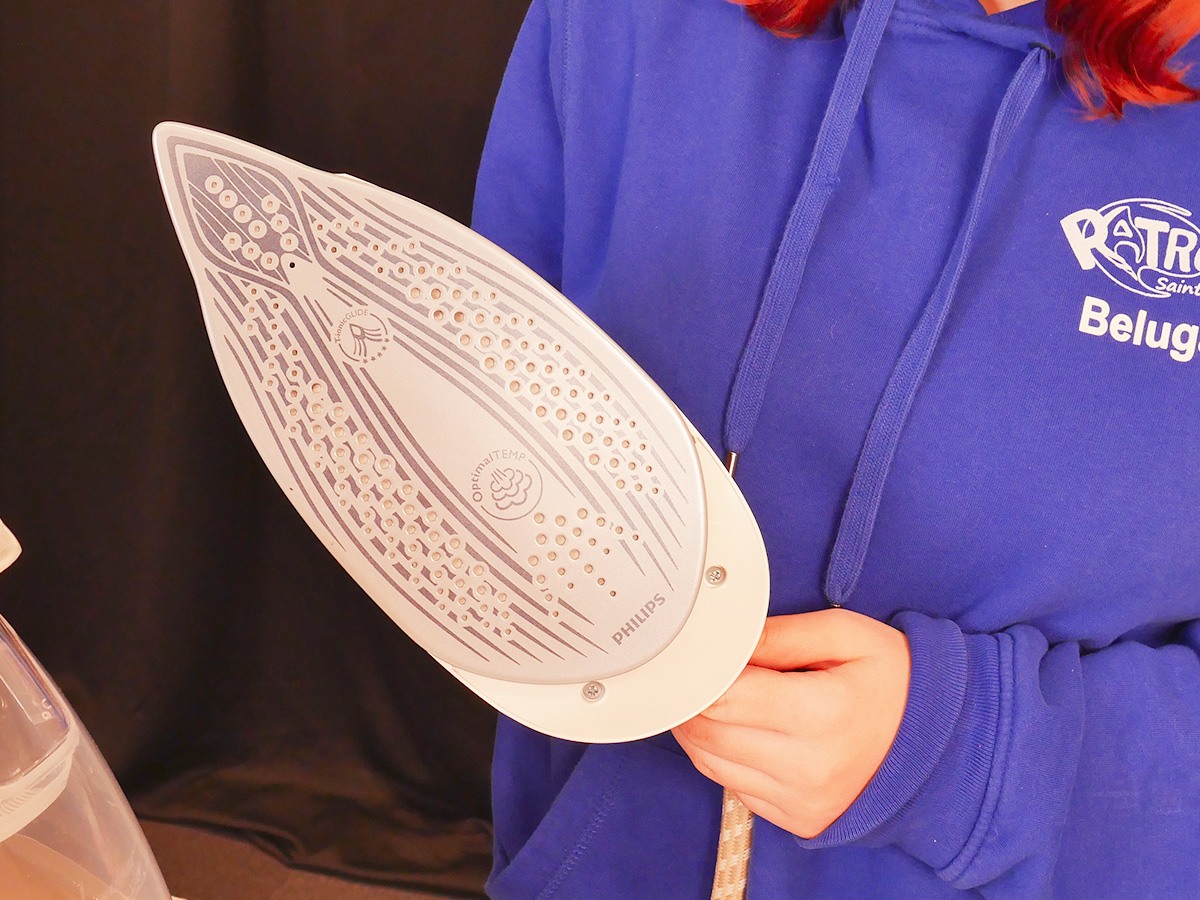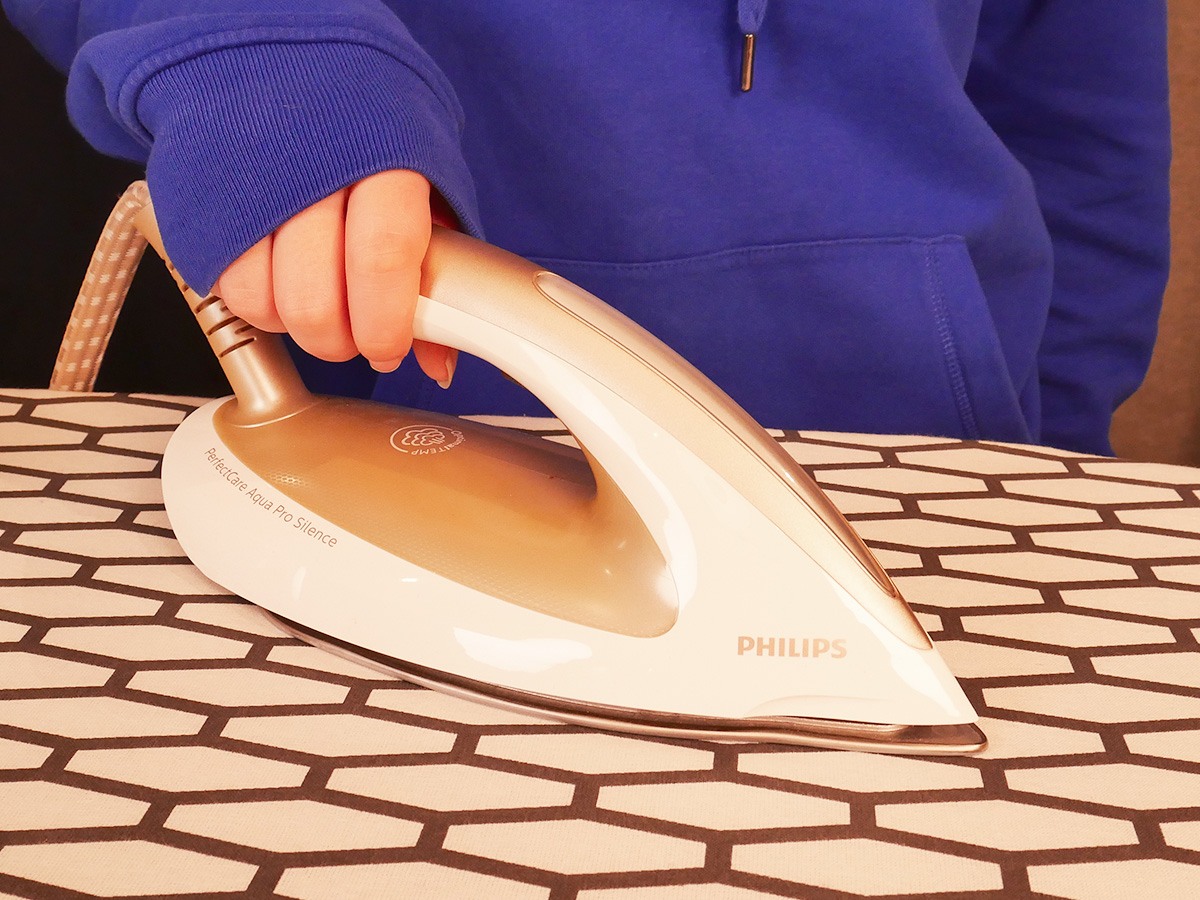 Best budget
The Philips Compact Plus GC7844/20 automatically regulates the heat of the iron, so there is no need for any adjustment knob. It only has one button to set the Eco and Pressing modes.
See the price on Amazon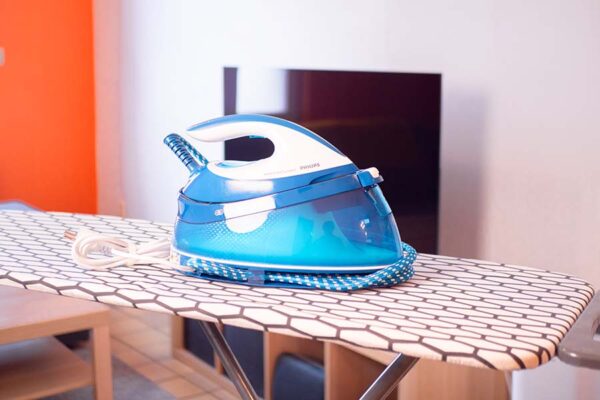 With its automatic operation, this model offers the best value for money in this comparison. Although the 1.5-litre tank is not removable and no funnel is supplied, we found it very easy to fill thanks to its wide opening (which can be easily emptied if necessary). In our tests, it took just 2 minutes to heat up. The steam output of 120 g/minute was sufficient for ironing T-shirts and jeans but could be a little more powerful for more stubborn shirts. Nevertheless, the SteamGlide soleplate glides well over all types of fabric and the steam vents are well distributed. The press mode offers up to 400 g/minute and is activated, as usual with Philips, by pressing the steam button twice. It is also worth mentioning that this ironing centre has an ultra-compact design compared to other models. The iron lock on the base and the storage space for the cord are also great for moving and storing the iron. However, there is no storage space for the power cord.
Best high-end
In addition to the classic Pressing mode, this steam generator iron is equipped with the DynamiQ sensor, which automatically delivers steam when the iron moves over the garment. It also has the longest cord.
£ 571.41 on Amazon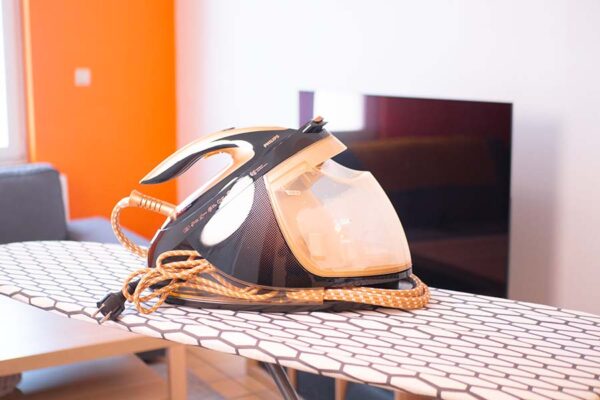 With a pressure of 7.7 bar and an average steam output of 165 g/min, this ironing centre removes stubborn creases from all fabrics without the need to adjust the temperature. In fact, in our tests we were able to effectively iron shirts, T-shirts and jeans. This is also possible thanks to its excellent gliding and the iron's innumerable, well-distributed steam outlets. The Pressing function was very easy to operate, as we only had to press the steam button twice. After that, the iron delivers up to 600 g/minute in 3 jets. The ergonomics are also excellent thanks to the low weight of the iron (approx. 800 g), the 1.95 m power cord and the comfortable grip. It is easy to transport thanks to its locking system, and both the iron and power cord can be stored directly in the control unit. However, it should be noted that you need to put a lot of water (no 200 ml detected) in its removable tank (maximum 1.8 L) to be able to use it for a long time without having to stop to refill it. We also noticed that its cord sometimes got caught on the garment we were ironing, which is why it lost the top spot on the podium.
Budget alternative
Despite its low price, it is the model that heats up the fastest of this selection, while it also has a removable tank with a good capacity of 1.8 litres. Its sole also offers good glide.
See the price on Amazon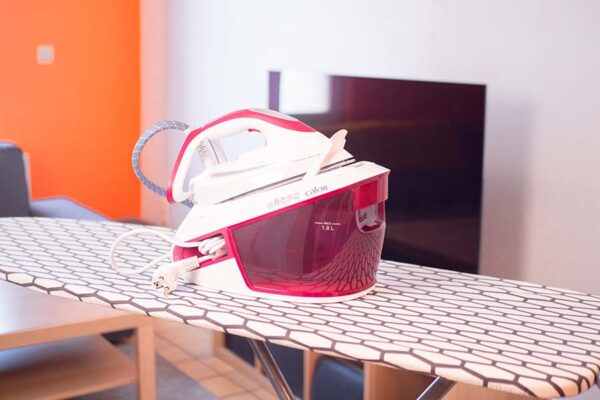 With just 1 minute of waiting time, this steam generator iron was the fastest of the models tested. It also has a large 1.8-litre detachable water tank. In the tests, its Durilium Airglide soleplate glided well over all types of laundry. This, together with its good grip, made it comfortable to use. Its steam output of 120g/minute was sufficient to iron most garments, although it showed its limitations with shirts. We also found that it hardly dripped on clothes. In terms of storage, the iron can be attached to the base for easy transport, and there's space for the cord. It also has an eco mode and a press mode, which can be set using the 'mode' button next to the on/off button. However, we found it a little less convenient to use, as you have to slide the iron into a notch before dropping it onto the base. Although this principle is used on other models, it is less ergonomic here, and we found the movement less fluid. Add to this the fact that it's not automatic, and it's easy to see why it lost its place on the podium.
Our selection
200+ Comparisons

1500+ Reviews

100% Impartial
Why trust us ?
Selectos compares and tests hundreds of products to help you buy better. We sometimes receive a commission when you buy through our links, which helps fund our work. Learn more
How did we do the test?
To test the ironing stations, we started by examining their design (length of the power cord, the possibility of storing the cord, size of the tank, and locking of the iron in the base…). We also checked whether the tank was easy to fill (removable, wide neck, presence of a funnel) and whether the ergonomics were good (grip, weight of the iron).
We then timed the heating time of each appliance (at maximum power when adjustable). We then ironed different types of clothes to get an idea of the glide of the soles and the steam flow.
| Name | Reservoir capacity | Steam flow rate | Heating time | Sole sliding quality | Ergonomics (weight and grip of the iron) |
| --- | --- | --- | --- | --- | --- |
| Philips PerfectCare 7000 Series PSG7030/20 | 1,8 L | 120 g/min | 2 min | 5/5 | 5/5 |
| Philips PerfectCare Compact Plus GC7844/20 | 1,5 L | 120 g/min | 2 min | 4/5 | 4/5 |
| Philips PerfectCare Elite Plus GC9682/80 | 1,8 L | 165 g/min | 1 min 30 | 5/5 | 5/5 |
| Calor Express Anti-Calc SV8012C0 | 1,8 L | 120 g/min | 1 min | 4/5 | 3/5 |
| Calor Pro Express Ultimate GV9560C0 | 1,8 L | 170 g/min | 2 min | 5/5 | 5/5 |
| Philips PerfectCare Serie 8000 PSG8140/80 | 1,9 L | 140 g/min | 1 min 45 | 5/5 | 4/5 |
How to choose a steam generator iron?
Are we wrong in thinking that ironing is one of the most hated household chores? But in reality, the real enemy is not only that mountain of wrinkled clothes that stares at you with desire while you watch TV but also your equipment. In fact, with a good steam generator iron, it shouldn't take long at all.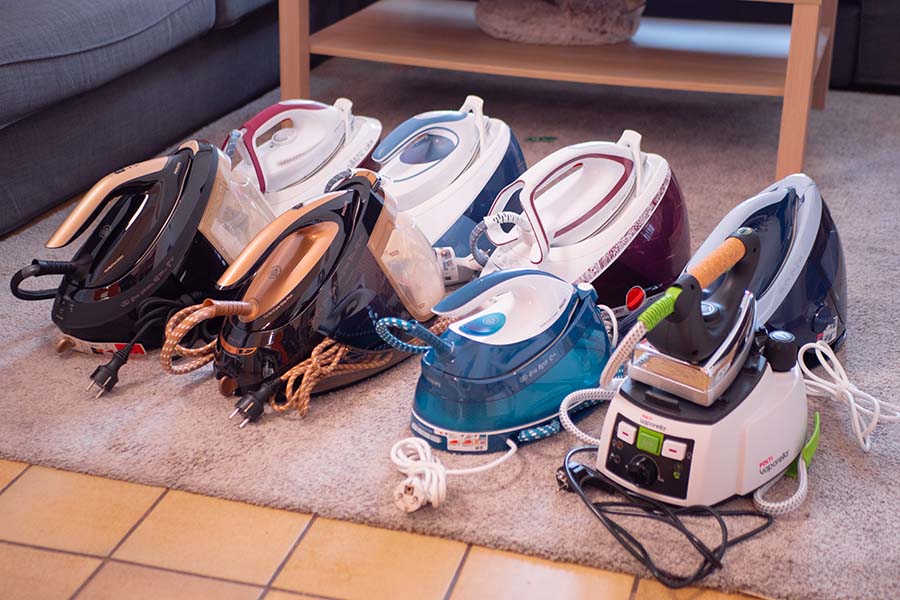 When choosing one of these devices, we should look at several essential criteria rather than at the new technologies, promises or fantasies that one brand or another may offer:
Steam flow and pressure: For occasional use, a pressure of about 4 bar and a flow rate of at least 130 g/min is ideal. For use in Pressing mode, i.e. for vertical ironing, at least 6.5 bar of pressure and about 400 g/min of flow rate are required.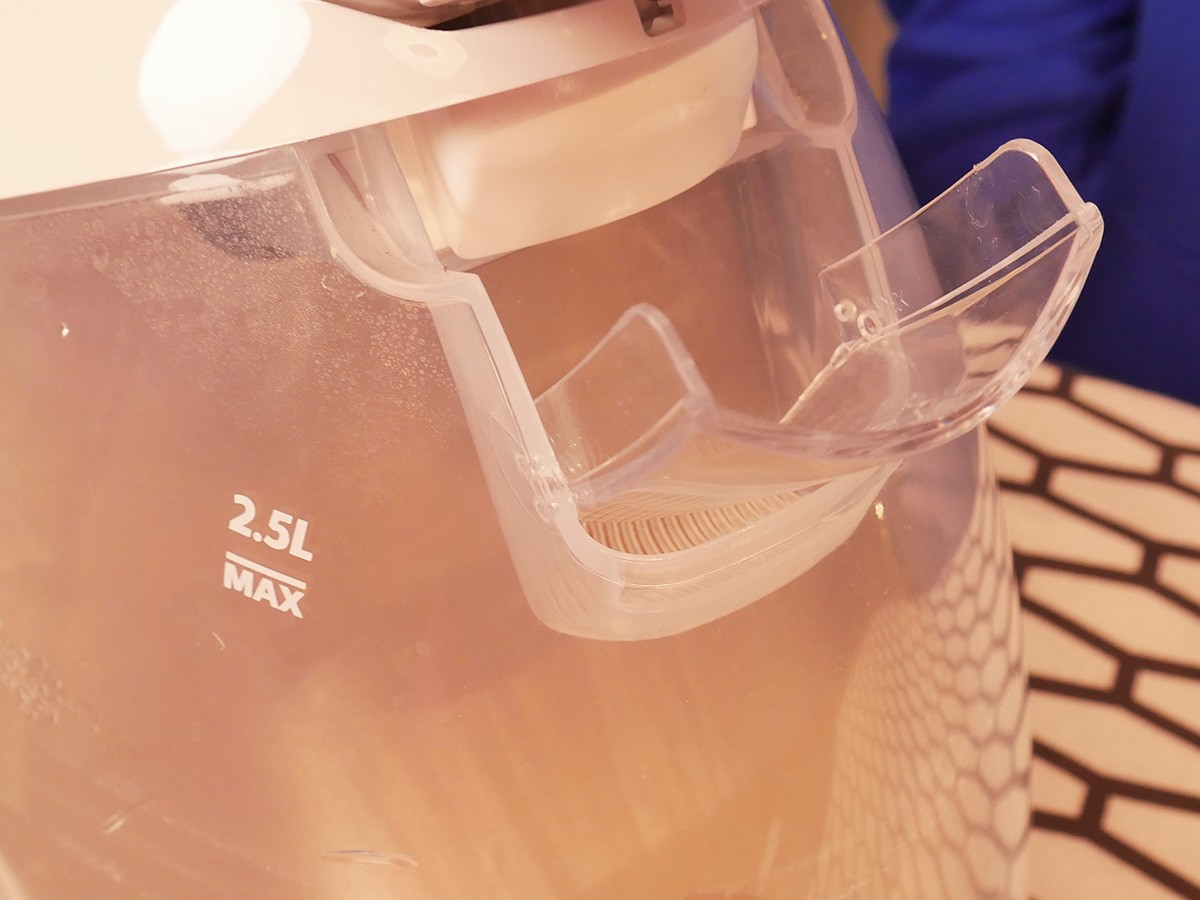 Tank capacity: adapt the volume to the number of people in your household. For a single person or a couple, 0.7 litres may be sufficient, but for a household of three or more people, we recommend a tank of at least 1.5 litres.
Filling the tank: some tanks cannot be filled during operation and require a pause (with the risk of not being able to restart…). Others allow the tank to be opened even when hot, for unlimited autonomy. Finally, some are also removable, which makes filling easier. This reduces the risk of spilling water all over the place.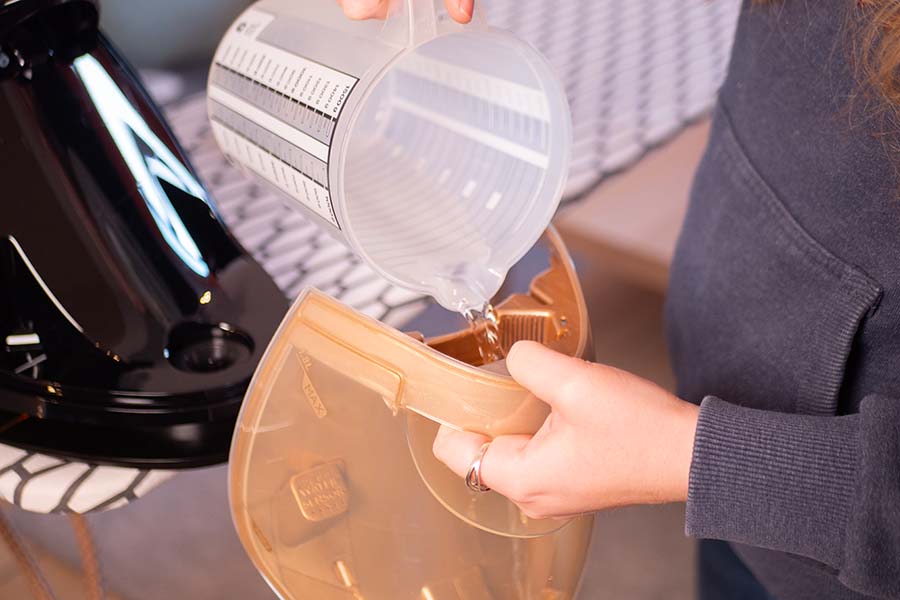 Warm-up time: this criterion is more important than you think. When you get motivated (finally!) to iron and you have to wait too long to start… This can be a problem. The average is about 2 minutes.
Anti-limescale system: this is an essential option, but it is not standard. Therefore, it is not necessarily found on cheaper models. Without this option, it is not surprising that the appliance will break down after one or two years, depending on the hardness of the water. In any case, do not hesitate to use demineralised water to prolong the life of your iron.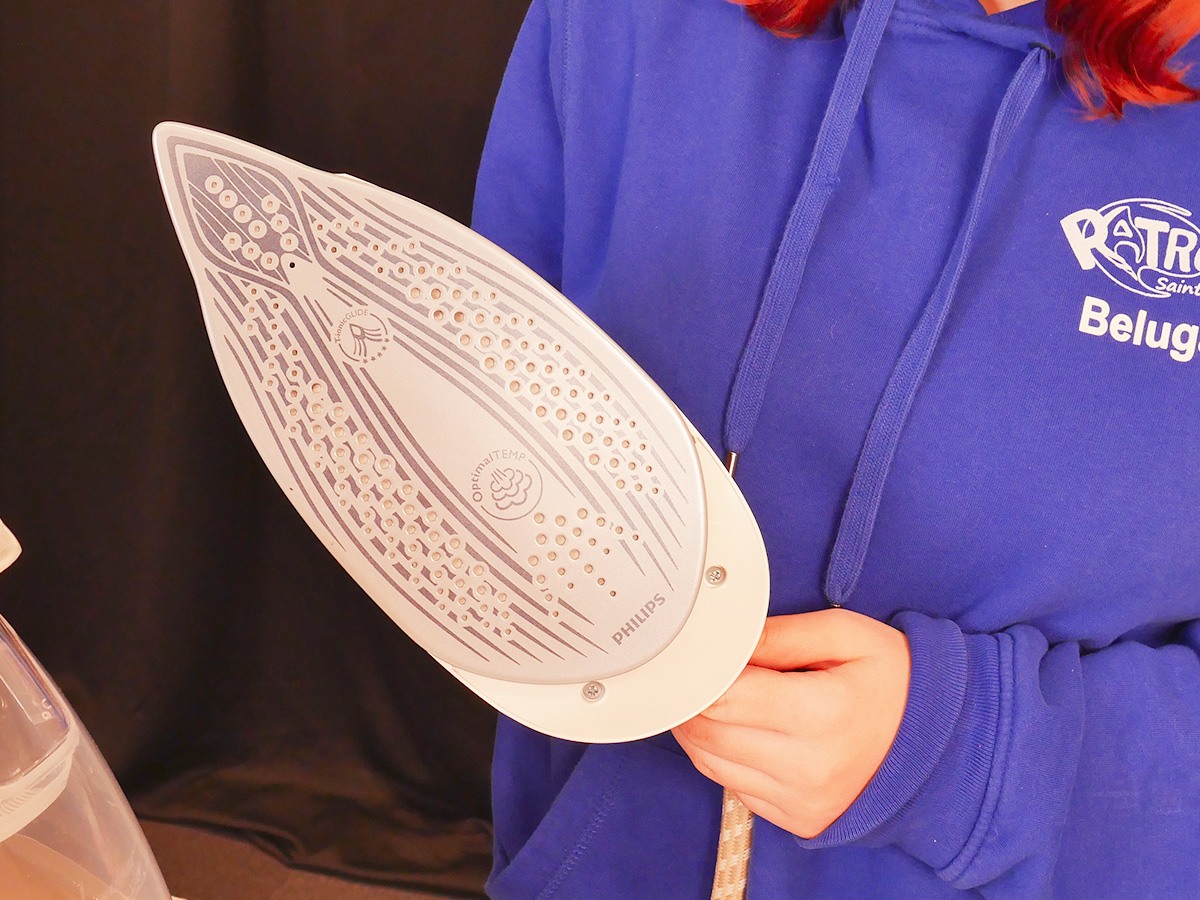 The sole material: there are many options when it comes to sole material: ceramic, titanium, stainless steel, etc. They all have their advantages. Just remember to avoid aluminium, which is reserved for lower-end models. They accumulate scale and deteriorate very quickly.
Anti-drip system: an option that reduces the risk of water splashes. Although it is not always highlighted, it is important to know that most ironing centres have it. But it is always best to check…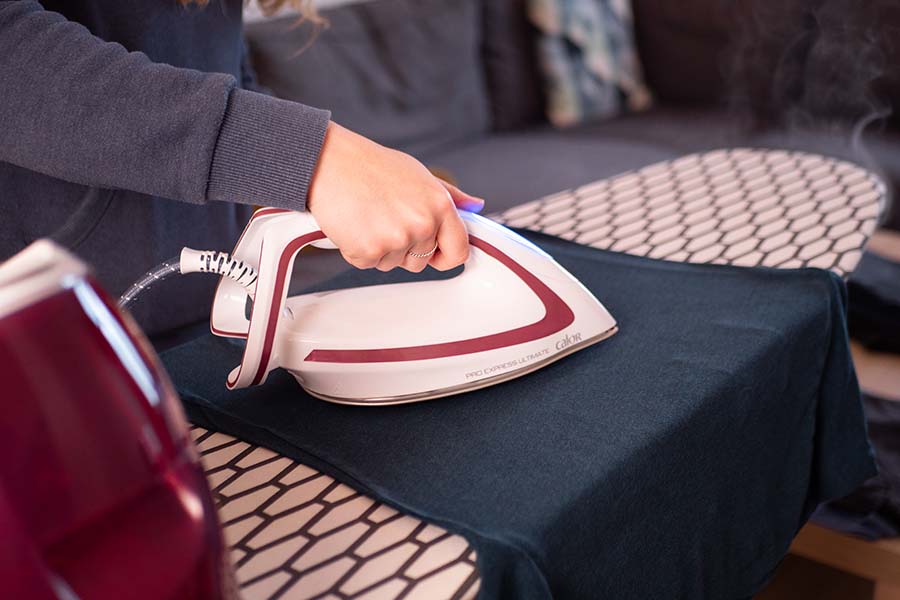 If you are still not convinced by a steam generator iron, we invite you to take a look at our article on the best clothes irons of the moment.
Other models we recommend
Calor Pro Express Ultimate GV9560C0 (£330.00 upon publication): not a drop of water left on the clothes. During our tests, we found this model to be ergonomic (the iron weighs around 1 kg). It heats up quickly (1'45") and has a good steam flow (140 g/minute) thanks to the well-distributed holes in the soleplate. The soleplate is a Durilium AirGlide Autoclean, which glides perfectly over all types of clothing (shirts, T-shirts, trousers) without dripping and can remove all creases. On the practical side, it has a cord storage compartment, the iron can be locked to the power station for easy transport, the tank is removable and the noise level is low. However, the cable that connects the iron to the power station gets very hot after a few minutes of use. It is therefore best to avoid using it in the presence of children or unruly animals. Also, its price fluctuates a lot, which affects its value for money.
Philips PerfectCare Serie 8000 PSG8140/80 (£458.17 upon publication): a high-end alternative with Speed mode and a bit more power. When we put it to the test, we found that this steam generator iron was very similar to the Philips PerfectCare Elite Plus in our selection. This is because its design is very similar (1.8-litre removable tank, almost identical ergonomics…), its performance is similar, and it has the same DinamiQ mode, which automatically releases steam when you pass the iron over a garment. What distinguishes it is its more powerful press mode (700 g/minute instead of 600) and the presence of a speed mode. This function automatically releases steam like the DinamiQ mode but varies the flow according to the speed of movement. In other words, when you move slowly, the flow is low, and when you move fast, the flow is high. We didn't find these improvements interesting enough to include them in the main selection. However, if you have the need, this is still a very good model to consider.
Other models tested
Vaporella Polti 535 Eco Pro (£101.00 upon publication): with its small (0.9 litres), non-removable tank and very heavy iron (around 1.3 kg), we were less than enthusiastic about this appliance. In addition, during our tests, the soleplate of the iron did not glide smoothly, and the indicator lights never went out (even after more than 40 minutes of heating).
Tefal SV9202 Express Protect (£201.58 € upon publication): despite its good performance, we did not include this model in our main selection due to the high level of noise it emits when in use.
Translated by Selectos