Updated on 11 January 2023
After 16 hours of an exhaustive comparison of 30 popular duvets and our testing of 10 of them, we believe
ZenPur Premium
currently offers the best value for money.
Our choice, Best budget
This cosy synthetic 4-season duvet is extremely warm in winter and stays in place thanks to its 10 press studs. Its composition is suitable for people with sensitivities or allergies.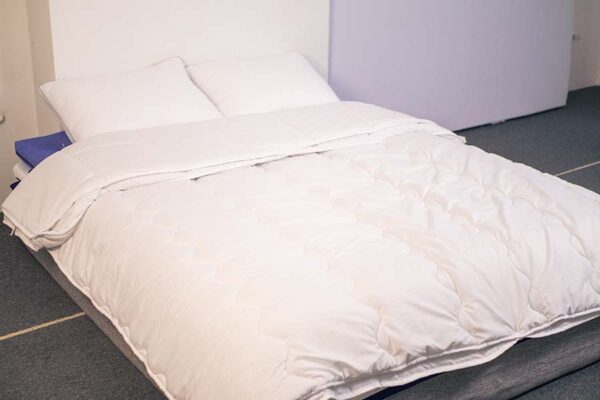 This model can be divided into 2 lighter duvets: one 200 g/m² (for summer), one 300 g/m² (for in-between seasons), and the 2 together to form a 500 g/m² winter duvet. It is made entirely of high-quality microfibre with anti-dust mite treatment and contains no harmful substances, making it suitable for allergy sufferers and sensitive people. In our test we found it to be very warm in sub-zero temperatures, and we liked the 10 practical press studs to join the pieces together and keep them in place. In addition, each seam (wavy and straight) ensures even quilting, and this model is machine washable at 45°C.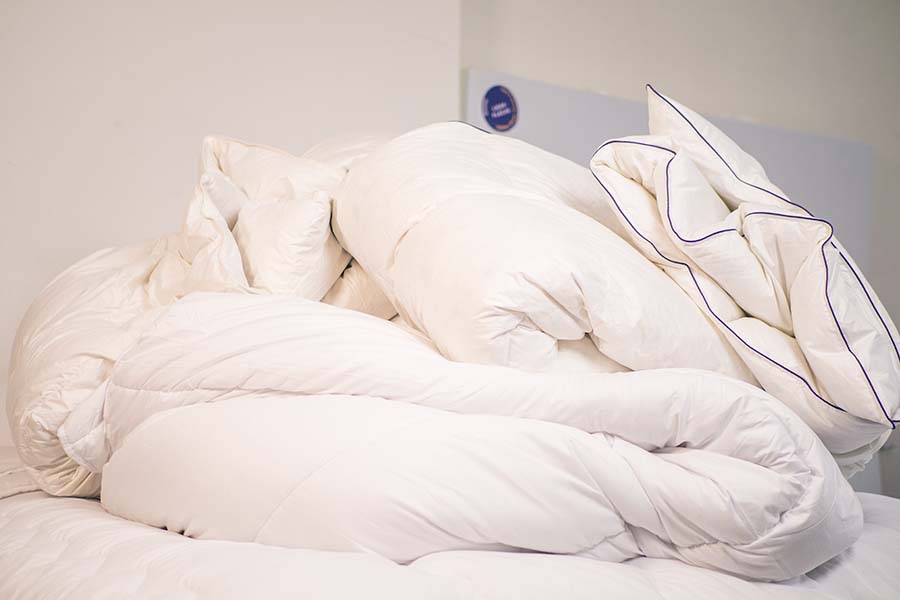 A good night's sleep depends on good bedding and a comfortable duvet.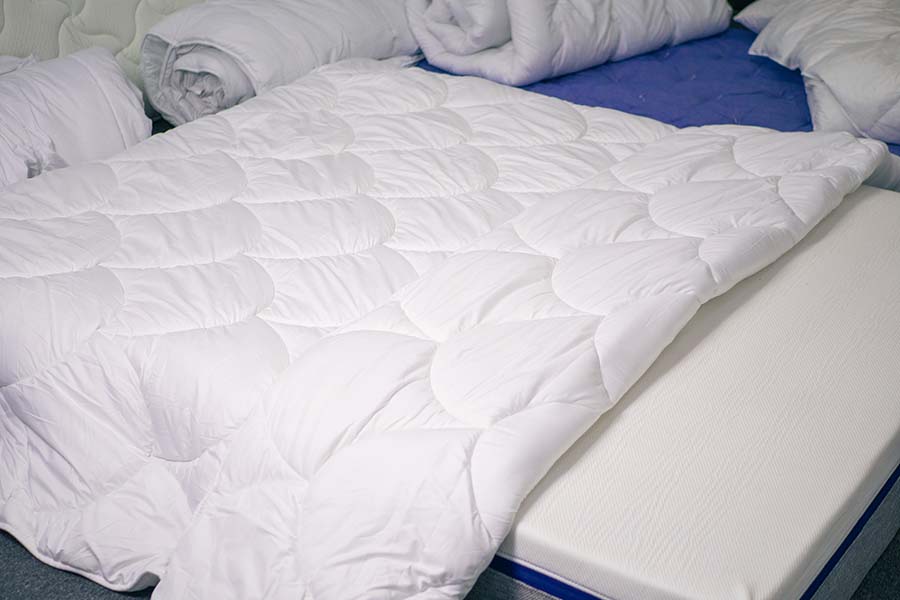 The most exceptional duvet won't do you much good if it doesn't fit the size of your bed.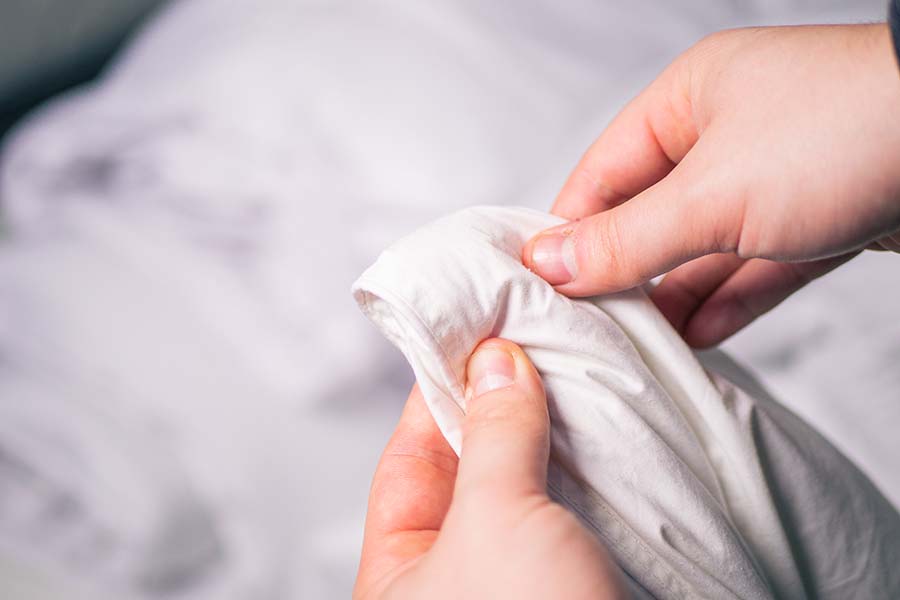 The weight of the duvet determines its heating performance.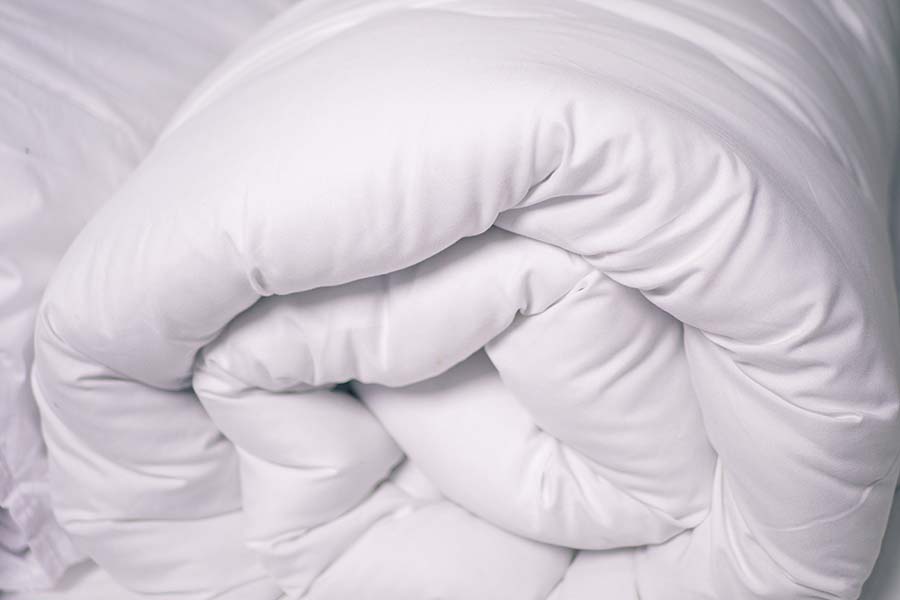 The cover ensures that the filling is well distributed and does not leak out.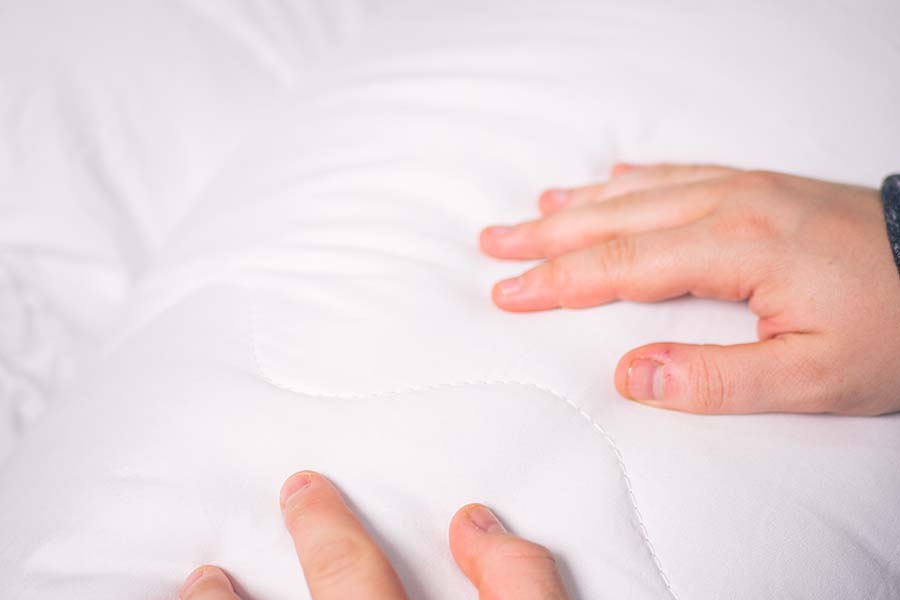 The quilting ensures that the filling is evenly distributed and thus offers more comfort and less heat loss.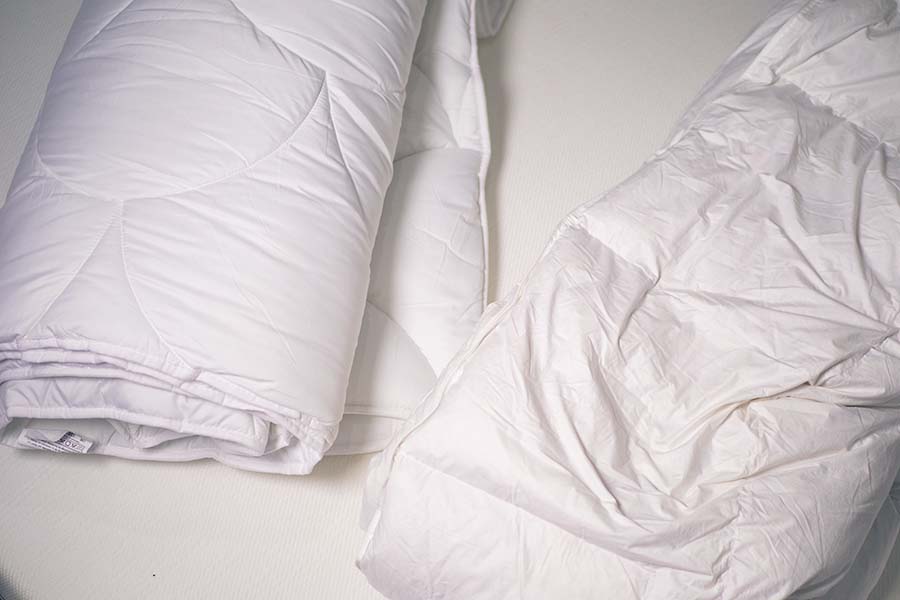 There are three types of filling (synthetic, natural and hybrid).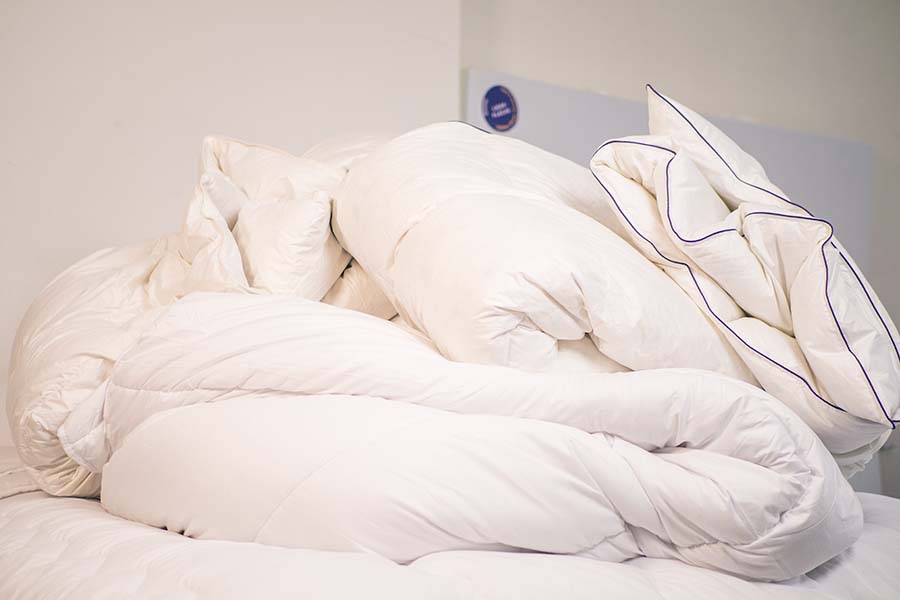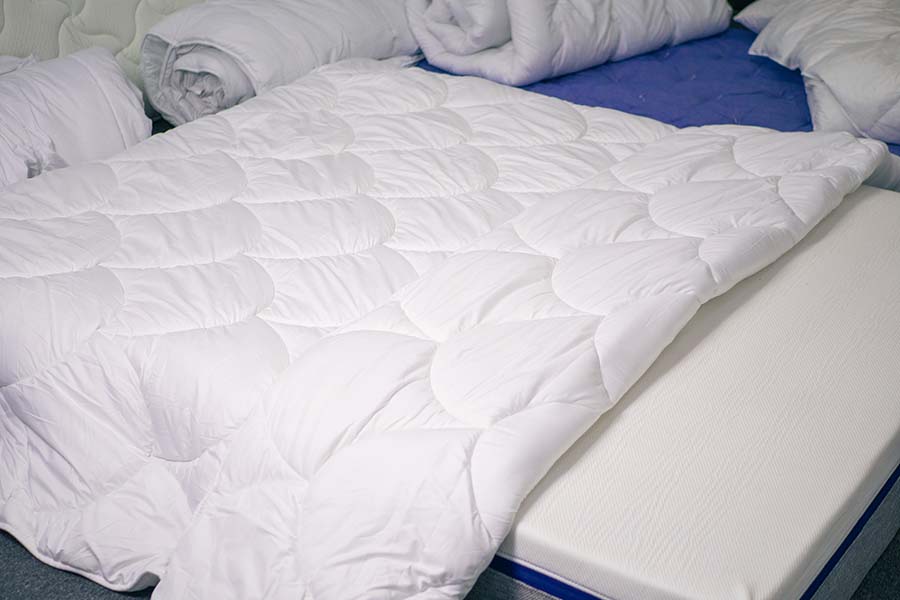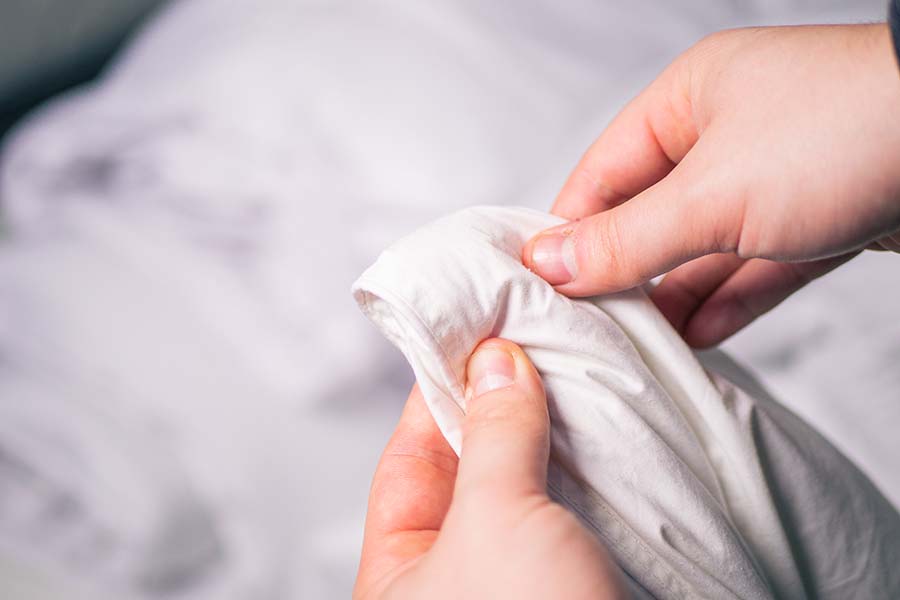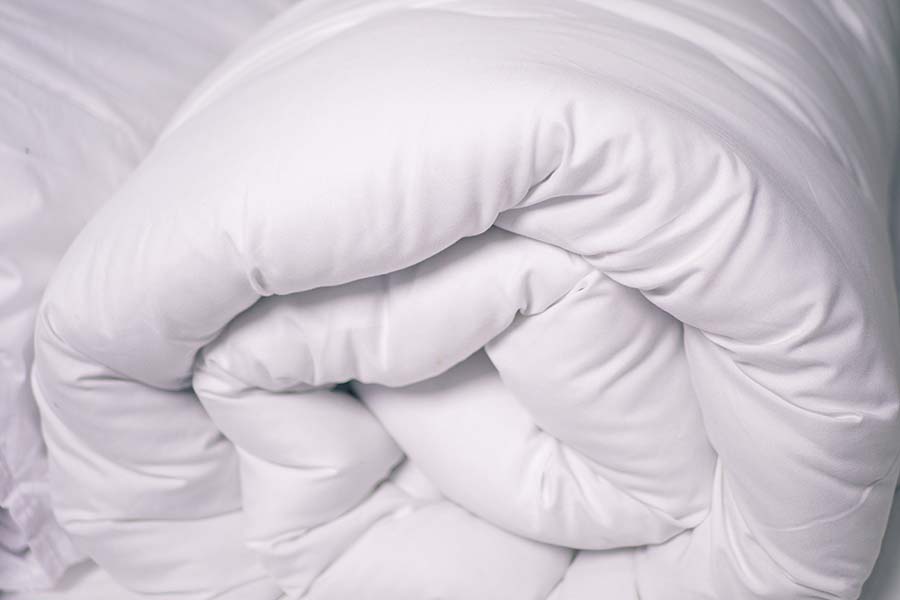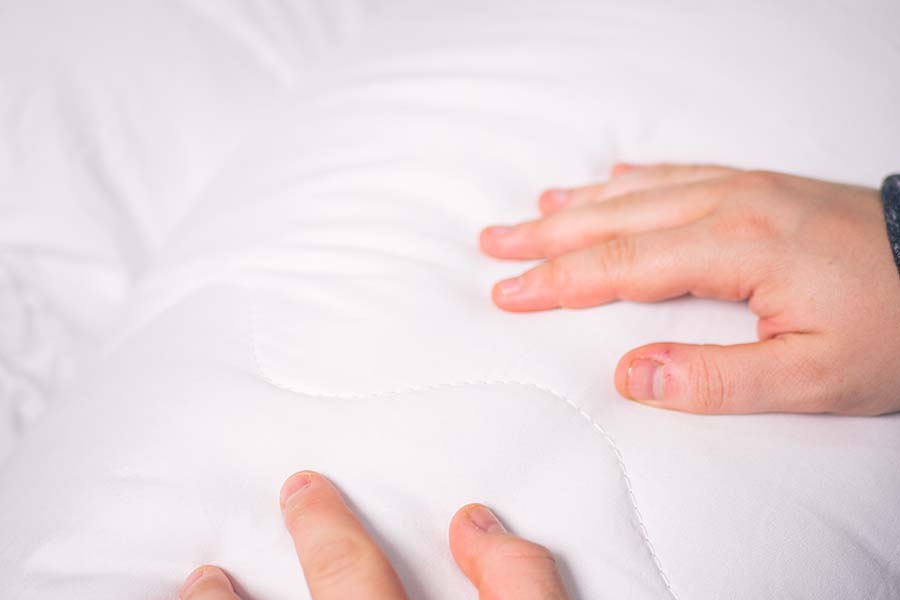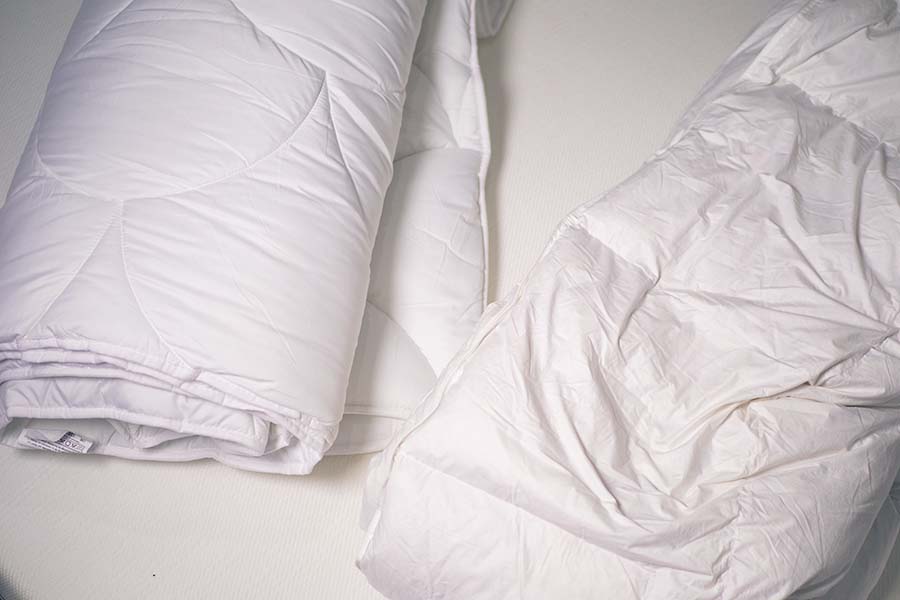 Best mid-range
Its natural filling is more durable and adapts better to different temperatures. Easy to clean, it is more suitable for people who do not move much during the night because of its noise.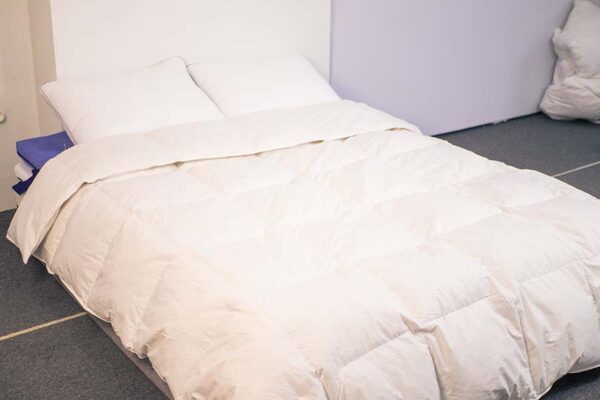 Certified free of harmful substances, this duvet is made of 90% feather and 10% duck down with a filling of 400 g/m². Thanks to this composition, it has thermo-regulating properties and is suitable for all seasons. In our test, we found it too warm for summer nights, but in our opinion, it is perfect for in-between seasons and winter, and we liked its lofty effect. The check quilting makes the duvet very uniform and it is wrapped in cotton percale. It also has an anti-mite treatment to suit allergy sufferers. It can be machine washed and dried. However, it is quite noisy at the slightest movement.
Best high-end
Despite its high price, this wrap-around hybrid duvet has a high-quality design and thermo-regulating actions. It has a perfect filling and is suitable for allergy sufferers.
£ 230.00 on Tediber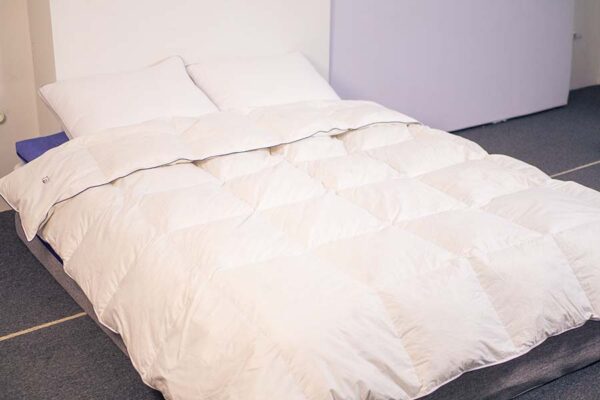 Hand-stitched, its cotton percale cover provides warmth while allowing air to circulate easily. Its natural filling and high-end microfibres make it a durable hybrid model. It is made with European duck feathers and down and Dacron flakes. It is also certified free of harmful substances and is hypoallergenic and dust-mite-free to suit sensitive skin. In our test, we liked the sturdy seams and good breathability, but in our opinion, it's too warm for summer. Also, the plaid quilting is perfect for the evenness of the filling, and it is machine washable at 40°C (although a large drum is needed for this). However, it turned out to be slightly noisy when moving it.
Budget alternative
This four seasons model benefits from a practical assembly with snap buttons that allow it to cope with all temperatures. Very soft, it is comfortable and machine cleanable.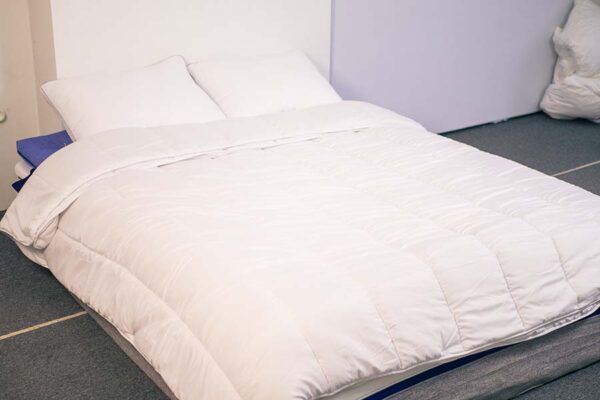 Certified free of harmful substances, this synthetic model is made up of a lightweight duvet (200 g/m²) and a mid-season duvet (300 g/m²), and the combination of the two forms a winter duvet that can be used all year round. During our test, it satisfied our coldest testers with its warmth. In addition, we found the 8 press studs to be practical. The microfibre cover is soft and the straight seams are quite satisfactory for distributing the filling. Easy to clean, each piece can be machine washed at 30°C.
Our selection
Why trust us ?
Selectos compares and tests hundreds of products to help you buy better. We sometimes receive a commission when you buy through our links, which helps fund our work. Learn more
How did we do the testing?
To evaluate each duvet, we spent a few nights with each model. This allowed us to check its warmth, breathability and loft. We then looked at the quality of the seams and stitching to make sure the filling was homogeneous.
In the case of separable duvets, we judged the practicality of assembly (snaps, knots, etc.). We also took into account the cleaning process. Finally, we checked the composition of the materials (hypoallergenic, anti-mite, etc.), the possible odour on receipt and the noise of the duvet with each movement.
How to choose a duvet?
A good night's sleep depends on good bedding and a comfortable duvet. However, it is important to choose a quality duvet that is suitable for the season.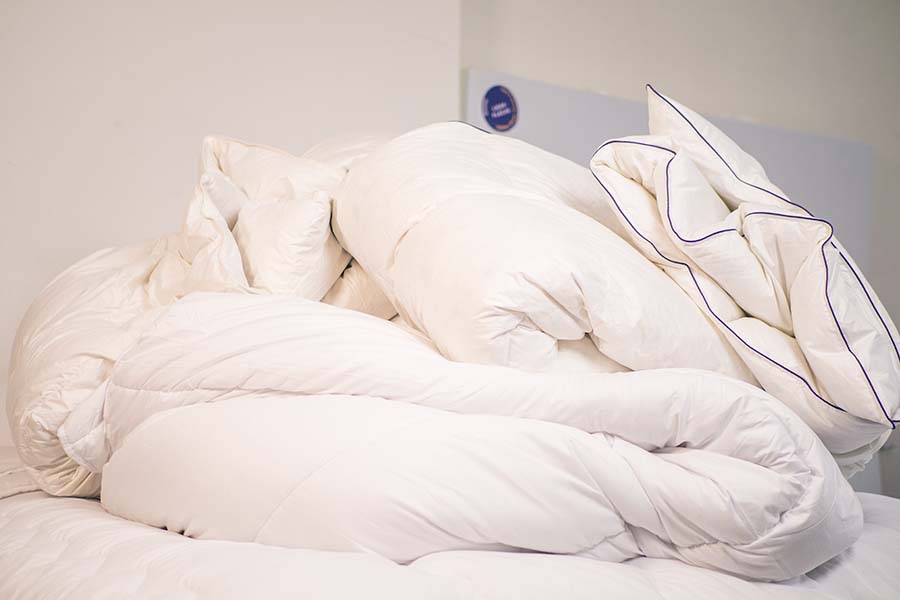 To assist you in your future purchase, we have listed the main points to consider:
The size: the most exceptional duvet will be of little use to you if it does not fit the size of your bed. For an 80 or 90-cm bed, you need a 140 x 200 cm duvet; for a 120 or 140-cm bed (standard double), a 200 x 200 cm duvet; for a Queen Size bed (160 cm), a 240 cm x 220 cm duvet; and for a King Size bed (180 cm), a 260 x 240 cm duvet.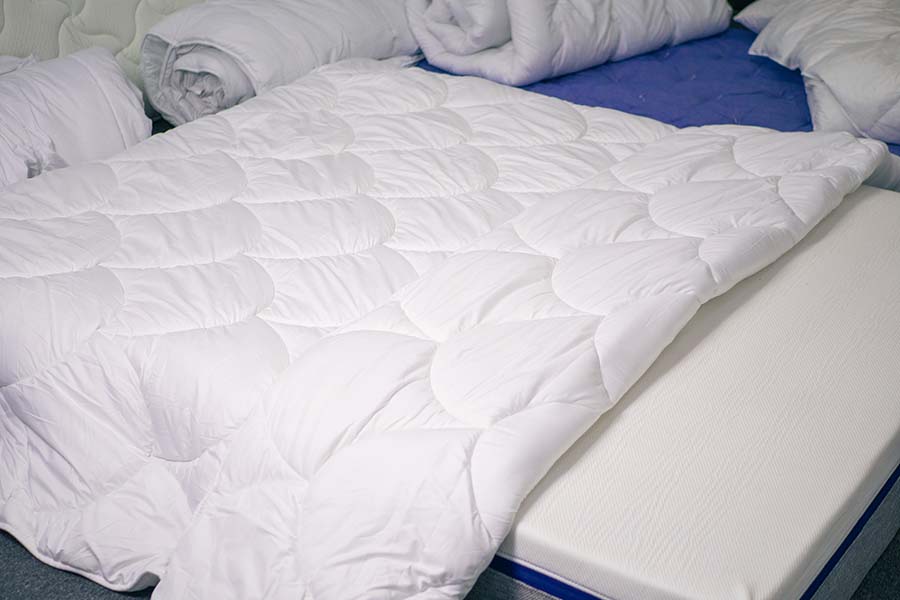 The weight: the choice depends mainly on your habits. Some people like feather duvets, while others prefer heavier models. In any case, don't forget to systematically check the weight of a duvet to avoid unpleasant surprises.
The grammage: this determines the heating performance of a duvet. The choice of weight depends on the season and the nature of the filling. For a summer duvet, the weight is usually lower. A natural summer duvet weighs 180 g/m², and a synthetic duvet weighs 200 to 250 g/m². A winter duvet usually weighs 270 g/m² for natural duvets and 300 to 450 g/m² for synthetic duvets. However, it is always possible to use a low grammage duvet and an electric blanket on colder nights.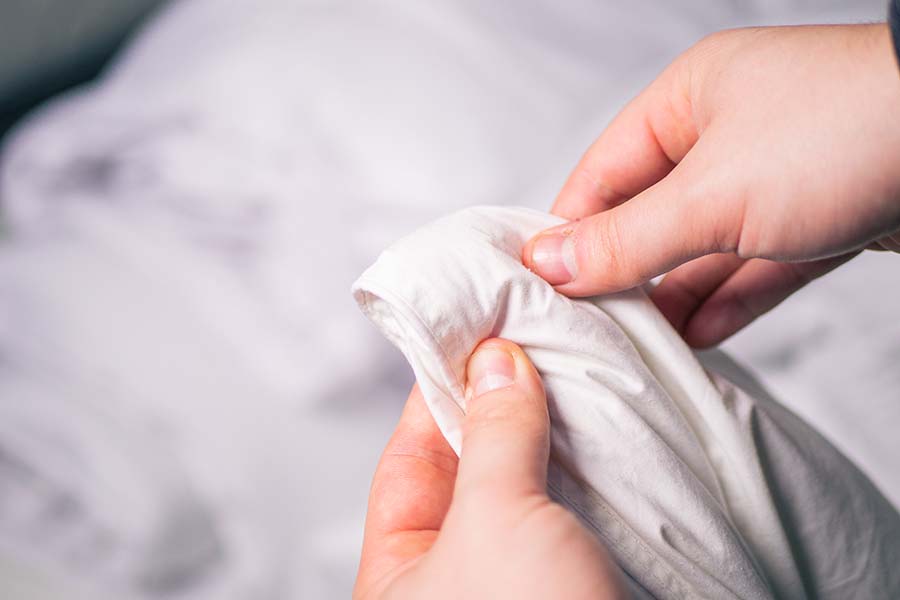 The cover: its function is, above all, to ensure that the filling is well distributed and does not leak. So check two things: the density of the fabric and the quality of the stitching. If you choose a natural duvet, cotton percale is the most suitable choice (with a density of 120 to 150 threads/cm²). For a synthetic duvet, the choice is wider. Organic cotton, silk or bamboo, opt for a density of at least 90 threads/cm².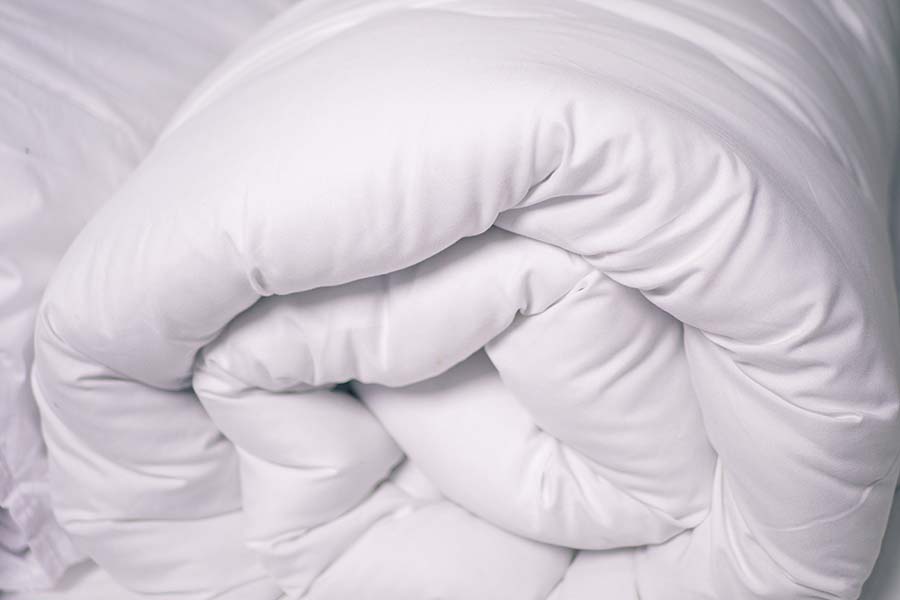 The quilting: waves, lines, diamonds, squares or rectangles, the quilting of the quilt is not a detail. These patterns are not aesthetic, but practical, as they prevent the filling from migrating from one point of the duvet to another. A uniform filling provides more comfort and prevents heat loss.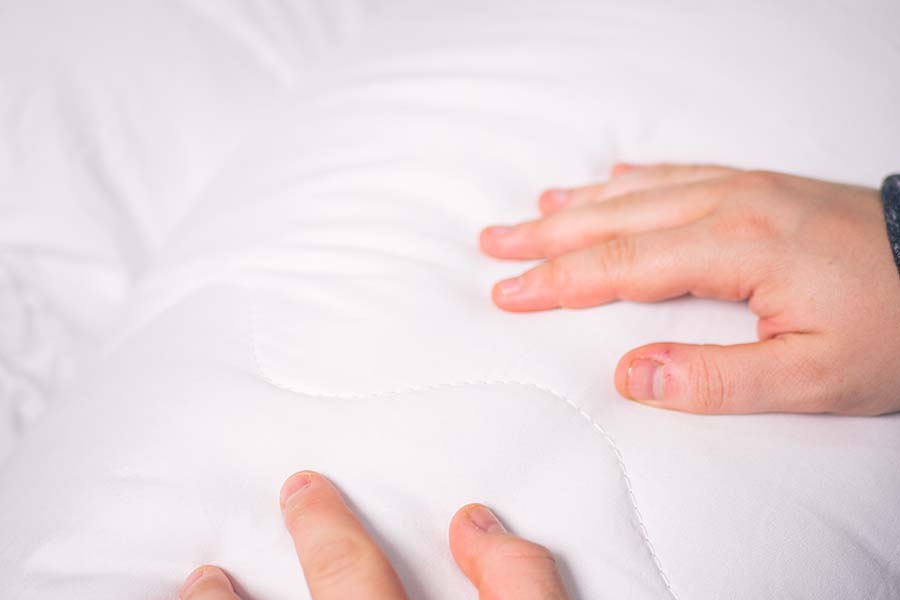 The cleaning: it is necessary to wash the duvet once or twice a year. However, as mentioned above, some duvets can be machine washed and dried at a low temperature (40°C). It is advisable to always wash the duvet alone. Fold it into an accordion shape before putting it in the drum and use powder detergent, which is more effective for this type of laundry. Do not exceed 900 rpm for spinning.
The filling is also important, as it not only determines the heating power of the duvet but also influences its weight and ease of care. There are three types: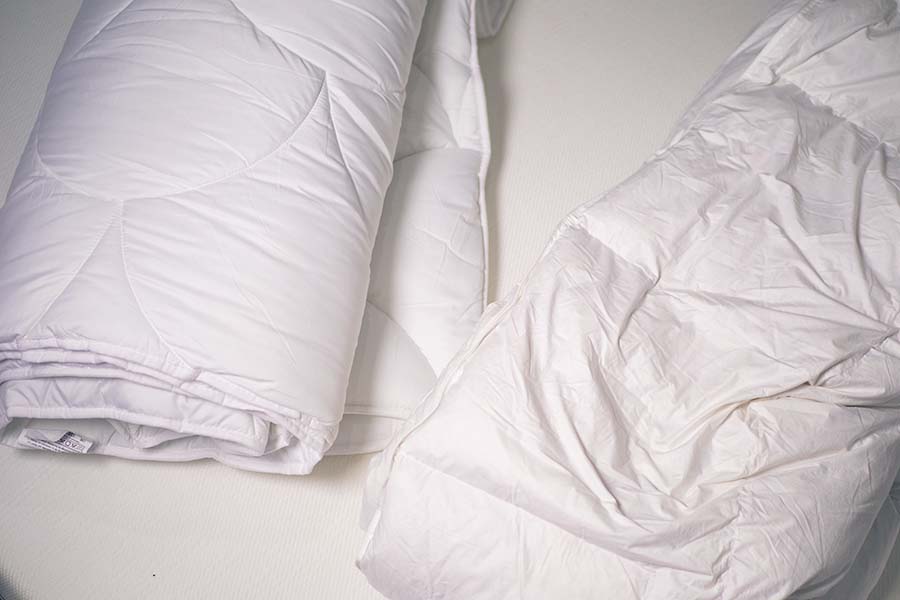 Synthetic filling: made of polyester, synthetic duvets are the cheapest. Flat, they can be quite heavy when their weight is high, although manufacturers compete with each other to design lighter and more efficient models. Often compatible with the washing machine and dryer, they are recommended for allergy sufferers.
Natural fill: made of feathers or down, it offers a high calorific value for a light and fluffy duvet. Although down duvets are the most expensive duvets on the market, they have a long lifespan. Goose down is reputed to be warmer and lighter than duck down, and is more sought after (and more expensive) than duck down, which explains the difference in weight for the same warmth. Maintenance, and more specifically the drying phase, remains delicate.
Hybrid fillings: some duvets are 50% natural and 50% synthetic. You can also find a duvet with a natural filling of 85% feather and 15% goose down. Thanks to its remarkable lightness and high calorific value, this duvet guarantees comfortable and warm nights.
Please note that to divide the models into different price ranges, we have used the standard size of 240 x 220 cm as a reference in our article.
Other duvets we recommend
Abeil (220 x 240 cm) (£44.77 upon publication): for cold autumn and winter nights. This is a warm synthetic duvet (400 g/m²). It is certified free of harmful substances and made entirely of microfibre polyester. It has a shell seam that evenly distributes the filling. It is also machine washable at 40°C. However, in our test, it did not feel light enough for summer, but a lightweight version is available. Also, it is not treated against dust mites.

Bedsure (220 x 240 cm) (£69.99 upon publication): practical and qualitative, but without Oeko-Tex. This 4-season duvet has a 3-in-1 design, which means it consists of two separate pieces: a light duvet (150 g/m²) for the summer and a mid-season duvet (300 g/m²). They can be joined together or separated with the eight press studs to form a warm duvet (450 g/m²) for the winter. In our test, we were satisfied with the warmth it provided. Made of microfibre, it has a rectangular seam and is machine washable.

Other duvets tested
Utopia Bedding (220 x 240 cm) (£30.99 upon publication): not enough for cold nights. This synthetic duvet is thin, light and space-saving. With its 200 g/m² silicone fibre lining, it is suitable for summer, but we didn't find it warm enough for winter nights. However, the square stitching ensures even filling and it is machine washable.
Bleu Câlin (220 x 240 cm) (£79.00 upon publication): decent quality/price ratio. This 3-in-1 microfibre/polyester duvet incorporates a lightweight summer and mid-season duvet and can be joined together to form a winter duvet. Each piece is machine washable. In our opinion, the straight-line filling isn't perfect, but it's still OK, and we would have preferred snaps rather than knots for assembly. The carrying bag is also fragile.
Translated by Ramsés El Hajje