Updated on 20 September 2022
After spending 23 hours comparing 13 bedside lamps and testing 8 of them, we determined that the
Mi Bedside Lamp 2
offers the most competitive price/performance ratio.
Our choice, Best mid-range
This low-cost, mains-powered bedside lamp has the connectivity missing from its main competitors and is compatible with the most popular voice assistants on the market.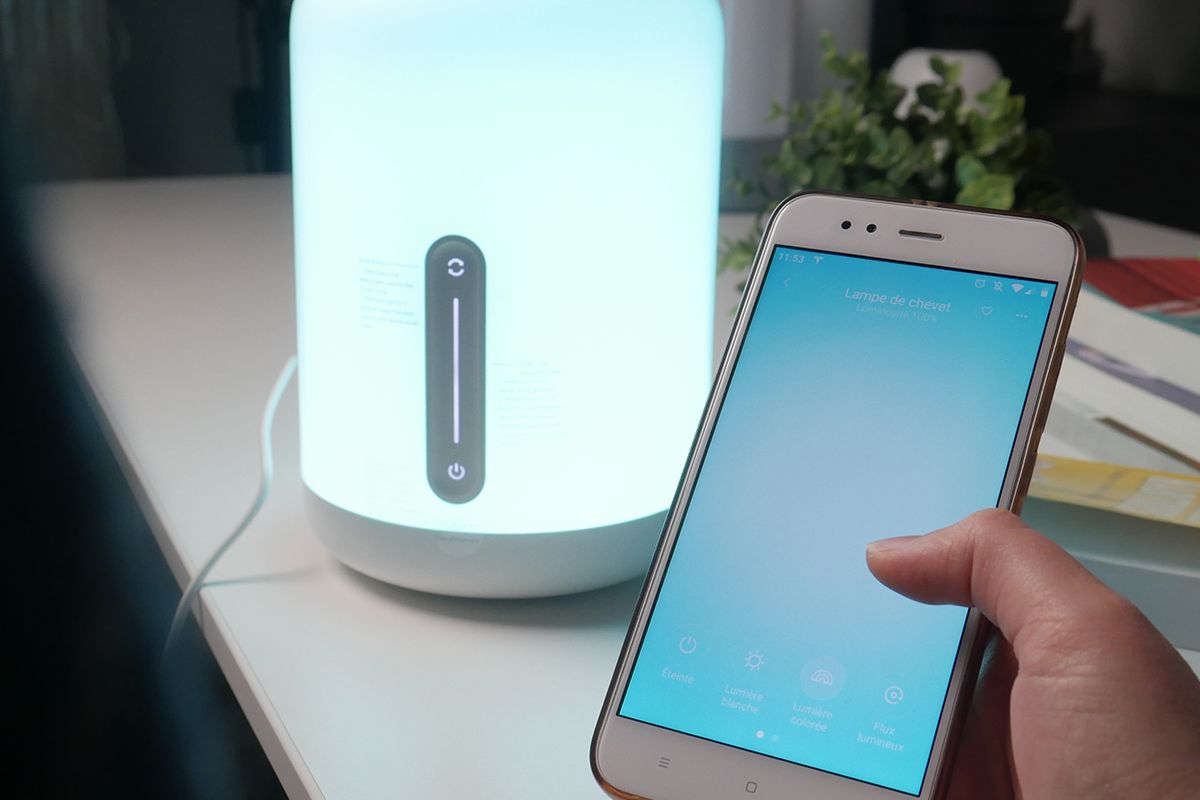 The Mi Bedside convinced us with its competitive price/performance ratio. Particularly affordable, it is the only bedside lamp in this selection that offers a genuinely connected nature. So, during our tests, although the light already convinced us with its power and modularity (colour options, sleep mode…), we were particularly impressed by its app and compatibility with Amazon's Alexa, Google Assistant and Apple HomeKit's Siri. In practice, this meant that not only could we get the best possible light, but we could also control the device remotely and verbally. We, therefore, recommend this model to technology enthusiasts.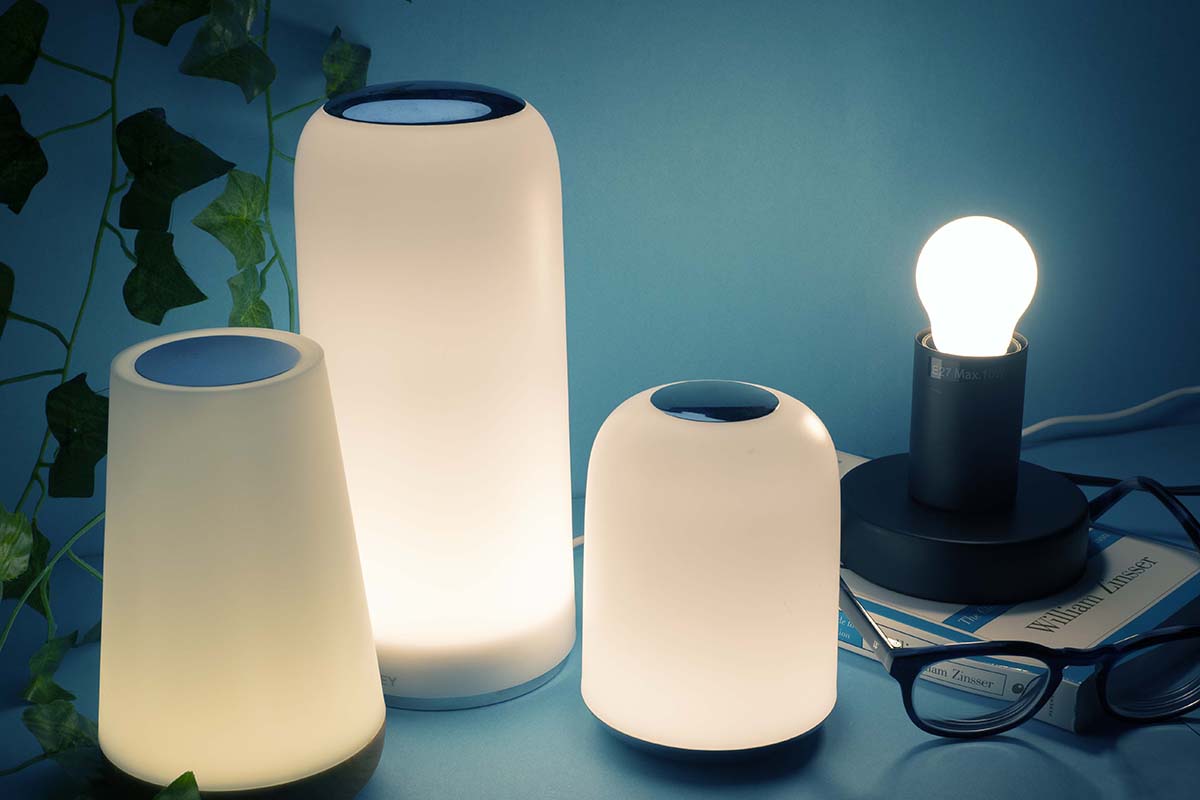 There are several types of bedside lamps.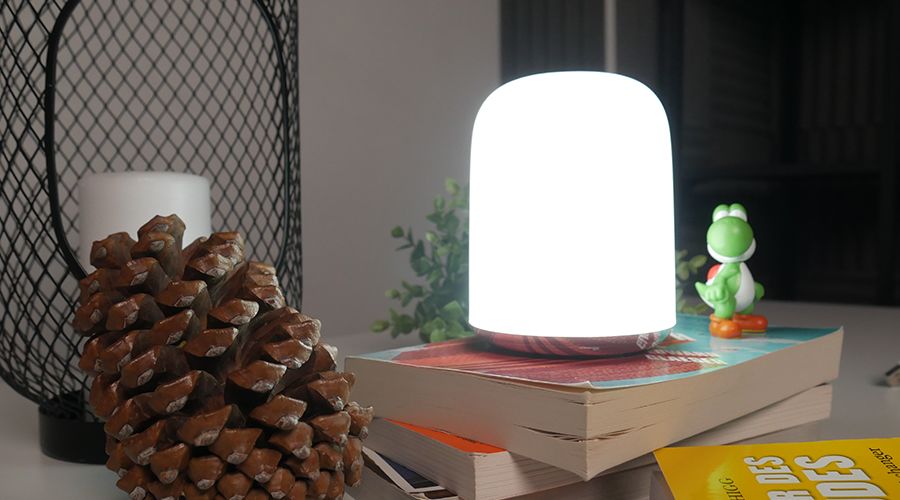 A bedside lamp of about 15 watts (300 lumens) provides the best light.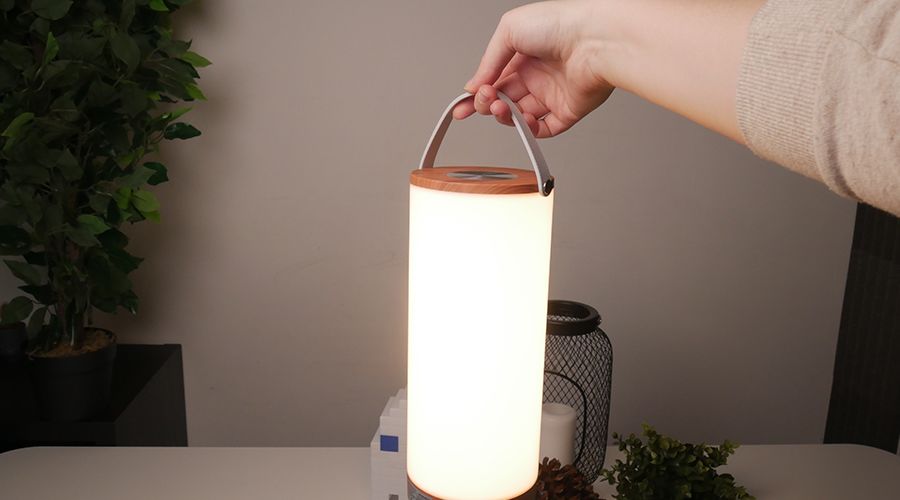 Pendant lamps save space.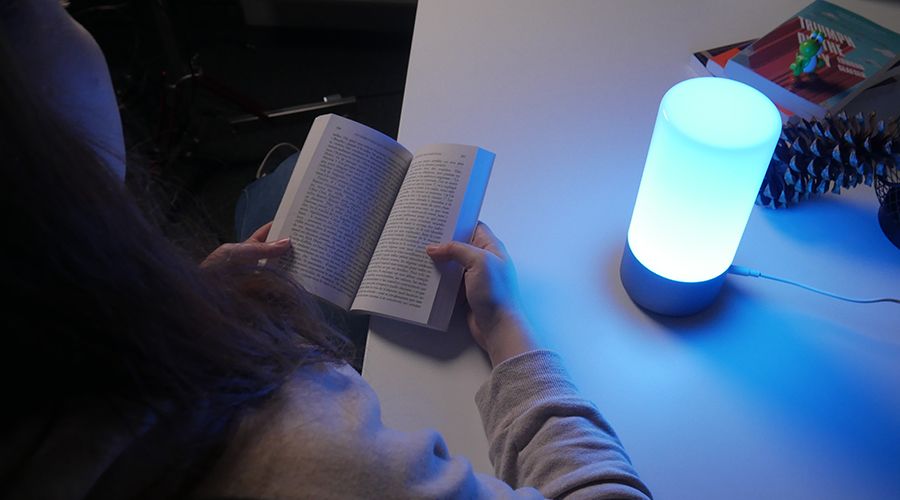 Some models can be controlled by a dedicated app or by voice (Alexa, Google, Homekit).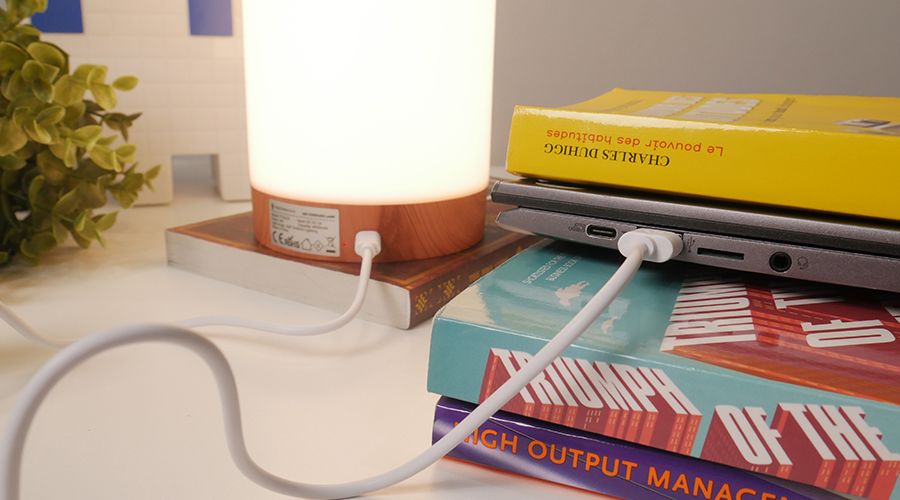 More and more models incorporate rechargeable batteries, making them highly mobile.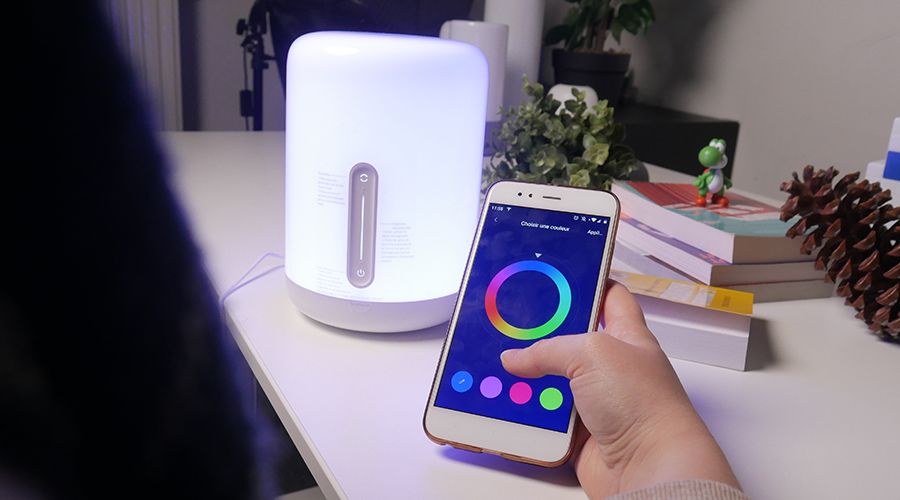 Being able to change the colour of the light is also more common nowadays.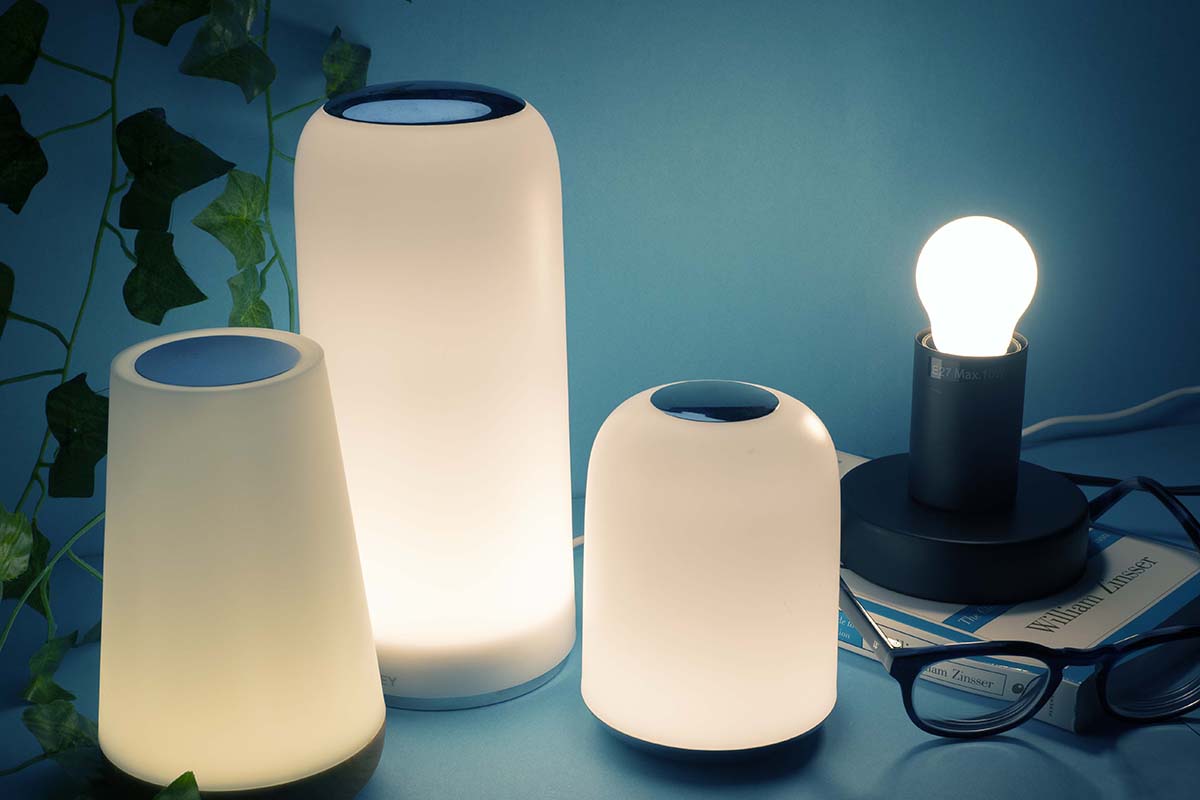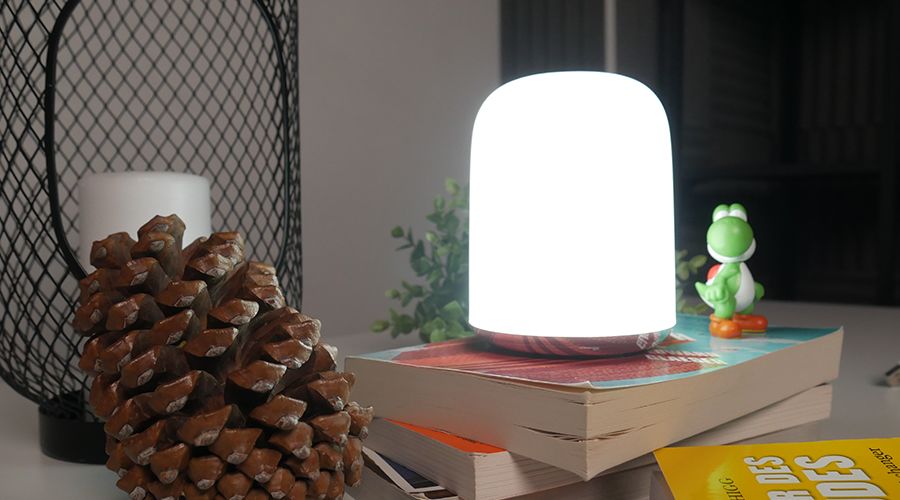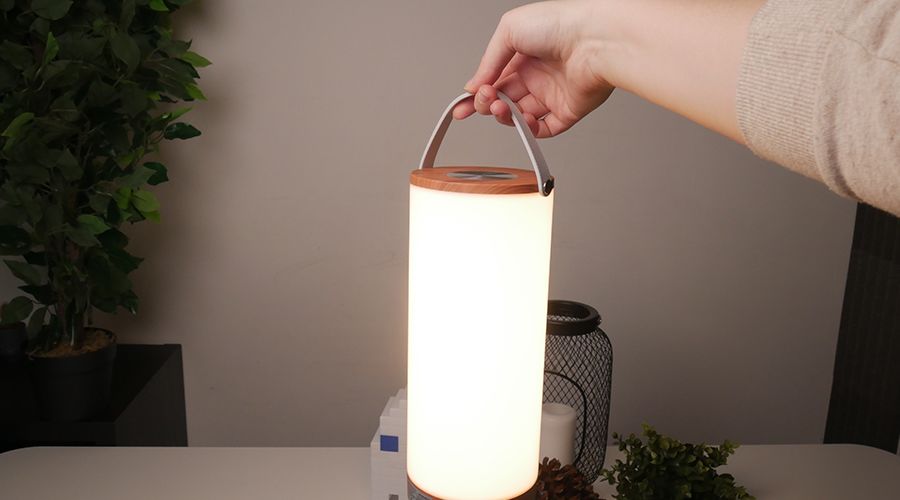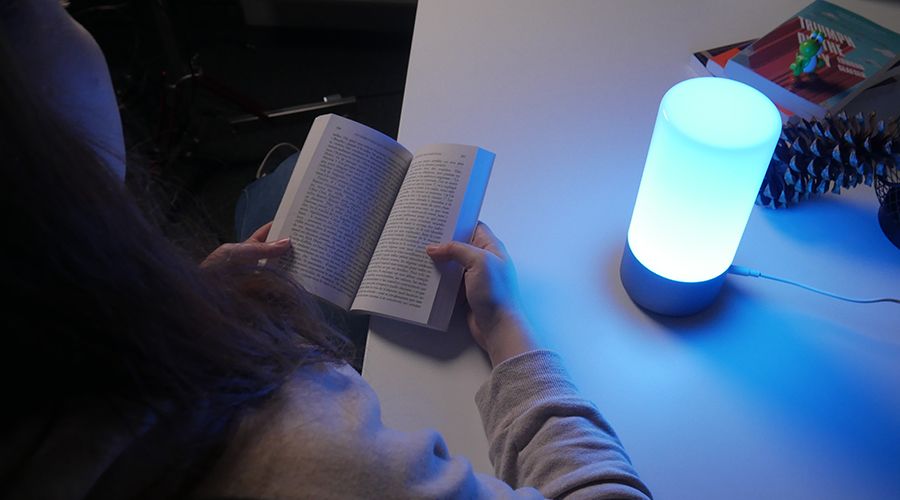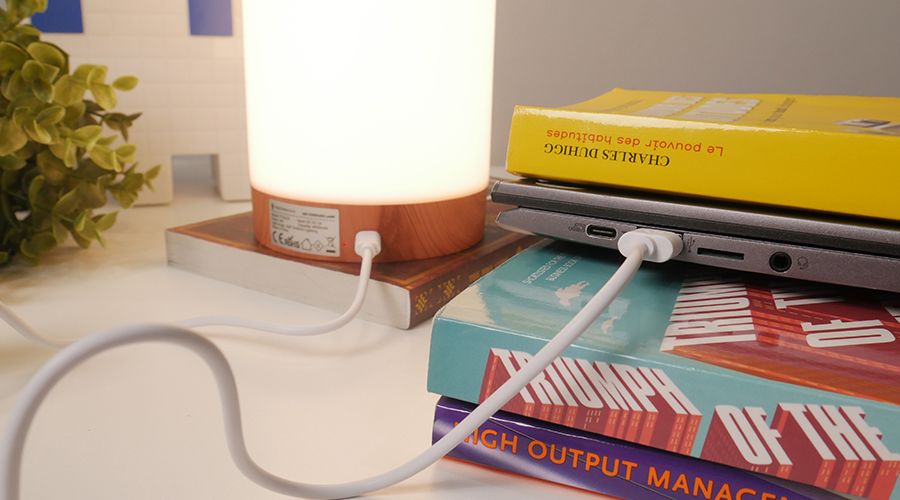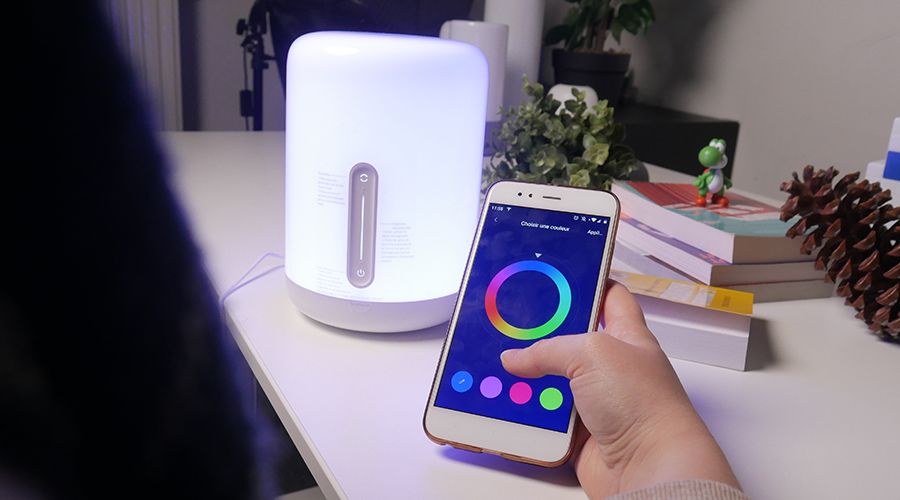 Best budget
This bedside lamp offers an attractive price/quality ratio. It has 13 colours, 5 light levels and 4 modes of operation – a great offer for the price!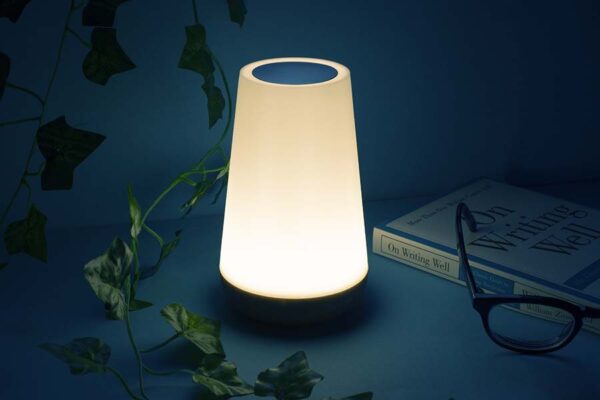 In our tests, this rechargeable model showed a battery life of about 10.5 hours at maximum intensity in white colour and continuous mode. The latter has a warmer tone and represents one of the 13 available colours (RGB). All these settings can be changed via remote control (battery included) or via the touch surface on the top of the lamp. The latter proved to be quite responsive, although the change of modes and intensity is not intuitive enough for us. The other three available settings are strobe mode (colour change with lamp interruption), fade mode (colour change without interruption) and flash mode (sudden colour change without fading).
Our selection
| Our choice, Best mid-range | Best budget |
| --- | --- |
| | |
| Mi Bedside Lamp 2 | Auxmir M4 |
| This low-cost, mains-powered bedside lamp has the connectivity missing from its main competitors and is compatible with the most popular voice assistants on the market. | This bedside lamp offers an attractive price/quality ratio. It has 13 colours, 5 light levels and 4 modes of operation - a great offer for the price! |
| £ 48.90 on Amazon | £ 22.99 on Amazon |
200+ Comparisons

1500+ Reviews

100% Impartial
Why trust us ?
Selectos compares and tests hundreds of products to help you buy better. We sometimes receive a commission when you buy through our links, which helps fund our work. Learn more
How did we test?
To test the bedside lamps, we first unpacked and handled them to judge their design and practicality (physical buttons easily accessible and working properly, intuitiveness of the set, sensitivity of the touch surfaces…). We also looked at the different light modes it offers, as well as the timer function.
In addition, we checked the lighting power, and the proper functioning of all the modes and settings when using the lamps in the dark. Finally, we verified the battery life of the rechargeable models.
How to choose a bedside lamp?
Whether you like simple, traditional bedside lamps or more modern, connected ones, the search for the perfect model is often complicated by the variety of options on the market.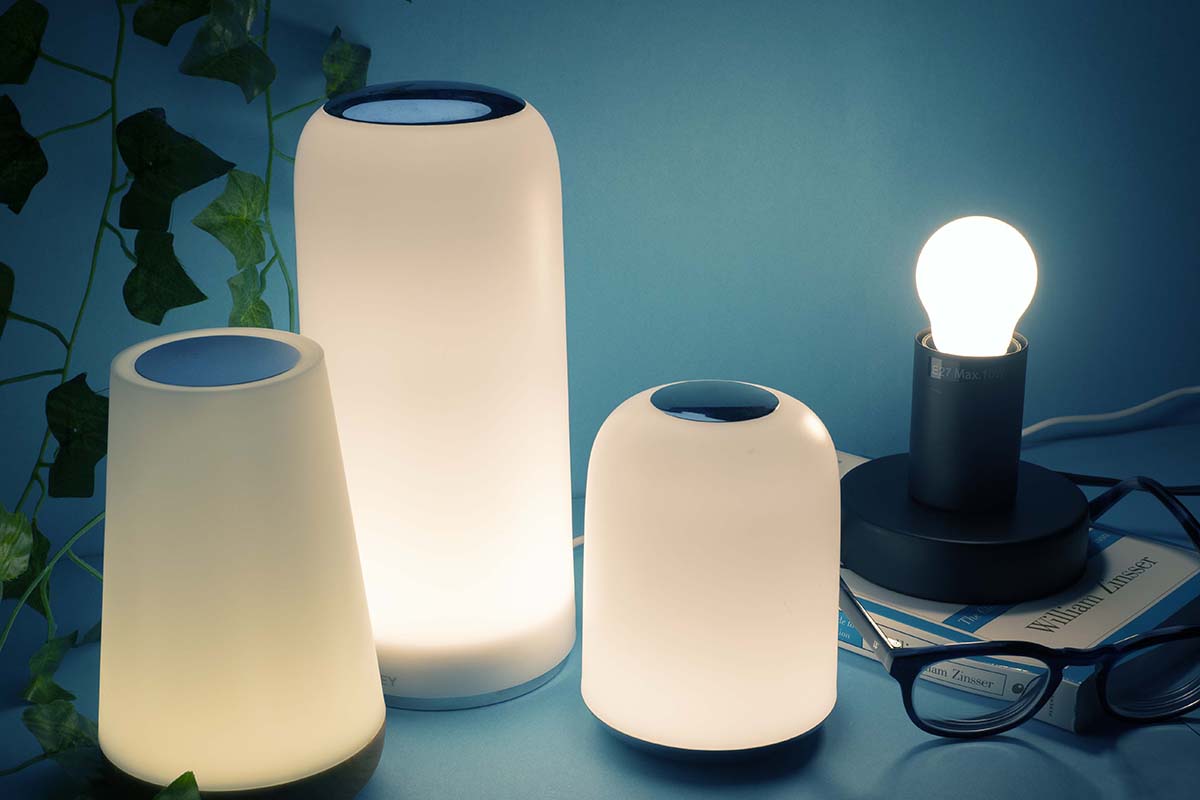 To help you choose the model that best suits your needs, we have compiled a series of criteria to consider before purchasing.
First of all, you should know that there are several types of bedside lamps:
The desk lamp: this is the most popular model among users. Designed to be placed on a flat surface, it generally consists of a base and a shade.
The hanging bedside lamp: as its name suggests, this model can be hung on the edge of the bed or table. It therefore has a clamp system, like a real reading lamp. Other models can be attached to the wall with screws, an equally popular option for an optimal reading experience.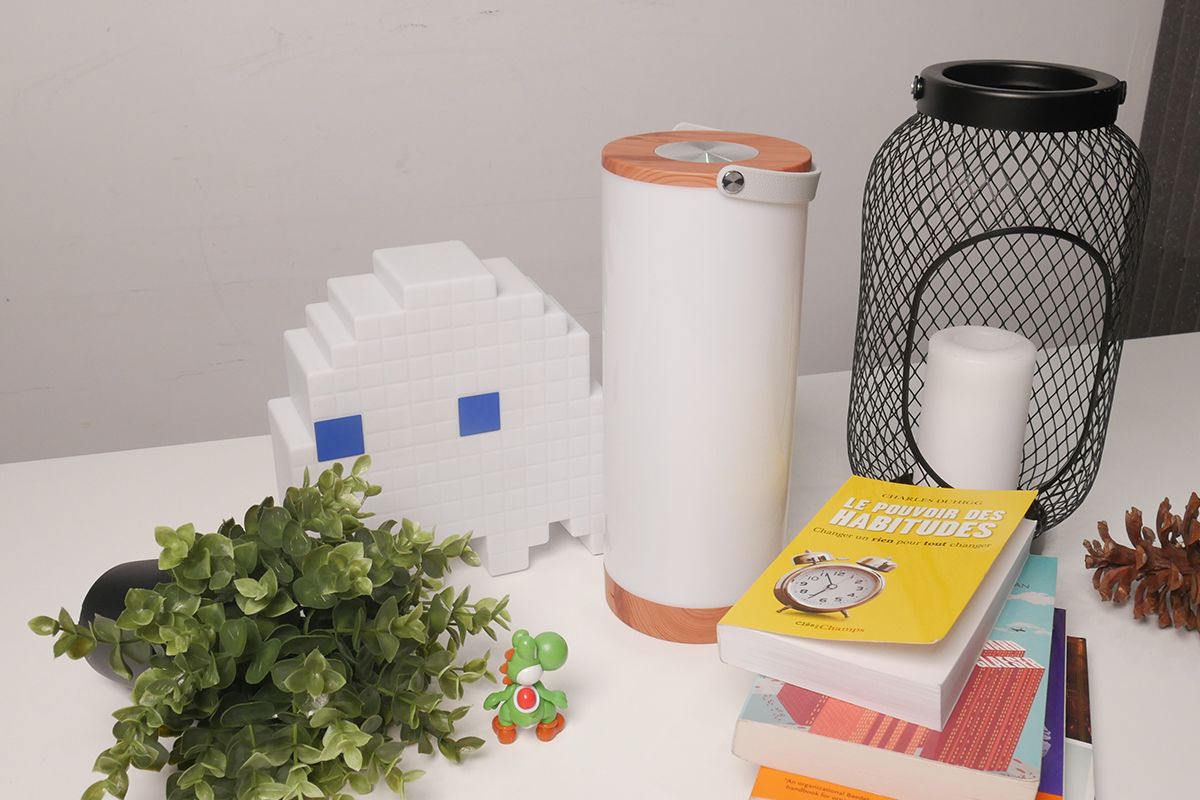 Suspended bedside lamp: this last type has been designed mainly to optimise space. This lamp is not placed on the table but is connected to the ceiling by its electric cable. If you opt for this solution, make sure that the cable is long enough to reach the height of your bed.
Once you have identified the model that suits you best, you should then look at :
Luminous intensity: expressed in both watts (W) and lumens (Lm), the luminous intensity determines the lamp's power. It is generally considered that a bedside lamp should have about 15 W, and therefore 300 lumens to provide perfect illumination.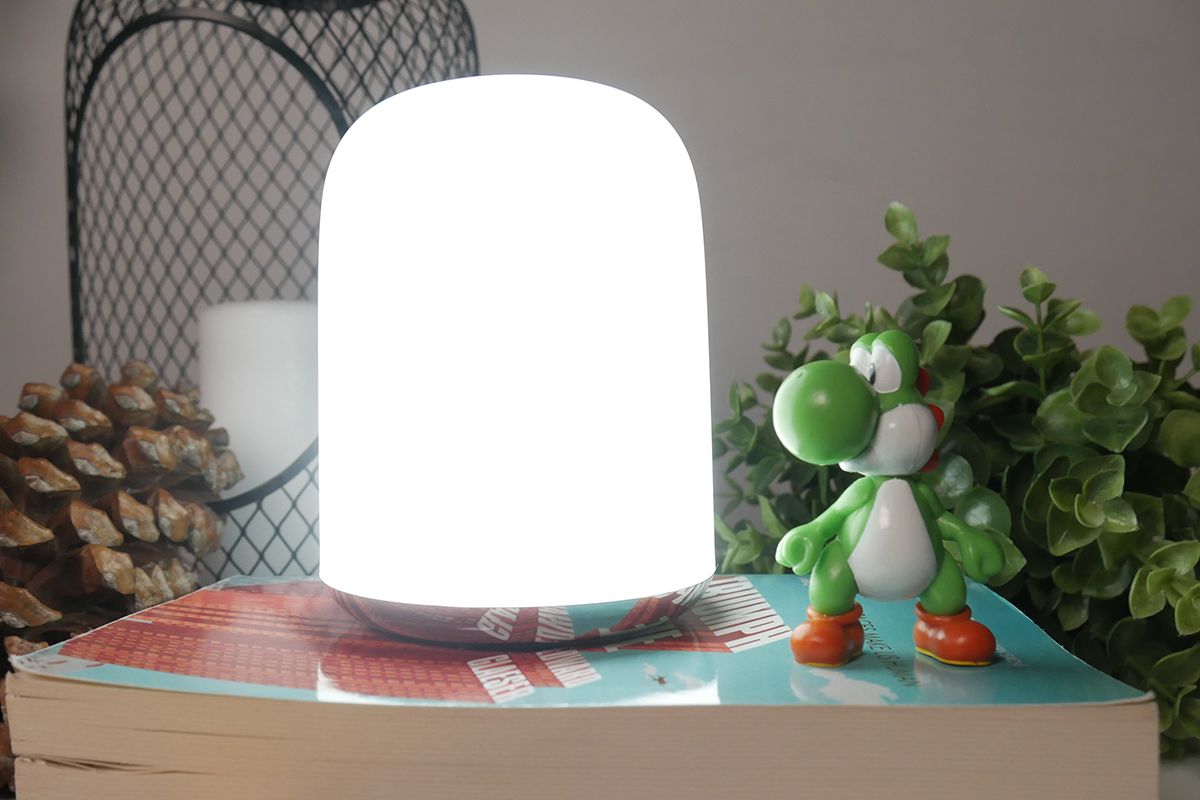 Temperature: this element also determines the quality of the lighting and, more specifically, the quality of the white light. Measured in Kelvin (K), it ensures a cosy, intimate atmosphere when it reaches 2500 K while it diffuses a cool light, close to daylight, when it is about 5000 K. Finally, it is worth noting that more and more models have an RGB colour mode, to create special atmospheres in your room.
The colour rendering index: this is the ability of a light source to reproduce the colours of the visible spectrum as realistically as possible. Specifically, the CRI evolves on a scale from 0 to 100. The closer the value is to 100, the more it resembles daylight.
The type of power supply: in the collective consciousness, bedside lamps are fixed devices by nature. That is, they are powered exclusively from a socket that requires them to be plugged into the mains to operate. However, more and more models are now incorporating rechargeable batteries that make them highly mobile and can sometimes make them multifunctional.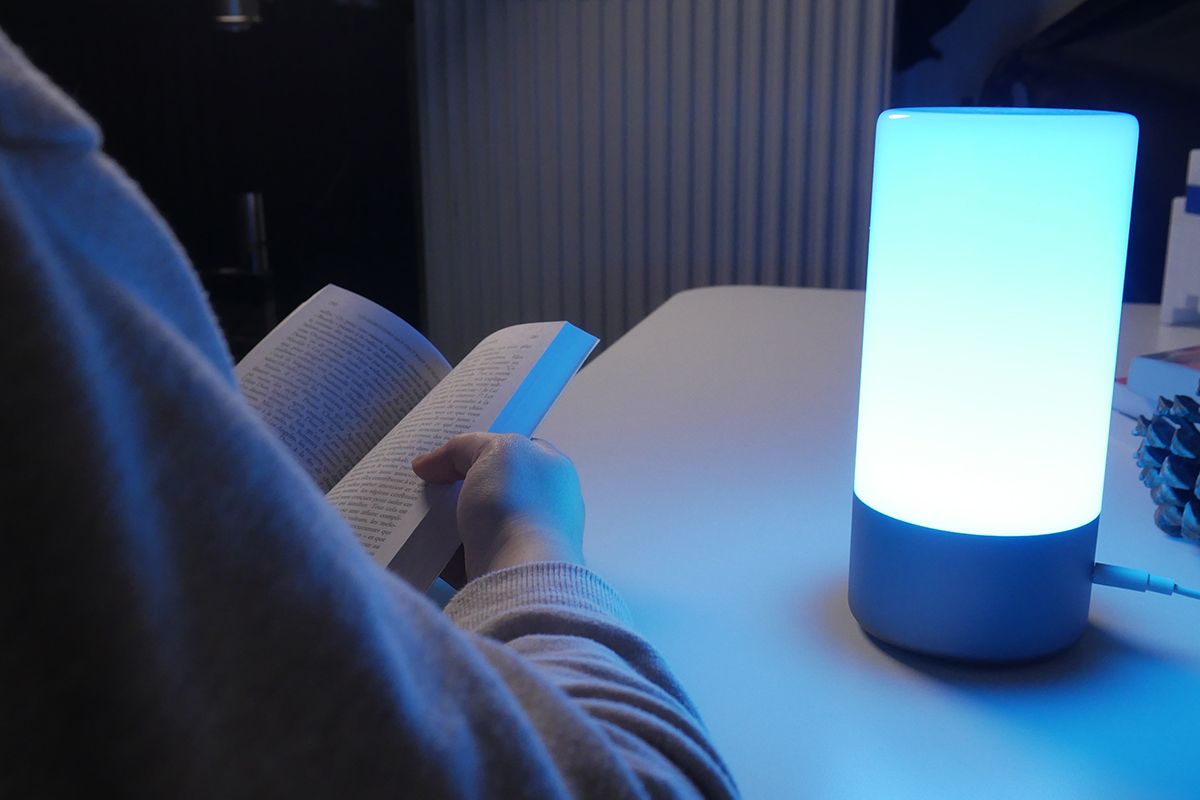 Connectivity: some brands have modernised and equipped their bedside lamps with touch control pads and Wifi/Bluetooth connectivity. Certain models now have a dedicated app or can be voice-controlled via Amazon's Alexa, Google Assistant or Apple's HomeKit.
Other recommended bedside lamps
Briloner 7023-015 (£13.95 upon publication): a lamp base that requires the purchase of an E27 bulb. This wired model has the advantage of allowing you to choose the bulb to create the atmosphere you want. It is even possible to add a connected bulb to be able to vary the colours, intensities etc. However, the bulb is directly visible due to its design, which can be a bit blinding, as we found in our tests. We do not recommend it for people with sensitive eyes.
Lucide Gitta (£15.99 upon publication): a design lamp lacking stability. This small bedside lamp has a minimalist and resolutely modern design. Compact, it can easily be placed on any bedside table. Like all basic models, it has an on/off switch on the cord. Unfortunately, many users point out that, given its light weight and its original stand, it lacks a bit of stability.
Philips Hue Go (£69.99 upon publication): a portable and versatile option for fans of Philips' connected solutions. This portable, battery-powered model can be placed anywhere in your home. It is a true chameleon capable of creating a variety of mood lighting and can be combined with a Hue bridge for a smart lighting system. Although not a lamp per se, it is popular for use as a bedside lamp due to its compactness and softness of light.
Other tested bedside lamps
Aukey LT-T6 (£24.49 upon publication): a model that could be improved. Although it has several light modes that allow it to be used both as a bedside lamp and as a mood setter, its fluidity problems, inability to switch off completely and lack of a rechargeable battery mean that it is not competitive in terms of value for money and does not fully compete with the models on the market.
Aukey LT-T8 (£21.70 upon publication): a great choice, but with limited availability. Although we would have preferred a more powerful battery, it is fair to say that the AUKEY LT-T8 is truly a worthy representative of the brand that markets it. A decorative object in its own right, it has a multifunctional character that allows it to stand out as a bedside lamp, yes, but also as a real mood-setter. And, at this price, that's quite a merit.
Aukey KT-T7R (£19.99 upon publication): does its job, nothing more. This lamp is still a compelling option, but unfortunately, it fails to make a difference in this field. It has some pleasant features, such as RGB mode, night light mode and a timer function, but this is not enough, especially when you know that for a few more pounds you can easily afford a 100% connected model. Finally, it is harder to find in Europe.
TaoTronics TT-DL23 (£25.99 upon publication): a bit expensive for what it offers. Despite its attractive design and portable nature, the TaoTronics TT-DL23 fails to stand out from the competition. This is because it has up to three times fewer modes than cheaper models, which makes its price/performance ratio uncompetitive – a pity!
Translated by Ramsés El Hajje